Bay City is a small town that gives you big city vibes. This nautical city has historical buildings, hidden gems, amazing food, and a beautiful riverfront view.
The city is right on the base of Lake Huron, just at the edge of Saginaw Bay.
Downtown is where you'll find a lot of historic sites and local shops, and brewpubs.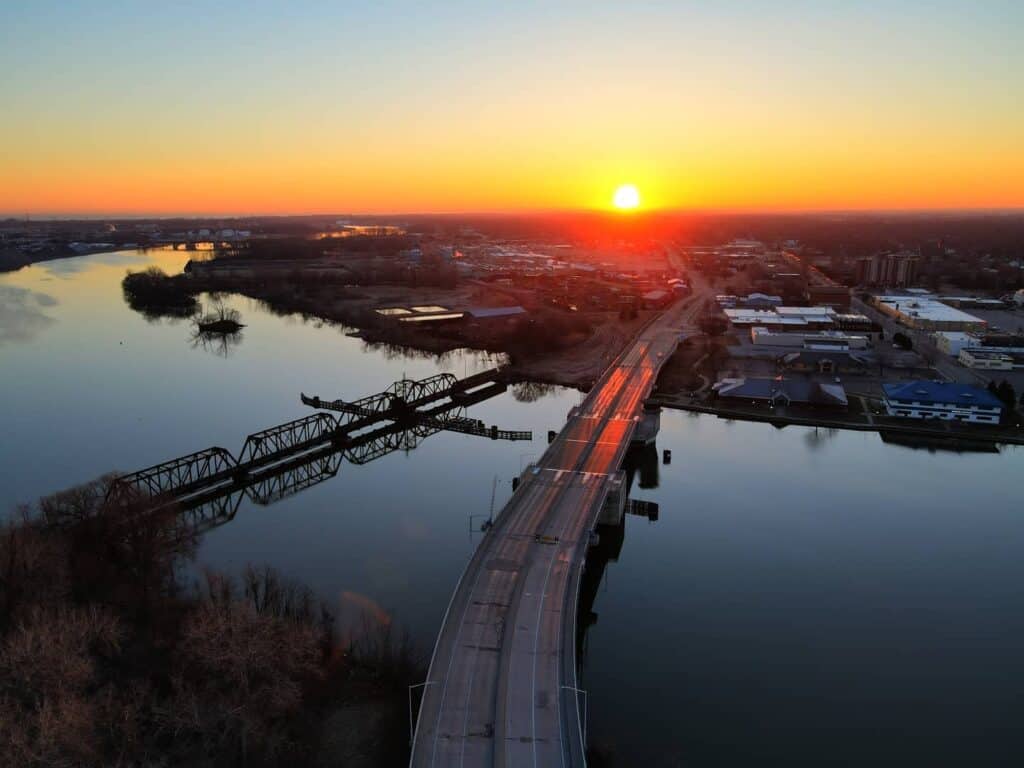 While uptown is where the modern age meets history with boutiques and upscale restaurants.
Find out more about the best things to do here in Bay City, Michigan!
Downtown
There's no better way to spend a good day in Bay City than hanging out downtown. You'll never run out of options here as there are so many nearby attractions, making it so convenient. Wenonah Park is downtown and probably one of the most popular things to do in Bay City. You've also got a myriad of food options that will fill your stomach. And if you subscribe to retail therapy, this is where it's going down.
Take a few hours on your trip to explore what downtown has to offer. It's gonna be worth your time!
Food

Italian: Bruno's
Japanese: Chonmage, Menya Shono, Uchiwa Ramen
American: State Room, Tam Commons Tap Room & Kitchen, Bogie's Too, Magnolia Park Kitchen

Shopping: City market, Artigiano Artisan Cheese Shoppe, Bay Antique Center
Riverwalk Pier
Riverwalk Pier is an excellent option if you're looking for an affordable thing to do outdoors that still won't leave you feeling bored. The pier is most commonly known for a lovely stroll and a hang-out spot among locals. The ambiance is great, with lots of greenery, viewing points, and a beautiful aesthetic for photo-ops. There's a gazebo and several gardens nearby. You can also rent a bicycle if that's more your style.
The pier passes through Veterans Memorial Park, Kantzler Arboretum, and the fitness park. It also has easy access to Bigelow Park.
Bay City State Recreation Area
One of the best things to do in Bay City during the summer is head to the Bay City Recreation Area. The highlights here are the wildlife, think migratory birds and wetland animals. It's also home to the largest marsh wetlands in the Great Lakes region. The recreation area is great for wildlife enthusiasts. You can also get great views of Saginaw Bay and Tobico Marsh from here.
Sunrise Pedal Trolley
For something a little more fun, try the Sunrise Pedal Trolley experience. If you haven't tried exploring a city on a trolley, this is your chance. Their trolley tours consist of 16 passengers partying on a Dutch-made pedal bike. It's a unique and fun experience. On tour, you can learn more about the city and its history, experience some local culture, hit up some local shops and boutiques, and of course, visit ton of bars.
They also have family-friendly experiences with their alcohol-free tours where you stop at numerous cafes, restaurants, and more!
Antique Toy and Firehouse Museum
The Antique Toy and Firehouse Museum encourages you to embrace your inner kid. This niche museum has a laser focus on classical toys, fire trucks and fire engine toys, and cars. Upon entering, you'll already come face to face with their NASCAR room; they also showcase antique toys that will make the adults feel nostalgic. It's great if your kids are into cars and fire trucks; plus kids below 4 can enter free.
Fishing
Bay City is an outdoor paradise with its fair share of fishing spots for the anglers visiting the area. Some places to go include the Quanicassee Wildlife Area and Bigelow Park.
The wildlife area has tons of options, not just for fishing. They also have a couple of trails you can go to and, of course, plenty of wildlife. This spot does need a fishing permit and your own equipment. Bigelow Park is great for families with things to do for kids. The park is best for freshwater fishing and is absolutely scenic.
You can also try going on a guided fishing excursion.
State Theatre
Take a break from the outdoors and come inside a historic theater on Washington Avenue. This single-screen movie theater was built in 1908 and was originally called the Bijou Theatre. Aside from its historic significance, the building is unique with Aztec decors in the façade. They play movies, series, comedies, and live performances, so try to catch one while you're here.
Sage Branch Library
The Sage Branch Library is a haven for book lovers and history buffs. This library, part of the National Register of Historic Places, boasts stunning Victorian-style architecture that transports visitors to another era. Whether you're looking for a quiet place to read or study, the library has you covered. They also offer tours to learn more about its history and architecture.
And if you need a snack break, the nearby Brooklyn Boyz Pizza is a great spot to grab a slice or two.
Bigelow Park
Nestled along the banks of the Saginaw River, Bigelow Park is a must-visit destination for anyone looking for a scenic outdoor spot in Bay City, MI. This riverfront park offers a range of amenities that make it the perfect destination for a day trip, romantic getaway, or family outing. It features a picnic pavilion, a play area for kids, and a boat dock. You can also go fishing or take photos on the pedestrian bridge over the Saginaw River.
Tobico Marsh
You need to visit Tobico Marsh in Bay City, MI if you're a nature enthusiast. This 1848-acre marsh is a natural wonderland that features hiking and biking trails. This spot is a popular staging area for migratory birds, and is known for its bird population and wetland wildlife. Tobico Marsh is part of Bay City State Park, which offers a range of recreational activities for visitors to enjoy.
Boating
Going boating on the Saginaw River and Saginaw Bay is a fun and relaxing way to enjoy the city. There are various options for guided tours and cruises that allow you to experience the beauty of the water in a unique and unforgettable way.
Bay City Boat Lines: With many tour options, including sightseeing tours, sunset cruises, and dinner cruises, Bay City Boat Lines has something for everyone, departing from the downtown dock at Wenonah Park.
BaySail: They offer sailing excursions on the Appledore Tall Ships
Why not book your tour or cruise today and set out on an adventure to discover the stunning scenery of the Saginaw River and Saginaw Bay?
Drydock Beer Garden
If you're looking to unwind and relax in Bay City, MI, a visit to Drydock Beer Garden should be at the top of your list. This popular beer garden offers a selection of beer, wine, and more. You can find it in downtown Bay City, surrounded by some of the top dining destinations in the city. Not only do they have great local beer, but they also have seasonal drinks. 
The top tip, according to them, is that you can bring food from any of the downtown restaurants into the beer garden. So whether you're craving a slice of pizza or a gourmet burger, you can enjoy it with your favorite beer in the garden.
Kayaking and paddleboarding
If you're looking for something different and unique, why not go kayaking or paddleboarding on Saginaw Bay? Bay City, MI, has plenty of options, making it a great summer destination for outdoor enthusiasts.
Float Paddle Center: Located near Ted Putz Nature Area, they offer single kayaks, tandem kayaks, and stand-up paddleboards
Nor'East Outdoors – Bay City: Located inside Bay City State Park. This company offers guided tours and rentals of kayaks and paddleboards. You can choose from a variety of packages
These centers provide everything you need, including safety gear and instructions, making it fun even for beginners.
Saginaw Bay Birding Trail
There are several options for birdwatchers in the city, one of them is on the Saginaw Bay Birding Trail. This trail stretches over 142 miles; it starts from Port Crescent State Park to Tawas Point State Park, following the shoreline of Saginaw Bay. It's a birder's paradise, offering diverse habitats and over 200 species of birds.
Wenonah Park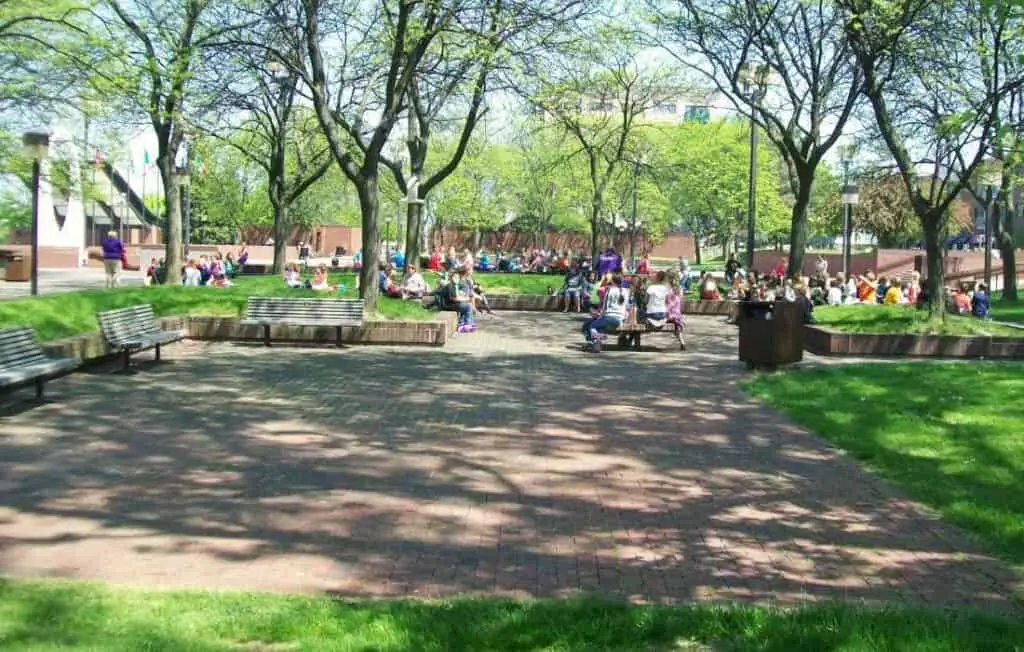 Bay City gives you a lot of opportunities to spend time in the fresh air.
Wenonah Park is one of the parks that often hold concerts and events.
It's right in the heart of downtown and has an amphitheater for events.
On top of that, the park is turned into an ice rink during winter.
Families or even couples can come here for ice skating and a good time.
Website: www.baycitymi.org
Saginaw Valley Naval Ship Museum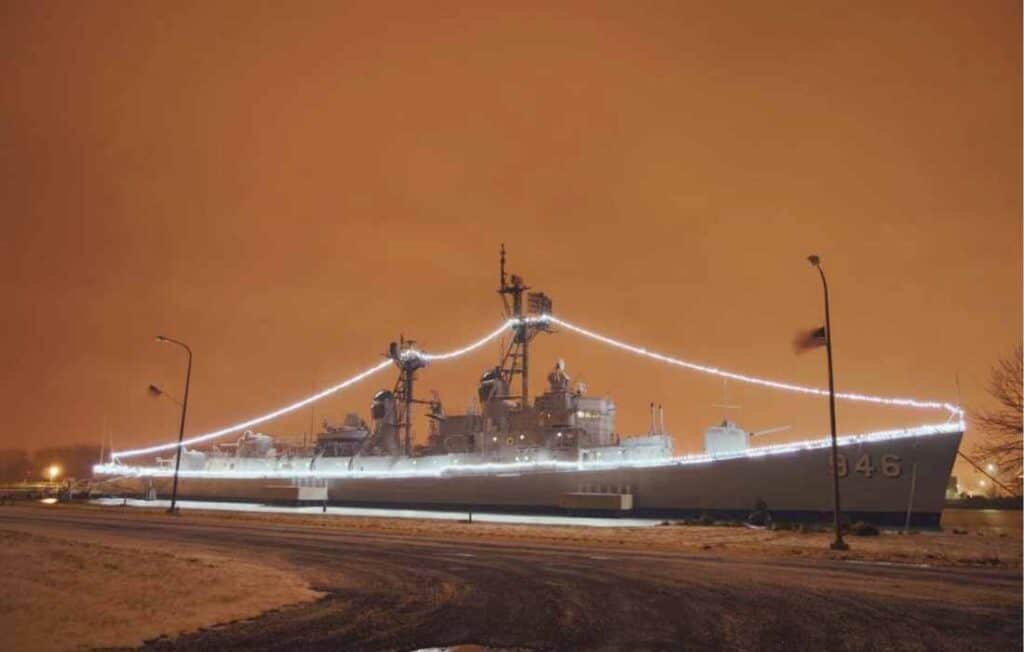 To kickstart your history tour, visit the Saginaw Valley Naval Ship Museum.
The ship-turned-museum is a Michigan Historic Landmark and National Historic Landmark you can find inside the USS Edison DD-946, a US destroyer ship.
You can take a tour of the whole ship just as long as you're prepared for all the ladders and doorways you're going to go through.
They have exhibits primarily on US naval history but sometimes have themed attractions.
Website: www.ussedson.org
Phone: (989) 684-3946
Veterans Memorial Park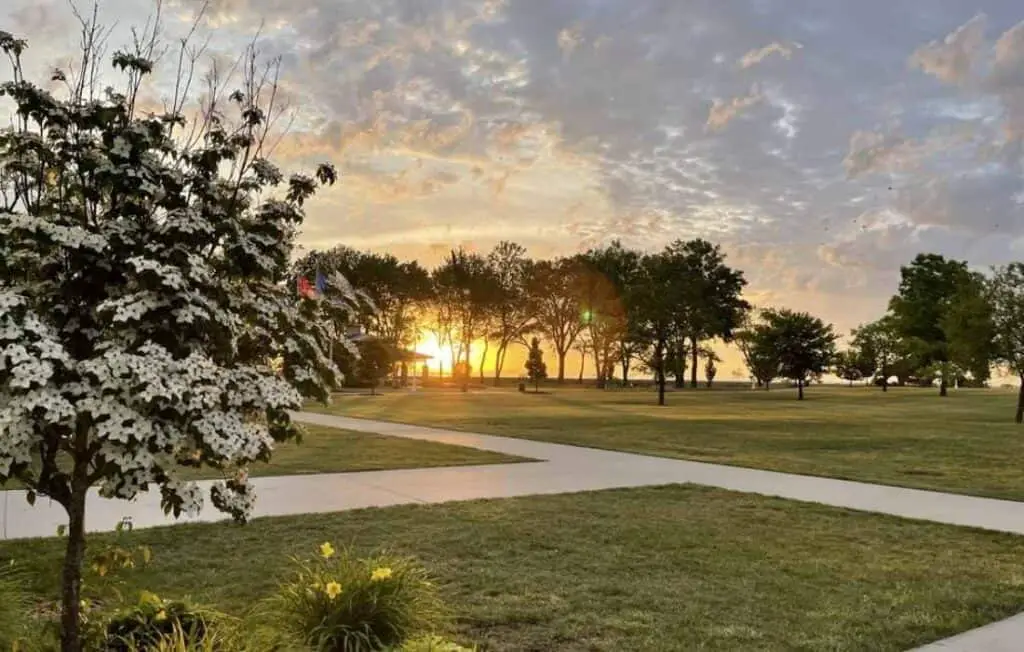 Veterans Memorial park is the go-to for community events in Bay City.
The park is 97 acres and is the site for the 4th of July Fireworks and the River of Time event.
It's a part of the Riverwalk/Railtrail loop, so you can make a stop here if you're walking a trail.
If you're not here for any event, the park is perfect for picnics, playgrounds, or just playing a few sports.
Phone: (586) 445-5350
Historical Museum of Bay County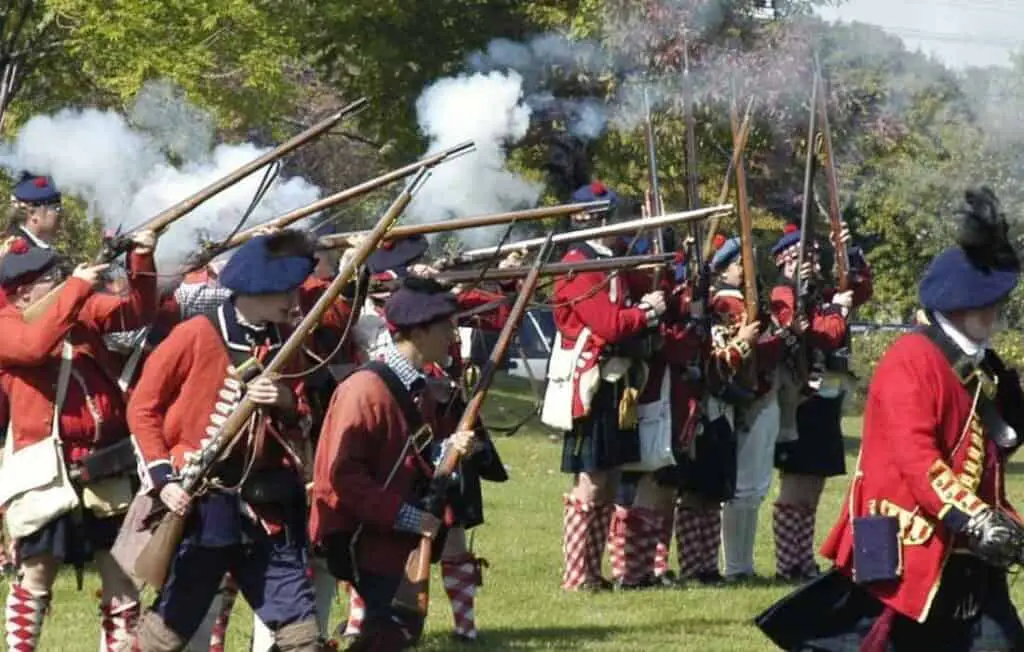 Another one for the history books is the Historical Museum of Bay County.
The museum functions as both an extensive research library and a host of galleries.
It highlights the history and heritage of the city and the county through various exhibits all year round.
Their permanent exhibits include "Bay City: Seaport to the World" and "Bay County: Trails Through Time."
Delta College Planetarium and Learning Center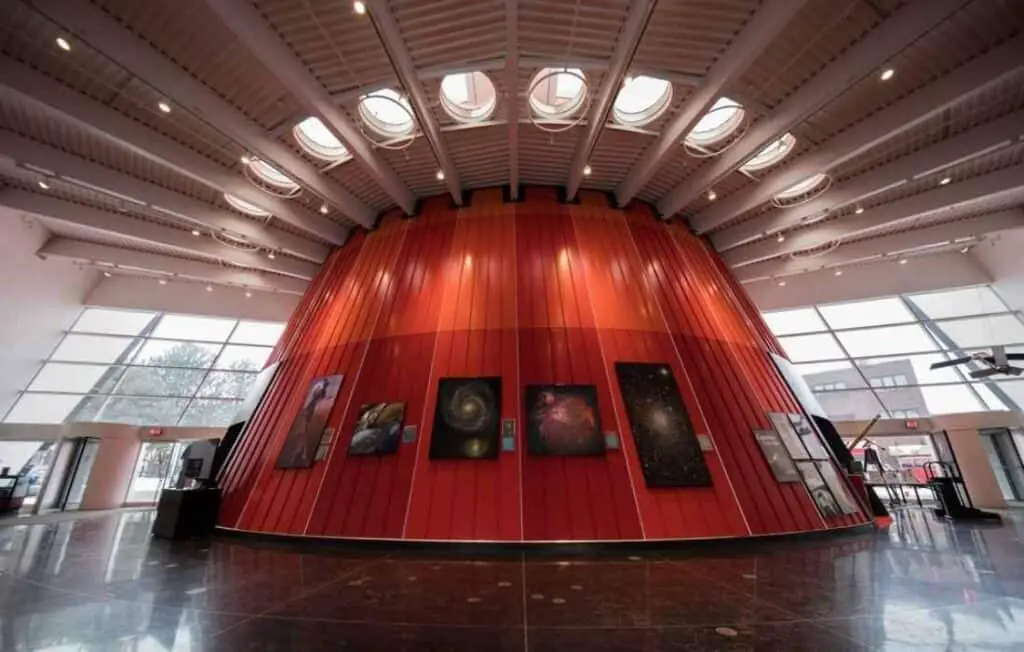 For something a little different, this destination is for you. This family-friendly learning center got its funding from NASA itself and hosts many educational displays on the universe.
A highlight of the place is its 360-degree screen where many shows are played, including star shows.
If you want to see the real thing, they also have a rooftop observation deck for stargazing.
Bay Antiques Center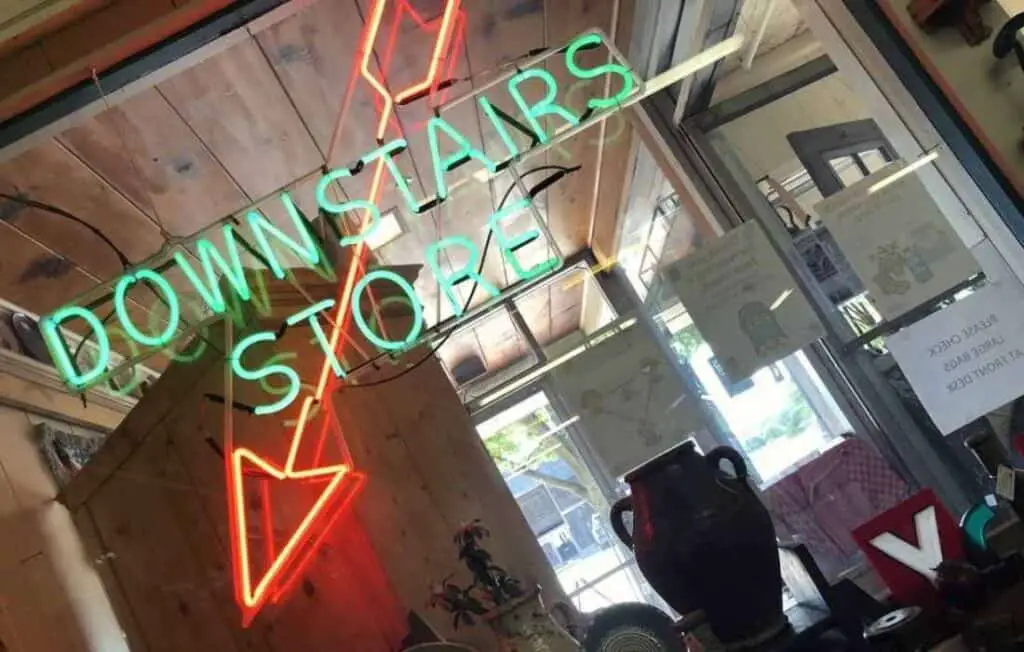 Bay City boasts a lot of shops, from local craft stores to posh boutiques.
But nothing can rival the two-story, 60,000 sq ft space of Bay Antiques Center.
This store is the largest antique store in Michigan and has more than 400 booths to explore. 
You can shop all day and find lots of antiques to bring home!
Their collection includes things like vintage trinkets and clothing, memorabilia, glassware, Victorian furniture, and more.
Locals also say that the dealers are very friendly and accommodating, often showing their immense knowledge of their collections.
Address: 1020 N Water St Bay City, MI 48708
Website: https://bayantiquectr.com/
Phone: (989) 893-1116
Food
Beavers Pub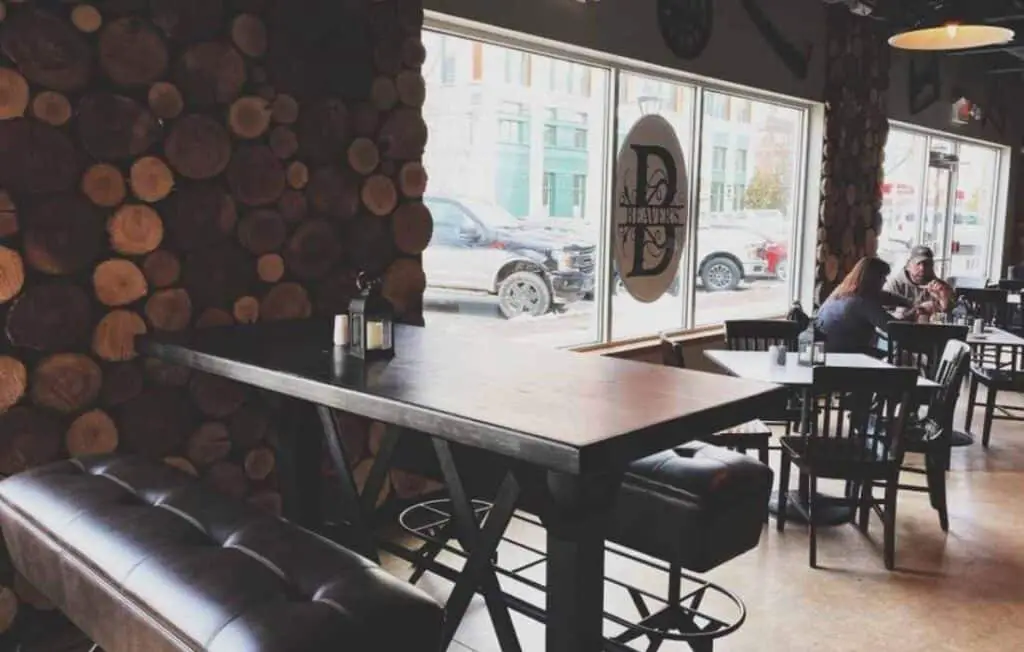 Address: 200 Center Ave Bay City, MI 48708
Website: Beavers Pub Bay City
Phone: (989) 778-3600
Frequently Asked Questions
Is Bay City Michigan worth visiting?
Yes, Bay City is definitely worth visiting! This charming city offers a variety of activities and attractions that are perfect for a weekend getaway.
What county is Bay City MI?
Bay City is located in Bay County, Michigan.
What is Bay City known for?
Bay City is known for its historic downtown, beautiful parks, and amazing views of the Saginaw River.
You might also like:
things to do in bay city mi, things to do in bay city michigan, fun things to do in bay city mi