Looking for the best cafes in Nashville? You are in the right place friend! A good cup of coffee is invaluable to anyone who needs daily joe, and great coffee shops are essential in any city. It's no different in Nashville. It's a good thing, then, that they have so many coffee spots to choose from! The options are endless, and we're here to round down some of the best coffee shops in Nashville.
Frothy Monkey
Frothy Monkey is everyone's favorite — from students, business types, and tourists. They're among the most recommended spots on the internet based on reviews and are considered one of the best cafes in Nashville.
Their beans are sourced locally and are great for satisfying your coffee cravings. They are popular for breakfast and brunch in the morning, so stay clear if you want to avoid the crowd.
Menu: Frothy Monkey Menu
Top Review: "We came here for brunch on the first day of our trip. Had to wait maybe 20 minutes for a table which wasn't too bad. The place was busy so it made sense. Cute little area though I'm glad we weren't sat up top because the day was hot and the AC was just okay. My husband had the California which he really enjoyed and thought was refreshing. I had the Loaded Biscuits & Chorizo Gravy with scrambled eggs and it was divine. Sadly I tend to order the super heavy meals and regret it because I need a nap 5 minutes later. But who cares it was worth it." – Stephanie M.
235 Rep John Lewis Way Nashville, TN 37219, (615) 600-4756
Crema Coffee Roasters
Crema Coffee Roasters is a great spot for coffee enthusiasts. They have sustainably sourced coffee and emphasizes on special brews that any coffee lover can appreciate.
Their Cuban coffee and latte are a hit for patrons. Other popular choices include the coffee soda and the Brazilian and Peruvian coffee blends.
Menu: Crema Coffee Roasters
Top Review: "I was looking for a little coffee shop before I left back home and came across this place, so I decided to stop here for a drink with a friend. The inside was nice and felt like a cozy coffee shop. It was fairly busy, but was still plenty of space for everyone to enjoy themselves. The baristas were very nice to all the customers that came in and very quick to have each order out. With speedy service and a mocha latte that tasted incredible, I only wish I had ordered a second before I left." – Kyle S.
15 Hermitage Ave Nashville, TN 37210, (615) 255-8311
Barista Parlor
Another extremely popular coffee shop is Barista Parlor. They are known locally and nationally as a café with high-quality coffee.
Reviews say it's not all about the hype and that their coffee tastes great. Some popular drinks are the bourbon vanilla latte, whisky caramel, and Vietnamese coffee. You can get breakfast food here, and it's also a popular working spot.
Menu: Barista Parlor Menu
519B Gallatin Ave Nashville, TN 37206, (615) 712-9766
Bongo Java
Bongo Java is a favorite among students because of its proximity to Belmont University, right across the street!
They are one of the oldest coffeehouses in Hillsboro Village, and there's a reason they've lasted so long. While you're here, you can also order their Bongo Basic (with eggs, hash browns, and toast) or breakfast burrito.
Sit on their cozy outdoor patio, great for people-watching.
Menu: Bongo Java Menu
Top Review: "Conveniently located in the Belmont  University district,  Bongo offers a large variety of coffees and breakfast options. We opted for an Irish Cream with hazelnut and an iced raspberry latte with almond milk.  Customer service was great, each server was friendly  and down to earth. The coffee is smooth and nutty. A nice local establishment that should be supported.  They also sell bags of coffee if you'd like to enjoy it at home." – Karen N.
2007 Belmont Blvd Nashville, TN 37212, (615) 385-5282
Fido
Fido is under the Bongo Java family and also gives off good vibes with a chill ambiance. They are housed in a former pet store and have some light meals and pastries you can get, aside from coffee.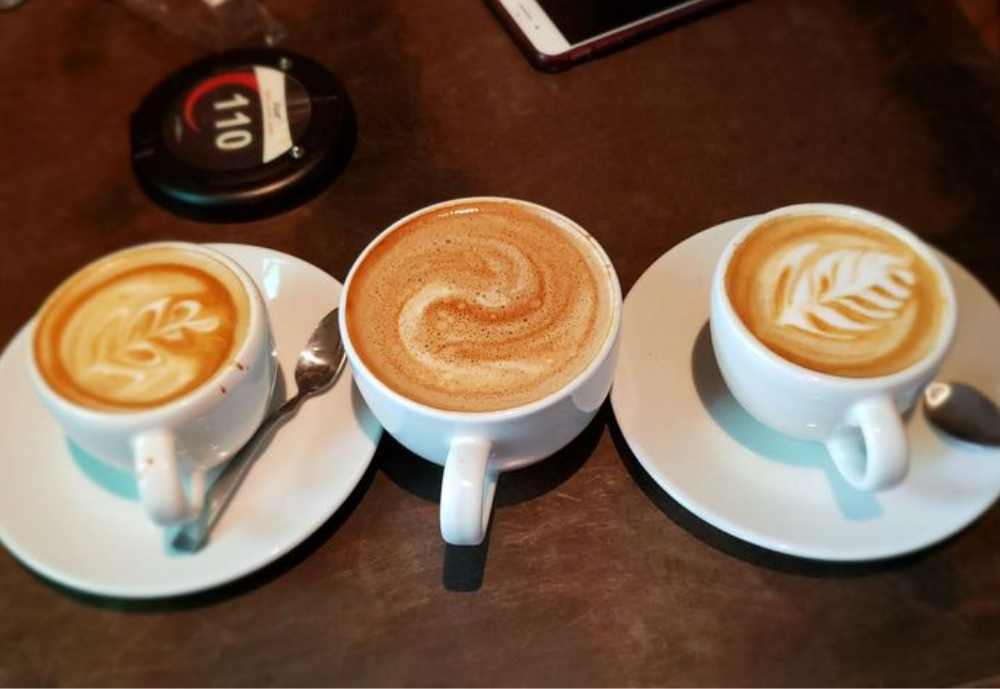 As for the food, try their sweet potato French toast, local burger, or smoked salmon scramble.
Menu: Fido Breakfast Menu
Top Review: "Yum, I am a big fan of Fido. Nestled right in the cute neighborhood of Hillsboro Village. It is such a great spot on this strip. I love to come here when I want to sit and stay somewhere for a few hours. I ordered a refreshing drink, and a small bite to eat. They have great seating, stable wifi, and a delicious menu. This is a place you do not want to miss!" – Nicolette T.
1812 21st Ave S Nashville, TN 37212, (615) 777-3436
Red Bicycle Coffee & Crepes – Germantown
What's the best thing in the morning besides coffee? Crepes! Come by Red Bicycle in their cute and cozy café to get a dose of caffeine, their lovely crepes, or any of their other breakfast options.
If you ask previous visitors, the breakfast tacos are good. For the crepes, definitely get the Mexi crepe or Nutella crepe.
They have multiple locations in the city and are all casual spots that are often a place to hang out and catch up with friends.
Menu: Red Bicycle Menus
Top Review: "Red Bicycle has been a spot for us since my sister lived in Nashville years ago. The staff is already friendly and happy to help and the coffee is always fantastic. We stopped in early Wednesday to pick up coffee and food on our way through Nashville and of course the stop did not disappoint. We ordered the Honey Cinnamon Oat Latte, a Peppermint Mocha, Breakfast Burrito, and The Great sandwich. The coffee was perfect, per usual. The food was a perfect way to start, but make sure to only get the burrito if you're extra hungry or splitting since it's a large one. All around great stop! Make sure to get your next coffee/brunch from here." – Katrina S.
1200 5th Ave N Ste 104 Nashville, TN 37208, (615) 516-1986
Americano Lounge
Americano Lounge is not your typical café — marrying two of the best drinks ever: Coffee and cocktails.
They are also less casual and have a more upscale vibe with decors influenced by New York and European aesthetics.
The vibe gives off an old-city feel reminiscent of many European-style interiors. There's even evening jazz on the weekends!
Menu: Americano Lounge Menu
Top Review: "Absolutely loved the vibe of this place. I felt so cozy and hip just stepping in. We went when there was live jazz and it was awesome – great music & not too overpowering that I couldn't hear my friends. Had a glass of wine and a hot Italian panini, enjoyed both. Easy counter service." – Brooklynn K.
434 Houston St Ste 120 Nashville, TN 37203, (629) 203-6991
Retrograde Coffee
For a relaxing neighborhood coffee shop, Retrograde Coffee is the usual pick. It's a great work or study spot with indoor and outdoor seating.
They have seasonal drinks, standard coffee options, breakfast, and pastries. People recommend pecan pie and bagels if you get hungry while working.
Many suggest going for bagels over their sandwiches as the latter leaves something to be desired.
Menu: Retrograde Menu
Top Review: "Love the Scottish butter latte! Very smooth, not so sweet, and the milk foam brings the flavor to the next level. The lox bagel is crispy on the outside and chewy inside. They also give you lots of lox in the bagel! Definitely will come back here again" – YH
1305 Dickerson Pike Nashville, TN 37207, (615) 964-7770
Dose
Dose has a more unique range of coffee with a rotating selection of roasts, so you might get something new each time you visit.
This specialty coffee shop is praised for its high-quality coffee and is known for its pour-overs. Tea lovers will also love this place.
They have some baked goods and breakfast options, and their rosemary biscuit sandwich looks good.
Menu: Dose Menu
Top Review: "This place is a great neighborhood coffee shop. I love getting a latte or Barcelona drink. Service is always quick! And their avocado toast is to die for. They usually have rotating vegan pastries that also hit the spot!" – Nicolette T.
3431 Murphy Rd Nashville, TN 37203, (615) 457-1300
Ugly Mugs Coffee & Tea
As the name suggests, they have a ton of "ugly" mugs to offer. We'd like to think they're more unique and quirky than ugly.
Ugly Mugs Coffee is another spot where people go to work and study. It's got lots of seating, comfortable vibes, and industrial décor. The greatest thing about Ugly Mugs is they are right next to Five Daughters Bakery!
They have some of the best donuts in Nashville, and you can't miss them. You can pair their americano with a breakfast or bagel sandwich.
Menu: Ugly Mugs Menu
Top Review: "Love this coffee shop! Great brewed coffee and their lattes are superb too. My fave is the black bear latte (iced) and the blackberry syrup hits just right. Good sized dining room with plenty of tables perfect for working or lounging." – Borce A.
1886 Eastland Ave East Nashville, TN 37206, (615) 915-0675
8th and Roast
Another spot considered one of the best cafes in Nashville is 8th and Roast. They make craft coffee and various breakfast options (the breakfast burrito and breakfast sandwich are popular).
They are a popular working spot because of their ultra-relaxing vibe, free Wi-Fi, multiple outlets, and friendly staff! The café also gets a lot of natural light and has an industrial décor.
Menu: 8th & Roast Drink Menu
Top Review: "8th & roast is an excellent study or hangout spot. There is more bar seating than tables, but there are plenty of plugs available if you bring your laptop or devices. There isn't a ton of seating compared to larger coffee shops such as barista parlor in east Nashville, but for the size they utilize the seating amount with the space they have. The staff was very friendly and responsive when I came as well. I ordered a peach pastry and it was surprisingly exceptional for being a coffee shop. Will definitely be returning as a study spot!" – Joseph L.
Drive: 2108 8th Ave S Nashville, TN 37204, Call: (615) 730-8074
Drug Store Coffee
You can find Drug Store Coffee in the Noelle Hotel in downtown Nashville. It's one of the more upscale coffee shops on our list, but it still has a relaxing and comfortable vibe.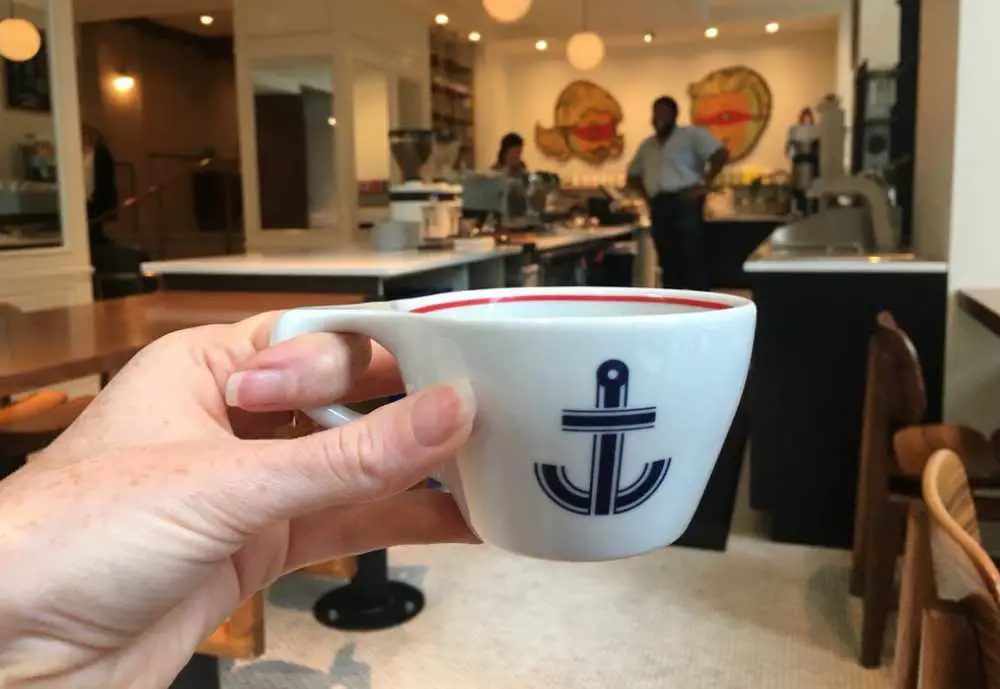 Their modern mid-century interiors and quick service make this an excellent spot for coffee. They get their drinks from Barista Parlor, one of Nashville's best cafes.
Top Review: "It's rare to find pistachio at coffee shops so when I see it I always get it. I was so pleasantly surprised by this drink. I got an iced pistachio latte with oat milk which the barista said was his favorite as well. It was very strong in the pistachio flavor but was fake tasting. I was obsessed with it. Got it 3 days in a row. Like hook me up to an IV with that stuff it was that good. If you don't like sweet coffee drinks then it's probably not for you but if you do, run don't walk and get this deliciously green drink!" – Allie G.
Drive: 200 4th Ave N Nashville, TN 37219, Call: (615) 649-5000
Humphreys Street
Humphreys Street is a hidden gem, although more and more people are discovering them as they should. This incredible coffee shop is a non-profit that gives back to the community.
So you're getting your caffeine fix and helping someone at the same time. They roast their own coffee, and there's a small food and baked goods menu. It's a spacious café that's bright and airy with spacious indoor seating.
Top Review: "Lovely coffee shop! Great coffee and matcha – loved their local half cold brew and half iced tea drink! Delicious breakfast croissant sandwich! Def recommend if in the area!" – Sean G.
Drive: 424 Humphreys St Nashville, TN 37203 Call: (615) 647-7554
Elegy Coffee
Elegy Coffee is a small coffee shop that many people can only describe as "cute," We absolutely agree.
They are the masters of getting coffee to-go with their own walk-up window and the cutest bottle bear you have ever seen for their bestseller.
The honey bear cold brew is the must-buy item here with cold brew, oat milk, burnt honey, cinnamon, and maple syrup. They also have pastries and burritos.
Menu: Elegy Coffee Menu
Top Review: "Elegy is everywhere in Nashville and for a good reason–it's fantastic. The coffee is smooth, delicious, and the matte black packaging is cool as hell! I have another favorite coffee shop in Nashville but I tried Elegy on my most recent visit and I know I'll be hitting them up on future visits. The shop we stopped by in East Nashville has outdoor seating so definitely a great place if the weather is good but otherwise you'll want to take it to go. The merch all looks cool and they also sell unusual stuff like socks which is fun." – JJ J.
Drive: 2909A Gallatin Pike Nashville, TN 37216
Hanna Bee Coffee
Hanna Bee Coffee might be my favorite out of all the coffee shops on our list because it's right next to a bookstore! You heard that right, this cafe is next to The Bookshop Nashville.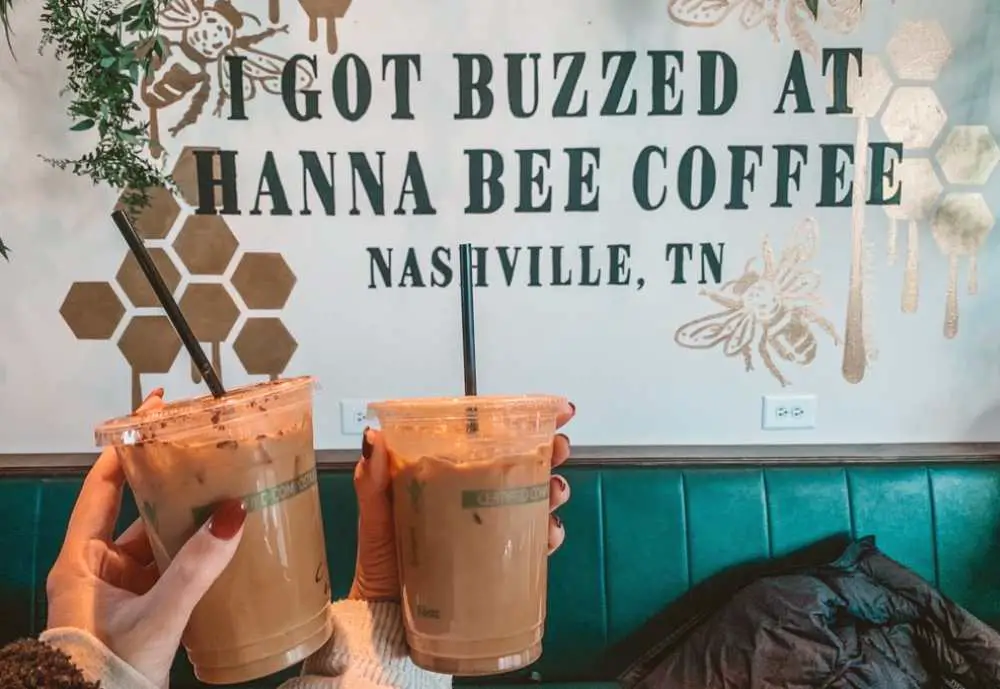 Aside from their convenient location, they have unique drinks to offer, like their cold brew with gold glitter. They also serve food and pastries.
It's a small, cozy coffee shop with lots of natural light and a warm, inviting atmosphere. Check it out while you're in Nashville!
Menu: Hanna Bee Menu
Top Review: "Love the latte and the cold brew. My favorite is the Chagaccino and my other favorite is the Nutella Latte. I was there on a Saturday and Sunday; it was almost to capacity but I was able to get a a seat. The avocado toast was made with homemade bread and had fresh micro greens on top, it was so fresh and yummy! No preservatives  It is on Eastland, in the base of the hip Eastland apartments, just one building off of the main road, Gallatin, and about two blocks off the freeway. It is a great option when you are looking for gluten free and vegan options. The banana bread is the best, both the regular and GF Vegan. They carry Morsel Nashville as well." – Lisa T.
Drive: 1035 W Eastland Ave Nashville, TN 37206
Sump Coffee
Sump Coffee's aesthetic is all sharp lines, modern interiors, and industrial chic. It's a total look that we're down for. The space is also bright and spacious, great for enjoying your gourmet coffee.
They specialize in single-origin coffee, with popular drinks being the chai latte and their espresso tonics. It's more expensive than other cafes, but it's worth it.
Top Review: "Great coffee, friendly staff, spacious location, Sump Coffee has it all!  They also have cute merch, including a coffee mug that I may be back to buy! I stopped by on a Saturday afternoon for a quick coffee pick-me-up. I wish I could remember the name of coffee I had, but what I do remember is that hot honey in it. It was so delicious. I'll have to scan the menu again the next time I go to find and order it again!" – Nicole T.
Drive: 8 City Blvd, Nashville, TN 37209 Call: (615) 678-1286
Poindexter Coffee
Another one of the best cafes in Nashville is Poindexter Coffee. It's a popular spot to hang out and work with a bit of a maximalist vibe.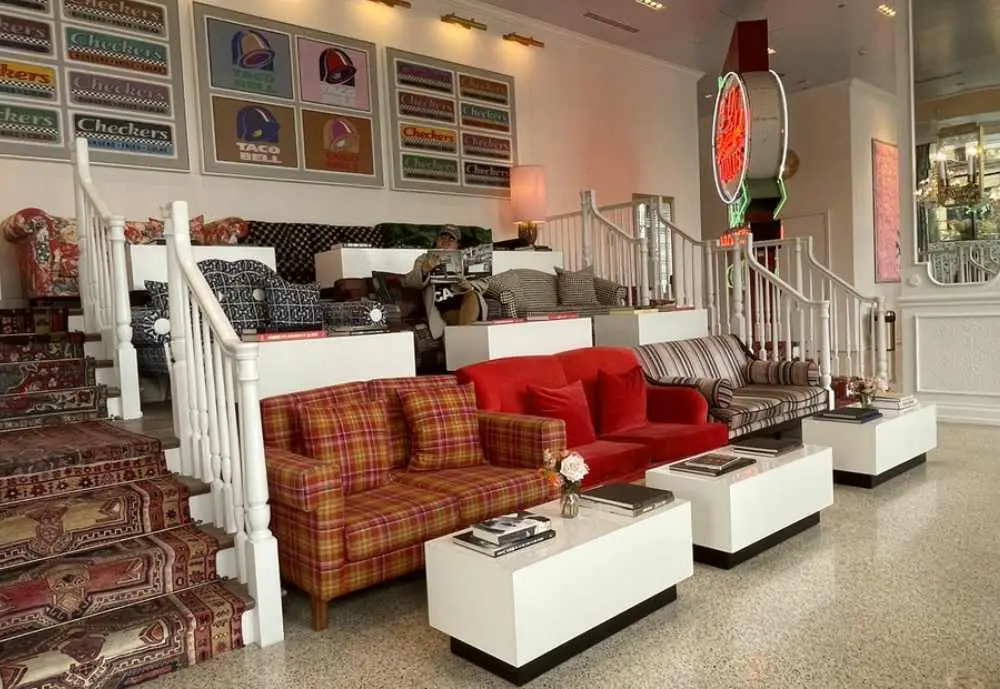 They have lots of patterns, mismatched couches, and cute decor all around.
The coffee is also pretty good, and they even have dishes like breakfast sandwiches, spicy tomato soup, and smashbrowns. You can find them in the Graduate Nashville hotel.
Top Review: "The decor inside of this coffee shop is AMAZING and is so relaxing with lots of natural light. This is a great place to work from as it's decently quiet and very zen. The coffee was amazing and the food was good as well. I would definitely recommend making a stop in here." – Gina L.
Drive: 101 20th Ave N, Nashville, TN 37203 Call: (615) 551-2700
Killebrew Coffee
Another coffee shop in a hotel is Killebrew Coffee. It's housed in the lobby of the Thompson Hotel, conveniently located near tourist spots in the area.
People recommend it as a good choice for a quick coffee pit stop before a day of exploring the city. Patrons like their almond milk latte and chai tea latte. You can also pair it with any of their delicious in-house pastries! One of the best cafes in Nashville!
Menu: Killebrew Menu
Top Review: "Such a cute coffee shop located adjacent to Thompson Hotel! The space is light, airy and modern and would be a great place to catch up with a friend or get some work done (plenty of outlets!). The staff are all so pleasant and welcoming, and one of them recommended the autumn spice latte to me – which ended up being great. Highly recommend!" – Catherine H.
Drive: 401 11th Street, Nashville, TN Call: (615) 262-6001
Steadfast
If you want somewhere less crowded and quieter, try Steadfast in Germantown. They've got a little bit of everything, from food, coffee, and cocktails.
Try their breakfast tacos, egg sandwich, or poached eggs for breakfast. Their rested butterscotch iced latte is a popular choice for their drinks. They have a very friendly staff, and you can bring your dogs to their outdoor patio!
Menu:
Top Review:
Drive: 603 Taylor Street, Nashville TN Call: (615) 891-7424
Café Intermezzo
Café Intermezzo is a cute café in downtown Nashville with a European-inspired décor and vibe. It looks great for the 'gram, a little fancy, and hipster.
The ambiance is relaxing with an emphasis on taking life at a slower pace. They also have cafe food like their popular spicy tortellini, eggs benedict, and smoked salmon pasta.
Menu: Cafe Intermezzo Menu
Top Review: "I adore this place – great and extensive coffee menu, fun brunch menu, and incredible pastries & desserts. My staff went here for book club and it was such a memorable afternoon. You totally forget that you're in downtown Nashville LOL. It feels so refined and classy! Definitely a great experience." – Megan M.
Headquarters
Headquarters is a small intimate coffee shop with excellent coffee drinks and pastries. This neighborhood coffee shop has limited indoor and outdoor seating, so if you're in the area and need a coffee to-go, this is the perfect place.
Their drinks, like cherry refresho (espresso and Mexican Coca-Cola) or sorghum cinnamon latte, are unique. Stop by soon; they are one of the best cafes in Nashville!
Menu: Headquarters Menu
Top Review: "Best breve, espresso base was super mild and creamy. You know when something is so good you want to savor it, but you also want to inhale it? Yeah, that was my breve. I will return for that, for sure. The shop is cozy and interesting, fun to look around. I had the everything bagel and I licked my fingers after in an attempt to extend the life of the bagel . Totally recommend." – Meagan D.
Cafe at Thistle Farms
Cafe at Thistle Farms isn't the typical coffee shop you would find in the area. It's not too crowded, and both food and drink offerings are so good. The employees are community volunteers at Thistle Farms, and you'll get a quick and friendly service from them.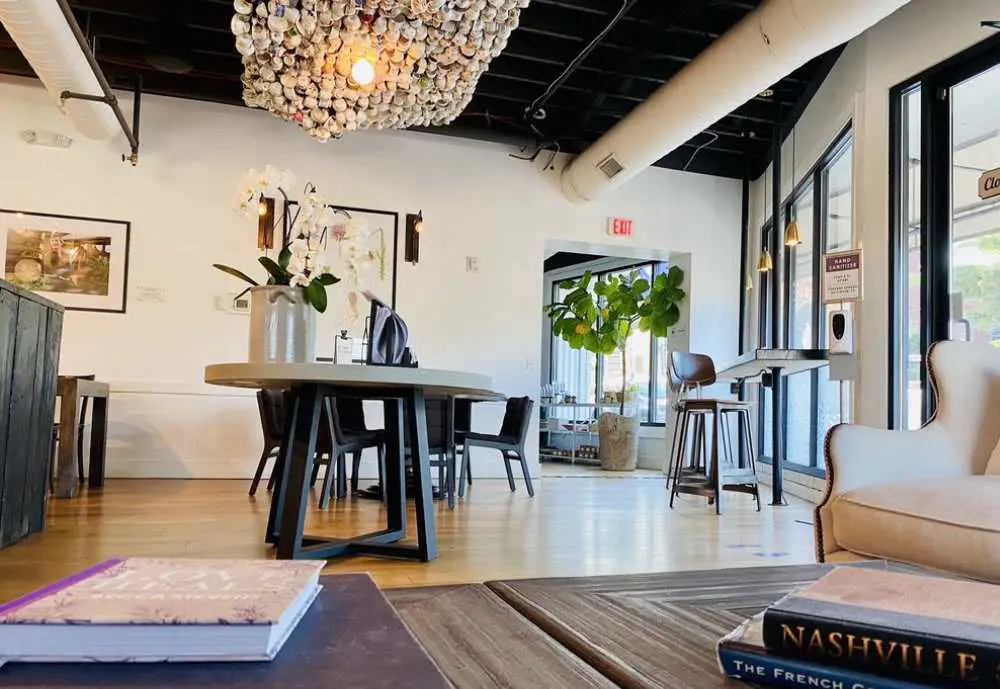 Their popular food options are chicken pot pie, turkey bacon avocado sandwich, and chicken salad sandwich.
What they're really known for is their afternoon tea experience. It's the whole shebang with multiple tiers of sweets, savory treats, and your choice of tea.
Menu: Cafe at Thistle Farms Menu
Top Review: "Café at Thistle Farms is a great location to study, enough some coffee with friends, or get some breakfast/lunch. The coffee portion size was large, service was friendly! Great place to start your morning." – Heather Rose M.
Drive: 5122 Charlotte Ave, Nashville, TN Call: (615) 953-6440
Nashville has so many great options when it comes to good coffee shops. There's a range of options for budget, coffee preference, food, or even if you need a quick caffeine fix or need a work spot. There is really something for everyone. It's also admirable how these spots treat coffee as an art and craft. Any coffee lover would love a coffee journey in the city. We hope you find your new favorite in this list of the best cafes in Nashville!
You might also enjoy these articles: