If you are ready for some fantastic seafood, Galveston has some real culinary treats for you. Being right on the Gulf of Mexico, these restaurants have access to fresh seafood, making Gulf to table a reality. Lucky you!
We hope you enjoy our picks and, bon appetite!
Katie's Seafood House
Katie's Seafood House is a one-of-a-kind seafood restaurant, well known for their fresh seafood and world class service and hospitality. It's really not to be missed if you live in or visiting Galveston.
Try the patio for great views of the docks. It does happen to smell like a dock, but don't let that deter you if want to full experience.
You will definitely want to try their Caribbean style grouper, Boudin balls, sauteed crab fingers (oh my!), and if looking for something lighter, the Fiesta shrimp and avocado salad is to die for.
Menu: Katie's Seafood House Menu
Top Review: "Absolutely amazing! The food was perfect, and our server was amazing. He even had asked for our names, and was so polite about everything. Our server was Joey, he was absolutely stunning at his job, and did everything perfect. The food was just on time, wasn't too early or too late, and the experience was amazing for our vacation. This has gotten to be one of the best restaurants so far on our trip. Thank you, Joey!!" – Dio B.
2000 Wharf Rd Galveston, TX 77550, (409) 765-5688
The Black Pearl Oyster Bar
The Black Pearl Oyster Bar is a fantastic spot for cajun seafood. They are located on The Strand, on the corner of 23rd and Market Street. Bring your appetite, because their portions are no joke.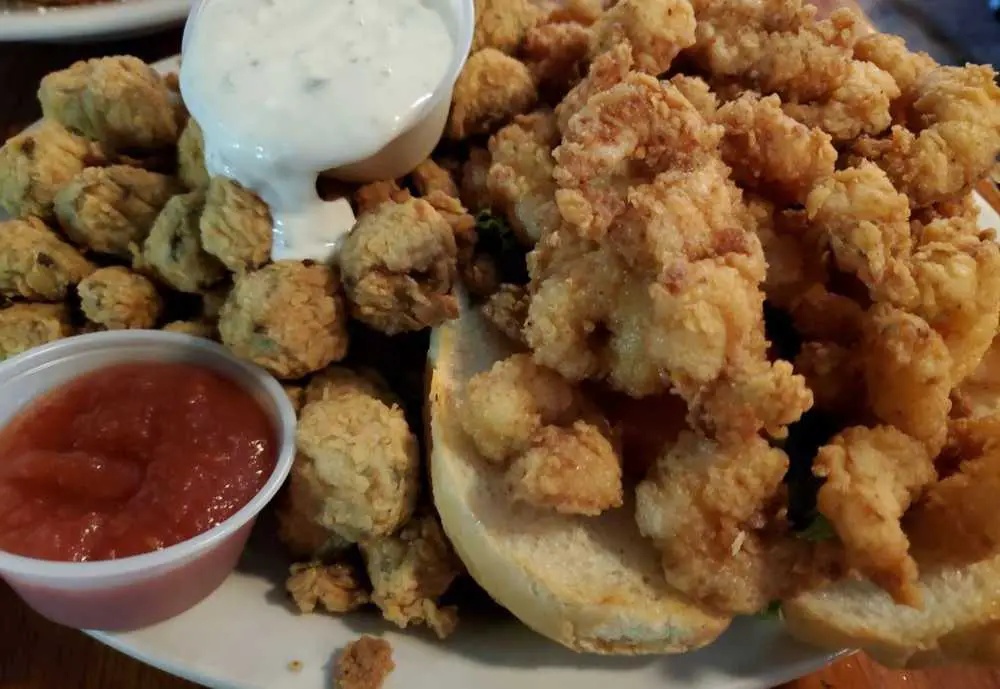 Some of the menu items we recommend are the Shrimp Po Boy (HUGE), Fish Tacos, and their chunky style ceviche.
Menu: Black Pearl Menu
Top Review: "We were a party of 4 and not all Cajun style food lovers. No problem, this homey restaurant has something to meet most needs with a versatile menu. We got a table right away and quick service from our server. We ordered oysters, a hamburger, red beans and rice, ceviche, shrimp cocktail, fish sandwich, fries, coleslaw and bloody Mary's. The coleslaw was so fresh and perfectly seasoned, the shrimp cocktail was the best I remember having and the small serving of rice and beans is more like a large! We were pleased with our meal and service was exceptional." – Laura B.
327 23rd St Galveston, TX 77550, (409) 762-7299
BLVD Seafood
Next on our list is BLVD Seafood. Established in 2015, the BLVD Seafood location was formerly a convenience store. But don't let the building fool you, BLVD is a 5 star restaurant with top flight offerings.
It is a bit smaller and does get crowded, so make reservations if possible.
If you are able to try out BLVD Seafood, we recommend you try their amazing coconut shrimp, pecan crusted red snapper, crab cake appetizer, or the BLVD sampler for a perfect little variety.
They also have great cocktails with a few originals, like the Bourbon Pecan Pie. The perfect way to start your excursion through the BLVD menu!
Menu: BLVD Seafood Menu
Top Review: "Upscale/casual seafood restaurant right along Seawall. We ended up here twice during our long weekend because the food and service were that good! Its a small place and does get busy so make reservations if you can. We did not and managed to get in fairly quickly both times. Can't say enough good things about the service here! The seafood was fresh, the drinks were great, and even dessert hit the spot.  This will always be a must visit when in Galveston." – Nikki J.
28th St & Seawall Blvd Galveston, TX 77550, (409) 762-2583
Miller's Seawall Grill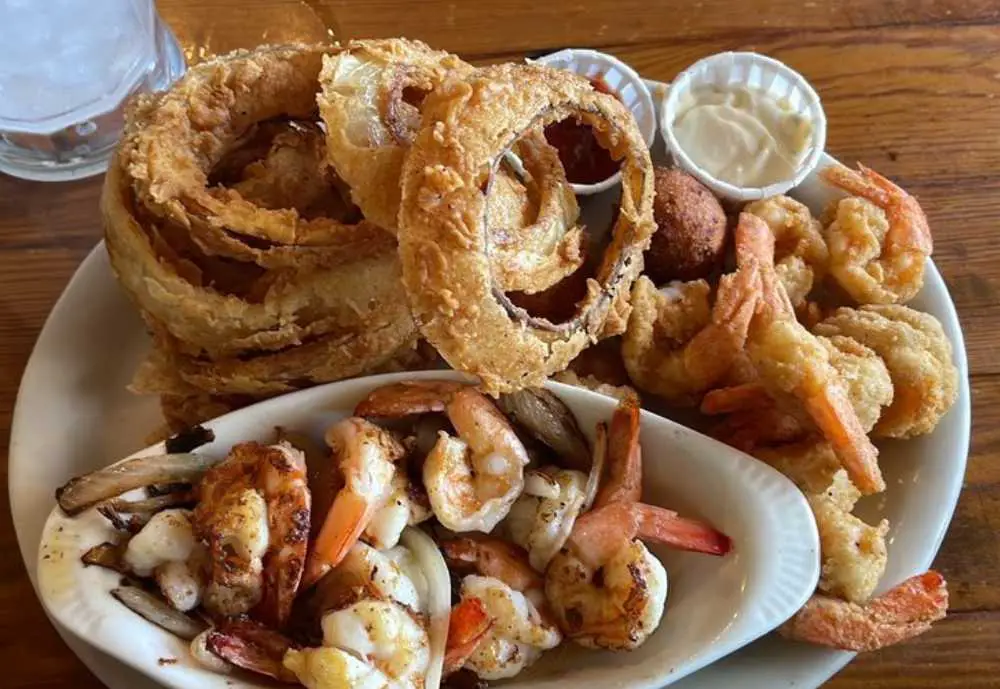 Miller's Seawall Grill should absolutely be on your shortlist of the best seafood spots to try in Galveston. Miller's opened their doors all the way back in 1976 and their dishes have been favorites for locals and tourists alike.
in 2008 they remodeled the building facade in Victorian style as an homage to the many Victorian style building which Galveston is known for. You'll also have fantastic views since they are on the water.
On to the menu! They are an all day restaurant, so if you happen to be visiting around brunch, DO TRY the shrimp & gouda grits. Don't miss their flat iron shrimp, or the ever satisfying Miller's Combo, fried, grilled or both.
Menu: Miller's Menu
Top Review: "I can't say enough about this place. We went twice while in Galveston and the food was fresh, the staff was great, and the prices are so reasonable. A lot of places in tourist destinations tend to be lacking in quality for what you pay but this place is incredible quality for reasonable prices. It shows by how busy they are. If you're looking for quality well priced seafood right along the seaside drive check this spot out!" – Gus O.
1824 Seawall Blvd Galveston, TX 77550, (409) 763-8777
Gaido's
Established in 1911, Gaido's is without a doubt, one of the longest standing seafood restaurants in not only Galveston, but Texas.
For the last 111 years, Gaido's has continued the family recipes down the line, generation after generation.
At Gaido's the must try items are the crab stuffed flounder (have to request this off-menu item), any of their fresh red snapper dishes, or for something on the lighter side, go for their Greek seared tuna salad, you will not regret.
Menu: Gaido's Menu
Top Review: "Simply put, Gaido's food is the stuff dreams are made of. I was thrilled to be able to have the stuffed flounder, topped with crab meat, as I had in 2019. When I flew into Galveston last week,  it was not available. But it was today. YAY!!!! It is an off-menu special and only available when they can get fresh flounder of a certain size. It is large enough for two hungry people. My sister ordered the stuffed shrimp. We split a wedge salad with blue cheese dressing. And their complementary bread with olive oil and herbs was delicious. This place is such a treat! Gaido's is THE seafood place in Galveston known amongst the locals and visitors to consistently serve top quality fresh, delicious seafood. It is far from inexpensive, but that's why it's a treat. It is beautiful with it's tasteful,  timeless decor. I believe most of the servers are seasoned and devoted to the excellence the restaurant. If you get a chance and can afford to splurge, I highly recommend this amazing restaurant."
3900 Seawall Blvd Galveston, TX 77550, (409) 761-5500
Fish Tales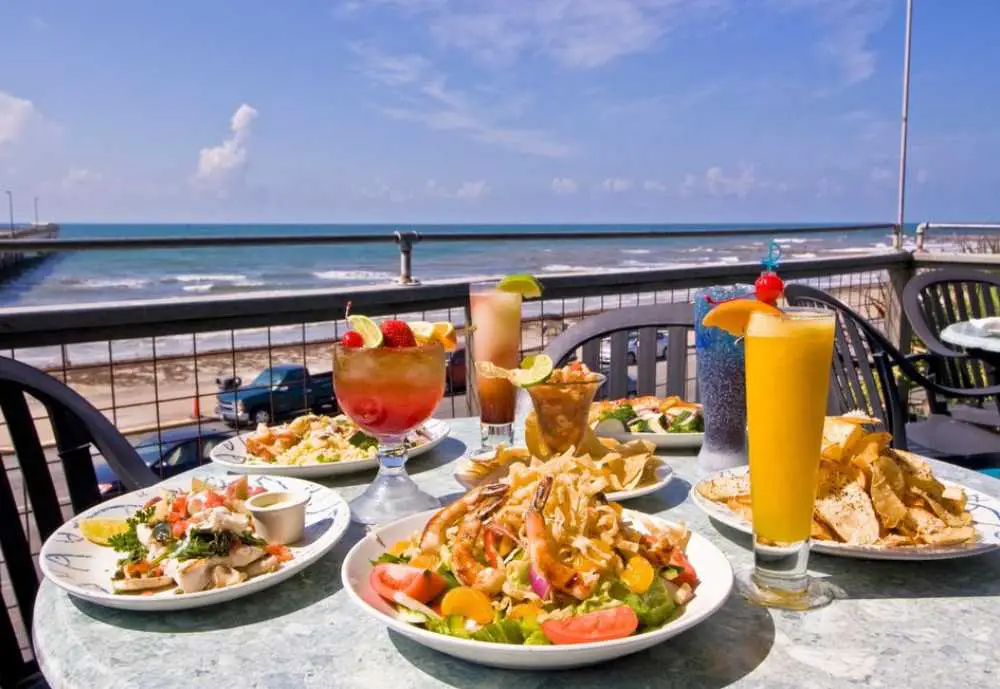 Another amazing Galveston seafood restaurant is the Fish Tales. Known for their fresh seafood and stunning patio views of the Gulf,
We recommend trying their fish tacos, coconut shrimp, and shrimp kisses, which are bacon wrapped shrimp with jalapeno and cream cheese.
Menu: Fish Tales Menu
Top Review: "We came from Dallas and hit up Fish Tales on Labor Day weekend.  The outdoor patio is dog-friendly (great because we had 3 pups) and huge.  Beautiful view of Pleasure Pier and the water!  One of the best things about our meal was our server, Cameron M.  He was so friendly, polite, personable and helpful!  He gave us info on area beaches and things to do and was just a great guy.  He made our experience a really pleasant one.  We had the pasta, a burger, coconut shrimp and battered fish. All of it was delicious and well-prepared!   High marks for food and atmosphere, even higher marks for service. Coconut ShrimpFish and Chips." – Kristy J.
2502 Seawall Blvd Galveston, TX 77550, (409) 762-8545
---
Did we miss a spot that deserves to be mentioned? Shoot us an email at: [email protected] Thank you!
---
You might also like:
Best seafood in Galveston