Known as "spouting waters," Waikiki is a world-famous beach destination for locals and tourists. It's no surprise that people are drawn to this location because of its white-sand beaches and perfect surfing waves. They have plenty of tourist attractions that are perfect for guests of all ages.
If you find yourself visiting Waikiki for a holiday break or a weekend get-away, take the time to enjoy the scenery. Before exploring the area, enjoy some of the popular breakfast spots in the area.
Start your day with a hearty meal at these best breakfast places in Waikiki.
Heavenly Island Lifestyle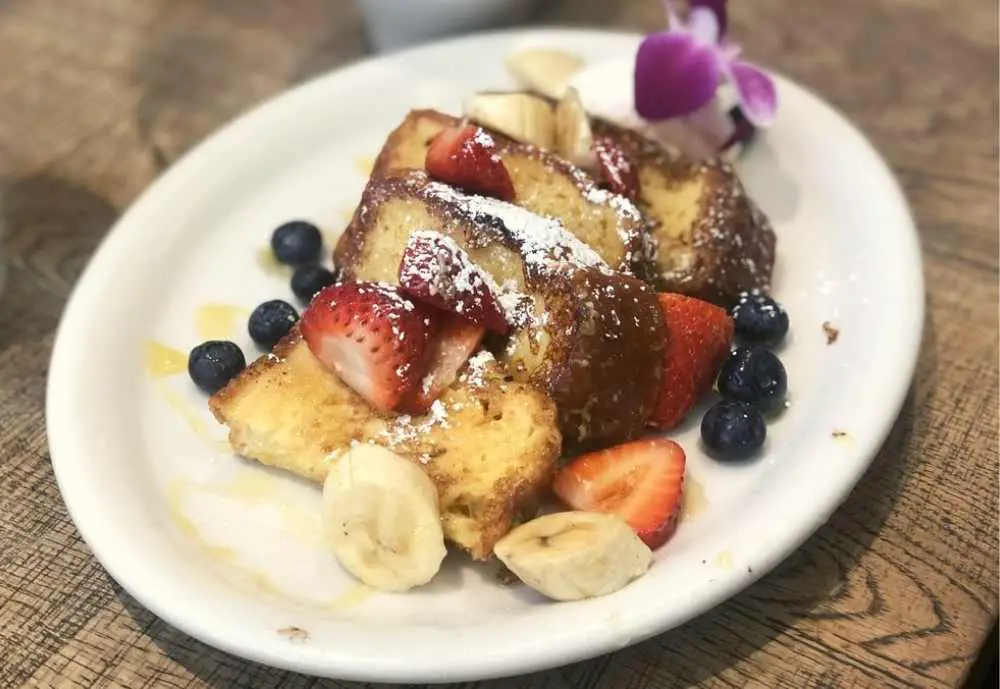 Guests are always welcome at Heavenly Island Lifestyle to experience the genuine flavor of Hawaiian cuisine, regardless of whether you are visiting Waikiki or one of the locals.
Enjoy their delightful menu options with explosive flavors from locally sourced ingredients.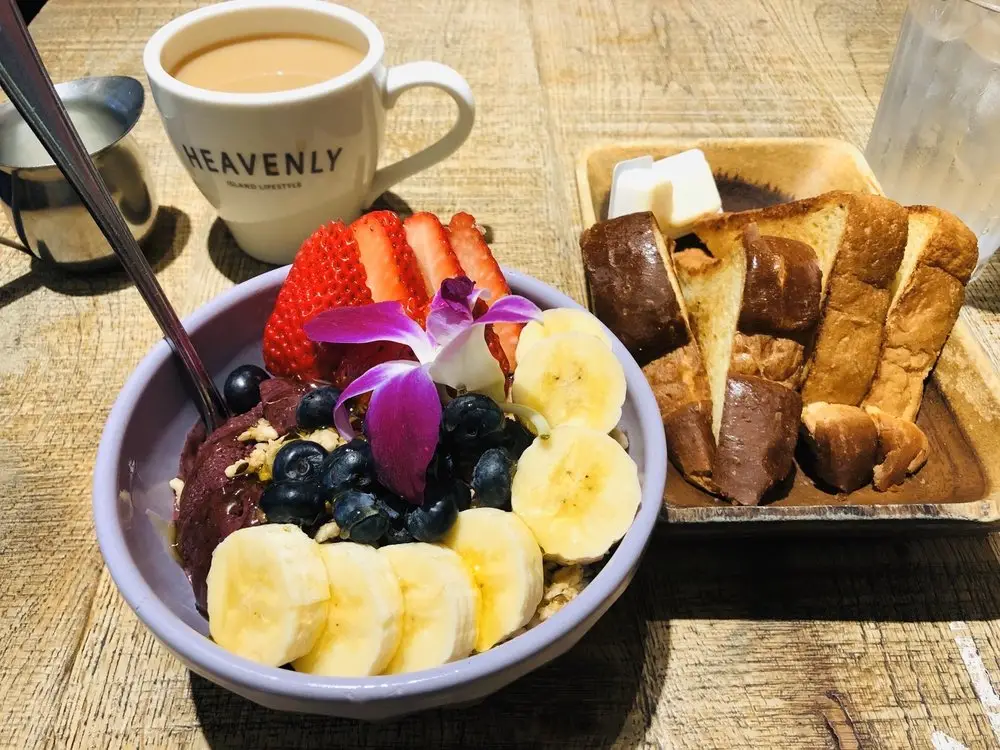 Try Heavenly Island Lifestyle's popular dishes, such as local eggs Benedict and loco moco. The Local Eggs Benedict is served with homemade hollandaise sauce with Lilikoi butter, poached local eggs with Okinawa purple potatoes, and fresh kale salad.
Loco Moco is served with 100% local beef, a local egg, ginger soy glaze, 10 grain rice, green beans, broccolini, organic carrots, lentil beans, and organic black beans.
Menu: Heavenly Island Lifestyle Menu
Top Review: "Yummy yummy brunch place! I got the salmon and spinach benedict and wow. You can taste the freshness in the ingredients, I was very satisfied with my meal and I also didn't feel heavy afterwards!" – Esther K.
342 Seaside Ave Honolulu, HI 96815, (808) 923-1100
Hula Grill Waikiki
Enjoy a meal just above the bustle of Waikiki while savoring the genuine taste of Hawaii at Hula Grill Waikiki.
You will taste Hawaii's distinctive culinary and cultural melting pot, prepared and served with the genuine spirit of aloha, using local, line-caught fresh seafood, Oahu-grown fruit, and all-natural meats.
Guests that wish to try some of their favorite island menu options can choose the Peanut Butter & Bacon French Toast that is served with a croissant, strawberries, Aloun Farms banana, duroc bacon, peanut butter sauce, and whipped mascarpone. Divine!
If you prefer to try their Eggs Hawaiian Style, try their Avocado Toast, which is served with multigrain bread, avocado, charred tomato, arugula, red onion, a poached egg, Meyer lemon, vinaigrette, and applewood bacon.
Menu: Hula Grill Menu
Top Review: "We always come here when we visit because the food is food and the view is amazing! The loco moco has three types of meat and the best fried rice, also fried onions on top. The Mac and cheese was creamy and cheesy! Fish and chip was perfect! The macnut pancake was good. I'd really recommend requesting for a table near the ocean and enjoy the view with a lava flow! Perfect way to start the morning!" – Cynthia C.
2335 Kalakaua Ave Ste 203 Honolulu, HI 96815, (808) 923-4852
Sweet E's Cafe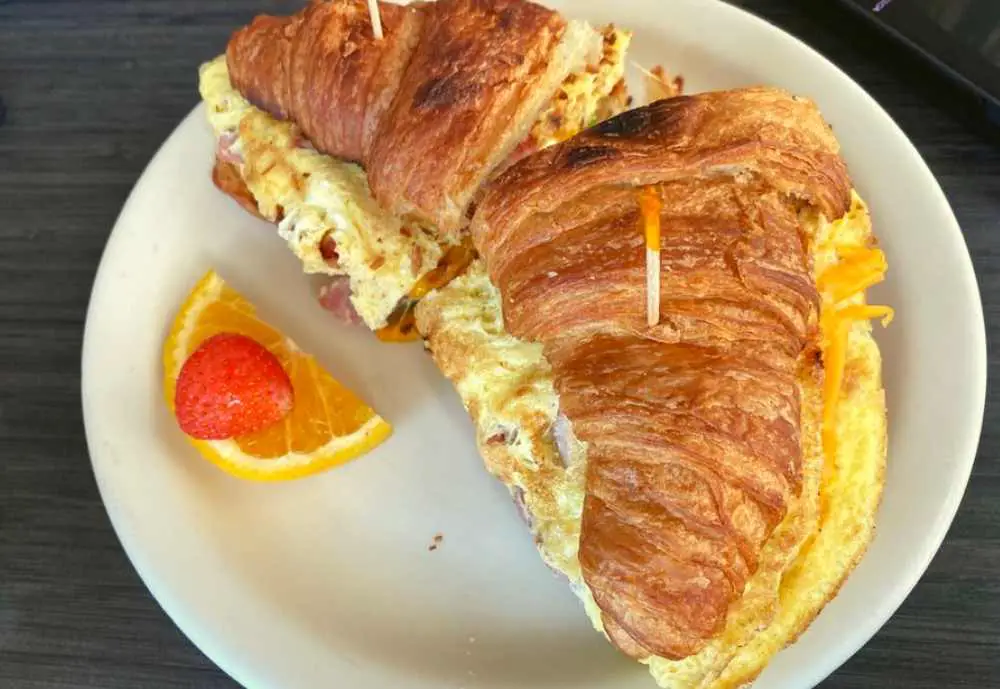 Tourists that are looking for a casual-chic restaurant to dine at can eat their breakfast meal at Sweet E's Cafe. It is a family-run restaurant that was established in 2011.
Since then, this quaint breakfast spot has won several awards from Honolulu Magazine.
If you are looking for some extravagant sandwiches for breakfast, try their BLT, which is served with bacon, mixed greens, tomato, and provolone cheese with a ranch aioli.
If you prefer the Everyday Breakfast option, it is served with two eggs of any style, your choice of one meat, and a choice of one starch or one pancake.
Menu: Sweet E's Menu
Top Review: "First time in Hawaii and my friends brought us here for some breakfast! This place lives up to the reviews it already has. It's a small little spot with great service and food. I had the Kalua Benedict which was amazingggg! With fried rice of course. My husband got the breakfast burrito. Our friends both got omelets and then we shared the stuffed banana cream cheese toast. Everything we had was amazing. Our food came out sooo fast. I highly recommend this place, even if there is a wait! I can't wait to come back here next time we come to visit our friends and family" – Alicia D.
1006 Kapahulu Ave Honolulu, HI 96816, (808) 737-7771
Goofy Cafe & Dine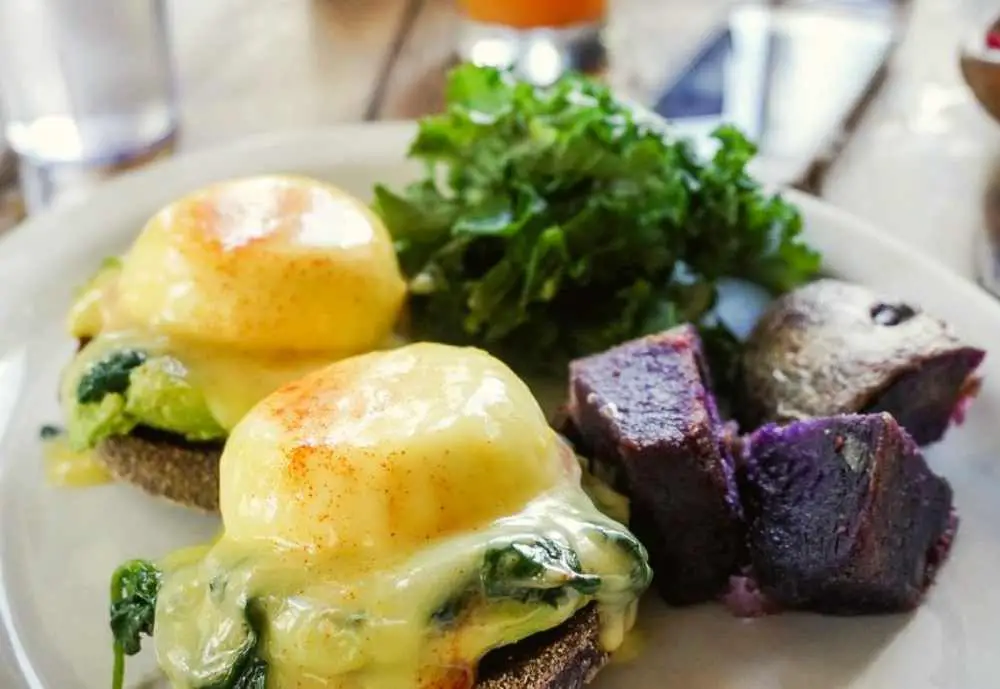 Goofy Cafe and Dine is the best option for tourists who prefer to eat healthy and natural food for breakfast.
Their menu options use a Hawaiian local food theme based on Eat Local, so guests are still assured of that Hawaiian flavor.
If you prefer to eat a healthy breakfast meal, try their Morning Power Salad that is served with mixed green salad, clover sprout, mustard radish microgreen, pearl radish, cherry tomato, avocado, strawberry, chick bean, romaine lettuce, Brazilian nut, wheat muffin, carrot dressing, and kale dressing. 
For guests that prefer to eat a hearty meal for breakfast, try their Big Island Beef Loco Moco, which is served with Big Island beef homemade patti, two local Waimanalo TKG eggs (sunny side up), homemade special gravy sauce, and brown rice.
Menu: Goofy's Cafe Menu
Top Review: "One of the best kalua pork Benedict on island! We stayed at Hilton so it's just convenient to walk over here to grab breakfast. The food was so good here we went there twice and almost 3 times during our one week stay lol. The service was great too. Friendly people. The place was cozy and cute, didn't seem too touristy coz I know even locals eat here." – Rebecca T.
1831 Ala Moana Blvd Ste 201 Honolulu, HI 96815, (808) 943-0077
Aloha Kitchen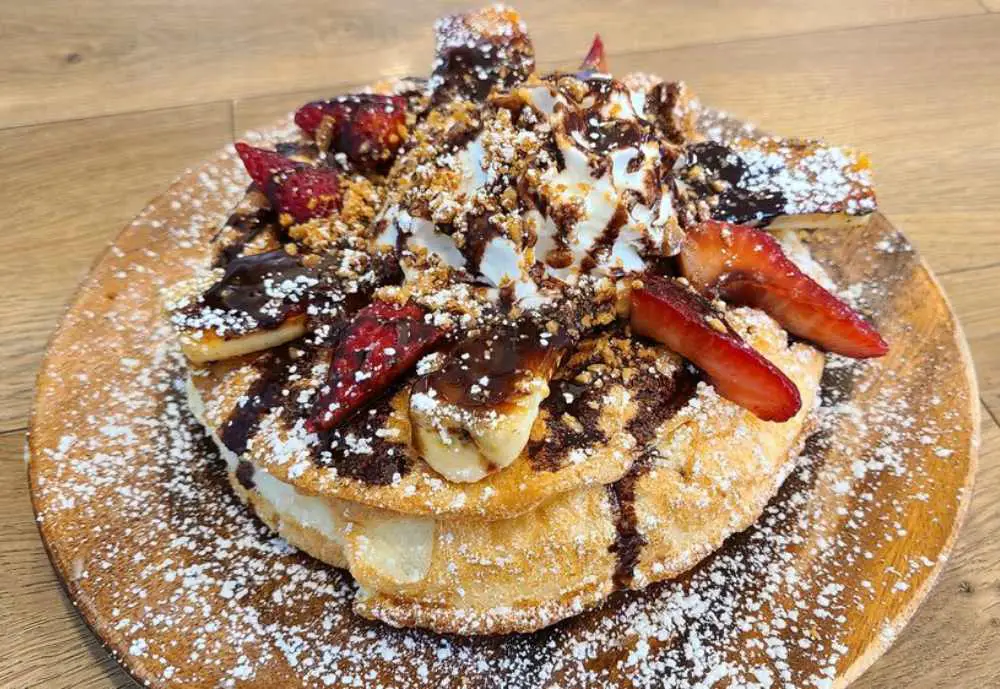 Aloha Kitchen is one of the popular breakfast spots in Waikiki. Guests are encouraged to arrive early, or else there will be a long line waiting for you, since they do not take reservations.
Their most popular dishes are Eggs Benedict and Loco Moco. However, they also have other menu choices that you can explore, such as their Souffle Pancake and Burger and Sandwich options. Try their Pulled Smoked Pork Sandwich, which is served with house-smoked pulled pork, Hawaiian barbecue sauce, and French fries.
Menu: Aloha Kitchen Menu
Top Review: "This is my fav place in Honolulu and I make sure to come here each year I visit, rain or shine. This year I even made my babies wait in a 45 min wait so I can have it again. This is how amazing the food is here! I usually hate waiting and won't wait anywhere but this place is so worth it. All the souffle pancakes are amazing. Loco moco is good too! But definitely try all the souffle pancakes, can't find it like this anywhere else." – Cynthia C.
432 Ena Rd Honolulu, HI 96815, (808) 943-6105
Liliha Bakery
Liliha Bakery opened its doors to serve the locals and guests of Waikiki in 1950. Since then, this quaint bakery has grown a loyal following because of its tasty pastries and local dishes.
Liliha Bakery has a diverse menu with plenty of options for its guests to try.
Try their Country Style Omelet, which is served with scrambled eggs with green and round onions, tomatoes, and a choice of bacon, ham, Vienna sausage, pork sausage, Portuguese sausage, hamburger patty, or Spam.
You can also try some of their delicious rolls, such as the Butter Roll or Cream Puffs.
Menu: Liliha Bakery Waikiki Menu
Top Review: "Out of all the food places my boyfriend and I ate at during our Hawaii trip, this place ranked #1! It was a shame that we discovered this place on the last night of our vacation or else we would have definitely eaten here multiple times. Food was amazing. Everything was flavorful and melt in your mouth delicious. Our entrees were the Chicken Karaage and the Smoked Pineapple Pork Belly. Even the free bread with jam that was given was great. Our server checked in with us frequently so we felt like we were taken care of throughout our entire meal. Afterwards, we stopped by the bakery for some desserts. We got the poi mochi donuts, green tea puff and Ensenada. I didn't really taste the poi in the donuts, but I was very impressed with the green tea puff. I wish I ordered more of those. This place will forever be a food place to visit whenever I visit Hawaii." Reena G.
2330 Kalakaua Ave Honolulu, HI 96815, (808) 922-2488
Cafe Kaila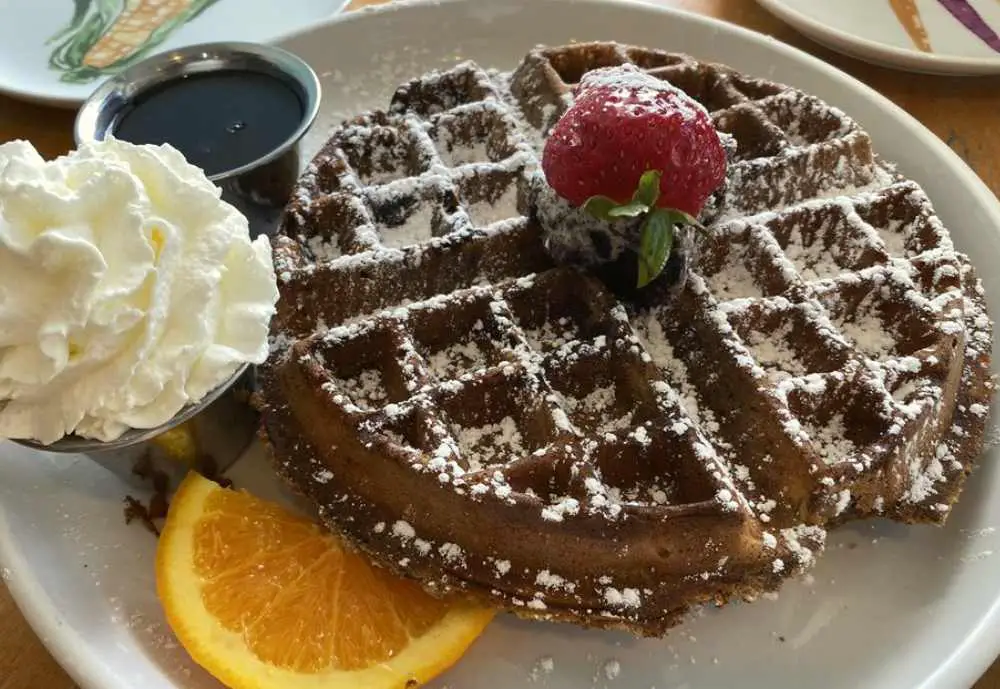 Since its establishment in 2007, Cafe Kaila has become one of the most talked-about breakfast spots in Waikiki. The philosophy of this chic restaurant is to deliver quality food while providing an all-around dining experience, even during their busiest times.
Guests that like to eat waffles for breakfast should try their Belgian Malted Waffle, which is served with bananas or caramelized apples, fresh blueberries or strawberries, and a light and crispy waffle dusted with powdered sugar, butter, and syrup. You can also try their specialty menu options like their Lox and Bagel, which is served with smoked salmon, cream cheese, onion, tomatoes, capers, and lemon on a toasted bagel.
Top Review: "Every time I return to Hawaii, I always look for the flavors I miss – mango, papaya and lilikoi. So when I saw the special of the day, lilikoi orange waffle, I had to order it. The waffle was light, fluffy and the flavor of the orange and lilikoi hit it out of the ballpark! We also ordered create your own omelette, which was fluffy, and a fruit bowl, enough to share between the two of us. We went late morning on a weekday so there was no wait. The staff was attentive and pleasant. This is a hole in the wall but a gem of a find!  Will definitely return to this place, just hope they'll have the lilikoi orange waffle." – Lyd J.
2919 Kapiolani Blvd Honolulu, HI 96826, (808) 732-3330
With all these popular breakfast spots, you are never short of places to eat before starting your day. Head off to these places and have that tasty, delicious dish for breakfast.
---
Did we miss a spot that deserves to be mentioned? Shoot us an email at: [email protected] Thank you!
---
You might also enjoy:
breakfast waikiki, breakfast in waikiki, best breakfast waikiki, best breakfast in waikiki, breakfast places waikiki, breakfast in waikiki beach, best breakfast spots waikiki