Searching for the best burgers in Huntsville? Welcome to the heart of the Rocket City, where Huntsville, Alabama not only boasts a rich history in space exploration, but also a scrumptious and thriving burger scene. Sinking your teeth into the city's best burgers is an out-of-this-world experience that will leave you craving more. From melt-in-your-mouth classics to daring gourmet creations, Huntsville's diverse array of burger joints offers a tantalizing journey for your taste buds. Buckle up folks and get ready to embark on a mouthwatering adventure as we explore the top burger spots in Huntsville, Alabama.
Peppered Pig
Peppered Pig in Huntsville, Alabama is known for their delicious burgers. According to Yelp reviews, the Piggy Burger is a popular choice among customers.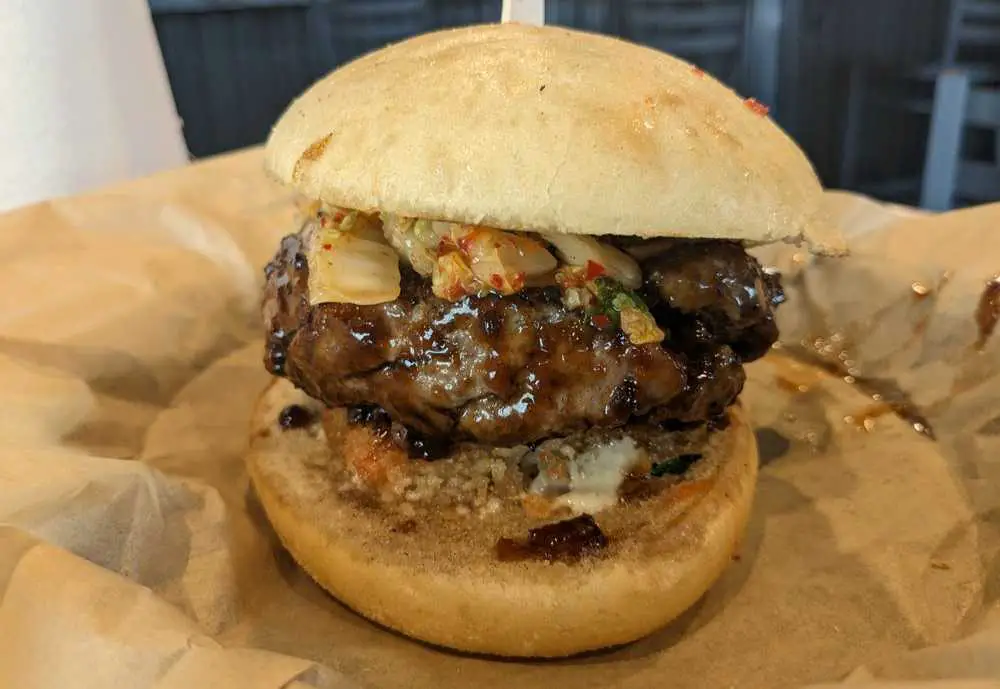 One reviewer raved about the Bulgogi burger, saying it was one of the best and most flavorful burgers they've ever had. The restaurant's website boasts that they serve "Amazing burgers, fries and sandwiches!!" and they have been ranked #9 of 84 Quick Bites in Huntsville on TripAdvisor. The prices are on the higher side, but many customers think the food is worth it.
Menu: Peppered Pig Menu
Top Review: "This place doesn't have a bad dish! Super chill atmosphere with friendly staff. Will definitely be back many more times." – Rachel F.
1305 Four Mile Post Rd SE Suite C, Huntsville, AL 35802, (407) 927-6591
Bad Daddy's Burger Bar
Bad Daddy's Burger Bar in Huntsville, Alabama is known for serving up delicious, chef-inspired burgers with attitude. With a variety of options to choose from, including beef, turkey, and vegetarian patties, there's something for everyone.
Customers rave about the quality of the ingredients and the unique flavor combinations, such as the "Sam I Am" burger with American cheese, over-easy fried egg, rosemary ham & pesto. In addition to the burgers, Bad Daddy's also offers chopped salads, artisan sandwiches, and a selection of local craft beers. Overall, Bad Daddy's Burger Bar is a must-visit spot for burger lovers in Huntsville. 
Menu: Bad Daddy's Menu
Top Review: "Great burger place! We stopped here because the name sounded fun. I really enjoyed the rock and roll theme and atmosphere. We went around lunch time and didn't have to wait. Our waitress was very friendly. My husband and I both really enjoyed our burgers, and the fries were great also." – Kim C.
2317 Memorial Pkwy SW Ste 100, Huntsville, AL 35801, (256) 836-7901
Farm Burger Huntsville
Farm Burger is a must-visit destination for food enthusiasts in search of mouthwatering, ethically sourced burgers. As a farm-to-table eatery, Farm Burger prides itself on using only the highest quality, grass-fed beef sourced from local farms.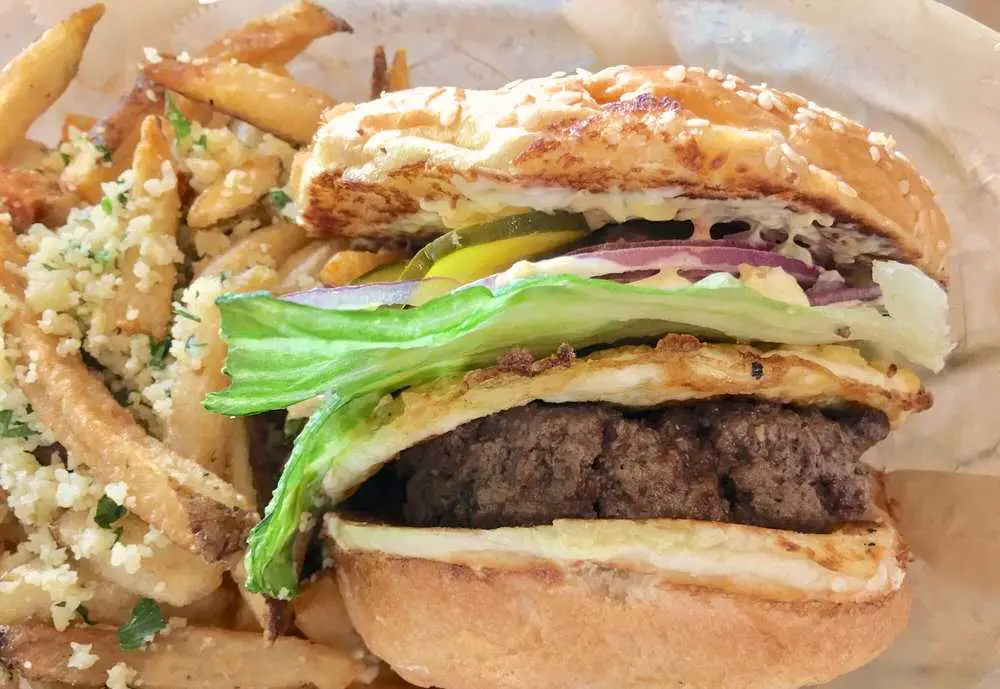 With an array of unique and innovative toppings, they cater to diverse palates, ensuring a delightful and satisfying experience for all. The warm and welcoming atmosphere, combined with their commitment to sustainability and community support, make Farm Burger an exceptional choice for anyone seeking a delicious meal in Huntsville that they can feel good about. Try them out for some of the best burgers in Huntsville.
Menu: Farm Burger Menu
Top Review: "Wifey and I visit the Farm Burgers Restaurant for the first time on December 16, 2022 around 3:40 and it was a Wonderful Experience.The Staff was so helpful assisting us with building our Burgers and assisting us with all the great food they had on the menu. Highly Recommend!" – Patrick R.
930 Bob Wallace Ave SW, Huntsville, AL 35801, (256) 270-7392
Jack Brown's Beer & Burger Joint
Jack's Beer & Burger Joint in Huntsville is a must-visit spot for anyone looking for a killer meal and an amazing selection of craft beers. The menu features a variety of burgers, sandwiches, and salads, all made with fresh and locally-sourced ingredients.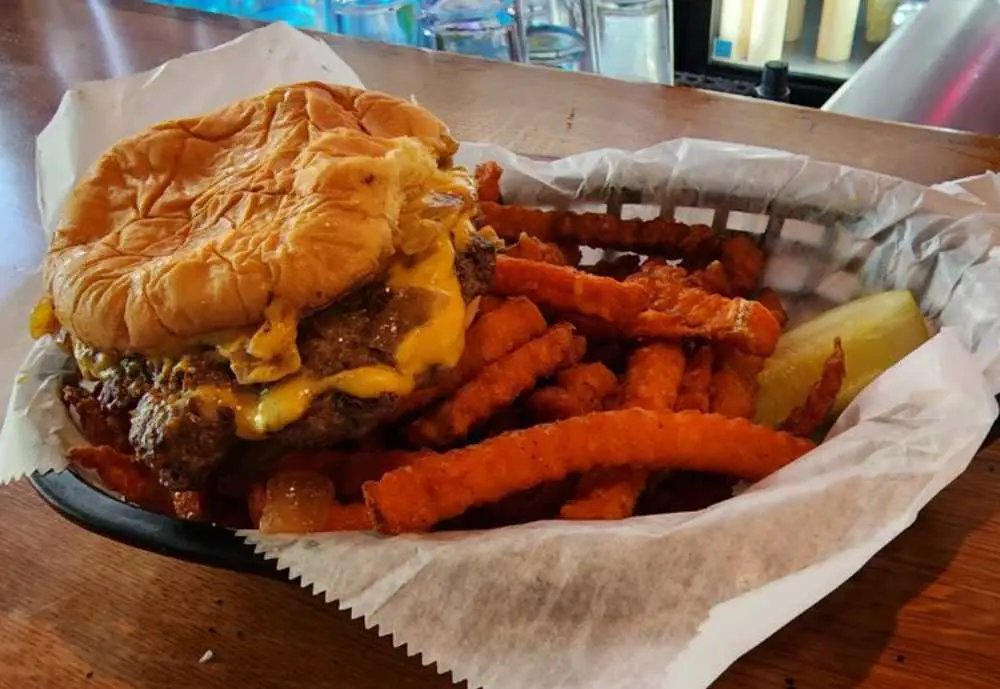 The atmosphere is cozy and inviting, with plenty of seating both indoors and outdoors. The real star of the show, however, is the beer selection. With over 50 different craft beers on tap, there's something for everyone to enjoy. Whether you're a beer enthusiast or just looking for a fun night out, Jack's Beer & Burger Joint is definitely worth a visit.
Menu: Jack Brown's Burger Menu
Top Review: "Great atmosphere the food was delicious and for a good price. I have eaten here several times and everything I've ordered has always been delicious." – Lance G.
123 North Side Square Ste 100, Huntsville, AL 35801, (256) 270-7045
Wahlburgers
Wahlburgers, nestled in the heart of Huntsville, offers a chef-inspired menu featuring mouthwatering burgers that cater to every palate. With a focus on customer satisfaction, they are more than happy to prepare your burger just the way you like it.
Among their delectable offerings, the original sweet potato tots stand out as a fantastic side dish. The establishment prides itself on maintaining an exceptionally clean environment, ensuring an enjoyable dining experience. The warm and welcoming staff creates a sense of being at home, enhancing the overall atmosphere. For a unique twist on a classic beverage, the blood orange margarita is an absolute must-try.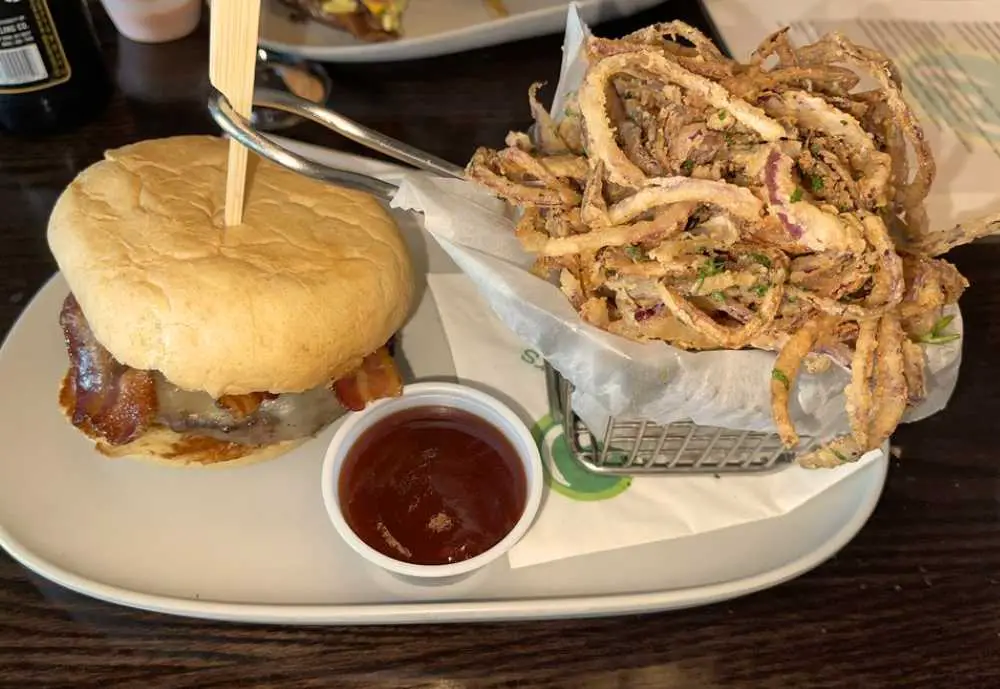 Among the highly recommended burgers, you'll find the savory BBQ Bacon Burger, the indulgent Super Melt Burger, and the eco-friendly Impossible Burger. Wahlburgers easily has some of the best burgers in Huntsville, give them a go as soon as you can!
Menu: Wahlburger's Menu
Top Review: "Where to start. This place is the cleanest and most well kept places I've had the privilege to be an honored guest. I say "honored guest" because that's how I was made to feel as soon as I walked in. Amy, the bartender btw, tended not only to my chosen drink but took my order as promptly as I was ready to make it. If she was the representative for this place, she definitely has made me come back more to these establishments. Not only was food on time but it was MADE TO ORDER and super-delicious! I'm personally not a big fan of Mr. Wahlberg, but as of today…I am. This place is great for one and/or for all. Not pricey at all for the all around service." – Tovar T.
1030 Mid City Dr, Huntsville, AL 35806, (256) 261-3821
As our culinary journey through Huntsville comes to an end, it's clear that this Alabama gem has truly mastered the art of crafting exceptional burgers. With a delightful blend of classic flavors and innovative concoctions, Huntsville's burger scene is guaranteed to impress and satisfy even the most discerning palates. So, whether you're a space enthusiast or a foodie traveler, make sure to embark on this flavorsome adventure and discover the best burgers the Rocket City has to offer.
You might also like these articles:
best burgers in huntsville al, burgers in huntsville, best burgers in huntsville, burgers huntsville alabama