Welcome to our scrumptious journey through the bustling streets of Tampa Bay, where the mouth-watering aroma of sizzling patties and melting cheese will lead us to the best burgers in town! In this blog post, we'll explore the culinary gems that have made Tampa Bay a haven for burger aficionados. From juicy, gourmet masterpieces to down-to-earth classics, we've handpicked the top contenders that will have your taste buds dancing in delight.
Burger Culture
Burger Culture in Tampa Bay, Florida is a must-visit for all burger lovers. Since 2011, they have been slinging some of the finest burgers in Tampa Bay, and it's more than just a burger joint, it's a culture.
People travel from all over to get their hands on their specialty burgers, such as the Mango Burger with cream cheese, sautéed onions, and mango chutney, or the Waffle Burger with goat cheese, blueberry compote, and honey drizzle. But they also offer other delicious options like cheesesteaks, triple grilled cheese, hot dogs, and a kids menu. With picnic table seating and the best ingredients, Burger Culture is a killer burger spot for a delicious meal in Tampa Bay.
Menu: Burger Culture Menu
Top Review: "Amazing burger place. Nice little food truck with a decent amount of outdoor seating with string lights that look very pretty at night! Burgers were delicious. Me, my boyfriend and my sister all enjoyed our food and devoured it all. The employees were super friendly and courteous. We waited a little for the burgers but they were so worth it. Highly recommend!" – Aneesa R.
6920 N Dale Mabry Hwy, Tampa, FL 33614, (813) 992-7444
Engine No 9
Engine No. 9 is a must-visit destination for burger lovers in nearby St. Petersburg, Florida. This local burger restaurant has won numerous awards for its delicious burgers, including Best Burger in Tampa Bay in 2013. Just look at this picture below!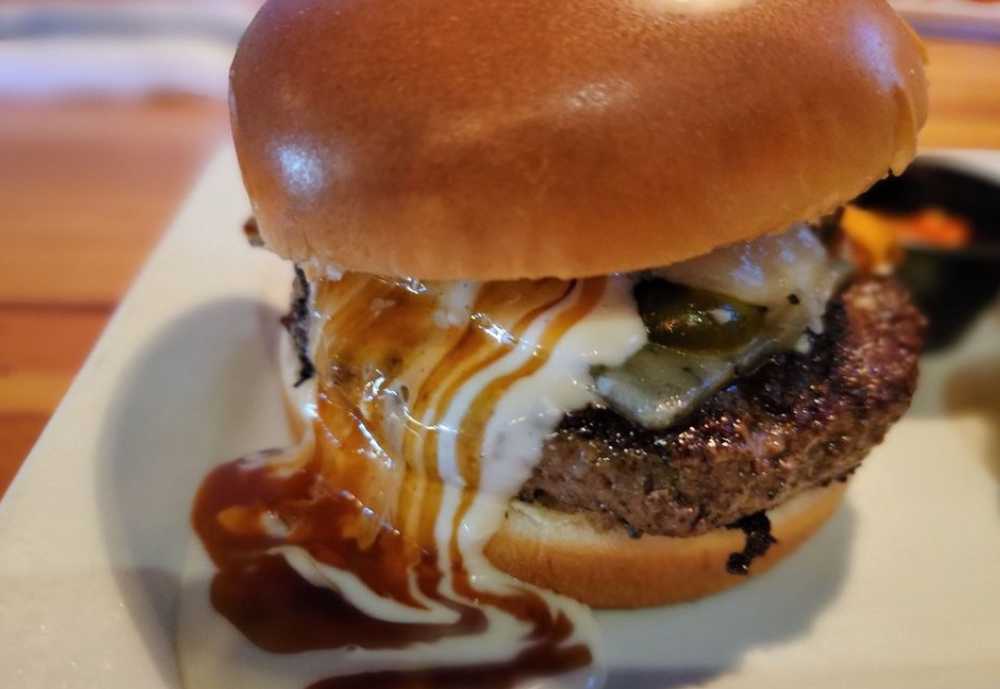 Engine No. 9 is also known for its Cajun/Creole style cooking, which is evident in many of its dishes, such as the Marie Laveau burger topped with crawfish tails, Andouille sausage, muenster cheese, green onions, and creole sauce.
The restaurant has a large bar with beer and wine only, making it a perfect spot for a casual night out. Engine No. 9 is a must-visit spot for anyone looking for a delicious burger in nearby St. Petersburg.
Menu: Engine No 9 Menu
Top Review: "My husband and I love engine no 9! This was our first trip, and we can't wait to go back. All of the staff we came in contact with was friendly, personable, and gave great service. I got the wine-o burger, 10/10! The burger was juicy, and the combination of the sauce and fried onions provided so much flavor. The calamari fries were perfectly crispy without overcooking the meat, it was delicious. The restaurant is located in downtown St. Pete which can make parking tricky at times, so be mindful of that but don't let that stop you from visiting. Can't wait to return!" – Kaitlin B.
56 Dr M.L.K. Jr St N, St. Petersburg, FL 33705, (727) 623-0938
Thee Burger Spot
Thee Burger Spot in Tampa Bay, Florida is a must-visit spot for burger lovers. This family-owned restaurant is located on the corner of Martin Luther King, Jr. Blvd and Tampa Street, and serves the most diverse and energetic community of Tampa Bay.
The burgers are absolutely delicious and have received rave reviews on Yelp. The restaurant is small, but the food is worth the wait. Thee Burger Spot is not just a place to grab a quick bite, it's a community hub that brings people together. If you're in Tampa Bay, don't miss the chance to try this gem of a burger spot.
Menu: Thee Burger Spot Menu
Top Review: "Yummmmm burger and fries! Got the regular burger no cheese and it is perfect! FYai free fries on Wednesday! Place was busy small eat in and outside seating area. More than just burgers and some unique burger options that I haven't tried. Love their signs." – Ruth B.
3917 N Tampa St, Tampa, FL 33603, (813) 993-3926
Butter's Burgers
Butter's Burgers is a must-visit spot for anyone looking for a delicious meal in Tampa Bay, Florida. Located in downtown Tampa, this restaurant offers a welcoming atmosphere and expansive views of Curtis Hixon Park and The University of Tampa.
Butter's has a wide selection of local flavors, beers, and refreshing cocktails, Butter's Burgers is the perfect place to enjoy a quick lunch or a meal with family and friends. Their crafted burgers are irresistible and sure to satisfy any craving. Make sure to stop by Butter's Burgers for some of the best burgers in downtown Tampa.
Menu: Butter's Menu
Top Review: "I got to try out The Boujee Burger from @buttersburgerstampa A delicious Black Angus burger, burrata cheese, crispy prosciutto, arugula,  balsamic glaze, pesto on a kaiser bun along with Truffle Seasoned Fries. A definte hit for a Burger Lover!  Definitely recommend for a night out with the guys or a date night at the sports bar. Located in the Downtown Tampa area next Curtis Hixon Park." – Felipe P.
777 N Ashley Dr D1, Tampa, FL 33602, (813) 221-2500
Tnt Burgers
If you're on the hunt for the best burger in Tampa Bay, Tnt Burger is a must-visit spot. This food truck, located at 7206 N Dale Mabry Hwy in Tampa, Florida, offers outdoor covered picnic table seating and a menu that's sure to make your mouth water.
The Cheesy Beast is a popular choice, and the descriptions of all the burgers on the menu are entertaining to read. Tnt Burger has received great reviews on Yelp and Restaurant Guru, with guests raving about the pork burgers, hot dogs, and bacon. Prices are reasonable, and the atmosphere is quiet and relaxing. Stop by for some of the best burgers in Tampa Bay, Fl.
Menu: Tnt Burgers Menu
Top Review: "Awesome burger lunch after a trip to Lowry Zoo. Ambience is chill outside on a January day in Tampa under the covered seating area listening/watching Prince and Red Hot Chili Peppers music videos (who knew you could still watch those)! We were seated promptly and given menus. The menu is 4 pages with various burgers and has other offerings like dogs and chicken sandwiches. We enjoyed the nacho burger w/fries, bacon cheese burger w/fries and a classic cheese burger. Everything was so good. We will definitely be back." – Ivan Q.
7206 N Dale Mabry Hwy, Tampa, FL 33614, (813) 812-2869
Tampa Bay, Florida is home to some of the best burger joints in the country. From classic cheeseburgers to unique creations, there's a burger for every taste bud. Whether you're a local or just passing through, be sure to check out these top picks for the best burgers in Tampa Bay.
---
You might also like these articles:
best burgers in Tampa, Tampa burgers, best burgers tampa, burgers tampa bay, best burgers in tampa fl