Known by the locals as "LBC," Long beach is a lively port city in southern Los Angeles. The city has a small-town provincial vibe despite it being the sixth largest in California and the 42nd-most populous in the United States. With its bike-friendly streets, active neighborhood community, and artists collectives, this city attracts tourists from all over the globe. 
If you find yourself touring around its urban waterfront attractions, take the time to explore some of the best breakfast places in Long Beach. Here are some of the best spots that should be on your list.
Waffle Love
Just like pancakes, waffles are also adored as an everyday breakfast meal.
Waffle Love offers sweet and savory waffle options to its guests. The restaurant is open to serve the best waffles not only for breakfast, but for lunch and dinner too. 
The popular menu options in Waffle Love are Chicken and Waffles and Breakfast Sammy.
Chicken and Waffles are served with buttermilk fried chicken tenders with a side of syrup and special sauce.
Their Breakfast Sammy is served with thick applewood bacon, over medium eggs, cheese, and special sauce.
Menu: Waffle Love Menus
Top Review: "Such a wonderful visit at Waffle Love. I mean who doesn't love sweet or savory waffles. I had to go with the classic waffle that had Nutella, whipped cream, strawberries, and bananas. I'm not going to lie though, the avocado toast type waffle also looked amazing. Will definitely try that next time. My friend ordered the chicken and waffles and it had two gigantic pieces of chicken on top!" – Larissa M.
3768 Long Beach Blvd #105, Long Beach, CA 90807, (818) 671-5344
The Breakfast Bar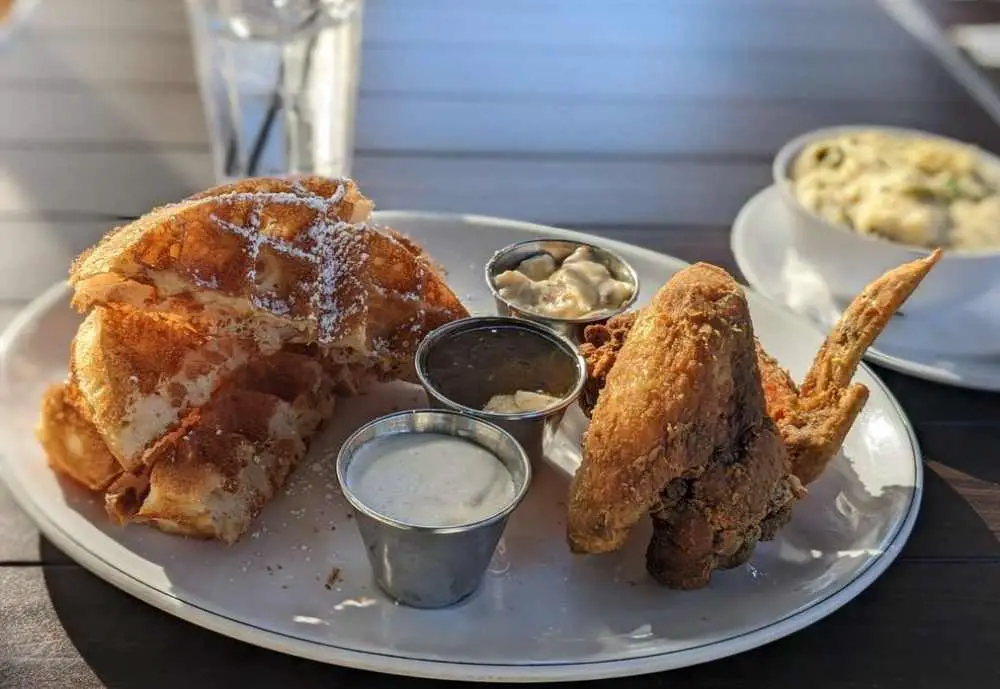 If you prefer a homemade meal for breakfast, The Breakfast Bar is a great option. They're proud to uphold a unique quality meal with most of their recipes being passed down from their ancestors (very literally).
The breakfast bar's most reviewed menu choices are Breakfast Burrito and Eggs Noni.
The Breakfast Burrito is served with two eggs scrambled with black beans, pico de gallo, cheddar cheese, avocado and a drizzle of spiced sour cream wrapped in a tortilla, with your choice of bacon, ham, sausage, turkey sausage or soy chorizo. Guests have the option to choose fresh tortilla chips or potato pancakes. 
The Eggs Noni is served with grilled house rosemary sourdough bread, grilled tomato, sauteed spinach, and two poached eggs topped with house Gindo's spice hollandaise. It is also served with a potato pancake.
Menu: Breakfast Bar Menu
Top Review: "Delicious.  Convenient. Treat for my palate. We have gone here three times already, the first two times we sat inside to get our grub on and the third time, the weather was nice and comfortable, so we chose to sit outside. What a yummy menu offering fresh everything.  I can't remember our waiter's name, but he served us 2 out of the 3 times we went, and he was pleasant and quick with the service. 5 stars for the food and the service- go check it out, your palate will thank you!" – Mrs. Bora Bora D.
70 Atlantic Ave Long Beach, CA 90802, (562) 726-1700
The Local Spot
Established in 2011, the Local Spot is known for their Long Beach Restaurant Eggs Etc. They are often the go to place of most of the students and faculty of California State Long Beach. 
The Local Spot's most reviewed menu choices are French Toast and Breakfast Burrito. 
Top Review: "The food here is fresh top-notch and a great bang for your dollar. Fluffy pancake is a must try. The poor boy with fist size biscuits & creamy homemade gravy top with eggs will fix any hangover. Always check the board for daily specials. In addition to great food, the staff here are friendly and efficient. Especially the manager, I saw him use his pen to get junk out of the table slats. The attention to detail is worth mentioning. It's always busy so have patience, it's worth it." – Cate L.
6200 B E Pacific Coast Hwy Ste B Long Beach, CA 90803, (562) 498-0400
The Attic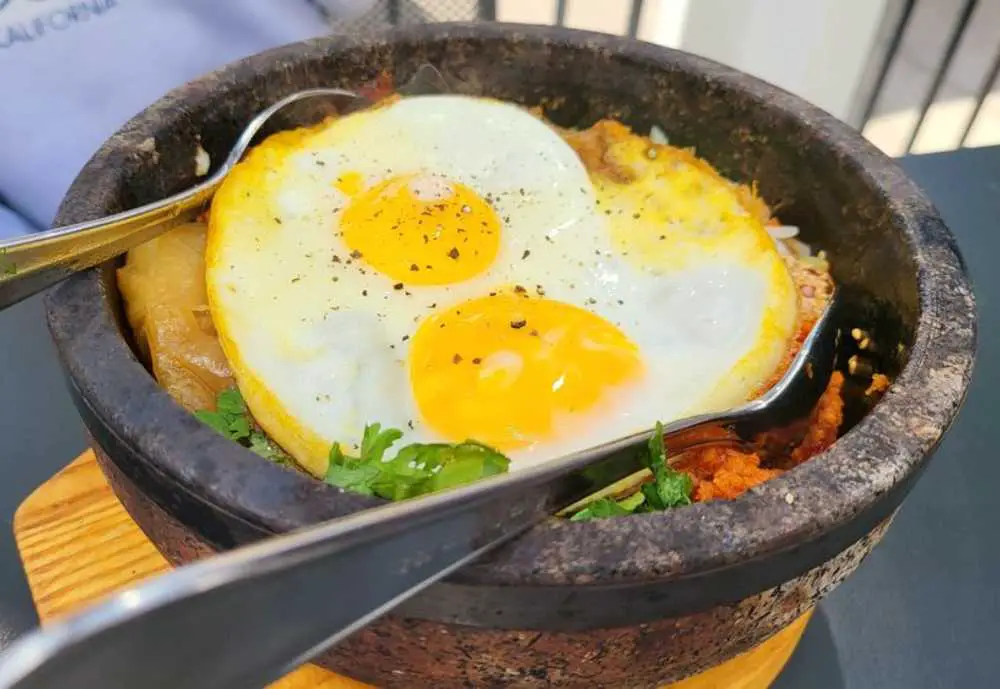 Established in 2012, The Attic has become a recognizable breakfast spot in Long Beach. Dining in is like having Sunday dinner with family and friends with its eclectic 1920's craftsman-style home. 
Their popular dish Mac & Cheetos is served with housemade pasta coated in a creamy cheddar, mozzarella, and jack cheese sauce, then topped with crumbled flaming hot Cheetos and green onions. So good!
Another notable menu option is the St Louis Cut Ribs which is served with black vinegar bbq sauce, sichuan pepper, garnished with cilantro and scallion whites.
Menu: The Attic Menu
Top Review: "Came here on Sunday around 3 PM and there was no wait to be seated. Had the best French toast of my life (and I'm not even a French toast person). The ricotta and jam were delicious, but the toast was the star of the show–very texturally satisfying and crispy without being hard. Also ordered the Vego mi ego with no bacon which was very solid. The eggs were fluffy and the potatoes underneath were super crispy. Originally they mentioned we could sub the bacon for avocado, but was later told they couldn't do it. Other than that, had an amazing brunch experience at the Attic." – Vivian P.
3441 E Broadway Long Beach, CA 90803, (562) 433–0153
The Nest – A Breakfast Joint
The Nest was established in 2014 with the original idea of serving a thoughtful breakfast in Long Beach. Today, this breakfast joint is one of the favorite restaurants in the area.
For one, they have coffee flights!
For guests that love to eat waffles for breakfast, try their tasty Bacon Waffles Plate that is served with homemade, bacon infused waffles, topped with bacon whiskey syrup.
You may also try their Beef Short Rib Hash served with roasted sweet potatoes, boneless beef short ribs, grilled onions, served with two eggs of any style on top and horseradish cream on the side.
Menu: The Nest Menu
Top Review: "One of my favorite brunch experiences ever! Homely team and homely food! There was also a secret menu that we had fun listening to. All in all just a very heartwarming and simple place to start your day!" – Tan G.
9260 Alondra Blvd Bellflower, CA 90706, (562) 804-5097
Blackbird Cafe
A beautiful place that celebrates history, Blackbird Cafe was established in 2011. This dog-friendly restaurant has an outdoor dining area with an artistic atmosphere that is perfect for a relaxing break. 
Blackbird Cafe's most reviewed dishes are Eggs Benedict and Dos Caballeros.
Their Eggs Benedict is served with traditional benedict with two poached eggs, ham atop two English muffin halves, topped with hollandaise sauce, while the Dos Caballeros is served with their very own Mexican influenced benedict, two Mexican corn sopes, stacked with two poached eggs, spicy soy chorizo, and grilled potatoes.
Menu: Blackbird Menu
Top Review: "One of my all time favorites. Been going since it opened. The food is great but even better are the servers.  I've known several of the servers since before my kids were born. This is how a neighborhood restaurant is supposed to feel." – Camille S.
3405 Orange Ave Long Beach, CA 90807, (562) 490-2473
Wide Eyes Open Palms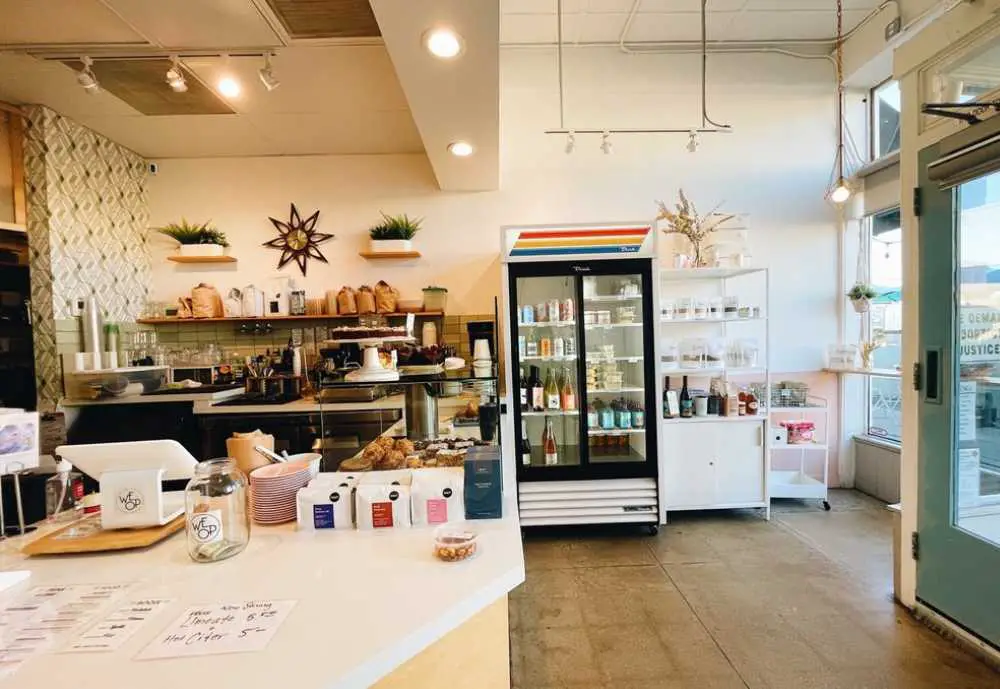 Considered a specialty coffee and seasonal food cafe, Wide Eyes Open Palms believes in bringing quality food to the community. The owners believe in prioritizing local and sustainable sourcing of fresh ingredients. 
Their popular food choices are the grain bowl, which is served with quinoa, house pesto, sprouts, feta and soft boiled egg, and ricotta toast, made of house made seasonal jam.
Menu: Wide Eyes Open Palms Menu
Top Review: "I snuck in just as the staff were closing (by accident! sorry, guys!) and I'm so glad I did. The employees were friendly and fun to talk to, and their coffee was as great as the conversation. I ordered an oat latte which, as basic as it is, is a pretty good benchmark for quality caffeine. They have a variety of syrup options if you're into something sweet, but I chose to add just a small drizzle of their simple. It was the perfect pick-me-up for a hot day, and I'll definitely be back." – Tia H.
416 Cherry Ave Long Beach, CA 90802, (562) 386-2031
Saint & Second
Serving three generations of creative, locally-sourced seasonal cuisine, the Saint & Second is a popular hangout place for locals. Their crafty and quality food choices is what made this restaurant the go-to place for breakfast.
The popular menu dishes of Saint & Second are the Duck Meatballs and the Crab Cakes. The Duck Meatballs is served with shallot-hoisin glaze, shishito pepper, and radish, while Crab Cakes are served with crispy shallots, Asian pear, frisee, yuzu, and miso ranch.
Menu: Saint & Second Weekend Brunch Menu
Top Review: "My first time dining here will definitely not be my last.  Emily was a fantastic server, I was there with a group that we brunch together monthly.  I love the atmosphere of the restaurant the hostess were also very nice and attentive.  The food was yummy, so many choices on the menu.  I ordered a fried chicken sandwich it was delicious it came with fries, was a huge sandwich which I ate half will enjoy the other half for dinner.  I will definitely return and I recommend to friends and family.  Emily also allowed us to have separate checks which was so cool." – Annie B.
4828 E 2nd St Long Beach, CA 90803, (562) 433-4828
With all these notable joints for breakfast in Long Beach, you'll find a tasty and delicious meals. Not only do you get to enjoy a wonderful breakfast, but you will find more than just a food scene, but also music and cultural festivals every year.
You might also like:
breakfast near me, breakfast long beach, breakfast in long beach, best breakfast in long beach, best breakfast long beach, breakfast spot, long beach breakfast