San Marcos is a small town in Texas with an up-and-coming culinary scene.
The best way to explore this area's best restaurants is by following the advice of locals and expert food bloggers.
Here are their top picks for the best places to eat in San Marcos, Texas.
Cody's Restaurant Bar and Patio
Cody's Restaurant Bar and Patio offer New American cuisine paired with a selection of spirits.
The restaurant's relaxed atmosphere and tasty menu have made it extremely popular among locals and are owned by locals. Their small plates are sourced from fresh ingredients from the community. They may be a more upscale dining experience, but you'll still feel perfectly at home!
One of their most-loved dishes includes the wagyu striploin. Pair this with one of their cocktails, beers, or wines.
Cody's also has a large patio that is perfect for enjoying the sunny Texas weather.
Menu: Cody's Menu
Top Review: "This place is a true diamond in the rough. You'd never think from the outside it is what it is. Looks like just another pub. One of the best beef Wellington's I've ever had. Most places do not do it because they ruin it. This place had it on point!! I've only been to one other place that made it so amazingly awesome." – Krystal K.
690 Centerpoint Rd Ste 209 San Marcos, TX 78666, (512) 393-2867
Palmer's Restaurant Bar and Courtyard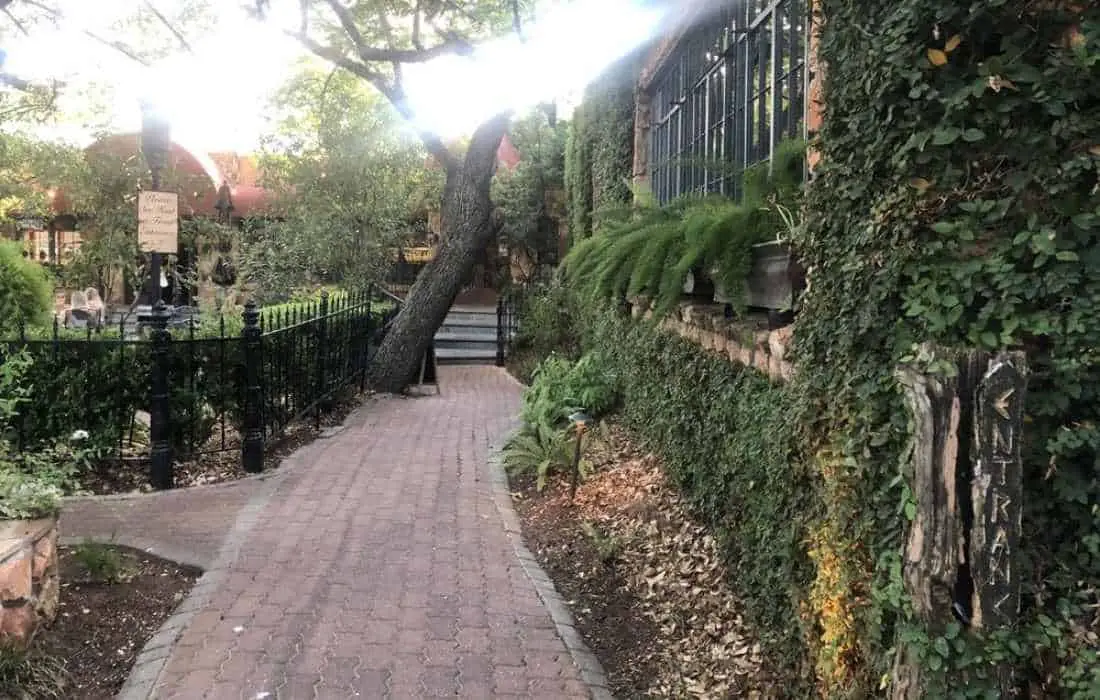 You can find Palmer's Restaurant Bar and Courtyard inside Palmer's Guest House.
Established in 1978, and located in historic west San Marcos, Palmer's is a beautifully renovated building that dates back to the 1920's.
Warm up by one of the four stone fireplaces or you can check out their very attractive fountain in their courtyard.
It's a little more pricey than your typical restaurant, but the vibe is cozy and homey. They are vegan-friendly and their one of the most popular restaurants in the city!
This restaurant is known for its modern take on classic Southern cuisine. Some standout menu items are ribeye and bacon-wrapped meatloaf.
Palmer's also has an extensive bar with cocktails, beer, and wine offerings. Their courtyard provides the perfect setting for a romantic night out.
Menu: Palmer's Menu
Top Review: "My boyfriend and I had such a great time here! We both had a long day at work and just wanted some good food. We both had the specials of the day followed by the special cheesecake (which I might add was the best cheesecake I have EVER had). We had the pleasure of being served by Greg, on the beautiful patio. Greg was so attentive and persuading about the specials. (We ordered all of them). Will definitely be returning!" – Anne B.
Root Cellar Cafe
Established in 2005, Root Cellar Cafe is a must-visit when you're in San Marcos. They've been consistently voted as one of the best restaurants in the city. This restaurant is best known for offering breakfast, lunch, and dinner, all day.
They offer a classic American cuisine with a chic and hip vibe inside the cafe. It's a casual place where you can hang out and have the most important meal of the day.
If you stop by the cafe, try their Bourbon Pecan Chicken, Bread pudding, or Pesto pasta with shrimp!
The Root Cellar Cafe also serves lunch and dinner, with items like sandwiches, salads, burgers, pizzas, and tacos.
Menu: The Root Cellar Menu
Top Review: "I went for lunch today and I would definitely recommend! This place is really a cellar imagined into a more elegant and spacious design. The mimosas and food were perfect. The staff were so friendly and helpful. The parking is an issue and it gets busy around lunch, but the restaurant can't help they're popular! This place is awesome!" – Catherine I.
Herbert's Taco Hut
You can't leave San Marcos without getting a taste of the city's Mexican flavors. They're right downtown and serve some of the best tacos you'll find. It's a total local favorite with Mexican comfort food.
Their taco options include carne asada, pastor, fish, and many more. Their enchilada plate and fajitas are also knockout items. Herbert's Taco Hut also has sides like rice & beans, quesadillas, nachos, and tortas.
The best part is that this taco spot has a drive-thru so you can pick up your food on the go!
If you're looking for something more substantial Herbert's Taco Hut also serves breakfast tacos all day long.
Top Review: "This TexMex Restaurant was amazing food was definitely a 10/10.
Friendly service great HOT food!" – Jacklyn D.
Kent Black's BBQ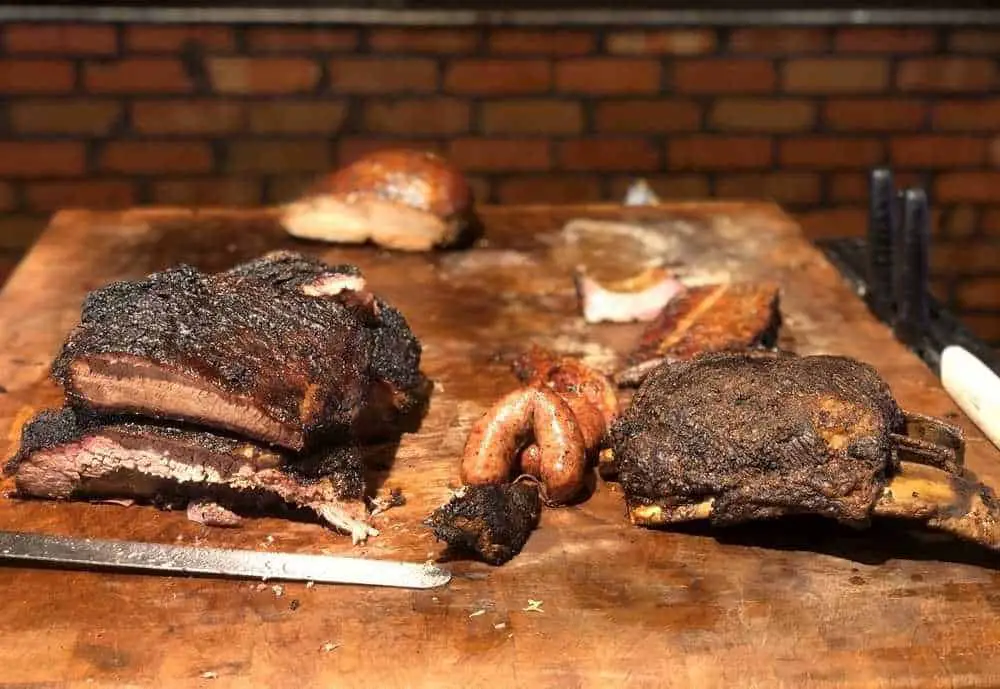 Kent Black's BBQ is best known for its Texas-style barbecue. The restaurant offers a variety of meats like brisket, ribs, sausage, chicken, and turkey.
But our recommendation is their famous brisket, slow-cooked to perfection.
Your choice of sides includes mac & cheese, baked beans, coleslaw, potato salad, cornbread muffins, and more.
Kent Black is a part of an 84-year-old barbecue house originally in Lockhart, Texas. He's a 3rd generation pitmaster and now manages this iconic restaurant in San Marcos.
Menu: Kent Black's Menu
Top Review: "One of the best Beef Ribs restaurants! Texas has so many BBQ places and all do it their own way. They know their meats! So Ken's Black BBQ is part of 'The Original Black Barbeque' chain. This is one of the must-try BBQ' restaurants that you need to try here in Texas." – Edna G.
Saltgrass Steak House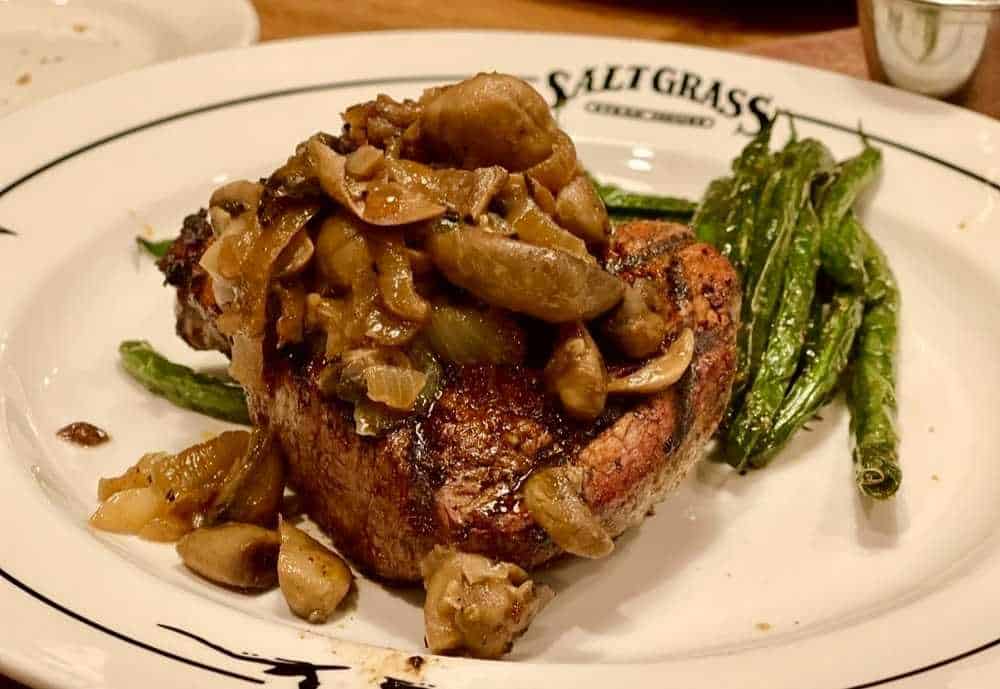 Saltgrass Steak House is best known for its steak & seafood. This popular lunch spot is a go-to restaurant for steaks, but their desserts are also sinful.
You'll find the typical steak house menu items here like the classics: ribeye, New York strip, sirloin, and porterhouse. For our recommendation, go for the Prime Rib or BBQ Baby Back Ribs.
Their sides include classic American fares like potatoes au gratin, garlic mashed potatoes, and creamed spinach. Try their cheesecakes for dessert!
Saltgrass Steak House also has an extensive bar with plenty of wines by the glass or bottle to choose from.
Menu: Saltgrass Menu
Top Review: "We decided to go to Saltgrass for Valentine's, and it was an amazing choice. We had a reservation, so we didn't have a wait. Our waitress, her name was Sydney, and OMG, she was the absolute sweetest she, was very caring and nice, came up to us often she was amazing! Our whole experience there was great. I recommend this place to anyone; the atmosphere is very homey and comfortable and laid back." – Bea J.
54th Street Restaurant and Drafthouse
54th Street Restaurant and Drafthouse has a little bit of everything. It's a casual restaurant and draft house that have been serving San Marcos since 1989.
They also have several big-screen TVs for watching sports events as well.
54th street has a wide variety of burgers, sandwiches, pizzas, salads, soup & chili options.
The best part is that all their dishes are made with fresh ingredients and homemade recipes! They also have a large bar serving up draft beers along with creative cocktails.
Menu: 54th Street Menu
Top Review: "Let me start off and let you know my husband is very hard on his critique of restaurants. This was our first time here. Thanks to a friends recommendation we tried it today. Seriously the best steaks that we have had in a restaurant. They were literally cooked perfectly. It was the right amount of portions. I also got the basil lemonade. Our waitress was super sweet and efficient. Both my husband and I give this place a two thumbs up." – Stacey S.
Italian Garden Restaurant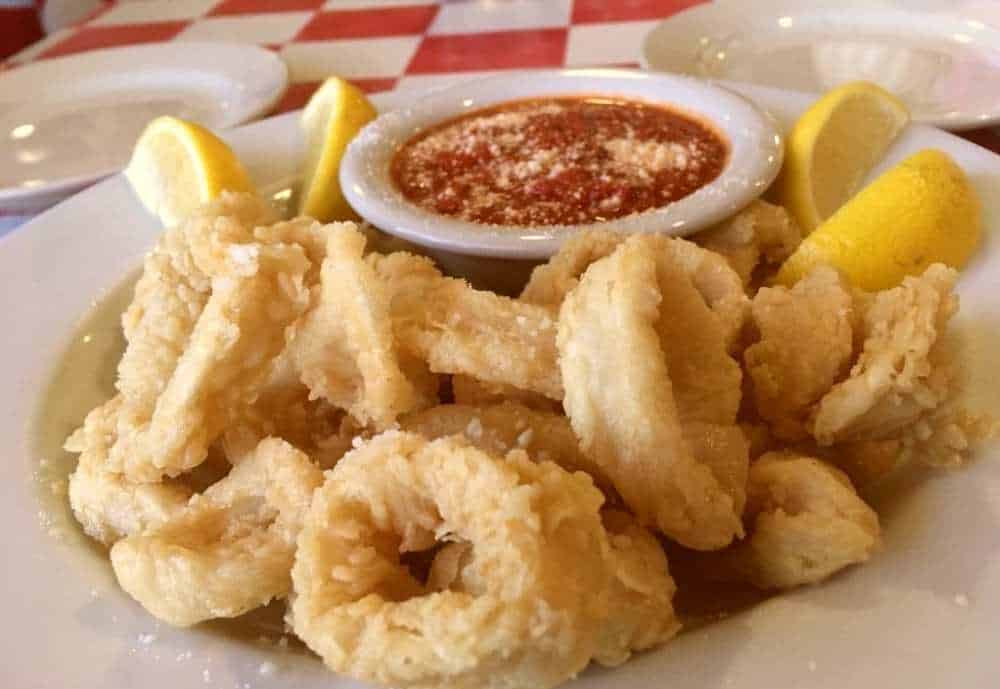 The Italian Garden Restaurant is best known for its delicious and authentic Italian cuisine.
It's a small restaurant across from Texas State University and is a hit in the neighborhood.
Some things to try include their pizzas and traditional pasta like Baked Lasagna or Chicken Parmesan.
Their seafood dishes are also worth a taste. Pair your meal with a drink from their large wine list with selections from Italy and California.
Italian Garden's best-selling desserts include tiramisu, cannoli, and spumoni ice cream.
If you're craving authentic Italian dishes while in San Marcos, this is the place to go!
Menu: Italian Garden Menu
Top Review: "My family and I went last night for dinner. We had excellent food and service. Such a quaint little place. Large parties would probably want to call ahead of time. The bread that comes to the table is delicious!" – Kristin F.
Hays County BBQ
Hays County BBQ & Bistro is best known for its Texas-style barbecue. It's another barbecue restaurant to choose from while in the city.
Their meats are slow-cooked for 18 to 20 hours, which pulls apart so easily.
The restaurant offers a variety of meats like beef brisket, pulled pork, ribs, sausage links and patties, turkey breast, and chicken.
Hays County BBQ & Bistro also has desserts like peach cobbler and brownies. The best part is that they have a full bar with cocktails, beer, and wine options.
They also have an outdoor seating area for dining in the beautiful Texas Hill Country.
Menu: Hays County BBQ
Top Review: "Hands down my family's fav BBQ joint! The staff is always friendly and working hard to get through the lunch/dinner lines. BBQ is always amazing, pork chops are thick, and the brisket beans are a personal fav. The building is always clean with plenty of seating. Utensils and sauce are available (not always a thing in TX)." – Katie C.
Pie Society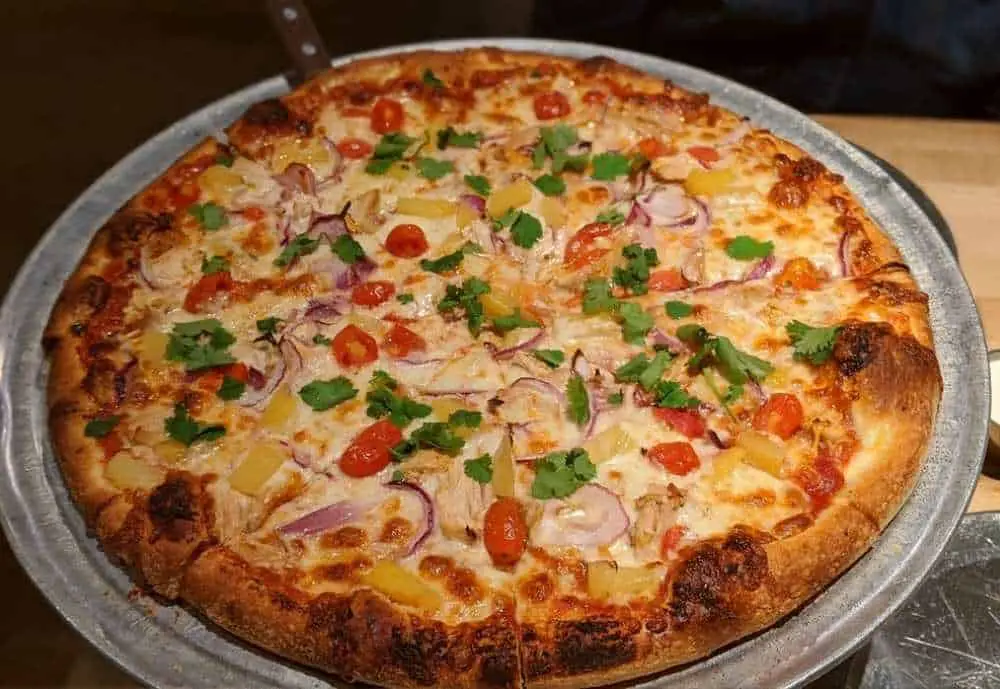 Pie Society is best known for its delicious and creative pies. Their pies are New York-style pizzas in a locally-owned restaurant. Plus, they're vegan-friendly!
Their menu includes a variety of flavors but one of their bestsellers is a dish called The Pyramid. Here, you'll find garlic-infused extra virgin olive oil, spinach, mozzarella, ricotta, and local Texas goat cheese.
You can also get their pies by the slice or as a whole pie to take home.
Menu: Pie Society Menu
Top Review: "This pizza place is the real deal. The pizza is awesome, the unique soda (I can't remember the brand) is great, the desserts were tasty and the hospitality was awesome! We were driving from San Antonio to Austin and this place did not disappoint. Many of these pizza places near a college campus are dull and boring but my daughters loved the pizza. Very fresh and delicious. Thank you for the nice stop and delicious pizza!" – Aaron S.
700 N Lbj Dr Ste 107 San Marcos, TX 78666, (512) 805-8900
Cracker Barrel
Cracker Barrel is best known for its homestyle food served family-style. The interior also makes you feel like you're back in time.
Adorning the walls are vintage decors that make it look like an old-fashioned general store.
The local spot offers Southern cuisine with menu options like meatloaf, fried chicken, country ham, sausage & biscuit platters, and more!
They also have desserts like apple dumplings, warm peach cobbler, and banana pudding.
They're best known for their fresh-brewed coffee that's always available in regular or decaf options.
Make sure to try the country-fried turkey with the option of cranberry relish or buttermilk biscuits for sides.
The delicious flavors and vintage decor will really give you a unique San Marcos experience! Come here if you want authentic Southern comfort food!
Menu:
Top Review: ""
Texas Roadhouse
You'll find some great steaks here at Texas Roadhouse! It's your standard American steakhouse but it's affordable and you know it's going to be good.
Their menu includes options like ribeye, New York strip, filet mignon, and more. The best part is that their sides are unlimited with your meal – you get to choose from items like mashed potatoes & gravy, baked potato bar (with toppings like cheese, bacon bits, and chives), steamed broccoli, sautéed mushrooms, and more!
Menu:
Top Review: ""
There you have it! These are just some of the best restaurants in San Marcos, Texas. Hope you fill yourself with good food and great experiences while in San Marcos!
You may also like: Best breakfast in San Antonio
food near me, restaurants near me, places to eat near me, restaurants san marcos tx, restaurants in san marcos tx