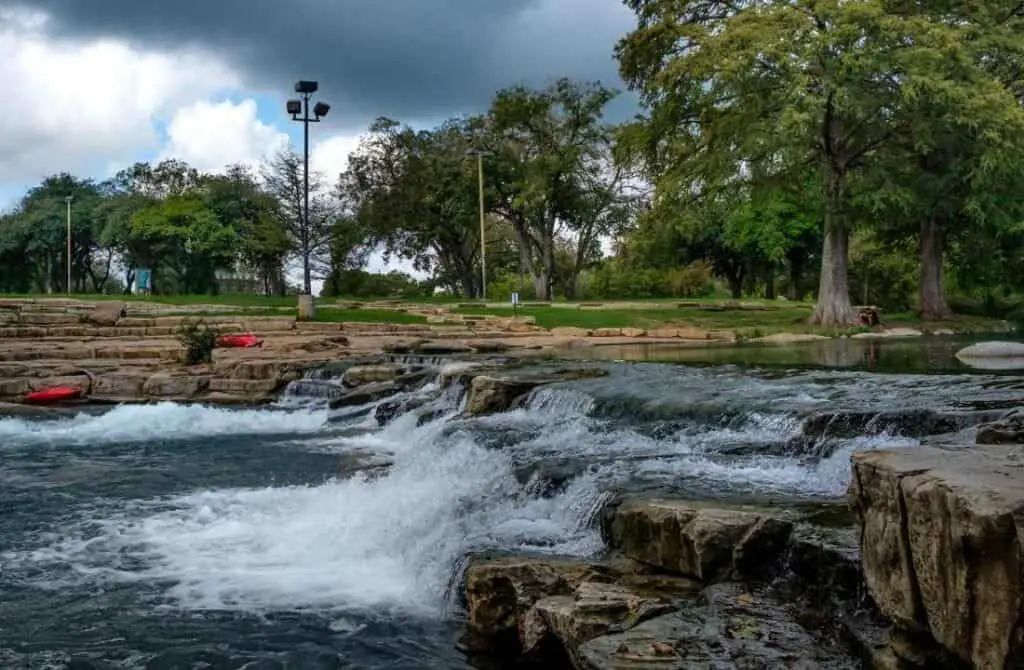 With summer fast approaching, a trip to San Marcos should be on your travel list. It's a great summer destination and is right in Central Texas, where you can hop from one destination to another.
But if you're waiting until you're fully vaccinated, winters are also a fun time in the city. It's a college town, so it's busy year-round with lots of things to do.
San Marcos is just 30 miles and a 35-minute ride away from Austin. It's near most Central Texas places like New Braunfels, Canyon Lake, and San Antonio. The main highlight here is the San Marcos River, which stays at 72 degrees all year round. Some attractions are even unique to the city.
Discover all this and more with the top 15 things to do in San Marcos, Texas!
Rio Vista Park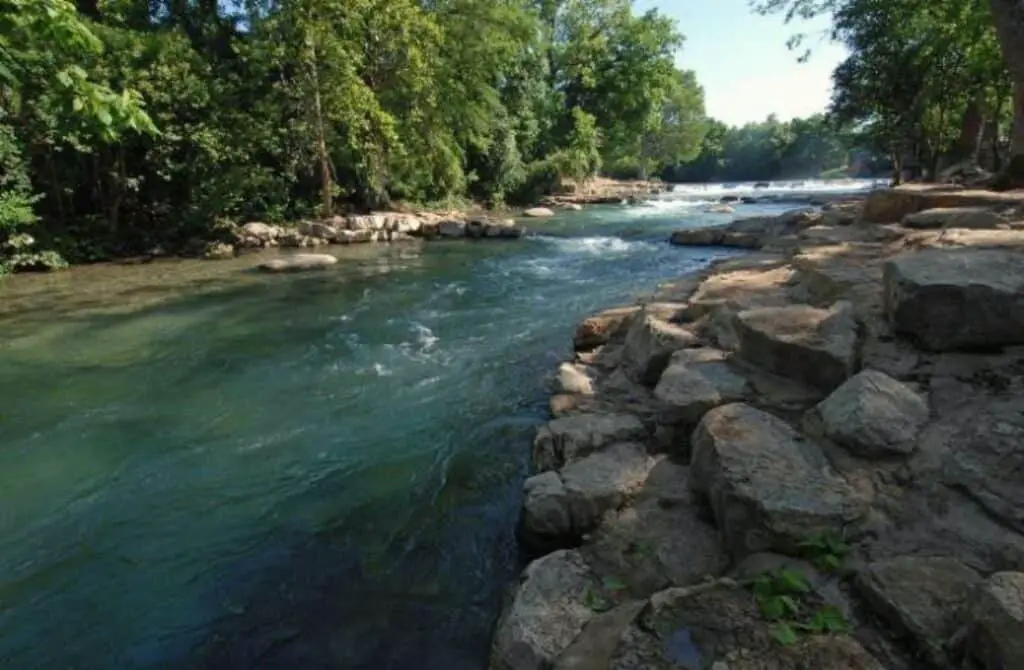 Rio Vista Park, the 13-acre park is the first of many in this list that celebrates nature. The Rio Vista Dam that the park is named after was damaged in 1998 and was rebuilt as the park it is today. It also follows the San Marcos River, which you can see from inside the park.
Get your trunks ready with the park's swimming hole and artificial rapids. You can also enjoy a relaxing ride on the rapids with a tube, canoe, or kayak.
Meadows Center Glass-Bottom Boat Tours
This experience is unique to San Marcos. The Spring Lake gives you undisrupted views of what's down below, with its clear waters. Because of this, the Meadows Center for Water and the Environment has set up Glass-Bottom Boat Tours with guided tours and even field trips. They would also have volunteers help clean the lake from below. 
It's such a one-of-a-kind way to see the ecosystem in the lake. It's a 30-minute tour with an on-site gift shop and a small museum you can visit in the center.
Paddle SMTX
The nightlife in San Marcos isn't only bars and clubs; the San Marcos River has a cool attraction waiting for you. The river gets some traffic in the day for kayaking and paddleboarding, but the night paddleboard tours are so different.
Paddle SMTX offers tours for both daytime and nighttime, as well as classes and customizable tours. 
Their Glow Light Night Tours are the most popular. They put LED lights on your paddleboards, and it lights the river for you and your friends.
Not only that, it leaves behind a truly remarkable color display on the water. If you can't get enough, they also have a kayak version of this. Don't miss this when you're in the city!
Snorkeling Tours on the San Marcos River
Here's another thing to put on your San Marcos River checklist! Get up close and personal with the many fishes and wildlife in the river with guided and self-guided snorkeling tours.
The river's clear waters make the tour all the better. Tours can start early, but that only means you avoid the tourist crowd.
The tours last for about an hour, with knowledgeable guides with you at every turn.
Texas State Tubes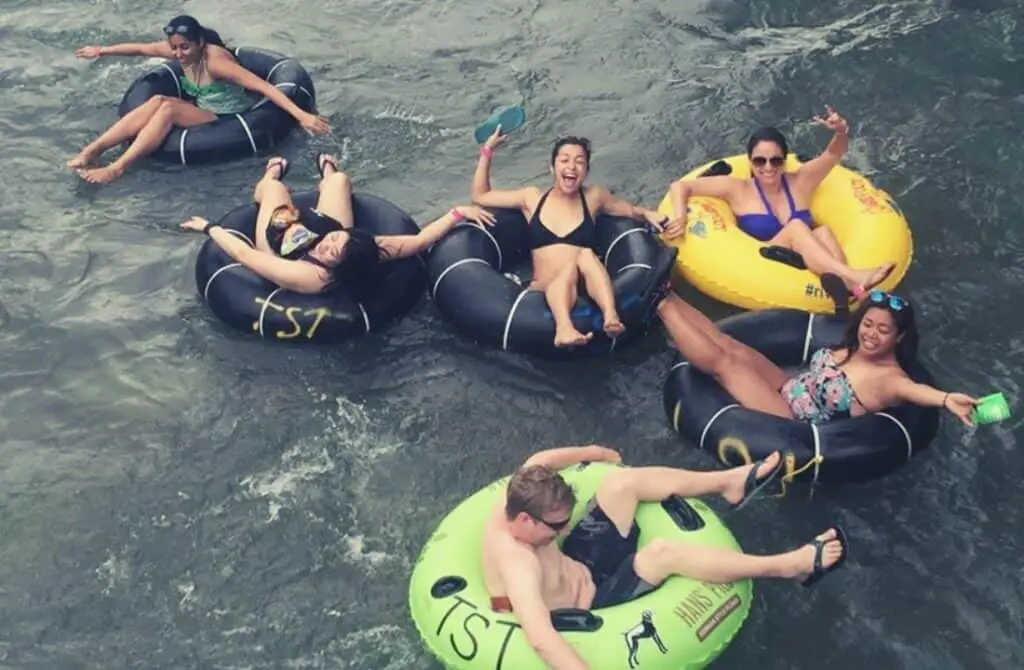 The things you can do in the San Marcos River know no bounds. This time, it's a relaxing and pleasing ride down the river on a tube.
This recreational tubing is convenient, with shuttles back to your cars and parking lots at either end of the float.
You can even rent a cooler tube for your time down in the river. These usually last three hours depending on the flow of the river.
Purgatory Creek Natural Area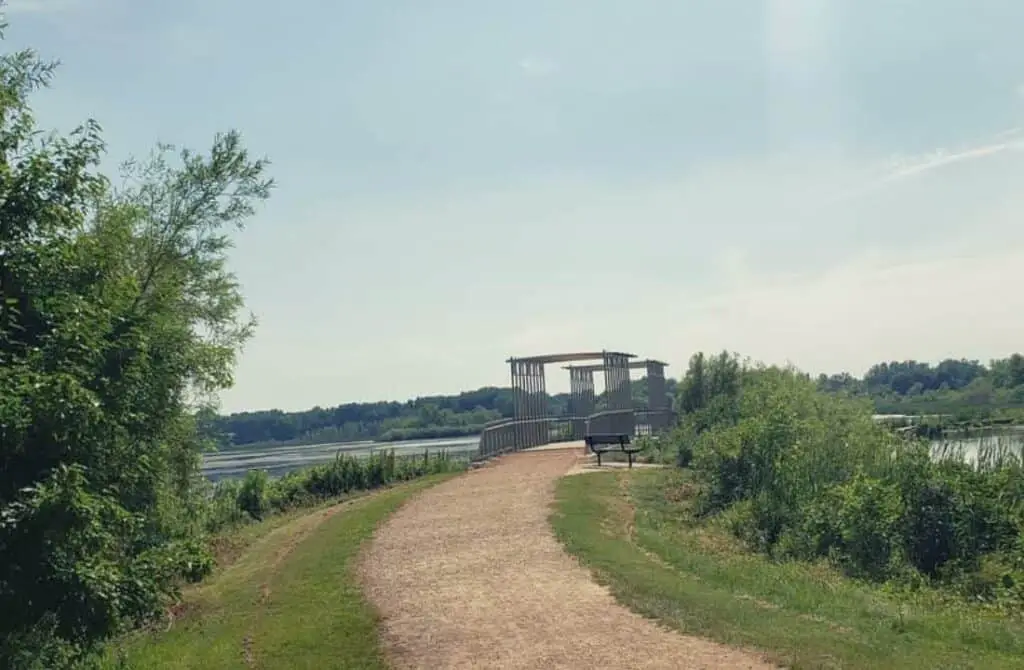 The nature parade doesn't stop at the San Marcos River. Here at Purgatory Creek Natural Area, there are 700 acres of land. This vast space is the largest dedicated natural space here.
What you can't miss out on here is Prospect Park. Its Upper Purgatory area includes trails that highlight wildlife and the scenery.
The Lower Purgatory dedicates its space more to biking and running trails. It has 12 miles of trails for you to enjoy.
Wonder World Park
Wonder World Park has a ton to offer when it comes to the weird and the wonderful. But one thing you can only do here and here alone is visiting an earthquake-formed cave.
The Balcones Fault Line Cave is the country's only earthquake-formed cave you can see. Underground, some guides will take you on a tour of the cave and give information on what's there to know about the cave.
Other attractions in the park include an observation tower, a petting zoo, and an anti-gravity house.
Central Texas Wing of the Commemorative Air Force
Step out of nature and into some historical tourist attractions. The Air Force was a massive influence in World War II. They remember it here in the Central Texas Wing of the Commemorative Air Force.
The museum sits inside a 1943 aircraft, complete with the historic airplanes. You can get on a plane and even get off the ground through advance bookings.
They also house a military museum and a military library.
Middleton Brewing
If you're looking for an excellent place to drink, eat some delicious food, and listen to good music, Middleton Brewing is right for you. The brewpub offers you world-class drinks from their selection of beer, wines, and ciders.
Their beers are the highlight and can be found in over 80 retailers in Central Texas. 
They also serve delicious burgers made especially for you and hand-crafted by their MBTX Burger Shop. When you're here, stay a while and catch some live music.
The Wittliff Collections
Let San Marcos move you with the arts and culture curated in the Wittliff Collections. Located inside the Texas State University, the museum brings together the art of the Southwest.
The collection is a mix of literature, archives, photography, film, and music. They aim to foster the "spirit of the place" with permanent collections from Southwestern artists.
Wimberley Glass Works
Continuing with the arts, the Wimberley Glass Works lets you sneak a peek behind the craft of handblown glass art. The place has a viewing area where live demonstrations happen.
See them in action making vases, sculptures, glassware, and lighting. If you'd like to buy one, their shop is filled with their art glass collection.
Cheatham Street Warehouse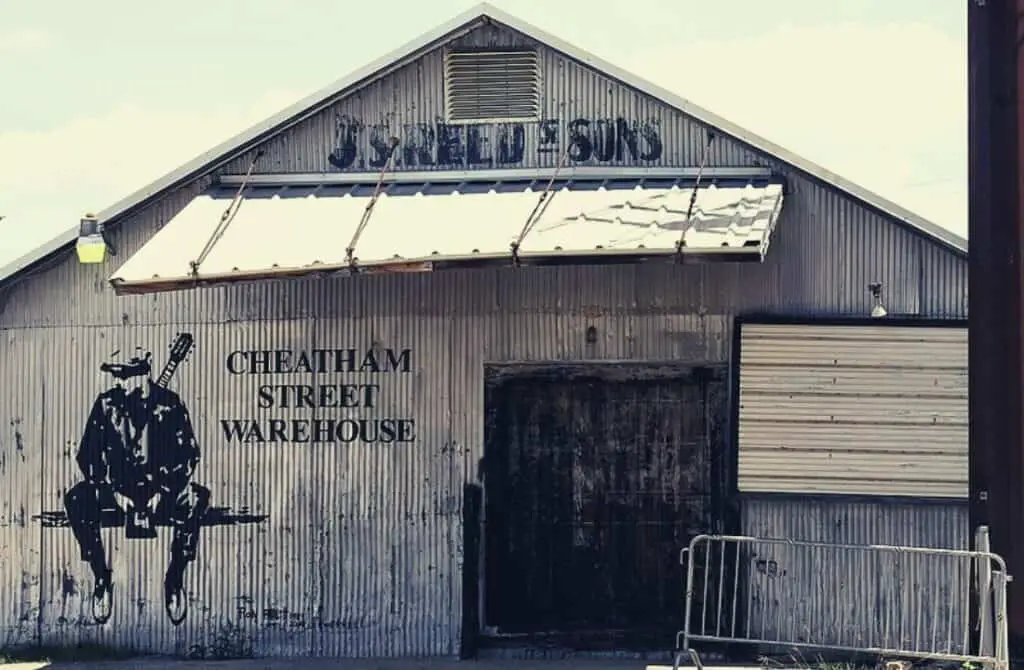 A Hill County legend, the Cheatham Street Warehouse has hosted some of the great Texas music icons. Musicians like Willie Nelson, Marcia Ball, Guy Clark, and Stevie Ray Vaughan have all performed in this music venue. It's going to give you some big nostalgic feelings as the place is packed with Texas history.
They always have new musicians on their stage and a fantastic lineup every time.
LBJ Museum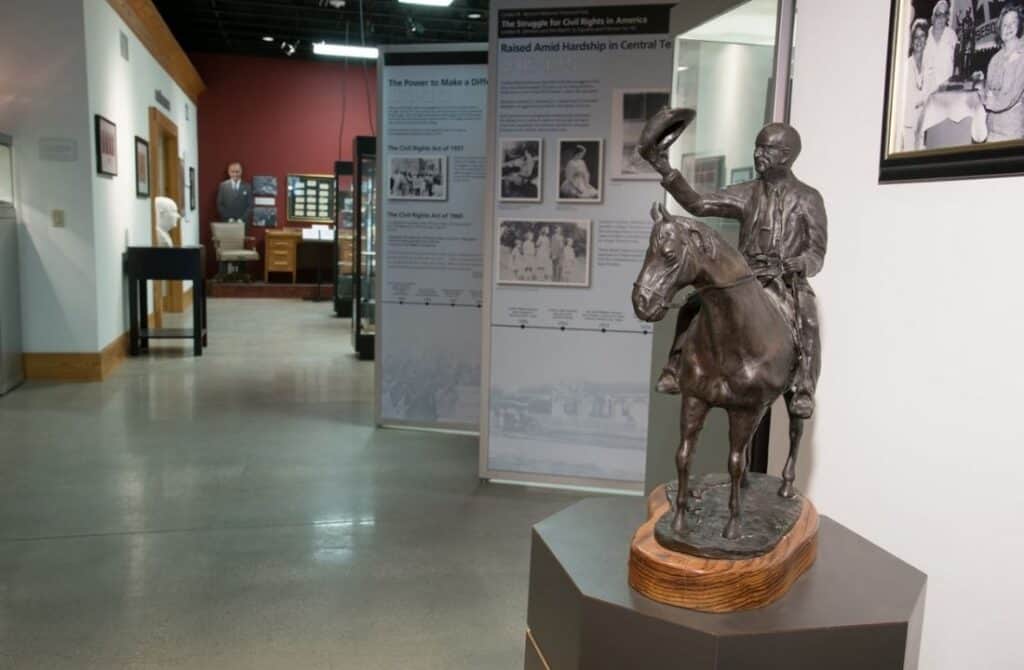 Lyndon Baines Johnson was not only the 36th President of the United States, but he was also a graduate of Texas State University.
This dedicated LBJ Museum is for his early formative years. Here, you'll find old photographs, memorabilia from the 1930s, and other artifacts from when he was a president.
Discover more about the former President in this museum.
Hays County Historic Courthouse
This majestic building is a fixture in downtown San Marcos. It's a part of the National Register of Historic Places and recognized by the Texas Historical Commission.
This grand courthouse was built in 1908 with a Classical Revival style of architecture with history packed within its walls. There's a museum inside with historical exhibits.
Unicycle Football
Only in San Marcos will you find a game so fun and challenging such as this. Unicycle Football is precisely what you think it means, playing football while on a unicycle.
The season includes 58 games, which they play every Sunday and runs through August to April. In the Unicycle Football League, there are 8 teams and are played five-on-five.
Stop by and watch one of their games, and be prepared for something truly awesome!
FAQs:
Where to eat
For homemade comfort food, try Mama Kat's Restaurant or Mamacita's Restaurant. For something fun and quirky, Wake the Dead Coffee is a good go-to. For local favorites, you'll find that Root Cellar Cafe and Brewery and Rhea's Ice Cream are must-haves.
Where to Stay
Choose your pick from La Quinta Inn & Suites by Wyndham San Marcos Outlet Mall, Country Inn & Suites by Radisson, or Hilton Garden Inn San Marcos.
Day trips from San Marcos
There are loads of destinations that are more or less an hour away from San Marcos. Extend your trip to these places: San Antonio, Gonzales, Wimberley, and Austin.