Your trip to Korea wouldn't be complete without a taste of their street food.
The Korean culture is unique from their Kpop to Kdramas, but the food is also famous for being amazing.
The South Korean street food culture is such a big thing.
Many different stalls range from the traditional to Western food, given a Korean twist.
This culture actually started during the Joseon Dynasty in the 1300s.
It rose in popularity in the 1950s after the Korean War as a form of livelihood for low-income families.
You used to only get it in the traditional markets with traditional treats like tteokbokki or odeng.
Koreans are also known for taking Western food and making it their own.
This had a boom in the 1990s, and ever since then, it's become a staple in the street food culture.
You'll often find these snacks in traditional markets, open during the day, and night markets that are steadily becoming more popular with the youth.
When you get to the streets, you'll see two typical Korean street food set-ups, commonly ran by ahjummas or ajusshis (older men and women).
One is the pojangmachas or tented areas where you can sit down and enjoy your food.
Another standard set-up is the food trucks, famous all over the world.
Where to find the best Korean street food?
There are many places to go, but the sure way of finding the ultimate experience is by going to the markets.
Some of the markets you can go to are:
Myeongdong
One of the most famous street food places you can go to, this market has about 200 stalls with Korean street foods.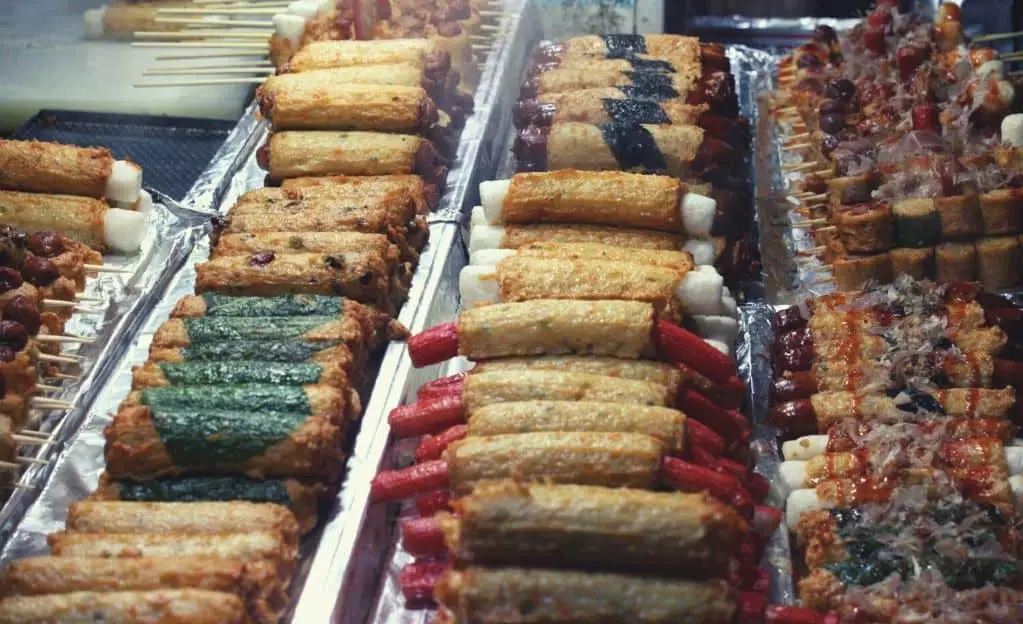 Namdaemun
This market is considered the oldest market in Seoul, dating back to the 1400s.
It's also one of the largest markets with about 10,000 different stalls of Korean street food.
They have a dedicated food alley with more of the traditional dishes offered.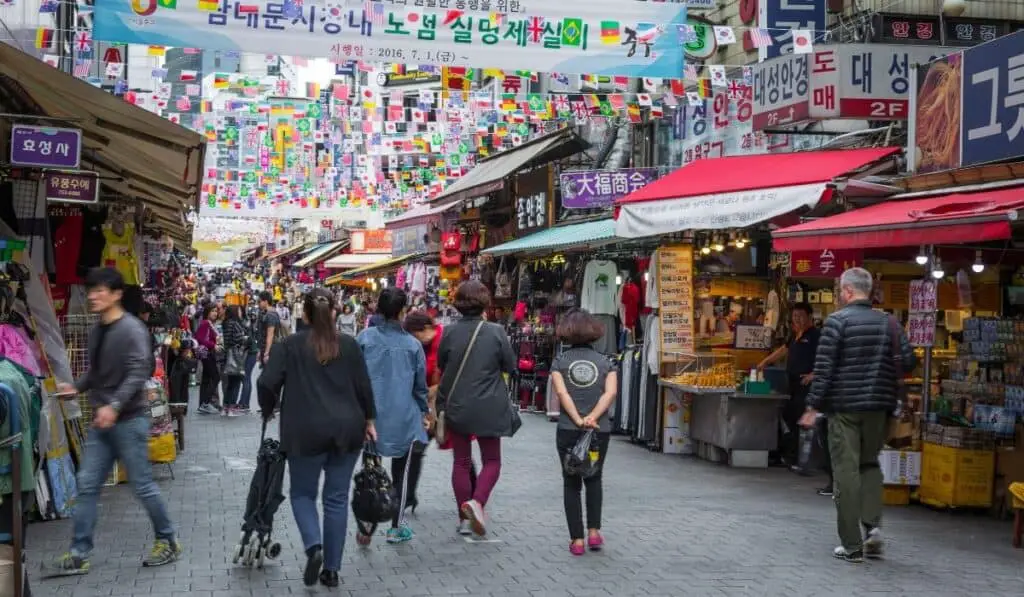 Gwangjang:
Another market ripe with history, Gwangjang Market, is also one of the country's oldest markets.
Like Namdaemun, you can really feel the traditional Korean culture here.
The market's specialty is the mayak gimbap or drug gimbap.
Seoul Bamdokkaebi Night Market
If you'd like to try more international street food, this is the place to go.
This market typically has more of the food truck variety.
Still, it provides unique dishes that can only be found in Korea.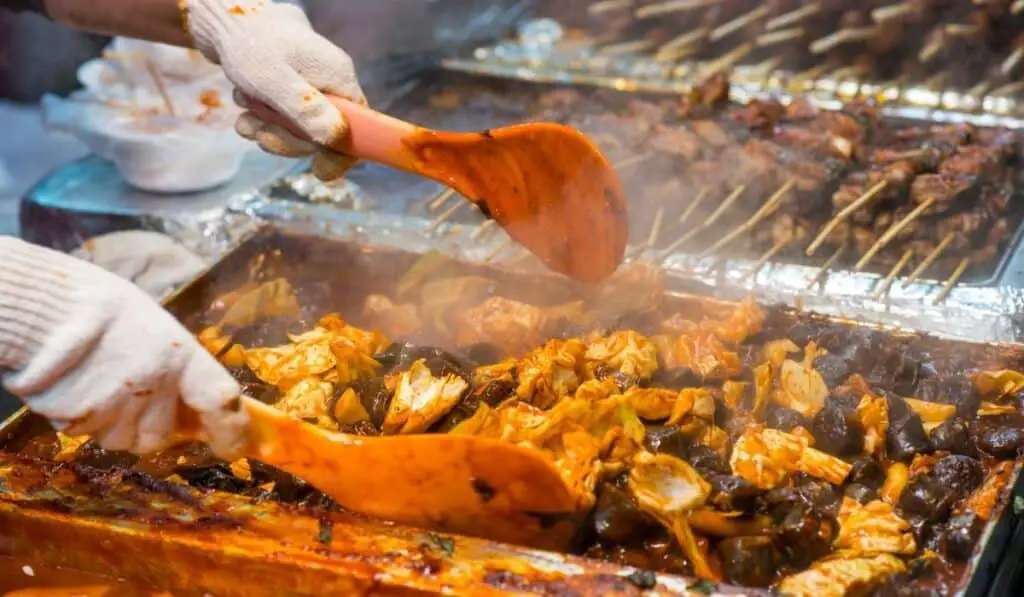 Kkangtong Market
This market in Busan is known to be the country's first permanent night market.
You can find both traditional and international cuisines here.
But you can also find some of the nation's more exotic food.
Since street food is pretty common, you'll find it almost anywhere, and there's so many to choose from.
Explore the city, some of its dedicated street food streets, and have fun!
Of course, we've got your back in creating your list of the best street food to taste.
You can go three ways: the traditional dishes, the International snacks, and desserts.
Traditional Street Foods
Get a taste of the local favorites around as far back as the 1300s!
Tteokbokki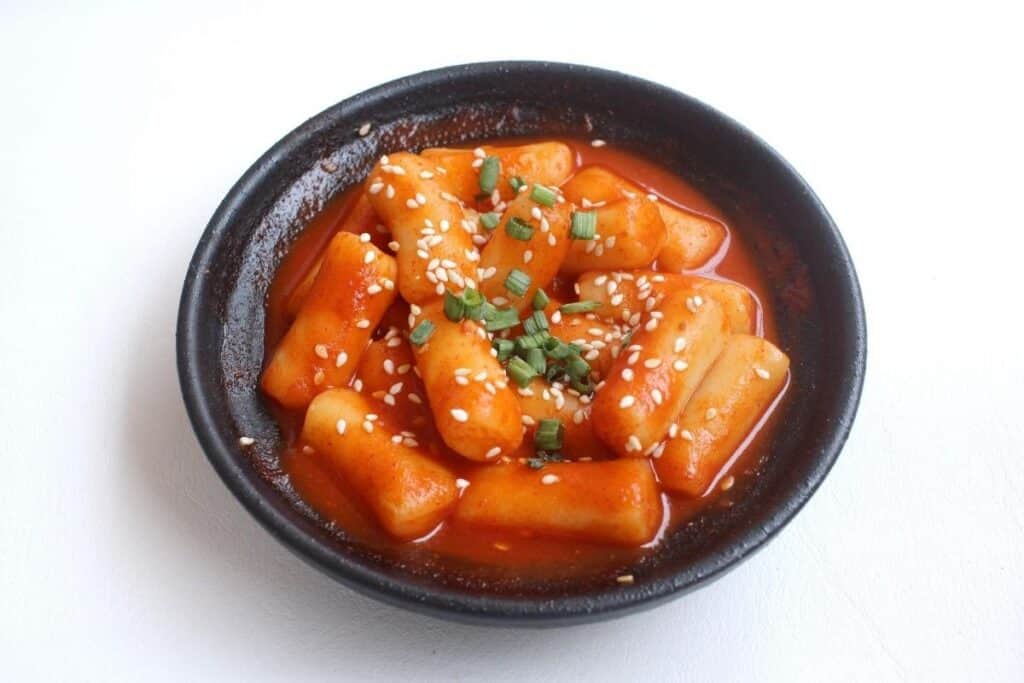 Typical price: 2,000 – 4,000 won
This iconic dish is not only for the streets but is a dish loved by many locals and tourists alike.
Tteokbokki are Korean rice cakes that are typically spicy, coated with a thick red sauce.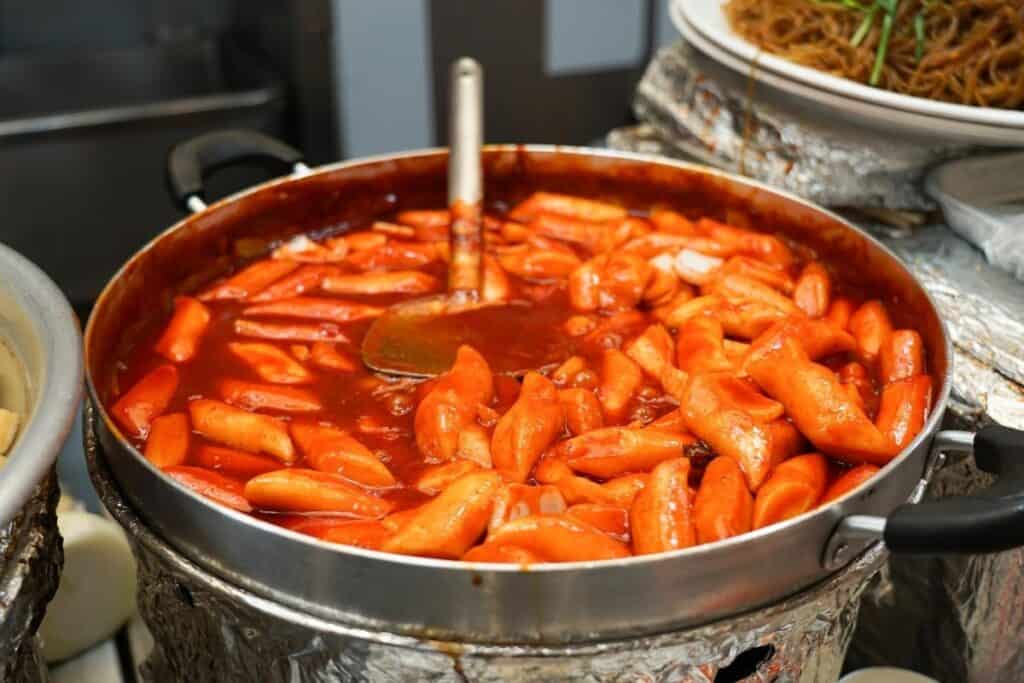 It's chewy and perfect with fish cakes, boiled eggs, and scallions.
This iconic dish dates back to the Joseon Dynasty, where it was even part of the royal court's dishes!
Some vendors take it up a notch and offer tteokbokki with bulgogi, cheese, and mushrooms. A must try!
Blood sausage — Soondae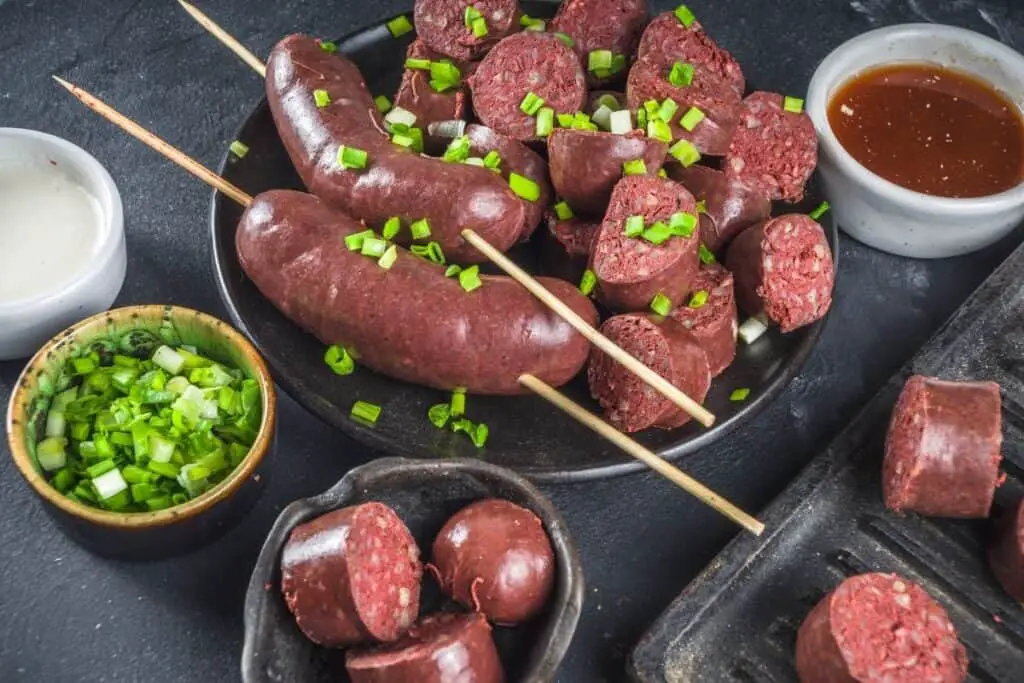 Typical price: 3,000 won
These blood sausages are tastier than they look.
They're made of pig or cow intestines, pig blood, glass noodles, and barley.
It can be steamed or boiled, with commonly a pairing of pork innards as a side dish.
This is also an excellent food for when you're drinking.
Gimbap
Typical price: 1,500 – 5,000 won
Gimbap is as common as tteokbokki, and you'll see it everywhere.
It's often compared to the Japanese sushi roll, but it's ultimately its own thing.
It's made from rice, your choice of filling, and vegetables, all wrapped up in seaweed.
The most common fillings are plain vegetables, kimchi, or tuna. A Korean street food MUST!
These are often called Mayak gimbap or "drug gimbap" because of how addictive it is.
Try it out and see if it's as addictive as they say.
Fish cakes — Odeng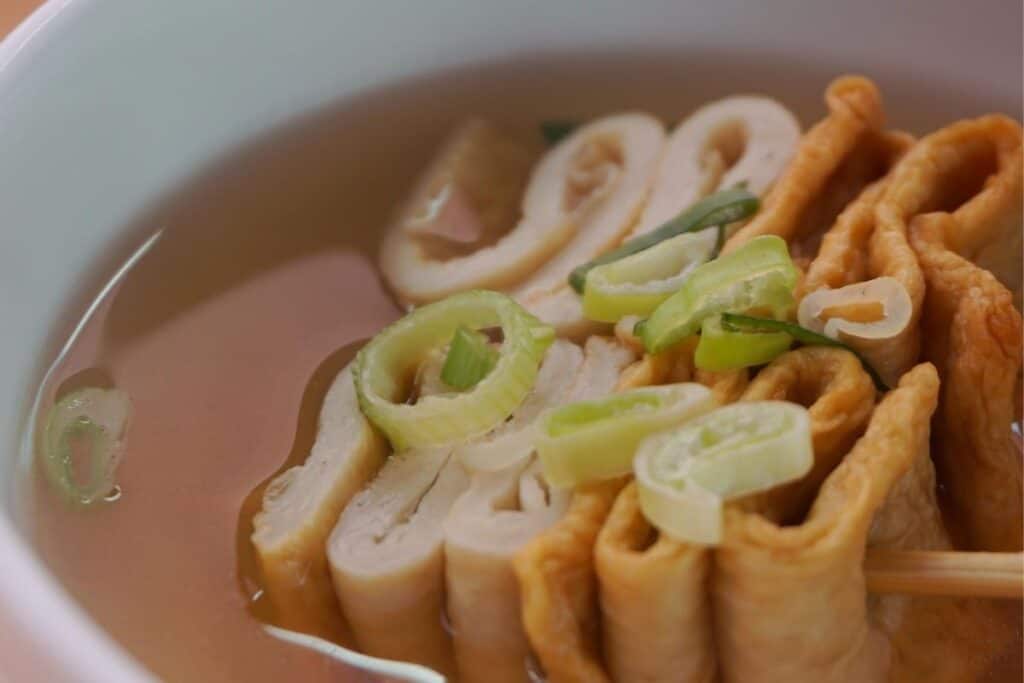 Typical price: 500 to 8,000 won
This traditional treat is one of the cheapest street food there is.
These are put on a stick and is cooked in a flavorful broth.
It's often served in a small cup with the soup.
Slurp it up after finishing your fish cakes, and it'll surely warm you up. 
Fried Snacks
Twigim (Mandu)
Typical price: 2,000 – 5,000 won
If you can't get enough of fried snacks, this was made for you.
Twigim is a collection of different fried foods like hardboiled eggs, sweet potatoes, shrimp, and a variety of vegetables.
It's coated in batter, fried, and you can choose which ones you wanna try.
Or better yet, get one of everything!
Mung bean pancakes — Bindatteok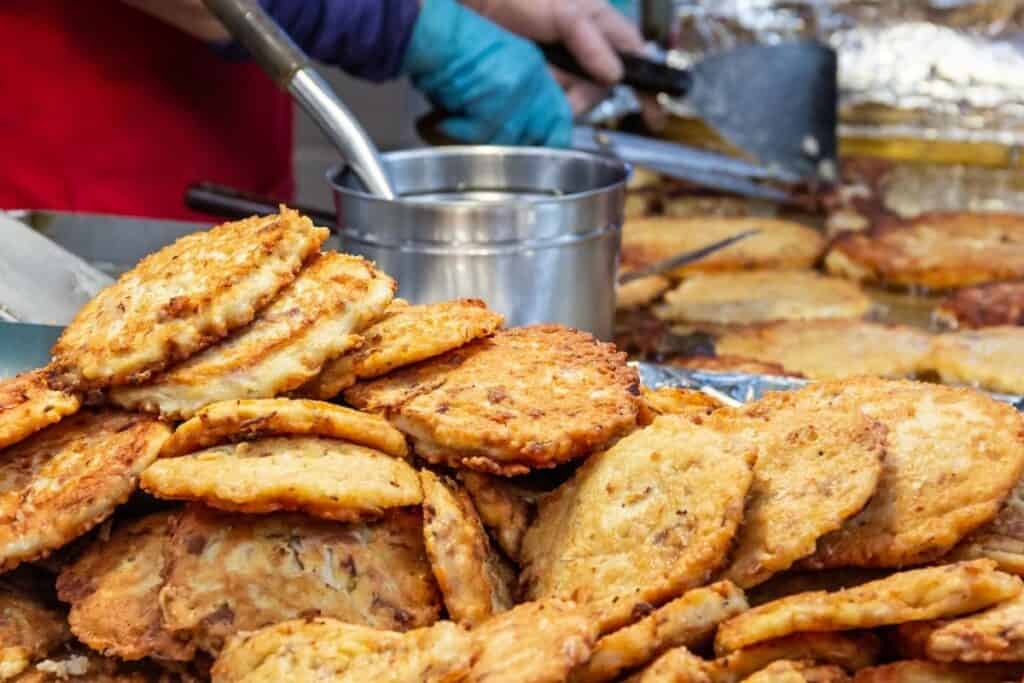 Typical price: 4,000 – 7,000 won
A classic Korean street food, mungbean pancakes are exactly what they say they are.
They're ground mung beans fried on a griddle and served like a pancake.
There are other pancake variations like kimchi, seafood, or beef.
These are called jeons or Korean pancakes!
Beondegi — Silkworm pupae
Typical price: 1,000 won
Don't be afraid to try this next dish, it might be your next favorite.
Beondegi is one of the more exotic street food out there and is said to be an acquired taste even for locals.
It's served in a cup filled to the brim with silkworm pupae.
Don't worry! They've been either boiled or steamed and seasoned. 
International snacks
The mix of International food with that Korean twist!
Korean fried chicken / Cup chicken
Typical price: 500 – 18,000 won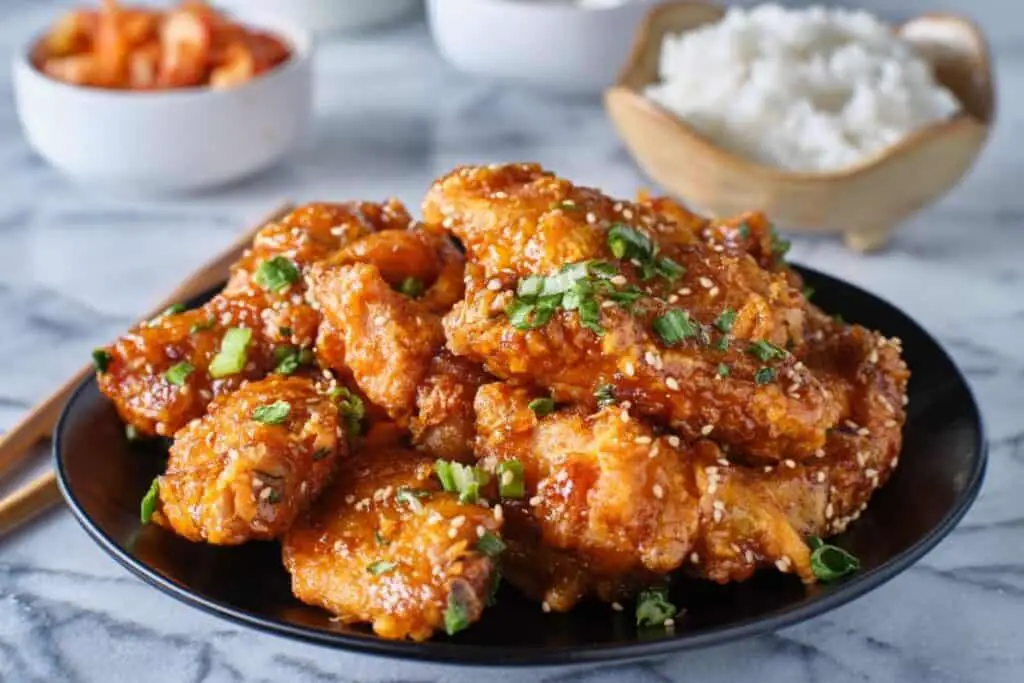 You don't usually see fried chicken served in a cup, but this is one of the best street food in Korea!
These popcorn chicken are slathered with a unique Korean sauce making it truly their own.
It's also mixed in with fried tater tots to make it even more worth it.
Other vendors sell drumsticks, but it's still sauced up in their Korean way.
Gamja hot dog
Typical price: 500 – 8,000 won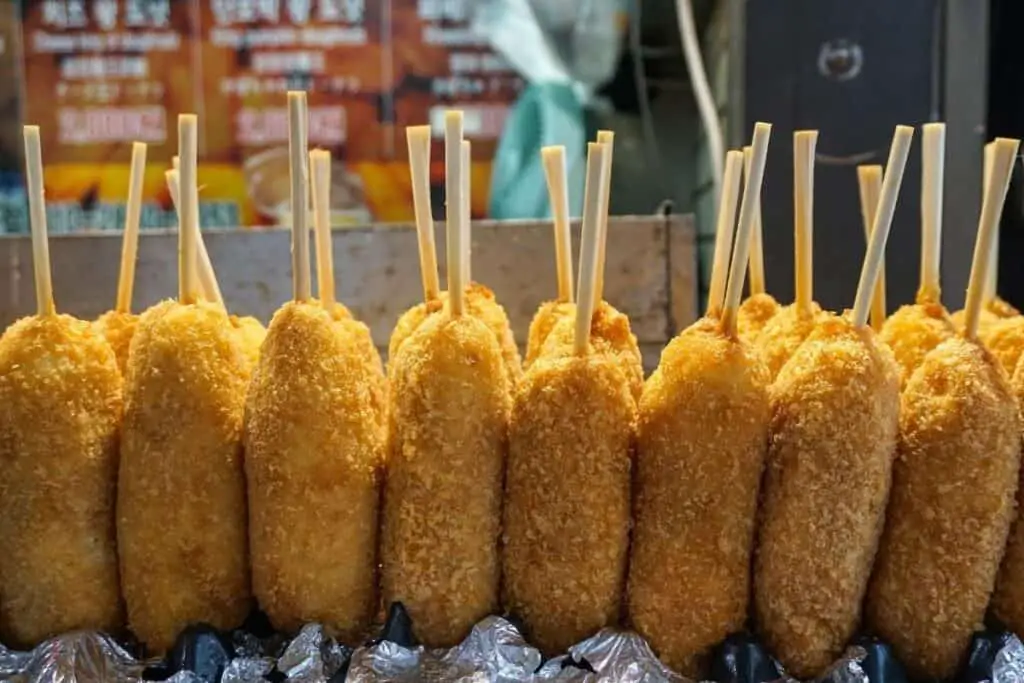 Koreans took corndog and truly made it into something novel with this one.
It's basically a corndog, except they added potatoes to it.
Doesn't that sound exciting? It's also sometimes coated with whole french fries, making the experience all the more interesting.
Korean Toast
Typical price: 1,500 won
Toast in Korea doesn't just mean a toasted piece of bread with jam or spread on it.
When they mean toast, it's a full-on sandwich!
Based on a Western breakfast sandwich, this toast includes eggs, vegetables, and ham.
It's complemented with ketchup and mustard, but they also add sugar in it.
This is all in between two pieces of buttered bread. It's a popular morning eat with some of its more popular variations seen in restaurants like Isaac's Toast.
Dessert
Don't forget to satisfy your sweet cravings with these choices of desserts!
Hotteok — dessert pancake
Typical price: – 1,000 won each.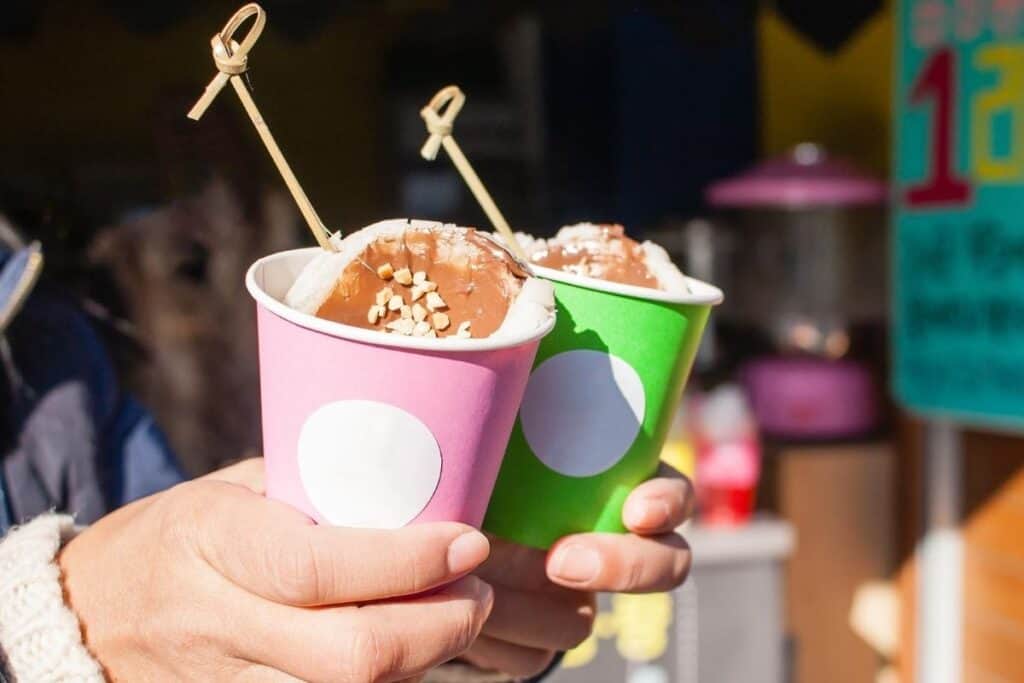 Although it looks like a pancake, this is actually a dessert treat.
Like a pancake, it is cooked on a griddle and stuffed full with fillings like sugar, fruits, and syrup.
There's a lot of variety to what sweet goodies go inside this pancake.
Egg bread — gyeran-bbang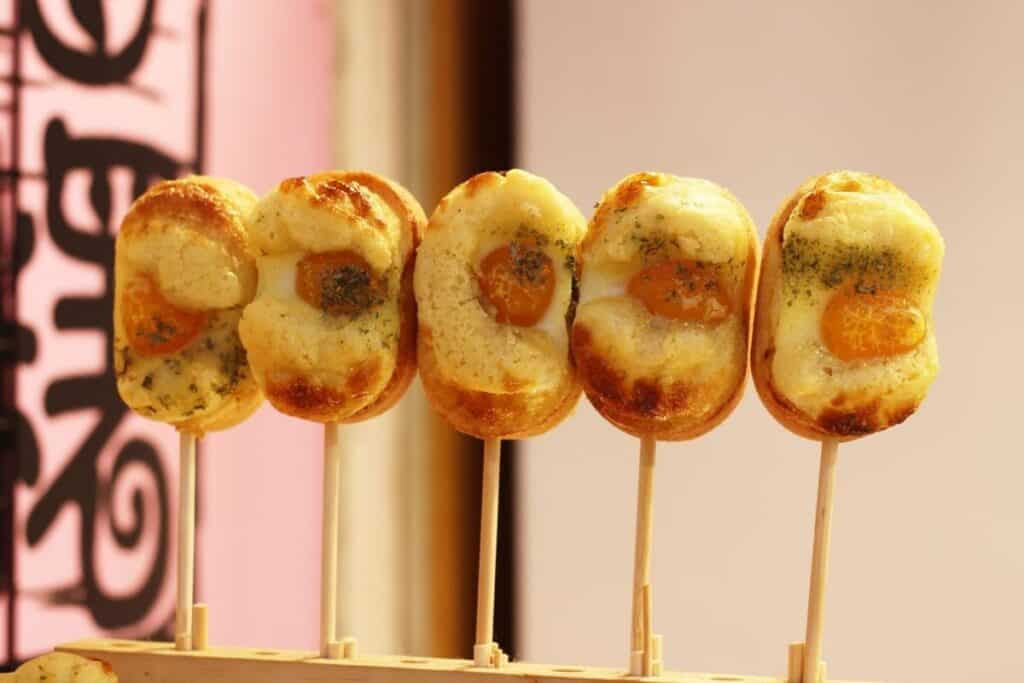 Typical price: 1,000 won
This next snack is basically a breakfast dessert.
It's what it says on the tin and is a whole egg cooked inside a small bread loaf.
It's best eaten hot and is usually a winter snack.
Goldfish bread — bungeoppang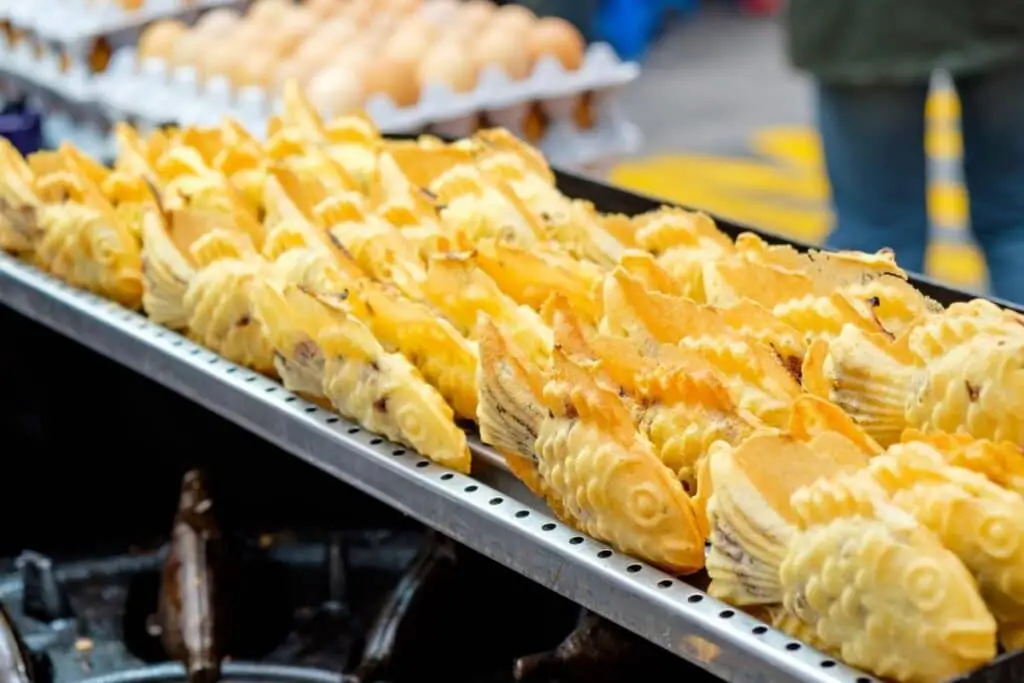 Typical price: 1,000 won
This goldfish bread has nothing to do with a fish but is a sweet and filling pastry.
This fish-shaped pastry is baked until golden and is packed full with a red bean filling.
There are still so many unique foods to find in South Korea, their cuisine is diverse and fascinating.
Enjoy snacking on your street food!
Check out our other amazing street food articles:
You can also check out one of our other sites, North Korea Report, a news site covering the latest events out of North Korea.