Italian Street Food: Beyond the pizza and pasta
Italy is best known for its iconic cuisines: pizza and pasta, but the Italian street food culture goes beyond that.
Their local cuisine is as diverse as the country itself, with different areas having different specialties.
It's most widespread between the north and south peninsula.
Each region has its own take on what makes food in Italy so great. These are affected by the area's particular history and culture.
They're known for their simplicity, relying not on the number of ingredients but the quality of ingredients.
Given the variety per region, there really is a lot of different options. 
But the Italian food scene isn't just about the family restaurants and local pizzeria.
You can also opt to head down the street and grab a dish on the go and still taste authentic Italian food.
We're listing down where you can find the best street food and which Italian street food you definitely can't miss!
A brief history of Italian street food
Italian street food was actually associated initially with the poorer parts of the city.
Where food stalls would be in the back streets away from the town squares and sit-down restaurants.
These were the hidden gems of the time, and many of the Italian food we know and love today were actually first sold "on the streets."
Many of the home-cook tastes were brought to the streets, and now the street food trend is bigger than ever. 
Street food stalls are now part of the mainstream food culture, and more and more people are turning to them for cheap eats and delicious delicacies.
There are even huge events like Festival Internazionale de Cibo di Strada where rows upon rows of street food can be seen and sampled.
It's an annual event held every October in the historic center of Cesena.
There's also the Street food Villages, a traveling tour of street food events held in different places.
They're organized by the Streetfood Project.
To get you prepared for your Italy trip, here are the 12 must-try street food when you're in Italy:
Fried Olives or Olive Ascolana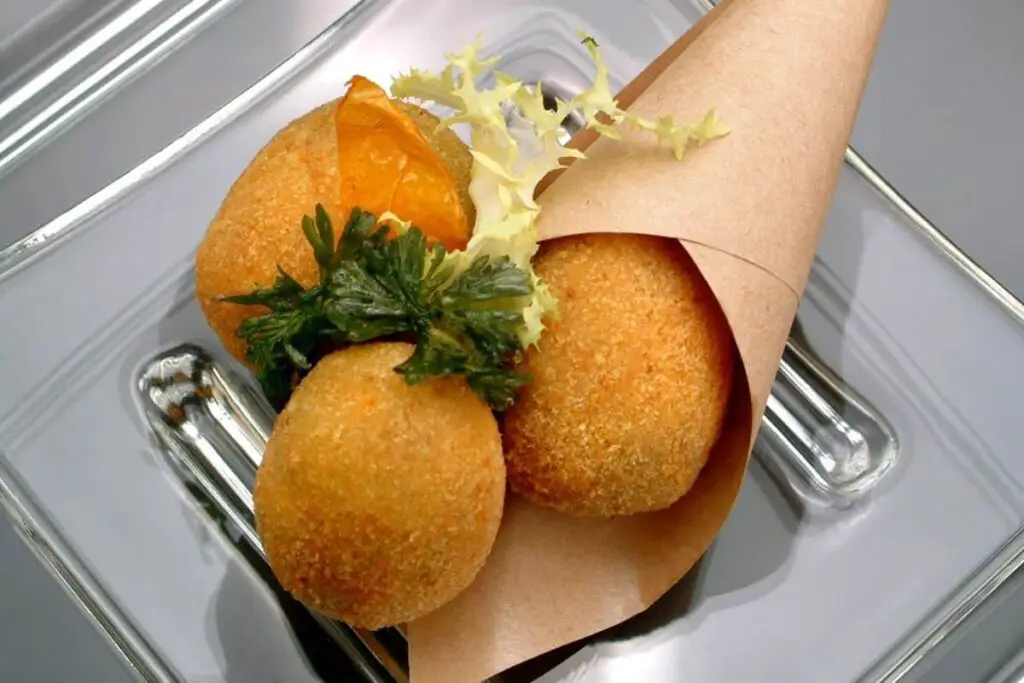 Where to find this: You'll find this in a paper cone on the streets of Le Marche, Italy.
A signature food of the area, a central region near Tuscany and the Adriatic Sea.
These little round bundles are fried Ascolana olives stuffed with ground meat with a crispy bread coating.
It originated in the town of Ascoli-Piceno in the region.
This particular olive is actually native to the region and specially grown in the area.
Cannoli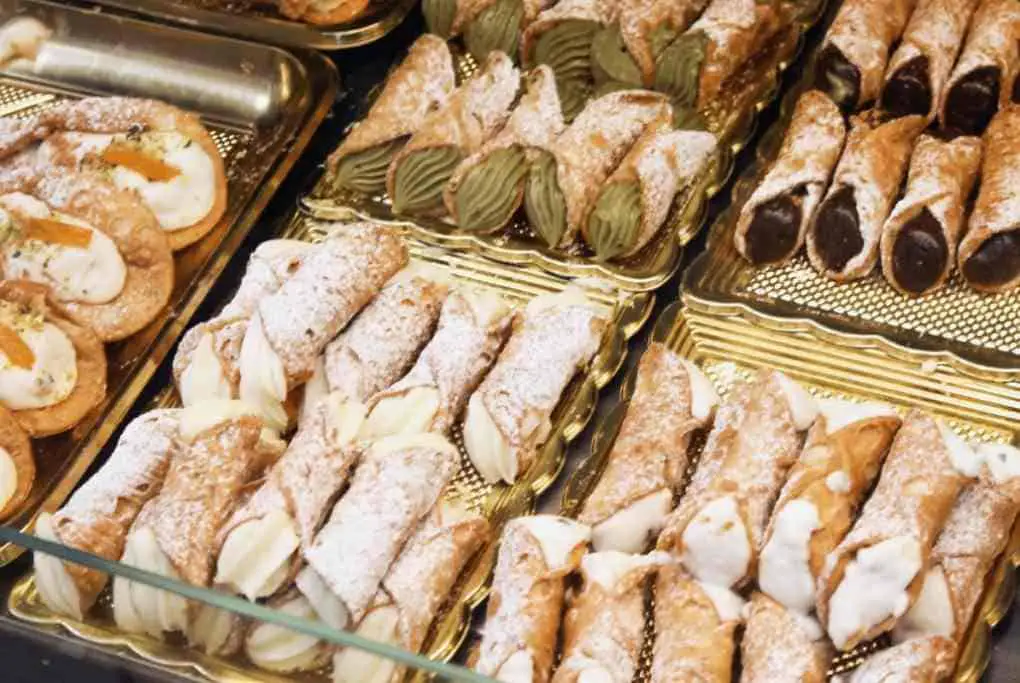 Where to find this: A typical street food that can be found almost anywhere, this originated from Sicily, Italy.
But more specifically, it started in the town of Palermo, where you can get the best versions of this!
You may be familiar with this on-the-go treat because of its iconic tube shape, stuffed with delicious sweet fillings.
This classic Italian pastry is made from pastry dough shaped into a tube and filled with fresh ricotta and chocolate chips.
It's then topped off with candied cherries and oranges.
Arancini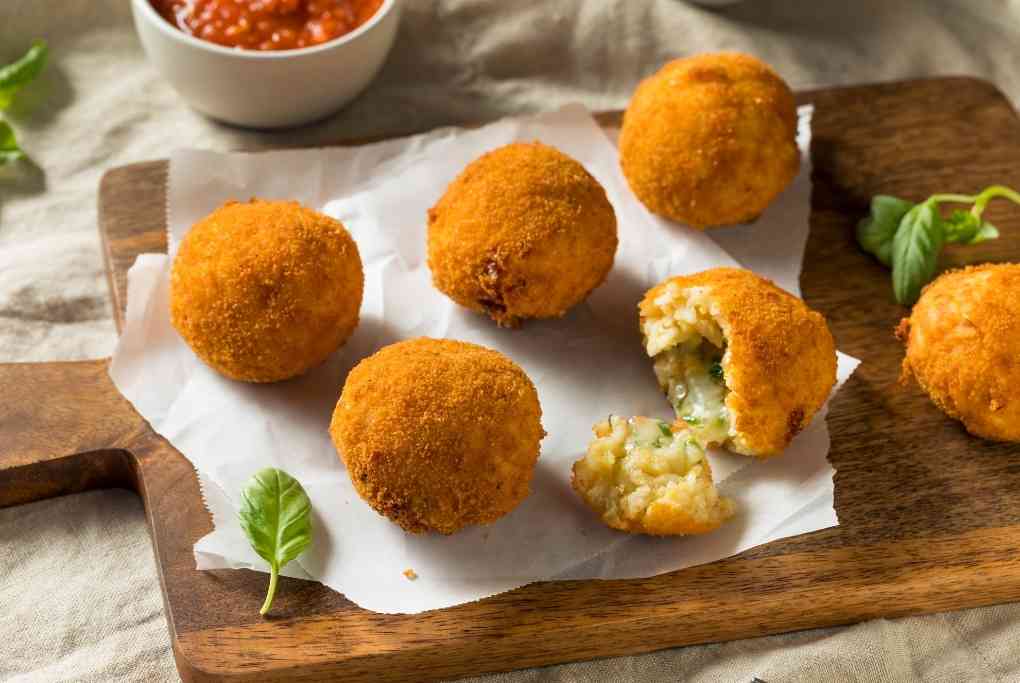 Where to find this: Another popular street food enjoyed by many in the Southern part of Italy.
Especially where it originated in Sicily.
Another round snack for your tour of Italy, Arancini are fried rice balls often filled with meat, cheese, and peas.
There are variations of the dish depending on where you are, but this fried golden ball is undoubtedly a classic.
You'll find a ton of these in the festival of Santa Lucia in Palermo, where it's made explicitly for the event. 
Gelato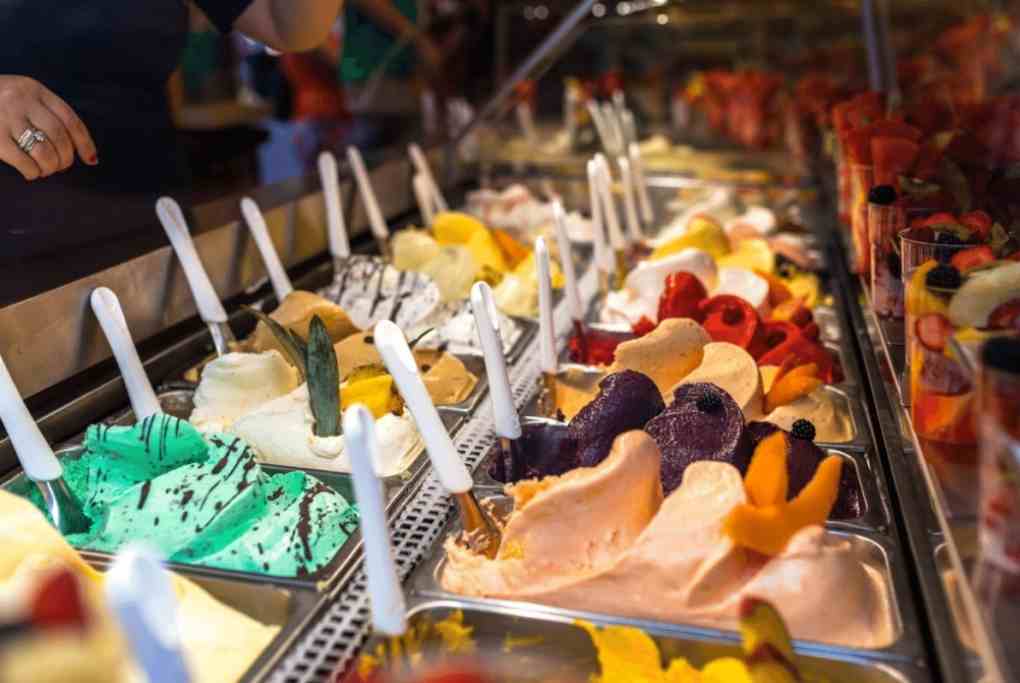 Where to find this: This Italian street food dessert can be found in almost all corners of the country.
Globally known as ice cream, since it literally means that, it's a treat that's been duplicated worldwide.
Though we think we know what gelato tastes like, trying it in Italy is a huge difference.
It has so many unique flavors to choose from.
The traditional flavors you can try are vanilla, chocolate, hazelnut, pistachio, cream or custard, and stracciatella.
Try it with brioche for a full experience!
Cappucino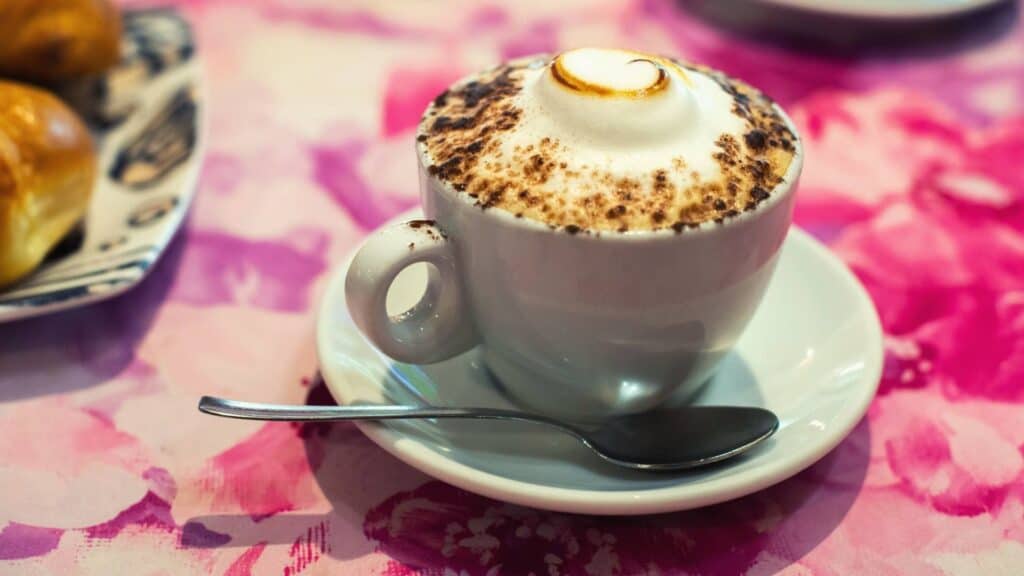 Cappucino is one of the most famous styles of coffee, beloved around the world. And with good reason!
It's absolutely delicious and is a perfect start to your day.
It's a simple coffee made with espresso and milk, frothed heavily to achieve a delicious and silky foam on top.
Not surprisingly, you will experience some of the best cappucinos found on the planet in Italy.
It is very important to note, Italians do not typically take cappuccinos after mid-morning.
Generally, milk is viewed as a part of breakfast, even if as an ingredient in a coffee.
As such, many cafes and bistros do not serve cappuccinos after 11am in many cases.
Beyond that, vigorously enjoy this Italian mainstay!
Porchetta Romana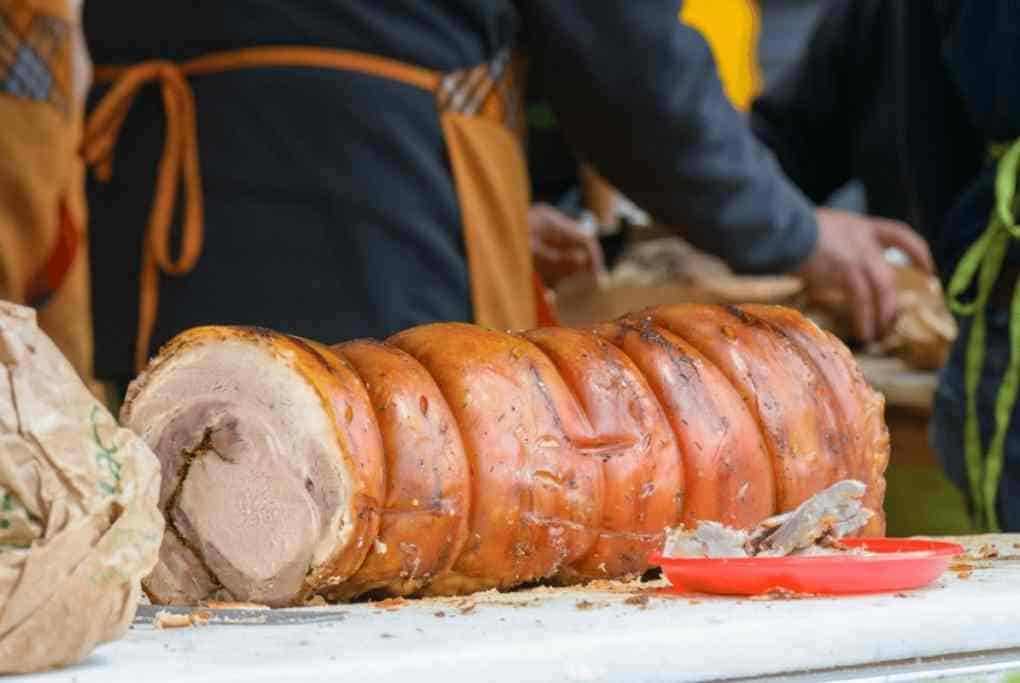 Where to find this: You'll find some of the best Porchetta in its city of origin, Rome.
More specifically, Ariccia, Rome.
A traditional meat dish you'll find served from a van or food truck, this roast pork is stuffed with garlic, rosemary, and other herbs.
It's salted heavily, rolled up, and sliced thinly.
It can be sold by the kilo to bring home and eat whenever you like or in a panini.
It started as a dish for special occasions but has now moved out in the streets.
Trapizzino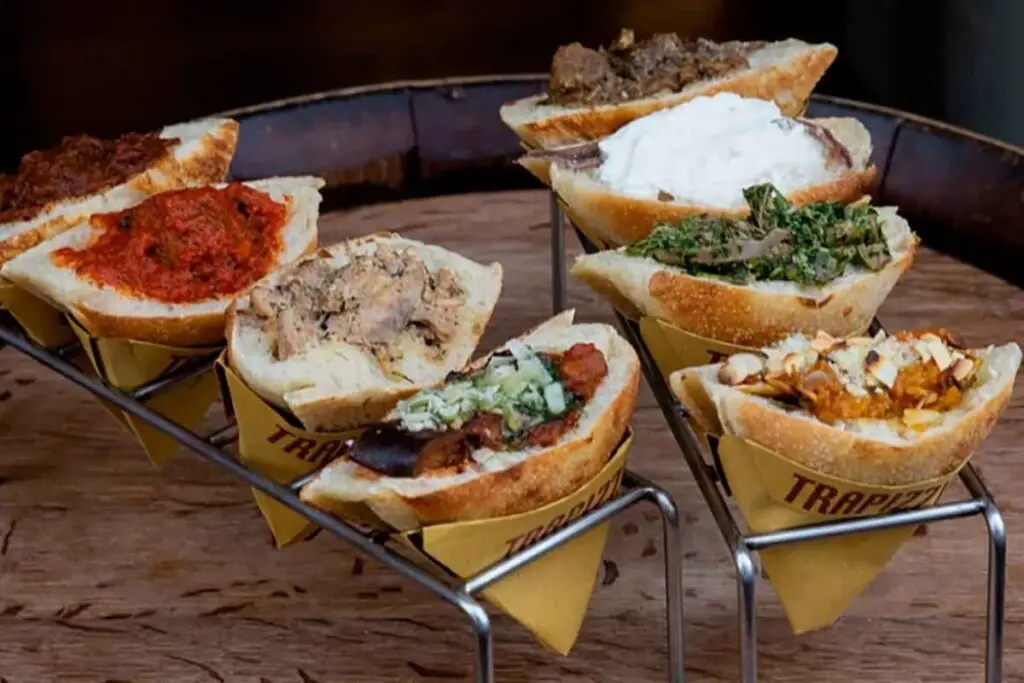 Where to find this: Grab one of these cheap savory snacks in one of the many street food vendors in Rome!
A new local favorite, the Trapizzino, was only made in 2008 but became a staple in Rome's street food scene.
Imagine a pizza but in sandwich form, exciting, right?
It's made from pizza dough with a slice in the middle where you can choose what filling you want.
Some of the more common choices are meatballs in tomato sauce and eggplant parmigiana. 
Lampredotto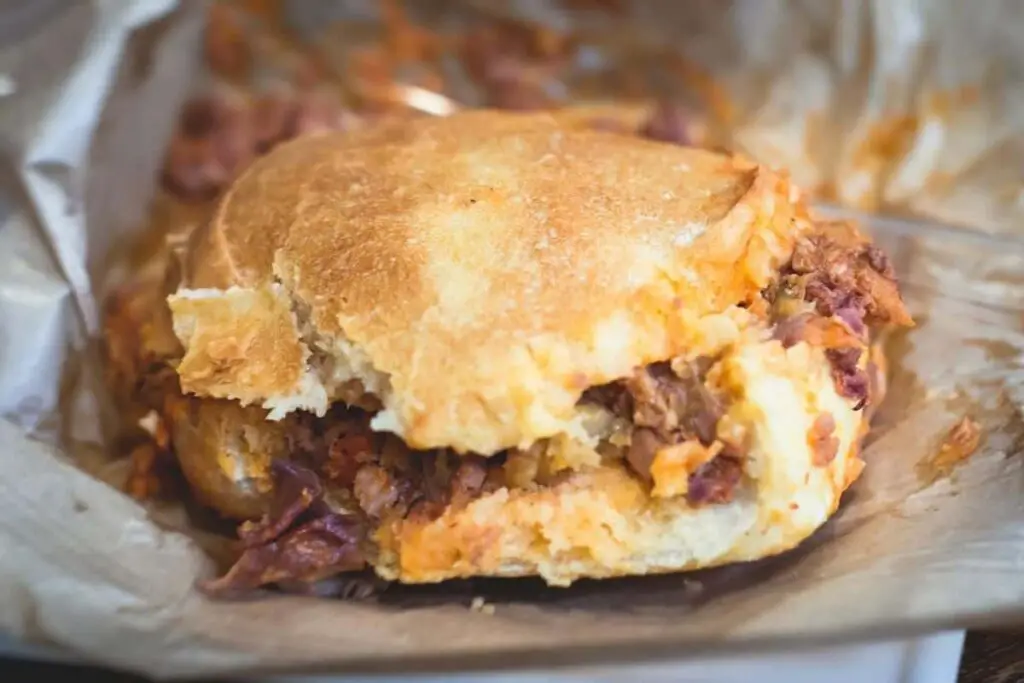 Where to find this: You'll discover vans and food trucks that sell these all around the city of Florence!
A definite must-eat Italian street food when you're in the city.
Don't judge this street food by what it contains because it's said to be absolutely delicious.
It's made from a cow's stomach, cooked in a broth made from tomato, onion, and other herbs.
It's typically served as a sandwich, but you can also buy it by itself on a plate.
Doesn't sound so delicious, right? But it's packed full of flavor and often crowded by locals.
Panelle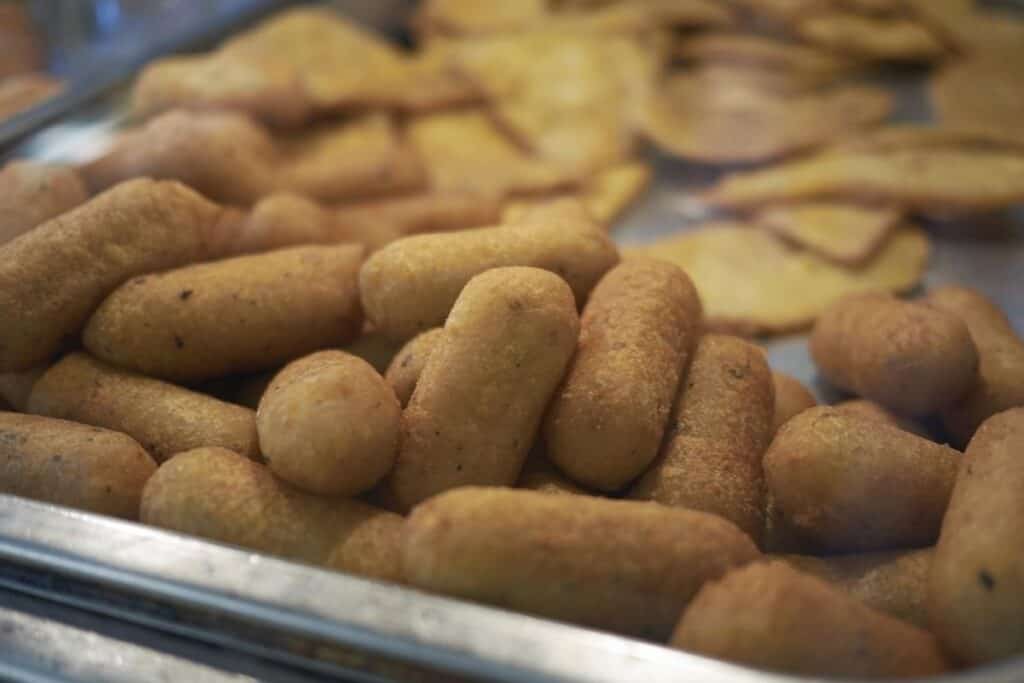 Where to find this: Another Sicily specialty and can be found all over the region.
Going simple and still coming out on top is the definition of Italian cuisine, and nothing says that more than the Panelle.
These are thick slices of a chickpea polenta, fried, and can be served in several ways.
You can have it on its own, with a croquette, or as a sandwich.
It's known as cucine povera or "poor man's food" because of its simplicity, but many stand by this crunchy golden snack as a must-try. 
Pizza al taglio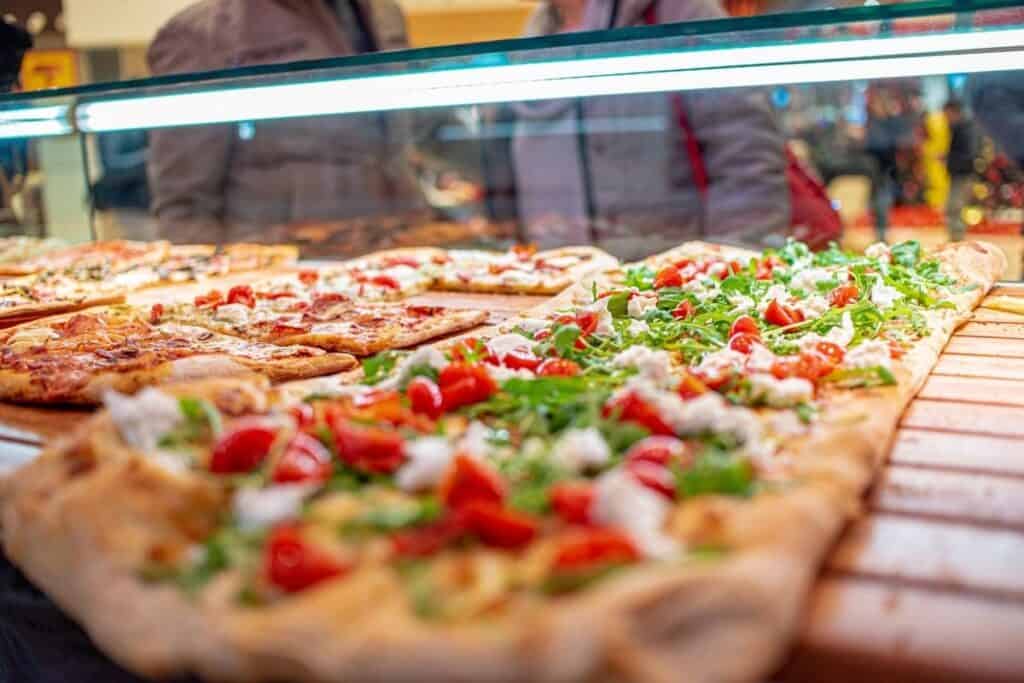 Where to find this: You can find this gem in the streets of Rome where it was first baked in the late 1950s.
You can't leave Italy without trying a real Italian pizza, and if you're looking for one in the streets, the Pizza al taglio is perfect for you.
The name translates to "pizza by the slice" and is called so because it's baked in rectangular trays.
You can buy it by weight, or if you're on the go, you can have it cut up into a small square or rectangular slice.
It's light and airy, often topped with the classic olive oil and tomato sauce combo. 
Pesce Fritto Al Cono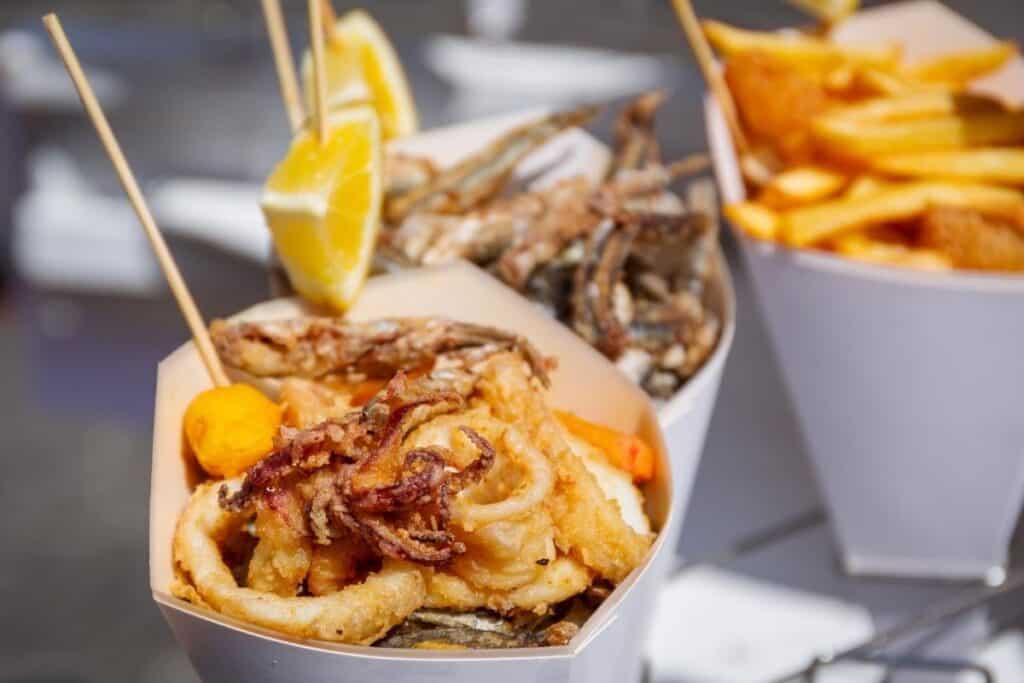 Where to find this: Head on over to one of Italy's many port towns to indulge in this Italian street food.
Feel like what's missing in your food tour is some seafood? Well, you can get your seafood fix in Pesce Fritto Al Cono.
This is a mix of seafood, fresh from the fishing boats, deep-fried, and served hot.
It's tossed in a paper cone, depending on the catch of the day, you can get a combination of shrimp, fish, or both!
Piadina Romagnola
Where to find this: The dish is a specialty of Emilia-Romagna but can also be found in other parts of the country.
Another simple treat similar to the Panelle is the Piadina Romagnola. It was also a popular dish among the poor because of its simplicity.
Basically, it's a flatbread cooked on a griddle made from flour, olive oil, salt, and water.
Many eat it as a sandwich with typical fillings such as prosciutto, soft cheeses, tomatoes, and arugula.
But you can choose whatever filling you'd like.
Pani ca meusa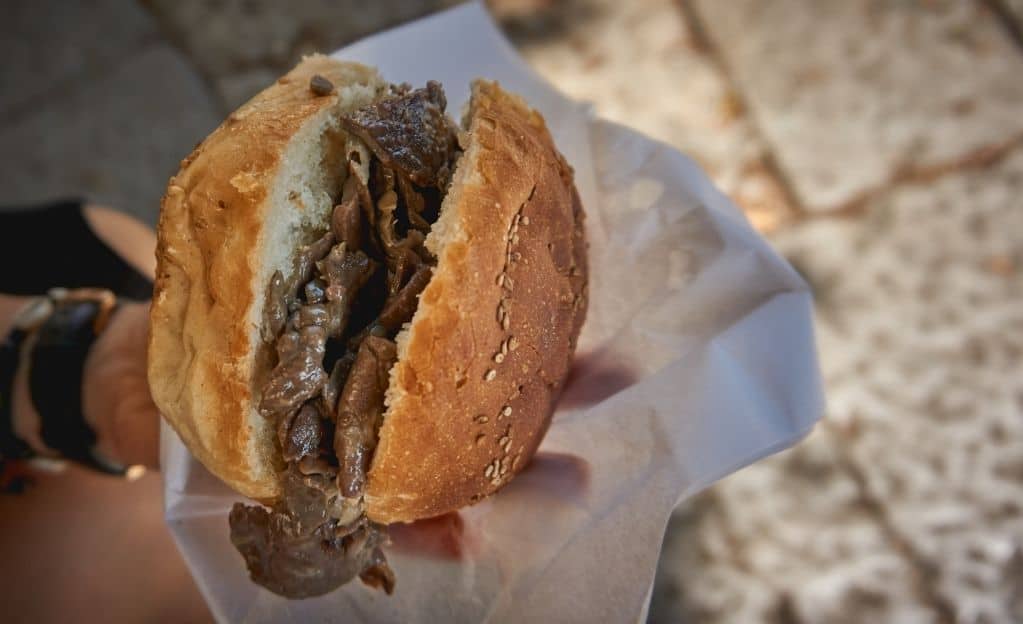 Where to find this: This is a Sicilian sandwich that can be found and enjoyed on the streets of Palermo, Sicily.
For those feeling a bit more adventurous. there is a sandwich called Pani ca meusa, which translates as "bread with spleen".
But before you give it a hard pass, locals will assure you that it tastes much better than it sounds.
Pani ca meusa consists of soft bread with toasted sesame seeds, and is filled with chopped veal lung and spleen, which has been fried in lard.
Zeppole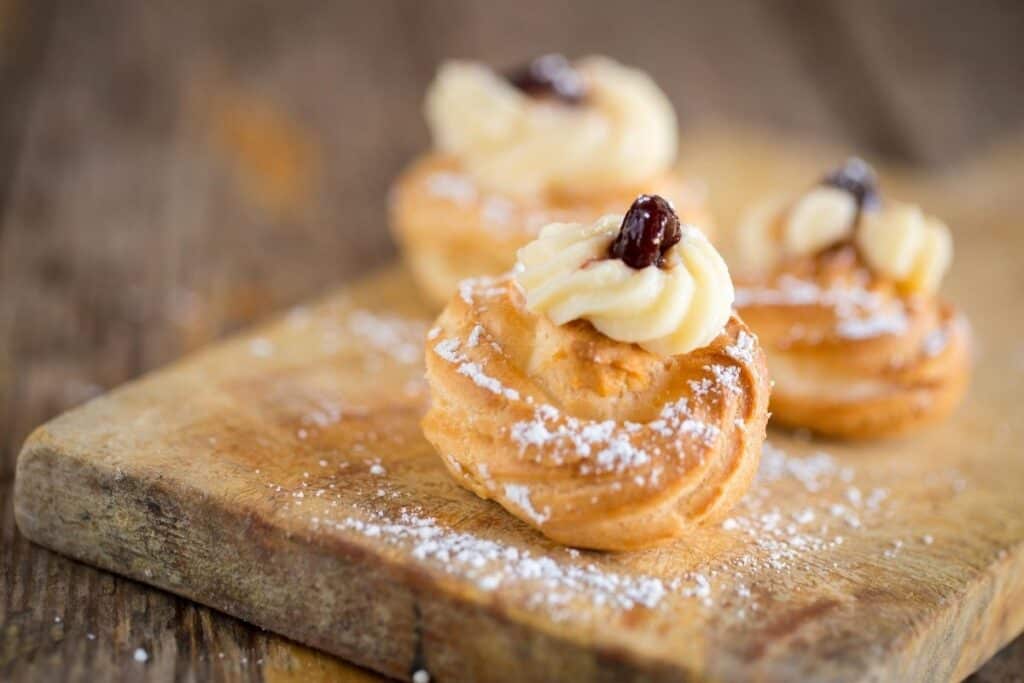 Where to find this: This can be found all over Italy, but it did come from Naples.
Last on the list is this deep-fried sweet treat that you wouldn't be able to get enough!
These deep-fried balls are stuffed full with delicious fillings like jelly or custard.
It's topped with powdered sugar and is best eaten right as it comes out of the fryer.
It's a trendy pastry, bite-sized, and you won't even notice you've eaten a full bag of them!
You've got chock full of options waiting for you when you get to Italy, whether it's sweet, savory, or a bit of both! Make sure to also try other Italian cuisines whichever region you spend your days in!
Check out our other amazing street food articles!
street food in italy, italian street food rome, italy street food, street food italy, italian street foods, what is italian street food, italian street, italy food guide, best street food in rome, national italian beef day, botta italian street food menu, best street food italy, italian food directory, rome street food, italian street food pasta, street food italian, street food rome italy, best street food in italy, italian food street