Japan has one of the most diverse culinary scenes globally, with some of our favorite food being Japanese cuisine and Japanese street food.
Food like sushi, ramen, and tempura have become an international sensation.
But Japan still has a lot more to offer when it comes to food!
With just exploring Tokyo, you'll find several Michelin Star restaurants and great eats.
But, one thing you can't miss is the street food culture.
It's a great way to taste the local cuisine and also keep it budget-friendly!
Unlike Taiwan or Thailand, where street food stalls are really common, in Japan, it's a little different.
The street food scene isn't that popular, and there aren't that many stalls.
Unlike other Asian countries that have night markets, street food is also not associated with the country's nightlife.
Here, we'll tell you a little something about the Japanese street food culture and the 12 street food you have to try when you're in Japan!
So what is the street food culture in Japan like?
Most street food stalls and vendors come out during festivals or events, even going from city to city every night during festival season.
Stalls that sell street food are commonly called Yatai, which literally means "shop stand."
In the past, Yatai was part of the nightlife and was extremely popular.
In fact, sushi and ramen were actually first sold in Yatai.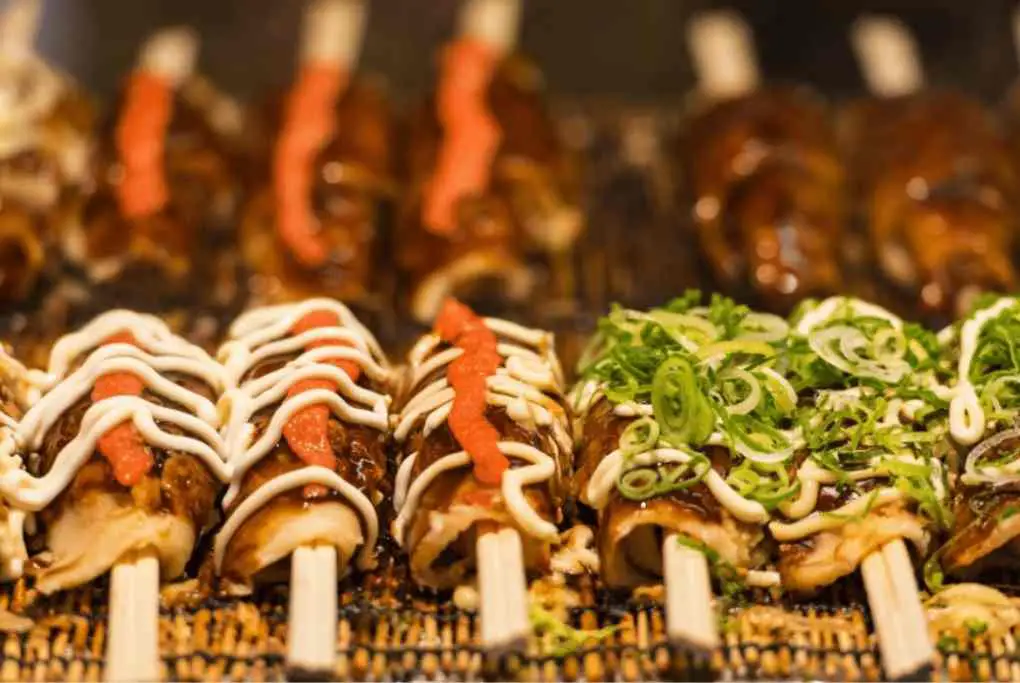 But as time passed, the culture became less common.
This is in part because of laws that made it harder for vendors to maintain their stalls.
For a long time, you could only experience the authentic Yatai during festivals or in specific districts like in Fukuoka or Osaka.
Since the popularity of street food has increased in other countries in recent years, laws have become more and more lenient.
So, the culture also extended out of festival seasons.
You can find these street food stalls in many areas of Tokyo, in traditional markets, and in different districts.
As it's becoming more and more popular again, there are many food options you can go for.
Here's a handy guide for 12 of the best Japanese street food to try!
Dango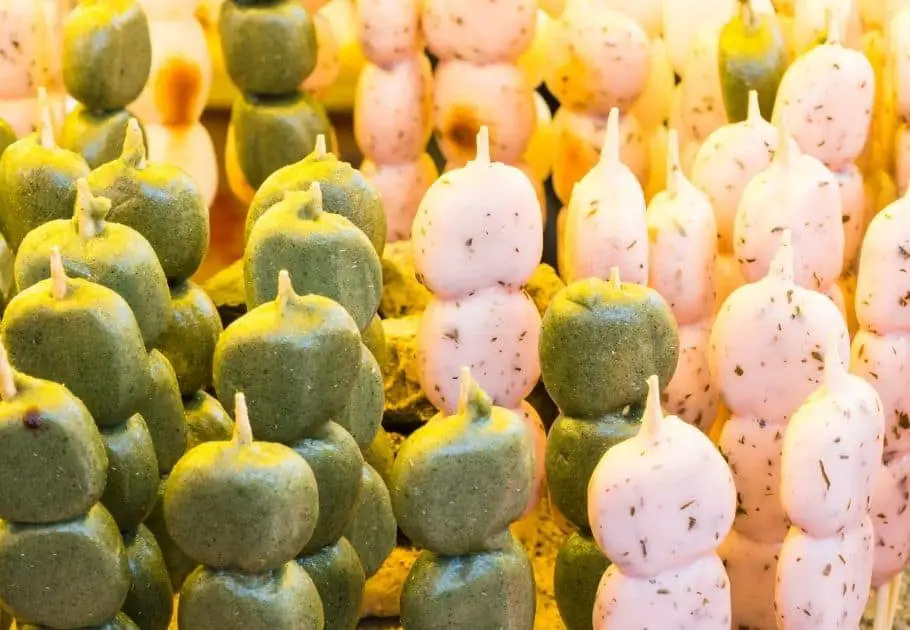 Typical price: ¥100 – 300
These are round rice dumplings on a stick made from rice flour and water.
They're chewy and can come in sweet or savory.
The most common one you'll see is the Mitarashi Dango, it's grilled and comes with a soy-based sauce.
This is one of the more traditional street foods, often found sold outside shrines, temples, and festivals.
Have a cup of green tea with one of these, and you're all set!
Harajuku Crepes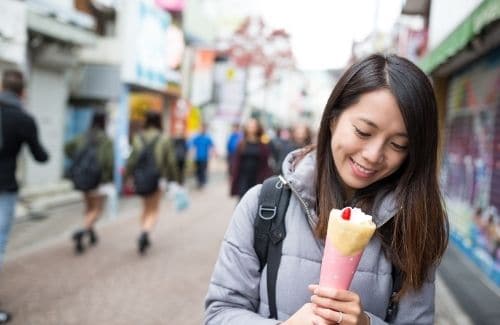 Typical price: ¥300 – 600
Western food is given a Japanese twist with these crepes famous all over the country.
But Harajuku does them in a picturesque way.
It shows Tokyo's eccentric personality with the over-the-top toppings, from brownies, ice cream, fruit, and even an entire slice of cheesecake!
Just explore Harajuku and find a stall with the longest line, it usually means it's the best and worth the long line. 
Takoyaki
Typical price: ¥400 to 600 for 8 pieces
One of the most common street food you can try and for a good reason is these golden balls filled with octopus.
Takoyaki literally means fried octopus and are golden balls with, you guessed it, diced octopus inside.
It also includes spring onion, ginger, and sometimes tempura pieces.
It's topped with seaweed, a special Takoyaki sauce, dried bonito, and mayonnaise.
Watch the vendors cooking the Takoyaki and eat it while still hot to get the full experience.  
Ikayaki
Typical price: ¥500
Are you a fan of seafood? Because if you are, an Ikayaki is perfect for you.
You can have a whole grilled squid on a stick finished off with a sweet soy sauce.
It's a simple on-the-go food that's savory.
It'll satisfy your cravings for that chewy, meaty flavor of a squid. 
Yakisoba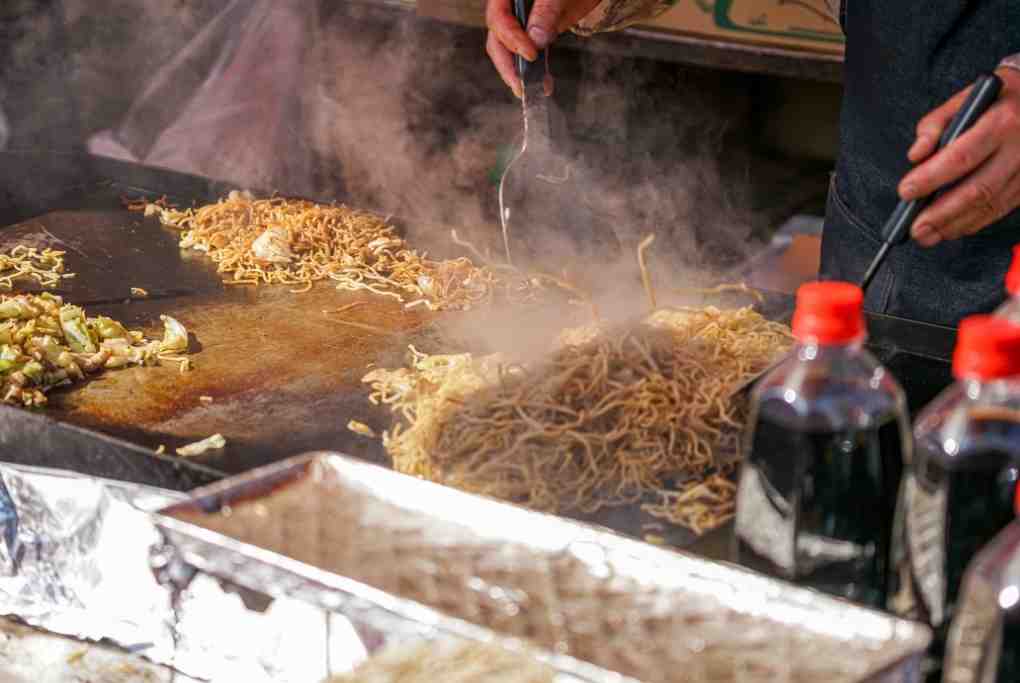 Typical price: ¥350 – 700
This is one of the most traditional noodle dishes apart from ramen, and a great street food find.
Yakisoba is a stir-fried noodle dish with cabbage, bean sprouts, carrots, and other vegetables.
You can top it with Worcestershire sauce, Japanese mayo, or even a fried egg.
Karaage
Typical price: ¥300 – 400
Karaage or Japanese fried chicken is essential in your checklist of food to try.
It's something that can be served on any occasion, in the streets or at your house.
It's marinated in sake, soy sauce, garlic, and mirin and then covered in potato starch.
It comes with a lemon or lime and Japanese mayo, or you can just try it on its own! They're bite-sized and can be a filling snack.
Imagawayaki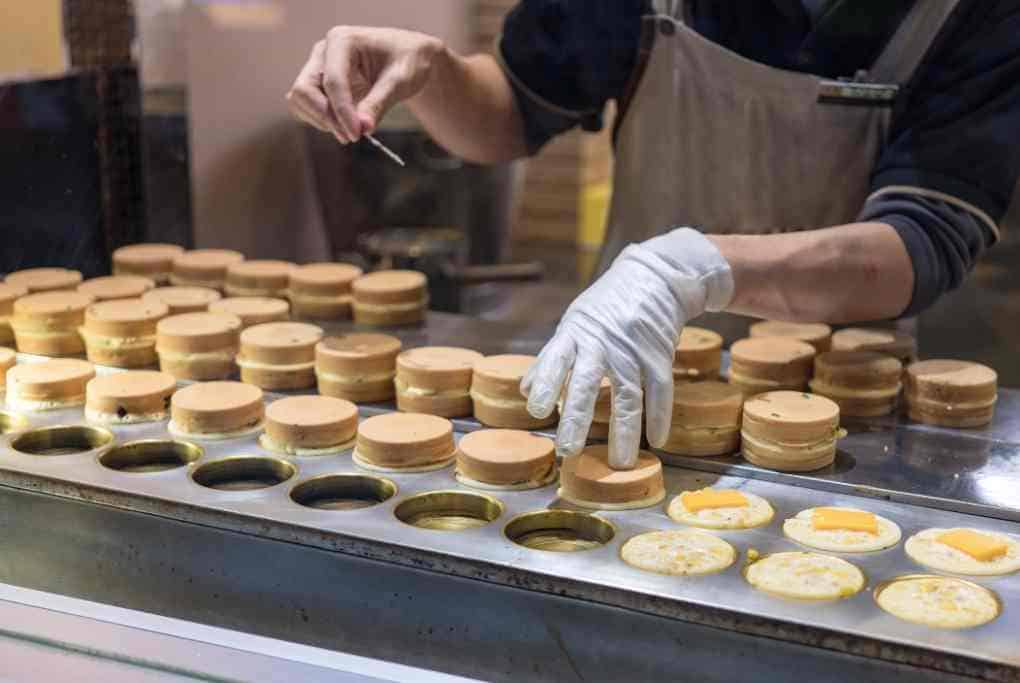 Typical price: ¥120 – 150
Often compared to a pancake, the snack is often filled with red bean paste and is in a disk shape.
You can also find other fillings like meat, potatoes, cheese, or custard.
Though it can be savory, it's more accessible and known as a sweet snack.
Yakitori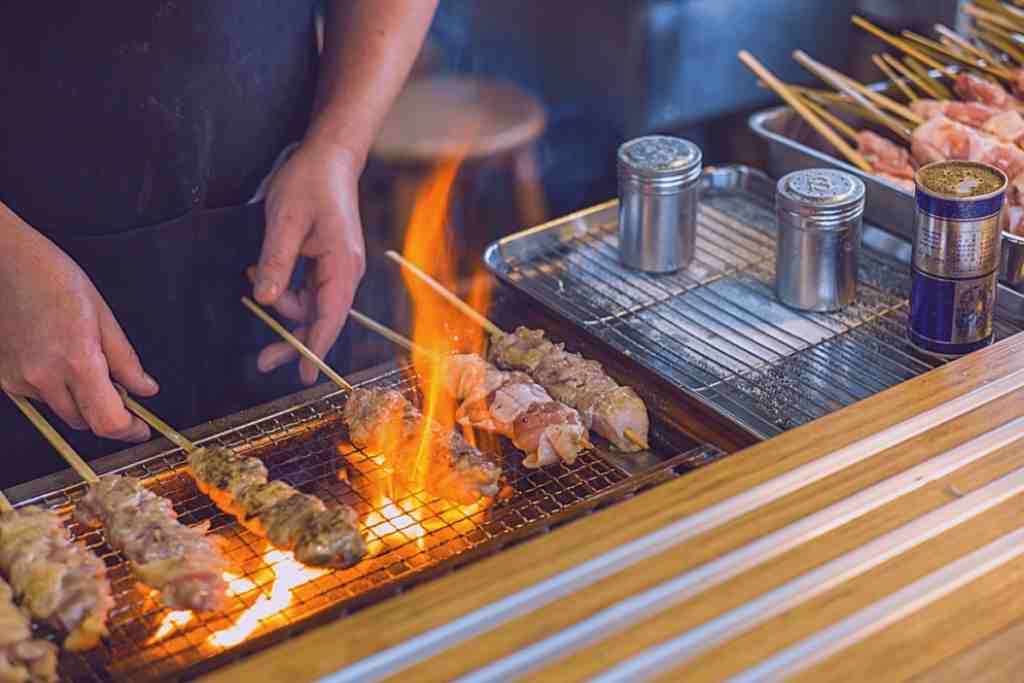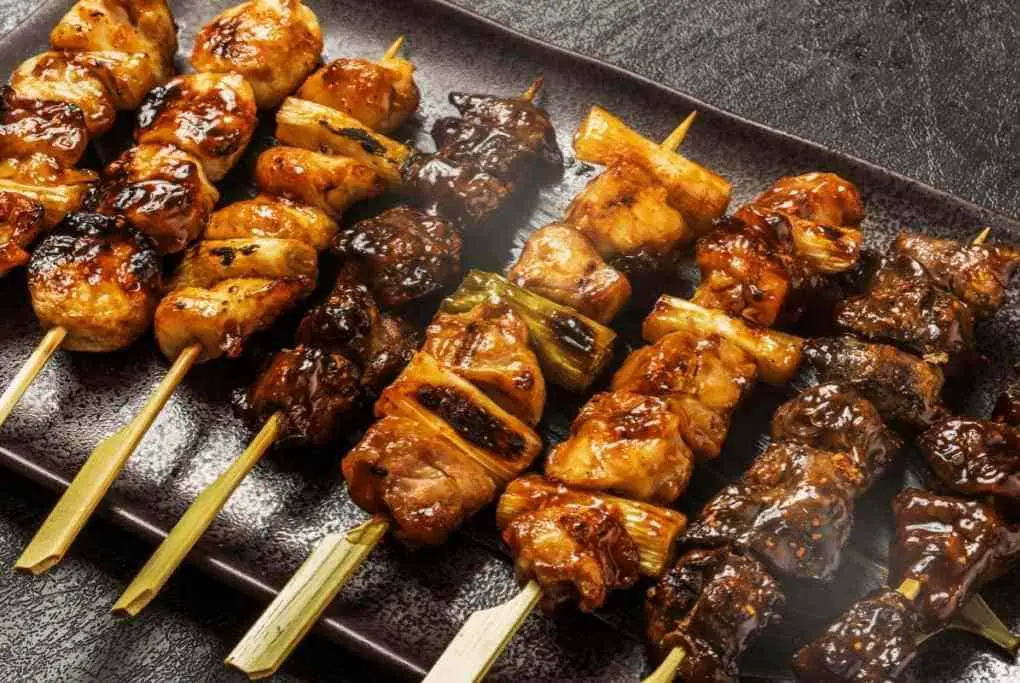 Typical price: ¥100 – 200 per stick
Something else you can't miss is Yakitori.
It's a grilled chicken on a stick that can have either traditional and non-traditional cuts of meat.
So you might have the typical chicken breast, or you can get one with chicken hearts or chicken skin.
It's finished off with a sweet soy sauce or just salt.
Okonomiyaki
Typical price: ¥500 – 600
Called the Japanese pancake, this is a street food that's often savory.
It's commonly made of flour, cabbage, eggs, seafood, and different meats.
Okonomiyaki is a famous dish that has different variations depending on the region.
Some are cooked in a certain way, while others are served with Yakisoba.
You can also get it with seaweed, ginger, Japanese mayo, and a special Okonomiyaki sauce.
Taiyaki
Typical price: ¥150 – 300
Similar to Imagawayaki, this street food is a pancake-like snack typically with red bean paste inside.
It's iconic for having that fish shape and is often served with sweet fillings. Some of which are custard, chocolate, or Nutella.
Kakigori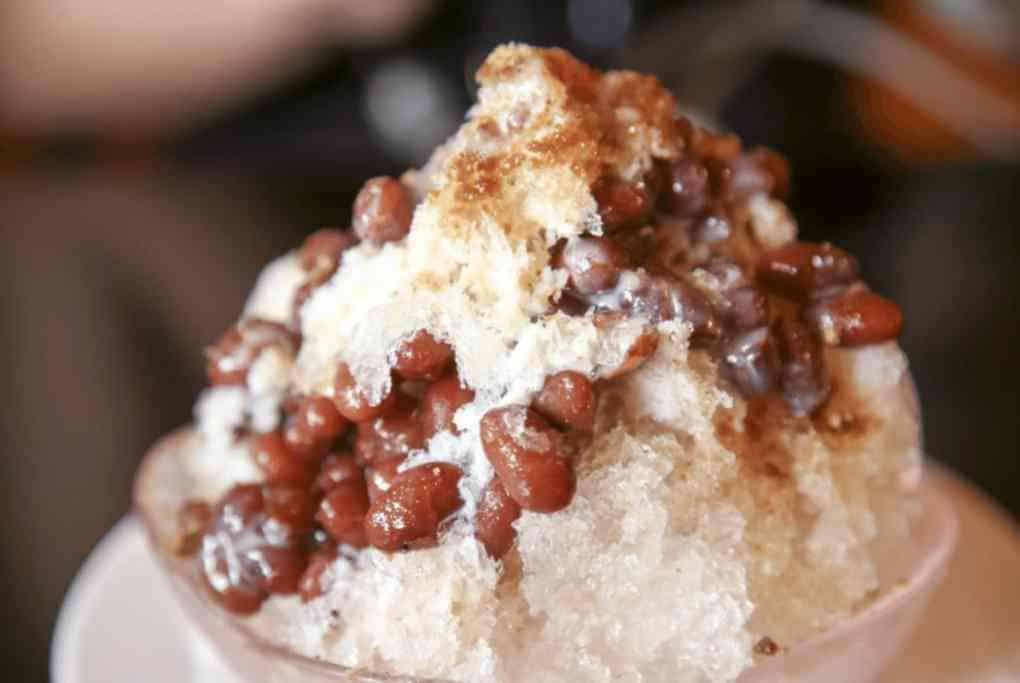 Typical price: ¥1000 – 2000
The Japanese equivalent of a Korean bingsu, a Kakigori, is basically a bowl of shaved ice with syrup and other sweet toppings.
It's super fluffy and can have unique flavors like matcha.
It's a perfect summer treat and is a good pairing during a summer festival!
Yakiimo
Typical price: ¥100 – 500
Yakiimo may look just like regular sweet potatoes, but these are local eats in Japan.
They're wood-fire baked sweet potatoes that are peeled and eaten as is.
They're best eaten during autumn or winter to warm you up.
There's also a sweeter version of this called Daigaku Imo.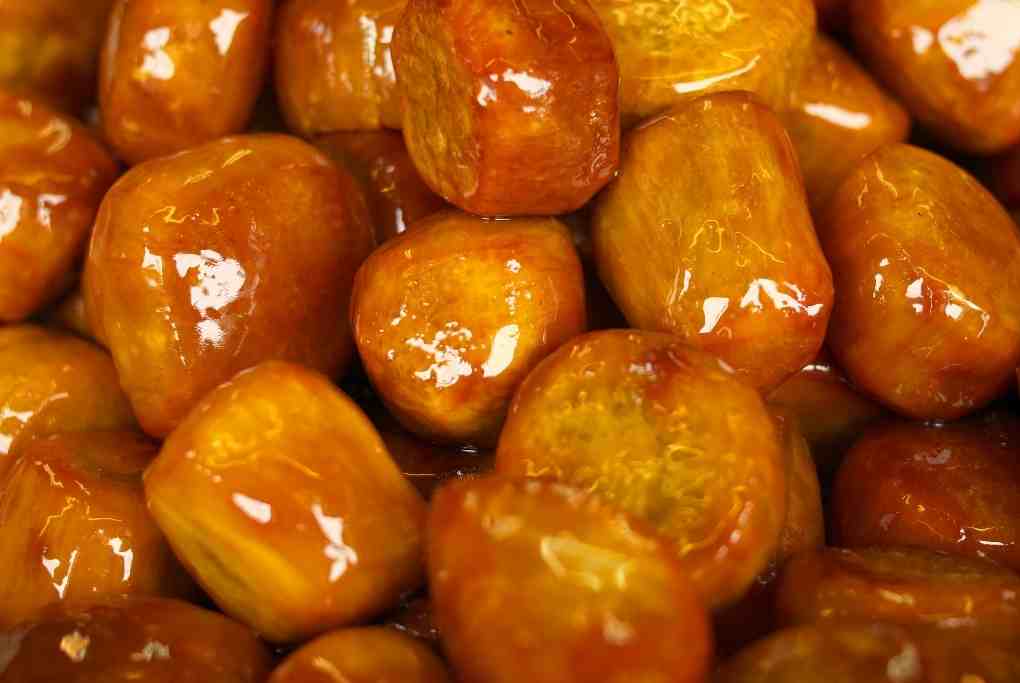 These can be found in supermarkets, but the authentic experience is getting it fresh and still hot from a Yakiimo truck.
It's traditionally sold in these Yakiimo trucks that drive around the streets.
You'll know they're near when you hear shouts of "Yaki Imo" over and over blasting from their trucks. 
These are just some of the street food you shouldn't miss, but there is so much more you can explore in Japan's streets.
Where to find Japanese Street Food
Aside from festivals or outside of shrines and temples, there are already a ton of places where you can find street food stalls in the country.
Different regions have different variations, or their area may have a particular specialty.
But there are places where you can try a little bit of everything.
Tokyo is a hub of food, and it's no different from street food.
You can head to the trendy Harajuku neighborhood, Tsukiji market for fresh seafood, or in the Asakusa area where a wide range of street food is. 
You can also head to Fukuoka, where the street food culture is thriving. Dotonbori, Osaka, is also called a "Street Food Paradise" with Osaka's specialty of Takoyaki.
Many street food stalls can also be seen in traditional markets, like in Kyoto and Hokkaido.
You can also see many street food stalls in traditional markets like Kyoto and Hokkaido.
The street food culture may be a little different from what you might be used to, but it's still a great experience!
You can find so many different foods with Japanese street food and some of your old favorites done uniquely.
Check out our other mouth-watering street food articles!
hokkaido street food, how much is japanese street food, japan street food, japan street foods, street foods in japan, popular japanese street food, yatai japanese street food, best street food in tokyo, okonomiyaki street food, japanese street vendors, yatai asian street food, dango japanese street food, traditional japanese street food, harajuku street food, japanese stall food, japanese street food stall, japanese street food tokyo, best tokyo street food, street food japan tokyo, street food japanese