Good morning, Sunshine!
There's no better way to start the day than with a delicious breakfast. And in Sacramento, there are plenty of great places to enjoy a morning meal. From classic diner fare to creative takes on traditional dishes, these restaurants have something for everyone.
So whether you're looking for a hearty plate of eggs and bacon or a light and healthy option, be sure to check out these best breakfast restaurants in Sacramento. You'll be sure to find the perfect place to start your day.
Tower Café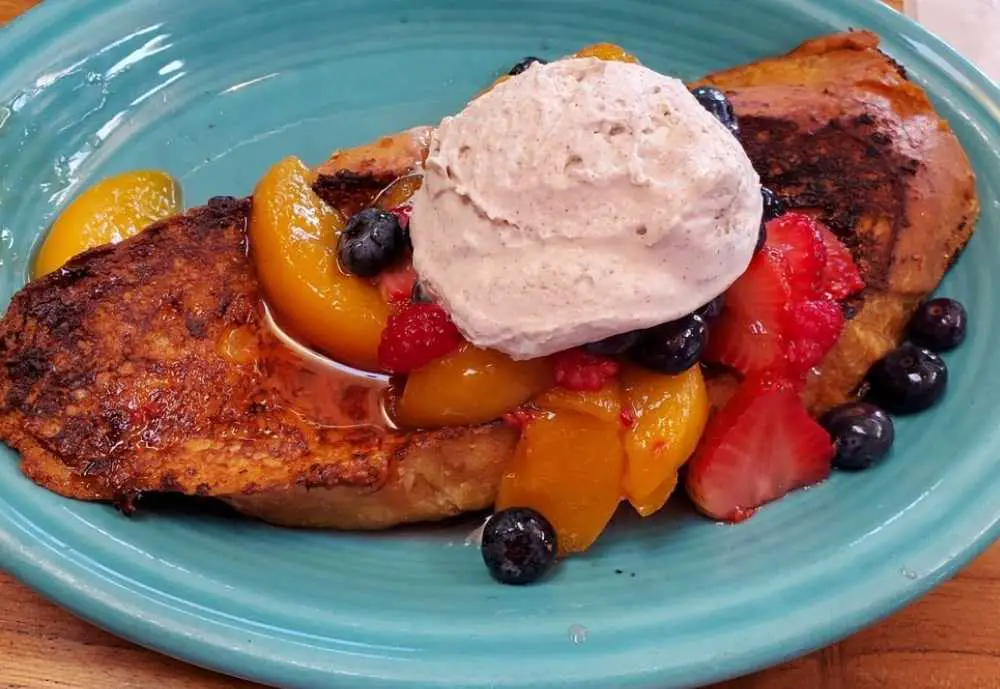 Tower Café is a bustling local establishment refreshing for that early morning breakfast. Inside, you'll find a number of plants paired with wooden tables and chairs, which completes the whole vibe.
There is also an outdoor patio if you prefer outdoor dining. Tower Café serves Asian, Spanish, and American cuisines.
Their most recommended dishes include the famous French toast, Madame Cristo, Monte Cristo, Thai steak salad, and eggs tower.
Menu: Breakfast & Weekend Brunch
Top Review: "Actually I'm glad it isn't closer to my home or I'd probably have gained 30 lbs. I love this place and when my wife and I decide we want a special breakfast or lunch we'll take the time to drive the extra miles to go here." – Brewster B.
1518 Broadway Sacramento, CA 95818, (916) 441-0222
Bacon & Butter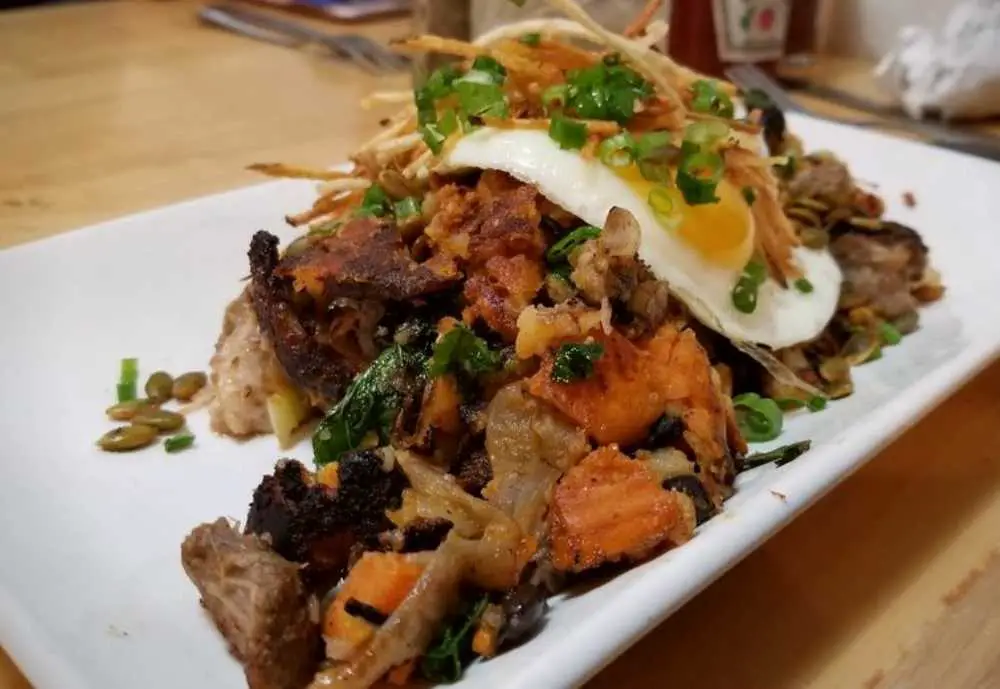 Bacon & Butter is a farm-to-table café and certified local favorite breakfast spot. You can see that by the huge lines and waiting time when you get there, but the wait is definitely worth it.
The cafe interiors are cozy with a modern design aesthetic.
Some dishes you should try are the grilled cheese benedict, French toast, the kitchen sink, chicken and waffles, and biscuit sandwich.
Menu: Bacon & Butter Menu
Top Review: "First time coming here with my mom and didn't know what to expect. Our server Jermajesty was very nice and in fact hilarious (moms words). He recommended "the kitchen sink" being one of the best savory dishes they served, so that's exactly what we got! AMAZINGGGG! I thought it was really cute at the end when they give you the check they put it in a book where other guests sign on the pages ! Great experience." – Leticia P.
5913 Broadway Sacramento, CA 95820, (916) 346-4445
Orphan Breakfast House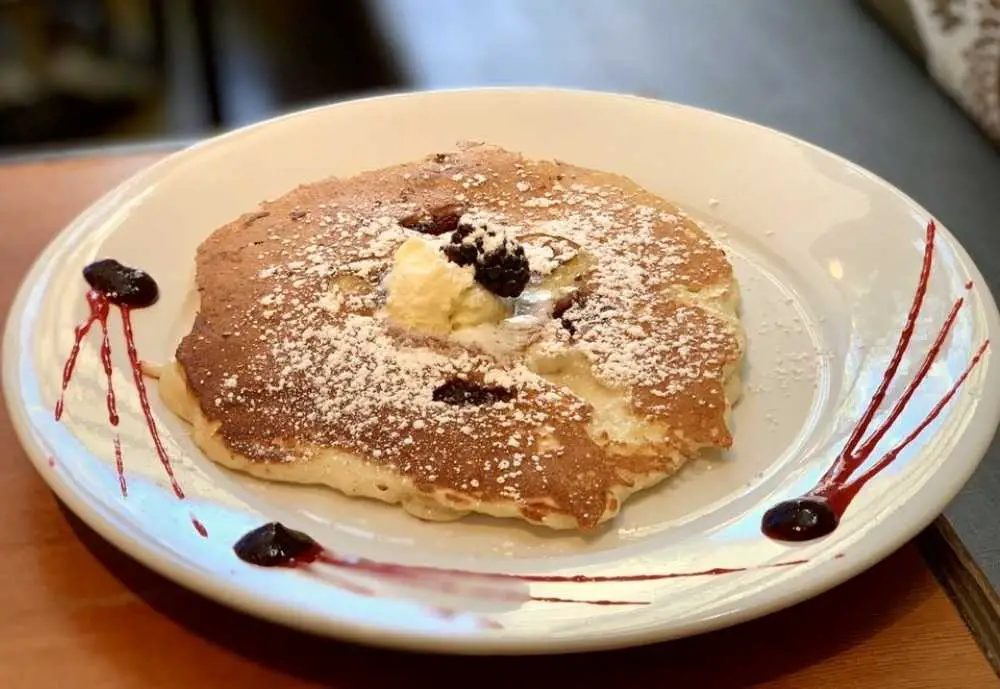 With its cute and vibrant interiors, We can't miss Orphan Breakfast House in the list of best breakfasts in Sacramento.
The cafe offers a mix of Latin, American, and Asian flavors, along with healthy options and delicious drink pairings.
Diners often recommend their French toast, avocado scramble, roast beef hash, and breakfast tamales.
Menu: Orphan House Menu
Top Review: "I ate breakfast here recently and it was fantastic! Very cute spot and location within walking distance to McKinley Park. I had their oatmeal which was really delicious and came with fresh fruit and nuts beautiful displayed on the oatmeal. Their coffee was high quality but a little too strong and bitter for my particular taste. The service was very attentive. We ate inside by the window but their was also nice outdoor dining. We ate quite early in the morning, but I noticed later in the morning,  there was a wait and a line. Cash only, but free ATM inside." – Leilani B.
3440 C St Sacramento, CA 95816, (916) 442-7370
Fox & Goose
Fox & Goose has been serving the Sacramento community delicious food for more than 20 years.
Their British-inspired pub is a hit where the community comes together to get a hearty breakfast.
Their rustic decors fit the traditional English pub motif, and they've got seasonal cocktails for those going for brunch.
Some Fox & Goose classics are benedict Arnold, fish and chips, the full English, French toast, bangers and mash, and Welsh rarebit omelet.
Menu: Fox & Goose Menu
Top Review: "Great brunch spot! Indoor and outdoor seating. I went at 10:30 and was sat immediately. Service was excellent and the food was great! Would highly recommend trying the fresh scones with Devonshire Cream – transported me back to London." – Lauren B.
1001 R St Sacramento, CA 95811, (916) 443-8825
Crepeville
If you haven't guessed, Crepeville is an expert in crepes. If that's your perfect breakfast meal, then this is just perfect!
You can create your crepe or omelet, and they're open until late at night so that you can satisfy your cravings anytime.
They have a kids' menu as well. People recommend getting any of the crepes (chicken pesto crepe and savor crepe!), the San Francisco benedict, and French toast.
Menu: Crepeville Menu
Top Review: "Once you get over how many ways you can have you an omelette there is a full amazing menu of crepes.  I ended up getting an Egg Benedict which became an Amazon adventure of taste and sight.  It was so filled of deliciousness I forgotten of my other plates." – TeaRose T.
1730 L St Sacramento, CA 95811, (916) 444-1100
Nopalitos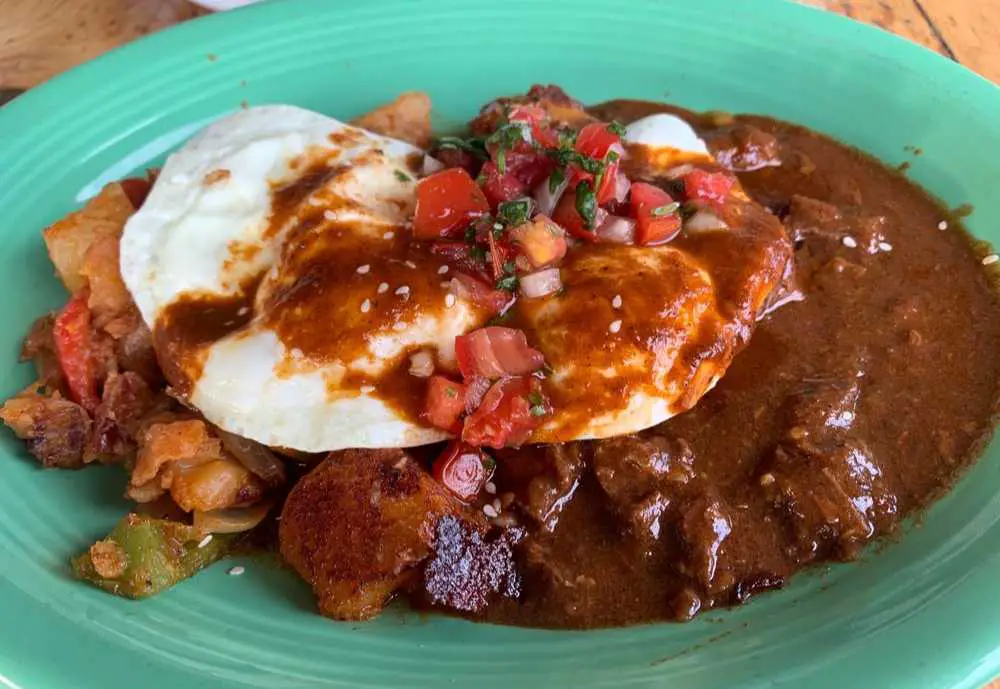 Nopalitos is one of the best breakfast spots in Sacramento. They are a local breakfast restaurant that's been here for 30 years.
You'll find them in a cozy, unassuming establishment serving authentic Mexican food.
If you're wondering what to get, try the breakfast burrito, little cactus plate, huevos rancheros, or tamale bowl.
Menu: Nopalito's Breakfast Menu
Top Review: "THIS PLACE! For real this place has hands down the best Mexican breakfast…maybe any breakfast..in the area. I can't even really pinpoint what it is that makes it so crave-worthy. Maybe it is the fresh tortillas that accompany your meal, or the unique veggie blend sauteed in something heavenly. Even the scrambled eggs taste better here. Maybe it's that I put them all together and make a perfect bite. I really don't know." – Emma T.
5530 H St Sacramento, CA 95819, (916) 452-8226
Hot Off The Griddle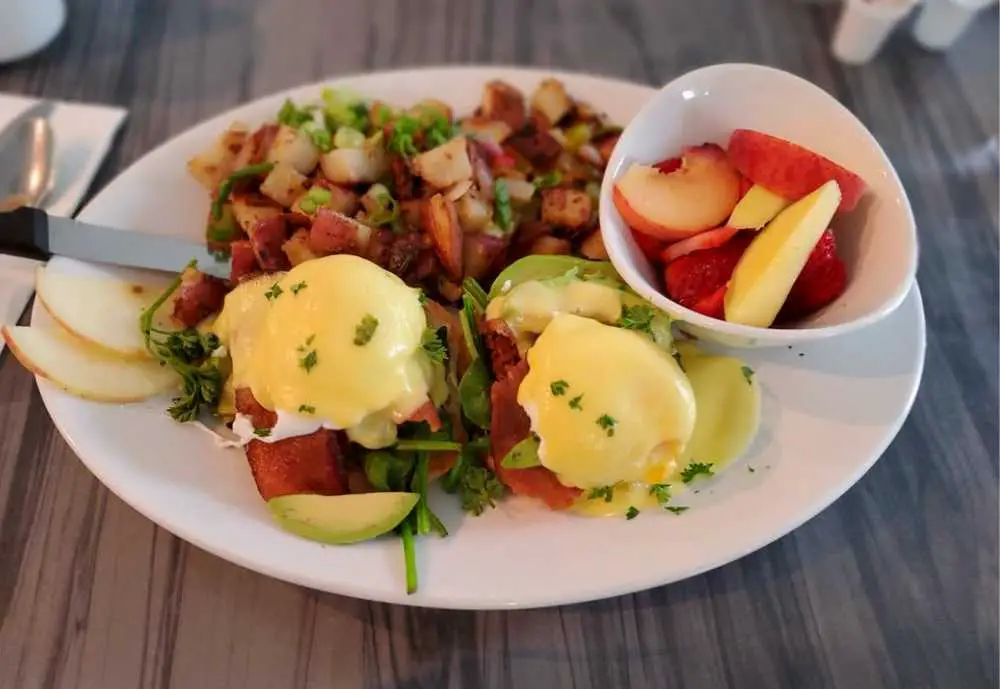 Hot Off The Griddle is a simple, no-frills restaurant with a home-cooked country breakfast menu.
They're family-owned and operated, and people commend them for having the friendliest staff.
Their home-cooked meals will bring a smile to your face, especially if you order any of these for breakfast: chicken fried steak, eggs benedict, HOTG benedict, or the HOTG scramble.
Menu: Hot Off The Griddle Menu
Top Review: "This is seriously a long overdue update. This place is a freaking hidden gem. My husband and I just moved to natomas not too long ago, and we are so grateful we found this place. Not once have we ever had bad service, I think that's literally impossible here because every server is so kind and so helpful. They are all so personable and they look like they LOVE working here and love interacting with their customers. The food is always AMAZING. Every single thing we have gotten here has been so good. Banana bread French toast, the HOTG Benedict with fried green tomatoes is so good, the HOTG scramble, pumpkin waffle, their sausage is plump and delicious, their potatoes are amazing." – Megan L.
1583 W El Camino Ave Ste 103 Sacramento, CA 95833, (916) 571-5792
Sibling by Pushkin's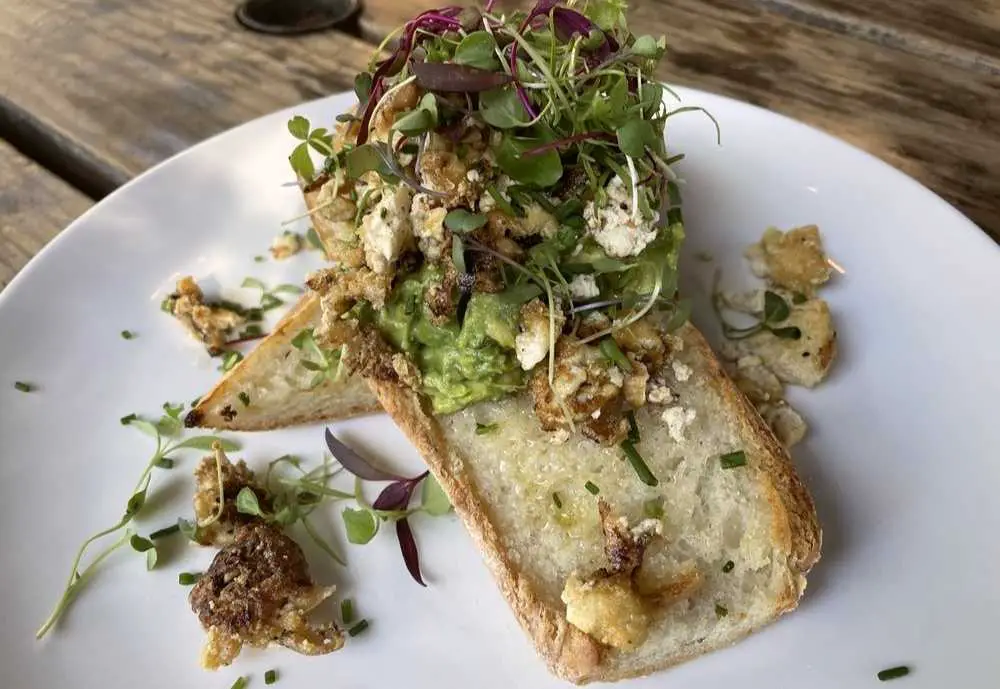 For a lot of healthy options and alternatives, Sibling by Pushkin's is an excellent choice for breakfast.
They are a hip spot with a spacious patio and, most importantly, an extensive drink menu for brunch!
They can get super crowded during weekend brunch, so visitors recommend dropping by during the weekday if you can.
They have gluten-free dishes and an entire vegan-friendly menu to choose from. While you're here, try their avocado toast, eggs benedict, tofu scramble, breakfast sandwich, or pork belly benedict.
Menu: Sibling Menu
Top Review: "So good! Super friendly service. Got here on a Saturday morning just before 9:30am. No wait, sat outside to enjoy the crisp sunny day. Ordered an iced mint coffee late and eggs benny with ham. Substituted the biscuits  To my surprise the ham was cooked crispy like bacon. This was even better. No complaints! Great food and coffee. Compliments to Gabriella for such friendly service!" – Getterz M.
Dining out for breakfast in Sacramento can definitely be an amazing experience if you know where to go. These restaurants should definitely be at the top of your list – they each offer something unique and delicious that is sure to please any palate.
---
Did we miss a spot that deserves to be mentioned? Shoot us an email at: [email protected]
---
So next time you're planning a morning meal, be sure to check out one of these amazing breakfast spots in the capital city!
You might also like: