Good morning, sunshine!
Breakfast is the most important meal of the day, and there's no better way to start your day than with a delicious meal at one of Colorado Springs' best breakfast spots.
Whether you're looking for a hearty plate of pancakes or a savory omelet, you'll find plenty of great options to choose from. So pull up a chair and dig in – it's time to fuel up for a busy day ahead!
Denver Biscuit Company
TRAVEL Vail Village Colorado
The Denver Biscuit Company has rightfully earned its reputation and many locations with its carefully crafted biscuits, which are then creatively used to create mouth-watering breakfasts.
A hot and flavorful bowl of Shrimp + Grits is perfect for anyone seeking a simple but energizing experience.
A generous serving of rich, warm gravy accompanies The Franklin, a hearty biscuit sandwich made with buttermilk fried chicken, bacon and cheddar cheese.
Menu: Denver Biscuit Company Menu
Top Review: "I've heard about DBC many times so we were excited to check it out. This location had a few different vendors inside, atomic cowboy, DBC and an adorable ice cream place to name a few. The beer list was awesome, I definitely would have ordered a beer if we were there later in the day. We decided to get a huge cinnamon bun for the table then share a couple biscuit entrees. First off, the cinnamon bun was ridiculously huge and SO delicious. We snacked on it over the course of a couple days. Our server (Camille?) was so fantastic, we commented on how great she was. She was quick and efficient and super friendly too. We got two of the biscuit sandwiches (I don't remember the names) but they were massive and delicious as well. I'm glad I finally got to try what every has been talking about!" – Kelly W.
528 S Tejon St, Colorado Springs, CO 80903; (719) 208-4770
Urban Egg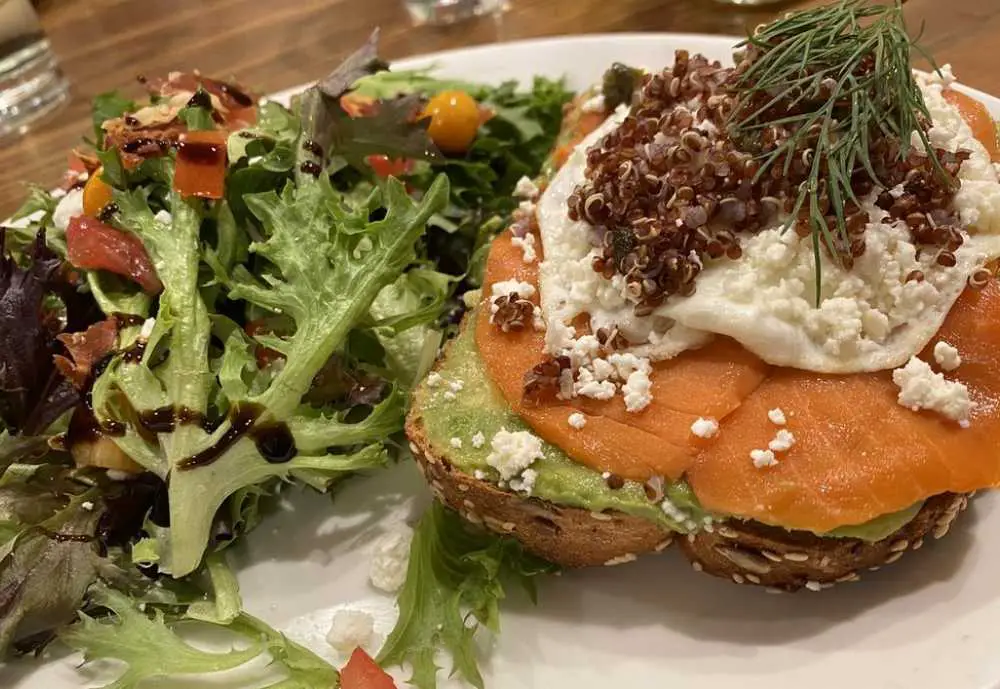 Organic ingredients and cooking expertise come together to create the award-winning menu at Urban Egg, a place where no one leaves hungry.
Take your well-rounded and mouth-watering breakfast to the next level by trying out their Wild Pacific Salmon Avocado Toast, made with smashed avocado, cured salmon, egg, queso fresco, sprouted quinoa and toasted capers on a slice of Colorado multi grain toast.
A Belgian pearl sugar waffle pairs delightfully with lightly fried free range chicken, chili maple bacon butter, bacon jam, and Hollandaise in the Chicken & Waffle Benedict plate.
Menu: Urban Egg Menu
Top Review: "Absolutely amazing. I made a reservation through the app Yelp and they had my table, ready and set for my party of eight. When asked, the waitress told my aunt her favorite alcoholic drink/what she recommended. Our drinks were very aesthetically pleasing, and we ordered our food right after getting our drinks. When the food arrived, everything looked and tasted wonderful." – Azul A.
28B S Tejon St, Colorado Springs, CO 80903; (719) 471-2311
Paris Crepe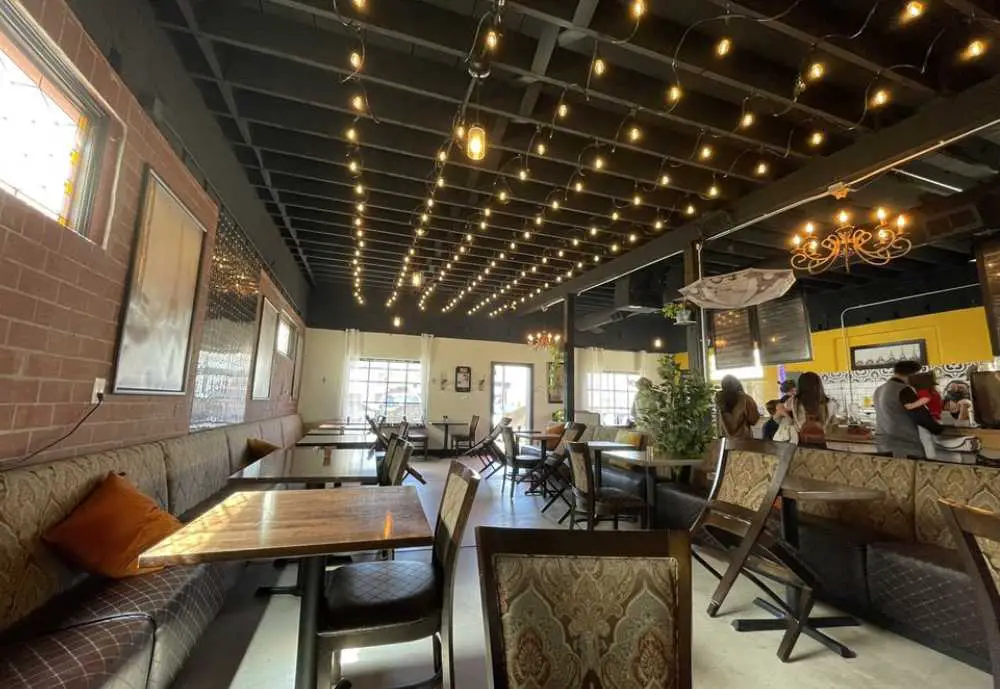 Family owned and devoted to quality dishes, Paris Crepe is a cozy destination fit to visit on any Colorado morning.
The Salmon Benedict Crepe is just as delicious as it sounds; made with smoked salmon, cream cheese, capers, homemade hollandaise sauce and over easy eggs, this legendary crepe is garnished with scallions.
One of the many varieties of sweet crepes available is the Almond Butter Banana Crepe, drizzled with dark chocolate sauce.
Menu: Paris Crepe Menu
Top Review: "I absolutely LOVE Paris Crepe! I moved out of town a few years ago and every time I come back to visit family I make SURE to hit up Paris Crepe. The food is excellent! So much variety and just crave worthy! The coffee is great too! There are signature house espresso drinks and all of the regular coffee types you could want! They put adorable cocoa designs on the foam! Highly recommend 10/10 everyone should come here." – Christina B.
1019 S Tejon St, Colorado Springs, CO 80903; (719) 444-0110
Burnt Toast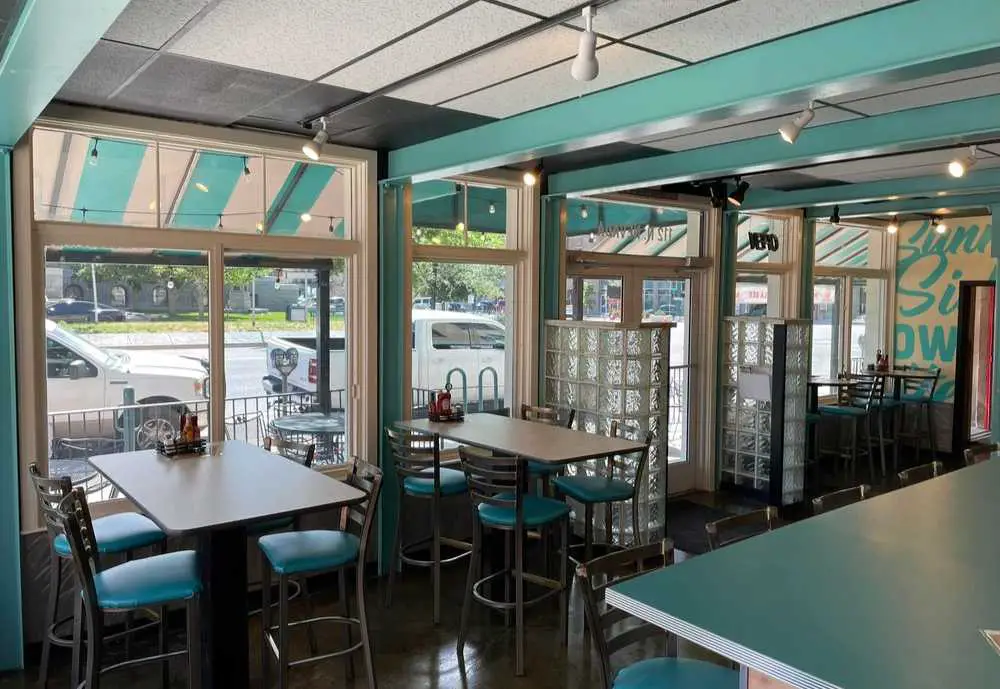 Experience a delicious, diverse and nutritious array of breakfasts at Burnt Toast, a fun and inviting restaurant in Colorado Springs.
Take your tastebuds on a refreshing morning adventure by trying out The Garden Avocado Toast, which comes topped with arugula, zucchini ribbons, radishes, carrots, jalapeno peppers, lentil sprouts and lemon.
On the sweeter side, enjoy a luxurious portion of yogurt with the Cactus Mike Granola Bowl, which comes topped with agave, strawberries, raspberries, blueberries, blackberries and caramelized bananas.
Menu: Burnt Toast Menu
Top Review: "What a great new breakfast joint in a great location. My husband and I came on a Friday morning we both had off work for and were happy we stumbled into finding the spot. There is ample outdoor seating and indoor seating. We chose to sit upstairs under the covered patio. It was shaded and absolutely perfect. Our server was very patient and even asked about yogurt options for my granola bowl. Which thank goodness because I'd forgot to say I wanted to sub the coconut yogurt lol! A real stomach saver I tell you. This easily will be in our rotation of breakfast date spots." – Monika B.
112 N Nevada Ave, Colorado Springs, CO 80903; (719) 377-5444
Black Bear Diner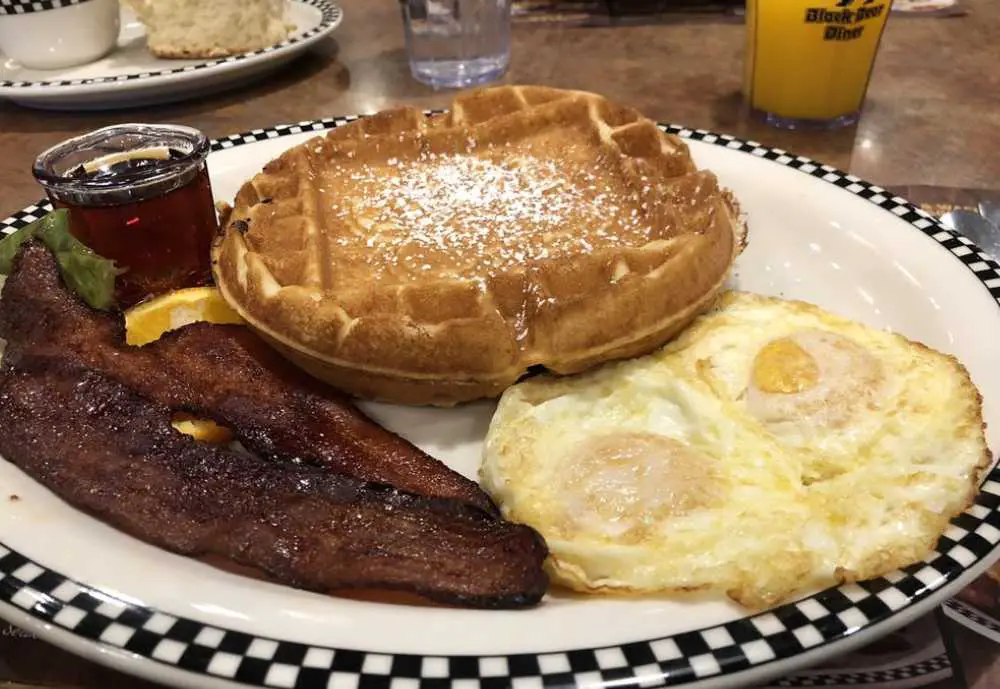 No trip to Colorado Springs is complete without stopping by at the Black Bear Diner for some hearty and well rounded breakfasts while surrounded in old fashioned ambience.
From sausage to waffles to anything else fit for a delicious breakfast, the Bear's Choice is great for anyone looking for a more personalized experience.
Smoked ham, smoked bacon, link sausages, eggs, bell peppers, onions and pickled jalapeño are scrambled together over country red potatoes in The Original ScramBOWL, which is then topped with cheddar cheese, country gravy and a housemade biscuit.
Menu: Black Bear Diner Menu
Top Review: "I dont go to ihop anymore. Black bear diner is hands down my favorite breakfast spot. Decor is a little outdated but the service is good and the breakfast is bomb. The sweet cream pancakes you can't find anywhere else and I always crave them. Definitely recommend the pancakes if you haven't tried them. I have family that visit every year from Connecticut and they love it!" – Fontey M.
975 N Academy Blvd A, Colorado Springs, CO 80909; (719) 314-3616
Mountain Shadows Restaurant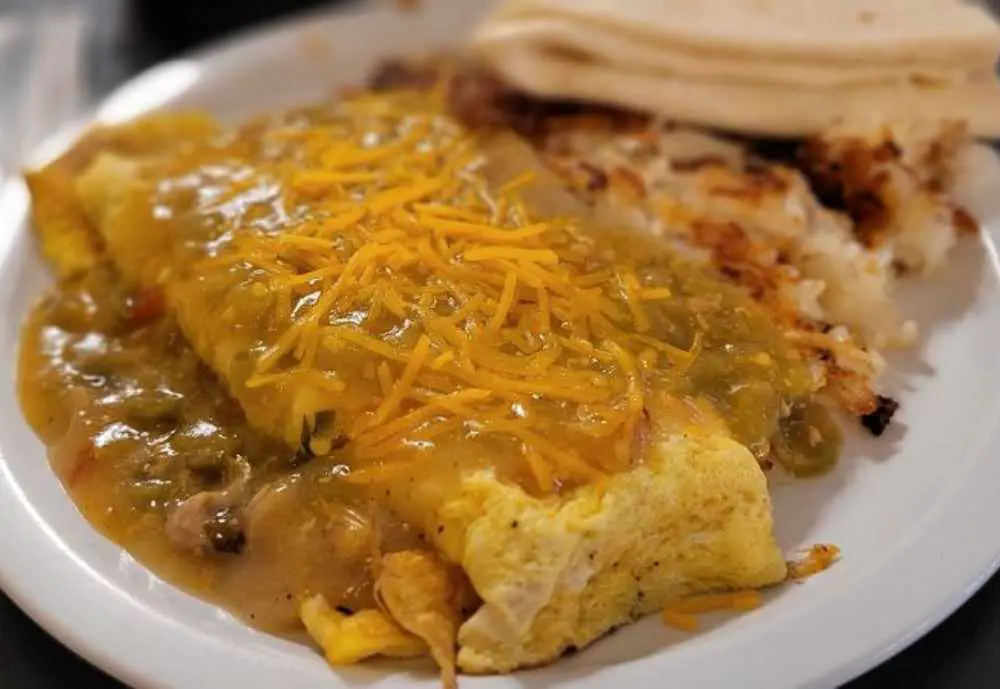 Commencing our list of outstanding breakfast restaurants in Colorado Springs is the Mountain Shadows Restaurant; visited by Guy Fieri himself in 2015, the restaurant continues to impress with its scrumptious homestyle menu.
Sometimes all one needs to start the day off on the right foot is a plate of two eggs, hash browns and toast. Indulge in the chewy and sticky delight that is their infamous Giant Cinnamon Roll.
Menu: Mountain Shadows Restaurant Menu
Top Review: "Amazing!!!! Nothing bad to say . I'm from North Carolina and this reminds me of a mom and pop type breakfast place back home !!! Southern good food . Best cinnamon roll I've ever had HUGE enough to share. We got half of one and 3 of us split it !!! I got the French toast and friend got the biscuit and gravy and both was amazing and good prices as well. Will definitely be back since I've recently moved to the springs!" – Kristin S.
2223 Colorado Ave, Colorado Springs, CO 80904; (719) 633-2122
Sandy's Restaurant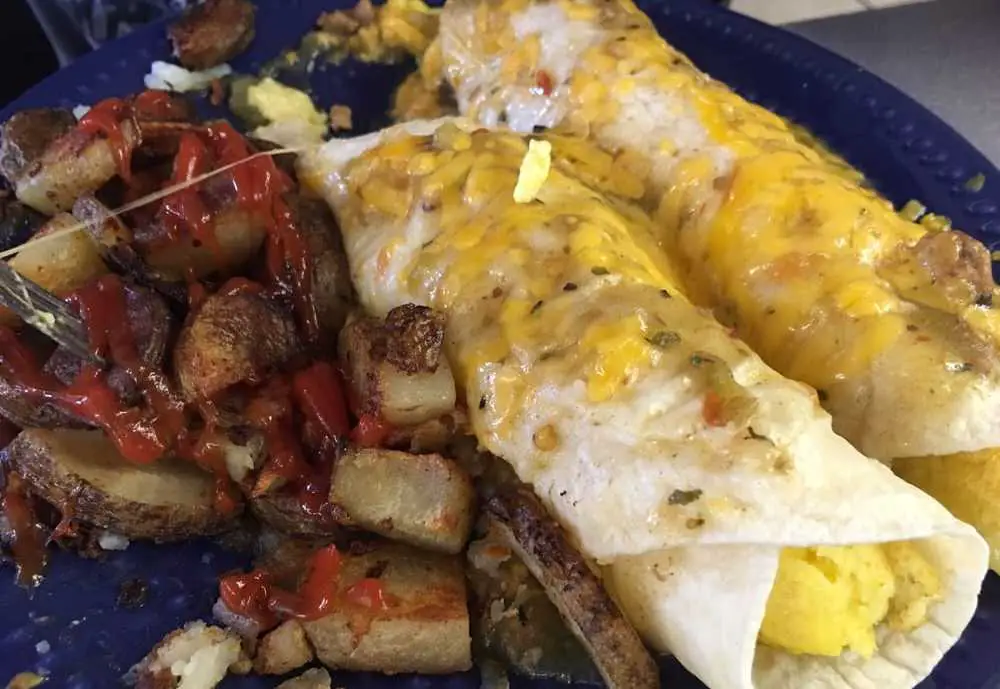 A classic selection of American breakfast cuisine is always available at the casual and cozy environment at Sandy's Restaurant. Six eggs are enveloped in two tortillas to comprise the Mexican Sunrise, and it comes slathered in green chili and cheese. A thick, warm layer of sausage gravy blankets the flaky biscuits in the Biscuits & Gravy plate.
Menu: Sandy's Restaurant Menu
Top Review: "Sandy's might not look like much from the road, but the food and service make this place a local favorite.  My family and I went on the weekend and it was packed.  We waited 20 minutes to sit down.  If you're going during the weekend, call and make a reservation. The food came out quickly and was delicious.  If you're into diner food you're in for a treat!  We'll be coming back for sure!" – Mark M.
6940 Space Village Ave, Colorado Springs, CO 80915; (719) 651-0596
Omelette Parlor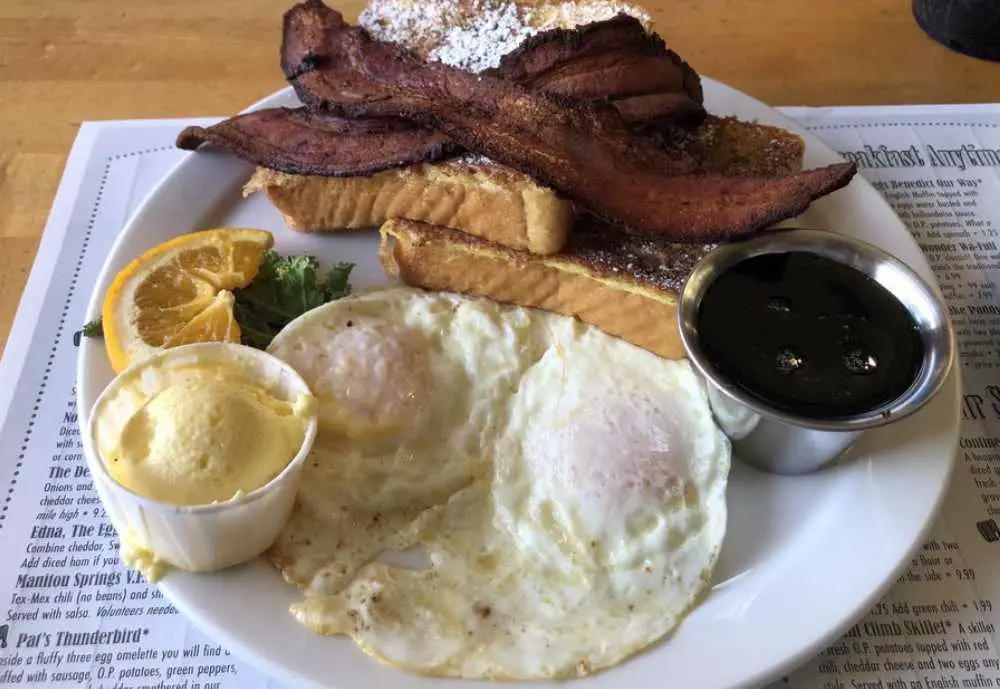 The Omelette Parlor was opened in 1993 where Ruth Etting, a popular singer from the 1920's, originally resided and built her restaurant; to this day, the restaurant serves award winning breakfasts for all to try.
Blanketed in a thick layer of green chili, Pat's Thunderbird Omelette takes deluxe omelets to the next level as it is layered with a tortilla, sausage, potatoes, green peppers, onions, tomatoes and cheddar cheese.
A fresh buttery croissant envelops bacon, lettuce, tomato, avocado and Swiss cheese in A Blast of the Springs.
Menu: Omelette Parlor Menu
Top Review: "I'm so glad my family stopped here for breakfast before our road trip back home. The mimosas helped me knockout on the car ride home and the chili woke me back up so that I could, well, make chili. The bacon was definitely my favorite part of the meal so much so that I ordered a bunch to go. I liked this place so much that I bought a T-shirt to rep this place on my way out but unfortunately I bought a size too small. The atmosphere is cozy and I made good memories here laughing with my family." – Micheal R.
900 E Fillmore St, Colorado Springs, CO 80907; (719) 633-7770
Garden of the Gods Market and Cafe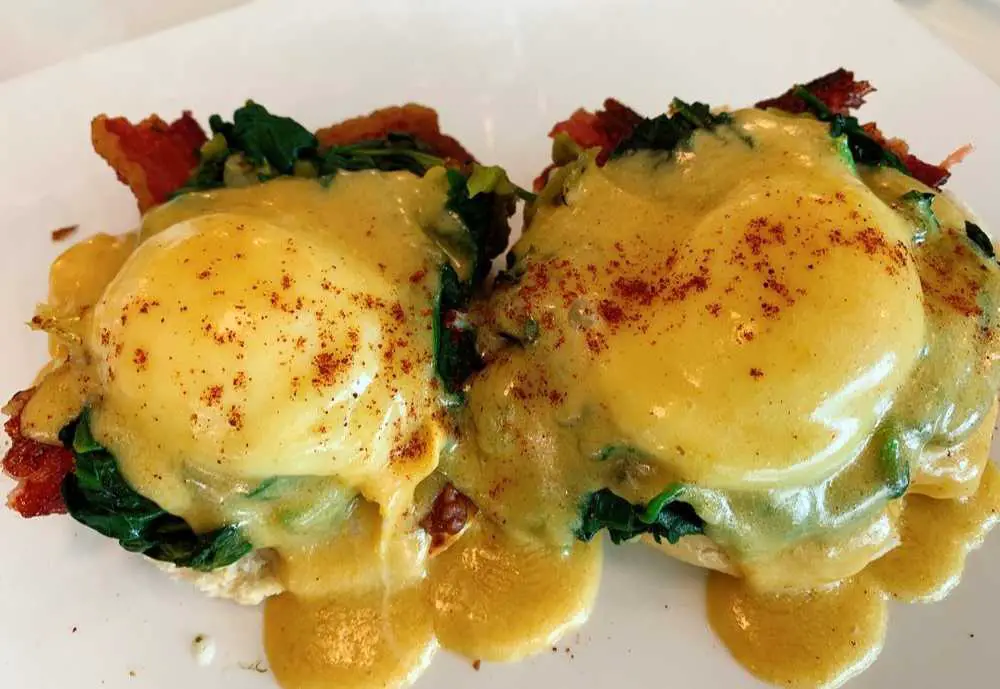 Enjoy an extraordinary experience at Garden of the Gods Market and Cafe, where a clean flavorful breakfast is guaranteed every day in a hospitable and classy atmosphere.
Indulge in a delightful and refreshing mix of cranberries, goat cheese and pickled red onion when you order the Beet and Arugula Salad, which comes topped with strawberry balsamic vinaigrette.
Dig into a Power Bowl for a delectable dose of Greek yogurt, seasonal fruit and granola.
Menu: Garden of the Gods Market and Cafe Menu
Top Review: "Oh I enjoyed this place so much even though it was such a hot day when we went. I was really bummed about our server cause he was nowhere to be found. The hostess made up for the lack of the server. She was very helpful and took our drink and food order. Will definitely go back there to try other food and drinks." – Chris K.
616 S Tejon St Suite C, Colorado Springs, CO 80903; (719) 471-2799
Olde World Bagel & Deli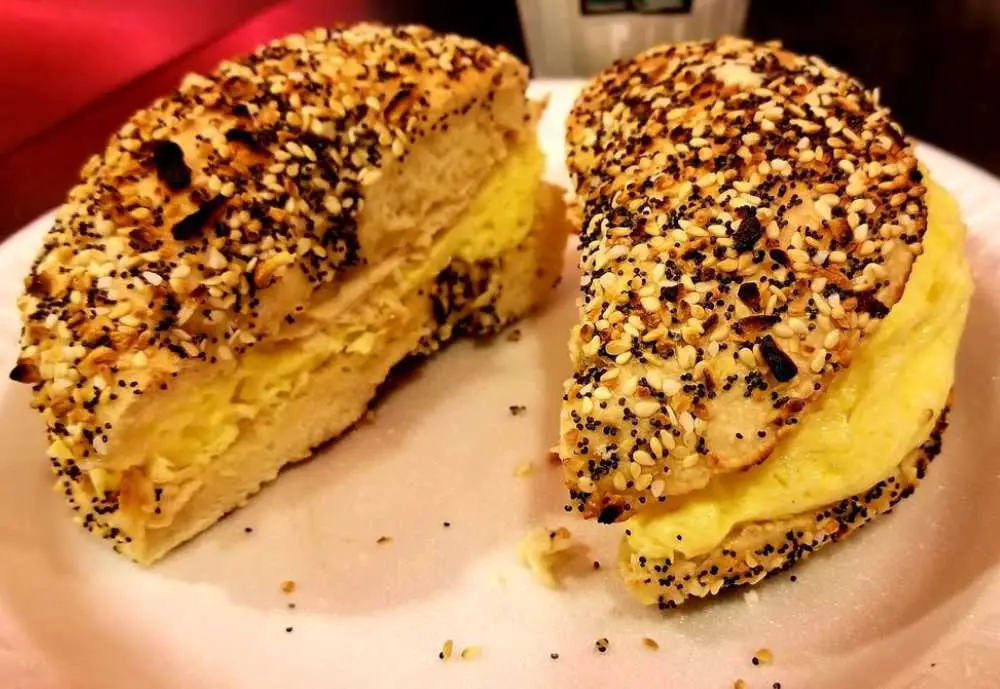 Nothing beats a fresh bagel in a cozy and old school atmosphere at Olde World Bagel & Deli.
There is a wide variety of bagels to choose from, such as the Everything Bagel, and an even wider variety of breakfast sandwich combinations is always ready for enjoyment.
From sausage and eggs to fresh vegetables, enjoy a delicious meal made with baked delights such as the Pumpernickel Bagel.
Menu: Olde World Bagel & Deli Menu
Top Review: "Great place!! They move the line pretty fast and they have so many options for bagels, I will go back until I try them all!! Plenty of in house cream cheeses to try, I got a breakfast sandwich on a jalapeño cheddar bagel and it was really good, just the perfect flavor/kick. Husband got a honey wheat bagel and really enjoyed it as well!" – Kelsey D.
1670 E Cheyenne Mountain Blvd, Colorado Springs, CO 80906; (719) 527-9651
---
Colorado Springs is a great place for breakfast food lovers. There are plenty of options to choose from, whether you're looking for something healthy or indulgent. And with such beautiful scenery, it's the perfect place to enjoy a leisurely meal. So if you find yourself in Colorado Springs, be sure to check out some of these breakfast spots. You won't be disappointed!
You might also like: