Ah, breakfast. The most important meal of the day. And there's no better place to enjoy a delicious morning meal than Key Largo, Florida.
Just imagine sitting down to a plate of fresh-caught seafood, eggs cooked to perfection, and crispy bacon while the sun rises over the beautiful Florida Keys.
Sounds pretty heavenly, right? Well, lucky for you, we've put together a list of the eleven best breakfast spots in Key Largo so you can start your day off right. From cozy cafes to waterfront restaurants, there's something for everyone on this list.
Best Places to Stay in Key West and...
Grab a cup of coffee and let's get started!
High Tide Restaurant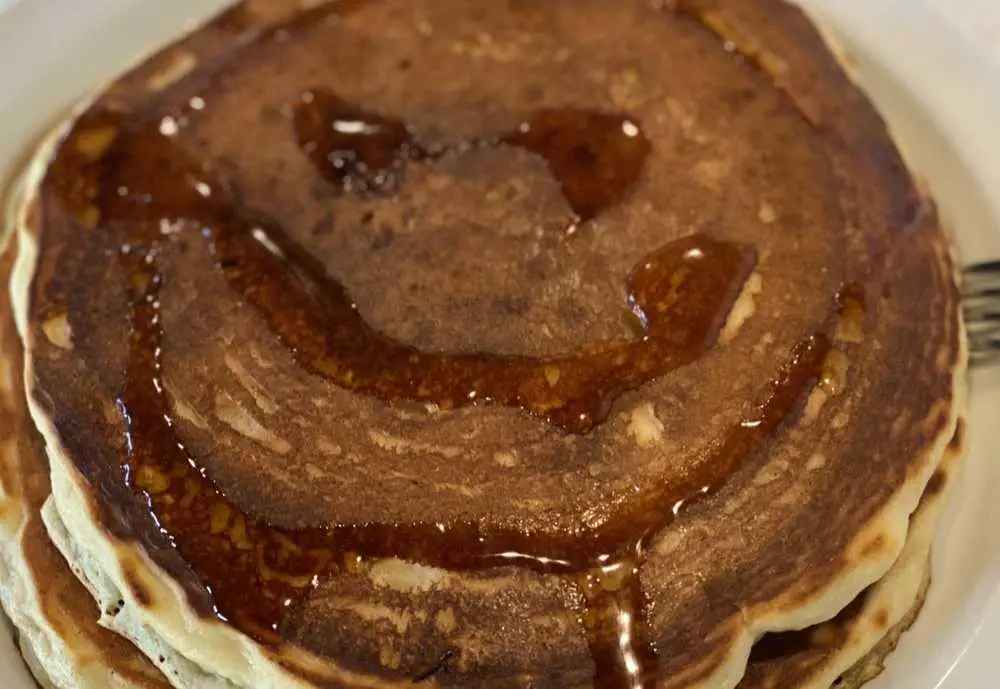 What better place to start your morning in Key Largo than the High Tide Restaurant, a locally owned and operated establishment with great breakfasts and a friendly atmosphere.
Ocean meets land with the mouth-watering Lobster Omelet, which pairs well with a side of hash brown casserole.
Bask in the delightful combination of coconut and banana with their Tropical Pancakes.
Menu: High Tide Restaurant Menu
Top Review: "When I tell you this is the absolute best omelette I have ever had in my life… I am not joking whatsoever!! Omg!! It was LOADED with meat and they did not skimp out because of "Covid" like other restaurants say  The grilled biscuit they serve is sooooo life changing. It's so soft and flaky. The honey they serve with it is a perfect touch. Don't even get me started with the hash browns with onions!! They were so good.. crispy and so yummy! The staff are extremely nice and attentive. You do not have to worry about any lingering germs in there because it is so clean. The atmosphere is so nice and when you walk in you feel like you're at home." – Lori N.
99411 Overseas Hwy, Key Largo, FL 33037; (305) 453-2660
Mrs. Mac's Kitchen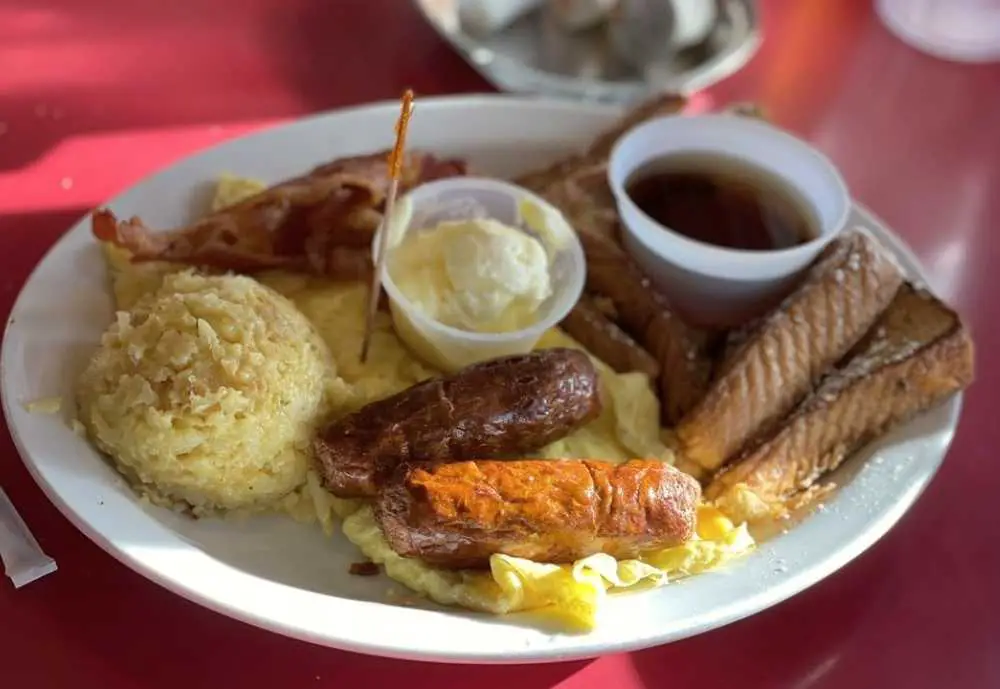 Mrs. Mac's Kitchen was founded in 1976 by Jeff MacFarland and inspired by his mother's scrumptious recipes; the restaurant has since been serving up award-winning breakfasts for all in Key Largo.
Try out their Crab Cake Benedict for a gourmet head start for the morning grind. The "Mac" Attack is an infamously delicious and filling meal fit for any occasion on any day.
Menu: Mrs. Mac's Kitchen Menu
Top Review: "This place is absolutely amazing. Down to earth friendly staff. The interior is cute as can be but let's talk about the food yall! The Belgian waffle was probably the fluffiest, sweetest, waffle myself or our family has ever had. Even the syrup was fantastic on top of the whipped butter! The corned beef hash was something out of this world. Paired with toast, eggs and cholula – you literally can't go wrong. The biscuits and gravy – first off they're homemade biscuits. Thick and soft. The sausage gravy, again, homemade – had the most delicious texture and taste. And lastly the egg plate – over easy, hashbrown casserole, biscuit, sausage. The perfect Friday morning breakfast while on vacation. Couldn't have asked for a better meal or service. Will definitely come back and will for sure recommend to anyone!" – Abbigale T.
99336 Overseas Hwy, Key Largo, FL 33037; (305) 451-3722
Harriette's Restaurant
Established on what was once a loving residence in 1982, Harriette's Restaurant welcomes its guests with open arms into the family and serves legendary muffins and heartfelt breakfasts the way Grandma Harriet made it.
A Breakfast Burrito is a tasty and substantial way to begin the day's activities.
One of the many outstanding types of muffins available, the Banana Nut Muffin, is sure to welcome your taste buds to a beautiful morning.
Menu: Harriette's Restaurant Menu
Top Review: "If one is looking for a decent priced breakfast with great taste Harriette's is the place to go. In a quaint little cottage like building nestled almost hidden off the main highway into the keys one will fine this amazing place. With the curbside appeal almost reminiscent of a gingerbread house one should be sure to take at least one family picture. From the oversized omelettes to their delectable pancakes then not to forget the Benedict eggs there is something for everyone. Finally one must get their muffins if not table side try them to go. These muffins made in house are full of flavor leaving one with an experience to remember." – Christopher B.
95710 Overseas Hwy, Key Largo, FL 33037; (305) 852-8689
Keys Bite
Keys Bite is the perfect place to satiate any ravenous morning appetite with a tasty quick bite.
Order the Keysbite Skillet for a delicious morning experience customizable with your choice of any three breakfast ingredients topped with American cheese and eggs and served with toast.
Enjoy a classic choice of Chilaquiles for a hearty and flavorful introduction to the day.
Menu: Keys Bite Menu
Top Review: "This place was absolutely phenomenal! Excellent fast and friendly service and the food was beyond flavorful. They had a variety of different options for breakfast with both traditional American and Mexican style foods. Everything ordered was delicious! Highly recommend! Their patio is dog friendly too." – Olivia D.
99000 Overseas Hwy, Key Largo, FL 33037; (305) 451-4843
The Hideout Restaurant
Make sure to stop by at The Hideout Restaurant and try anything from their broad selection of breakfast classics in a cozy and cool environment.
Experience an explosion of rich and delectable flavors when you try out their notable Nova Benedict.
Warm, fluffy, and made with homely expertise, a stack of Blueberry Hotcakes is sure to be a pleasant wake up call for anyone that tries it.
Menu: The Hideout Restaurant Menu
Top Review: "Delicious! Simple food, great views, friendly staff. I love the location of this breakfast place. It's right on the water, and they have plenty of space for parking. They have basic, delicious breakfast, and quick service. Would highly recommend! The corned beef hash was definitely from a can, but still really good! And the "fresh squeezed orange juice" was obviously not home squeeze orange juice (fresh squeezed at the manufacturer, maybe). So again, basic but good!" – Trang L.
47 Shoreland Dr, Key Largo, FL 33037; (305) 451-0128
Coco Plum Place
One of the many places to try on your trip to Key Largo is the Coco Plum Place, where a fresh and healthful selection of breakfast goodies await.
Bask in the refreshing flavors of a Sunrise Bowl, which consists mainly of banana, pineapple, mango and fresh coconut.
Mashed avocado and garlic aioli come together in their Avocado Toast, blanketed in tomatoes, sprouts and spicy seeds.
Menu: Coco Plum Place Menu
Top Review: "We ate here twice on our recent family vacation. It was amazing. The breakfast bowl or breakfast burrito are not to be missed. My girls both had the avocado toast and loved it. I had a power bowl with avocado and quinoa. So yummy and healthy. Their baked goods are AMAZING. I got extra coconut Bundt cake and key lime bread to take home. The peanut butter pie was so good also. Vegan/GF. Not much in the Middle Keys is vegan/vegetarian friendly, so please get yourself here. You will not leave hungry or unhappy." – Barbara B.
98275 Overseas Hwy, Key Largo, FL 33037; (305) 453-6934
Mangrove Mike's Cafe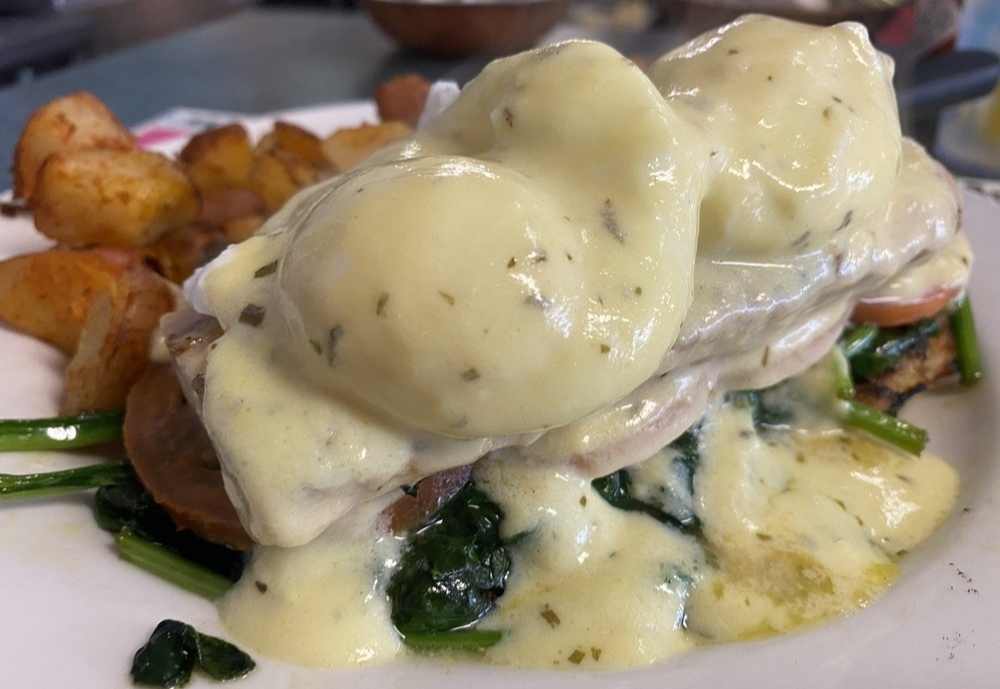 While Mangrove Mike's Cafe is famous for providing quality catering services to wedding celebrations, the establishment itself provides well rounded breakfasts of no less quality.
Enjoy a toasty English muffin when you try out the Mangrove Oscar; it comes complete with sauteed spinach, poached eggs in bearnaise and your choice of blue crab, grilled shrimp or grilled mahi.
A tasty layer of fresh fruit goes well atop a stack of fluffy Chocolate Chip Hotcakes.
Menu: Mangrove Mike's Cafe Menu
Top Review: "Mangrove mikes is one of the top breakfast spots in all of the keys.  Its an old school place that serves huge tasty portions at a low price.   Most likely you wont be able to finish your meal so arrive hungry.  Their pancakes are gigantic but also very tasty.  My wife orders country fried steak everywhere and she said it was one of the best she has ever had.   The service is great here.  Mostly older ladies that seam like they have been working there for many years.  They have a very keys like theme with lots of mounted fish and pictures of fishing on the walls.  They play diving videos on their TVs which is pretty cool.  Get there early because it gets pretty crowded later in the day.  If youre in the keys you need to go get breakfast here at least once." – David G.
82200 Overseas Hwy MM, 82 sunset inn, Islamorada, FL 33036; (305) 664-8022
Alfredo's Cookhouse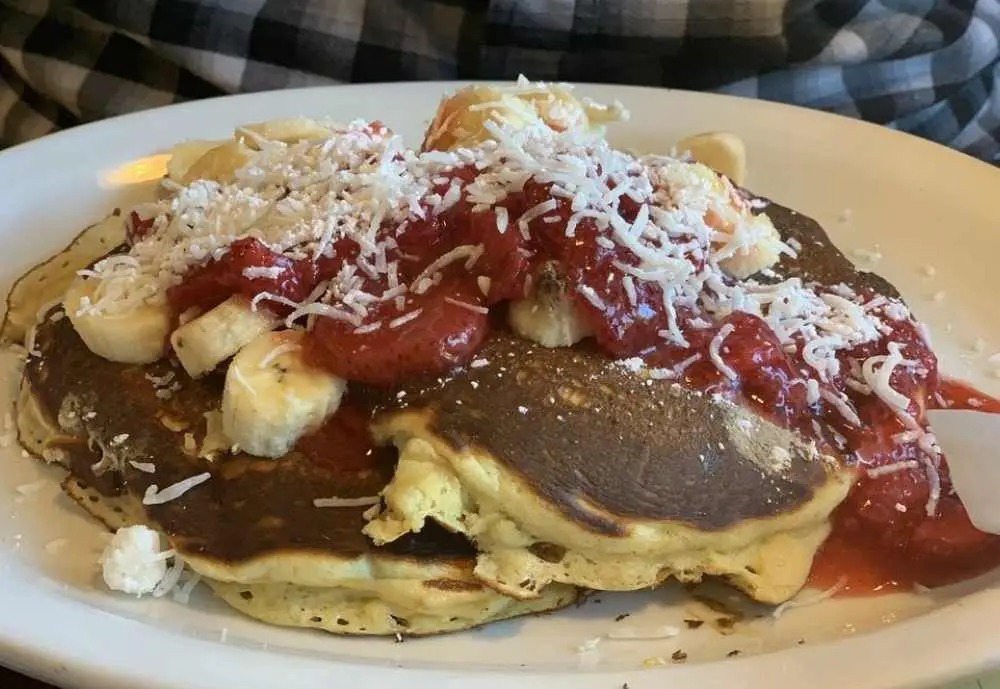 Alfredo's Cookhouse is a family style restaurant perfect for enjoying a scrumptious and memorable breakfast in a homey atmosphere.
Indulge in a hearty and flavorful mix of blackened Mahi, shrimp, scallops, sauteed onions and tomatoes wrapped into an Island Burrito; the whole burrito is blanketed in Alfredo's Burrito sauce and cheddar cheese.
A delightful stack of Tropical Pancakes topped with strawberries, bananas, and coconut shreds are the perfect option for those looking for something both warm and refreshing.
Menu: Alfredo's Cookhouse Menu
Top Review: "This is my second trip to the keys with my wife. The first time we came out we went to Alfredo twice. This trip it was a place we were looking forward too. The door is amazing. She got the grilled mahi mahi with mash potatoes and black beans. (Black beans are to die for). I got the hibachi chicken and steak with chicken friend rice. Best hibachi I've had. This will be a place we will always come to when we visit the keys." – Branden H.
102250 Overseas Hwy, Key Largo, FL 33037; (305) 453-6616
Doc's Diner
Locals and tourists alike gather at Doc's Diner for a hearty old-fashioned breakfast by welcoming staff and at a reasonable price.
A generous layer of bananas, pecans and shredded coconut top the Tropical Style French Toast, finished with plenty of powdered sugar.
There is nothing like a classic Cinnamon Roll to enjoy on an exciting morning with loved ones.
Menu: Doc's Diner Menu
Top Review: "If you like fast service with great food, Doc's is for you! Very cheap and affordable with good food. Service is always good and they are always fast!Eggs were tasty and so were the pancakes. Bacon was alright. Highly recommend this as a breakfast place to go to in the Keys. Paid $7 for 3 silver dollar pancakes, 2 pieces of bacon and scrambled eggs for their Thursday special. Make sure you look at their specials of the week where they have good deals like this! Takeout was very fast!" – Lori N.
99696 Overseas Hwy, Key Largo, FL 33037; (305) 451-2895
One Grind
One Grind is a lovely establishment in Key Largo where one can enjoy high quality breakfast and coffee knowing that they are helping fund animals in need. '
A delicious drizzle of old fashioned milk gravy tops their iconic plate of Biscuit Tacos, biscuits shaped into tacos and filled with egg, sausage and cheese.
One of the many drinks in their menu is the Iced Vanilla Almond Latte; the name speaks for itself, and one sip is sure to invite many more.
Menu: One Grind Menu
Top Review: "This is an unassuming food truck. I don't even know if you could call it that. Two ladies were inside and they were great. Friendly and gave us some tips about hitting the road before the traffic builds up. It was one of the best bagel, egg, cheese sandwich i've ever had. It could've been the additional butter in there. IDK, so good. My boyfriend ordered an avocado toast with egg and it was very good. Our drinks : iced earl grey with oat milk and his was a chai tea. So yummy. They use eco friendly cups. We stayed across the street at the Rock Reef Resort so it was a simple run across a 2 lane highway to get to, but there's parking. Cute tables to sit under umbrellas and enjoy." – Melinda N.
MM, 98 Overseas Hwy, Key Largo, FL 33037; (305) 902-0534
---
And there you have it! The eleven best breakfast spots in Key Largo, Florida.
Whether you're looking for a leisurely meal or a quick bite before hitting the beach, these restaurants have got you covered.
You might also like: