Music City is known for its many tourist attractions, from the Grand Ole Opry to the Country Music Hall of Fame. But Nashville has so much more to offer! The city is also home to some of the best breakfast spots in the country.
Whether you're looking for a hearty Southern meal or a delicious pastry to start your day, you'll find it in Nashville. Here are just a few of the city's top breakfast spots.
Rise Southern Biscuits & Righteous Chicken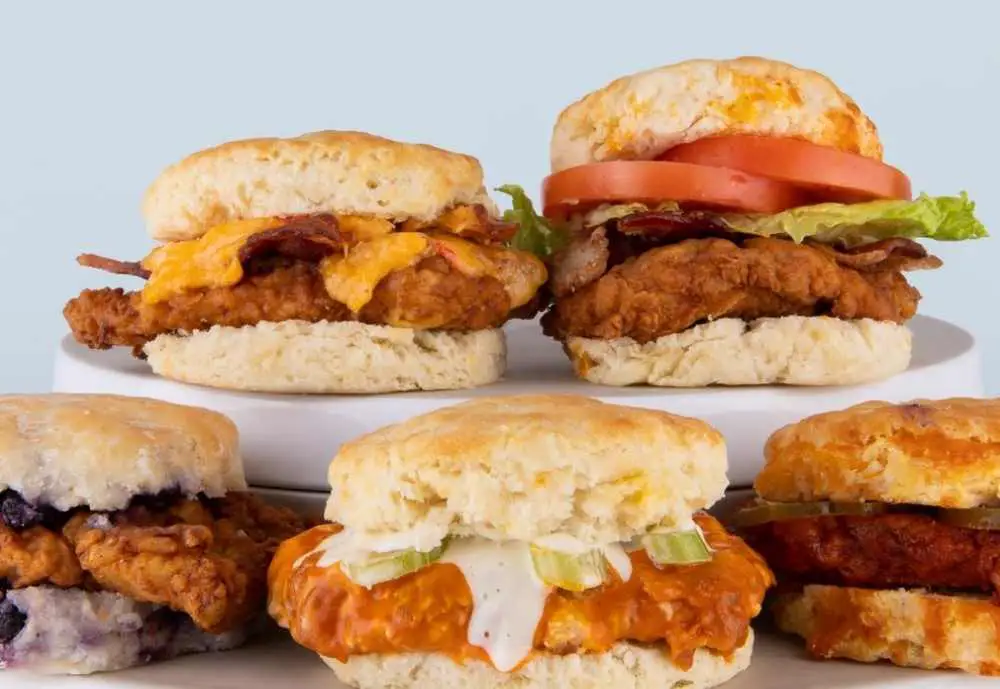 When you and your loved ones visit Rise Southern Biscuits & Righteous Chicken, expect the best of country-style biscuits, donuts, and chicken.
Try out their iconic Nashville Hot Chicken Biscuit, for a flaky, spicy, and saucy experience.
Indulge in something savory and sweet with the Maple Bacon Ring Donut.
Menu: Rise Southern Biscuits & Righteous Chicken Menu
Top Review: "This place was so delicious and really hit the spot for me. It was my first time here and I spent about 10 mins standing to the side debating what to order because everything sounded so delicious. I eventually settled on ordering the Which Came First righteous box. It was a perfect blend of biscuits, gravy, fried chicken, and a fried egg. I could not have asked for anything more perfect than that box of chicken. If you want to experience a taste of heaven, I'd recommend you come here." – Lilian S.
153 Rep. John Lewis Way N, Nashville, TN 37219; (615) 228-2355
Sun Diner
The Sun Diner is an iconic Pittsburgh destination as it is located next to the Johnny Cash Museum, and it tells the story of Sun Records and its many artists with outstanding breakfasts.
Crispy chicken strips smothered in thick sausage gravy are yours to enjoy when you order the Chicken N' Waffles plate, complete with a fluffy Belgian waffle and pecan maple syrup.
"Let's Do the Twist" is the nickname for their iconic Creme Brulee French Toast, made with cinnamon bread and Rum Chata creme brulee batter and served with fresh berries and whipped cream.
Menu: Sun Diner Menu
Top Review: "Just came across this place looking for the Johnny cash museum. It is all breakfast besides the Nashville hot chicken sandwich. The service was very quick and great which is exactly what I was looking for. The sandwich and meal itself was perfect! The chicken had so much flavor, sweet and spicy! Highly recommend this little restaurant if you want breakfast or just a great hot chicken sandwich!" – Keeley M.
105 3rd Ave S, Nashville, TN 37201; [email protected]
Frothy Monkey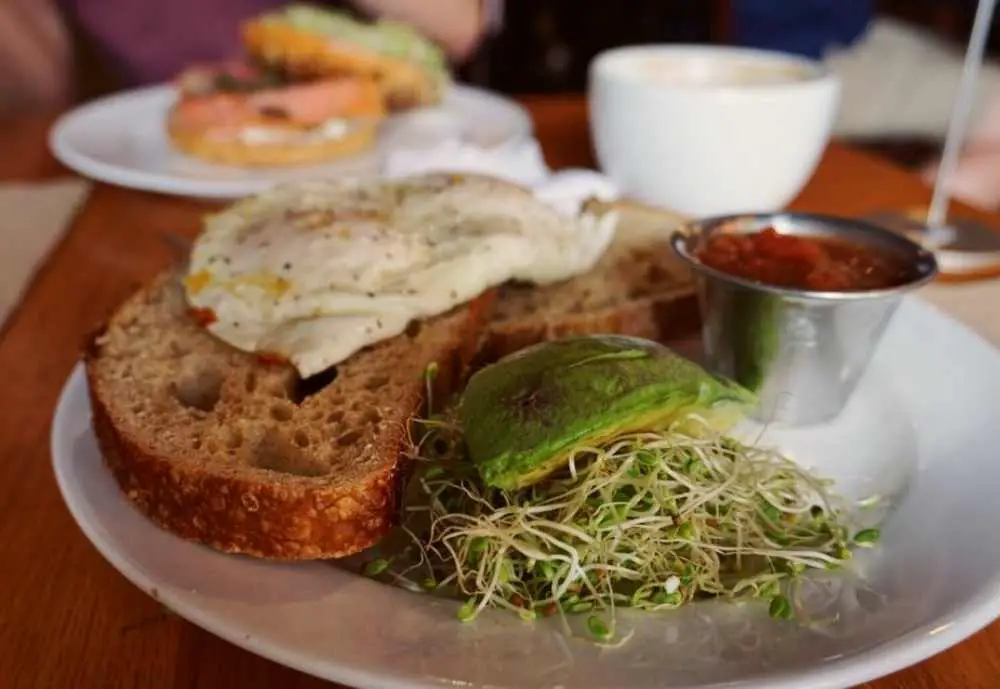 An all day cafe, specialty coffee roaster, and wholesale bakery all in one, Frothy Monkey has been serving creative and high quality breakfasts to its customers since its beginnings in 2004.
Indulge in two farm fresh eggs on toast with the California breakfast plate, complete with an avocado wedge, sprouts, and house-made salsa.
Their eye-catching Avo Toast suprasses expectations with sourdough toast and avocado mash, garnished with herb-roasted vegetables, feta cheese, and red radish.
Menu: Frothy Monkey Menu
Top Review: "This place has good food and a small coffee shop vibe. I would suggest the 12 South location but either early in the morning or on a day that's not crazy busy. This place will be packed! A great place to go work on things or meet up with people! 12 South is a great neighborhood to walk around after as well. They have delicious pastries and great coffee! You can also take to go and walk around!" – Rylie L.
235 Rep. John Lewis Way N, Nashville, TN 37219; (615) 600-4756
Ella's on 2nd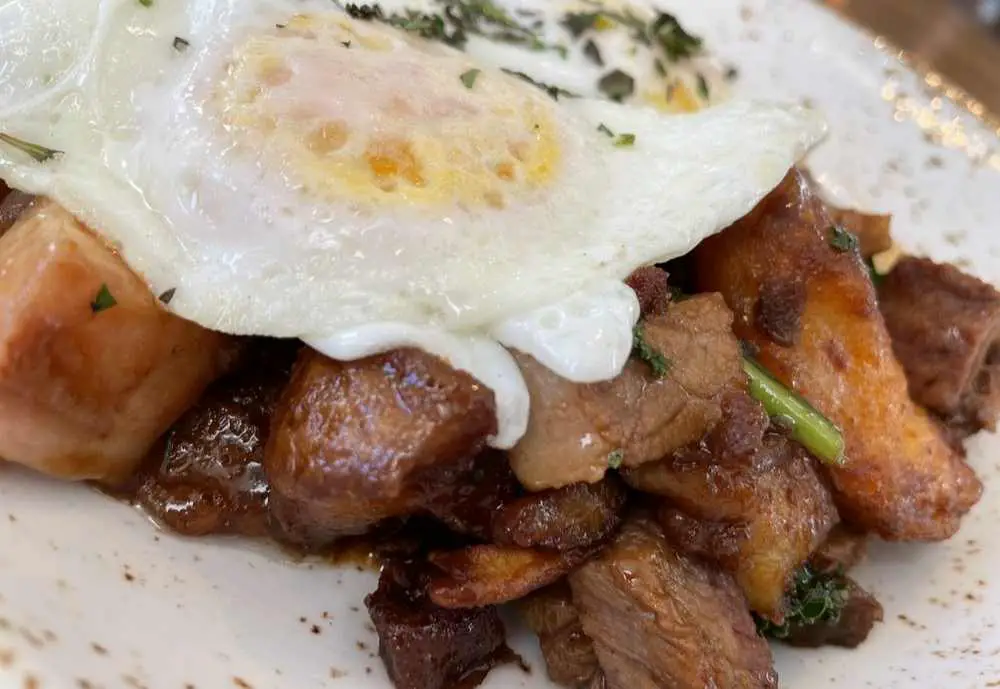 Founded on the principles of hospitality and quality meals made with seasonal ingredients, Ella's on 2nd is a popular destination in the SoBro district of downtown Nashville.
A savory and hearty Smoked Salmon Crostini is a great choice for any morning adventure and is topped with herb schmear, pickled red onion, capers, and a hard-boiled egg.
Enjoy a heavenly blend of orange and cardamom by trying out their Mascarpone Stuffed French Toast.
Menu: Ella's on 2nd Menu
Top Review: "During our 4-day stay in downtown Nashville this was our favorite bfast locale. The brisket hash $16 was delicious but the brown gravy was too rich and too salty. On the other hand, the mascarpone French toast was ridiculously perfect – substantial and filling with ample everything, including four large/thin slices of French toast and twin layers of mascarpone with orange marmalade and whipped cream. Service was terrific (really appreciated the custom decaf) and the ambience is beautiful." – Mike S.
210 Molloy St, Nashville, TN 37201; (629) 248-9515
Makeready L&L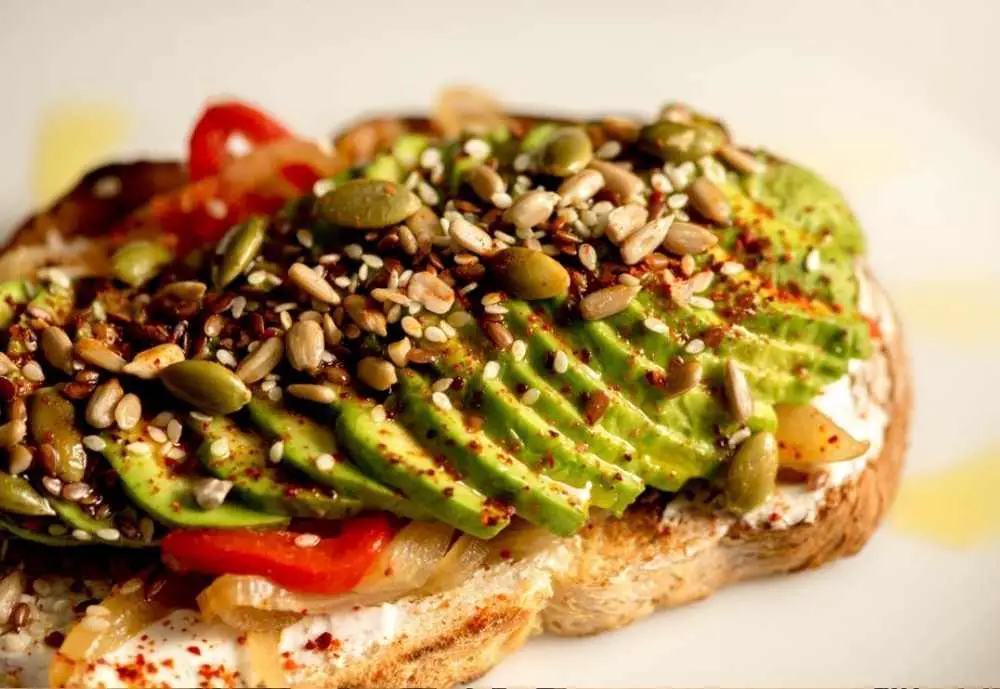 Inspired by the hardworking and rebellious culture of printmakers, Makeready L&L is a tavern and pub which strives to craft quality meals.
Yogurt, fresh berries, honey, and house made granola come together to create the delightful sensations of the Morning Parfait.
Indulge in the Oscar French Toast plate, finished with brioche, pear compote, cinnamon whip, and streusel.
Menu: Makeready L&L Menu
Top Review: "We made reservations for this restaurant the day before we visited. We wanted a place to have brunch before we returned home to MD. This ended up being a great choice. It is a hidden gem in a Marriott hotel basement. The people were all really nice. The customer service was great and the food was delicious. We all enjoyed our meals. I could see a man in the kitchen who appeared to be the owner or the manager. He made sure that every plate was a certain quality before he would send it out of the kitchen.  I would recommend to anyone in the area." – Tigress J.
200 4th Ave N, Nashville, TN 37219; (615) 610-7835
The Pink Hermit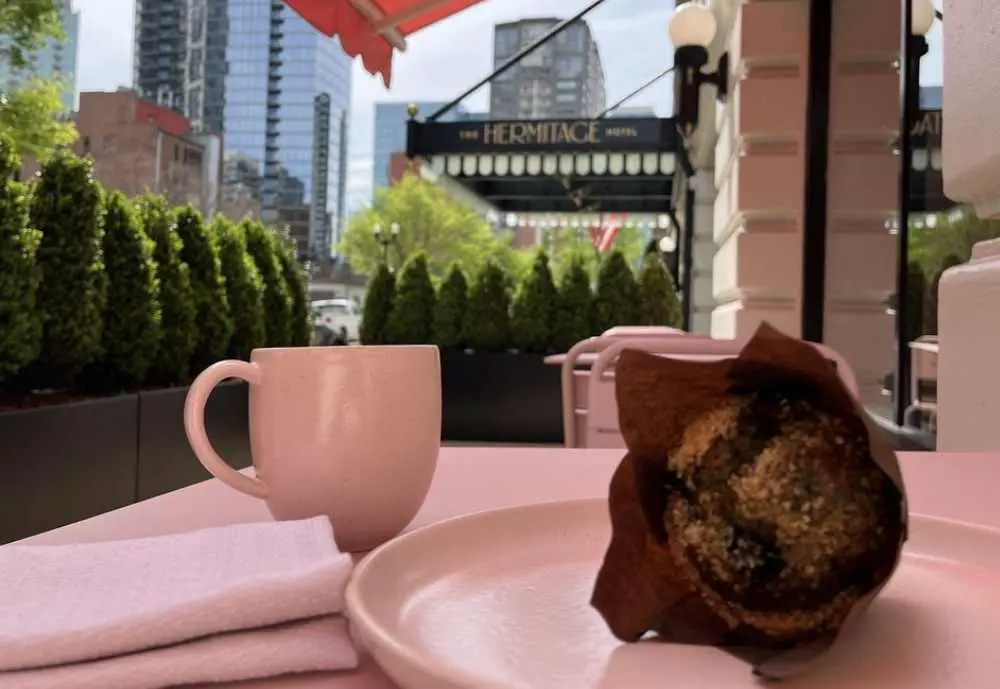 The Pink Hermit is a cozy and classy cafe located at the Hermitage Hotel, complete with a chef-created menu full of pleasant treats and delectable meals.
Flaky, chocolatey, and delightfully rich, the Pain Au Chocolat makes a great breakfast for anyone with a sweet tooth.
Indulge in a lighter option with just as much flavor by trying out their vegan matcha blueberry muffin.
Menu: The Pink Hermit Menu
Top Review: "I'm drawn to anything pink and this place was no exception. It was empty and very clean when I walked in with fun foreign music playing. I was promptly greeted by a friendly barista who informed me they have a little paper menu but at this time they were just serving coffee and what was in the displays. I had a tasty iced salted caramel coffee and a delicious caramel brownie which were the perfect treat on a hot Nashville day. This place has an excellent vibe, definitely somewhere you could take a friend to chat or even get some work done!" – Kiley K.
231 6th Ave N, Nashville, TN 37219; (615) 244-3121
Biscuit Love: Gulch
Enjoy a scrumptious breakfast and feel great about it at Biscuit Love: Gulch, where funds go to the non-profit organizations and local farms of Nashville.
Their East Nasty plate is an infamously delicious meal of a warm flaky biscuit topped with a fried chicken thigh and aged cheddar and blanketed with rich sausage gravy.
The Lily is a simple and delightful plate of biscuit French toast topped with butterscotch apples and butter toffee syrup.
Menu: Biscuit Love: Gulch Menu
Top Review: "There will be a line but it's worth the wait! I got the Hungry Hash Bowl and I was worried the portions would be too big but it was perfectly sized, as the meal is a bit heavy. We also had to try the bonuts – so delicious, and not too sweet. Would definitely come back again!" – Maggie T.
316 11th Ave S, Nashville, TN 37203; (615) 490-9584
The Pancake Pantry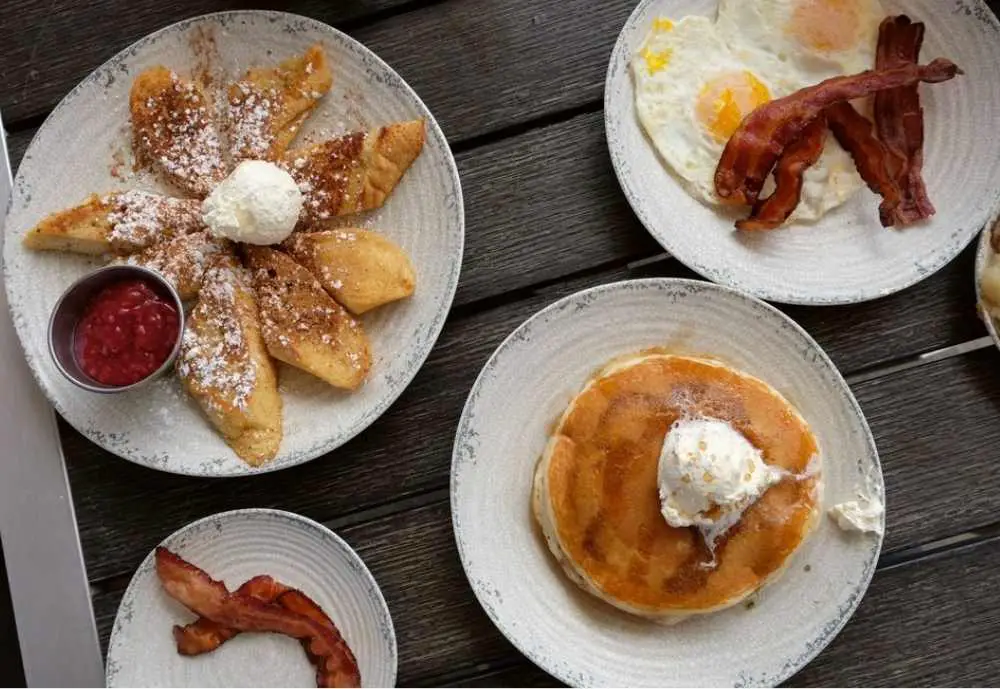 The Pancake Pantry is the perfect destination for anyone seeking a sweet and flavorful delight to boost their energy and morale for the day.
Made with buttermilk and topped with owdered sugar and whipped cream, the Raspberry Delight Rolled Cakes are the perfect addition to any morning grind.
Go for a nuttier breakfast with a fluffy gourmet plate of Pecan Pancakes, complete with house-made maple syrup, cinnamon cream, and whipped butter.
Menu: The Pancake Pantry Menu
Top Review: "Amazing breakfast! When checking in our hotel the front desk said this place usually has a line but when we arrived we got sat right away.  We took a table outside and I ordered the banana pancakes with chocolate chips.  It was some of the best pancakes I ever had.  Oh- and when we left, there was a line outside!" – Frank A.
220 Molloy St, Nashville, TN 37201; (615) 383-9026
417 Union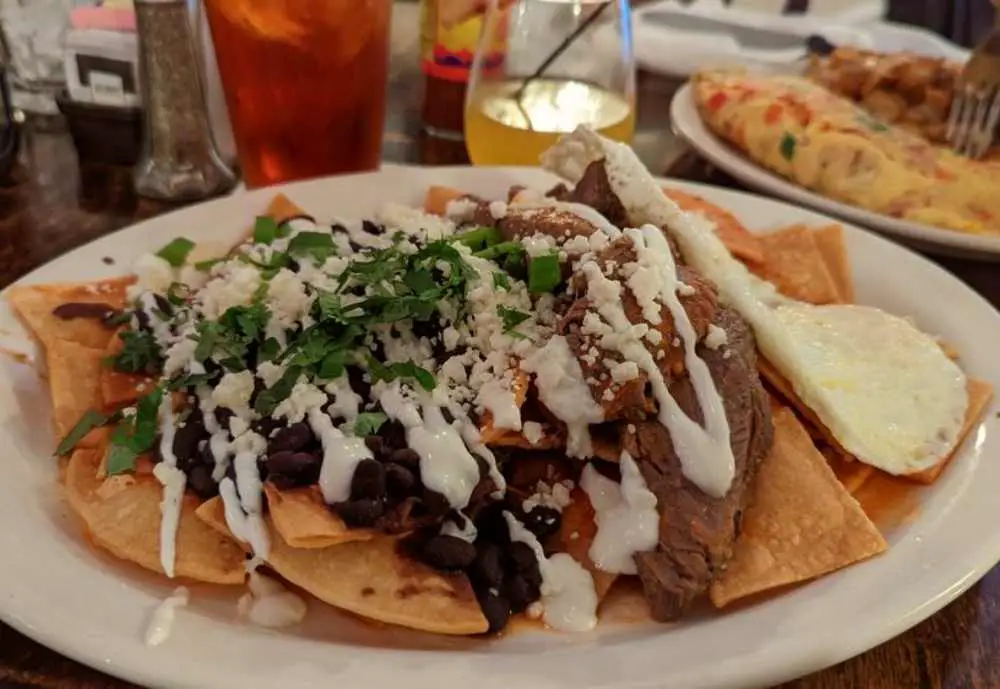 Savor a taste of home at the 417 Union, a classic American restaurant devoted to using fresh high-quality ingredients and ensuring that their customers receive outstanding and friendly service.
Try out a mouth-watering plate of Steak Chilaquiles and see for yourself how much a great breakfast made with heart can impact your day.
The Omelet 417 is a simple yet satiating combination of bacon, herbs, mushrooms and Swiss cheese.
Menu: 417 Union Menu
Top Review: "It was a perfect spot for us to visit with family we had a lovely waitress who had us all set up in the back in the big booth! They were in between changing from breakfast to lunch so we had to wait for a bit but it was no big deal because she got our round of mimosas and bloody Mary's going! First place we ate at in Nashville it wasn't so loud you could actually hear each other. Highly recommend a perfect spot for a nice visit in this boutique hotel." – Shelly D.
417 Union St, Nashville, TN 37219; (615) 401-7241
The Butter Milk Ranch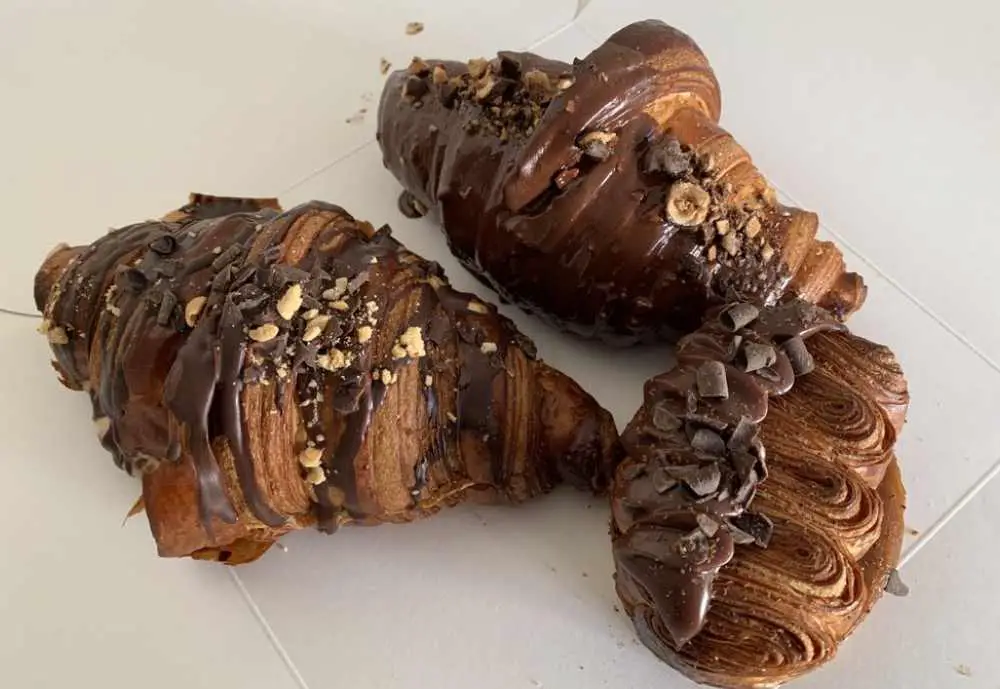 The Butter Milk Ranch is an ideal place for any morning occasion; whether you need a quick bite or somewhere to lounge, this restaurant in the iconic 12th South District has everything you need.
A plate of Dirty South Fried Rice, topped with a fried egg and chopped scallion, might be just the thing to start the day off, especially since it is served with grilled pork belly and duck confit.
A rich explosion of flavor awaits when you sink your teeth into a flaky Chocolate Hazelnut Croissant.
Menu: The Butter Milk Ranch Menu
Top Review: "Again, this place never disappoints. The almond croissant was the best almond croissant I've ever had. It was huge, the perfect texture, and had tons of filling. My friend loved the reeses croissant too! The spicy hot chocolate cookie was very good and not really that spicy. The pumpkin pancakes were good, but they didn't have much of a pumpkin flavor to them. The cinnamon twist latte was pretty good too. I think it could've been a bit sweeter." – Lara S.
2407 12th Ave S, Nashville, TN 37204; (615) 465-8300
---
If you're looking for a delicious breakfast in Nashville, you can't go wrong with one of the spots on this list. From classic Southern staples to exotic international fare, there's something for everyone.
And if you're looking for a little hair of the dog to help you recover from a night of fun on Broadway, several of these restaurants offer bottomless Mimosas. So whether you're seeking a leisurely weekend brunch or a quick bite before hitting the town, be sure to check out one of these Nashville breakfast hotspots.
You might also like:
best breakfast in nashville, breakfast downtown nashville, best breakfast in nashville downtown, best breakfast in nashville tennessee, best breakfast nashville tn, best nashville breakfast downtown, best breakfast nashville, breakfast in nashville, best breakfast downtown nashville, breakfast near me, breakfast nashville downtown, best breakfast in downtown nashville, best breakfast nashville downtown, downtown nashville breakfast, breakfast places downtown nashville, best breakfast near me, breakfast restaurants nashville tn, breakfast places in downtown nashville, breakfast downtown nashville tn, breakfast all day nashville, breakfast near country music hall of fame, breakfast 12 south nashville, nashville downtown breakfast, breakfast in downtown nashville tn, breakfast restaurants downtown nashville, breakfast places nashville tn, breakfast places in nashville downtown