Otherwise known as the "Sun City," El Paso is the county seat of El Paso County, Texas.
This Texas city is the sixth-largest city in the state, with 81% of its population being Hispanic. It is in west Texas situated near the Rio Grande, bordering the Ciudad Juarez of the Mexico – United States border.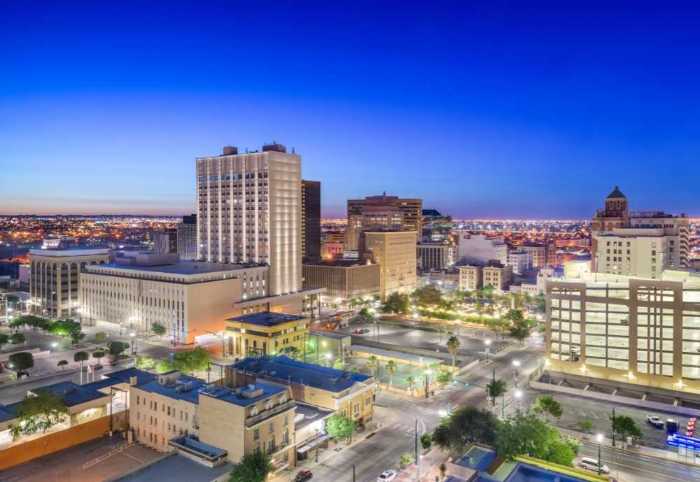 The city of El Paso has won the All-America City Award five times. They are ranked as the top-three safest largest cities in the Congressional Quarterly.
Tourists that visit the area need not worry about safety as the city has a strong federal and military presence.
Historical Sites and Landmarks
El Paso has a long history dating back thousands of years. The Maize farmers were the earliest known culture in the region.
Later, the region was mixed with other cultures such as immigrants from Mexico, captives of Native Americans, particularly the Comancheria, and other various ethnic groups.
With these diverse groups, it is no wonder that El Paso has a colorful history. Below are some of the notable historical sites and landmarks of the city.
Buffalo Soldier Memorial
The Buffalo Soldier Memorial is a historical site for war veterans. These are Buffalo Soldiers that are members of the four regiments of African-American soldiers. These heroic soldiers served on the frontier of the Civil War. 
The memorial site features native stones, bronze plaques, and granite memorial markers to commemorate the military service of these heroic soldiers.
Burges House
Home to the notable Richard F. Burges, the Burges House is one of the most popular historical landmarks in El Paso.
This Classic Revival style house served as the official residence of Richard Burges, who was a member of the Texas House of Representatives.
One of his notable works was he wrote the city charter and was instrumental in the construction of the Elephant Butte Dam.
El Paso Historic Mission Trail
For tourists that wish to witness the faith of the Spanish and Native American ancestors, the El Paso Mission Trail has a rich history. Dating back to 400 years, the El Paso Mission Trail was established in 1682.
The El Paso Mission Trail is composed of three churches reflecting the culture, politics, and religion of the early settlers in this town.
The churches that comprise this mission trail are Ysleta, Socorro, and San Elizario Chapel. Not only can tourists witness the culture of the early settlers, but its architectural styles as well. Their mission churches show a reflection of European architectural styles. 
Chamizal National Memorial
The Chamizal National Memorial is a historical landmark that pays tribute to the binational friendship of the United States and Mexico.
This memorial was established after the Chamizal Convention wherein both nations resolved their century-old border dispute. The memorial serves as a reminder of the peaceful resolution between both countries.
The Chamizal National Memorial consists of an interpretive center, a sculpture garden, and a walking trail.
Fray Garcia Monument
The founder of the first mission church in El Paso is Fray Garcia. To commemorate his influence during the mid-1600s, a 14 feet tall bronze sculpture was created.
The sculpture represents Garcia's act when building the mission. One of the historic events was when he asked Manso and Suma Indians to join him in creating the church. 
Mt. Cristo Rey
Photo: Kasventures S.
One of the more inspirational things to do in El Paso is the visit Mt. Cristo Rey.
Mt. Cristo Rey is another monument that tourists can visit. The 29 ft. tall sculpture stands on top of the Sierra de Cristo Rey.
The sculpture is a statue of Christ that serves as a shrine to thousands of individuals believing in the Christian Faith in the El Paso area. 
Tourists that wish to visit the area are advised to travel in groups due to its proximity to Mexico.
Upon reaching the area, the Mt. Cristo Rey provides stunning views of Texas, New Mexico, and Mexico. The trail is well-maintained and is 4.4 miles round trip hike. 
Downtown El Paso
While not a historical site, Downtown El Paso is rich in history. It was the first area of the city to be settled and has been the commercial and cultural center of the city.
The buildings in this district reflect late 19th century and early 20th-century architecture.
You can also visit downtown art galleries, restaurants, and shops.
Museums in El Paso
Museums are known to display collections of various artifacts. These artifacts depict the culture, history, artistic, and sometimes scientific importance.
Hence, it is one of the most visited sites among tourists. It is a place where you can learn the significant history and culture of the place you are visiting.
In El Paso, there are numerous museums you can visit that exhibit historical and current artifacts, arts, and many more. 
Centennial Museum and the Chihuahuan Desert Gardens
The Centennial Museum and Chihuahuan Desert Gardens were established in 1936. It was the first museum in El Paso that focused its exhibits on the Chihuahuan Desert region.
The Chihuahuan Desert is the largest in North America. Tourists will get to learn more about the life and culture of this region. 
While in the area, check out the museum's extensive garden displays. The display showcases the native plants of the Chihuahuan Desert.
El Paso Museum of Art
One of the best El Paso Attractions, with a collection of over 7,000 artworks, the El Paso Museum of Art is a must "to visit" agenda when in the city. The artwork covers from the Byzantine era until the present.
Their collection also showcases masterpieces from American, Mexican, and European Art. Their European collections cover artworks from Renaissance and Baroque eras and have some exhibits from the likes of Botticelli, Canaletto, and Van Dyck. will
The El Paso Museum of Art does not only showcase foreign art collections. They also exhibit notable works from the native people of America such as Tom Lea.
El Paso Museum of History
Aside from the notable landmarks and historical sites, the El Paso Museum of History showcases 400 years of U.S. and Mexico border history.
This 16,000 square ft of exhibition space has five galleries. The first floor features traveling exhibitions that highlight the early Spanish exploration, the arrival of the Mayflower, and many more. 
The El Paso Museum of History also showcases specific individuals and businesses that had a huge impact on the city. Fascinating
Fort Bliss and Old Ironside Museum
For tourists that wish to see the history of the 1st Armored Division, the Fort Bliss and Old Ironside Museum is the place to visit. The division depicts its origins before World War II.
This 168-year historical museum showcases over 40 tanks and other armored vehicles used during the war.
International Museum of Art
The International Museum of Art showcases various art collections and is one of the best things to do in El Paso.
in this museum, each gallery has its own stories to tell.
There are African and Western galleries that depict the life and culture of Africa and the Western world. Tourists that wish to see life during the Mexican revolution can check out the Mexican Revolution gallery.
The Museum of Art also showcases contemporary local art and a selection of paintings by notable artists of El Paso. It's also one of the best things to do in El Paso.
El Paso Museum of Archeology
If you are into archeology, the Archeology El Paso Museum is a must-visit. It has the largest collection of Native American pottery in the Southwest.
Their pottery collection showcases various ancient techniques and styles from different tribes.
The museum also displays baskets, jewelry, and other artifacts made from shell, stone, and bone.
One of the more fascinating things to do in El Paso!
El Paso Holocaust Museum
The El Paso Holocaust Museum is the only Holocaust museum in the state of Texas. It is also one of the youngest museums in the United States.
The museum was founded by local survivors of the Holocaust and their families.
This museum educates people on the events that happened during the Holocaust. It also showcases how such an event can happen and how to prevent it from happening again.
Tigua Indian Cultural Center
The Tigua Indian Cultural Center is the only museum in the United States that is dedicated to a Native American tribe. The center showcases the history and culture of the tribe.
The Tigua people are descendants of the Pueblo Indians. They have been living in this land for centuries.
The center has various exhibits on pottery, weaving, and other traditional art forms. It also has a theater that shows documentaries on the tribe's history.
National Border Patrol Museum
If you are into law enforcement and want to learn more about the Border Patrol, the National Border Patrol Museum is a great place to visit. It is the only museum in the United States that is solely dedicated to border patrol history.
The National Border Patrol Museum also has various exhibits that showcase how the border patrol evolved over the years. It also has interactive exhibits that let you experience what it was like to be a border patrol agent.
Parks and Aquariums
Some tourists visit El Paso, not for its historical sites but its natural landmarks. They have a large public area that can be used for recreational activities such as walking, jogging, hiking, and many more.
El Paso Zoo and Botanical Gardens
The El Paso Zoo and Botanical Gardens is home to over 400 animals from different parts of the world. Some of their exhibits include Africa, Australia, and the Rainforest.
The El Paso Zoo also has a petting zoo where you can get up close and personal with some of their animals.
El Paso Zoo is one of the best things to do in El Paso, and you should not miss!
Franklin Mountains State Park
A common sight of the El Paso skyline is the picturesque Franklin Mountains State Park. The Franklin Mountains State Park is a notable recreational outlet not only among the locals but among tourists as well.
This 27,000-acre park is a popular venue for rock climbing, mountain biking, and hiking. 
The Franklin Mountains State Park is considered one of the United State's largest urban parks. The park has extensive wildlife that a tourist can witness. 
Sacred Desert Sanctuary
The Sacred Desert Sanctuary is not only a notable recreational park but is also considered a historic site.
This sanctuary was preserved to honor a thousand-year history where the early settlers used the area to collect rainwater from its natural rock basins. 
Today, the Sacred Desert Sanctuary is a popular area for rock climbing, hiking, bird watching, and picnic activities.
Tourists that are traveling with their families can also enjoy camping and stay overnight. They have 20 campsites available.
Hueco Tanks State Park
Walking around Hueco Tanks State Park, you will feel like you're in a different world. The park is known for its unique geological features and its vast array of plant and animal life.
Some of the popular activities that can be enjoyed at Hueco Tanks State Park are rock climbing, bird watching, picnicking, and hiking.
Southwest University Park
Southwest University Park is a sports stadium located in downtown El Paso, Texas. The stadium is the home of the El Paso Chihuahuas Triple-A baseball team and the El Paso Locomotive FC soccer team of the USL.
The stadium has a seating capacity of approximately 10,000 people. Check out the events calendar while you are in town. Take in a baseball or soccer game, which is always a great time!
Western Playland Amusement Park
Traveling with kids? No worries. El Paso also provides recreational activities for both children and adults to enjoy.
The Western Playland Amusement Park has plenty of rides that cater to children of all ages. They have young kiddie rides available for children ages 1 to 8. 
The amusement park also features roller coasters and Tsunami with a massive 50 ft tidal wave.
One of the best things to do in El Paso, tourists will enjoy taking a relaxing break with their family in this park.
Keystone Heritage Park and Botanical Gardens
Considered a bird lover's haven, the Keystone Heritage Park and Botanical Gardens have over 206 species of birds that tourists can discover.
The 52-acre park not only provides bird viewing but also has a botanical garden and an archeological site. 
The archeological site found in the heritage park is one of the most interesting discoveries in history. The site was discovered by accident by a group of engineers in the 1970s.
While they were constructing flood control dams, they discovered a hut that was part of a village over 4000 years old.
El Paso Symphony Orchestra
Touring El Paso would not be complete without attending a show by the El Paso Symphony Orchestra. The orchestra has been entertaining locals and tourists alike, and, EPSO (El Paso Symphony Orchestra) is the longest continuously running orchestra in Texas.
The orchestra is made up of highly skilled and experienced musicians that will give you an unforgettable experience.
Check out their schedule of events, and take in an unforgettable performance if you can!
Plaza Theatre
One of the best things to do in El Paso is to take in some entertainment at the Plaza Theatre. The Plaza Theatre is a historic theatre located in the heart of downtown El Paso.
The Plaza Theatre has been around since 1930 and was originally built as a movie palace.
Today, the Plaza Theatre is home to various performances including live music, plays learn more about the theatre and its interesting history, be sure to head over and take a look!
Top Nightlife Spots in El Paso
Nightlife in El Paso is one of the recreational activities in the city where people of all ages gather to relax and enjoy the night. The city provides numerous nightlife activities that tourists can participate in.
DeadBeach Brewery
For tourists that wish to try bold and strong beer flavors, the DeadBeach Brewery is the place to visit. This brewery provides a diverse blend of brews to try.
They are open four days a week. If you are looking for a place to unwind and relax during the night, this brewery is the perfect place.
The Speak Easy
For tourists that are part of the LGBTQ community, Speak Easy is the ideal place to unwind. They provide an upscale and straight-friendly atmosphere that caters to the LGBTQ community.
It has an urban den feel where you can relax with your friend while enjoying their underground bar.
Touch Bar and Nightclub
For tourists that are searching for an unforgettable nightlife experience, the Touch Bar and Nightclub is the place to be.
The Touch Bar has a spacious dance floor where you can enjoy dancing to live music or DJ sounds.
Its a popular nightlife spot for people that wish to have a wild night.
Neon Desert Music Festival
One of the world-class music festivals is the Neon Desert. This event is usually held during El Paso's Memorial Day.
For tourists that wish to enjoy these festivities and experience eclectic music, they will witness the streets of San Jacinto Plaza transforming into a festival ground. Activities start during the weekend from morning till night.
There is something for everyone during this event so tourists should not miss it.
Where to Shop in El Paso
Shopping is one of the favorite activities that most tourists do. They love to look for souvenir items that they can give to their family, friends, and even loved ones.
When visiting El Paso, here are some of the notable shops to visit.
Downtown Artist and Farmer's Market
The Downtown Artist and Farmer's Market are usually open on a Saturday, which is held from 9 AM until 1 PM.
For tourists that are looking for local arts and crafts on display, this area is the perfect place to visit. Not only is this place popular for locals, but for tourists too that are interested to explore the area. 
The Downtown Artists and Farmer's Market also offers fresh produce. These products are regionally grown. 
Bassett Place
Bassett Place is the original shopping mall of El Passo. It features clothing, fashion, food, and some amusement activities.
It is a good place to visit for some stylish and leisure activities. They also provide a unique ambiance that is perfect for gathering such as local events.
Cielo Vista Mall
Located on the east side of El Paso, the Cielo Vista Mall is considered one of the main shopping destinations in the city. It has 140 specialty stores such as Forever 21, Michael Kors, Sephora, Dillards, and many more.
The rest of their specialty stores range from clothing apparel for men, women, and children. There are also stores for jewelry, shoes, and other accessories.
While looking for items to purchase, tourists can take a break at one of their restaurants such as Hooters and Olive Garden.
Fountains at Farah
A regional lifestyle-shopping mall, the Fountains at Farah features an open-air atmosphere.
The upper level, the Boulevard, features known retailer stores while the lower level, the Promenade features more fashion boutique tenants.
The lower level also features restaurants and an amphitheater. 
Outlet Shoppes at El Paso
For tourists that are looking for items that offer big discounts, the Outlet Shoppes at El Paso is the place to visit.
It features 90 famous selections of merchandise that are branded. They are sold from 20% to 70% off department store prices.
The Outlet Shoppes at El Paso has amenities such as a play area for children, a dancing water fountain area, tax-free shopping, a food court, and many more.
Where to Dine in El Paso
Not only is El Paso rich in history, but they also have a culinary scene to match its colorful life. Check out some of the notable restaurants in the city for dining options.
Cafe Mayapan
For tourists that are looking for authentic Mexican cuisine, Cafe Mayapan will never disappoint. They have unique menu options that change along with the season.
They also feature classic dishes such as mole poblano, chiles en nogada. 
Aside from offering Mexican cuisine, Cafe Mayapan also hosts workshops for guests that are interested in exploring its culture and cuisine.
Zino's Greek and Mediterranean Cuisine
For tourists that are looking for dishes that are not so meaty, dining at Zino's Greek and Mediterranean Cuisine is a healthier choice.
The restaurant is famous for its fresh salads that are dressed with olive oil and salty feta. They also provide baklava for the desert.
The Zino's Greek and Mediterranean Cuisine is perfect for tourists that wish to explore the food culture of Greece. 
Cattleman's Steakhouse
For tourists that love to eat meat, the Cattleman's Steakhouse is considered one of the best in the country.
Their famous rib-eye and Cowboy t-bone dishes are cooked to perfection. Not only does the steakhouse offer meat cuisine, but they also have seafood options such as lobsters and shrimps.
Where to Stay in El Paso
For tourists that are unsure where to stay in El Paso during their vacation, here are some options to choose from. 
DoubleTree by Hilton Hotel El Paso Downtown
DoubleTree by Hilton Hotel El Paso Downtown is a four-star hotel. This high-rise hotel is the best option if you wish to be close to some of the notable sites to visit, such as the El Paso Museum of Art and its Zoo and Botanical Gardens.
This chic hotel has a sleek bar, a coffee shop, and a relaxed cafe where guests can relax and unwind during the day or night. 
Radisson Hotel El Paso Airport
A three-star hotel, the Radisson Hotel El Paso Airport is a straightforward hotel that is close to the airport. They provide airport or local shuttle buses for their guests.
Their low-key rooms are comfortable to stay in during vacation or business trips. The hotel also features indoor and outdoor pools, as well as a gym.
La Quinta Inn by Wyndham El Paso West
For tourists that are looking for a casual lodging quarter for vacation, La Quinta Inn by Wyndham El Paso West is a good option.
Their rooms provide simple necessities such as mattresses, flat-screen TVs, and free wi-fi. They also provide complimentary breakfast.
With all these exciting activities to do in El Paso, what more can a tourist ask for? These activities will surely keep your vacation lively and enjoyable. While planning for your vacation, make sure to try out all activities listed here. It will surely make your stay memorable.
El Paso Frequently Asked Questions
What is El Paso famous for?
El Paso is a city that is known for its natural beauty and history. It embraces Mexican culture and has beautiful scenery for tourists to enjoy.
What is the weather like in El Paso?
The weather in El Paso is mostly sunny throughout most of the year. The temperature range is from lows of 50 degrees Fahrenheit to highs of 95 degrees Fahrenheit.
You might also enjoy reading: