From heaping platefuls of pancakes dripping in syrup to smoky stacks of bacon, Springfield offers a delicious breakfast experience for everyone. And with so many amazing options to choose from, it can be hard to decide where to go. That's why we've compiled a list of the best places to enjoy breakfast in Springfield, Missouri.
Whether you're looking for a leisurely weekend brunch or a quick bite before work, you'll find something to suit your needs on this list. So pull up a chair and get ready to indulge in some of the best breakfast dishes Springfield has to offer.
Gailey's Breakfast Café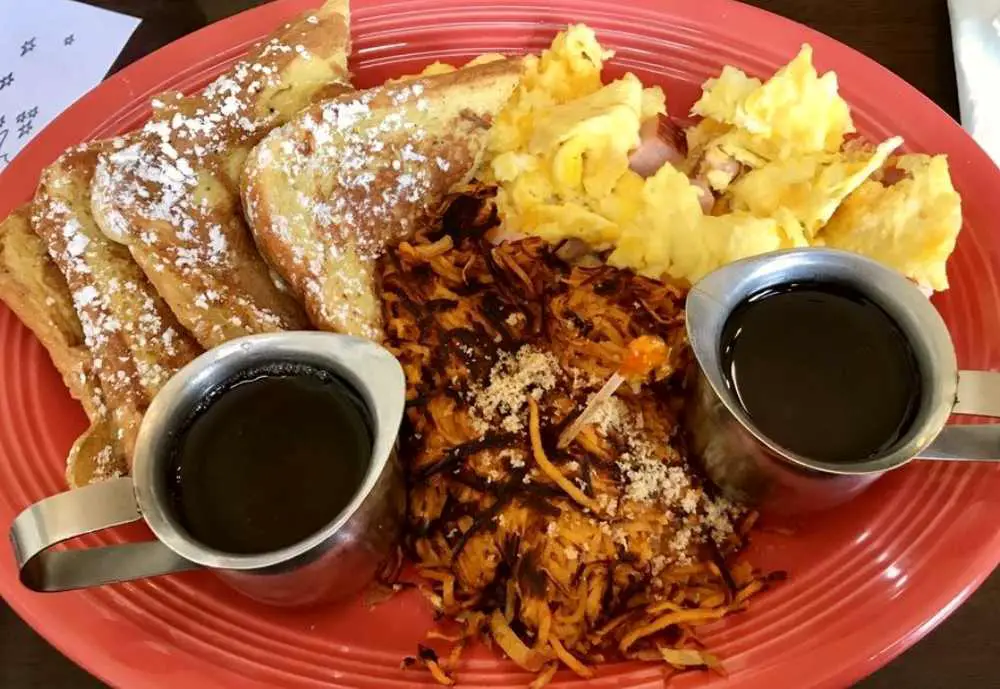 Gailey's Breakfast Café has undeniably some of the best breakfast in Springfield, MO.
The 10 Best Restaurants in Charlest...
It's also one of the most recognizable, as their dishes always end up on Instagram with how pretty they look! It's gotten a lot of hype, but they're not doing anything fancy.
They serve simple American breakfasts that would look cute in your IG feed. Their breakfast cafe has a nostalgic diner aesthetic, all in a reconstructed pharmacy store.
While you're here, get their freedom waffle, French toast, French quarter, bear hug, or banana walnut pancakes.
Menu: Gailey's Breakfast Café Menu
Top Review: "This place is where it is at!! Staff is all super cool, there is art on the walls that rotates and is for sale, AMAZING food, great mimosas, and just overall my favorite place to get breakfast in Springfield. Just be careful going on a weekend for brunch, it will be crazy busy and understandably take a lot longer. But if you go during the week it is so fast! My go to is the El Jeffe Bowl, trust me it's the best!! The vibe of this place is on point. Love it!" – Natalie M.
220 E Walnut St Springfield, MO 65806, (417) 866-5500
Early Bird Breakfast Pub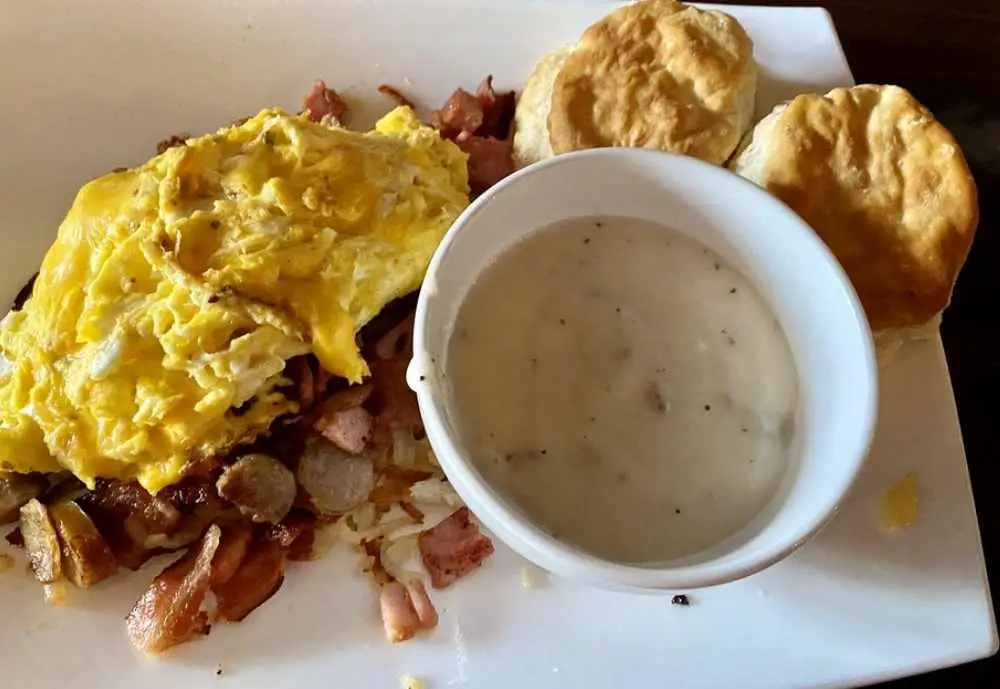 The Early Bird Breakfast Pub is a local favorite, especially for those who frequent brunch.
Their extensive menu has a lot of bird puns in it, which adds to the experience. They also offer puff pastry dishes, typical breakfast food, and a full bar. What more can you ask for?
Visitors recommend the chorizo tacos (with early bird style potatoes, gravy train, eggs Atlantis, and breakfast tacos.
Menu: Early Bird Breakfast Pub Menu
Top Review: "Fantastic find.  Stopped for breakfast while traveling through the area.  The staff was friendly and provided excellent service.  The portions are large and food is great.  We especially enjoyed the biscuits and gravy.  The biscuits were so light and fluffy.  Definitely try the sweet potato nuggets and ask for a side of cookie butter." – Anna Marie S.
1717 E Cherokee St Springfield, MO 65804, (417) 885-8088
Van Gogh's Eeterie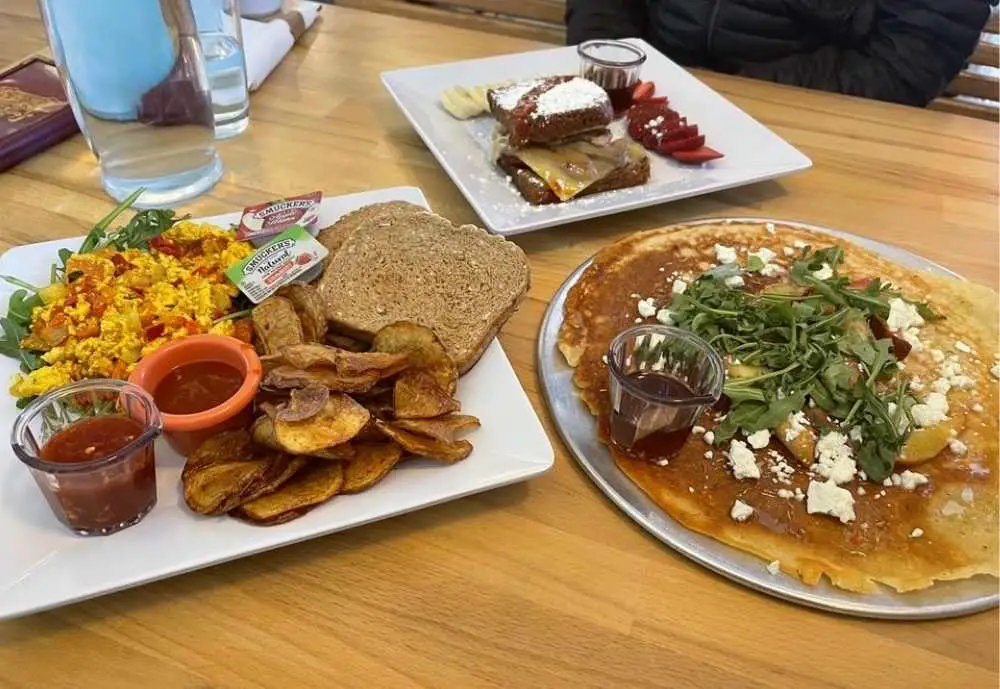 For those who love pancakes, you have to try the Dutch-style pancakes at Van Gogh's Eeterie.
These Dutch-style pancakes are what they're known for, with a primarily European menu.
There is a full bar, so take your pick for a brunch drink and pair it with the Rotterdam, tofu scramble, old Dutch, or French toast.
Menu: Van Gogh Eeterie Menu
Top Review: "This is a lovely brunch gem. Everyone ate all of their food and was completely satisfied.  The food and service-top notch! There are so many great options to choose from. Hot chocolate was a win! The apple tart was was win too! The flavors are amazing. A lot of fun things to choose from. Highly recommend this place if your in town. Parking options out front are hit and miss, so you may need to circle the block until a space frees up." – Tracy H.
334 E Commercial St Springfield, MO 65803, (417) 344-0085
Aviary Café
Another French-inspired breakfast spot is Aviary Cafe. With its vintage French décor, this cafe is best for brunch in Springfield.
You need to get the crepes and a glass of their strawberry-basil sangria if you're feeling up for it.
Other menu items to order include the Pomme frites, breakfast poutine, and funky monkey crepes.
Menu: Aviary Cafe Menu
Top Review: "The Aviary is really a breath of fresh air in this town. They offer fresh ingredients put together in fun ways that are both unique and comforting. Their pomme frites are addicting and a must have. I also love the made to order omelets that over multiple options and only cost $10 which includes a side. I highly recommend this place for great food and atmosphere!" – Lou R.
2144 E Republic Rd Ste E120 Springfield, MO 65804, (417) 881-9736
First Watch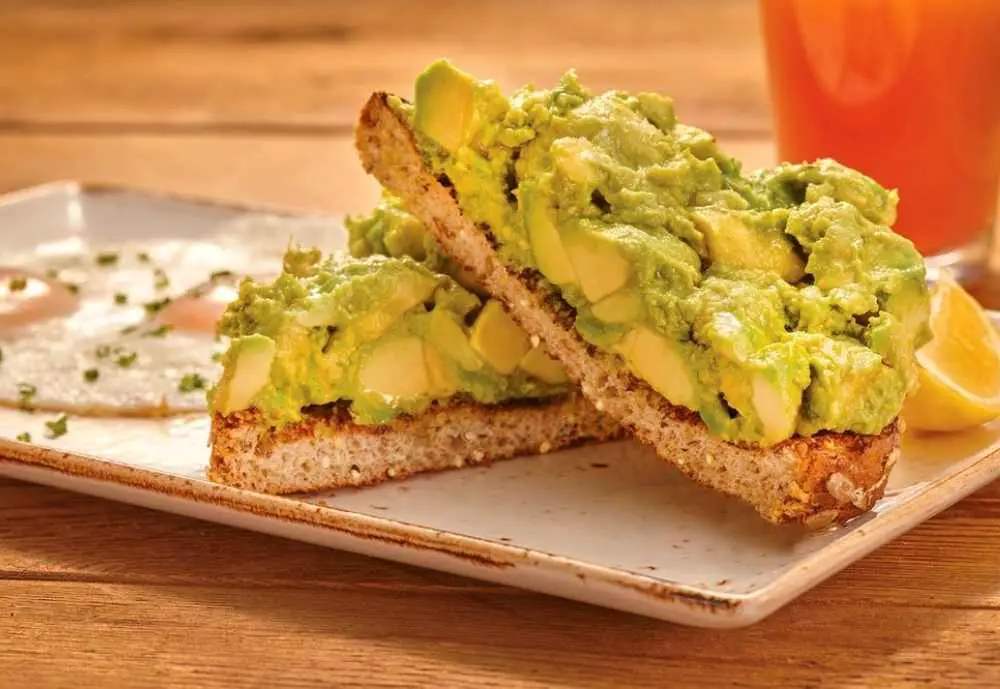 First Watch is another popular breakfast restaurant in Springfield that you can't miss.
They have very generous portions, and the pancakes are also top-notch. There may be a wait time during brunch hours, but it's worth it. If you're looking at pancakes, try the lemon ricotta pancake.
Otherwise, get the avocado toast, million dollar bacon, breakfast tacos, elevated egg sandwich, or smoked salmon benedict.
Menu: First Watch Menu
Top Review: "This location is my favorite in town for First Watch. Food is always up to standard and the staff is very friendly and accommodating. The Shrimp and Grits are my fave right now, this will change with the next menu but I love their creations along with their regular menu items. Never eaten anything here I didn't enjoy thoroughly. Anne is a great waitress and made sure we had everything we needed,  as we wanted. Thank you for coming in and working so we may come in and patronage your facility." – Kristy R.
2946 National Ave Springfield, MO 65804, (417) 889-0601
Druff's
Druff's are part of this best breakfast list as they are Springfield's grilled cheese experts. Their food and restaurant are also incredibly Instagram-able.
They've got French subway tiles, marble and art, and great natural lighting.
Besides the grilled cheese, you must try the tomato soup, Uncle Tatey, and Ekstam and cheese plates.
Menu: Druff's Menu
Top Review: "I love this place! I would eat here every day if I could. Specialty grilled cheeses, hell yeah. I love the one with cream cheese and jalapeños. Droooooool! If you're indecisive on this place and some other place, go here! You won't regret it." – Jainee R.
331 Park Central E Ste 101 Springfield, MO 65806, (417) 719-1719
Lindberg's Tavern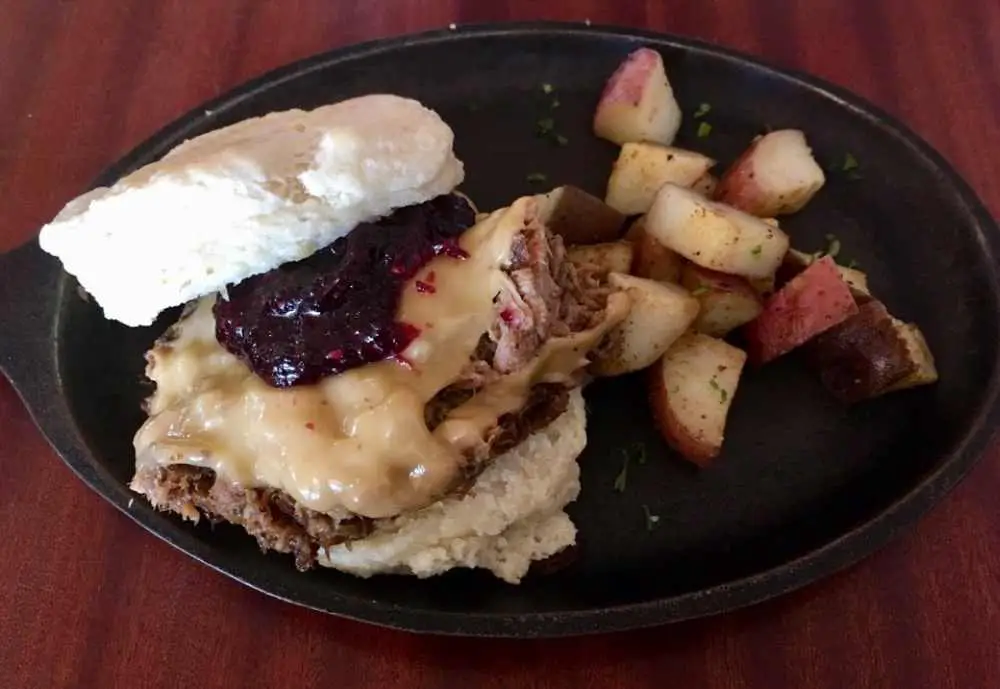 There is a lot of history behind Lindberg's Tavern as the oldest tavern in the city. It started its operations in the 1880s but only recently opened the kitchen to serve food to customers.
They are nicknamed a house of ill repute, but their drinks, breakfast, and brunch items are delicious. They also have weekend specials that are worth checking out.
Try their cashew chicken poutine, beer-battered shrimp tacos, vegan mushroom po boy, and crab claw eggs benedict.
Menu: Lindberg's Menu
Top Review: "My friends and I got to Lindberg's Tavern a little before noon on Sunday–15 minutes before they opened for brunch. There was already a line of maybe 20 other people, which was a good sign of the place being extra legit. My friend got the Ham & Jam and devoured it's perfectly balanced sweet and savory deliciousness pretty quickly." – Ian H.
318 W Commercial St Springfield, MO 65803, (417) 868-8900
Farmers Gastropub
If you want to try something other than classic American food, try Farmers Gastropub.
They are a pub with British flavor with an ambiance that they describe as "casual meets refined." I'll let you be the judge of that.
Their food is a marriage of American and British food, so you'll find something familiar in each dish.
Some British breakfasts you can try are scotch egg, cottage pie, full English, and homemade biscuits.
Menu: Farmers Gastropub Menu
Top Review: "Delicious! Fresh food. Breakfast was amazing even in the car! Found this on our way to the lake and will now be making this a stop we always go to." – Amy A.
2620 S Glenstone Ave Springfield, MO 65804, (417) 864-6994
---
Springfield has a lot to offer when it comes to breakfast, and we certainly couldn't cover them all. But whether you are looking for a hearty omelet or some sweet pancakes, there's something for everyone to enjoy.
And with so many great restaurants to choose from, you're sure to find the perfect spot for your morning meal. So whether you're looking for a quick bite before work or a leisurely brunch with friends, Springfield has you covered. Bon appétit!
You might also like:
breakfast springfield mo, best breakfast springfield mo, breakfast springfield, springfield mo breakfast