San Diego is best known for its sunny weather and beaches, but there's a lot more to it than that.
The best donuts in San Diego are not to be missed! In this blog post, we will tell you where to find the best donuts in San Diego so you can experience these amazing desserts yourself.
Peterson's Donut Corner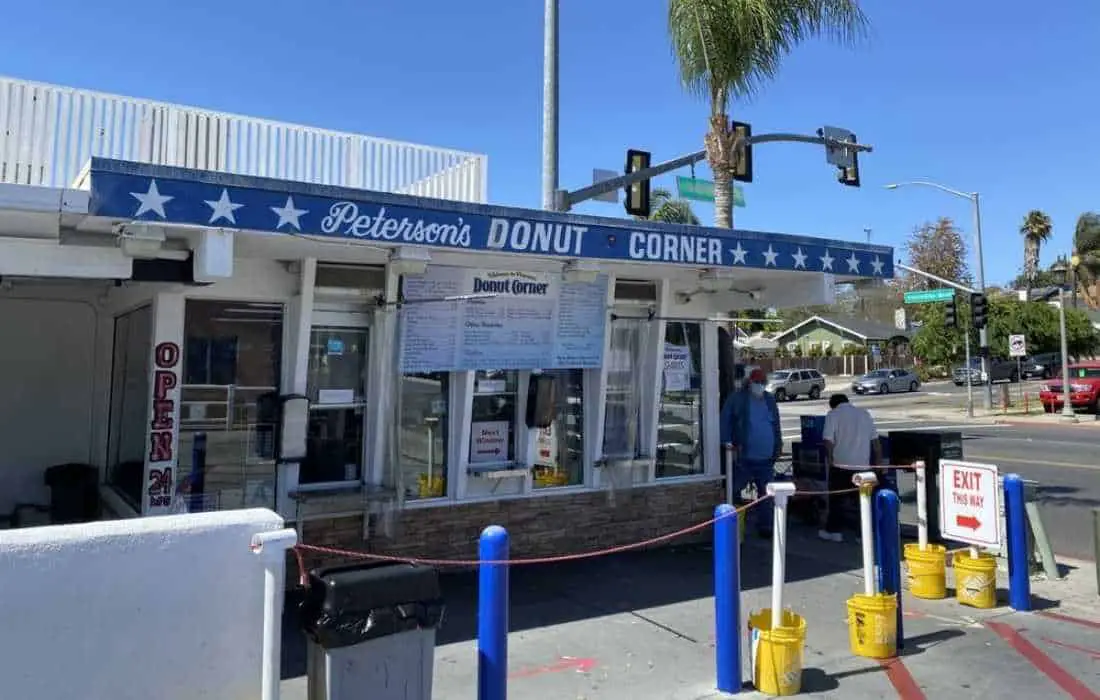 Peterson's Donut Corner is a San Diego institution, and for good reason.
This small donut shop has been serving up delicious donuts since 1946. The prices are reasonable, the selection is excellent, and the atmosphere is cozy and charming.
Peterson's Donut Corner is definitely one of the best places to find donuts in San Diego. Plus, it's open 24/7 so any midnight cravings you have will be satisfied!
Top Review: "This place is truly a corner donut shop. It's a small place on a street corner in Escondido. The biggest thing about this unassuming little shop is the line of people waiting get their yum on. Despite the line, the wait is short because the friendly staff works fast and keeps things moving. This place has become a Sunday morning tradition for us. We're not sure how our daughter found it, but she did. It's not only the best in San Diego, but it's better than anything we've found in LA – including that really famous place that I won't mention!" – Spencer S.
Directions ▪ Website ▪ Call
VG Donut & Bakery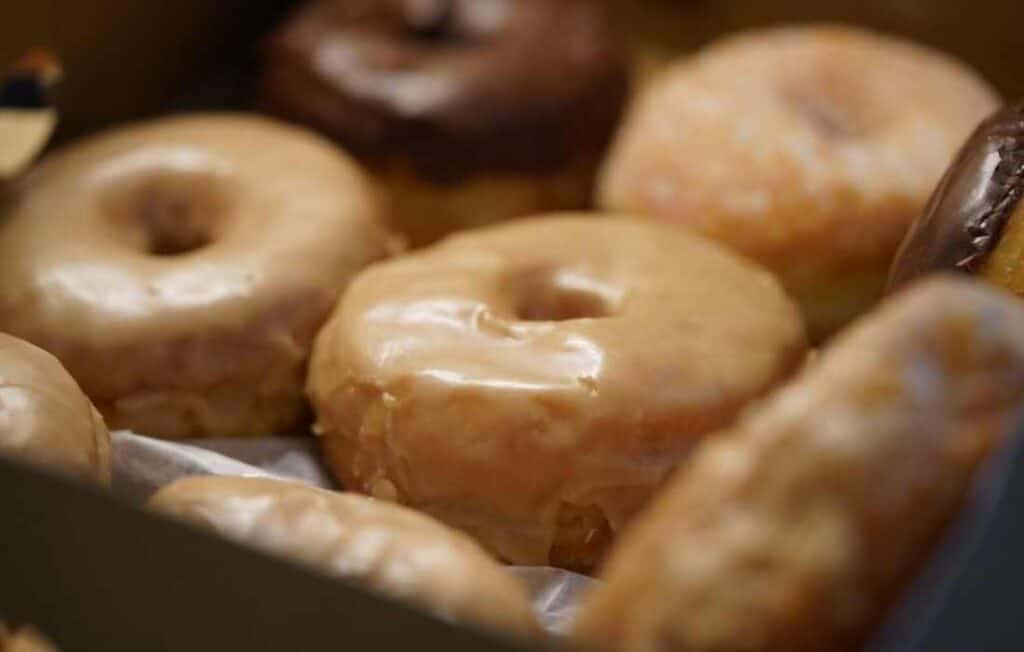 VG Donuts and Bakery is another staple in the San Diego donut community.
They have pretty traditional flavors but rest assured that they do their donuts well. You won't go wrong with their glazed doughnuts, buttermilk bars, or their Cherry Iced.
They bake their goodies twice a day at 4 AM and 4 PM for the morning and afternoon rush.
They currently do not carry any gluten-free or vegan donuts.
Top Review: "I'm a huge donut fan and anytime I'm in the area, I stop by VG's! Nothing here disappoints. There's a large variety of donuts and baked goods. From donuts to eclairs to cakes. We usually go for a chocolate raised ring and the texture and doughyness are also spot on. These are donuts worth eating!" – Miriam P.
Directions ▪ Website ▪ Call
Sidecar Doughnuts & Coffee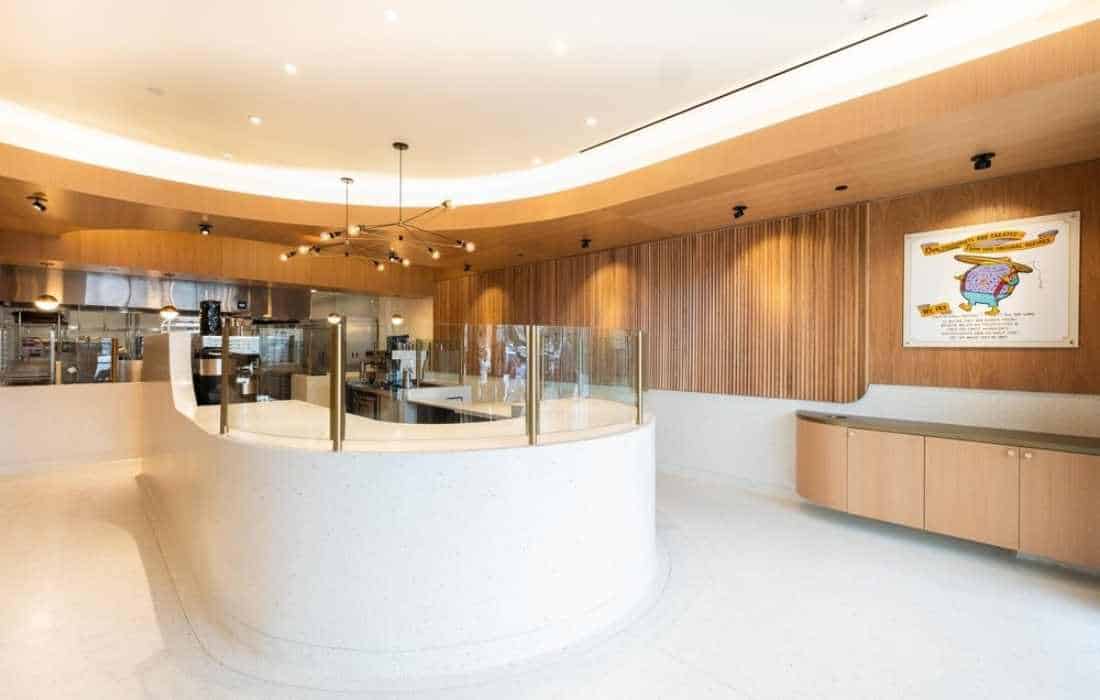 Sidecar Donuts and Coffee like to mix it up with daily flavors and seasonal flavors in their donut rotation.
They have all kinds of flavors and toppings for their amazing donuts, such as Saigon cinnamon crumb, Huckleberry with butter and salt, or salted malted chocolate chip cookie dough.
This place has some of the best donuts in San Diego – you won't be disappointed!
Top Review: "I went here with my girlfriend, and they are hands down the best doughnuts we've ever had in our entire lives. It's not a snack, it's an experience one must see to believe. Excellent customer service, fantastic food; we got the Butter and Salt and the Celebration Cake, and they were both amazing.
10/10 will come again." – Simon R.
Directions ▪ Website ▪ Call
Nomad Donuts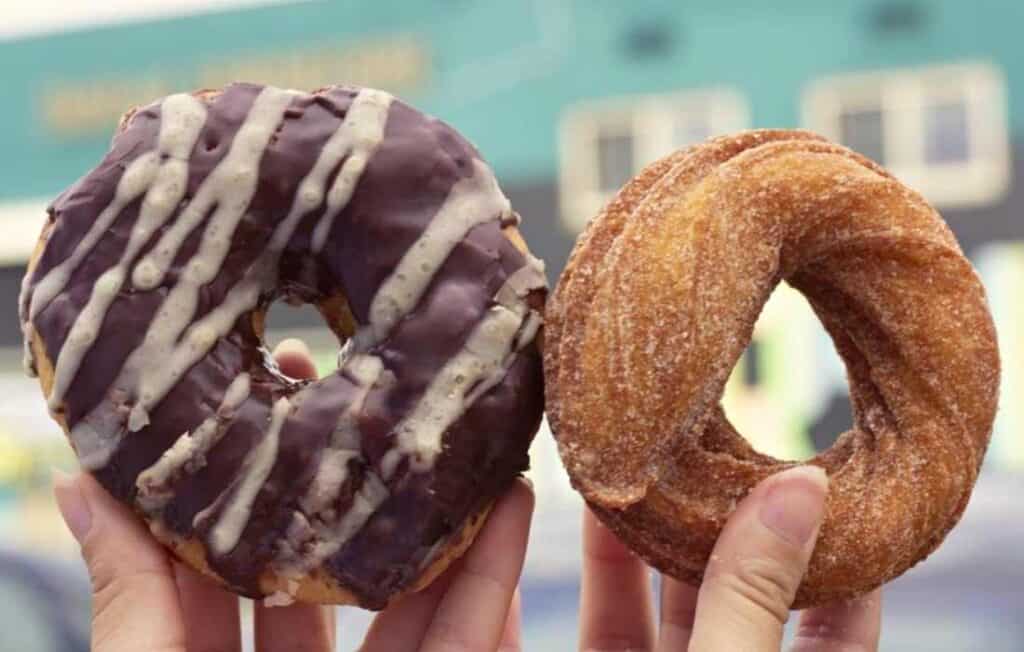 Nomad Donuts is best known for its unique donuts.
Flavors come from all corners of the globe and will swing back and forth from savory to sweet.
Try some of their Ube taro coconut or vegan chocolate glaze.
Their menu also changes depending on the chef's mood, so you might get a surprise on every visit!
Top Review: "I love a good experience and finally trying Nomad donuts was just that. Each bite an experience of thoughtful flavor, texture, and taste. Nothing overpowering nor too sweet and the cake was incredibly rewarding a compliment to the service as well." – Molly W.
Directions ▪ Website ▪ Call
Donut Bar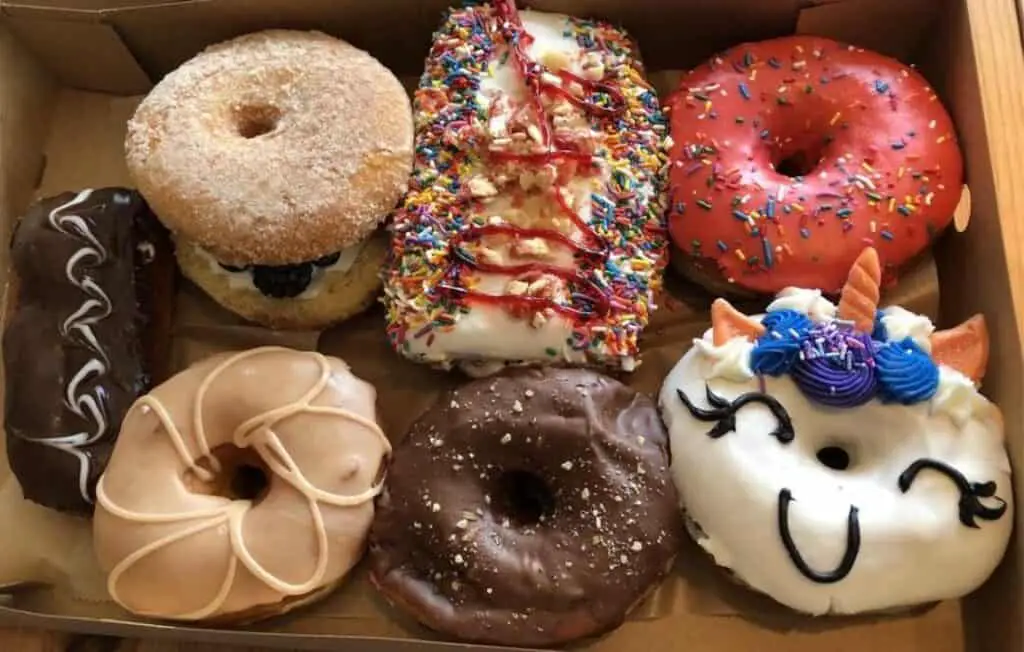 Donut Bar is best known for its creative donuts. They have a constantly rotating menu of the best, most unique flavors in San Diego.
Their best flavor is their Maple Bourbon – it's to die for!
They close as soon as they're sold out so better stop by early. They also carry vegan donuts, which is not too common with most donut shops. Onsite parking which is always great. Definitely a great place for donuts in San Diego!
Top Review: "Delicious and cute looking donuts. We were having a hard time to make up our mind because they all look so cute. Their donuts are light and fluffy, not too sweet. My favorite is the strawberry and cream donut. It really balances out the sweetness from the cinnamon donut." – Sharon M.
Directions ▪ Website ▪ Call
Donut Panic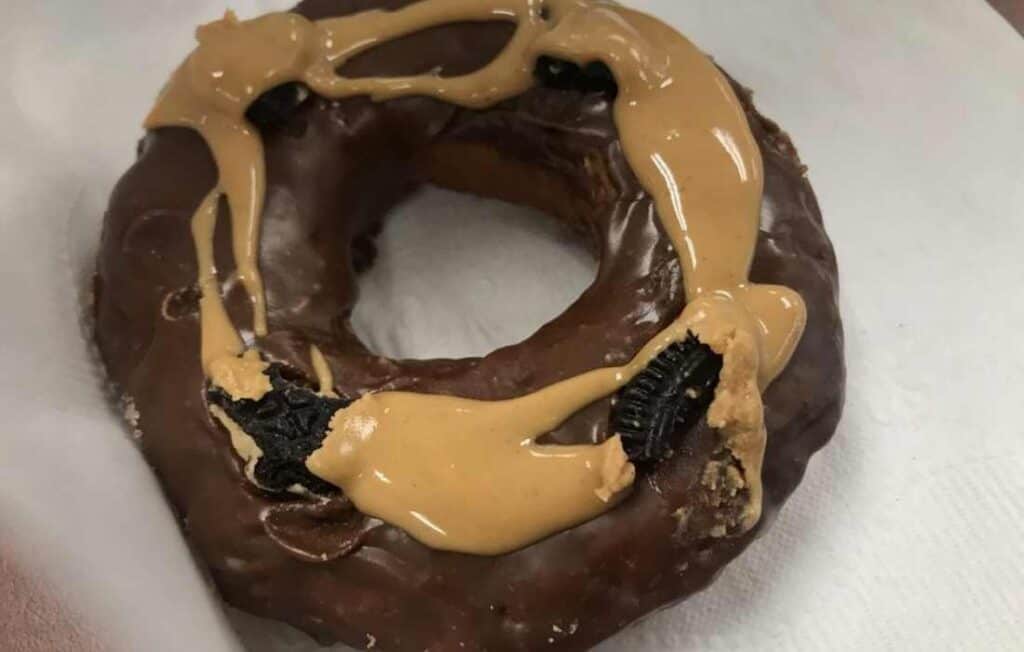 Donut Panic is a small donut shop located in Mission Valley that has the best donuts in San Diego.
They are known for having organic, healthy options with a selection of vegan donuts and bagels.
Try The Homer or Thai tea and earl grey. Their vegan cakes are also a recommendation!
Top Review: "A must try! I am vegan and love finding places that have both vegan and non vegan products. This is the most convenient place with such great donuts and such a sweet owner." – Priyesha B.
Directions ▪ Website ▪ Call
Mary's Donuts & Coffee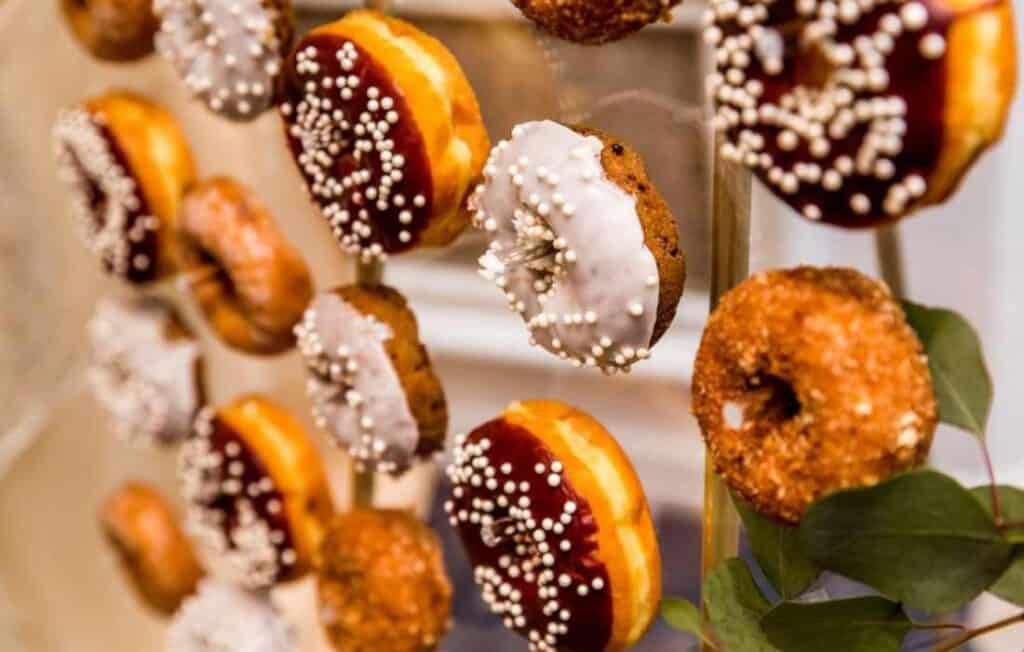 Mary's Donuts & Coffee is best known for its gigantic apple fritters.
They offer old-fashioned, classic donuts and are open 24 hours! They also make special custom donuts called "Big Donuts" that are platter-sized and perfect for events and special occasions.
If you're looking for a donut that will fill you up, this is the place to go!
Top Review: "Delicious donuts! Not a place for fancy/special donuts (there are many other good places for that) but If I just want a classic donut done really well, I stop by Mary's. Their donuts are always fresh – dough is pillowy soft and the edges have a slight crisp!" – Faith D.
Directions ▪ Website ▪ Call
Copper Top Coffee and Donuts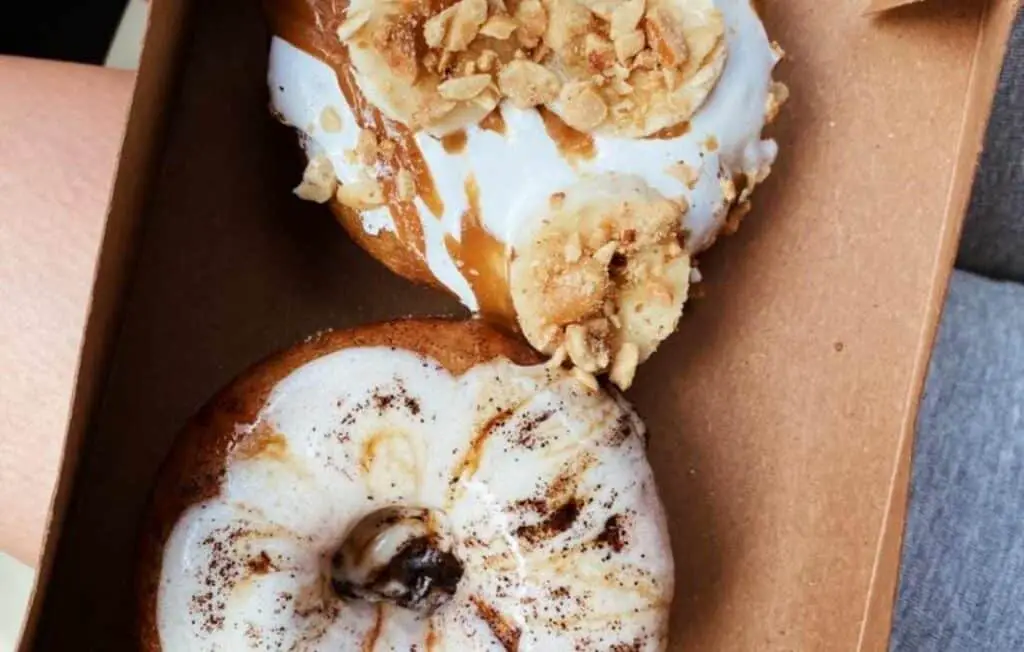 Copper Top Coffee and Donuts is best known for its wide variety of flavors.
They have classic favorites as well as rotating seasonal options. Some of their more unique flavors include Nutella-stuffed, bacon-maple, or lemon poppyseed.
They also serve breakfast burritos and sandwiches if you're looking for something else.
The shop also has specialty coffees if you need the caffeine fix to get you through the day.
If you're just passing through, you can also go through their drive-thru.
Top Review: "Had a five-o donut, which has maple and bacon… and it was made fresh and was probably the best donut I've ever had. The coffee is good here too, will definitely be returning to this little gem." – Kevin L.
Directions ▪ Website ▪ Call
Star Dust Donut Shop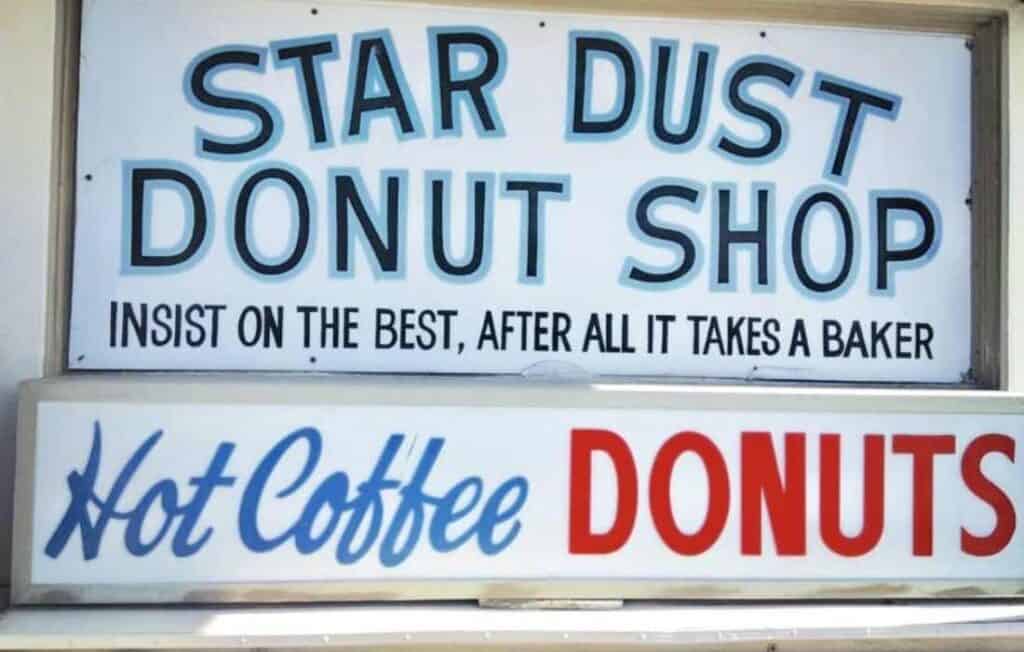 Star Dust Donuts is the perfect stop before you head towards the beach.
It's been on this stretch of Highway 75 for more than 40 years now and is best known for its old fashioned donuts and croissants.
They have all the classic flavors you love as well as some rotating specials. Stop by early to make sure you get to try their donuts.
Some things we'd recommend include the glazed cinnamon donut rolls and the German chocolate bars.
Top Review: "Peanut Butter donut for the win! The man was super pleasant, helpful and let my son take his sweet time perusing the many delicious options. We enjoyed each and every donut we bought. Get there!" – Mollee S.
The Goods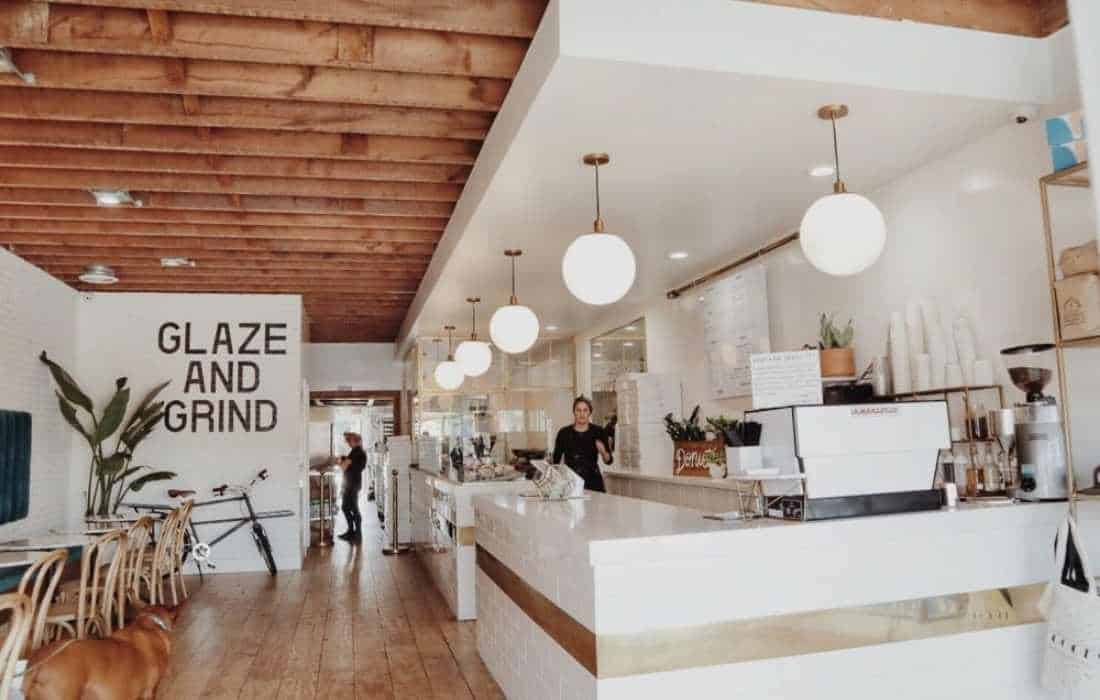 The Goods donut shop is one of the best donut shops in San Diego.
Their donuts are always fresh and their service is amazing. They have a very creative selection of donuts to choose from, so you're sure to find something that suits your taste.
Some highlights are their chocolate ganache, apple fritters, and the S'mores donut.
The prices are very reasonable, and the staff is friendly and helpful. You'll surely satisfy your donut cravings here!
Top Review: "Easy place to find, the staff have great personalities and are very helpful, and then the doughnuts and coffee drinks are AWESOME!! Most especially, the vegan-gluten-free doughnuts are also VERY DELICIOUS!" – John K.
Directions ▪ Website ▪ Call
Donut Star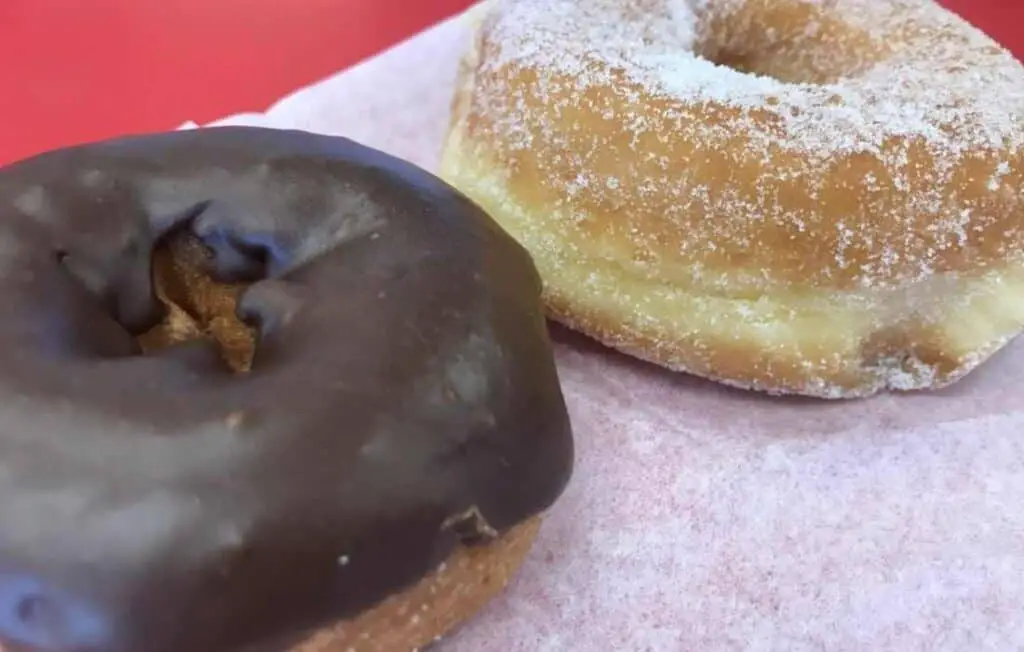 Donut Star is best known for its delicious, fresh donuts.
They have all the classics as well as some rotating flavors that are always changing. You can't go wrong with any of their options.
They have a large juice smoothie selection also.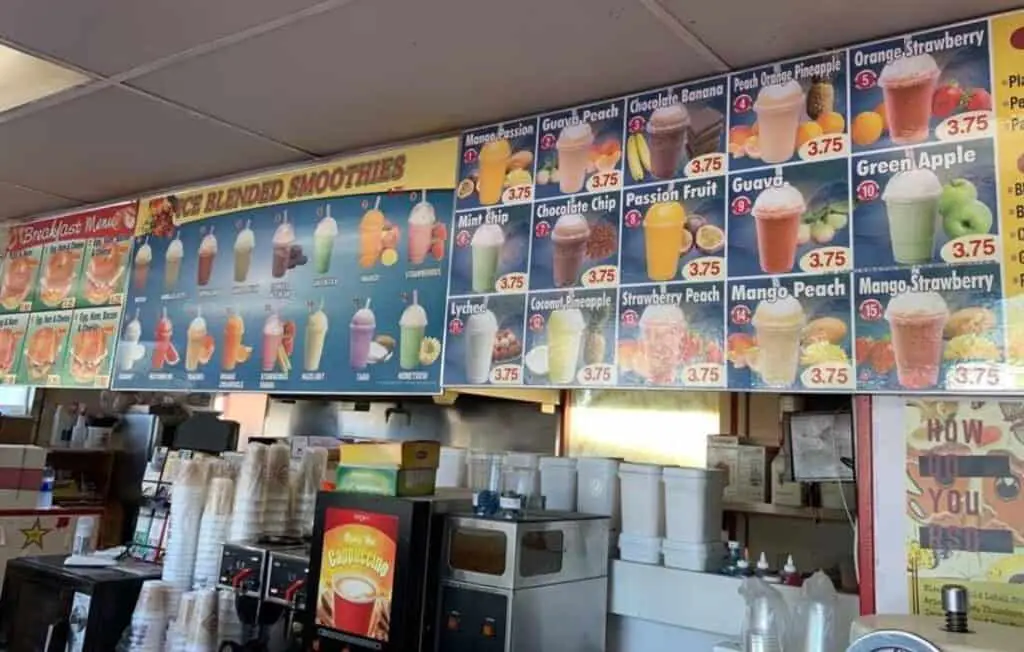 The shop is always busy but they are open nearly 24 hours a day (they open every day at 4am!), so you can get a donut at any time of day (or night!).
This is just another of the tried and tested traditional donut shops that deliver on quality and taste!
Top Review: "Donut Star is a diamond in the rough that offers unique flavors and opens late. Taro? Taro with coconut? How about Nutella with banana? Yes please! They even had the fluffiest cinnamon rolls with a crumb topping! Oh my gosh it was heavenly!" – Vixen C.
So, there you have it – the best donuts in San Diego! Whether you're looking for something classic or something more exotic, these places will definitely not disappoint. So go out and try them all! You won't regret it.
You might also like drooling over these articles:
donuts near me, doughnuts near me, donut shops near me, doughnut shop, petersons donuts, best doughnuts in san diego, donuts san diego, best donuts san diego, best donuts in san diego, donut shop near me, best donuts near me