Texas is known for the scorching hot sun beating down on everyone, especially during summer.
That's why adventures in the water with lakes, pools, and beaches are so popular in Texas. This next destination right here is perfect for cooling off this summer!
Canyon Lake is right in the center of the Texas Hill Country, located in Comal County. It's an hour from San Antonio, an hour and 15 minutes from Austin, and about three and a half hours from Houston.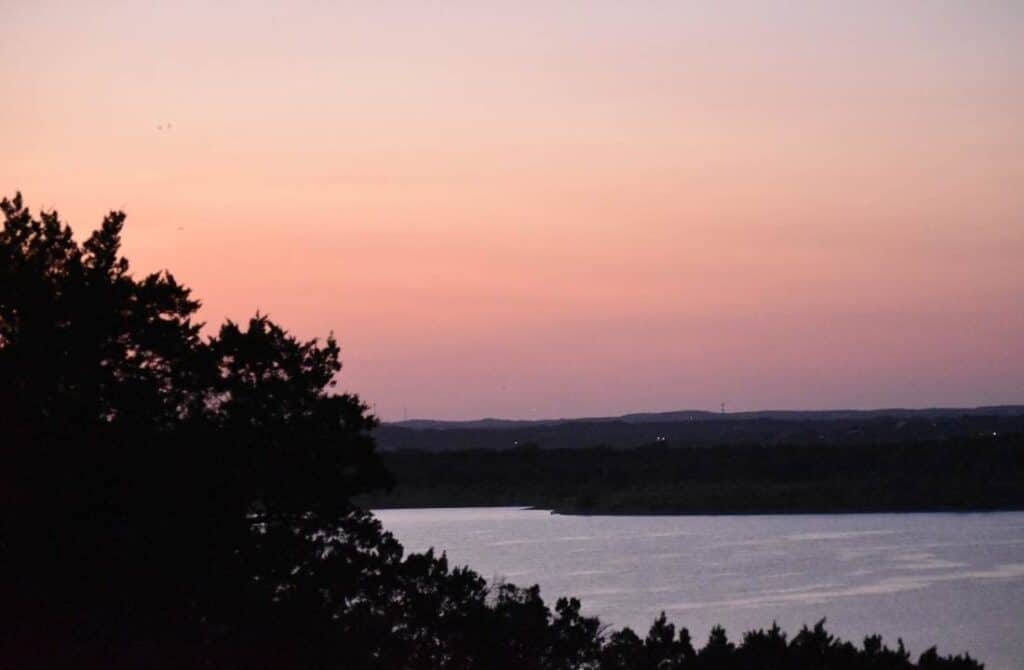 The lake is part of the Guadalupe River as its reservoir and has an 80-mile long shoreline! It's quite the destination among locals, as it's near almost everywhere and it's a beautiful place for that quick summer getaway. 
Mother Nature is the real star here, as Canyon Lake offers everything you need for a fun day. Even if you go during the winter, Canyon Lake still attracts a group of hikers for tourists.
Try something new for a change, get out of the desert and mountains, and splash around in Canyon Lake. 
When is the best time to visit Canyon Lake, Texas?
There's never a bad time to visit Canyon Lake, Texas! Whether you're looking to enjoy the beautiful outdoors or soak up some culture, you'll find plenty to do in this charming town.
In the spring, the wildflowers are in bloom and the hiking trails are invigorating.
Summer is the perfect time to enjoy swimming, boating, and fishing on Canyon Lake. Fall brings crisp weather and stunning foliage, perfect for a romantic getaway.
And in winter, you can cozy up by the fireplace and take advantage of the many holiday events happening around town. No matter when you visit, you're sure to have a memorable time in Canyon Lake!
Make sure to include these 15 things you have to do in Canyon Lake, Texas!
River Road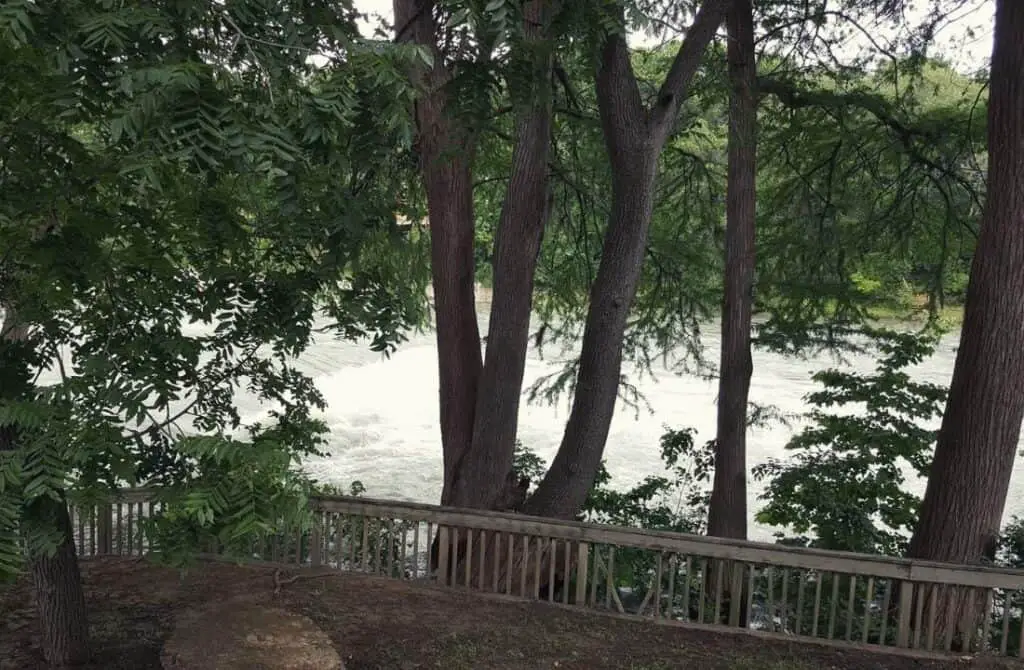 Start your trip by driving down River Road. This road is one of the essentials of a Canyon Lake trip. It's a 10-mile road from New Braunfels to Canyon Lake. Along the way, you'll see Cypress trees dotted around you, and you'll be driving alongside the Guadalupe River.
As a destination on its own, there are also sights and activities to keep your eyes peeled. Some cool stops include river sports outfitting, bird watching, and unique restaurants and hotels.
The route crosses 4 rivers, campgrounds, and even ranches. It ends near Overlook Park, where you can start touring the local parks around the lake.
Visit local parks
The local parks are a staple for Canyon Lake since they give you great views and many hiking trails and campsites.
These nearby parks are all maintained by the US Army Corps of Engineers. They are a perfect alternative to water adventures during winter.
Overlook Park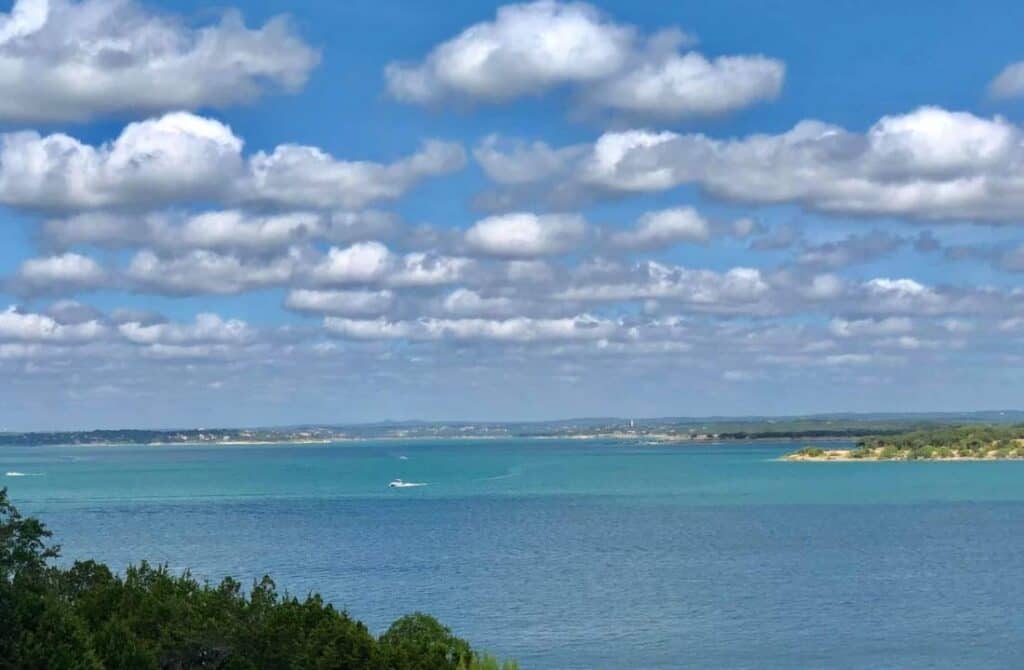 Arguably the best park around Canyon Lake, Overlook Park has the most excellent view you can get of the great outdoors. It's also the most convenient since it's nearest to New Braunfels and Houston.
If this is the only park you can go to, make a day out of it! Swim in the lake, hike some trails, or just find your spot on the beach.
Bring a chair and a book and let the calming waters lull you to relaxation.
Potters Creek Park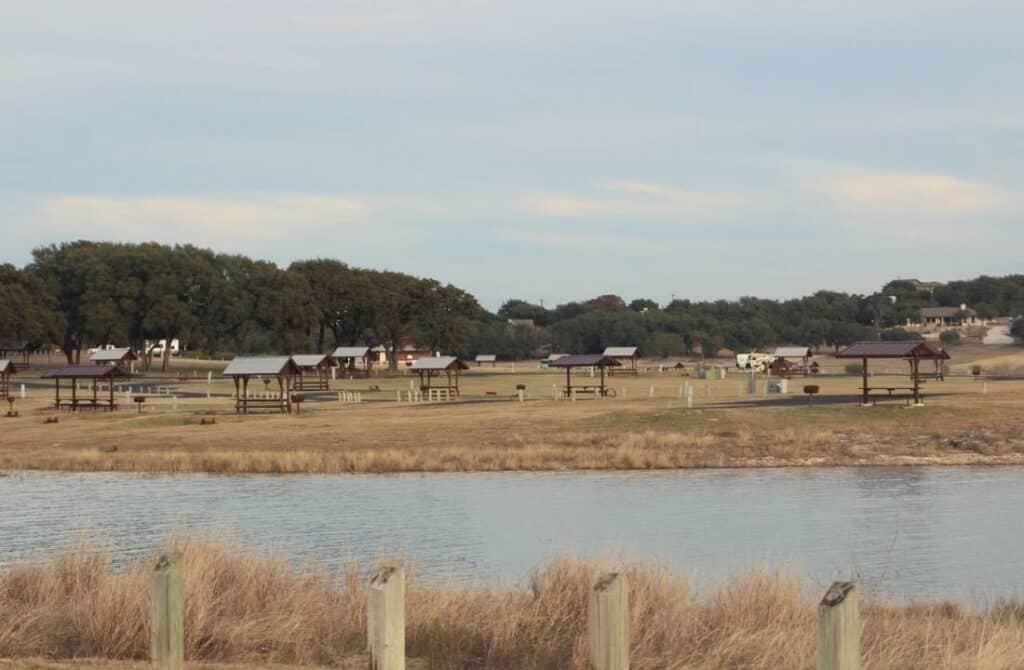 As with all the other parks in the area, Potters Creek also offers terrific views of the lake and the Guadalupe River. This is also one of the parks where you can swim, fish, and take a boat on the water.
Aside from that, this could also be the place to set up your tent and make camp.
Comal Park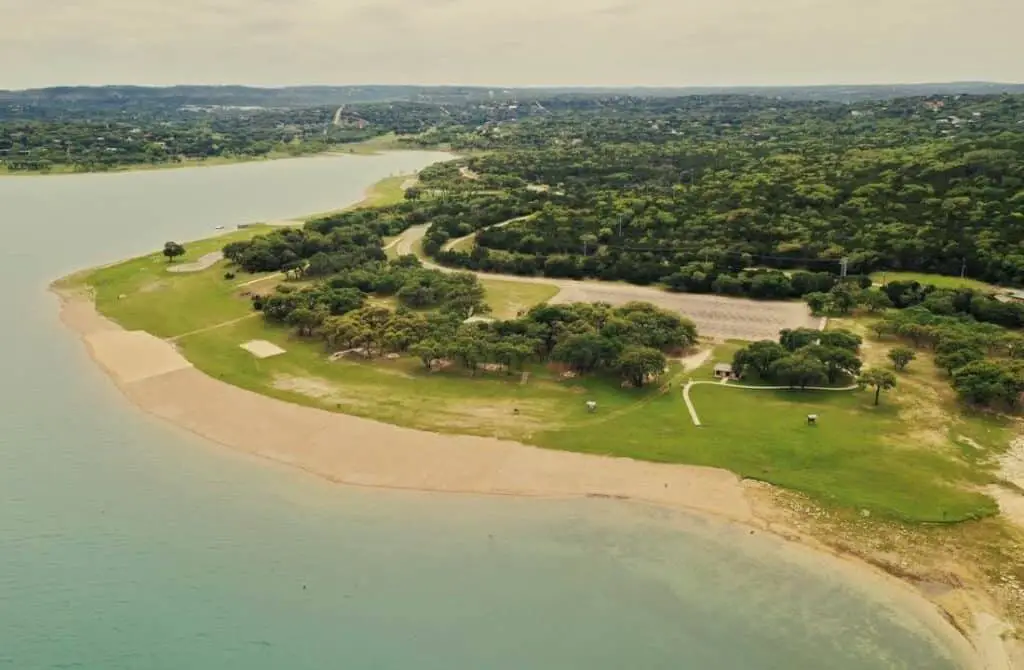 If you're not really the camping type but still want to experience some adventure in the great unknown, you might prefer Comal Park.
The park is only open during the day, so any camping you might attempt will be under the sun.
It's also a park where you can swim, so have fun in the water, maybe have a picnic, or let the kids play in a playground.
Guadalupe River State Park
The Guadalupe River is the core of this park, and it's especially known as a great swimming hole.
What's more, you can canoe, tube, and fish in the river. It's one of the best places to fish trout in the area!
On land, you can set up your camping gear in one of the 85 campsites in the park. Or better yet, choose one of the walk-in tent sites set up for you for no hassle at all.
After all that, you can still go for a hike in one of their trails, ranging from easy 2 mile trails to challenging ones.
Canyon Park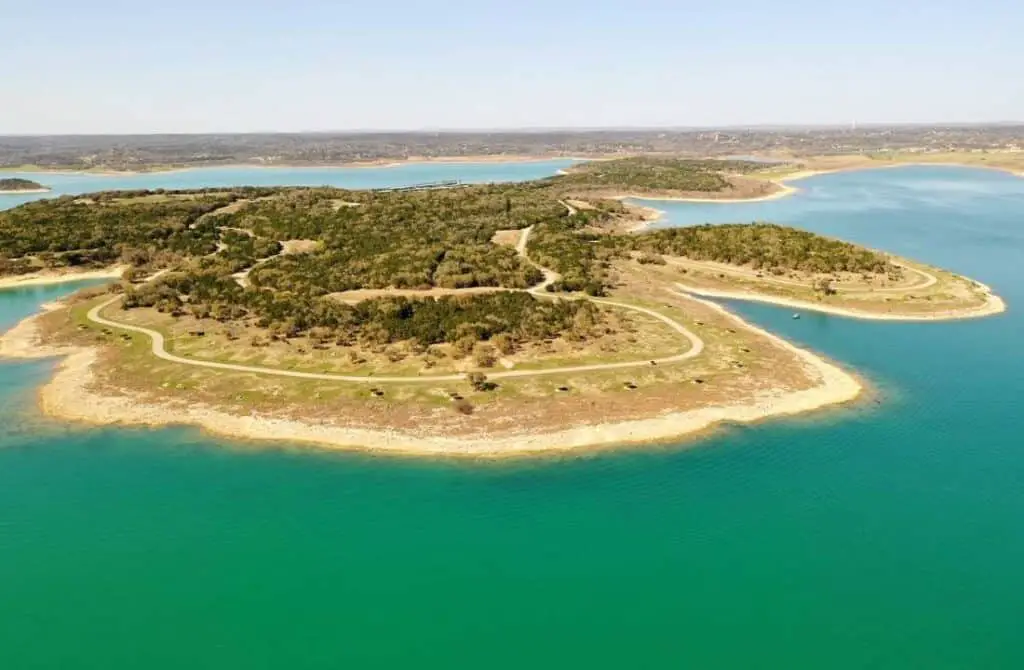 Canyon Park is another local park that's best for camping. It's on the north side of Canyon Lake and has several camping sites and facilities for you to use.
During the day, you can also explore the area via their hiking and biking trails.
Canyon Beach Park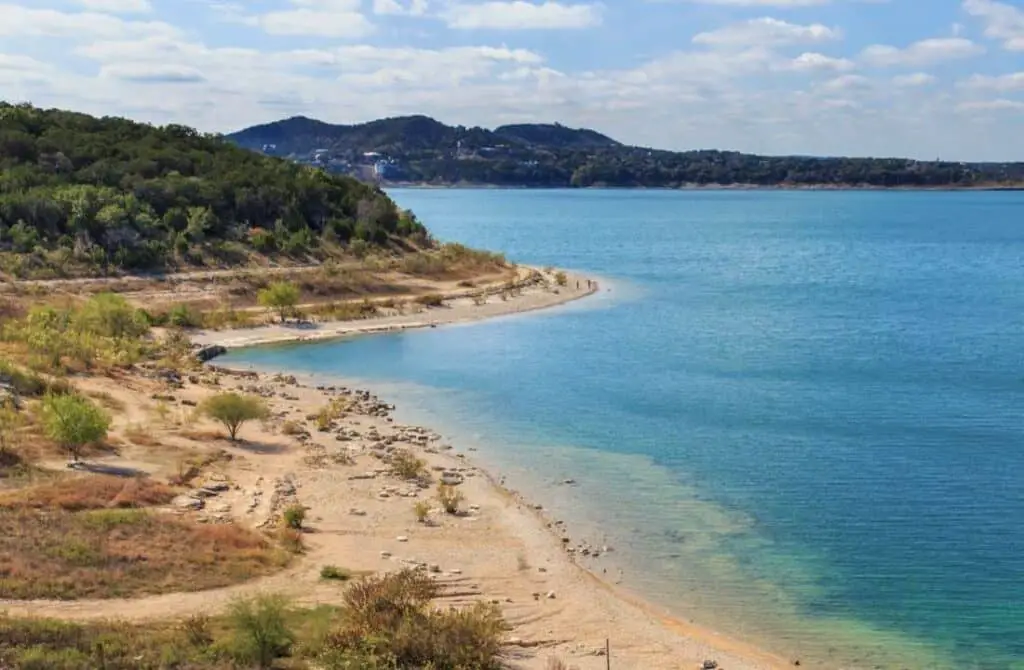 Canyon Park goes hand in hand with Canyon Beach Park. If you want to make camp, head to Canyon Park, but if you're going to swim, Canyon Beach Park is the place.
You can still do other things in this park; like visit their hiking and biking trails, have a picnic, and fish.
North Park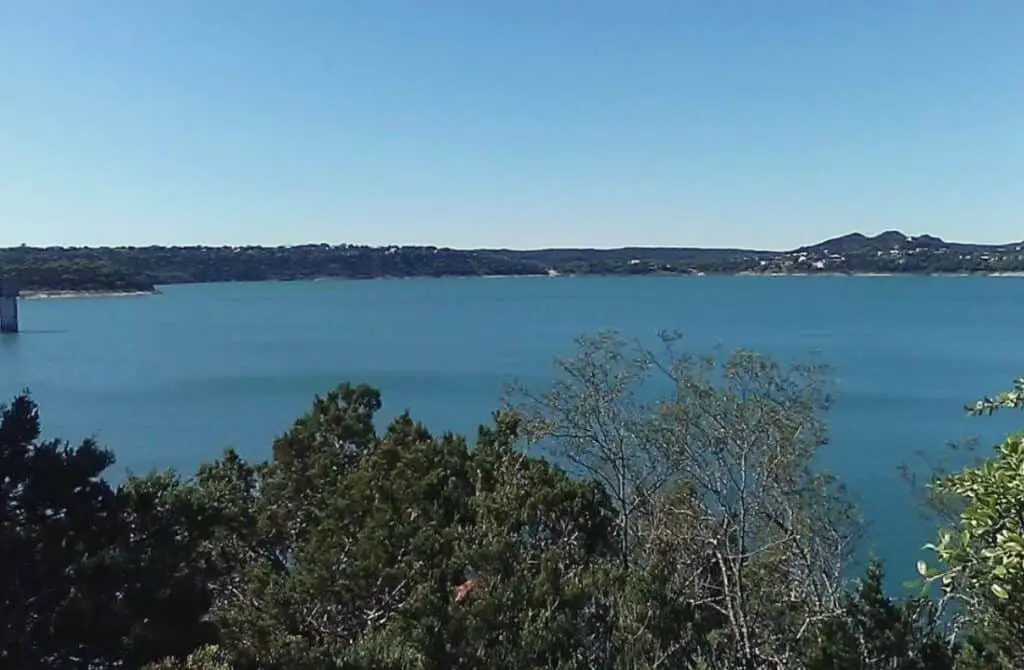 Next on the Canyon Lake parks is North Park, a famous scuba diving beach. There's no designated swimming area, so be extra careful.
There are lots of things to discover under the lake, so you might wanna practice your scuba diving skills!
You can do all of the common activities as with the other parks like fishing, walking and hiking trails, and camping.
Cranes Mill Park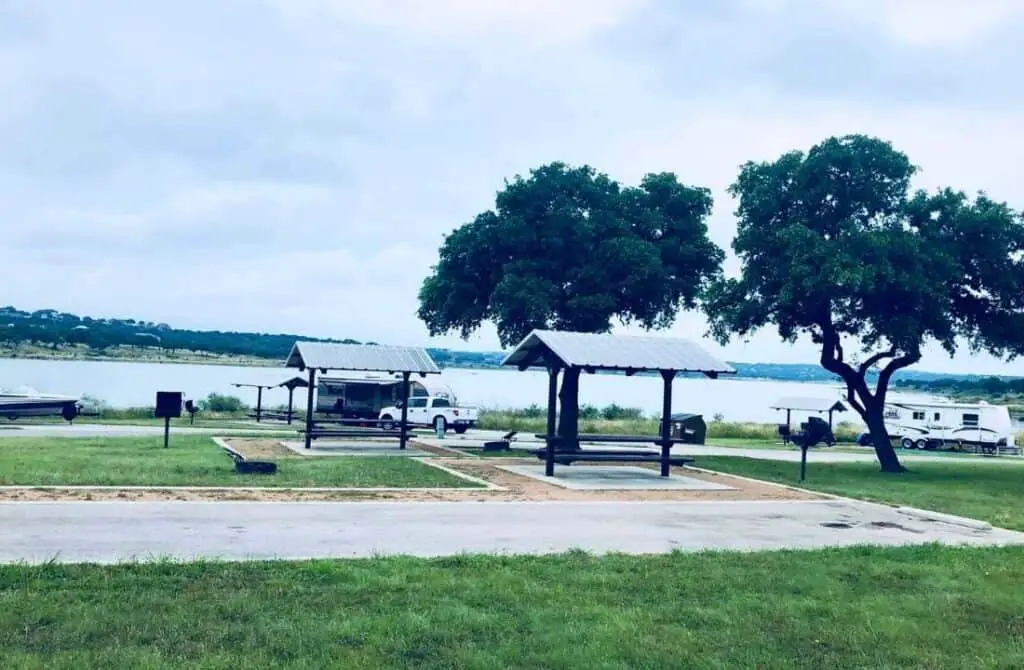 Cranes Mill Park is on the side of the lake between Austin and San Antonio. It's another campground site with several campsites to choose from.
The notable thing here is the view of the sunset and sunrise.
Canyon Gorge
Beyond the parks, get to know more about how the Canyon Lake started by touring the Canyon Gorge. It's got an interesting history, and the guides are great storytellers. There's so much to see in the Gorge as well.
You've got the lagoon, dinosaur tracks, waterfalls, and fossils. It's an amazing geological story, and even if you're not into rocks, you're sure to like this tour.
This mile-long Gorge spans 65 acres of land. The route is a little advanced, so make sure not to bring any young ones. As a precaution, children under the age of 7 aren't allowed to come.
Heritage Museum of Texas County Hill
If something up close and personal like a tour of the Canyon Gorge isn't something you'd like, the museum is the next best thing.
The Heritage Museum of Texas County Hill gives you the history of Canyon Lake with community stories, historical artifacts, and exhibits about the early settlers.
It's also a jackpot for dinosaur lovers. They were able to preserve more than 300 dinosaur tracks from over 100 million years ago.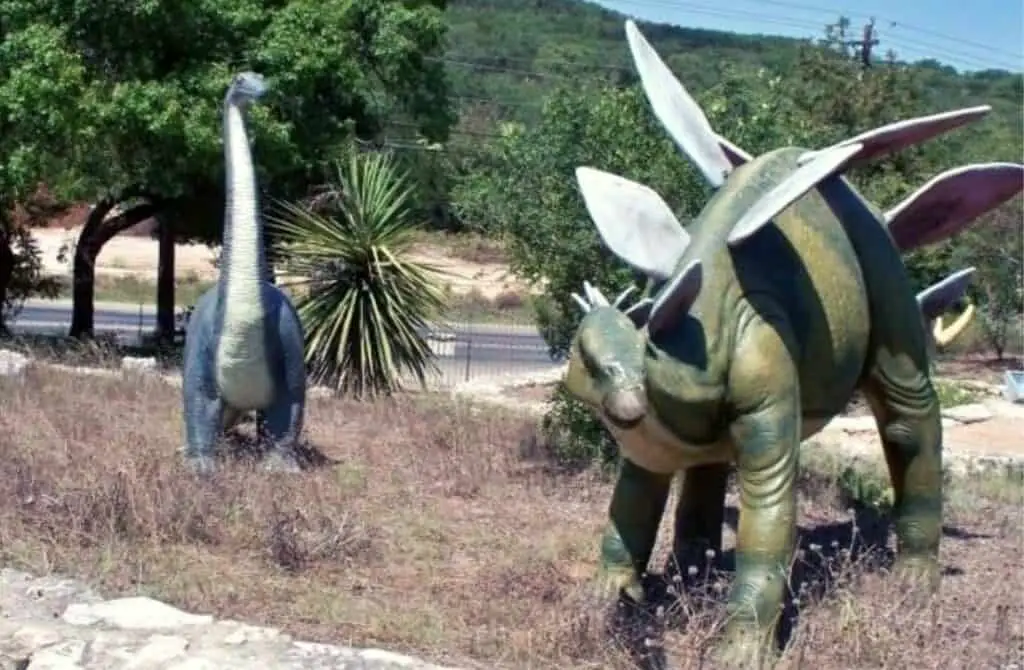 They also have 28 different trackways and have events like a Cretaceous fossil dig.
James C. Curry Nature Center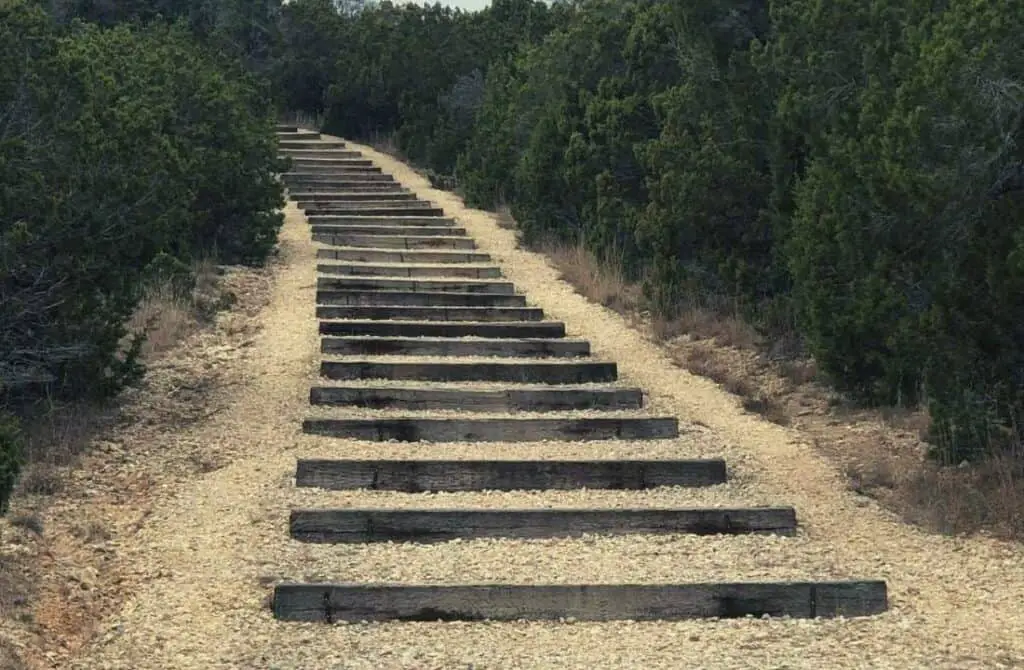 It's always a good time to take a nature walk, especially in an area as beautiful as James C. Curry Nature Center.
There's an easy hiking trail that's perfect for families and is about a mile long. Some parts of the hiking trail get into hills, but the views of nature and wildlife are worth it.
Whitewater Amphitheater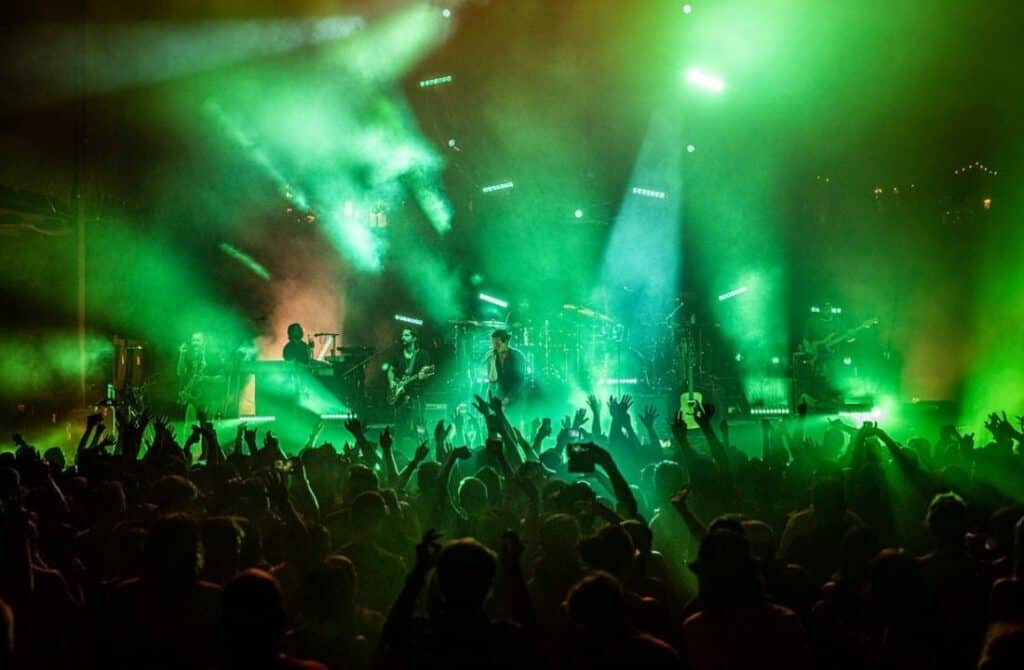 A concert can only be better with the calming river right beside the venue.
Watching a concert in the outdoor amphitheater is an experience all on its own.
Sitting on the eastern banks of the Guadalupe River, the Whitewater Amphitheater hosts concerts from April to October. 
You can sit by the river, eat your dinner by the area's picnic tables, then cap off the night by watching Texas Country singers sing their hearts out.
Dry Comal Creek Vineyards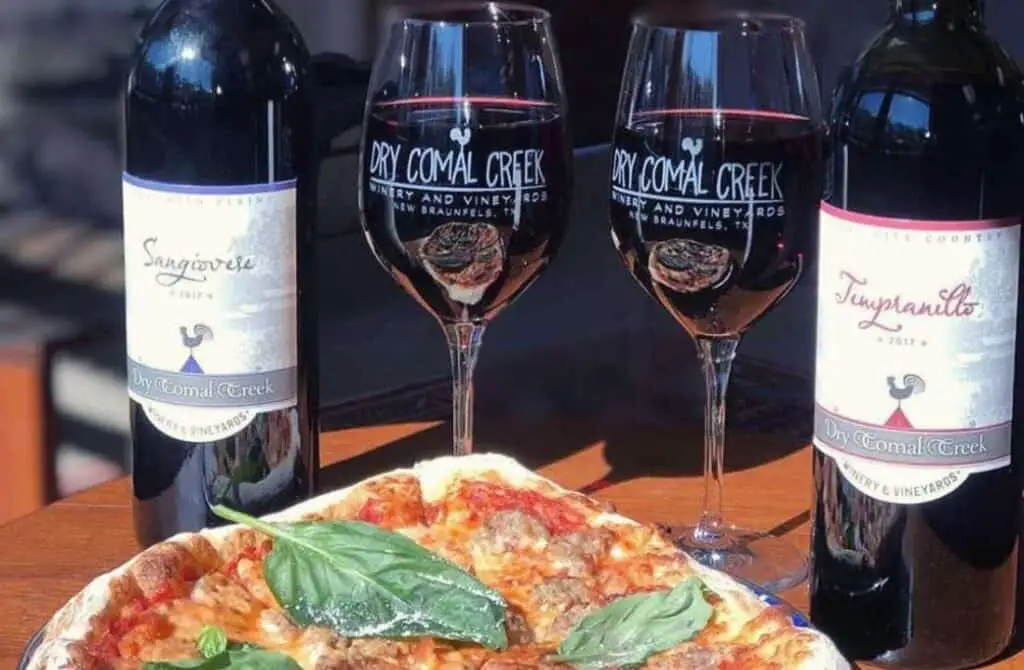 Canyon Lake is near so many other destinations that you have to see just a few special spots when you're in the area. Located in New Braunfels, Dry Comal Creek Vineyards is just a 20-minute ride from the lake.
The vineyard is a little of a romantic setting. There's, of course, wine tasting. But there's also live music on the weekends, and even port and chocolates and sangrias sold. The beauty of the place makes the deal even sweeter.
It's a charming venue with oak trees surrounding the outdoor seating area. Bring along your special someone and share some good wine. 
Natural Bridge Caverns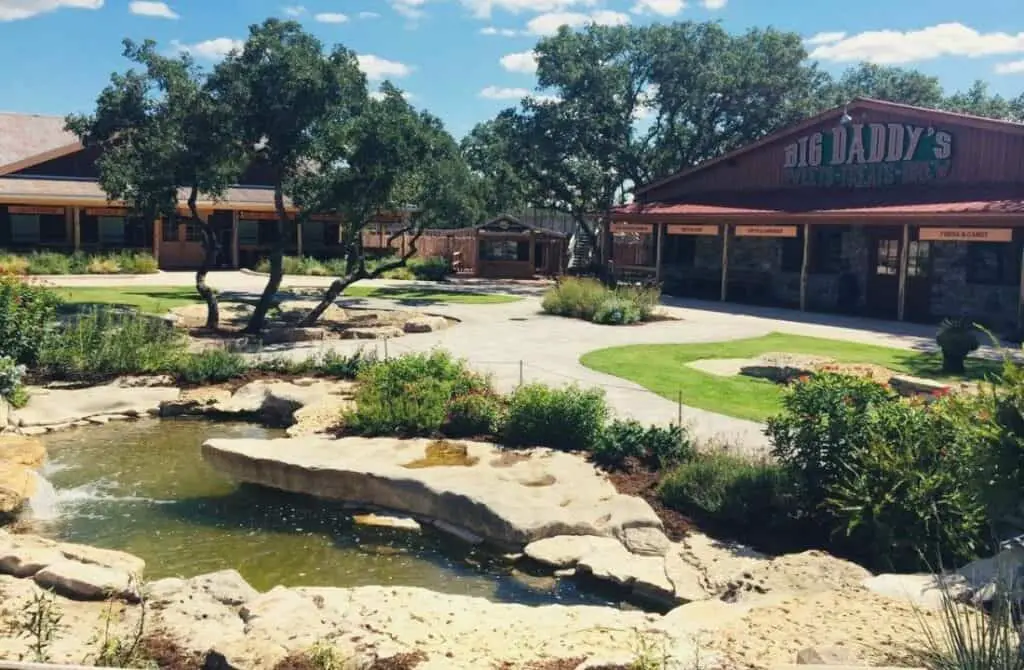 Another nearby tourist destination is in San Antonio, where the Natural Bridge Caverns are. The cave is the largest commercial cave in Texas, and their guided tours show fascinating rock formations inside.
Their tours are very interesting, even if you're not a massive fan of geology. You can take the Discovery Tour, the Hidden Passages Tour, the Twisted Trails, or their Adventure tours.
If you're up to the challenge, they also have an outdoor maze called AMAZEn' Ranch Roundup.
There's so much more in store; look and see what's waiting for you.
Where to eat
Since Canyon Lake is surrounded by so many other communities and cities, it may be hard to choose what restaurants to try.
Most of the time, it depends on what area of the lake you're in. But here are some of the restaurants that might just be worth the drive:
Where to stay
Like your choice of restaurants, there are also many ways you can go for your accommodations. You can opt for camping, Airbnbs, or the ever-reliable hotel. These are just some of the best places to stay at according to many other Canyon Lake visitors. 
Holiday Inn Club Vacations Hill Country Resort, Canyon Lakeview Resort, and Lodge at Turkey Cove.
Day trips from canyon lake
The cities nearest the lake are New Braunfels, San Marcos, and San Antonio. But relatively, it's still a good weekend getaway for most metropolitan cities like Austin and Houston.
A hidden gem here is the Devil's Backbone Overlook. You can get there through another scenic drive at a ridge called Devil's Backbone.
Frequently Asked Questions
What is Canyon Lake known for?
The one thing that Canyon Lake TX is most known for is its stunning natural beauty. The clear blue waters of the lake are surrounded by cliffs and hills, making it a truly unique landscape. Whether you're looking to enjoy a leisurely swim or hike up a challenging trail, Canyon Lake is sure to please. So come on down and see what all the fuss is about!
Is Canyon Lake Worth Visiting?
If you're looking for things to do in Texas, you won't want to miss out on Canyon Lake. This man-made lake is located in the beautiful Hill Country, and it's a great spot for all kinds of outdoor activities. Whether you're into hiking, fishing, swimming, or just relaxing by the water, Canyon Lake has something to offer. And the best part is that the lake is surrounded by scenic cliffs and hills, so you'll always have a stunning view. So if you're wondering if Canyon Lake is worth visiting, the answer is definitely yes!
Which part of Canyon Lake is best?
Canyon Lake TX is a beautiful spot in the Texas Hill Country and there are plenty of things to do there! Whether you're looking for a place to go camping, hiking, fishing, swimming, or just enjoy a scenic drive, Canyon Lake has something for everyone. The best part of the lake is definitely the east side where you'll find the Comal River flowing into the lake. This area is perfect for tubing or just floating around on a hot day. There are also several cliff diving spots on this side of the lake if you're feeling adventurous. If you're looking for a more relaxing experience, the west side of the lake has calm water perfect for swimming and stand-up paddle boarding. No matter what you're looking for, Canyon Lake is sure to have something for you!
Can you swim in Canyon Lake?
Absolutely. Visitors can swim, fish, and boat in the lake, and there are also a number of beaches where people can relax and soak up the sun. In addition, there are several hiking and biking trails around the lake, making it the perfect place to explore the great outdoors. 
You might also like: