Jacksonville is one of the most populous cities in Florida. They are famous for their one-of-a-kind attractions, both on land and in the water.Guests are treated to numerous activities while on vacation or a quick break.
While enjoying a casual stroll through the city, tourists are encouraged to savor some of the tasty dishes served at their local restaurant. Get a taste of what the East Coast cuisine is like. To get an idea of where to eat for your breakfast meals, here is a list of some of the best places to eat in Jacksonville.
Maple Street Biscuit Company – San Marco
Established in 2012, Maple Street Biscuit Company is considered a community store among the locals. Aside from serving delicious breakfast meals, they also produce their own coffee, making it the perfect partner for guests who are coffee enthusiasts.
Best Breakfast in Pittsburgh
Their popular dishes are the Five & Dime and the Iron Goat.
The Five & Dime is served with fried chicken strips, pecanwood smoked bacon, cheddar, a fried egg, and housemade sausage or shiitake gravy with a kick.
Iron goat is served with a flaky biscuit and a fresh goat cheese medallion topped with sauteed spinach.
Menu: Maple Street Biscuit Menu
Top Review: "I didn't know what I was expecting to get into coming here but boy was I impressed! I ordered the five and dime biscuit sandwich  without bacon but an extra egg and a side of the potatoes with cheese and onions and peppers! It was absolutely phenomenal!!! I highly recommend to everyone. I will be returning soon to this Gem in San Marco." – Elijah N.
2004 San Marco Blvd Jacksonville, FL 32204, (904) 398-1004
Le Petit Paris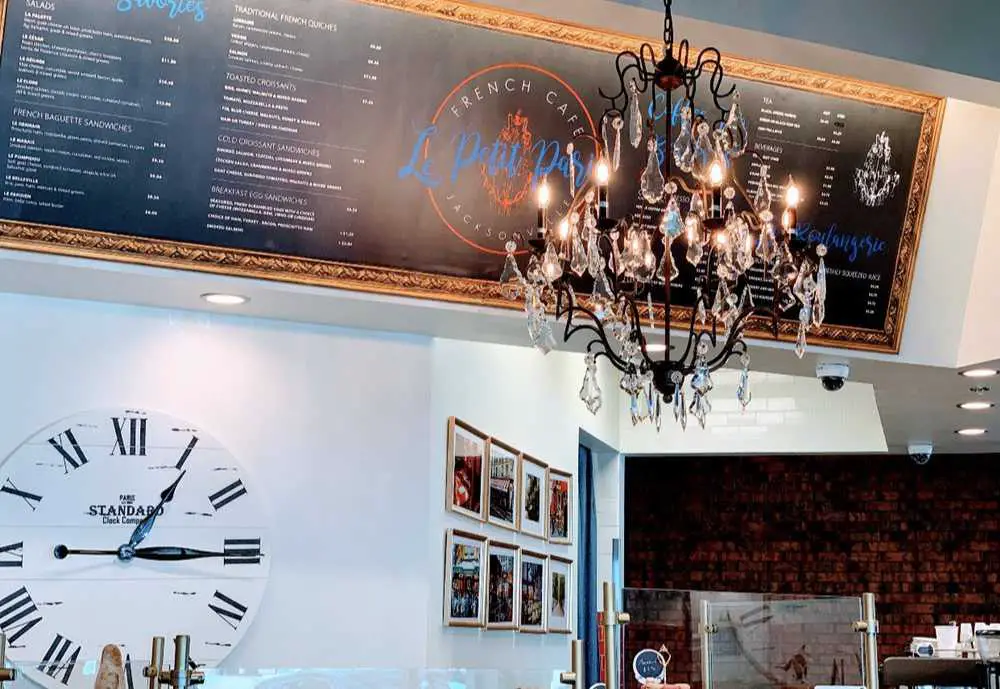 Dining at Le Petit Paris will expose its guests to the sights, sounds, and smells of a traditional Parisian cafe.
Guests will experience a delightful time with their friends over breakfast.
Guests can try Breakfast Egg Sandwiches or Cold Croissant Sandwiches. Breakfast Egg Sandwiches are served with seasoned fresh scrambled eggs and a choice of cheese: mozzarella, brie, swiss, or cheddar.
Cold Croissant Sandwiches are served with smoked salmon, tzatziki, cucumber, and mixed greens. 
Menu: Le Petit Paris Menu
Top Review: "Went with a friend for a celebratory engagement brunch. Y'all. Absolutely amazing. One of my favorite spots now. We got the mozzarella board, the la pallete and the le germain . She also got their seasonal mimosa and I did their rose cider. The ingredients were just so fresh and the flavors were incredible, yet so simple. It is just quaint and cute and the quality for what you pay is just top notch. The service is also fantastic, the staff was friendly and accommodating. Highly recommend." – Megan A.
9965 San Jose Blvd Ste 46 Jacksonville, FL 32257, (904) 544-4234
Jax Beach Brunch Haus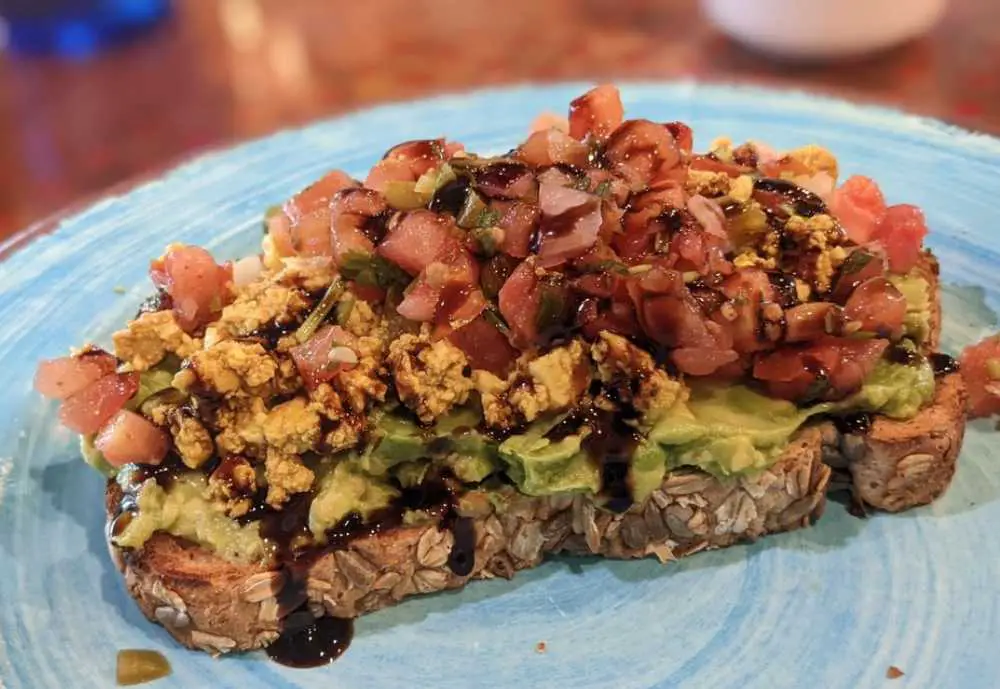 Jax Beach Brunch Haus is considered a local hotspot. For guests who are looking for a local place to hang out for breakfast, this is the best place to be. They serve breakfast daily.
For basic breakfast meals, try their Shrimp + Eggs + Grits, which is served with white cheddar ground grits, two eggs, grilled or blackened shrimp, Texas smoked bacon crumbles, green onions, and parmesan.
Try their Split Open and Melt for a healthier breakfast option, which includes a poached farm fresh egg in an avocado with cheddar cheese and topped with house-made Pico de Gallo, served with a side of fruit and your choice of bread.
Menu: Jax Beach Menu
Top Review: "Still love this place.  I love when I go somewhere for the first time and it's amazing and then when I go back, it's still the same.  Consistency and quality are key.  Unfortunately, on this day, after placing our drink orders the power went out for the whole street.  We were happy to enjoy our Just Like Heaven and Paradise City drinks while waiting.  The amazing part was that the owner who sings opera beautifully, decided to serenade us while playing piano to pass the time.  Loved listening to him.  Sadly the power did not come on as quickly as expected but we still enjoyed our drinks and the entertainment and will surely return." – Tara G.
610 3rd St S Jacksonville Beach, FL 32250, (904) 945-4287
The French Pantry
The French Pantry offers a diverse menu of exceptional options, with a focus on delectable handmade breads and devilishly decadent sweets.
Fresh ingredients are used throughout. The restaurant is committed to using the best ingredients rather than low-quality products.
For brunch, try their popular sandwich, the Bang Bang Shrimp Po Boy, which is served with tempura fried shrimp tossed in Bang Bang sauce, provolone cheese, onion, tomato, 1000 Island, and spring mix with balsamic vinaigrette on a hoagie roll.
Guests can also try their Cajun Bruschetta, which is served with andouille sausage, shrimp, jalapeno, fresh mozzarella, green onions, and garlic butter.
Menu: French Pantry Menu
Top Review: "This is the best lunch spot in the city.  If you don't agree, fight me 🙂 my only regret is always filling up on fresh bread before the meal comes.  Additionally, don't leave without splitting the wedding cake with company.  It's fantastic.  I promise you won't eat the rest of the day and will want a nap afterwards." – Tom C.
6301 Powers Ave Ste 1 Jacksonville, FL 32217, (904) 730-8696
Biscottis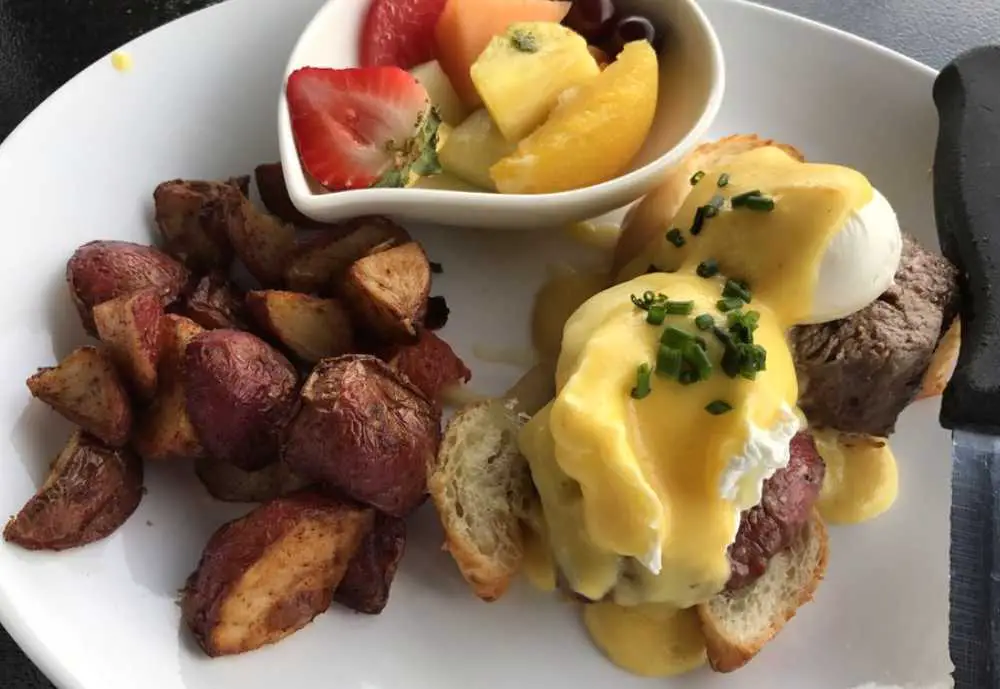 Situated along the Avondale and Riverside dining areas, Biscottis is a quaint bistro-style restaurant and bar.
They specialize in artisan cocktails, some of Jacksonville's best desserts, and unique American food blended with Southern charm. 
Tourists that are craving something sweet for breakfast can try their Creme Brulee French Toast. It is topped with orange-honey mascarpone cream, maple serum, and two sides.
Try their Steak Medallion Benedict if you're craving meat for breakfast. It is served with beef medallions on a mini croissant topped with gruyere, poached eggs, citrus hollandaise, and two sides. 
Menu: Biscotti's Brunch Menu
Top Review: "Let me start by saying the food is so freaking good here. I had the Cajun seafood Benedict and my husband got the sweet potato pancakes, we both agreed he Benedict was better. My friend who has been here a bunch said the crème brûlée French toast is better then the pancakes, so we will try that next time." – Tabitha S.
3556 St John's Ave Jacksonville, FL 32205, (904) 387-2060
Ida Claire
Ida Claire is a creative, fresh restaurant with southern-style scratch cuisine and an international flair.
They offer handcrafted cocktails to their guests, who are looking forward to unwinding and relaxing.
Guests can try some of their popular dishes, such as Short Rib & Potato Hash or Shrimp & Grits.
Short Rib & Potato Hash is served with shredded short rib, southern potato hash, kale, pickled Fresnos, Tabasco hollandaise, and sunny-side eggs.
Shrimp & Grits is served with grilled Gulf shrimp, bacon, gristmill asiago grits, and low country piquant cream.
Menu: Ida Claire Brunch Menu
Top Review: "This is probably one of my new favorite places. The atmosphere was adorable, the staff was friendly, and everything was delicious! My husband and I both got a cocktail, they were strong. He ordered the chicken and waffle and I got the monte Cristo. Both were wonderful, I especially loved the homemade chips with mine. We were super tempted to try the duck nachos which our waitress recommended but will definitely be back for them." – Amanda T.
10209 Rivercoast Dr Jacksonville, FL 32246, (904) 326-1900
Southern Roots Filling Station
Southern Roots Filling Station is perfect for tourists who are looking for plant-based menu options. Their entire menu is vegan and gluten-free.
Try their Bagels and Biscuits like Avocado-Cream Cheez Bagel. It is served with Shakti cashew cream cheese with avocado, pickled onions, and capers, a side salad, or chips. You can also try their Protein Bowl, served with quinoa, chickpeas, avocado, sprouts, and hemp ranch.
Menu: Southern Roots Menu
Top Review: "A perfect spot for vegan breakfast!! Had a delicious latte and ordered the avocado toast. The toast was pretty big and loaded with paprika which I loved. 1000% coming back here for the tofu scrambled I saw the person next to me eating. There were a couple of tables outside." – Nina L.
Metro Diner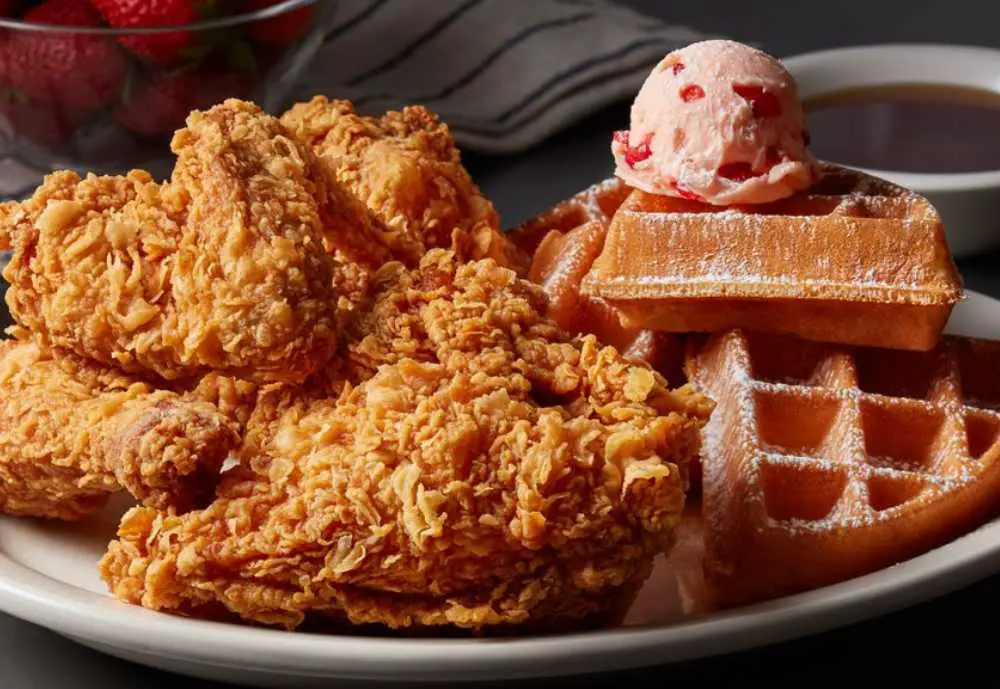 Considered one of the best local restaurants in Jacksonville, Florida, Metro Diner is known for its familiar comfort food dishes. They have a unique take on creating classic Southern food that guarantees its guests a delicious breakfast experience. 
Fried Chicken & Waffle and Steak & Scramble Bowl are two of their most popular dishes.
Fried Chicken & Waffle is served with a half-fried chicken and a Belgian waffle, topped with powdered sugar and sweet strawberry butter, and their signature sweet and spicy sauce.
The Steak & Scramble Bowl is served with seasoned sirloin steak, scrambled eggs, and roasted grape tomatoes over hash brown potatoes and drizzled with hollandaise sauce.
Menu: Metro Diner Menu
Top Review: "Absolutely incredible. Eggs Benedict was perfectly cooked, all fresh, with bacon done exactly the way I like it. The service was just excellent. Probably the best service we've had in all of Florida in the past two years. Would come here every day if we lived closer." – M.M.
3302 Hendricks Ave Jacksonville, FL 32207, (800) 597-2943
---
Jacksonville offers a lot of menu options that fit the taste buds of all its guests, tourists, and even the locals. So, head out to some of these notable breakfast spots and enjoy a healthy meal to start your day.
You might also like: