If you're a burger fanatic, then you're in luck because Jacksonville, Florida, is home to some of the best burgers in the entire state. Whether you're a local or just passing through, you won't want to miss out on these mouthwatering creations. From classic cheeseburgers to unique and creative combinations, the best burgers in Jacksonville, Fl are sure to satisfy! Join us as we take a deep dive into the top burger spots in this vibrant city and discover what makes each one a must-try.
Carolina Jax
Carolina Jax is a food truck that was founded in late 2016 in Jacksonville, Florida by Anthony Bushee. The idea behind the food truck was to bring a taste of the Carolinas to Florida and serve regional foods that Bushee grew up with. Carolina Jax quickly gained popularity in Jacksonville, winning several local awards for their Angus smash burgers.
Visitors from all over the region, including as far south as Miami, come to taste the burgers, which are continuously labeled the best in Northeast Florida. In 2019, Carolina Jax won the People's Choice award at Burger Beast's Hamburger House Party competition in South Florida, earning them a spot at exclusive food festivals such as Rachel Ray's Burger Bash in 2020 and Bobby Flay's Burger Bash in 2021 as part of the Food Network South Beach Wine and Food Festival.
Carolina Jax prides itself on the quality and craftsmanship of their burgers, using only the best Certified Angus Beef, local buns, and fresh produce from Florida. Carolina Jax is a must-visit for anyone looking for some of the most outstanding burgers in Jacksonville!
Menu: Carolina Jax Menu
Top Review: "The Best Burgers in Jax! My Friend and I had the "Riverside Burger" & the "Charleston Burger". The jam on the the Riverside burger was sweet & a good mix with the savory components. The Charleston Burger had rich pimento cheese on it. Very good Burgers! We had the Reese's  milkshake also. It was smooth & sweet, just like a Reese's Cup! We split the Mountain Fries and still had plenty of them left over. Ask for extra Cajun ranch to dip them in!" – Jessie J.
Burger Barn Grill
Burger Barn Grill is a locally owned and operated restaurant in Jacksonville, Florida, specializing in fresh-made-to-order burgers. The restaurant was founded by Steven Decosta and his son Ryan, who opened their first location in The Avenues mall food court five years ago.
Since then, they have expanded to a second location in Baymeadows Park, and have gained a reputation for serving specialty burgers that are both delicious and affordable.
The menu features a variety of burgers, including classic cheeseburgers, bacon burgers, and even a plant based Beyond Burger. In addition to burgers, the restaurant also serves sides like fries and onion rings, as well as milkshakes and other desserts. Customers praise the restaurant for its friendly service and high-quality food, making it a popular destination for burger lovers in the Jacksonville area.
Menu: Burger Barn Menu
Top Review: "I was staying in the new hotel behind the restaurant and was looking for a quick bite for dinner and came across this place! Customer service was good and staff were friendly even recommended the southwest burger which I ordered along with a side of fries. The fries were really good and I enjoyed the burger, especially the sauce. It was about an hour before closing so it was not crowded and the wait time wasn't bad at all. I will be back to try a different burger for sure! The restaurant was clean and had a nice aesthetic." – Tameko G.
Relish Big Tasty Burgers
Relish Big Tasty Burgers in Jacksonville, Florida is a must-visit destination for burger lovers. With over 100 reviews on Yelp, this burger joint has built a reputation for serving up some of the best burgers in town.
The menu boasts a variety of options, including the popular Double Tasty burger and the Turkey Burger. Guests can also indulge in delicious milkshakes to round out their meal. With democratic prices for the quality of food, Relish Big Tasty Burgers is a great spot for a casual lunch or dinner.
The friendly staff is always ready to help and make guests feel welcome. Whether you're a local or a tourist, Relish Big Tasty Burgers is a place you won't want to miss.
Menu: Relish Big Tasty Menu
Top Review: "This is one of the best, juiciest, tasting burgers I've had in Jacksonville! First time here and will definitely be back. My husband described it as a chipotle for burgers lol. Seriously the best build a burger bar I've been to." – Blair C.
Epik
Epik Burgers is a must-visit restaurant in Jacksonville, Florida, known for its delicious burgers, fries, shakes, and beer. With over 40 different burgers on the menu, including gluten-free options and vegan options, there is truly something for everyone.
The Korean burger is a fan favorite, with its perfect blend of sweet and spicy flavors. Customers love the tender and juicy medium-cooked beef, and the restaurant's authentic yet nostalgic atmosphere.
Got a sweet tooth? Try the Ghiradelli Chocolate shake, and if that isn't enough, grab a Nutella shake. You're welcome!
It has been named the best burgers in Jacksonville by Jacksonville Restaurant Reviews, and for good reason. Get to Epik Burgers for some of the best burgers in Jacksonville, Fl.
Menu: Epik Menu
Top Review: "Delicious!  Place was packed at 1pm on a Saturday, you know it's gonna be good right?!  Options are truly endless for their burgers and for their fries.  You can order for yourself at the kiosk or go up to the counter and place your order.  Staff was very friendly and food was super tasty and perfectly cooked! A new favorite for this family!" – Tara K.
One Twenty Three Burger House
One Twenty Three Burger House is a must-visit restaurant in Jacksonville, Florida for burger lovers. With a focus on classic flavors, this restaurant serves up simple yet delicious burgers that are perfect for the whole family.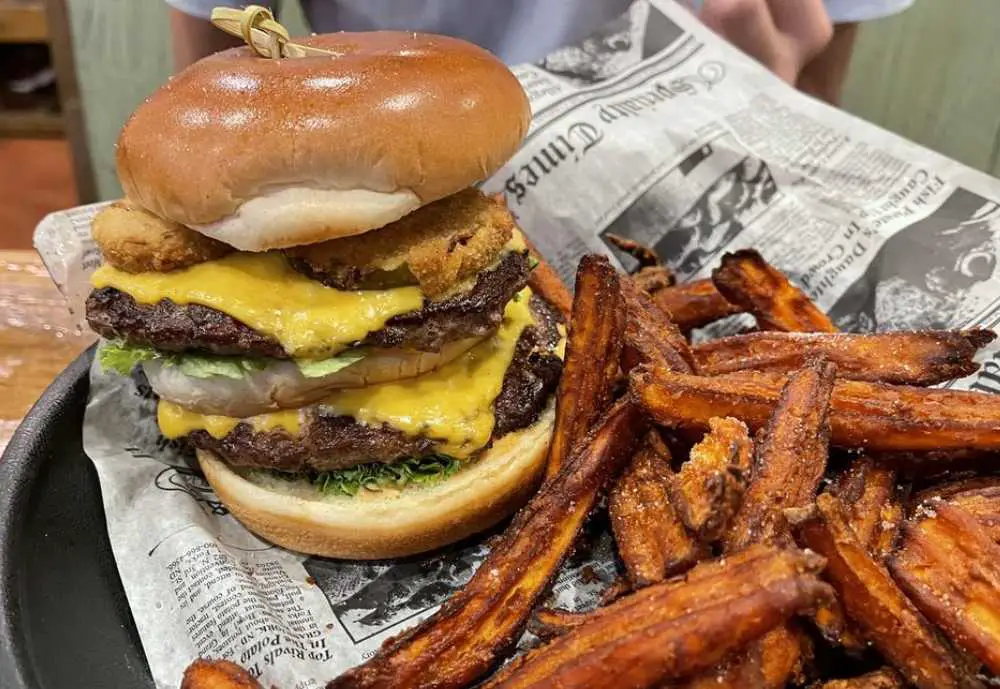 According to a review by the Florida Times-Union, the service is prompt, attentive, and friendly, making for a comfortable dining experience. Additionally, Nicelocal.com has 16 positive reviews from visitors, praising the location, directions, and contact details. If you're looking for the best burgers in Jacksonville, look no further than One Twenty Three Burger House.
Menu: One Twenty Three Menu
Top Review: "Holy cow! Pun intended! Jack steered us in the right direction! The mozzarella appetizer is to die for! They have Ancient City Brewery on tap here as well!! #SupportLocalBusiness have to love the love! My wife ordered the King Street classic and upgraded to Bison! One of us got fries and the other got onion rings. I ordered the Sammys Ribeye Sammich! Dinner was amazing! Will 100% be back to explore more of the menu!" – Robert M.
You might also like these articles:
best burgers in jacksonville, burgers jacksonville fl