Looking for the best burgers in Memphis? Look no further! Memphis is known for its delicious barbecue, but it also has some of the best burgers in the country. From classic cheeseburgers to unique creations, Memphis has something for everyone. In this blog post, we'll take a look at some of the best burger joints in Memphis and what makes their burgers so special. Get ready to drool!
Elwood's Shack
Elwood's Shack is a must-visit spot for burger aficionados looking for the best burgers in Memphis. Their 1/2 lb certified Angus burgers are dressed with lettuce, tomato, pickle, onion, mayo, and mustard, making for a classic and delicious burger experience.
In addition to their classic cheeseburger, Elwood's Shack also offers bacon cheeseburgers and patty melts. The portions are generous, and the burgers are cooked to perfection.
Visitors rave about the burgers, calling them some of the best in Memphis. If you're a burger lover, Elwood's Shack is a must-visit spot in Memphis.
Menu: Elwood's Shack Menu
Top Review: "The perfect version of a small town restaurant in a big city. Staff was so friendly and even offered me a drink while I waited for my order which was very speedy. Their menu is extensive and has something for everyone. I got two bacon cheeseburgers (one for my boyfriend). Those burgers are HUGE! And is definitely one of the best burgers I've ever had. My boyfriend would rave after every bite about how fantastic it was. I can't wait to try more of their menu. There aren't very places where I have absolutely nothing bad to say, and this is one of them." – Ally H.
4523 Summer Ave Memphis, TN 38122, (901) 761-9898
Belly Acres at Overton Square
Belly Acres in Overton Square, Memphis, Tennessee is known for serving up massive – and massively delicious burgers with local flavors.
According to 10Best, it is one of the best restaurants in Memphis. Enjoy the unique interior, particularly the video wall which displays a corn field!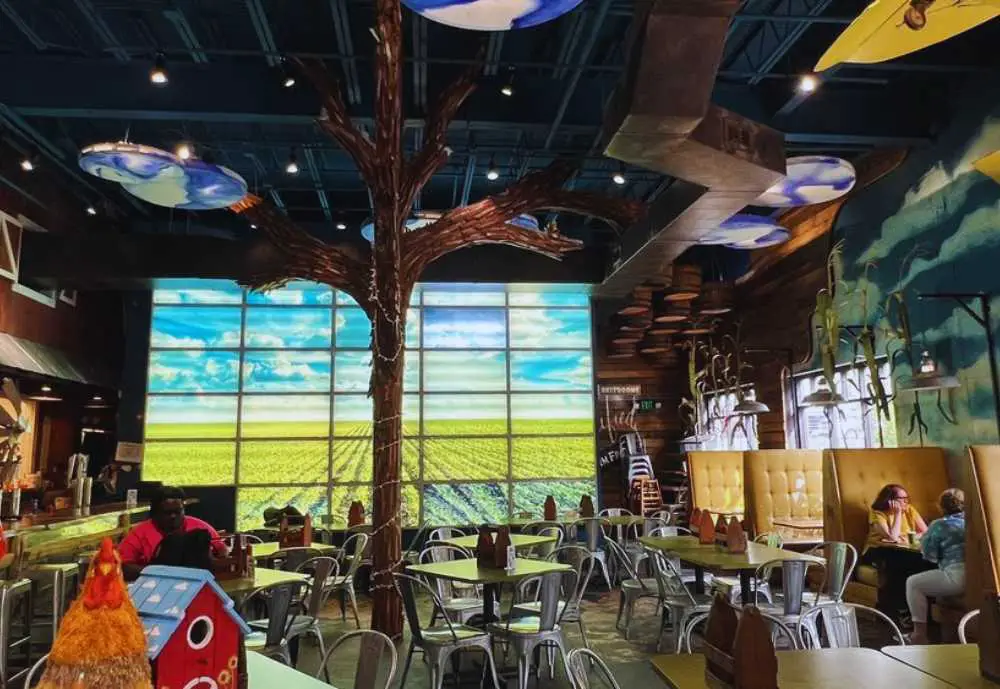 Visitors on Yelp and Restaurant Guru have given Belly Acres high ratings and positive reviews for their burgers, salads, fries, and fried pickles with spicy ranch. The restaurant also has vegan and veggie options. Try them out for some of the best burgers in Memphis!
Menu: Belly Acres Menu
Top Review: "A place I've been wanting to try in Overton Square, and glad I finally did! The inside is wonderfully decorated to a farm theme, which was super cute. You order at the cashier and pick a table. Everything was crafted to the theme, even the table number holders! I got the Belly Acre burger because I like the heat. And this burger brought it! The patty was cooked liked I wanted it, and all the ingredients were fresh. There are multiple signature burgers to choose from, as well as chicken sandwich options, vegan burger options, and even a make your own! You can't go wrong." – Sonali D.
2102 Trimble Pl Memphis, TN 38104, (901) 529-7017
Roxie's Grocery
Roxie's Grocery in Memphis, TN, established in 1986, is known for its delicious burgers, particularly the famous Roxie's burger. Visitors rave about the juicy, savory, and succulent burgers that are more than enough food for one person.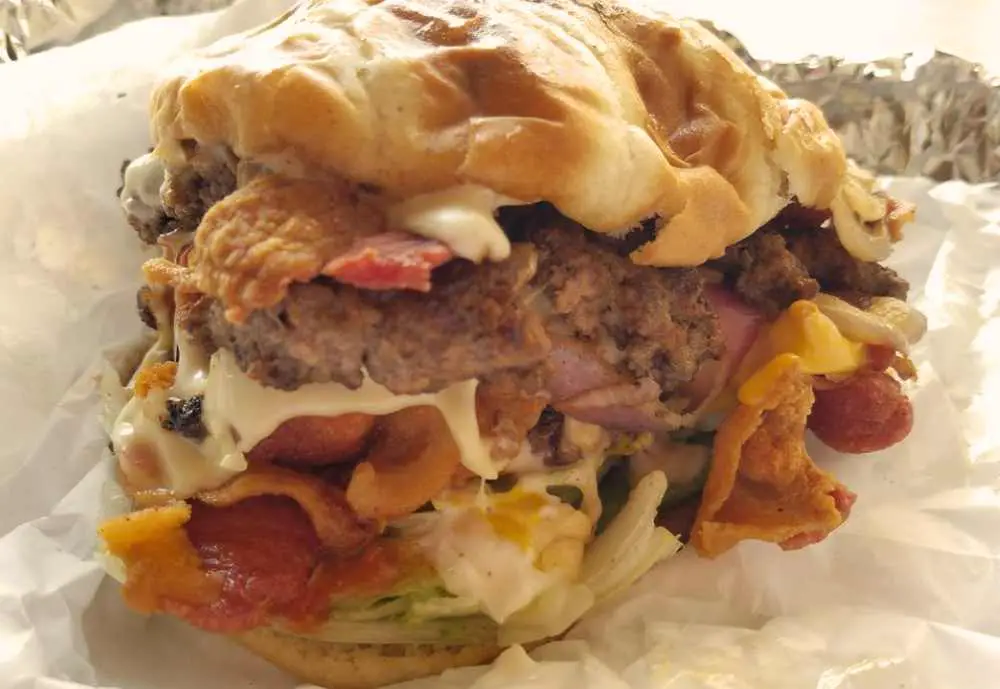 The American cheese on the burger is said to be extra melty, making it a mouth-watering treat. Reviews also mention the Mr. Good Burger, which features two patties, four strips of bacon, and some super melted cheese. Easily some of the best burgers in Memphis can be found at Roxie's.
Menu: Roxie's Menu
Top Review: "I always wanted to try their burgers because I hear how good they are. This is a small corner grocery store with a grill in the back. Food is takeout only. I ordered a double cheeseburger with everything. It was absolutely delicious!  I've eaten burgers all over Memphis and this has to be in the top 5!" – Mark S.
520 N 3rd St Memphis, TN 38105, (901) 525-2817
HopDaddy Burger Bar
Hopdoddy Burger Bar in Memphis, Tennessee is a great spot for burger lovers. They offer a wide range of burgers to choose from, including vegan options, so there is something for everyone. In addition to their delicious burgers, they also have a nice bar area and patio dining, making it a great place to hang out with friends or family.
While they are on the pricier side, many customers believe that the quality of the food and service is well worth it.
So, if you're looking for a tasty burger in a great atmosphere, Hopdoddy Burger Bar in Memphis is definitely worth checking out!
Menu: HopDaddy's Menu
Top Review: "I came to these place twice already and the food is so delicious. I love getting the classic burger with double American cheese, extra bead patty, and bacon on it and also the regular fries as well. I ordered my food and brought my fries fast and fresh as well with my classic burger." – Visual W.
4584 Poplar Ave Memphis, TN 38117, (901) 683-0700
Memphis Mojo Cafe
The burgers at Memphis Mojo Cafe in Memphis, Tennessee are made from ground angus, sirloin steak, and brisket, which gives them a unique and delicious flavor.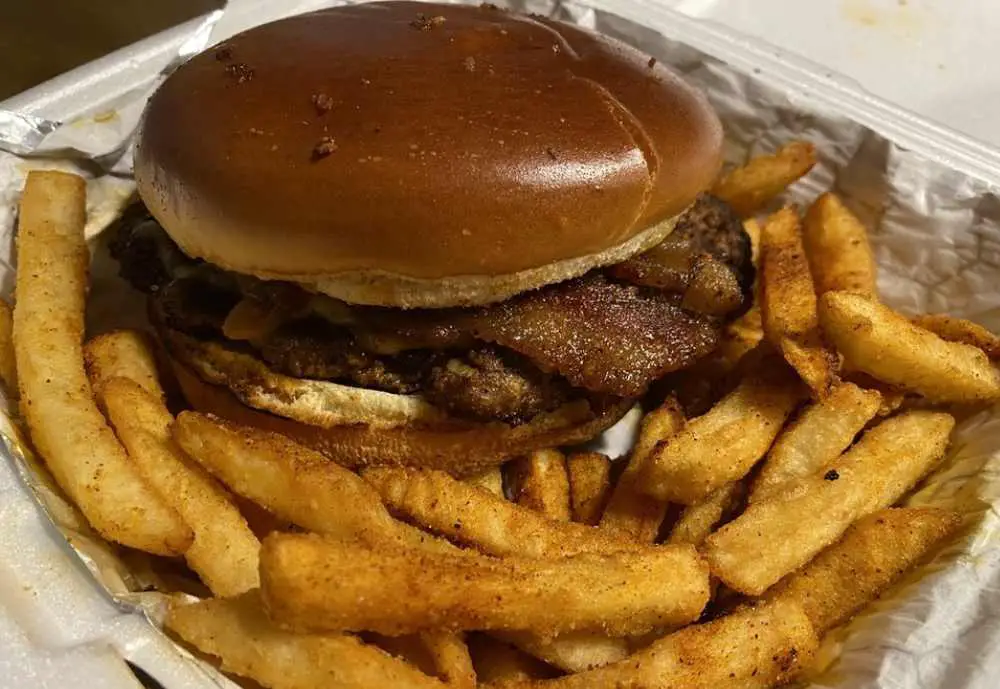 According to a review on Yelp, the burger was cheesy, had a lot of flavor, loved the smokiness, juicy and the bun was buttery. Another reviewer on Tripadvisor claimed that the burgers were "juicy, seasoned and amazing."
With such positive reviews, it's safe to say that the burgers at Memphis Mojo Cafe are a must-try for anyone visiting Memphis.
Menu: Memphis Mojo Menu
Top Review: "Enjoyed a delicious lunch here today with my husband. The food was so good and tasted so fresh. It's so much more than just another burger place. There were several other options on the menu. The staff was friendly, and the service was top notch. We were really happy to support a local establishment. It was a great experience. I highly recommend eating here." – Sally P.
7124 Hwy 64 Ste 101 Bartlett, TN 38133, (901) 207-6041
There you have it, folks! Memphis is a burger lover's paradise, and we've only scratched the surface of the city's delicious offerings. From classic cheeseburgers to unique creations, Memphis has something for everyone. Whether you're a local or just passing through, be sure to add these burger joints to your must-visit list. Bite into a juicy patty, enjoy the bluesy tunes, and take in the sights of Memphis. It's a burger experience like no other!
You might also like these articles:
best burgers in memphis, burgers in memphis, best burgers in memphis tn