Good morning, Sunshine!
Breakfast lovers rejoice, because Savannah's breakfast game is one of the strongest in the country, as you are about to find out.
Whether you are looking for a killer breakfast at an old school diner, or something more modern, it's all here. Let the fine folks who run these help get your day started right! Bon appetit!
B Matthews Eatery
B Matthews Eatery offers Southern staples and vegetarian-friendly options for brunch.
They have a little something for everyone, and even those who aren't into veggies would love their healthier alternatives.
They've got best-sellers like the fried green tomato and crab cake benedict, eggs benedict, lamp post breakfast, and chicken and biscuits. And, of course, brunch isn't complete without a few mimosas!
Menu: B Matthews Menu
Top Review: "This place was absolutely amazing! They don't do reservations on the weekends, but make sure to call them to get on the waitlist. Everything we got was so delicious! I don't even remember what i got, but i feel like you can't go wrong with anything! Especially their biscuits! And our waitress was super awesome" – Zoe S.
325 E Bay St Savannah, GA 31401, (912) 233-1319
The Collins Quarter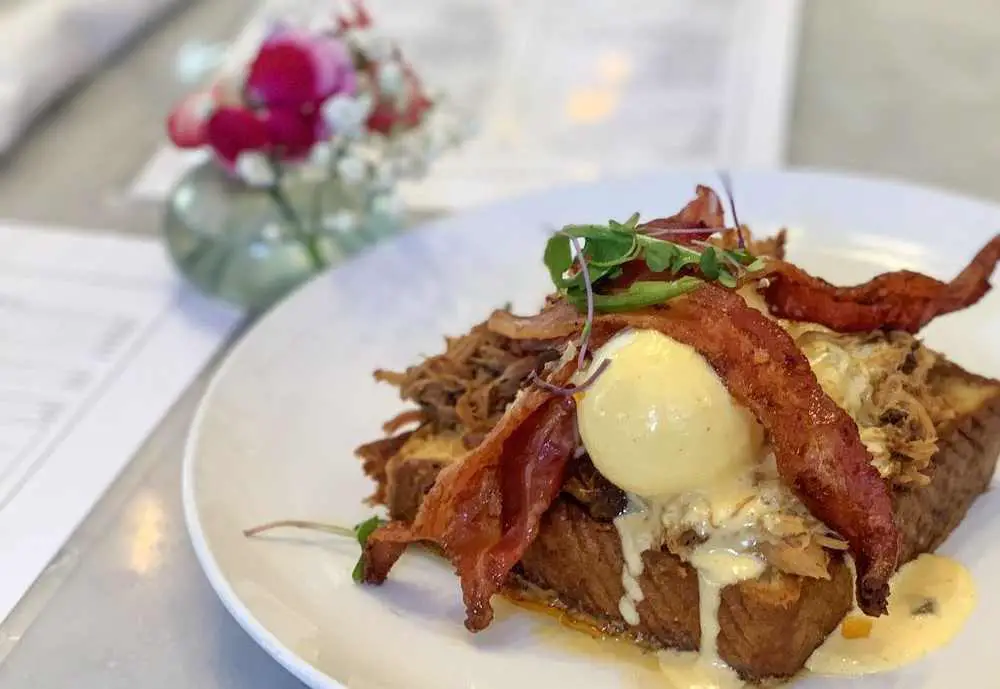 The Collins Quarter is a popular spot for the locals, with multiple locations in Savannah.
Their Australian-inspired menu gives you a little something different to start your day. They are best known for their Sunday brunch items, and their drinks, too, offer a mix of cocktails and excellent coffee.
Some must-try include banana's foster brioche French toast, avocado smash, swine time beni, and eggs benedict.
Menu: Collins Quarter DT Menu
Top Review: "We drove through Savannah on our ay to North Carolina. We just googled a breakfast place and this popped up. The vibe inside was very nice and the waiters and waitresses were very attentive. We noticed business men and women on their laptops while enjoying breakfast. My husband even opened his up for a few to take care of a few emails.  I think it's great they can do that. We thoroughly enjoyed our breakfast and the ambiance there. We highly recommend." – PJ L.
151 Bull St Savannah, GA 31401, (912) 777-4147
Café M
Another one of the best breakfasts in Savannah is this Parisian-inspired cafe. Aside from the excellent French pastries, they do eggs well with a popular scrambled egg sandwich.
The charming café also has indoor and outdoor seating with a variety of baked goods. Try their chocolate croissant or croissant sandwich.
Finally, you can pair your coffee with a light breakfast sandwich.
Menu: Cafe M Menu
Top Review: "I loved it. It's small, but so cute. And it doesn't need to be big to be AWESOME! There is a small seating area inside that is cozy. The aroma in this case is amazing seriously. You can smell the breakfast sandwiches being made and it's just heavenly. We got two breakfast sandwiches in butter croissants, a peanut butter and jelly croissants, banana and Nutella croissant, and two macarons. Everything was great. My favorite was the breakfast sandwich. I don't know what they do to those eggs but they are some of the best I've EVER had. And I'm not exaggerating. My boyfriend LOVED his peanut butter and jelly croissant. He wanted to leave with the flavor of it in his mouth lol. Didn't even drink anything after he ate it. Go here. Don't even debate it. You'll love it." – Christina N.
128 E Bay St Savannah, GA 31401, (912) 712-3342
Clary's Café
No best breakfast list would be complete without Clary's Café. This is absolutely one of the best breakfast places in Savannah and is beloved by locals.
Clary's Café is a cozy family-style restaurant that will give you Southern comfort food and generous portions of classic breakfast items.
This local favorite has also been a regular go-to for many actors who have filmed in the area previously. The stunning location of the café is a historic building that used to be a pharmacy.
Wondering what to order? Start your day with eggs benedict, crab cakes benedict, stuffed French toast, eggs benedict Florentine, or corned beef hash.
Menu: Clary's Menu
Top Review: "Friendly staff and delicious food. I enjoyed the crab cake eggs Benedict at the counter and I got the sticky pecan bun to go and it was delicious and tasted fresh even though I ate it the next day. Fun fact: A local who was getting take out told me that Clary's Cafe was in the movie based on the book Midnight in the Garden of Good and Evil. She also gave me the inside tip that I should ask to sit at the counter since the counter has faster turnover and guarantees a seat especially if you are a party of one. Clary's is yummy, belly full food that makes you feel nourished, loved and content. Thank you Clarys!" – Kristen L.
404 Abercorn St Savannah, GA 31401, (912) 233-0402
Goose Feathers Café & Bakery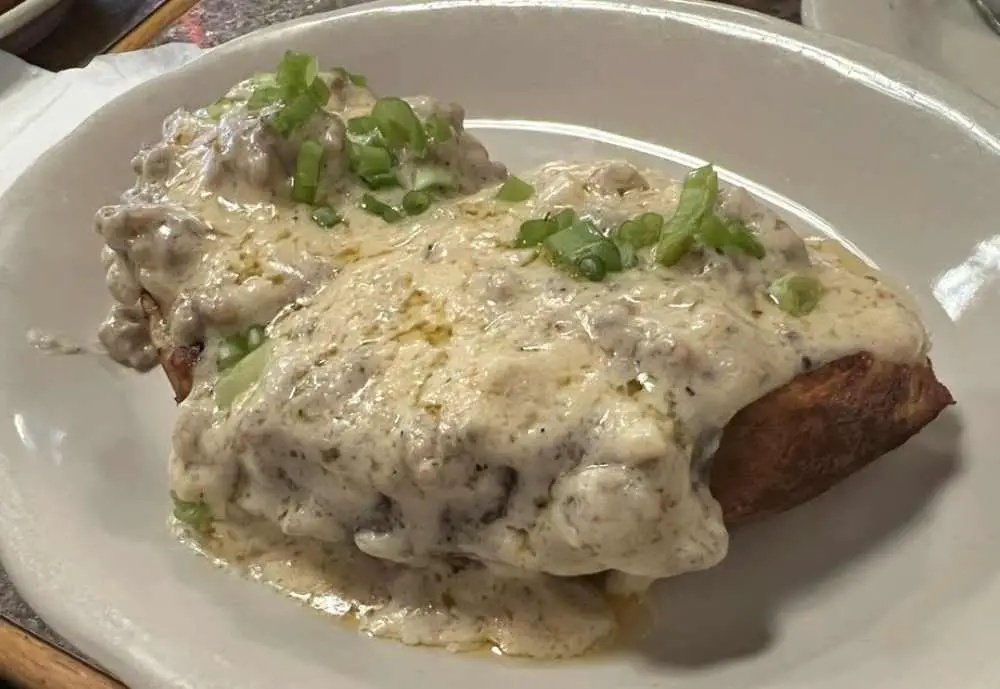 Goose Feathers is a café that marries American and French cuisine together. They have a little bit of everything, with baked bread and pastries made fresh every morning.
These are excellent breakfast picks; they have quick service and great food quality. It can get crowded during peak brunch hours, so time your visit well.
Some recommendations include eggs benedict, eggetarian, egg croissant, bird's nest, sticky bun, and breakfast panini.
Menu: Goose Feathers Menu
Top Review: "Oh my goodness. The J.P. Deluxe was heavenly deliciousness. I'm all about a good breakfast/brunch spot. I prefer places with a mimosa; however, we were driving for home, so staying sober was the smarter choice. When I tell you I thought about finishing the leftover waffle the entire drive home, it drove me crazy. I didn't have a utensil and had considered using the plastic lid. Highly recommend. Would go again." – Heather W.
39 Barnard St Savannah, GA 31401, (912) 233-4683
Maple Street Biscuit Company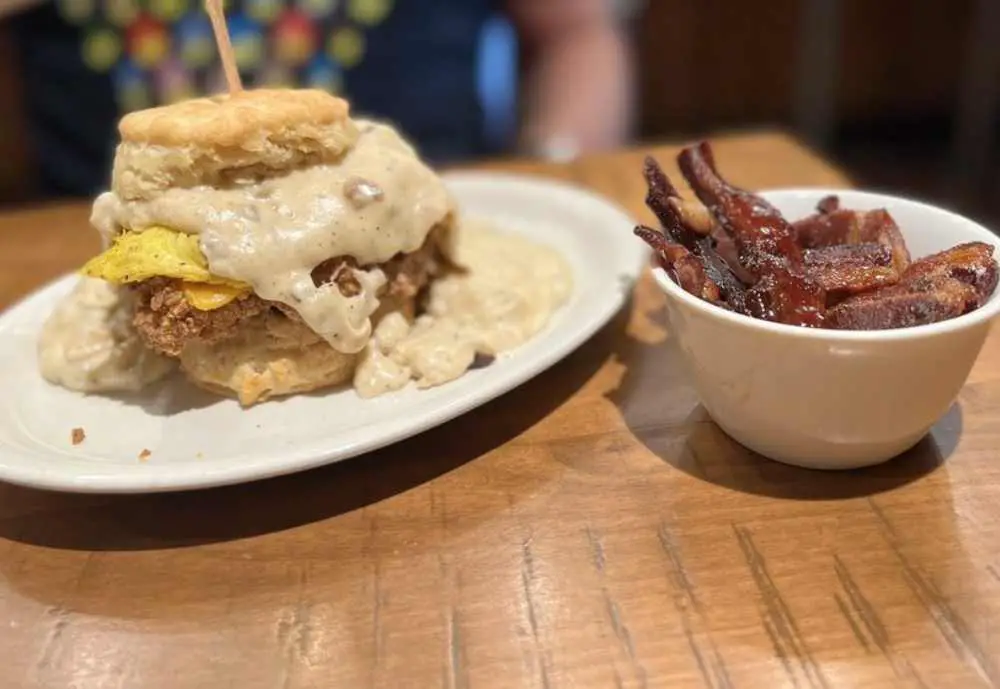 As the name implies, the biscuit has a great game here at Maple Street Biscuit Company. Their biscuits and biscuit sandwiches are the most recommended thing.
Aside from that, they deliver Southern comfort food and are one of Savannah's go-to breakfast and brunch spots.
You can try their five and dime, squawking goat, fried chicken, or sticky maple sandwich, and you won't be disappointed.
They are a cash-only establishment and have lots of seating with two floors.
Menu: Maple Street Biscuit Menu
Top Review: "A highlight of every one of my trips to Savannah! the Squawking Goat which was featured on Food Network is absolutely amazing. A true Southern biscuit and all the toppings are perfect with the chicken. Their ordering system is really unique since instead of calling names or order numbers, they shout out your answer to their quirky questions." – Allison T.
220 West Broughton St Savannah, GA 31401, (912) 349-7301
Huey's on the River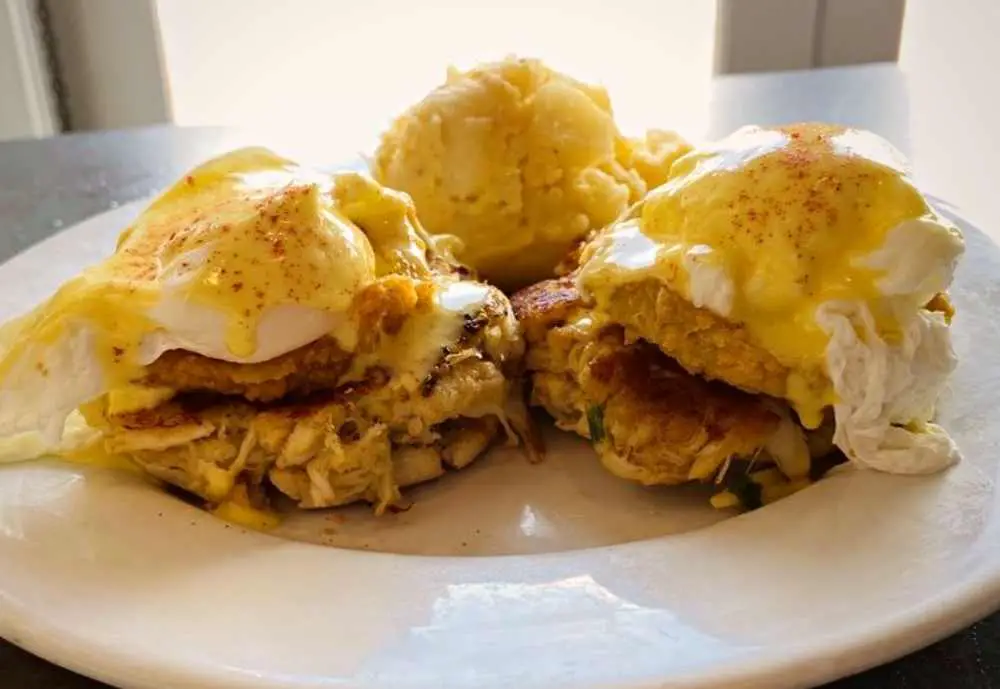 Huey's on the River has Cajun / Creole and Southern cuisine on the menu. The whole place has a great view of the river and a New Orleans vibe.
Spending some time here for breakfast can be a relaxing way to get energized for the day. As for their food, people say they've got delicious beignets that come out nice and warm and perfect.
They've got good portions of food, so you won't leave hungry. Some of their dishes you need to try are the crab cake sandwich, crab cakes, crawfish etouffee, pasta jambalaya, and of course, the beignets!
Menu: Huey's Menu
Top Review: "We had 1 hour to experience Savannah on our way into a tropical storm and chose Huey's – perfect decision. The food was truly mind blowingly delicious and the location oozed culture which is exactly what I was hoping for as a west coaster. Our server was a gem and very friendly." – Lisa H.
115 E River St Savannah, GA 31401, (912) 234-7385
Little Duck Diner
If you're looking for an all-day breakfast with good reviews, try the Little Duck Diner. Their style is striking with retro, vintage, and art deco aesthetics.
They even have those classic black and white tiles to add to the overall effect. And, of course, there are little ducks everywhere!
Visitors said this is also one of the best places for an Instagram shoot. Plus, they make any plate of food look too good to eat.
People recommend little duck in Paris, summer Thai tomato soup, Asian pork bowl, The Maxwell, and chicken and waffles. They also have good egg dishes, biscuits, and sausages.
Menu: Little Duck Diner Menu
Top Review: "Our first stop on our Savannah weekend had to be little duck diner! I chose the chicken and waffles. It was amazing and the syrup was a spicy syrup! It was so stinking good!! My husband got the breakfast biscuit sandwich. The sausage was delicious and the biscuit was nice and moist. Definitely loved it! Brody was our server and he was absolutely wonderful! Very attentive and great to talk to!" – Athena B.
150 W Saint Julian St Savannah, GA 31401, (912) 235-6773
---
Did we miss a spot that deserves to be mentioned? Shoot us an email at: [email protected] Thank you!
---
You might also like: