Looking for some of the best breakfast in San Luis Obispo? Perfect! San Luis Obispo, known for its picturesque downtown and proximity to the Central Coast's famous wineries, also boasts some of the best breakfast spots in California.
If you're in the mood for a hearty plate of eggs and bacon or a fresh smoothie bowl, you'll find it at one of these top breakfast restaurants in San Luis Obispo. So come hungry and get ready to start your day off with some of these best breakfast spots in San Luis Obispo!
Del Monte Café
Del Monte Café is a family-owned establishment that serves American comfort food. Their cafe has a cozy ambiance and an outdoor patio to get some vitamin D.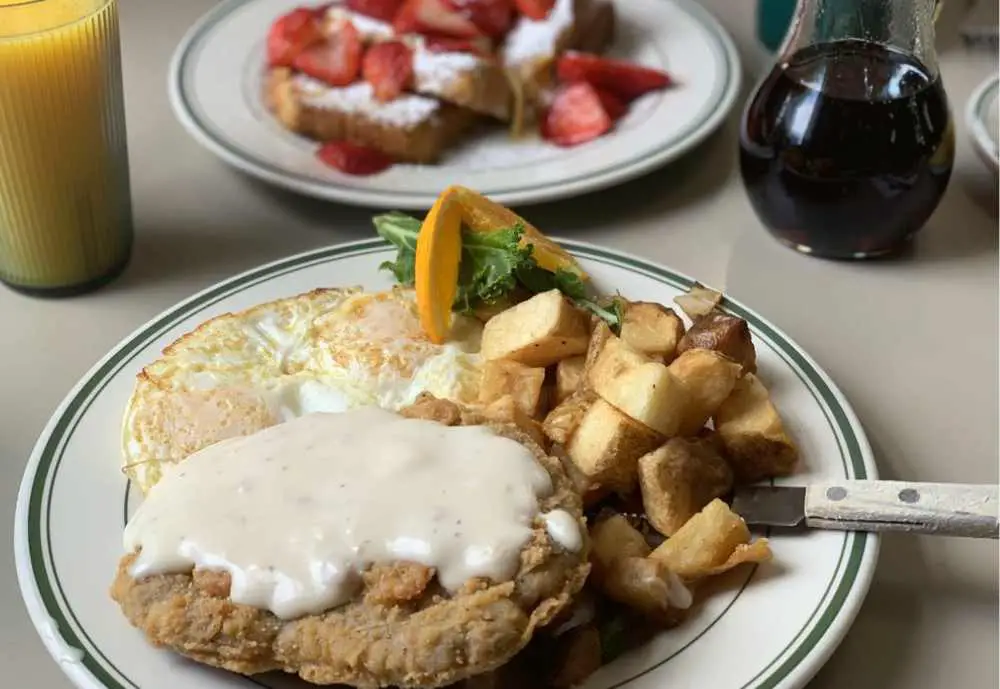 Some recommendations for this popular breakfast spot include: 
Menu: Del Monte Cafe Menu
Top Review: "Cute little place. Lots of outdoor seating and plenty inside too. All the staff were super nice and were able to accommodate us with a bigger table because we wanted the corner booth. The chorizo breakfast burrito was killer. I'd have that every morning if I could 🙂 and the French toast was awesome too!! I wish I had gotten one more refill of coffee…she forgot that I had asked but that's totally ok. She was awesome and friendly. Would come back and highly recommend." – Benjamin M.
1901 Santa Barbara St San Luis Obispo, CA 93401, (805) 541-1901
Big Sky Café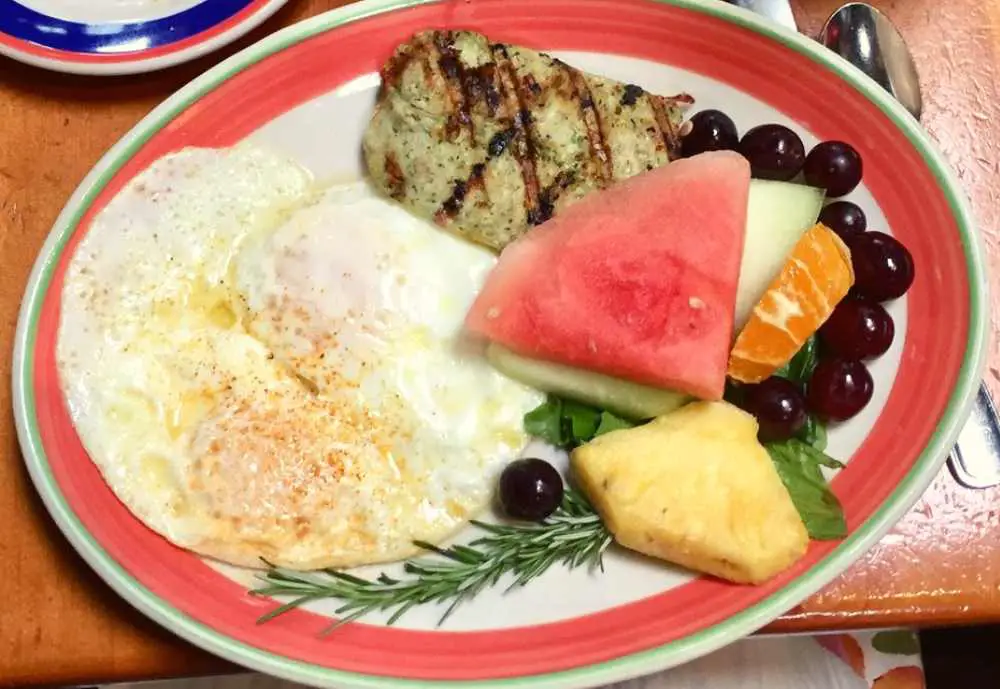 If you're looking for a spot you can feature on your Instagram, head to Big Sky Cafe. Their brick building and high ceilings are super aesthetic.
Plus, their plating is always fun and so pretty to look at. They've got healthy food options, wine, and fantastic egg dishes.
The local art decking the walls and occasional live music complete the experience.
For food, try their black bean huevos rancheros, breakfast burrito, or the delicious Devil's Mess.
Menu: Big Sky Cafe Menu
Top Review: "How can you not love this place!? It's truly local and appeases ALL diets. The servers treat you like family and the drink list is awesome The cost for 2 glasses of wine here is less than a single glass anywhere else in SLO." – KJ
1121 Broad St San Luis Obispo, CA 93401, (805) 545-5401
Louisa's Place Restaurant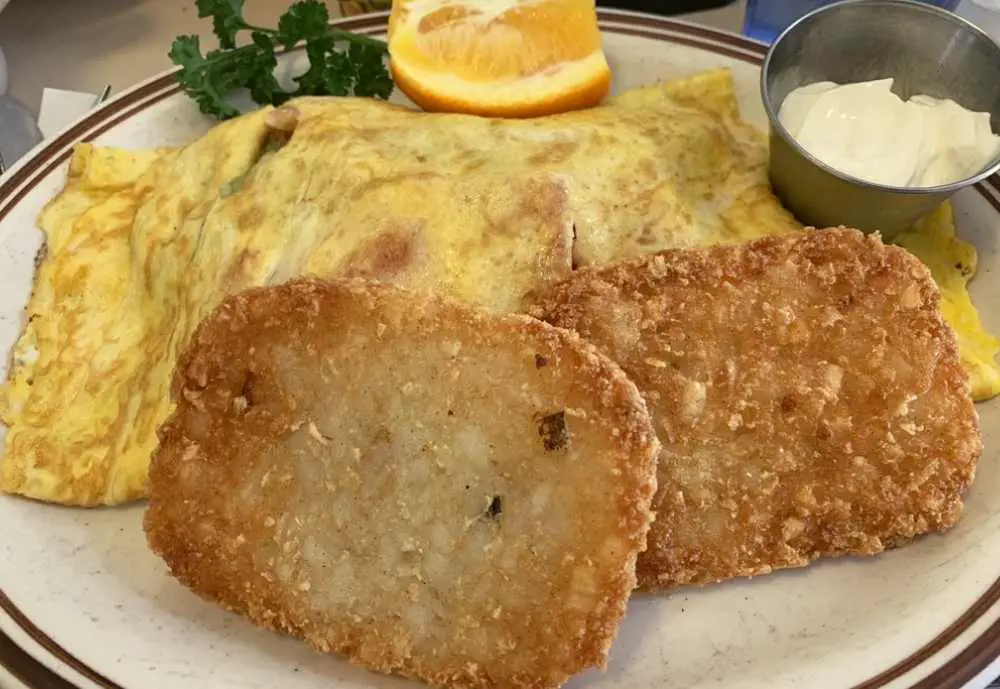 Louisa's Place is a homey, cozy diner with great service and is a special breakfast place in San Luis Obispo.
It's gotten popular over the years and has an extensive breakfast menu with its traditional American dishes.
Previous visitors recommend the French toast, country fried steak, breakfast burrito, huevos rancheros, and bacon waffle to try.
Menu: Louisa's Menu
Top Review: "This cozy spot has the best chicken fried steak outside of Texas. As a West Texan I can attest that the gravy is on point and the steak is not too thick and has a nice crispy interior with a juicy center. Highly recommend. Service was excellent and friendly. Have saved underneath one of my top ten diners in California!!" – Megan M.
964 Higuera St San Luis Obispo, CA 93401, (805) 541-0227
Splash Café
Splash Cafe is a small place with multiple locations around the city. Though small, they have an extensive menu of seafood and pastry dishes.
Their ingredients are always fresh, and they don't skimp on seafood.
Their best-sellers are the clam chowder, fish and chips, fish tacos, and calamari and chips.
Menu: Splash Cafe Menu
Top Review: "I had a fantastic customer service experience with the young lady cashier who was so helpful not just in taking my order and helping me decide on yummy breakfast options but with the attentiveness to help me find my way through SLO and its hiking trail options. She took the time with another coworker to look at the local transit website and get me more information on how to get to my preferred destination, such thoughtful young ladies. All staff that helped me this day from the server who delivered to me my egg/avocado omelette to the one who gave me my cold brew coffee and chocolate chip cookie and muffin made my whole experience at Splash Cafe a positive one. This cute cafe and bakery has fresh yummy pastry options daily and I enjoyed the chocolate chip cookie and muffin for $1 just because they were a day old but still very yummy." – Dannette R.
1491 Monterey St San Luis Obispo, CA 93401, (805) 544-7567
Scout Coffee Co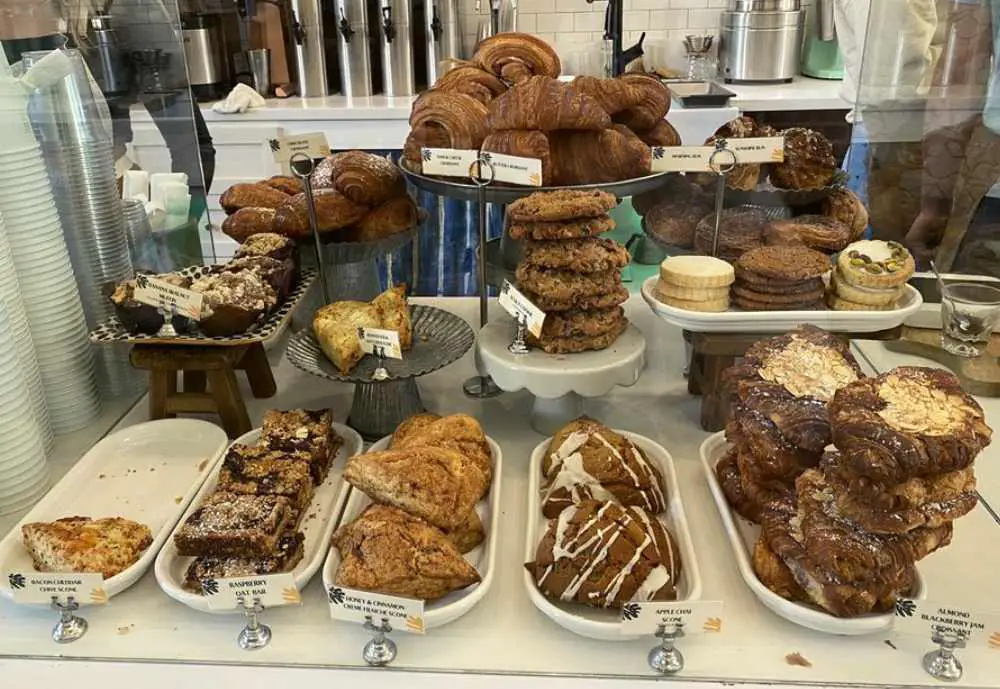 If you're a coffee lover, you'll love Scout Coffee Co. They are a specialty coffee shop perfect for your to-go coffees and baked goods.
They also have tea, house-made sodas, and milkshakes. Their freshly baked pastries are also a hit to all who come here.
People really highlight their coffee items, but any of the pastries (like the Liege waffle!) are great choices for breakfast.
Top Review: "We had the cinnamon breakfast bun the first day and our daughter ate 90%. The second day we got a whole bunch of stuff. The same breakfast muffin thing, the raspberry dark Choco scone and a honey cream fresh one. Then as we sat we saw someone bringing more stuff out from the back and asked . We were told to stay for the next batch of blueberry scone with almond streusel topping. Holy mole! Worth the wait. Not that three of us needed four pastries but it was worth it." – Brian O.
1130 Garden St San Luis Obispo, CA 93401, (805) 439-2175
Apple Farm Restaurant
Apple Farm Restaurant is known for its pastries and pies. They also have a home-cooked classic breakfast that satisfies their customers.
Their casual diner is a farm-to-table affair with ingredients sourced from the local community.
Their most talked about dishes include turkey pot pie, apple dumplings, eggs benedict, French toast, pot roast, and country fried steak.
The inn and restaurant have gotten mixed reviews since the pandemic. However, many assure the quality of their food is still as excellent as ever! Apple Farm has some of the best breakfast in San Luis Obispo, don't miss out!
Menu: Apple Farm Menu
Top Review: "This is the on-site restaurant for the Apple Tree Inn – they serve breakfast and lunch and had a wide variety of dishes.  I tried the French Toast and it was the perfect balance of fluffy and crisp.   The coffee is fresh and delicious and the staff is welcoming and efficient." – Holli D.
2015 Monterey St San Luis Obispo, CA 93401, (805) 544-6100
Bon Temps Creole Café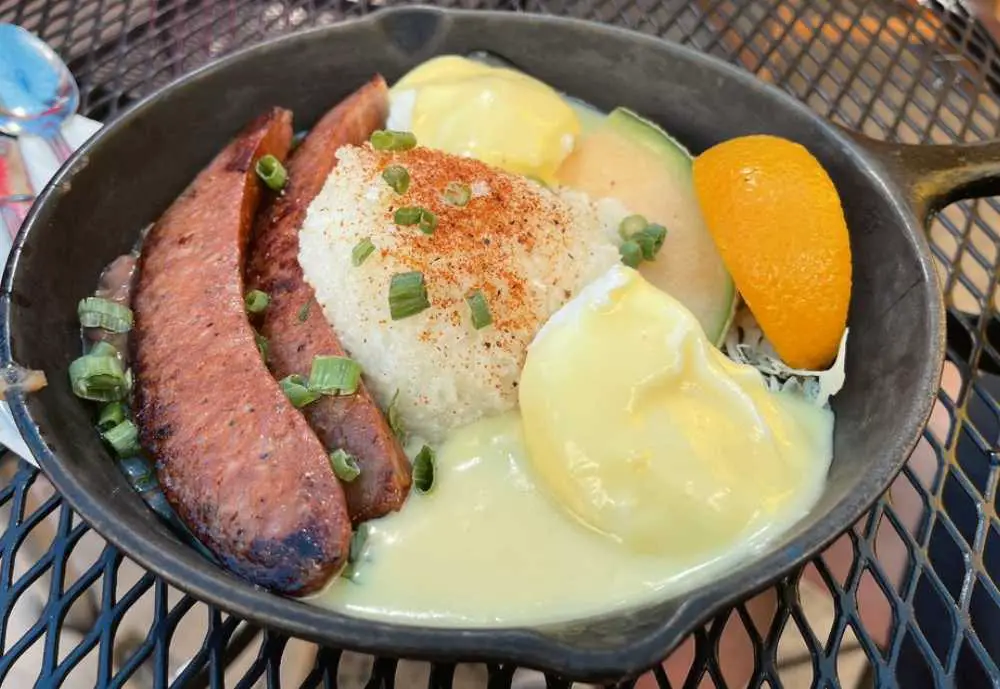 If you want something different to start your day, Bon Temps Creole Café is definitely unique.
Their Cajun / Creole food offerings and southern dishes make them one of the best breakfasts in San Luis Obispo.
There is a fun and lively atmosphere inside their café that will make you comfortable, especially with their occasional live music.
Some things to try are Faitdodo, eggs Sardou, eggs benedict, Bon Temps breakfast, and the fried green tomatoes benedict.
Menu: Bon Temps Menu
Top Review: "Been going here for years and I have to admit it's a special treat every time. Very interesting and unique menu! Everything I have eaten here has been good especially this Faitdodo (Fay Doe Doe). Lots of great flavors mixed in one dish. Highly recommend this place! Great food, great service and nice ambiance." – Meg M.
1819 Osos St San Luis Obispo, CA 93401, (805) 544-2100
Bliss Café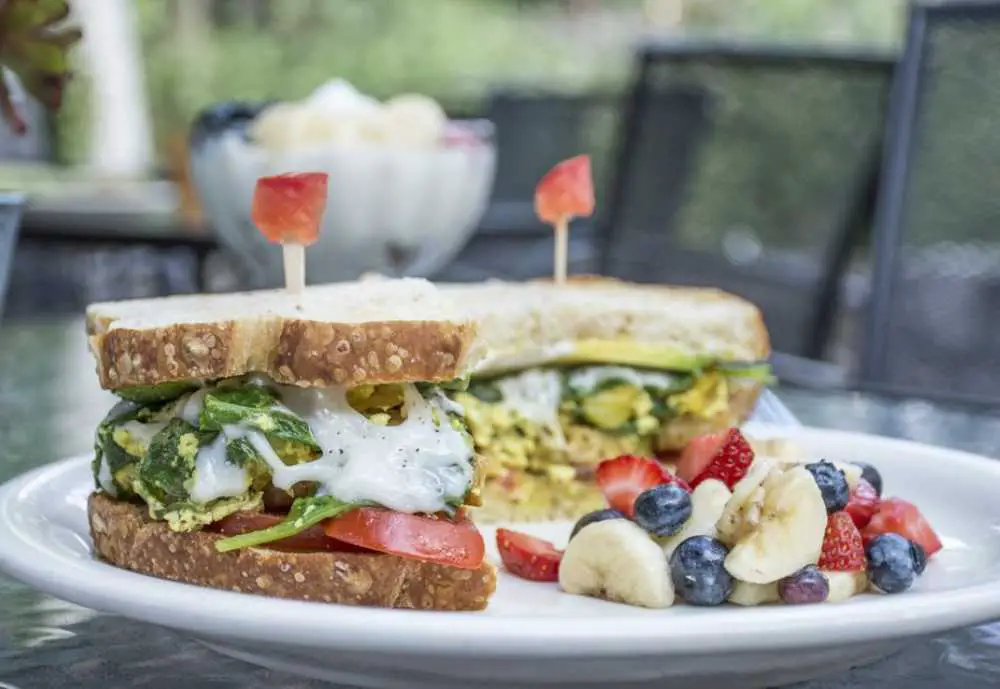 Bliss Café is a great addition to the breakfast and brunch community in San Luis Obispo with its vegan menu!
Even people who aren't vegan will love it here. They have a relaxing and welcoming vibe with an outdoor patio. It's great for those looking for alternatives and healthy options.
Try their protein buddha bowl, breakfast burrito, Baja chipotle, or lemon love salad, and let us know what you think!
Menu: Bliss Cafe Menu
Top Review: "Healthy Vegan spot with a lovely creek side patio.  Great for breakfast or lunch. You order inside and they give you a number where they'll bring you something amazing — like their house made veggie burger with all the fixin's. Best was the avocado toast with roast corn, chopped tomatoes and olive oil on fresh baked sourdough.  Large portions so we shared this great meal and washed it down with a peanut butter smoothie!" – Trace V.
778 Higuera St Ste D San Luis Obispo, CA 93401, (805) 547-0108
---
Did we miss a spot that deserves to be mentioned? Shoot us an email at: [email protected] Thank you!
---
You might also enjoy:
breakfast near me, best breakfast near me, breakfast specials san luis obispo ca,
slo roast columbus ohio, breakfast restaurants, breakfast sandwiches, fried chicken
corned beef hash, cinnamon french toast, fluffy pancakes, lemon ricotta pancakes