While Albuquerque is best known for its stunning desert landscapes and vibrant culture, the city also boasts a delicious food scene. From New Mexican staples like green chile stew to gourmet dishes from world-renowned chefs, there is something for everyone to enjoy.
And when it comes to breakfast, Albuquerque does not disappoint. From cozy diners serving up classic American fare to hip cafes dishing up global fusion cuisine, here are four of the best breakfast spots in Albuquerque.
Tia Betty Blue's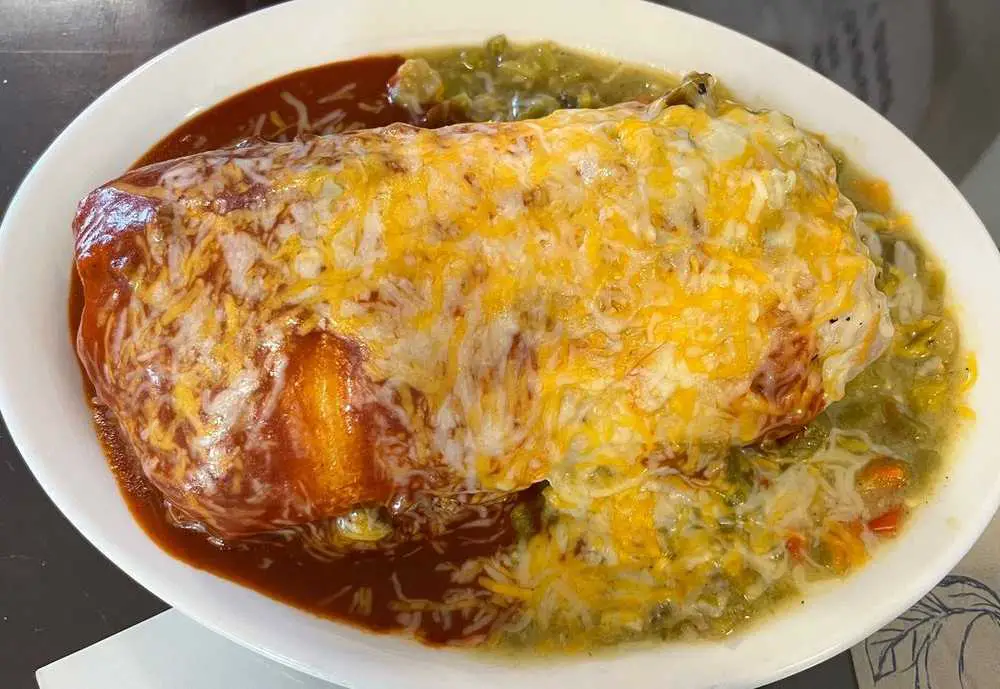 We begin our list of fantastic places to start the day in Albuquerque with Tia Betty Blue's, a cozy place with a broad menu of New Mexican breakfasts.
Enjoy the classic Migas Plate and indulge in the scrumptious combo of scrambled eggs, grilled onions, grilled tomato, chile of your choice, and cheese, topped with crispy blue corn tortilla strips.
Order a hearty Breakfast Burrito to satiate any raging appetite and enjoy the eggs, potatoes, cheese and salsa.
Menu: Tia Betty Blue's Menu
Top Review: "The place is pretty cool. They have inside and outside seating. The place is pretty small so I suggest to come early on the weekends since it gets packed. On the weekdays, it's best to come after 1030 to miss the rush. I ordered the French toast and it was humongous and you can choose the flavor of your whipped cream. The plate is full of strawberries. My friend ordered a burrito and it was ginormous for $9 smothered in red Chile. So filling and satisfying." – Danace Y.
1248 San Mateo Blvd SE, Albuquerque, NM 87108; (505) 268-1955
The Farmacy
The Farmacy is just what the doctor ordered as it welcomes guests with their pleasant and tidy ambiance and extraordinary entrees.
The Lemmy waffle takes breakfast to the next level with ham and Swiss cheese in the waffle and topped with bechamel, a sunny side up egg, and scallions.
Warm and perfect for any morning is the Pork Belly Grit Bowl, which consists of green chile cheddar cheese corn grits, pork belly, a sunny side up egg, crispy fried prosciutto, and scallions.
Menu: The Farmacy Menu
Top Review: "I am taking time reviewing my favorite restaurants in NM and Farmacy has to be one of my favorite breakfast brunch places in Albuquerque. I have only eaten on the patio each time I have visited and have never been disappointed! The food is not only delicious but care is taken by the chef to make sure the food is presented just as well as it tastes! I have lived in France for a period of time and the croquet madame rivals any french meal that I have enjoyed. Excellent coffee, great location, and even better food! Staff was very friendly and were able to accommodate for gluten insensitivities. Highly recommend as a spot for breakfast if in Albuquerque" – Matthew H.
3718 Central Ave SE, Albuquerque, NM 87108; (505) 227-0330
Cafe Lush
Founded by  Chef Thomas Docherty and Sandy Gregory in 2011, Cafe Lush is a beloved location in downtown Albuquerque for its fresh, healthful, and creative meals and its warm hospitality.
Made with sour cream, scallions, and potatoes, the Breakfast Pizza is a great choice for any morning and is topped with eggs, house-made red or green chile and local cheese. Two eggs top their plate of specialty Lushaladas, a stack of enchiladas served with chile, cheeses and breakfast potatoes.
Menu: Cafe Lush Menu
Top Review: "This is the cutest breakfast place! It is very small but all the food is delicious. I love the small outdoor seating area. It has a nice neighborhood ambiance. The indoor seating area is small but wonderful. Well behaved dogs are also welcome in the outdoor seating area. They even gave our dog some treats." – Lindsay B.
700 Tijeras Ave NW, Albuquerque, NM 87102; (505) 508-0164
Jimmy's Cafe on Jefferson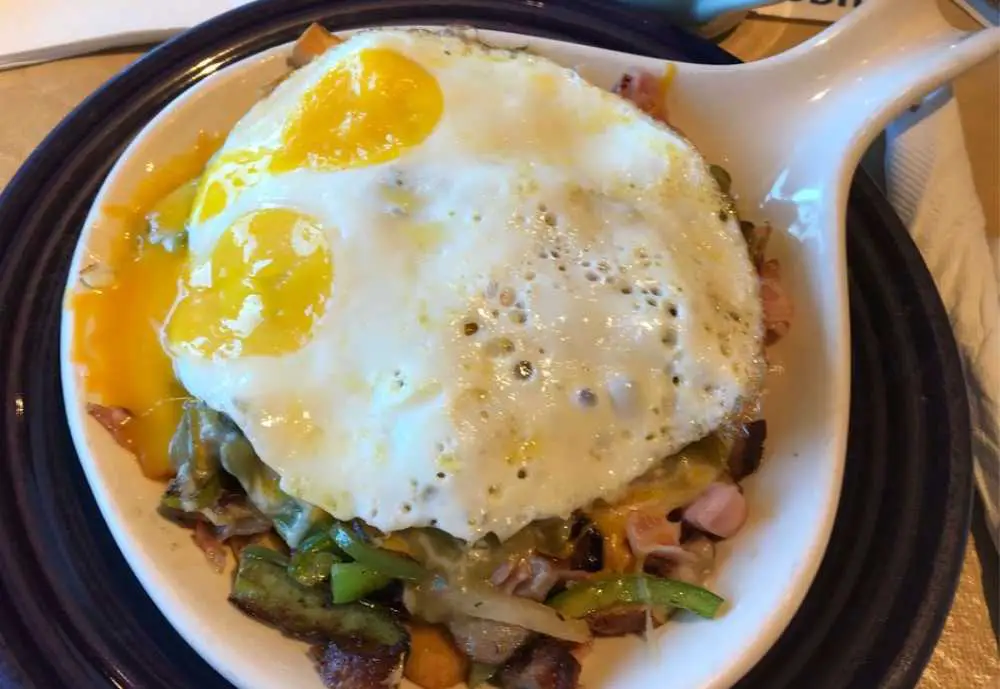 For guaranteed delicious food and top-notch service, Jimmy's Cafe on Jefferson is the perfect place to begin the morning.
Bacon, sausage, ham, onions, bell peppers, mushrooms, eggs and potatoes make a satisfying mix in the Ultimate Skillet.
The Philly Cheesesteak Omelette is just as scrumptious as it sounds; with grilled thin sliced steak, onions, bell peppers, mushrooms and provolone cheese, this fusion is sure to impress.
Menu: Jimmy's Cafe on Jefferson Menu
Top Review: "This was a great choice for Sunday breakfast! When we arrived, our party of 5 was sat down immediately, despite our party not being fully present. They took our drink order, our waiter came back, we all ordered. No complaints. Our waiter was attentive, our food came out hot, and made to order :-)" – Stephanie C.
7007 Jefferson St NE, Albuquerque, NM 87109; (505) 341-2546
Stripes Biscuits & Burritos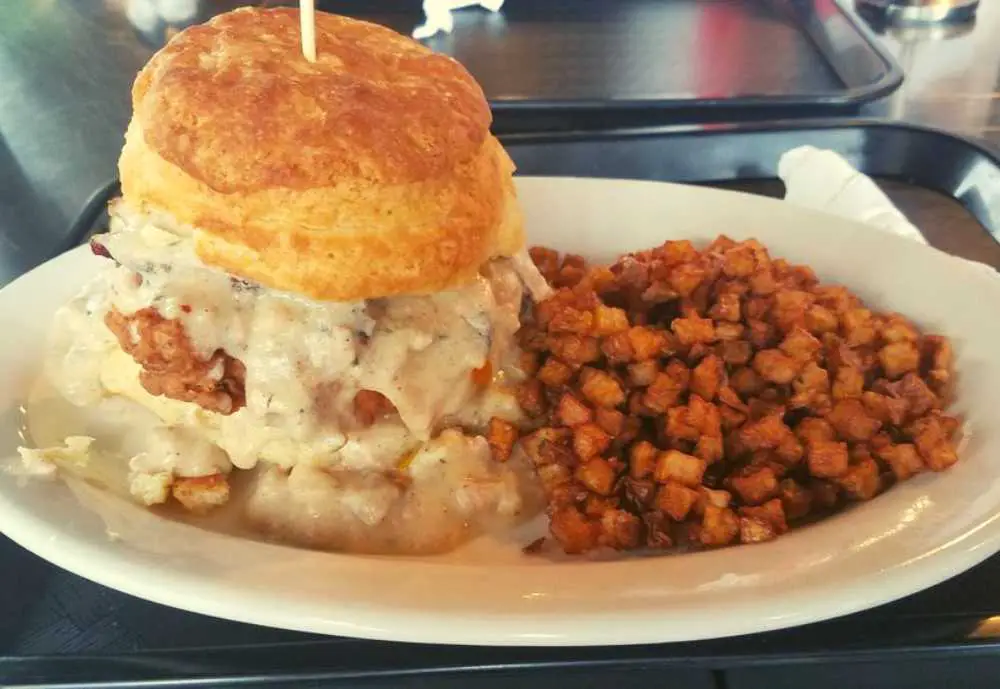 Whether you are visiting or residing in Albuquerque, Stripes Biscuits & Burritos is the ideal breakfast destination for some tasty biscuits and burritos.
The Foxtrot egg plate consists of two poached eggs on a buttermilk biscuit and shaved ham; the whole thing is blanketed in their house green chile hollandaise sauce and is served with papitas and fruit.
A broad and mouth watering selection of Breakfast Burritos awaits, including but not limited to sausage, carne adovada, chorizo and even corned beef.
Menu: Stripes Biscuits & Burritos Menu
Top Review: "I was craving biscuits and gravy this morning, so I looked up restaurants in my area serving this dish. I pulled up to stripes on Sunday morning around 10:30 AM. I was greeted with a cheerful staff and was seated immediately. I received my meal in less than five minutes. The food was amazing.  This restaurant really has there stuff together. I would absolutely recommend this business and will be a return customer for sure. The cherry on top is that they share 10% of their profits with the local VA hospital. It's a win-win for everybody. Don't miss this amazing restaurant, staff, food, and charitable concept." – Angel S.
8050 Academy Rd NE # 101, Albuquerque, NM 87111; (505) 835-5214
Vic's Daily Cafe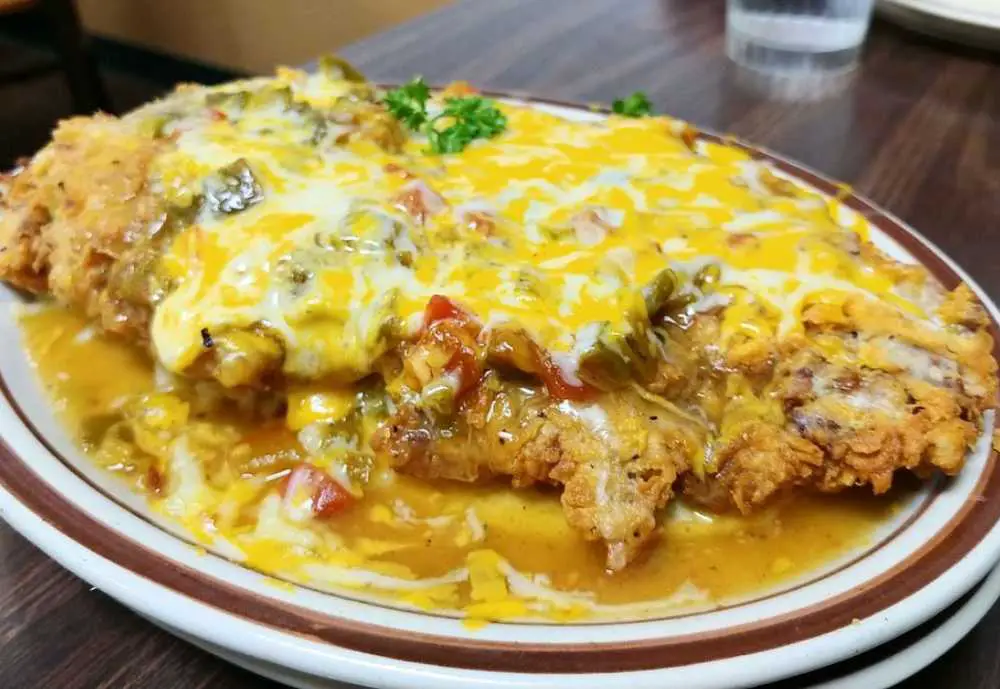 Family owned and operated since 1998, Vic's Daily Cafe is a local restaurant that specializes in providing quality meals to their customers with fresh ingredients and splendid service.
Cure your hunger pangs with a savory plate of Vaqueros, a chicken fried steak with two eggs, hash browns or pinto beans, chile sauce of choice, and melted cheese.
Try out the "El Gordo" omelet to and immerse your taste buds in the delectable combo of ham, bacon, sausage, mushrooms, bell peppers, onions and tomatoes, which is then smothered in red or green chile and melted cheese.
Menu: Vic's Daily Cafe Menu
Top Review: "The wait here is well worth it. I'd recommend trying to come during the week rather than the weekend, because it's a little shorter at least. Staff here are friendly and welcoming, and service was good. It was slow to get our food, but for how packed they were even on a Monday, everything came out fresh and hot. I ordered the breakfast burrito with carne, and it was huuuge and so good. The carne is super tender, and the red chile is mild and flavorful. The pancake was fluffy, Vaqueros was also delicious. Basically I loved it all and can't wait to go back to try more items." – Rebecca F.
3600 Osuna Rd NE #105, Albuquerque, NM 87109; (505) 341-9710
Sunnyside Up Breakfast and Lunch Cafe
Sunnyside Up Breakfast and Lunch Cafe is notable for its devotion to providing exceptional food and service, and the fact that it partners with schools, sports organizations and local charities makes breakfast there even more delicious.
Their scrumptious Bacon Avocado Scramble contains bacon, spinach, onions and tomatoes and is topped with avocado and pepper jack cheese.
On the sweeter side, the Strawberry Banana Waffle is topped with strawberries, bananas, walnuts, powdered sugar and whipped cream.
Menu: Sunnyside Up Breakfast and Lunch Cafe Menu
Top Review: "Came here for brunch on a weekday and it was surprisingly busy. Waited about 5-10 mins for a table but it was well worth it. There's a lot of breakfast options and it's super filling. I would definitely come back and maybe just share an entree with someone lol. The drinks were solid but nothing too special." – Kio C.
6909 Menaul Blvd NE Suite A, Albuquerque, NM 87110; (505) 888-3447
Central Grill and Coffee House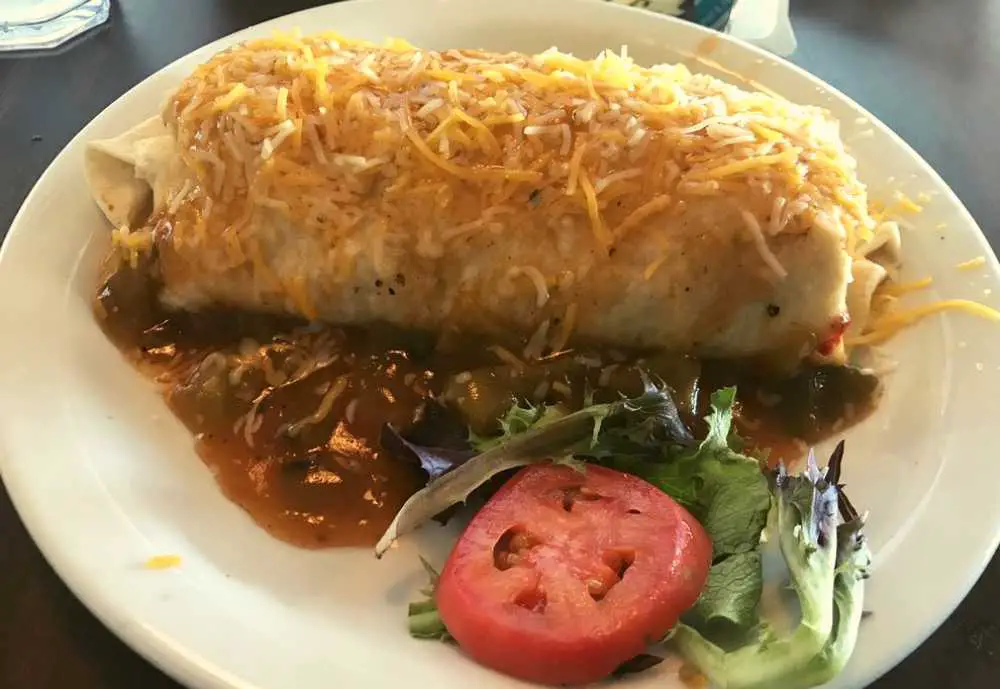 A trip to Albuquerque is not complete without visiting the award-winning Central Grill and Coffee House, where you can expect flavorful New Mexican comfort food.
Go bananas for their specialty Going Bananas French Toast, made from thick French bread, sauteed bananas, and brown sugar.
Maple sausage links are dipped in waffle batter to create Waffle Dogs, an addicting fusion served with maple syrup.
Menu: Central Grill and Coffee House Menu
Top Review: "Shut the front door! The food and service from George and his team was freaking amazing! We had steak and eggs to die for and this was not even their specialty dish. The Carne Adovada and eggs are so tender and slap your mama good not to mention the pancakes and cinnamon roll. We are just passing through, but whenever we return, we will be back!!! If you sleep at the Central Grill, you are cheating yourself on the best meal in Albuquerque!" – Kimberly M.
2056 Central Ave SW, Albuquerque, NM 87104; (505) 554-1424
Frontier Restaurant
A familiar location to college students and the rest of Albuquerque, the Frontier Restaurant has been a safe haven for those looking for a hearty meal since 1971.
Sometimes all you need to boost your spirits is a delightfully chewy Frontier Sweet Roll.
Made with three eggs, green chile, and cheddar cheese, the No. 7 Western Omelette is served with tomato, hash browns and your choice between toast and a flour tortilla.
Menu: Frontier Restaurant Menu
Top Review: "The Frontier is an Albuquerque institution for a reason. It's been around since way before I was a little kid. I don't live in Albuquerque anymore but it's the first place I go for breakfast when I come to town. I ordered my usual which is a carne adovada burrito with hashbrowns and cheese and a cup of green chile stew. Desert is always the epic and world famous cinnamon roll. Order the orange juice! Yes it's expensive but ITS WORTH IT!!!!! Food is  always the same and reliable. I hope this place never goes out of business because the food is amazing." – Sophina M.
2400 Central Ave SE, Albuquerque, NM 87106; (505) 266-0550
The Grove Cafe & Market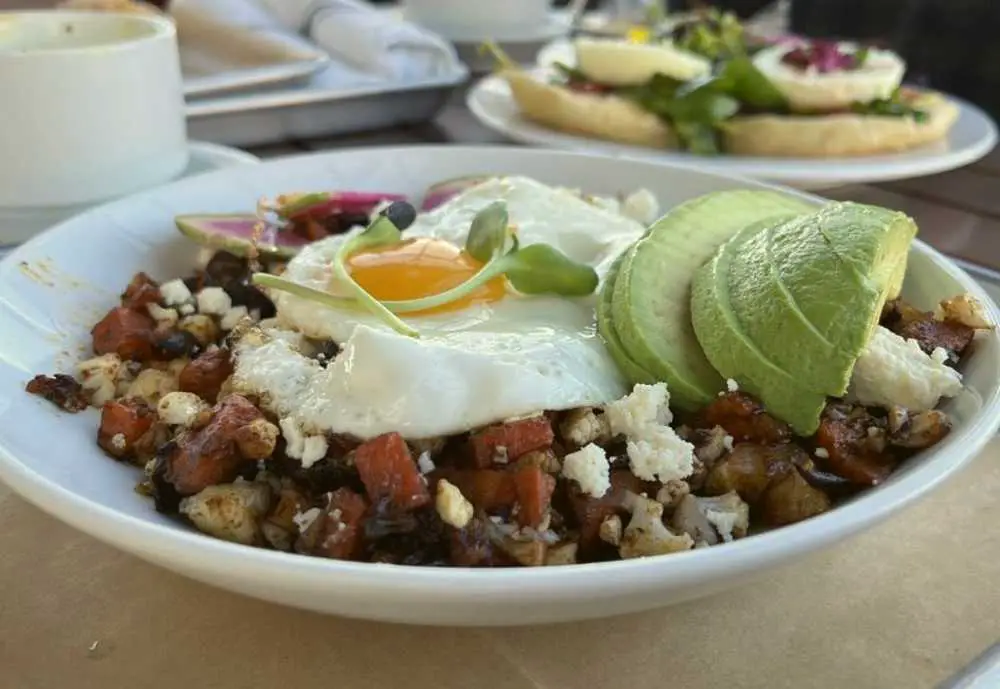 The Grove Cafe & Market has been supporting local farmers and sustainable agriculture since 2006, and, to this day, welcomes guests with appetizing meals in a fun and casual environment.
A flavorful plate of Smoked Salmon is sure to wake you up with herb cream cheese, tomatoes, red onions, dill and capers on an English muffin.
Topped with tomatillo salsa, sunflower sprouts, and a sunny side up egg, their Sweet Potato Hash welcomes your taste buds to a new day with roasted sweet potatoes, feta cheese, cauliflower rice, avocado and roasted mushrooms.
Menu: The Grove Cafe & Market Menu
Top Review: "I was brought here by one of my local coworkers while traveling for work to Albuquerque. This place has really good salads and can get really busy during lunch time. The parking lot was also full and they also had take out parking. You come in to order and then you can pick a seat or get it as take out. I got one of their salads and loved it! They have a great brunch and drinks too! Breaking bad has also been filmed here too." – Liann A.
600 Central Ave SE STE A, Albuquerque, NM 87102; (505) 248-9800
The ORIGINAL Cocina Azul Mountain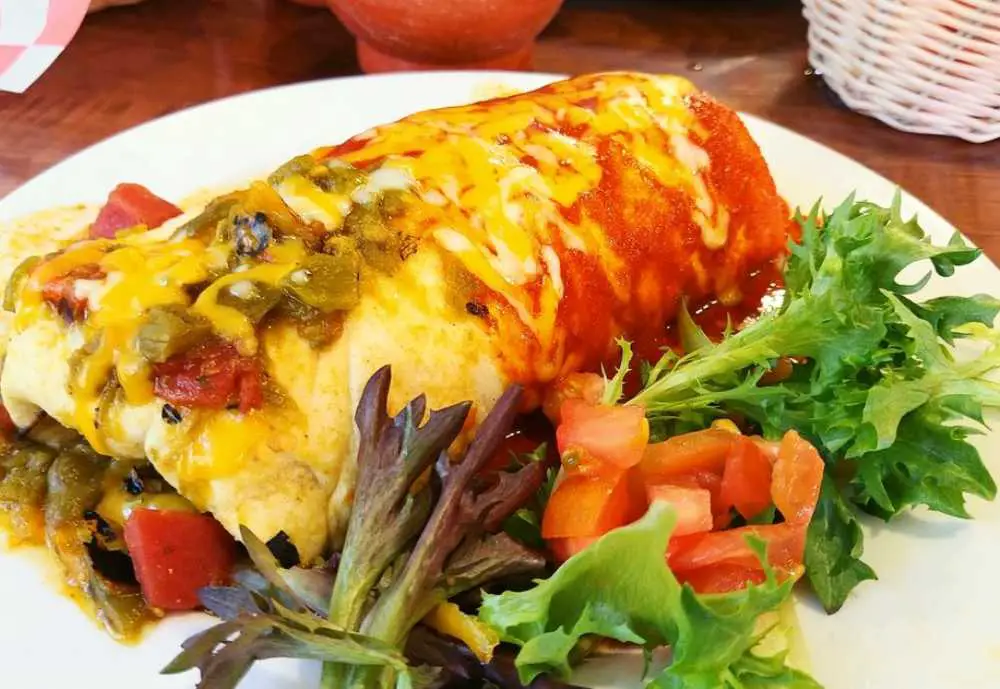 There's no better way to end our list of Albuquerque's best breakfast restaurants than with The ORIGINAL Cocina Azul Mountain.
Enjoy a classic plate of Huevos Rancheros, which consists of two eggs on a corn tortilla, hash browns, whole beans, your choice between red or green chile and a tortilla.
Served with hash browns and a tortilla, a plate of Carne Adovada & Eggs makes a flavorful wake up call to start any morning on the right foot.
Menu: The ORIGINAL Cocina Azul Mountain Menu
Top Review: "Yum! Despite my silliness of going in on a Sunday at noon, considering how busy Cocina was- they rocked it. The Queso was amazing as always. I can't remember which breakfast combo I ordered, but the pancakes were perfect. The bacon was divine, eggs on point and hash browns crispy as requested!  Sopapillas we're inhaled so quickly that I didn't get time for a picture. The red had more of a bite this time which made me extremely happy!  Thanks for the delicious lunch Cocina!" – Kristin B.
1134 Mountain Rd NW, Albuquerque, NM 87102; (505) 831-2500
Without a doubt, there are many great breakfast places in Albuquerque. Each restaurant offers something unique, whether it's a special dish or a welcoming atmosphere. No matter what your preferences are, you're sure to find a breakfast spot that you love. So go ahead and explore all that Albuquerque has to offer – you might just find your new favorite restaurant!
---
Did we miss a spot that deserves to be mentioned? Shoot us an email at: [email protected]
---
You might also enjoy:
breakfast abq, abq breakfast, healthy breakfast albuquerque, best breakfast abq, slate street cafe, range cafe, flying star cafe, breakfast tacos, breakfast albuquerque, best breakfast albuquerque, best breakfast burrito albuquerque, breakfast in albuquerque, breakfast albuquerque nm, breakfast near me