Feast your eyes and prepare your taste buds for an epic, sizzling journey through the land of the best burgers in Oklahoma City, where the patties are thicker than the plot of an Agatha Christie novel and the toppings are as diverse as characters in a Game of Thrones episode.
Imagine, if you will, a world where burgers aren't just food; they're tender, juicy masterpieces that stand tall and proud, like skyscrapers of flavor in a cityscape of culinary delights.
This isn't just about finding the best burgers in Oklahoma City. No, this is about celebrating those beefy beacons of comfort food that will make you say, "Forget the steak, bring on the burger!" So, buckle up, dear reader, because we're embarking on a carnivorous quest that would make a T-Rex jealous!
The Flycatcher Club
Are you looking for a new spot to grab a burger and a cold beer in Oklahoma City? Look no further than the Flycatcher Club! This dive bar is the perfect place to hang out with friends and enjoy some great food.
According to the Food Network's Alton Brown, their double cheeseburger is the best in America! And with plenty of other food items and drinks to choose from, you're sure to find something you love.
If you're looking for a delectable burger experience in Oklahoma City, the Flycatcher Club is the perfect venue to satiate your appetite.
Menu: Flycatcher Club Menu
Top Review: "Great food, great service, and great overall environment for anyone wanting a good place to enjoy a few beers with friends. Although it's listed as a dive bar, the food here is a clear step above any dive bar I've ever been to. That being said, the beer is a lot cheaper than any sort of restaurant I've been to that serves this quality of food." – Sam E.
Tucker's Onion Burgers
Are you tired of boring burgers that taste like cardboard? Look no further than Tucker's Onion Burgers in Oklahoma City! These burgers are handmade the old-fashioned way, with fresh ingredients and a whole lot of love.
Plus, they're famous for their Oklahoma Onion Burger, which has achieved cult classic status and is a must-try for any burger aficionado.
Don't believe me? Just ask Food & Wine, who called it a national treasure. So what are you waiting for? Head on over to Tucker's and sink your teeth into one of their mouth-watering burgers. Your taste buds will thank you (and so will I).
Menu: Tucker's Onion Burger Menu
Top Review: "As someone who just moved to Oklahoma I am so glad to have found this spot! Everything I wanted in a burger and fries! Their prices are similar to Five Guys but unlike them at Tuckers you actually get what you paid for. My life is forever changed!! Can't wait to go back. The dining inside was very cleanly and the staff was very quick with our orders! Also, who doesn't love chewable ice? Do what's good for you and go get some Tuckers!" – Delylah D.
Patty Wagon
Patty Wagon is a locally-owned gourmet burger restaurant in Oklahoma City that serves up juicy burgers made from local, farm-raised beef. The burgers are cooked to order and topped with homemade sauces, fresh veggies, and flavorful cheese.
With over 350 positive reviews on Yelp and a 4.5-star rating, Patty Wagon is a must-try for burger lovers. One of their popular dishes is the Red Dirt Burger, which costs $9.99 and is made with fresh ingredients.
We highly recommend visiting Patty Wagon in Oklahoma City to savor some of the best burgers in Oklahoma City.
Menu: Patty Wagon Menu
Top Review: "Food was delicious! I found my new favorite burger place. It's not super fancy; it's in an old Whataburger building, but still has room to sit and eat. Woman at the counter was very friendly. I can't wait to go back." – Amanda B.
New State Burgers and Spirits
New State Burgers & Spirits in Oklahoma City is a must-visit for anyone looking for a delicious burger experience. Their menu offers a range of premium burgers, including the New State Style burger with American cheese, dijonnaise, diced pickle, and diced red onion.
The Patty Melt, a double stack with cheese, sauteed onions, and secret sauce, is another popular option. The restaurant's commitment to quality and fresh ingredients is evident in every bite. If you're in the area or looking for a new burger spot to try, New State Burgers & Spirits is definitely worth a visit.
Menu: New State Burgers Menu
Top Review: "The experience at New State just gets better with age. New State has become a staple in The Plaza. Come for the burgers and beer and stay for the cozy atmosphere and great service. We accidentally got rung in for their New State Theta burger and couldn't have been more delighted. That burger is one of the most delicious burgers in the metro. Round it out with some fries (sweet potato or regular, both are a triumph) and the experience is crave-able. If you enjoy fried okra, theirs is second to none. We'll be back. Sooner than later, hopefully." – Mary Margaret M.
The Garage Burgers and Beer
Garage Burgers and Beer is a popular restaurant in Oklahoma City that offers a variety of delicious burgers made with bison, turkey, and angus beef. They also serve fork and knife hotdogs, tacos, and fresh cut fries.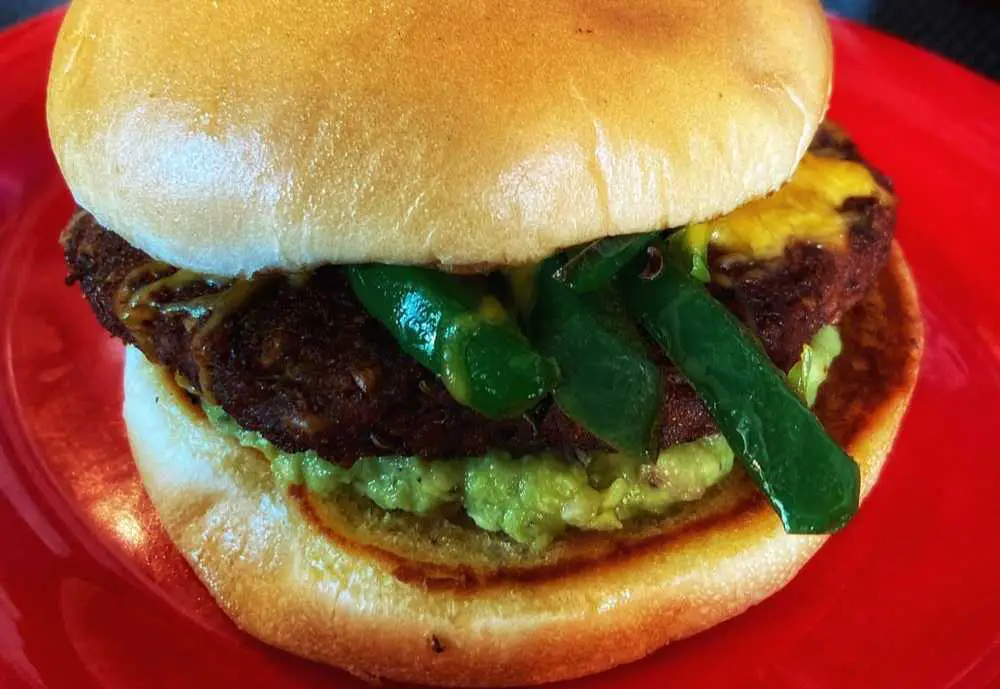 The restaurant has a unique auto mechanic motif with road signs and metallic walls that create an intimate atmosphere. The staff is said to be appealing, and the craft beer is delicious. If you're in the area, you should definitely try one of their burgers, which are known to be cooked to perfection and full of flavor.
Menu: Garage Burgers Menu
Top Review: "The food and atmosphere was great. The staff was very friendly and patient when we couldn't make up our mind on what to order. We ordered the classic burger with parmesan truffle fries jalapeño quac burger. All of it was delicious. The flavor/pairing of the quac burger was perfect. Will definitely go back!" – A P.
MOB Grill
MOB Grill is a highly acclaimed burger joint in Oklahoma City that has been serving up award-winning burgers since 2014. Their specialty is the Marco's Onion Burger, which is widely regarded as the best onion burger in the state.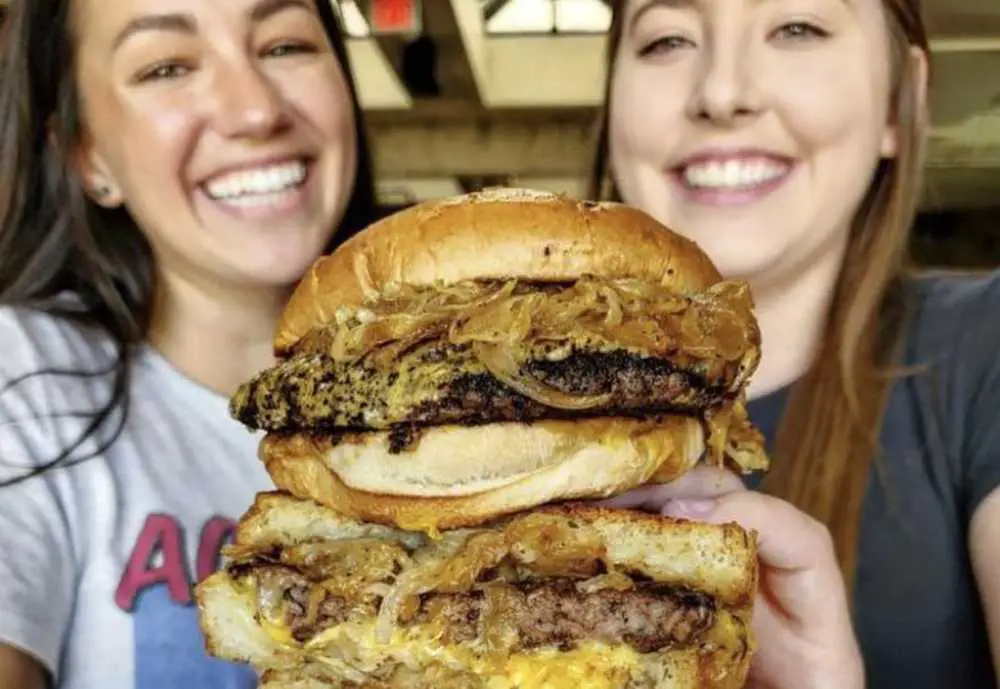 In addition to their burgers, MOB Grill has also mastered the art of crispy, flavorful golden fried potatoes, making their fries and handmade tater tots a must-try.
With numerous accolades and recognition from publications such as So6ix Magazine and The Daily Oklahoman, MOB Grill is a must-visit destination for burger lovers in Oklahoma City.
Menu: MOB Grill Menu
Top Review: "MOB Grill has one of the best burgers in town. You should go eat one at the earliest opportunity that avails itself. The owner (Marco) is deeply invested in this place. You can tell that his engagement with his customers comes from an earnest place; like, he genuinely wants to offer you not just something good to eat, but something that was made with care. This is probably one of the shortest reviews I've written because I have nothing else to add. Go. Eat a delicious burger. Do it." – Jeff M.
So there you have it, carnivore connoisseurs and burger buffs – the juiciest, most delectable tour of the best burgers in Oklahoma City. Each stop on this tasty journey has served up mouthwatering masterpieces that can turn any day into a celebration of all things beefy and bun-bound. Whether you crave the classic simplicity of a cheeseburger or the wild ride of a burger loaded with adventurous toppings, Oklahoma City's burger scene has something to satisfy. So get out there and sink your teeth into these titans of taste!
Remember, life is too short for bad burgers, so may your patties always be thick, your buns always be fresh, and your burger adventures in OKC be nothing short of spectacular.
You might also like these articles:
best burgers in oklahoma city, burgers in okc, burgers oklahoma city, burgers okc, burgers downtown okc