Are you on the hunt for the best breakfast in Plano, Texas? Look no further! We've scoured the city to bring you the ultimate list of breakfast spots that are sure to satisfy your cravings.
Plano has it all when it comes to breakfast. So grab a cup of coffee and get ready to discover some of the tastiest morning bites in town. Whether you're a local or just passing through, these breakfast spots are not to be missed!
Beaubeaux's Bourbon and Biscuits
Beaubeaux's Bourbon & Biscuits is the perfect destination for anyone who craves Southern-inspired comfort food and refreshing cocktails. Their menu features a range of delectable dishes that are served on freshly baked biscuits, made in-house every day. Whether you're in the mood for a savory breakfast or a hearty dinner, this restaurant has got you covered.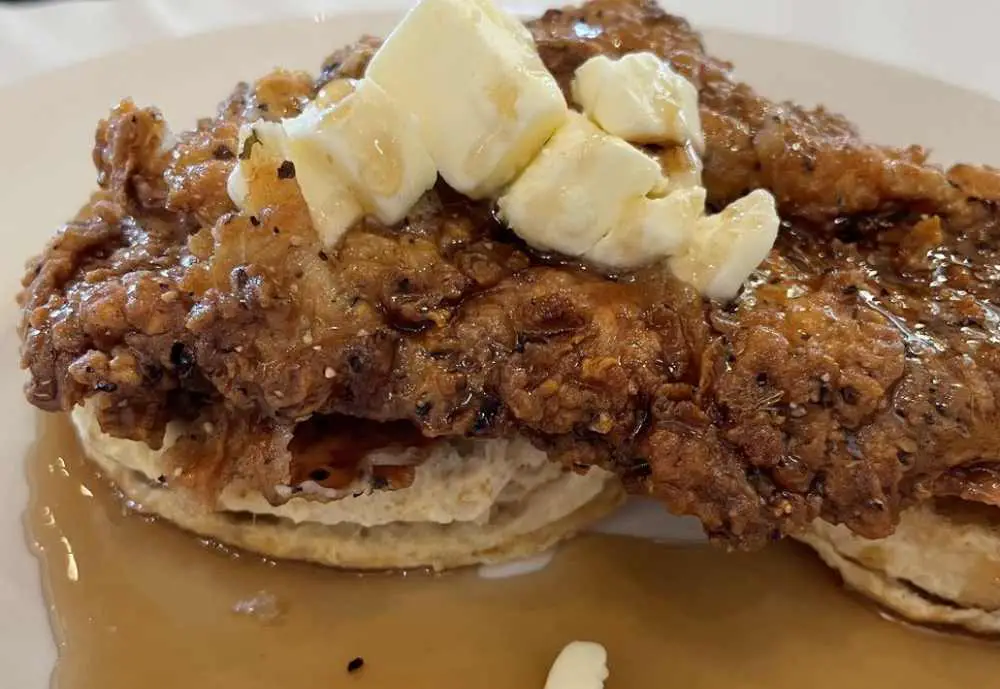 What's more, Beaubeaux's Bourbon & Biscuits boasts an impressive selection of over 150 bourbons and tequilas that are sure to impress any liquor connoisseur. From everyday favorites to rare top-shelf finds, there's something for everyone here.
Beaubeaux's is open from 8am to midnight, 7 days a week, making it the perfect spot for an early morning coffee, a midday cocktail, or a late-night drink.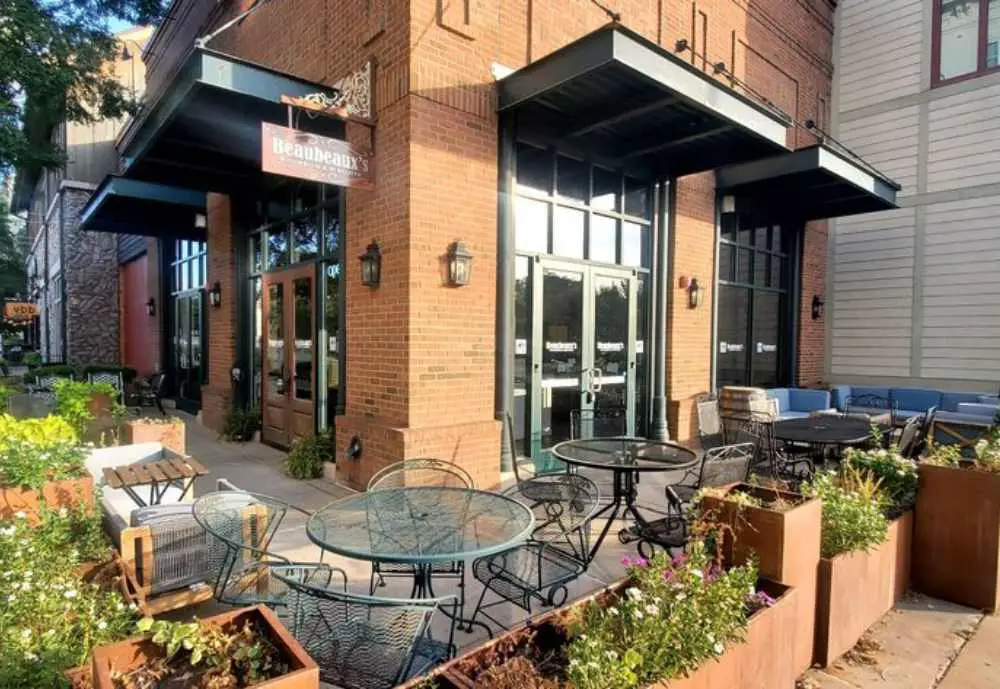 The restaurant is also great for groups, so gather your friends and family and head over to Beaubeaux's Bourbon & Biscuits for some of the best breakfast in Plano.
Top Review: "If you're in the mood for amazing service, incredible food and drinks, then Beaubeaux's is your place. The owner Bobo will more than likely greet you at the door and make you feel like family. The ambiance of the restaurant is his own family history and brings you to a place of comfort. The coffee is a freshly brewed masterpiece that will awaken your senses. The selection of Bourbon and Whiskey choices are unparalleled. Don't miss out on this gem in Watter's Creek!" – Dawn B.
965 Garden Park Dr Allen, TX 75013, (469) 640-1113
Haywire
Haywire is a must-visit destination for anyone who appreciates farm-to-fork, locally sourced cuisine. This chef-driven, Texas-themed restaurant boasts an impressive 24,000 square feet of space, with three floors, three bars, multiple patios, and lounges, including a third-floor airstream trailer.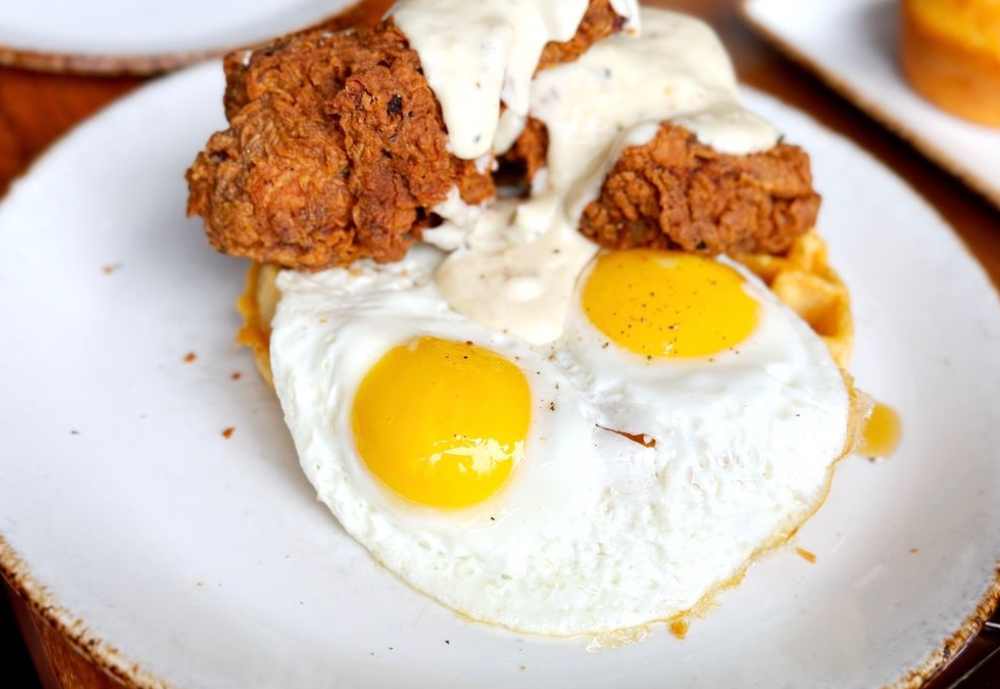 While the prices at Haywire may be a little high, the quality of the food is absolutely worth it.
So if you're looking for a unique dining experience that's sure to impress, head on over to Haywire and discover why it's become a favorite among foodies and locals alike.
Menu: Haywire Brunch Menu
Top Review: "Absolutely delicious! I wanted to try something new for brunch and treat my husband. He had the Migas and Haywire Ranch Hand Breakfast and rated everything a 10. The bacon was outstanding. We definitely have put this restaurant on the top of our list. Thank you so much for exceeding our expectations." – Deborah F.
5901 Winthrop St Ste 110 Plano, TX 75024, (972) 781-9473
Ellen's
If you're in Plano and craving some hearty, homemade comfort food, then you have to try Ellen's. Founded in 2012 by Joe Groves, Chef Russell Mertz, and Andrew Chooljian, this restaurant is a tribute to Joe's mom, Ellen Groves Corlee, and her love of Southern cuisine.
Ellen's is all about freshness and flavor, using locally sourced ingredients to create delicious dishes that will leave you feeling satisfied and happy. And if you're a fan of brunch, you're in luck because they serve it all day, every day. That's right, the best breakfast in Plano can be had anytime you want at Ellen's.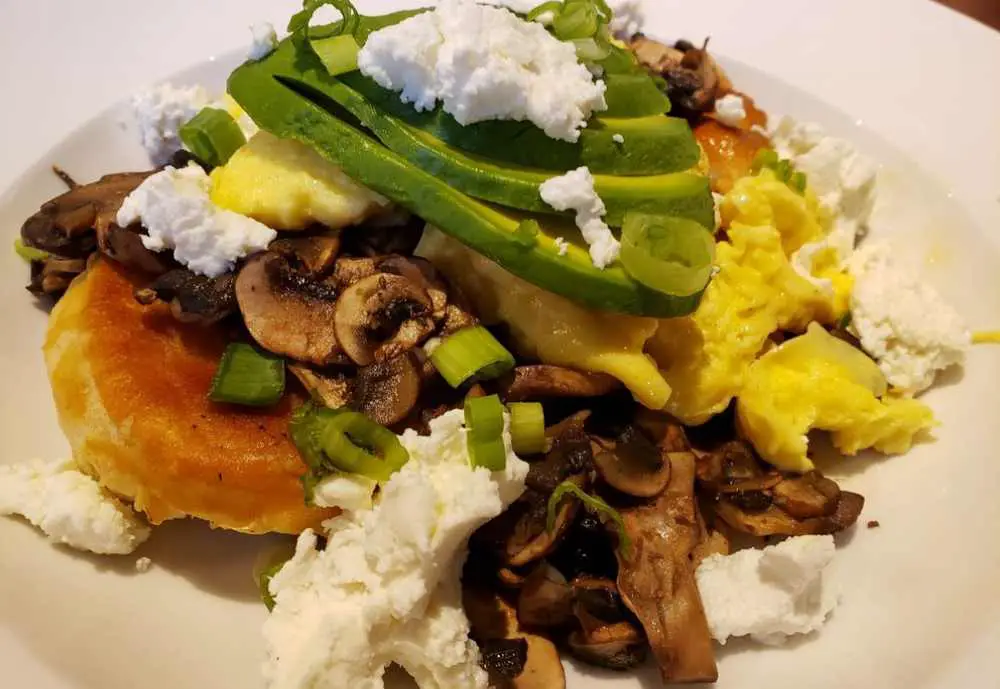 With nearly 9 years of service and over 1 million guests served, Ellen's has become a local favorite, and it's easy to see why. Come and taste for yourself why Ellen's is THE spot for comfort food and some of the best breakfast in Plano.
Menu: Ellen's Menu
Top Review: "Brunch here was an excellent experience. We decided to come here on a whim and it was a great idea. Service was friendly and fast. We were seated immediately. The atmosphere in the room we were seated in was very cute. Bookshelves lined the walls. The food was tasty. Our favorite thing had to be the pear mimosas we got. Definitely a must. I would recommend Ellen's to all my friends in the area." – Mai Lan B.
210 S Central Expy Allen, TX 75013, (469) 206-3339
---
Looking for the best cupcakes in Plano?
---
CraftWay Kitchen
Craftway Kitchen is a beloved spot amongst the locals in Plano, boasting a lively and bustling atmosphere each evening. Upon arrival, visitors are greeted by local artwork, an open kitchen, and a friendly staff.
But it's not just the ambiance that keeps customers coming back for more; it's the crave-worthy food that's the real star of the show.
In fact, Craftway Kitchen has recently been named one of the best breakfast spots in Plano and a top 100 brunch restaurant in the entire country! This prestigious honor is based on the glowing reviews of over 12.9 million verified Open Table diners. So if you're looking for a delicious meal and a great time, check out Craftway Kitchen!
Menu: Craftway Kitchen Menu
Top Review: "This place is so fun.  As a family we have been there many times.  We have always been greeted and quickly seated. My favorite foods are the Salmon BLT,  breakfast tacos,  fried asparagus and the Shrimp Cobb salad. Alexandra has always been a gracious server, as well as making tasty drinks. Her attitude is positive and she always has a smile. We will continue to go here. Thank you." – Irene V.
5809 Preston Rd Ste 578 Plano, TX 75093, (972) 403-0555
Maple Leaf Diner
Welcome to Maple Leaf Diner, where diners can enjoy scratch-made traditional delights with a Canadian twist. The restaurant opened its doors in September of 2015, thanks to owner Michael Delaurier's vision of bringing a taste of home to his wife's hometown of Dallas.
From poutine made with hand-cut fries, cheese curds, and house-made beef gravy, to the REAL Canadian bacon known as peameal bacon, and sweet treats like butter tarts and Nanaimo bars, Maple Leaf Diner has got your Canadian cravings covered.
And for those who can't resist southern favorites, the menu also features Chicken, Bacon and Waffles, and daily house-breaded mozzarella sticks.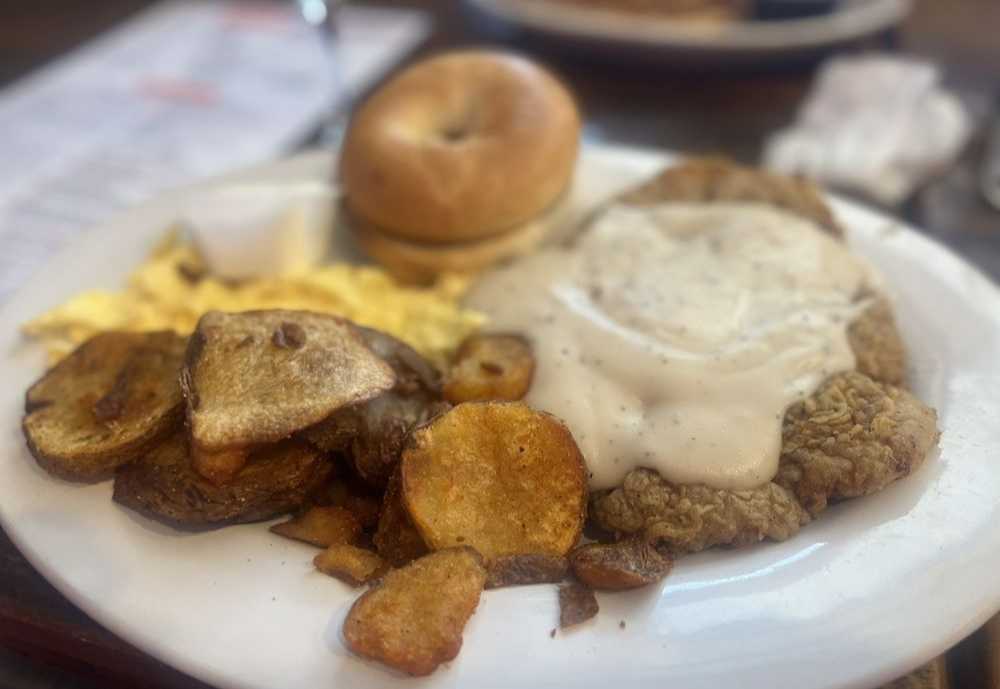 So if you're looking for a cozy diner with a Canadian charm with some of the best breakfast items in Plano, Maple Leaf Diner is the place to be!
Menu: Maple Leaf Diner Menu
Top Review: "I will always recommend Maple a leaf Diner, the best Canadian diner in the DFW area! All the food is delicious and picture worthy. It's one of those places that the food taste just as good as it looks. Everything I've had there is delicious and you can ask for almost any coffee to be made." – Cassie P.
12817 Preston Rd Ste 129 Dallas, TX 75230, (214) 434-1626
Fairview Farmers
Fairview Farmers will surely impress anyone who appreciates exquisite brunch cuisine served in a chic, contemporary setting!
The restaurant is quite popular, especially on weekends, so it's advisable to reserve a table ahead of time. The ambiance of the restaurant is both elegant and modern, with stylish decor that enhances the overall dining experience.
The food portions are generously sized, and the plating is exceptionally beautiful, making it a feast for the eyes as well as the palate. Although the prices are somewhat higher, the quality and presentation of the food justify the expense.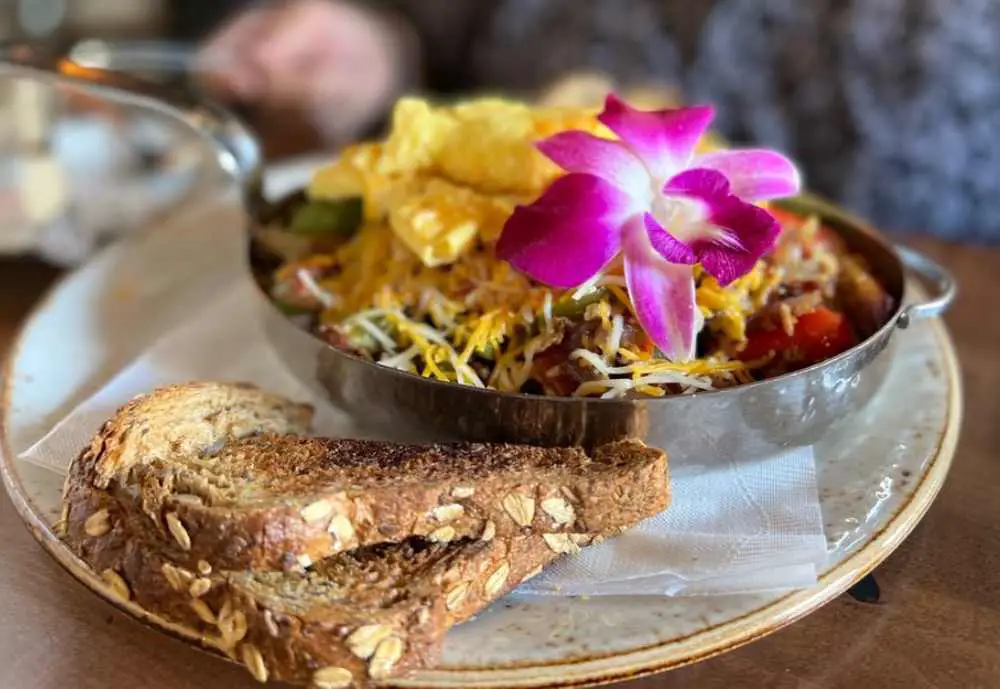 The omelette is a classic dish that never fails to satisfy, and you can select a side of your choice. Meanwhile, the Texas-sized avocado toast is a standout dish that's sure to leave a lasting impression. It's so large that it could easily feed two people, and leftovers can be taken home.
Finally, the beignets are a must-try. These delicate, crispy pastries are an excellent way to round off your meal.
Menu: Fairview Farmers Menu
Top Review: "Found this place this past Valentine's Day. Went here because of the ratings and reviews. And my goodness are we in love with this place! The food is so so good and they do not skimp on the portions. You will leave here very satisfied. We'll probably be here once a week, at least." – Pilla G.
441 E Stacy Rd Fairview, TX 75069, (469) 617-1302
The Biscuit Bar
The Biscuit Bar in Plano is a welcoming and casual fast-food eatery that serves up authentic Southern cuisine in the form of biscuits. The restaurant is open for breakfast, lunch, dinner, and late-night dining, and its menu comprises a range of savory and sweet biscuit sandwiches, all freshly made in-house on a daily basis.
The Biscuit Bar's dishes are perfectly complemented by a range of tasty tots and a selection of craft cocktails, cold brew coffees, locally sourced brews, and kombucha that are all offered on tap. The restaurant's welcoming atmosphere and friendly staff make it an ideal spot for dining out with friends or family, and it is particularly great for accommodating large groups.
In addition, The Biscuit Bar is widely known for serving the best breakfast in Plano, offering guests a mouth-watering array of breakfast options, including the signature biscuit sandwiches, which are simply irresistible. With the perfect combination of fresh, homemade ingredients, The Biscuit Bar is the go-to destination for breakfast lovers in Plano.
Menu: The Biscuit Bar Menu
Top Review: "Biscuit Bar is not playing around with their biscuits, which are 100% hit-or-miss depending on where u eating. Too many restaurants serve up "biscuits" that are legit a choking hazard as they're dang dry and sticky *skull emoji* but gotta give it to Biscuit Bar for crafting the perfect flaky, buttery biscuit! We ordered the Hot Honey Chicken, B-bar Burger, and Hot Hot Chicken – all phenomenal with the juicy meats, crunchy chicken batter, and to-die-for scratch made ranch sauce on that last one. Oh and don't miss out on the Loaded Tots, which almost had me believing Tots could be the superior cut of potato!" – Ruchika M.
5880 TX-121 102b Plano, TX 75024, (469) 238-2227
You might also enjoy these mouthwatering breakfast articles:
Plano Breakfast, Plano breakfast, best breakfast in Plano, best breakfast  Plano, plano breakfast restaurants, downtown plano breakfast