Looking for the best breakfast in Cincinnati? Well, fear not breakfast lover, because Cincinnati has got you covered with a myriad of mouthwatering breakfast joints!
So come on down and get ready to chow down on some of the best breakfast this side of the Mississippi (or at least, the Ohio River)!
Maplewood Kitchen & Bar
Maplewood Kitchen & Bar is a popular breakfast and brunch spot located in Cincinnati. It's well known for its delicious breakfast dishes and a favorite among breakfast loving locals.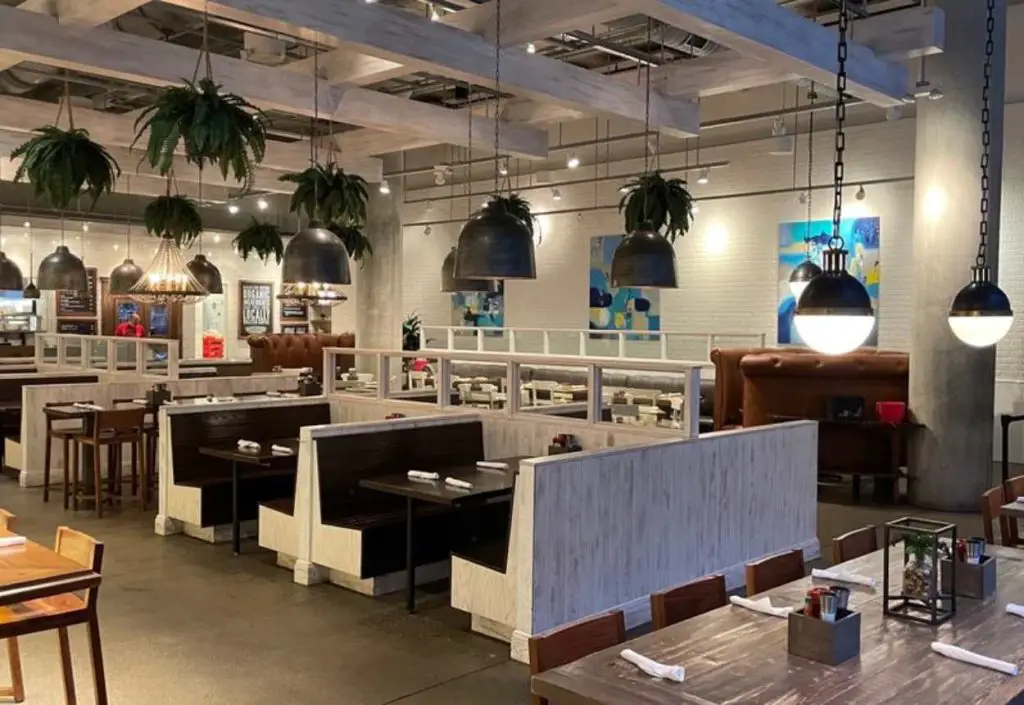 The restaurant's menu features a range of breakfast and lunch options, including the popular Chicken Tinga (pictured above), Avocado Toast, Maplewood Hash, and the Lemon Ricotta Pancakes if you have a sweet tooth.
Give them a go, they are definitely one of the best breakfast spots in Cincinnati, OH.
Menu: Maplewood Kitchen Menu
Top Review: "I understand why this place has so many 5 star reviews. It's fantastic!! The exterior is just glass and blends into the other buildings, but when you walk inside, it's beautiful! High ceilings, light and minimalist decor, tons of seating, and a bar?? It's what First Watch wants to be – like it went through Extreme Makeover Restaurant Edition. There's a path to the front lined with menus so you can order when you get to the register. I ordered the chicken tinga and orange juice. I'm not really a pulp in my juice type of person, but I may be converted! It was very refreshing and the perfect sweetness. As for the meal, wowwww. When I sliced into the egg, the yolk ran so nicely! I forgot to say no jalepeños, so I was nervous it would be too spicy, but it was barely noticeable. It had a pleasantly mild taste. The chicken was ridiculously tender too. Service was great and the food was exquisite! This takes the spot for my #1 breakfast place. I'm obsessed!" – Diana P.
525 Race St Cincinnati, OH 45202
B&A Street Kitchen
B&A Street Kitchen is more than just a place to grab a meal, it's a place to come together and connect. Every aspect of the restaurant, from the menu to the atmosphere, is carefully designed to create a welcoming and inviting space.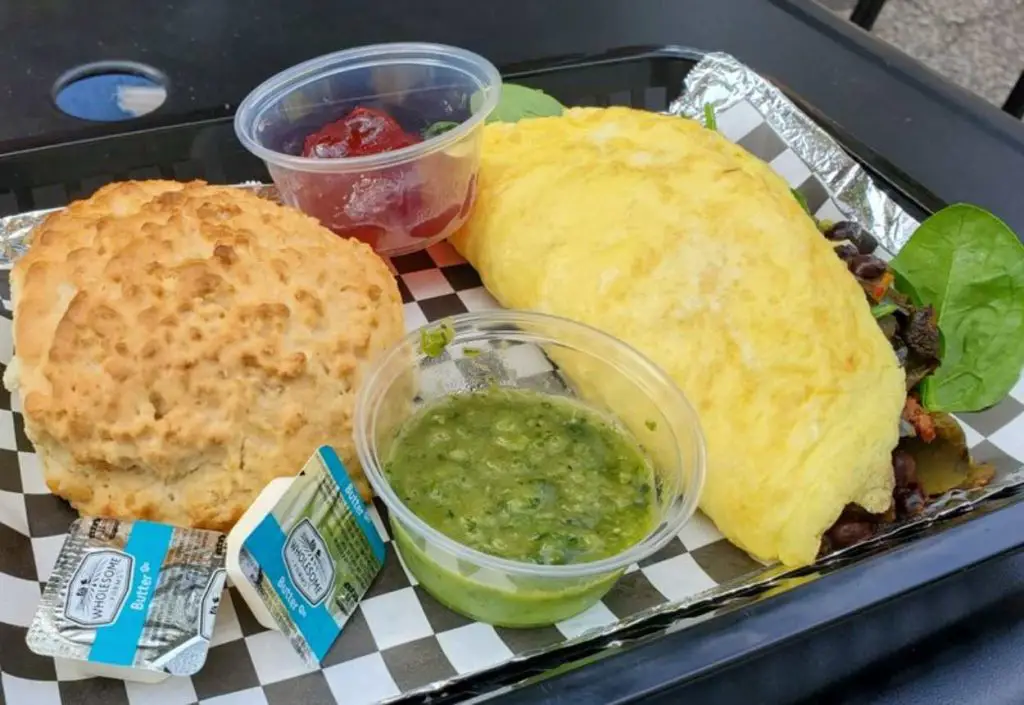 The restaurant's focus on Southern-style comfort food and Tex-Mex favorites is evident in every dish, as each is made from scratch with the freshest and most flavorful ingredients.
Whether you're in the mood for breakfast or lunch, B&A Street Kitchen has something for everyone, including plenty of options for those with special dietary needs.
So come for the food, stay for the feeling at B&A Street Kitchen.
Menu: B&A Menu
Top Review: "Stopped in for breakfast and service was extremely fast and friendly! Food was simply amazing, the goetta had a little kick to it which made it so unique and flavorful. The country fried chicken was juicy and tender… all food literally cooked to perfection. It looked like they also had hand crafted sodas which we regret not trying but no worries because we will be back without a doubt in my mind." – Patrick P.
1500 Race St Cincinnati, OH 45202, (513) 345-6670
Sleepy Bee Cafe
Sleepy Bee opened in 2018 by a team consisting of a doctor, an artist, and a chef, which almost sounds like the start of a joke, doesn't it?
The company is inspired by bees and their role in the health of local ecosystems.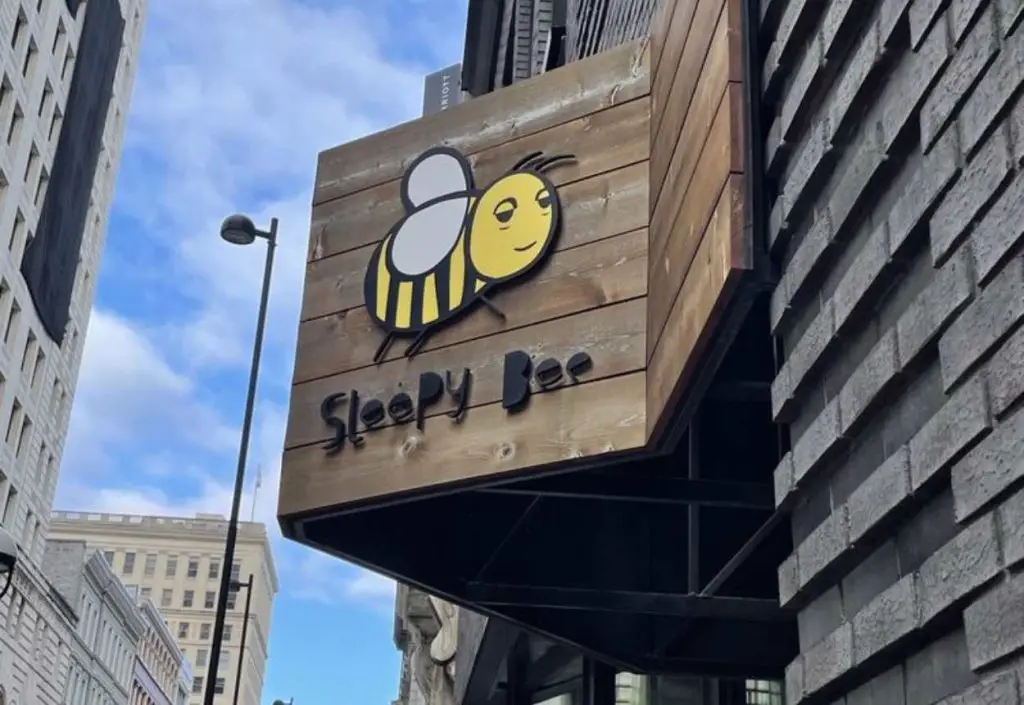 At Sleepy Bee, the menu features locally sourced ingredients and seasonally inspired dishes, all served in a welcoming atmosphere filled with original local art.
The team at Sleepy Bee believes in the power of food to nourish the body, mind, and spirit, and they hope that their customers will feel the same when dining at their establishment.
Menu: Sleepy Bee Menu
Top Review: "Visiting from Philadelphia, this place was good I would come back. The ingredients are super fresh. The staff are all extremely accommodating and seemingly genuine. I sat at the bar and heard conversations between each other and they seem to be really tight knit and appreciative of each other. They were all super nice to me too. You can tell they work as a team. I love places like this. I ordered a coffee with almond milk (good), the queen bee sandwich which was good also. I never had goetta before (reminds me of scrapple) but it was good. It's like sausage. Then I wanted to try their pancakes so I got the seasonal pancake which was buttermilk with caramel apples and granola. Super tasty. I would come back. Very good, and great experience." – Kemi B.
8 E 4th St Cincinnati, OH 45202, (513) 381-2339
HangOverEasy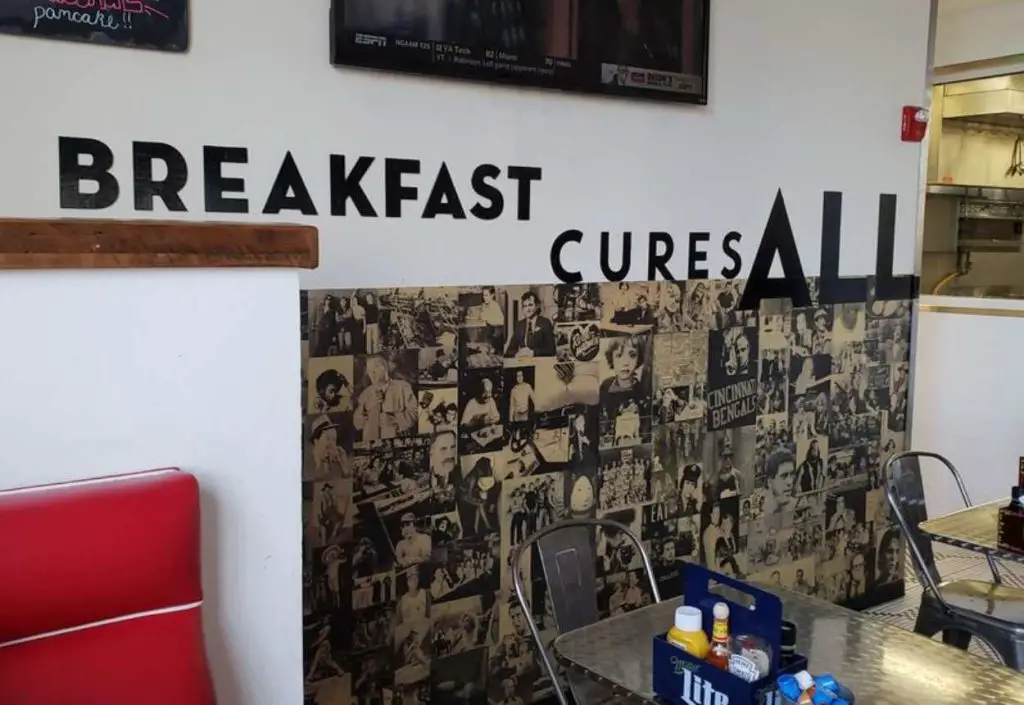 HangOverEasy is a trendy restaurant with a spacious, open layout that serves fresh, innovative daytime fare.
The menu includes coffee, juices, teas, draft beer, craft cocktails, and other happy hour drinks.
The ambiance of the restaurant is laid-back and relaxed, with a warehouse-diner vibe that complements the creative and satisfying breakfast recipes. Customers are sure to enjoy a fun and relaxing meal when dining at Hang Over Easy.
Menu: HOE Menu
Top Review: "Best brunch place in the city. Fast casual diner that has a few locations throughout the state. Waited almost an hour but I am sure glad we did. Tried a few different things and everything was SO GOOD. I got the Buffalo chicken sandwich topped with an egg and HOE fries. The chicken came out piping hot and crispy – fresh out of the fryer and to the table. The sweet potato tots were to die for. I could've easily just eaten a plate of it and been satisfied. The chicken and waffle was also really good – crispy chicken tenders similar to the sandwich. To end the meal we also got the cinnamon French toast – what a wonderful sweet ending. Two large French toast topped with cinnamon sugar butter, whipped cream, and fresh strawberries." – Shruthi S.
13 W Charlton St Cincinnati, OH 45219, (513) 221-5400
Cedar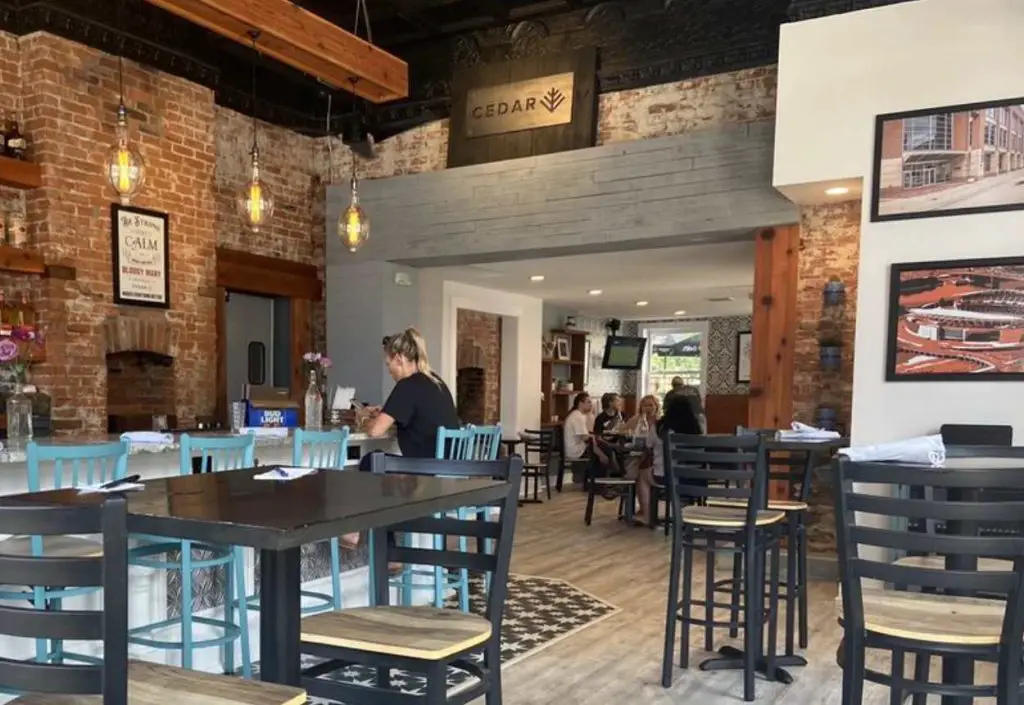 Welcome to Cedar, where the goal is to provide a one-hour vacation for the guests. The service at Cedar is neat and attentive, and the atmosphere is warm, cozy, and clean. The food is fresh, creative, and made to order. The staff at Cedar strive to create an atmosphere that allows the guests to unplug, relax, and unwind.
Cedar was opened by the Faeth family in July 2020 following 13 months of building renovations. They put a lot of care and attention into the details of the building to ensure that their guests have a memorable and enjoyable experience.
Chef Jeremy brings a wealth of corporate restaurant experience to Cedar, with over 12 years in the industry. The restaurant has been a dream of his and his father's since Jeremy was 17 years old, and their goal is simple: to provide their guests with a one-hour vacation through exceptional food and service.
Menu: Cedar Menu
Top Review: "This is by far one of the best brunches I have ever had! The house mix they make for their Bloody Mary's is just the way I like it, pickley, a little heat, and salty. I got their Biscuit Bowl that comes with a lamb and chorizo gravy… it's to die for! Earthy with a flare and spice and those biscuits were perfect. My husband got the chicken and waffles and that pepper jam they put on it really just makes it the right sweet and savory. The women working here were sweet and attentive as well. We will make this our spot from now on when we visit!" – Olivia G.
701 Main St Covington, KY 41011, (859) 360-1187
Alcove By MadTree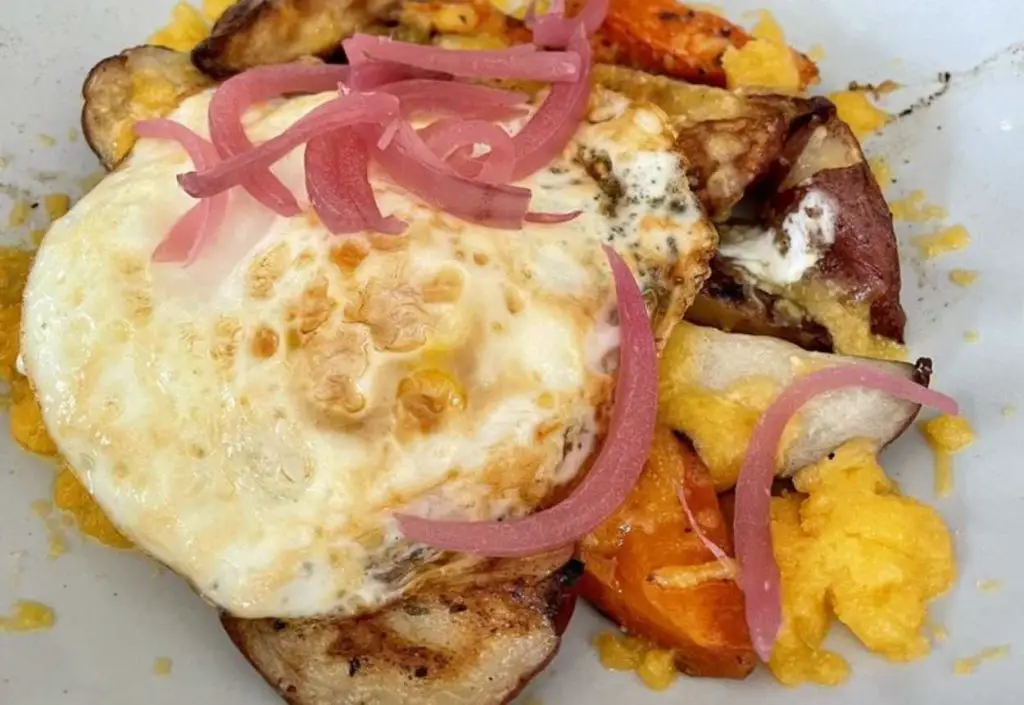 Alcove is a bar and restaurant located at 1410 Vine Street in Cincinnati's historic Over the Rhine district. It is a warm, inviting, and casual space that features brunch consisting of seasonal farm-to-table offerings.
The outdoor patio offers shade and space for lounging and dining under the canopy of four large trees.
It also connects to a lively greenhouse bar filled with vibrant plants and two plant chandeliers, where herbs growing onsite are used in house-made cocktails.
Menu: Alcove Menu
Top Review: "I have always been such a big fan of Madtree and anything they do, so it is no surprise that this restaurant quickly won me over! I went to Alcove for brunch on a Sunday morning. The interior is just so well done. It feels trendy and natural and beautiful and is just refreshing. We sat inside near the front of the restaurant and I ordered a Bloody Mary followed by a Shade beer – both were amazing. I ordered the Eckerlin's Goetta Sandwich for food and I am pretty sure it was the best damn breakfast sandwich I have ever had. My only feedback was our server wasn't great. Drinks were slow and he was awkward, but sometimes that happens. The food and drinks were awesome and that won me over!" – Stephanie J.
1410 Vine St Cincinnati, OH 45202, (513) 371-5700
The Governor Modern Diner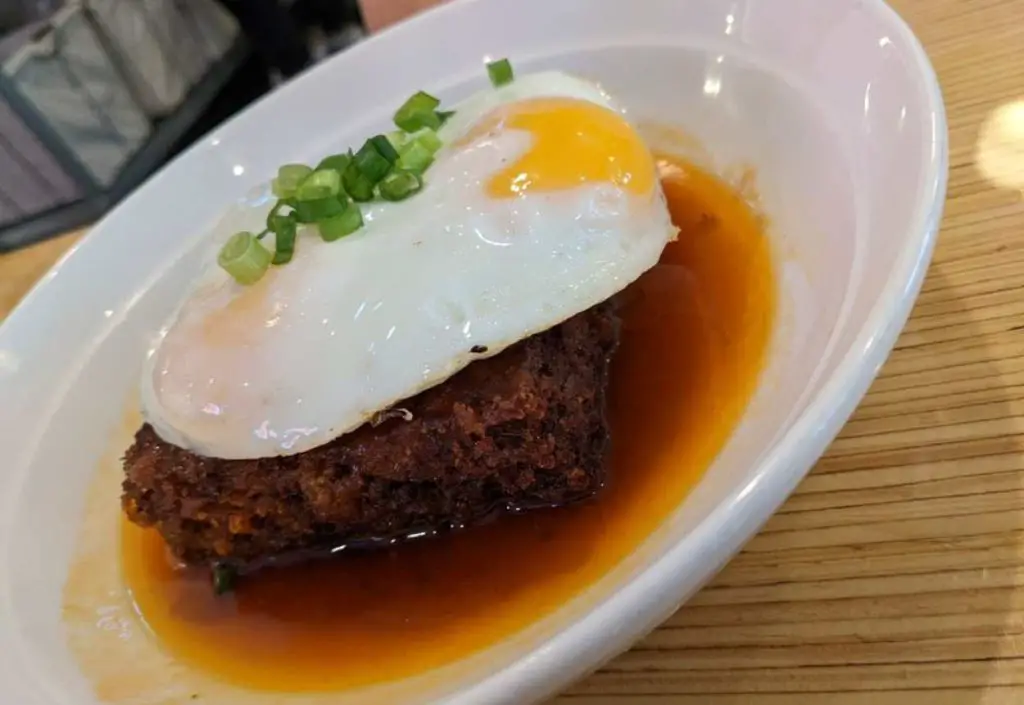 File The Governor under, "A little out of the way, but oh so worth it".
Nestled among the centuries-old buildings of bustling Main Street in Milford, Ohio, The Governor is a modern diner and bar that is the brainchild of Paul and Neil Barraco, brothers who are passionate about culinary adventure and creative spirits. These brothers have long dreamed of bringing their talents to the community.
At The Governor, you'll find delicious breakfast, brunch, and dinner options, as well as a wonderfully imaginative drink list. No matter what time of day you visit, you'll be treated like a neighbor, a friend, or even family. Stop by for some of the best breakfast in Cincinnati!
Menu: The Governor Menu
Top Review: "Can't say enough about this hip Milford spot!  The Governor has an eclectic menu for breakfast, lunch and brunch. Creative cocktails like the "cold" toddy bourbon drink! Woke me right up! Pastrami is house smoked to make a meaty flavorful Reuben. Bar is on point with great tequila, Irish whisky and bourbon selection. Staff is friendly and welcoming. Diverse crowd; not as I remember this area to be. Glad there is more inclusion and progressive growth for Milford and The Governor is a part of this growth. Tip: try the deviled egg potatoes. Yes I said it!" – Jill G.
231 Main St Milford, OH 45150, (513) 239-8298
Branch Hill Coffee
The team at Branch Hill Coffee Shop is committed to serving delicious and healthy food alongside locally roasted coffee.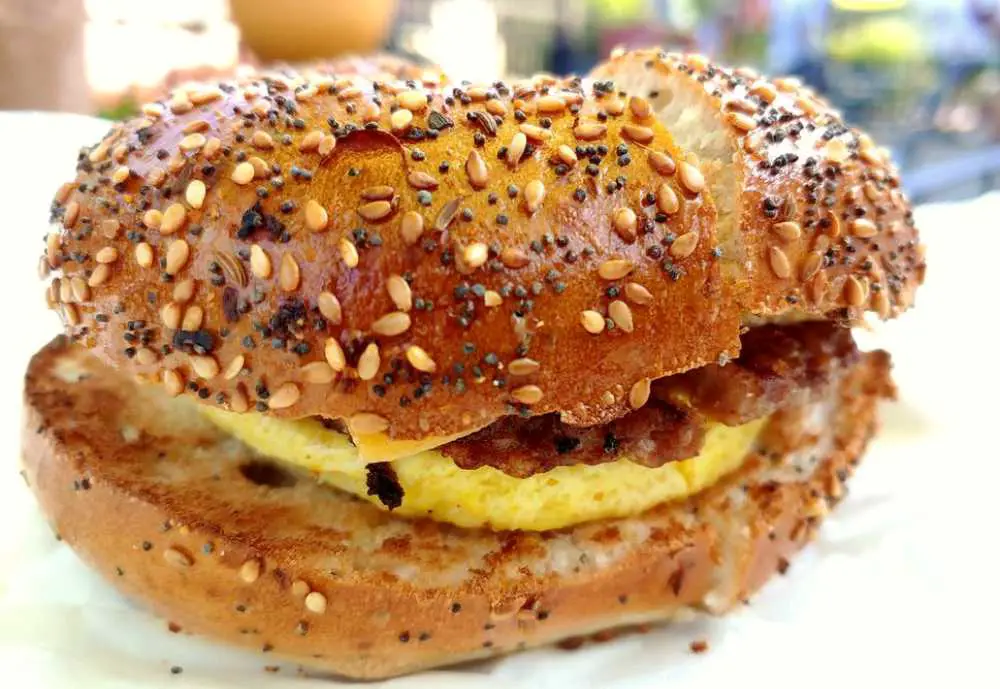 The staff is incredibly friendly and welcoming, making customers feel right at home. They understand the demands of a busy day and are dedicated to fueling their customers' days with wholesome food and delicious coffee.
Their breakfast menu is small but great. Can't go wrong with their breakfast burrito or bagel sandwich!
Menu: Branch Hill Menu
Top Review: "Went into Branch Hill on the way to Blooms and Berries Fall on the Farm. I'm so glad we did. The decor and ambiance was perfect for Fall. The food and drinks were amazing! The staff was absolutely perfect! I had a veggie sandwich, my kids had egg and cheese on croissant, and my husband had the burrito made without meat. Our lattes were great and tasty. I had the special- honey cinnamon I think. Anyway, go there and enjoy the food, drinks, and vibes." – Amber H.
371 Bridge St Loveland, OH 45140, (513) 914-1878
King's Way Cafe
Looking for an amazing breakfast spot in Cincinnati? Look no further than King's Way Cafe! This cozy little restaurant is known for its tasty breakfast dishes and warm atmosphere. What's more, they have vegan options on the menu, so everyone can enjoy their amazing food.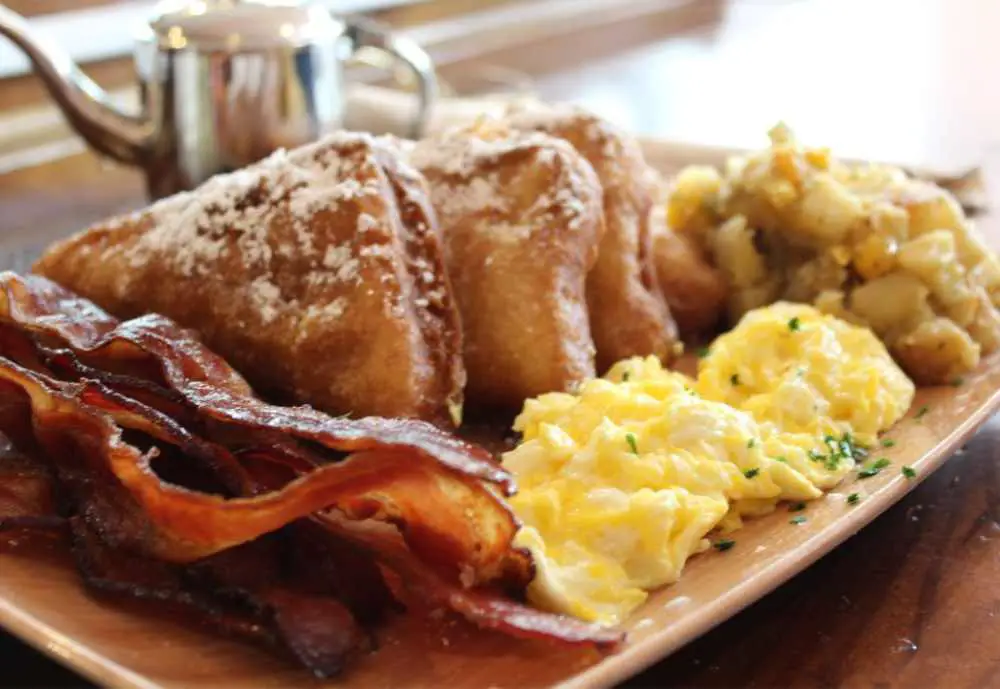 One standout menu item is their French Toast Puffs. These slices of heaven are like nothing you've ever tasted before – sweet, fluffy, and just the right amount of indulgent.
For those with a bigger appetite, the Royal King Breakfast and French King Breakfast are both excellent choices.
Try them out, they have some of the best breakfast in Cincinnati!
Menu: King's Way Menu
Top Review: "This is by far one of the best meals I've had in Cincy and probably the best value as well! The french toast puffs were perfect- I didn't even need to use syrup. The eggs were very fluffy and cooked exactly the way I like. The staff was amazing and made us feel like we were from the neighborhood. My mom said the grits were the best she's ever had and even got an order to go! I will definitely be back." – Cierra B.
3550 Montgomery Rd Cincinnati, OH 45207, (513) 351-5500
Cincinnati has a vibrant breakfast scene that offers a range of delicious options for locals and visitors alike. From classic diners and cafes to modern brunch spots, the city has something to offer for every taste and preference.
So if you're in Cincinnati and looking for a delicious breakfast experience, be sure to check out some of the city's best breakfast spots for an unforgettable morning meal.
You might also enjoy these mouthwatering breakfast articles:
Best breakfast Cincinnati, cincinnati breakfast, best breakfast in Cincinnati, breakfast cincinnati