In search of the best breakfast in Kansas City? Look no further! This list includes some of the most beloved breakfast joints in the city, perfect for any morning craving. From pancakes to eggs Benedict, there is something for everyone on this list. 
So whether you are looking for a quick bite before work or a leisurely weekend brunch, be sure to check out one of these amazing restaurants.
Denver Biscuit Company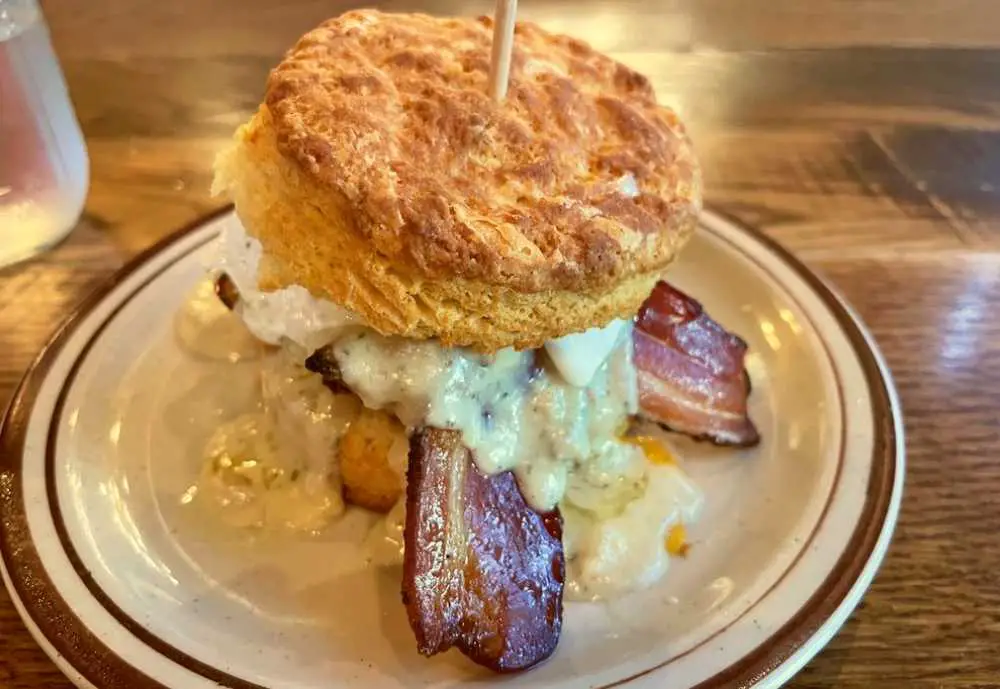 Nominated as the Best Brunch breakfast spot in Kansas City, the Denver Biscuit Company is known for their delicious biscuits.
It is popular among locals especially to people that like to eat biscuits for breakfast or brunch.  They are made with buttermilk and served with honey butter, and they are absolutely delicious. 
The Denver Biscuit Company also has a great selection of breakfast sandwiches, so you are sure to find something to your liking. Some of their popular dishes are the Biscuit French Toast, Biscuit Sandwich, and the Biscuit Pot Pie with a Side of Chicken.
Delight your taste with their tasty biscuits and sandwiches. You will surely not regret your choice.
Menu: Denver Biscuit Menu
Top Review: "Another successfully delicious brunch at Denver Biscuit Co located in Westport of Kansas City. We ordered the Lola and the Franklin. These two are perfect to share with the table because one biscuit is smothered in gravy while the other is topped with sweetly maple syrup. If biscuits aren't your style, you can also order pizza from Atomic Cowboy since they share the same space! The service was fabulous and the wait is ever too long because of how large and open the restaurant is. Make sure to top your brunch off with one of their breakfast sangrias, bloody mary's, or a GINORMOUS cinnamon roll." – Becca B.
4144 Pennsylvania Ave Kansas City, MO 64111, (816) 800-7816
HomeGrown Kansas City – Brookside
A breakfast restaurant that is thoughtful about their food is rare. With HomeGrown Kansas City they are not only passionate and committed in delivering delicious cuisine, but to using quality ingredients as well.
This restaurant is known for its incredible pancakes, waffles, and omelets, and they also have a great selection of breakfast sandwiches and sides. Plus, their coffee is some of the best in town. 
When you find yourself choosing HomeGrown Kansas City, make sure to try some of their popular dishes, such as the Avocado Toast, Salsa Verde Pork, or the Lemon Ricotta. Your taste buds will surely love their savory taste.
Menu: "This place gets 5 stars all around. First they have join the waitlist which is the best way to wait. We got in faster than the time posted. The coffee is great.  The pop tarts were delicious as an appetizer.  The meals were so yummy. The pumpkin French toast was the best. Avocado toast was so good because of the homemade bread. The server was the best!" – Krystal H.
Top Review:
338 W 63rd St Kansas City, MO 64113, (816) 631-3181
Happy Gillis Cafe & Hangout
A breakfast restaurant that is cozy, crafty, and into delicious cuisine is a rare find in Kansas City. With Happy Gillis Cafe & Hangout, you will find yourself enjoying all three.
This local favorite is known for its delicious food and friendly atmosphere.
If you are feeling adventurous, you can try one of their signature dishes like the Breakfast Burrito or the Biscuits and Gravy. The coffee is always fresh and there is always a friendly face behind the counter. 
The owners of Happy Gillis Cafe & Hangout understands that food is a common language for all. So, if you are hanging out with friends or family, why not craft their dishes well. They have lots of seasonal changes to their menu. Thus, you get to experience different specialties every now and then.
Menu: Happy Gillis Menu
Top Review: "Great place no doubt ~ easily a favorite drop spot for Sunday brunch. Their food is well thought out and tastes as pleasing as it looks. Coffee is always hot and fresh with fulfilling flavors. Fresh lime ice carafes. There is outdoor seating with trees so you can get a little whisp of fresh air while waking up and starting your day out. I like it here!" Jess W.
549 Gillis St Kansas City, MO 64106, (816) 471-3663
The Farmhouse
There is something about a farmhouse that makes it the perfect place to enjoy a delicious breakfast. Maybe it is the rustic charm or the down-home cooking, but either way, you will love The Farmhouse breakfast restaurant in Kansas City.
The Farmhouse is a cozy little spot that specializes in comfort food with a twist. The menu changes seasonally, but you can always expect their signature dish, the Farmhouse Hash, to be on it.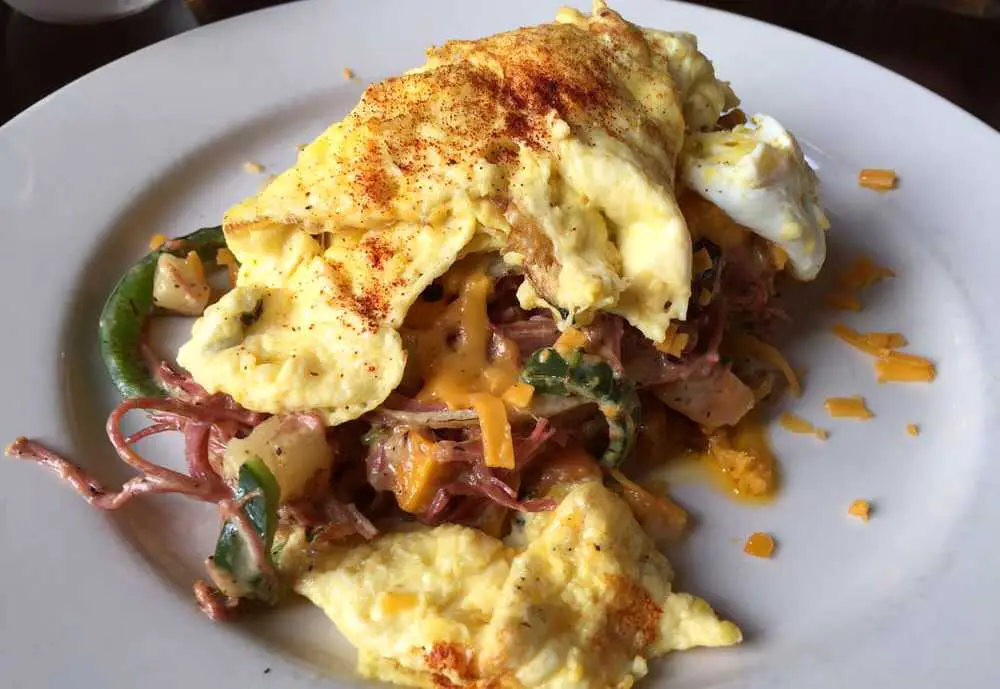 This dish features roasted potatoes, onions, peppers, and your choice of protein all topped with two eggs any style. It is hearty and filling, and just what you need to start your day off right.
If you prefer something a little lighter, the Veggie Omelet is a great option. It comes with onion, potato hash, greens, swiss cheese and mushrooms. Or if you are in the mood for something sweet, try the Blueberry Pancakes. They are served with real maple syrup and butter, and they are sure to hit the spot.
No matter what you order at The Farmhouse, you can be sure that it will be fresh and made with love. So head on over and enjoy a delicious breakfast in a charming setting!
Menus: Weekday Brunch / Weekend Brunch
Top Review: "Stopped by on a Saturday morning at 9:45am expecting a long line, but they sat us party of 6 quick and service was quick and lovely! Food was amazing, their special menu of the week for brunch included my Italian eggs Benedict and WOW, it had a spicy meat on it but wasn't over powering to the rest of the food! Cold brew with vanilla was great, and our friends enjoyed the hot coffee press, fun experience & will be back when in KC next! Not too far from downtown!" – Haley J.
300 Delaware St Kansas City, MO 64105, (816) 569-6032
Snooze, an A.M. Eatery
If you are craving a delicious yet affordable breakfast places in Kansas City, Snooze, an A.M. Eatery is a great choice. This popular restaurant chain (with good reason) serves fresh and creative dishes that will leave you satisfied and coming back for more.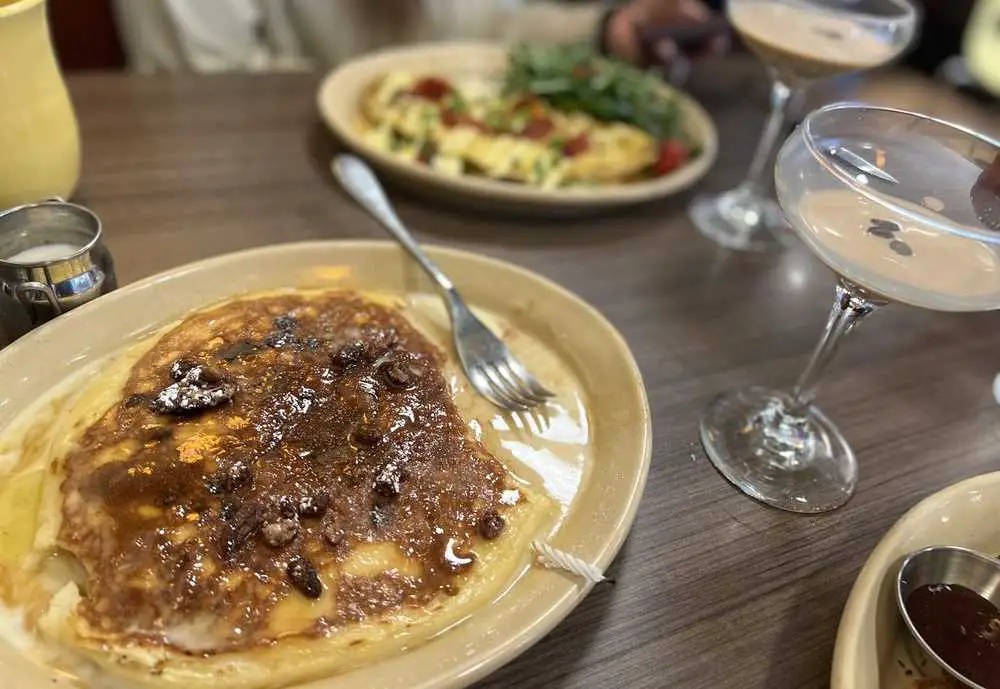 Some of our favorite menu items include the Breakfast Burrito, filled with eggs, cheese, bacon, sausage, and potatoes; the Pancake Flight, where you can try three different flavors of pancakes; and don't forget to try one of their delicious cocktails or coffee drinks!
Snooze can surely satisfy your cravings for a delicious and affordable breakfast. So, what are you waiting for? Be sure to stop by for a quick bite before work or for a leisurely weekend brunch.
Menu: Snooze Menu
Top Review: "The food was great, I got the pineapple apple upside down pancakes and my wife got the strawberry shortcake pancakes. They were really good and large in size my wife couldn't even finish them. I also got a small order of shrimp and grits, and it was amazing, highly recommend at least trying. Great service, waitress was very helpful. And the look of the place was very unique and upbeat. Highly recommend" – Jacori J.
---
With all these breakfast restaurants in Kansas City, Mo and Ks, there is always one restaurant that can satisfy what you are craving. Whether it is something delicious and affordable, or something cozy and comfortable, the breakfast list mentioned above can surely match what you eat to jump start your day.
You might also like:
breakfast in kansas city, best breakfast in KC, breakfast places in Kansas City, breakfast kansas city, best breakfast Kansas City, kansas city breakfast restaurants