Wake up and smell the coffee, because we've come up with a delicious list of top contenders for the best breakfast in Modesto, CA!
Whether you're a fan of classic breakfast fare or you're looking to try something a little more unexpected, these restaurants have got you covered.
So brew yourself a cup of joe and get ready to dig in – it's time to discover the best breakfast spots in Modesto!
Delicioso by Mr. & Mrs. Bistro
Miguel A and Leticia Martinez are the owners of Delicioso by Mr & Mrs. Bistro. The company was created in the summer of 2017 when the Martinez family decided it was time to do something for themselves.
Miguel has more than 15 years of experience in the restaurant industry, having worked at various restaurants in the valley. Their goal is to provide excellent service to customers, and to prepare and cook delicious food for them to enjoy.
While you're there, we recommend trying their amazing Nutella crepe, or their amazing chilaquiles.
Menu: Delicioso Menu
Top Review: "The owner, Mrs. Martinez, took our order and asked if we like French Toast.  We said yes but didn't plan on ordering it. She changed our minds because her eyes sparkled and opened wider as she mentioned their French Toast, and how it's not too eggy. We have never inhaled French Toast as quickly as we did this morning. Just pure perfection, with whipped cream, fresh strawberries, bananas, and a small touch of buttery orange marmalade that made my eyes widen the same way Mrs. Martinez's did lol. The Don Chilaquiles hit the spot. My husband's El Jefe (chorizo omelet) was so tasty, along with their breakfast potatoes. I asked for extra salsa and wanted to drink it out of a cup. We will be back to try the Chicken & Waffles that Mrs. Martinez recommended. Next time we'll just ask her to please order for us. Too many great options to choose from here!" – Melissa D.
1410 H St Modesto, CA 95354, (209) 918-3857
Squeeze In
Squeeze In has been featured on the Food Network's Throwdown with Bobby Flay and is known for serving the "Best Omelettes on the Planet!"
Specializing in gourmet omelettes, they currently have 64 specialty options on their menu, ranging from basic combinations to more exotic options.
In addition to their famous omelettes, Squeeze In also offers a variety of breakfast items like French Toast, pancakes, biscuits and gravy, and fresh fruit.
They also stand by their guarantee: "You'll love our food or it's FREE"!
Menu: Squeeze In Menu
Top Review: "Yummy!!! That's what I have to say about this place!! There were 3 of us dining for a late breakfast. We all ate something different, so we each got to taste a variety of specials. Mine was a cheeseburger omelette. Odd, yes!!! But, really delicious. I would say less pickles next time. The drinks were pretty good too. I had champagne with grapefruit juice! A perfect start to my day!" – Cheryl V.
3020 Floyd Ave Ste 101 Modesto, CA 95355, (209) 846-0719
The Secret Garden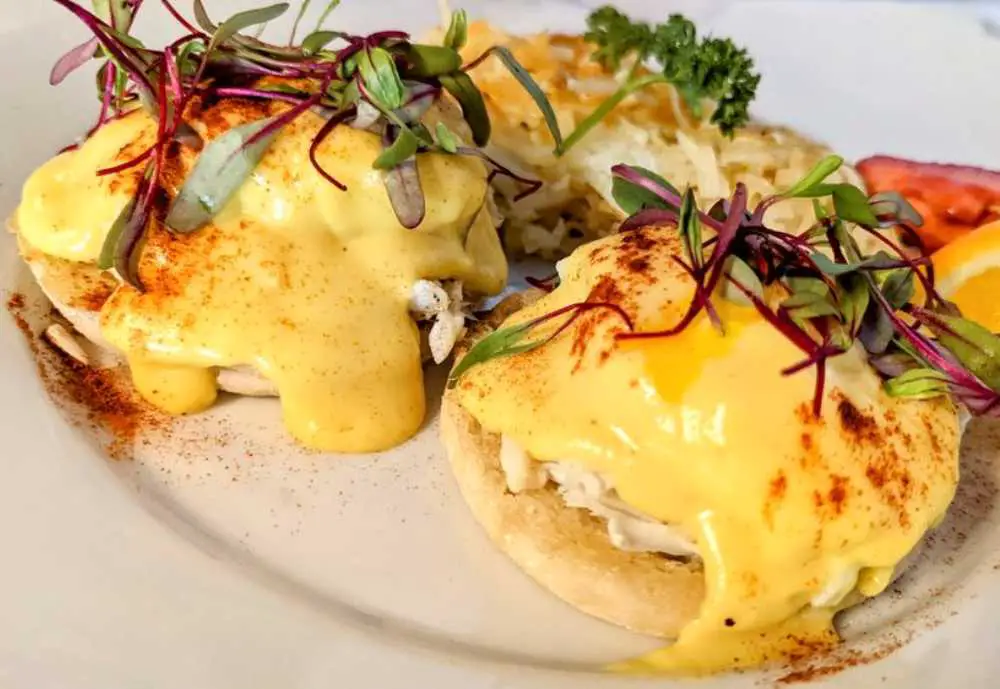 The Secret Garden is a popular restaurant located in Modesto, California. It is known for its amazing food and highly instagrammable garden niche.
Several walls also have beautiful greenery and flowers giving diners the feeling of eating in a… secret garden.
The menu at The Secret Garden features a variety of dishes made with fresh, locally-sourced ingredients. We recommend the super fun Cinnamon French Toast Crunch if you don't mind the carbs, or the country fried steak with eggs if prefer some protein!
Top Review: "My sisters and I had breakfast there the food was delicious and good potions the atmosphere was beautiful and comfortable and the service awesome the waitress kept checking to see if we needed anything the whole experience was fantastic I would definitely recommend this place if you're in the area please try it out." – Sylvia M.
2401 E Orangeburg Ave Modesto, CA 95355, (209) 846-9559
The Farmacy
Erin Doran, a serial entrepreneur who owns and operates The Century, Nine3One, and Rosé Bouquet, founded The Farmacy in the summer of 2018.
Erin discovered she had several food allergies and began seeking ways to eat more healthily, eventually settling on a whole-food, plant-based diet.
However, she found it difficult to find fast, easy, healthy meals that met her dietary needs. To learn more about the benefits of plant-based eating, Erin enrolled in the T. Colin Campbell Center for Nutrition Studies Plant-Based Nutrition Program at eCornell University.
This sparked a passion in Erin to not only adopt this new way of eating herself, but also to share it with the local community through The Farmacy.
Menu: The Farmacy Menu
Top Review: "Tried their breakfast burrito and it was soooo good. It also came with a side salad that was yummy. Their matcha latte is my new favorite!!! the overnight oats were topped with fresh fruit which I loved but definitely not a must try. I can't wait to try more of their items." – Marisela G.
907 10th St Modesto, CA 95354, (209) 422-6762
Old Mill Cafe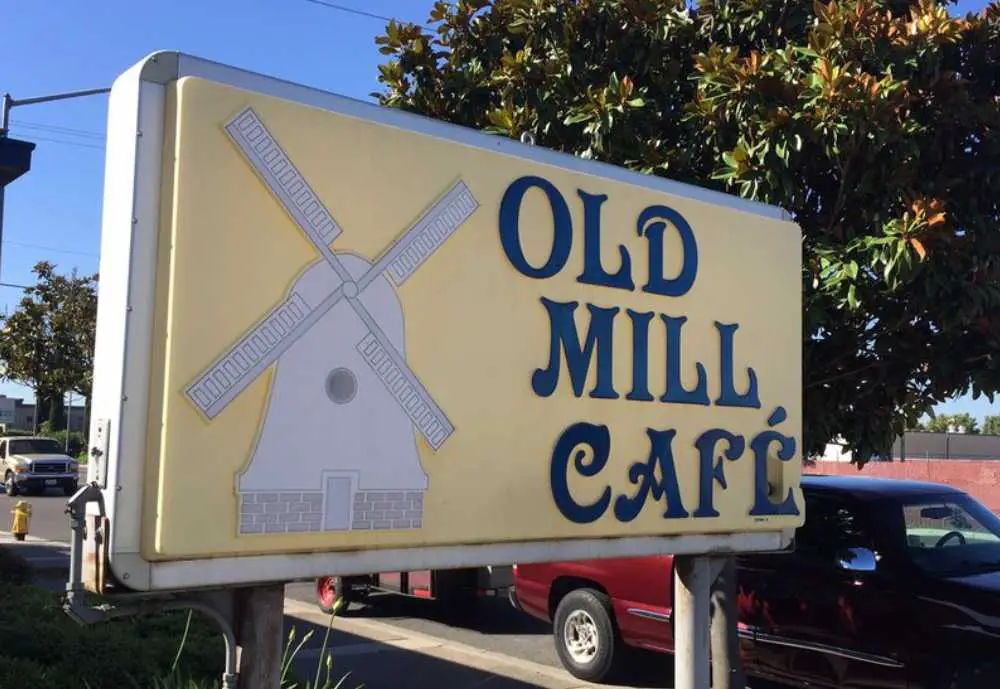 Old Mill Cafe Menu is a great place to go when you are looking for old school cafe. It's well loved by locals and for good reason.
Try their amazing Chile Verde Omelet, and the Chicken Skillet which will hold you over for awhile!
Top Review: "Absolutely LOVED this place! Our server was great, always on top of filling up our coffee and very accommodating with my husband's request to top his chicken and waffles with their delectable gravy. I wasn't surprised that this place ended up being so good, and it definitely hit the spot. Tucked away, so it's not too busy and there is a large selection on the menu. Next time you're out for breakfast, choose Old Mill! We will certainly be back." – Emily D.
600 9th St Modesto, CA 95354, (209) 524-0451
Palo Santo Cafe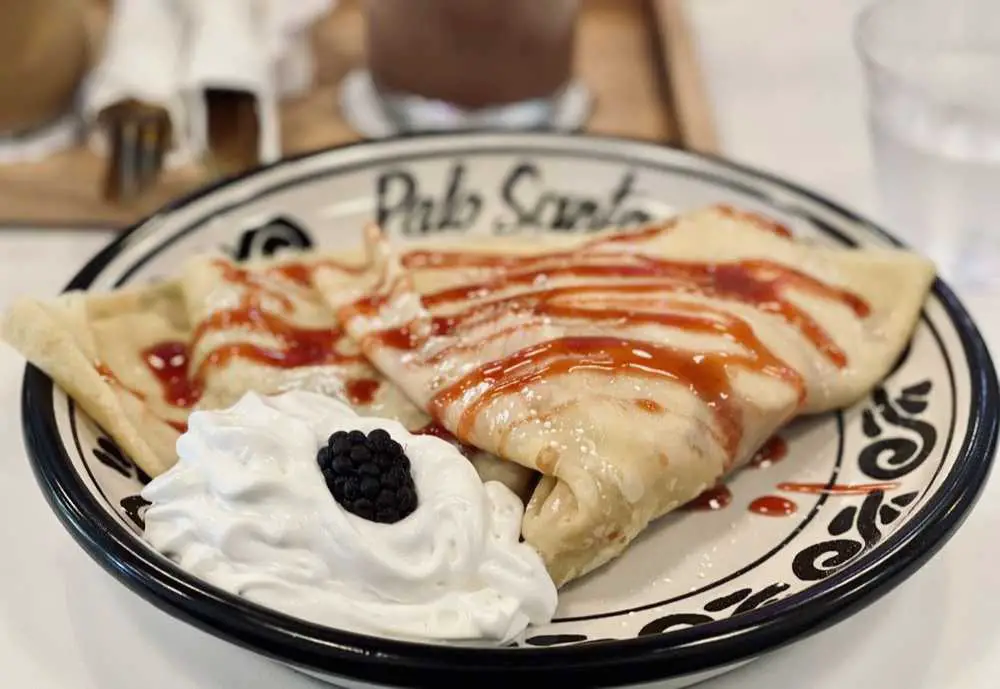 Palo Santo Cafe is a popular eatery located in Modesto, California. The cafe is known for its delicious crepes, avocado toast, and scrambled eggs.
Their crepes come in a variety of sweet and savory fillings, making them a versatile and satisfying choice for breakfast.
The avocado toast is made with perfectly ripe avocados and served on top of toasted bread, making it a tasty and healthy option.
Palo Santo Cafe is clearly one of the best breakfast spots in Modesto, Ca.
Menu: Palo Santo Menu
Top Review: "This adorable cafe is right around the corner my house, and I wish I would have come sooner!! Its so cute and cozy. The food and drinks are high quality, and the presentation of the food and drinks is beautiful. The staff were very busy but still so attentive to us while we were sitting and eating. The attention to detail that was put in to everything is impeccable! I can't wait to go back." – Rose A.
​6333 Oakdale Rd Ste I Riverbank, CA 95367
You might also enjoy reading: