Portland, Oregon, is a city known for its vibrant food scene, and breakfast is no exception. With a plethora of options to choose from, it can be overwhelming to decide where to go. That's why we've compiled a list of the best breakfast restaurants in Portland to help you start your day off right.
Whether you are a local looking for a new breakfast spot or a visitor in town for a short while, Portland has a lot to offer when it comes to breakfast joints. From cozy cafes to hip diners, there's something for everyone. 
To help narrow down your options, here are some of the best breakfast spots in Portland. So start your day off right with a delicious breakfast at one of these great places!
Screen Door Eastside
Screen Door is a popular restaurant in Eastside Portland. The restaurant is known for its Southern-style cooking, and its menu features items such as Lowcountry Shrimp & Grits, Fried Catfish Sandwich, and Chicken & Waffles.
On the sweeter side, don't hesitate to try out a plate of their Praline Waffles or Bananas Foster French Toast.
Screen Door is also known for its friendly and welcoming atmosphere, and its staff is always happy to help guests with any questions or concerns they may have. Their prices are reasonable and the food is super tasty.
Menu: Screen Door Eastside Menu
Top Review: "If you've debated going to Screen Door because of the lines, stop your waffling! Yes, there will likely be a line and yes, you will probably wait longer than you want to. However! Lingering for any length of time around this southern kitchen will only cause your appetite to grow and your desire to eat the entire menu all the stronger.
It's been said that you eat with your eyes first and I can tell you that I have changed my order at Screen Door several times because of what I saw being delivered to a nearby table. But in the end, you can't go wrong. The signature fried chicken and waffles is outstanding, the praline bacon and sweet and salty, the cheddar grits are a delectable side and the hush puppies… don't get me started! I would order these on their own as an entire meal.And if you don't like it, that's okay but don't let the screen door hit you in the way out! (Kidding)." – Sean P.
2337 E Burnside St, Portland, OR 97214; (503) 542-0880
Cheryl's on 12th 
Cheryl's on the 12th is one of the best places to go in Portland for a great cup of coffee. They use the highest quality beans and their coffee is always fresh.
The staff is friendly and they have a wide variety of delicious eats on their menu such as Croque Madame and Corned Beef Hash.
A scrumptious combo of linguica sausage, bacon, eggs and rice comprises the Portuguese Fried Rice, which is topped with green onion and avocado, and the Migas Scramble is made with eggs, tomatoes, corn tortilla strips, peppers, onions and cotija served with black beans and avocado.
French Toast pairs well with blueberries, lemon curd and whipped cream.
If you are looking for a perfect romantic night out with your loved one or just chill out with friends, Cherly's on 12th is a great choice.
Menu: Cheryl's on 12th Menu
Top Review: "What a fantastic, unexpected food experience!!! This unassuming place has fantastic service and some unique must have dishes. The lemon artichoke, bacon wrapped dates, and the soup were amazing. The Portuguese fried rice is a must!!! Did i mention they make a "mean" mimosa – pomegranate is amazing!!! But the best treat of all were the fresh, warm, soft beignets!!!! The best I've had!" – Steph S.
1135 SW Washington St, Portland, OR 97205; (503) 595-2252
Mother's Bistro & Bar
Mother's Bistro & Bar Portland is a great place to enjoy a delicious meal with friends and family. The menu offers a variety of items to choose from, including some of the best burgers in town.
Some of their delectable breakfast items include Wild Salmon Hash, Stuffed Frittata and Buttermilk Biscuits & Sausage Gravy. The fries are also a must-try, and the shakes are a perfect way to finish off your meal. 
Mother's Bistro & Bar is known for its friendly and efficient service. The atmosphere is casual and inviting.
Whether you are looking for a quick bite or a leisurely meal, this restaurant is the place to go. You will love the food and the overall experience.
Menu: Mother's Bistro & Bar Menu
Top Review: "My new favorite brunch spot! After the Saturday farmer's market my mom, son and and I were hungry and walked down to Mother's Bistro – we were sat within 10 minutes at the most perfect table on their street side patio! The hostess was so sweet, she immediately served us water and made us feel welcome. Our server was great as well, very friendly and service was quick for a busy Saturday brunch service! We got 2 cocktails (they have pint sized mimosas!), a breakfast item, a lunch item, and a kids cheeseburger. Total was $70, with a 20% tip! We loved our dishes and ate everything. The Perfect spot for brunch with friends or family of any age!" – Becca C.
121 SW 3rd Ave, Portland, OR 97204; (503) 464-1122
Pine State Biscuits
Pine State Biscuits is a local favorite in Portland for Southern-style comfort food. It is a must-visit spot for any biscuit lover.
The biscuits are fluffy and buttery, and pair perfectly with the restaurant's signature gravy.
Their menu features a variety of delicious biscuit sandwiches, such as The Reggie, The Regina, and The Wedgie, which has an entire wedge of iceberg lettuce in it.
The Moneyball is a mouth-watering example of their other biscuit-based dishes. They also serve sandwiches, salads, pancakes and other classic breakfast meals.
The casual atmosphere and friendly service make Pine State Biscuits the perfect place to relax and enjoy a delicious meal.
If you are looking for a delicious biscuit in Portland, Pine State Biscuits is the go-to place.
Menu: Pine State Biscuits Menu
Top Review: "Hot damn. I get why this place has so many great reviews. There was a line when we got there but it went fairly quick and we were able to find a table no problem. I am not vegan but got the veggie Reggie. It was SO flavorful. We also got biscuits on the side with apple butter and jam. The coffee was also great and if we weren't flying home right after I would have tried the Bloody Mary. I would definitely recommend to anyone in the area and people out of town! Coffee and water are self serve and you bus your own table." – Natalie K.
2204 NE Alberta St, Portland, OR 97211; (503) 477-6605
Jam on Hawthorne
If you are looking for a place that serves the best breakfast in Portland, Jam on Hawthorne is definitely on the list.
Voted as Portland's Best Brunch from 2018, this restaurant has quite a selection for you. From Tommy's Joint Wrap made with eggs, hashbrowns and chorizo to the Cheech & Chong Scramble topped with queso fresco, satiate your morning appetite with a flavorful bite.
Bennie Hashbrowns and Fancy Maddie Cakes, topped with blueberry compote and lemon curd, are also noteworthy breakfast items worth trying.
Not only does this place offer good food, but they are also kid-friendly. It is perfect for guests that are traveling with children. They have a set-up to entertain young children so the adults can enjoy their meals.
Jam on Hawthorne has a fun and funky atmosphere decorated with paintings made by local artists.
This great neighborhood cafe has a warm and friendly service. You will surely love the cool vibe of this place. 
Menu: Jam on Hawthorne
Top Review: "Classic Portland brunch. Came on a busy holiday, so we waited about an hour for a table. Love the variety in the menu as they have both meat and meatless options. I ordered the Cheech and Chong Scramble. Can't really go wrong with a scramble, especially filled with lots of fillings. The tempeh chorizo was pretty mild so it was perfect with the hot sauce. Also got some Fancy Maddie Cakes, the pancakes were just fluffy enough and the lemon curd along with the blueberry compote was delicious! Perfect way to round out the meal." – Miki M.
2239 SE Hawthorne Blvd, Portland, OR 97214; (503) 234-4790
The Waffle Window
Who doesn't love waffles for breakfast? But, what The Waffle Window creates is not your ordinary waffle.
The owner created her recipe, similar to traditional Liege-style sugar waffles, with a secret twist by utilizing seasonal and local ingredients. This made the recipe a truly unique waffle that everyone loves. 
Breakfast at The Waffle Windo, you never know what you might find. From The Three B's, a bacon, brie and basil waffle, to a huckleberry jam and lemon panna cotta waffle, indulge your sweet cravings with these tasty delights.
The establishment also serves a variety of savory waffles, such as The Whole Farm and the Spicy Bacon Cheddar Jalapeno Waffle.
Menu: The Waffle Window Menu
Top Review: "On a rainy day in Portland, having hot waffles hits different. Me and my friends were eating our way through Portland and we came across this unlikely gem. It's literally a whole kitchen running out of a window. There are many good sweet and savory options but I personally really liked the whole farm as a savory option because it gave a good variety of Protein and veggies. Definitely a good brunch to have." – Karen H.
3610 SE Hawthorne Blvd, Portland, OR 97214; (971) 255-0501
Broder Cafe
Considered a brunch gem in Portland, Broder Cafe is known for its wide array of various cuisine.
If you are craving for Scandinavian taste, you can try Aebleskivers, a danish pancake that is served with lemon curd and lingonberry jam. If the mood is calling for meatballs, their Swedish meatballs are filling and flavorful.
Folorade Agg, which translates to "Lost Eggs", is a scrumptious breakfast favorite made with two eggs in a bed of creamed spinach topped with your choice of ham or mushrooms under a layer of panko and parmesan crust.
The decor of Broder Cafe is somewhat unique with the owner having an affinity for restoration hardware. Decorations were meticulously done with some collections from all of the owner's travels.
Menu: Broder Cafe Menu
Top Review: "This place was pretty busy for Friday brunch. We ended up waiting around 20 minutes but was worth it for the food. We ended up getting the Swedish Meatballs, Salmon Fish Cakes, and a Vanilla Latte. The Swedish Meatballs were served with a creamy sauce and lingonberry jam that paired perfectly with the savory meatballs. The Salmon Fish Cakes had so much flavor and the tartar sauce just elevated the already delicious dish. The Vanilla Latte was very creamy and a good balance of espresso, milk, and vanilla. The vanilla flavor wasn't too overpowering." – Mei Y.
2508 SE Clinton St, Portland, OR 97202; (503) 736-3333
Tin Shed Garden Cafe
If you wish to go where the locals go, the Tin Shed Garden Cafe is the place to visit. They specialize in turning traditional American food into something unique and creative.
Their dishes are always made with precision and attention without sacrificing their taste, and their ingredients are always sourced fresh from the local market.
The Tin Shed Garden Cafe pride itself on providing not just high-quality, mouthwatering dishes, but they make sure that the entire table service experience is top-notch.
Some of their favorites include the Veggie Pesto scramble, the Everything Naughty sampler plate and the Good Dog stacked scramble.
So what are you waiting for? Get up and head to one of these breakfast spots in Portland that are sure to make your morning!
Menu: Tin Shed Garden Cafe Menu
Top Review: "My friend who is an Alberta local recommended Tin Shed. We went in and the the hostess asked us if we had reservations. We didn't but still were seated fairly quickly (it was a week day, not weekend). Their fireplace was on so it was nice and toasty inside. Out orders were taken quickly and we were told water, tea and coffee was self serve at the front. I ordered the everything nice.
The French toast was nicely done with the maple syrup and raspberry preserve. The potato cake was crisp and reminded me of a potato latka. The chicken apple sausage was juicy and the fruit was a nice touch. My friends ordered the everything naughty with the rosemary gravy. I took a small bite and I can see why this is a favorite. The rosemary flat bursts through to compliment an already amazing biscuit. Just based off the table raves about the biscuit, this would be a reason to return!" – Olivia C.
1438 NE Alberta St, Portland, OR 97211; (503) 288-6966 
Little Griddle
Located in the heart of downtown Portland, Little Griddle is a cozy breakfast spot that serves up classic American breakfast dishes. Their specialty is turning these classic breakfast and brunch staples into healthy and creative options.
Their menu features a variety of breakfast sandwiches, pancakes, and waffles. People often recommend their huevos benedictos, bacon and spinach skillet, and eggs benedict. The restaurant is known for its friendly service and generous portions. Prices are reasonable, and the atmosphere is casual and laid-back.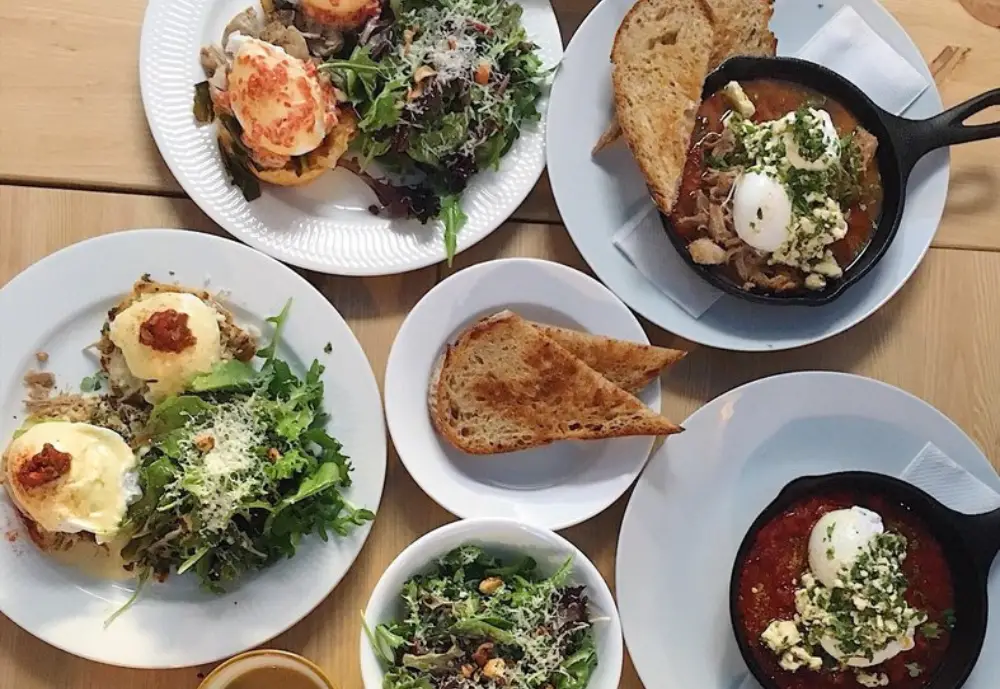 Top Review: "Came here for brunch off of a recommendation from out Portland host. A great little brunch spot just off the path of the main strip in the neighborhood.
Popular for sure, they'll gladly take your name down and send you a text message when your table is ready which is great and allows you to walk around the area a bit if you'd like. You can follow the progress on the Yelp waitlist which is also nice.
Little Griddle is, well little. A couple tables outside and about 6 or so inside. The service for sure is great, all of the staff interacted with were great. My favorite interaction was one of the bussers taking away my now empty "griddle" which your food is served in and jokingly remarks "That food must've been terrible." I got a good chuckle out of that and appreciate the humor.
So, what did I have leading to an empty griddle? Started with a Greyhound cocktail – monopolowa vodka, soda, splash of grapefruit juice. Not very strong but fruity. Food, I got the Curry Hash – potato hash with pepper & onion in coconut curry sauce, with Swiss cheese and two poached medium eggs. Everything about it was great. Surprisingly not too potato-y either. The curry tasted great. I regret not substituting my toast for a biscuit, don't make my mistake!
This choice was among many other good sounding choices on the menu, so another visit is a sure bet between the food and service." – Marcus S.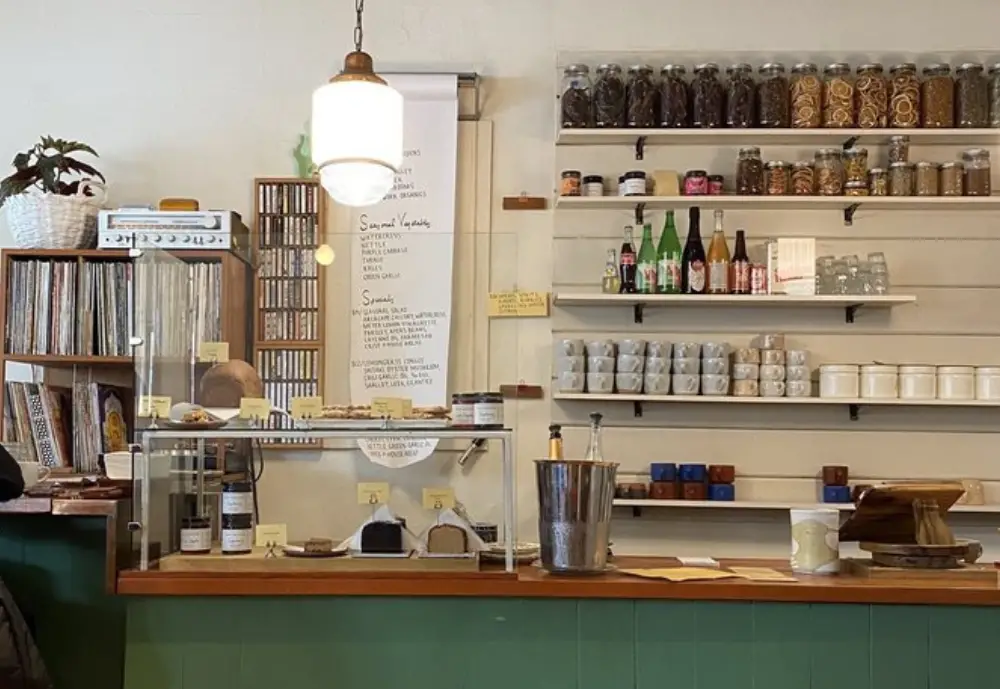 Sweedeedee is a popular bakery and café that serves breakfast and brunch all day. Their menu features a variety of sweet and savory dishes, including quiches, pastries, and breakfast sandwiches. The restaurant is known for its homemade bread and pastries, which are baked fresh daily.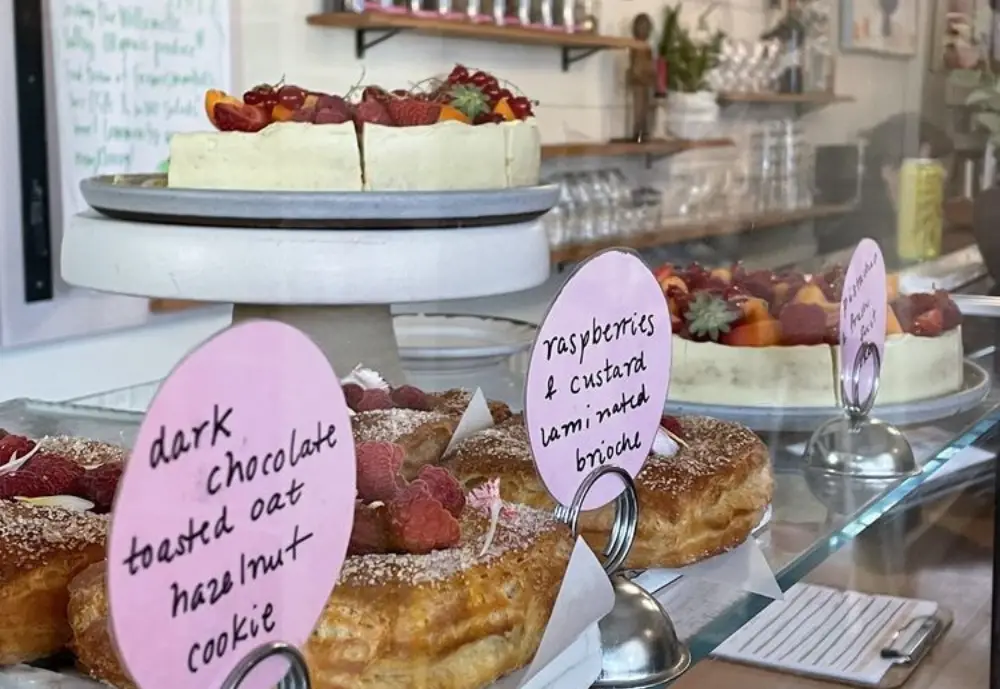 Their most popular dishes are their breakfast burrito, corncakes, salted honey pie, and egg sandwich. The atmosphere is cozy and welcoming, with bright natural light and minimalist décor.
Menu: Sweedeedee Menu
Top Review: "Visited this place a few weeks ago with a friend. We had expectations as we've been wanting to try this place for awhile and it did not disappoint! The staff is friendly and accommodating. The food was so delicious. I got the French toast which came with lemon curd, cultured butter, blueberries and powdered sugar. It was so yum! I also had their coffee and they provide free refills which is awesome.
The ambience is lovely. Very minimalist space that is complimented nicely by natural lighting if you sit inside. Be sure to check out their pastry case too! They've got some real goodies in there.
Will definitely be coming back when I'm in Portland again (and hopefully for dinner this time!)" – Leila B.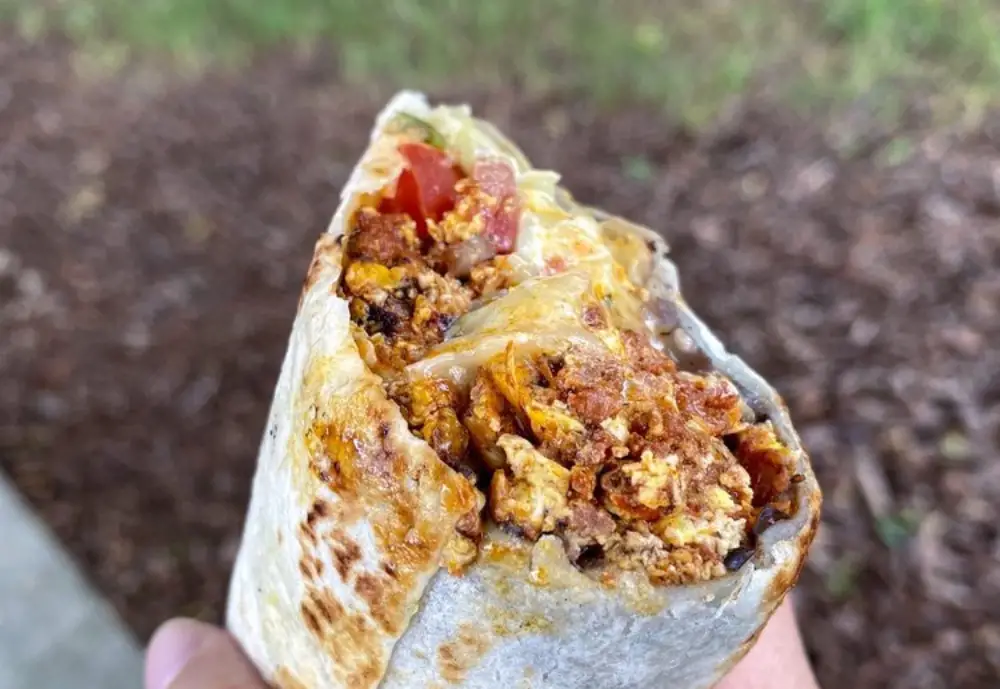 La Osita is a Mexican food cart that serves a marriage of Mexican food and Pacific Northwest flavors. If you come by, you should try their Osita Burrito. This is their signature dish, with handmade salsa, eggs, chorizo, Tillamook cheese, and Pico de Gallo. Other brunch options include their breakfast burrito, breakfast tacos, and Love Bowl. Their burritos and bowls are hearty, with generous portions and all for a reasonable price!
Menu: La Osita Menu
Top Review: "Got the steak and eggs breakfast burrito and the carne asada burrito.
Loved that they toasted the tortilla to a beautiful crisp. You just gotta make sure you eat it fresh!
Great amount of filling. They actually include a good portion of meat in their burritos, instead of rice or bean fillers.
Totally non-descript- they're just in a black food truck. Apparently they'll be moving to a brick and mortar soon so they decided not to label the food truck. Where they are now, there's one picnic table seating area tucked in the pine tree.
Great service. They open early, so they're a good option for when you're trying to get to early morning hikes.
Really good food with a solid burrito that could fill a hungry pregnant woman." – Leah L.
Sahuayo Taqueria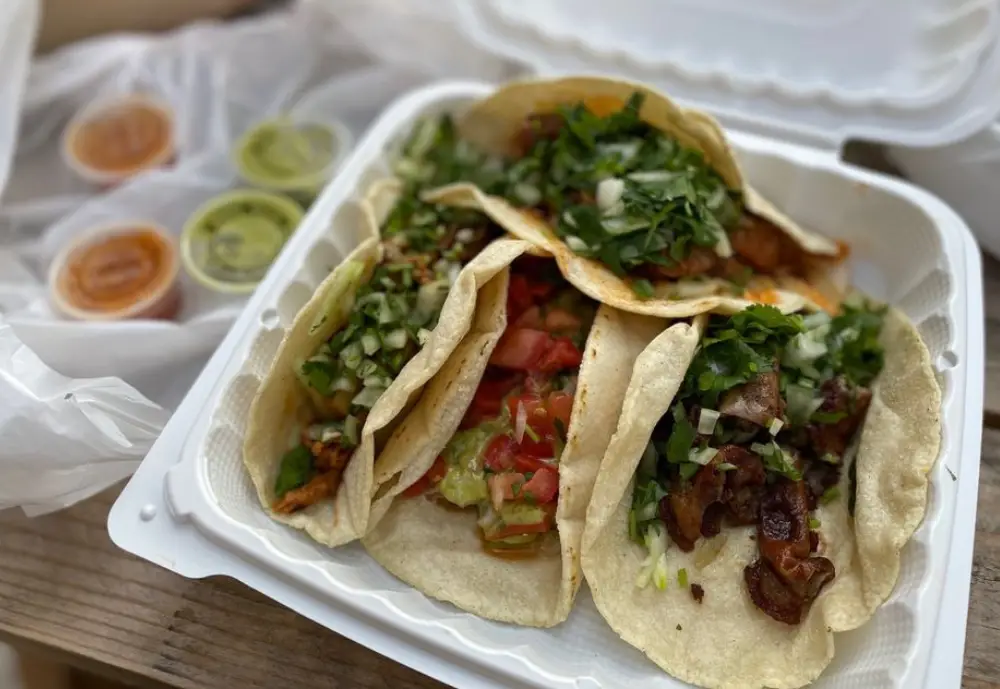 Sahuayo Taqueria is a small Mexican restaurant that serves breakfast and brunch of tacos, burritos, and more. The restaurant is known for its authentic flavors and generous portions. Lots of locals crown them as having the best tacos in Portland. Aside from the fantastic tacos, their burritos are also some of the best burritos in the city. This hidden gem has excellent service, a friendly staff, and a parking lot out front. It's supremely affordable and you can get something to drink in the convenience store.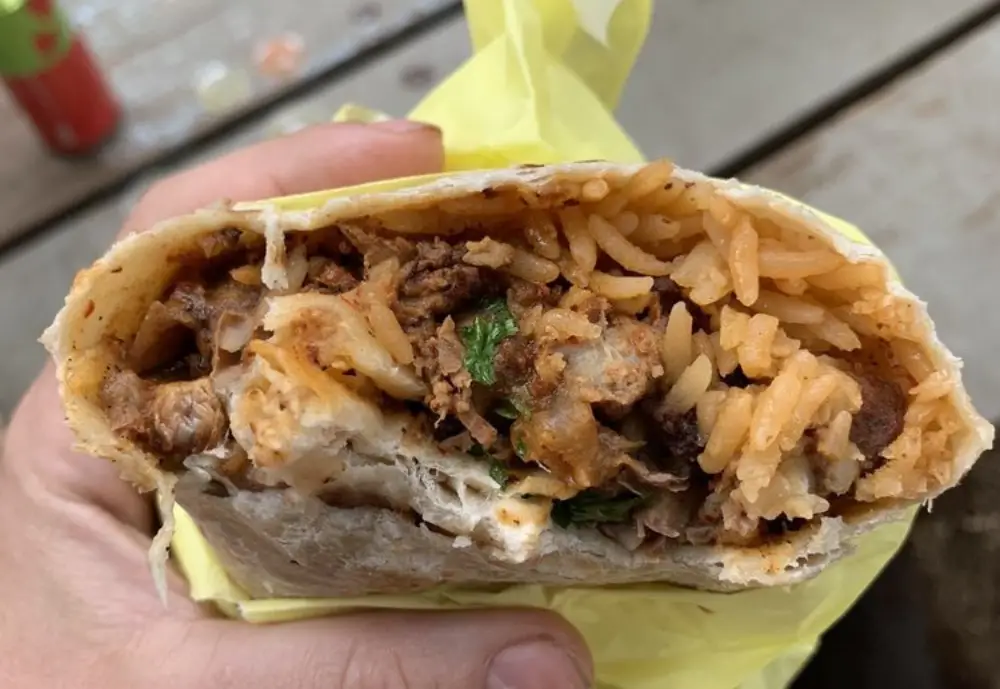 Top Review: "I absolutely love this place. The burritos are huge and tasty! Their green chili is fire. And because it's a convenient store you have a great selection of drinks and snacks to grab and go." – Tomas O.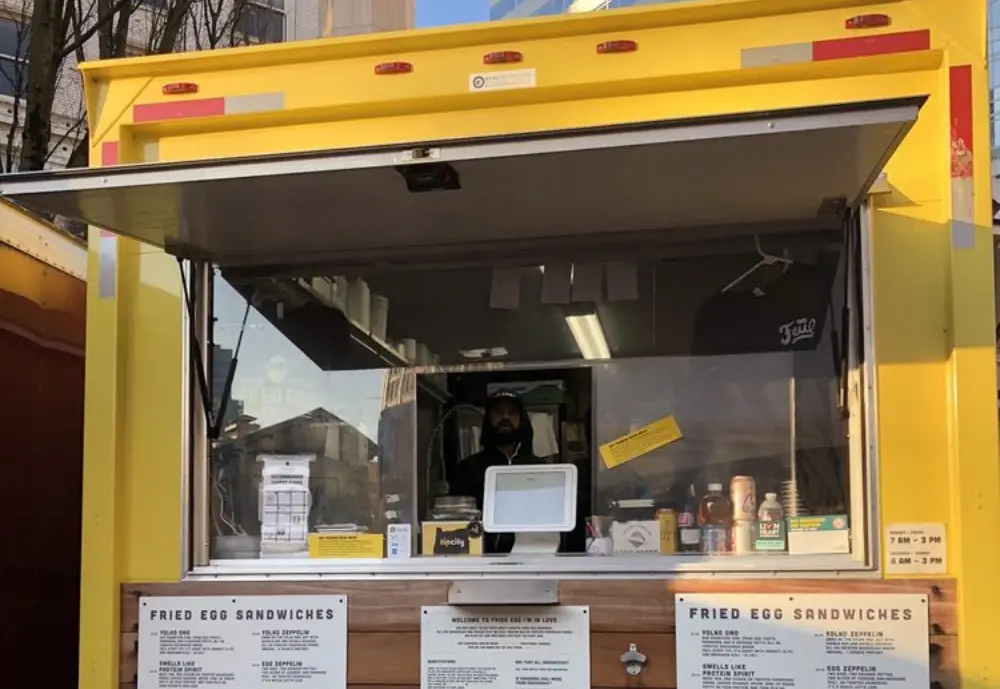 Fried Egg I'm in Love is a food cart that serves breakfast egg sandwiches with a twist. Their menu features a variety of unique and creative breakfast sandwiches, including the "Yolko Ono" and the "Egg Zeppelin." Their specialty with egg sandwiches comes with creative flavor pairings and quality sourdough toasts. You can even customize it to your heart's desire with several add-ons you can opt for.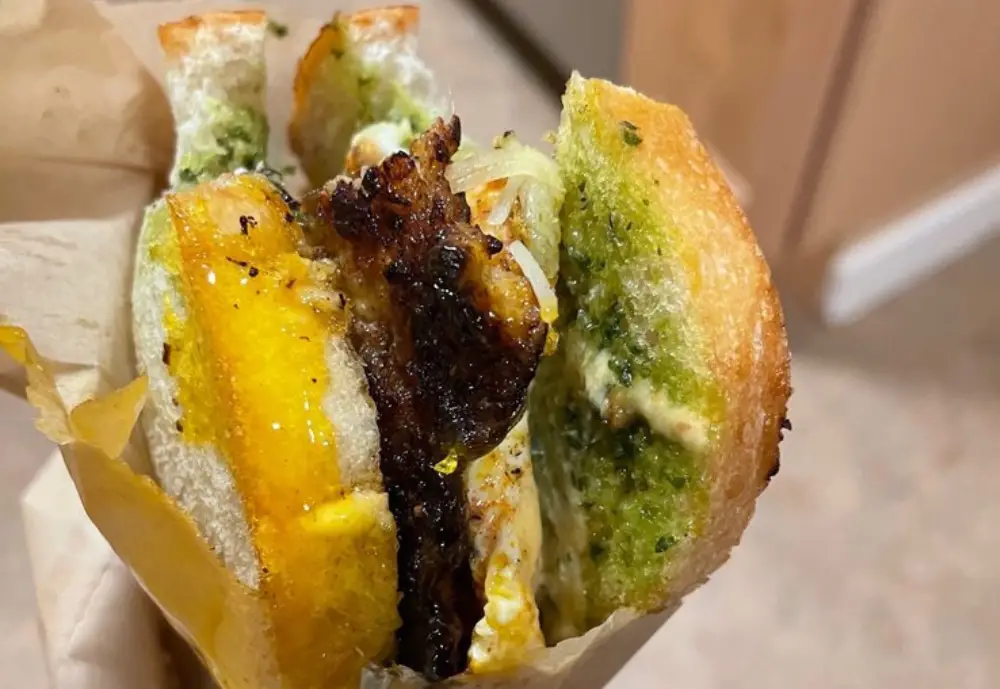 It's great for a pick-me-up, but they do get busy and quite popular during peak hours, so plan. Favorite flavors include the Yolko Ono and Egg Zeppelin, as well as Smells Like Protein Spirit and Huevo Mutilation.
Menu: Fried Egg I'm in Love Menu
Top Review: "The first time I had one of their sandwiches, it was delivered. It was delicious, but I had a fresh one today and it was way better! They have so many combinations and options. If you love egg sandwiches, you'll love this place. I had the Yolko Ono the first time. Today, I had the Huevo Mutilation with house sausage as my protein, which is only $9.50. I had the vegan sausage previously. Both are delicious. The bread is toasted or grilled a little. The fried egg comes a little soft, but not quite runny. The dust they add does add a nice little spice, but you can ask for no dust. I can't wait to try a few more options!  On top of a great sandwich, they had a drawing for Pickles baseball tickets and I won!" – John H.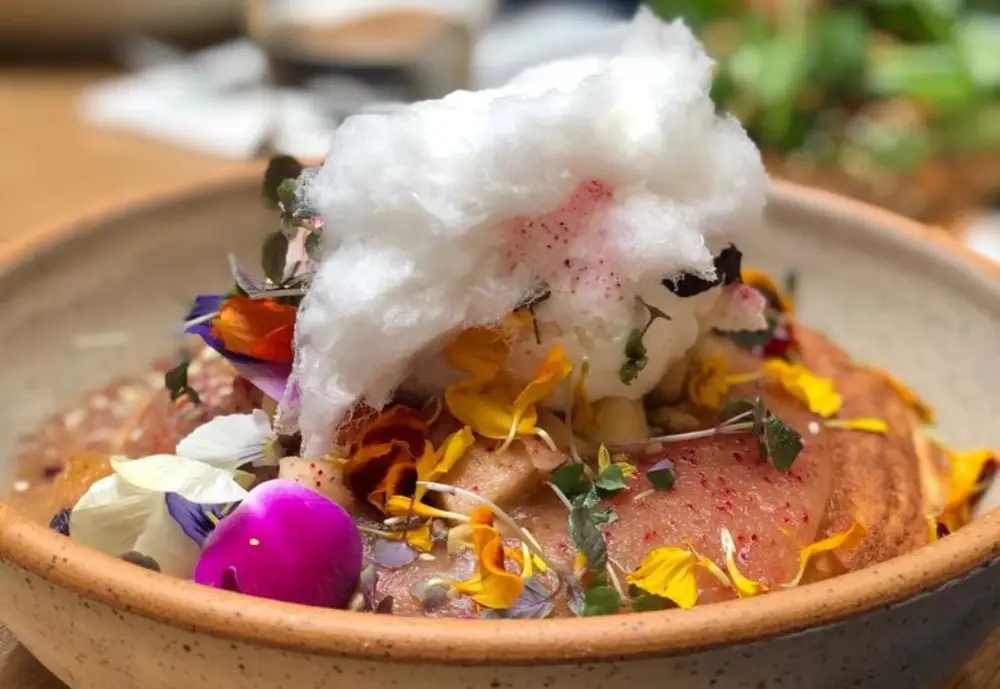 Proud Mary Coffee is a café that serves all-day breakfast and lunch. The café is known for its high-quality coffee and friendly service. They also have several cocktail options for a boozy brunch. Prices are on the higher side, but the atmosphere is trendy and modern. The Ricotta hotcake, avocado toast, and pork belly hash are some dishes to try.
Menu: Proud Mary Coffee Menu
Top Review: "I'm not usually a brunch person, I don't think brunch food is ever really worth the wait and the crowd but I got dragged to one and they chose here. I'm not a coffee person either so I'll just stick to the food, tho they do have some interesting tea options available, I enjoyed the Hong Cha.
The menu seemed a bit different and more creative than the standard pancakes and French toast at many other places like Petite Provence. I've tried a Meat Pie, which is like chorizo in a puff pastry for $9. It was tasty but I was expecting something more substantial. I tried a Pork Belly hash plate or something like that and that pork belly was some of the tastiest, tender pork belly I've ever tried. I've also tried their Green Shakshuka, which is like a savory green stew. I thought it was pretty good, but I honestly don't think I could name a single ingredient in there.
The ambience is a standard cafe setting, well lit. The prices are a tad high but that's pretty much all places now." – Sean R.
From classic breakfast plates to innovative dishes, Portland has something for everyone. Overall, these top-rated breakfast restaurants in Portland offer a diverse range of breakfast dishes and atmospheres. The city has everything whether you're in the mood for a cozy café or a bustling brunch spot.
---
Did we miss a spot that deserves to be mentioned? Shoot us an email at: [email protected] Thank you!
---
You might also like:
breakfast portland, breakfast portland or, breakfast near me, breakfast restaurants portland or, breakfast places portland or, best breakfast in portland, breakfast restaurants portland me, breakfast in portland, portland me breakfast restaurants, portland's best breakfast