Good morning, sunshine!
You are looking for a great breakfast spot, but not just any ol' place, right? Paso Robles will take care of you! Check out our top 10 places to grab a righteous breakfast in Paso Robles, California. Bon Appetit!
Brother's Cafe 3:16
Founded on the dream of two families to one day open a restaurant, Brother's Cafe 3:16 is the perfect place to begin our list of Pablo Robles' most notable breakfast restaurants.
Start your day off with a plate of California Eggs Benedict, which consists of a grilled English muffin topped with avocado, tomato, bacon, poached eggs and hollandaise sauce.
Drizzled with Nutella and condensed milk, their Bomb Waffle is a popular choice topped with fresh bananas and strawberries.
Menu: Brother's Cafe 3:16 Menu
Top Review: "This little coffee shop cafe serves up food in a big way! We had to wait 25 minutes for a Sunday breakfast because it was very busy! What do you think about a busy place – it must be good!! Everyone waiting outside said it was definitely worth the wait! … and it was!! We ordered the Brother's Omelet, the Bomb French Toast, build your own omelet, and the pork chorizo eggs Benedict! Everything, yes everything was spot on – hot, flavorful, plentiful, beautiful! Nothing could have been improved. Perfect egg cook on the Benedict; country potatoes just the right spice level; veggies on the omelet not over cooked but fresh, cooked, hot; fresh fruit on the French toast was cut fresh! Service excellent and attentive. Brother's is worth the wait!!" – Colette Q.
1487 Creston Rd, Paso Robles, CA 93446; (805) 369-2184
Red Scooter Deli
Red Scooter Deli keeps true daily to their principles of good food, fresh ingredients and awesome vibes as the best sandwich parlor in Paso Robles.
Your choice of bagel and smoked salmon come together to create the Lox & Bagel, complete with cream cheese and plenty of flavorful veggies.
Mix and match ingredients of your choice to Create Your Own Wrap, and taste for yourself the many delightful combinations possible.
Menu: Red Scooter Deli Menu
Top Review: "Super cute place to stop right in the heart of downtown!!! We were greeted by the sweetest lady at the counter & ordered the egg croissant sandwich, vanilla latte & the honey lavender latte (SO good!!). The sandwich was hot & probably the best we've ever had!!  We sat outside & enjoyed the view of the beautiful park & downtown. They were putting together orders for charcuterie platters to take into the wine country… they make all sizes & looked amazing!! Next visit we will be ordering one. Their sandwiches also looked delicious!! Highly recommend this adorable place when visiting Paso!!!" – Anna A.
1102 Pine St, Paso Robles, CA 93446; (805) 237-1780
Sunrise Cafe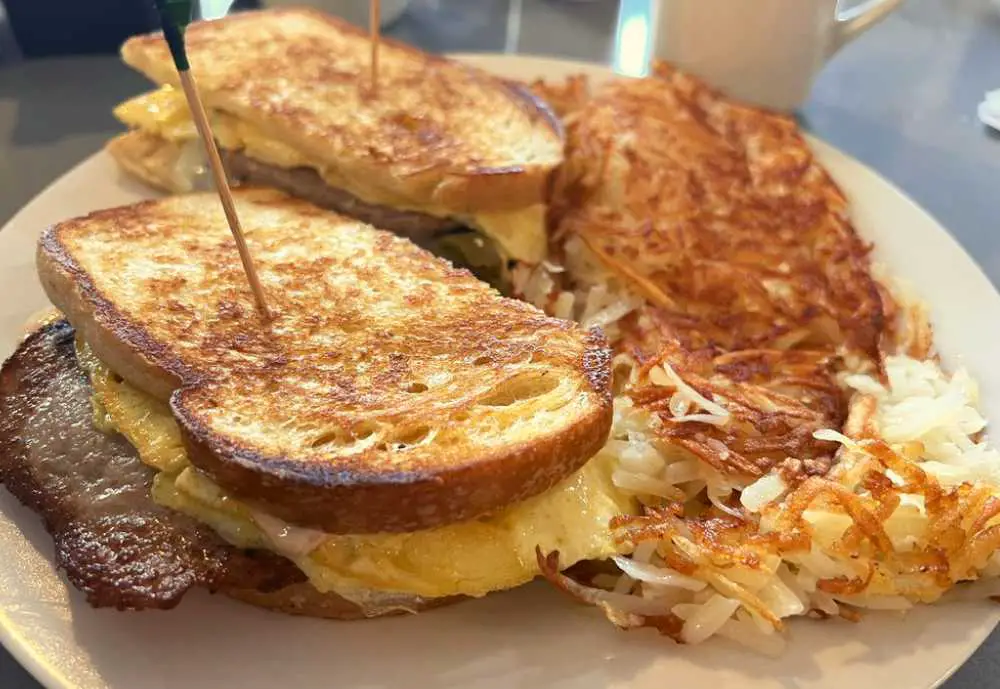 Immerse your taste buds in mouth-watering American and Mexican cuisine at the Sunrise Cafe, a family owned and operated establishment dedicated to quality food and service.
Enjoy a delicious Breakfast Sandwich, grilled whole wheat bread and mustard stuffed with grilled sliced ham, cheddar cheese, onion, tomatoes, avocado, two eggs over-easy with peanut butter and blackberry jelly.
Three scrambled eggs and cheddar cheese are the base for their scrumptious Breakfast Burrito, which is stuffed with your choice of bacon, sausage, ham, chorizo or veggies.
Menu: Sunrise Cafe Menu
Top Review: "Stopped here on our way back to LA from Pinnacles and was not disappointed. The place itself doesn't look like much but it has a cute outdoor eating area and everyone and I mean EVERYONE is so kind and friendly there. The servers said hi to everyone and knew their names and were so courteous and kind to us. AND THE FOOD. Big portion sizes for great prices and the GRILLED CHICKEN PICCATA WAS TO DIE FOR. So delicious, the capers were perfectly tart and the potato w butter and the grilled veggies and the SAUCE ON TOP. Heavenly. Wish it wasn't so far from home… if it was closer I would be here every weekend." – Johanna B.
1413 Riverside Ave, Paso Robles, CA 93446; (805) 286-4297
Brunch
Brunch is a fun and charming restaurant that has a lot to offer Paso Robles; delicious, healthful, and classic breakfasts prepared with local ingredients. 
Topped with a sunny-side-up egg and house-made avocado-chimichurri spread, the uniquely delicious Chorizo Breakfast Pizza is made with chorizo, marinated onions, tomatoes, and queso fresco.
Indulge in something sweet with a plate of S'mores French Toast, which is topped with chocolate ganache, toasted marshmallows, graham crackers and powdered sugar.
Menu: Brunch Menu
Top Review: "Cute little brunch place right near the center of town. Luckily we got in early and it wasn't too crowded. Was dying to try the chilaquiles and they did not disappoint. Topped that off with the mimosa flight because I could settle on a single flavor and no regrets. Overall a great breakfast with friendly staff. Make this a staple for your trips to Paso!" – Breanna A.
840 13th St, Paso Robles, CA 93446; (805) 296-3616
Joe's Place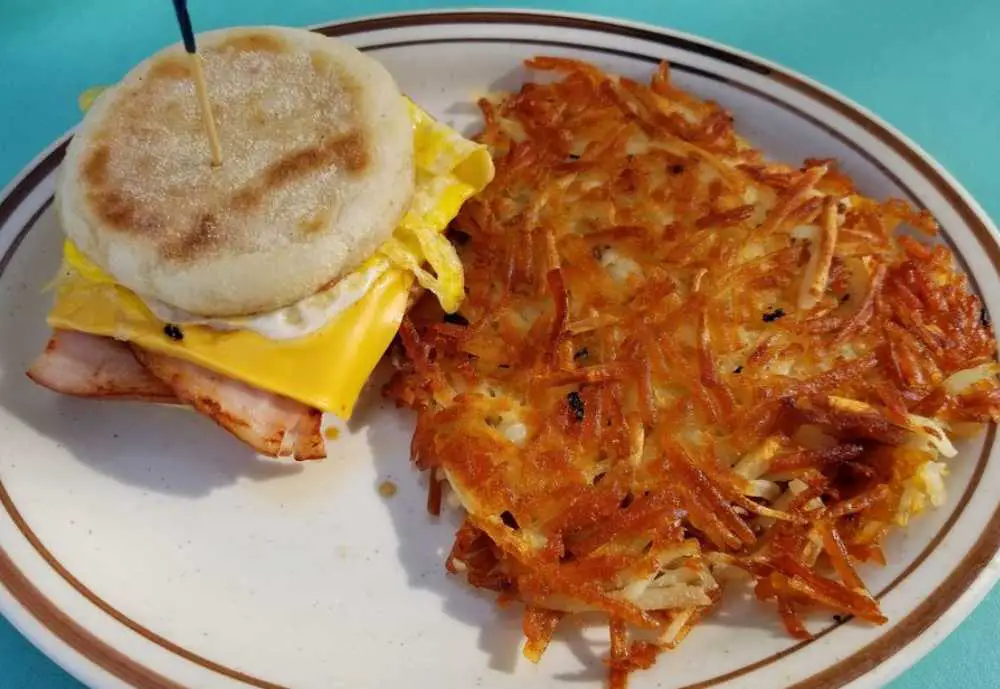 Start your day the right way at Joe's Place, a restaurant specializing in serving up delicious comfort food in a cozy environment for all to enjoy.
There is nothing quite like starting your morning with a classic plate of Hamburger Steak & Eggs with your choice of homefries and toast or hash browns. Ortega chiles, onions, and cheddar cheese add to the already flavorful Chorizo Supreme plate of chorizo and eggs.
Menu: Joe's Place Menu
Top Review: "A no kidding gem!! Veteran owned and operated, this place is awesome! The staff is super friendly! The atmosphere is something g to fully take in with it patriotic feel! Met Hoe himself and what a really neat guy! Very personable and chatted with my wife and I. The breakfast was so good and plenty of it! Had to take a "to go" box. Seriously, this place is good and there's a line waiting to come in at 0930 on a Monday morning. That should tell ya something as well!" – Jason F.
305 Spring St, Paso Robles, CA 93446; (805) 238-5637
Touch of Paso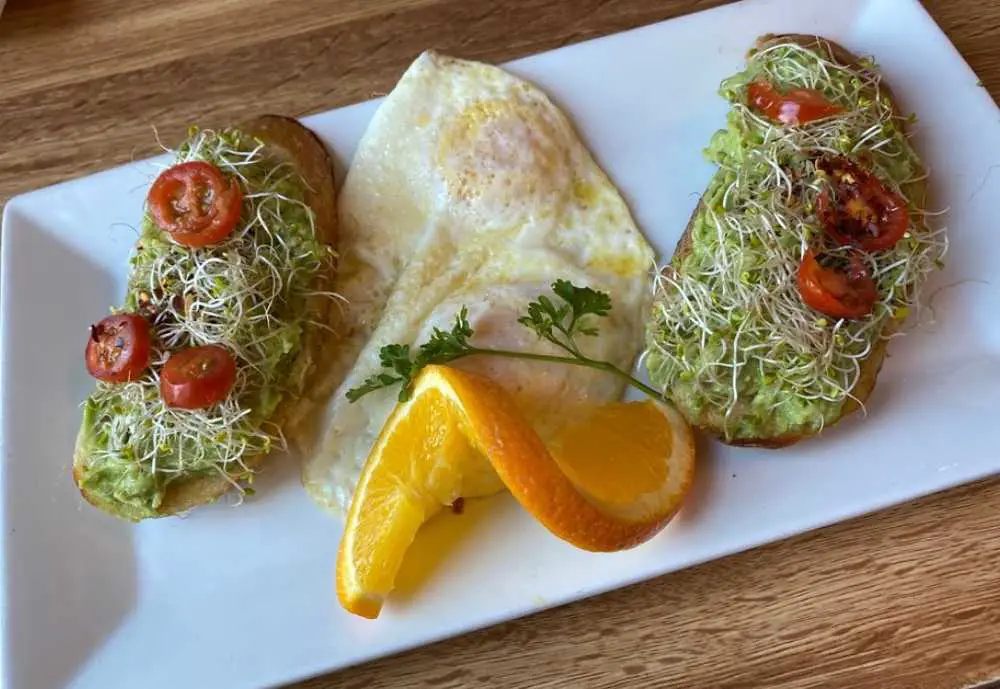 Established in 1987 at the same building that housed generations and a hair salon since 1888,  Touch of Paso has since been a homely place to enjoy a well rounded meal.
Enjoy a classically delicious plate of Chilaquiles, layers of refried beans and tortilla chips topped with two eggs, roasted poblano crema, fresh cilantro and queso fresco.
Huevos Rancheros is another popular breakfast dish in Paso Robles consisting of corn tortillas topped with two eggs, house red sauce, queso fresco, fresno peppers and roasted poblano crema.
Menu: Touch of Paso Menu
Top Review: "This place is great for breakfast.  I was attracted to this place because of their selection on their menu.  I had many to choose from and was excited to see that they had several gluten feee options.  I ordered a gluten free hotcakes with 2 poached eggs and bacon.  The gluten free pancakes were delicious.  My hubby ordered a similar breakfast but not gluten free.  He said my pancakes were as good as the regular pancakes.  We could hardly finish the breakfast as it came with four fluffy pancakes and several bacon. Service was great as well.  We had a friendly and quick server." – Akemi L.
1414 Pine St, Paso Robles, CA 93446; (805) 238-4140
AMSTRDM Coffee House | Piano Lounge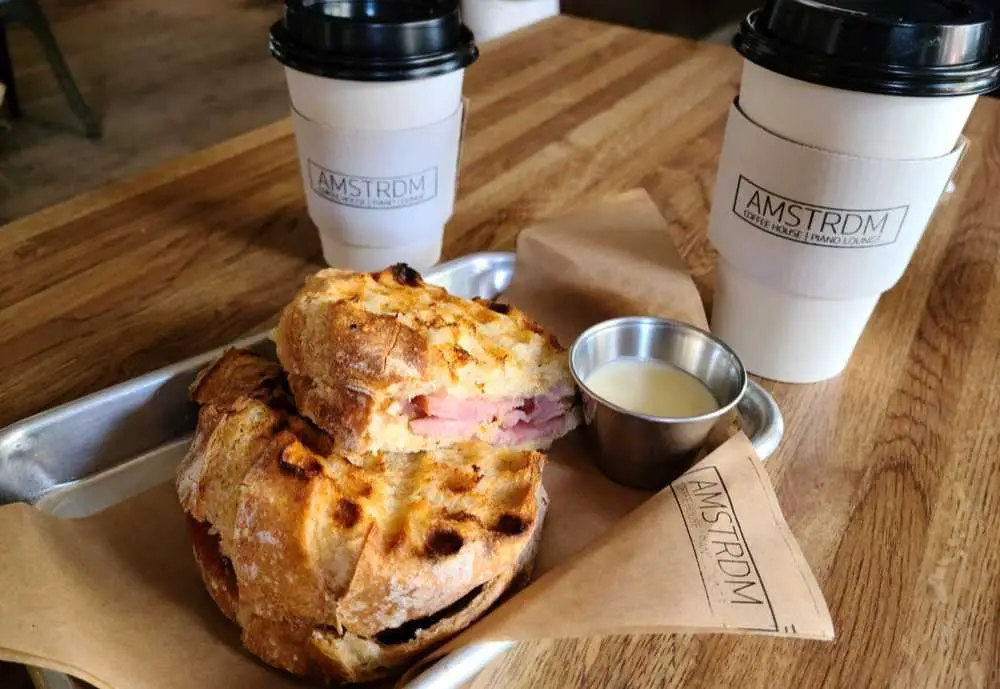 Go all out on a truly elegant morning experience at the AMSTRDM Coffee House | Piano Lounge; let your tastebuds savor a delectable breakfast, your ears enjoy the sound of talented pianists at work, and your eyes behold the classy environment.
Served with a side of Sauce Mornay for dipping, their Croque Monsieur is composed of ham, Gruyère, and Dijon on sliced Rustic Toast, which is marked with their signature AMSTRDM Waffle Press.
Marked with the same waffle press but topped with pickled chilies and avocado, the Brunchwrap features scrambled eggs, sliced ham, cheddar and tomato basil cream cheese "Schmear".
Menu: AMSTRDM Coffee House | Piano Lounge Menu
Top Review: "Amstrdm coffee house is a perfect spot to sip coffee while listing to some live music. They have both indoor and outdoor seating. This is a perfect brunch spot. The live music was great! They had two artists playing as people enjoyed their morning breakfast. If you sit indoors, it's a bit more intimate and you are right by the live music. I tried the Mocha Oaxaca and it was delicious!! Definitely a great spot to visit!" – Prathika A.
725 13th St, Paso Robles, CA 93446; (805) 369-2144
Morning After Cafe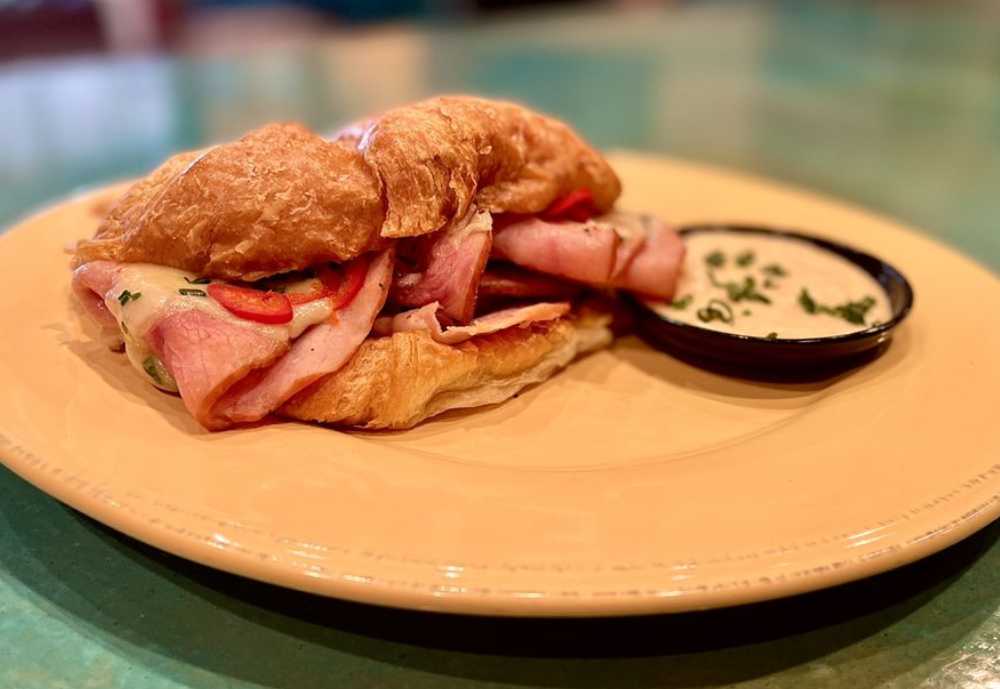 Enjoy a wholesome meal in a fun and casual atmosphere at the Morning After Cafe. Wake up your senses with some poached eggs, feta, shakshouka tomato broth and herb oil on a crispy slice of toast when you order The Shocker.
Treat your sweet tooth with the French Connection, a thick block of sweet bread pudding French toast topped with macerated fruit and whipped cream cheese.
Menu: Morning After Cafe Menu
Top Review: "Walking around Paso Robles at 11am it was hard to find a place with availability for 7. MAC happily re-accommodated to serve us! The food, service, and vibe were amazing. I got the yogurt parfait, with a little honey it was perfect, fresh fruit and the right amount of granola. My friends were slightly intimidated by the size of the burrito, but they loved it so much it was completely gone. Fully recommend." – Adriana D.
807 13th St, Paso Robles, CA 93446; (805) 369-2600
Cowgirl Cafe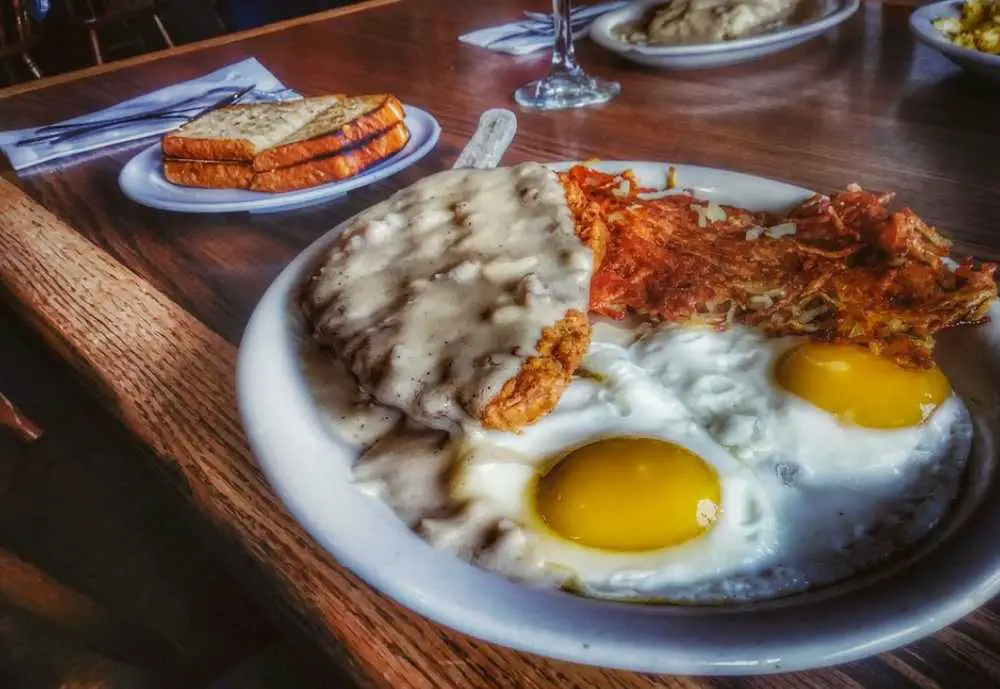 A flavorful adventure awaits as early as you can wake up and stop by at Cowgirl Cafe, a rustic and cozy restaurant in Paso Robles.
Start off your meal with some Corned Beef Hash: delicious, hearty and great for starting any morning on the right foot.
Three eggs, two pieces of Canadian bacon, two sausage links, two strips of crispy bacon, potatoes and toast are what to expect on the Giddy-Up Breakfast plate.
Menu: Cowgirl Cafe Menu
Top Review: "Cowgirl Cafe is such a cute local place for breakfast and lunch! We came from out of town to Pasó Robles for wine tasting but wanted to have brunch first so we stopped here. It's a small intimate space with plenty of tables. We were greeted immediately and sat wherever. Indoor and outdoor seating. I ordered a burrito with sausage, egg and potatoes i believe it also came with potatoes on the side. Super good! Also they have great service. And the cutest potted plant outside !" – Monica M.
1316 Pine St, Paso Robles, CA 93446; (805) 238-6403
Jose's Country Kitchen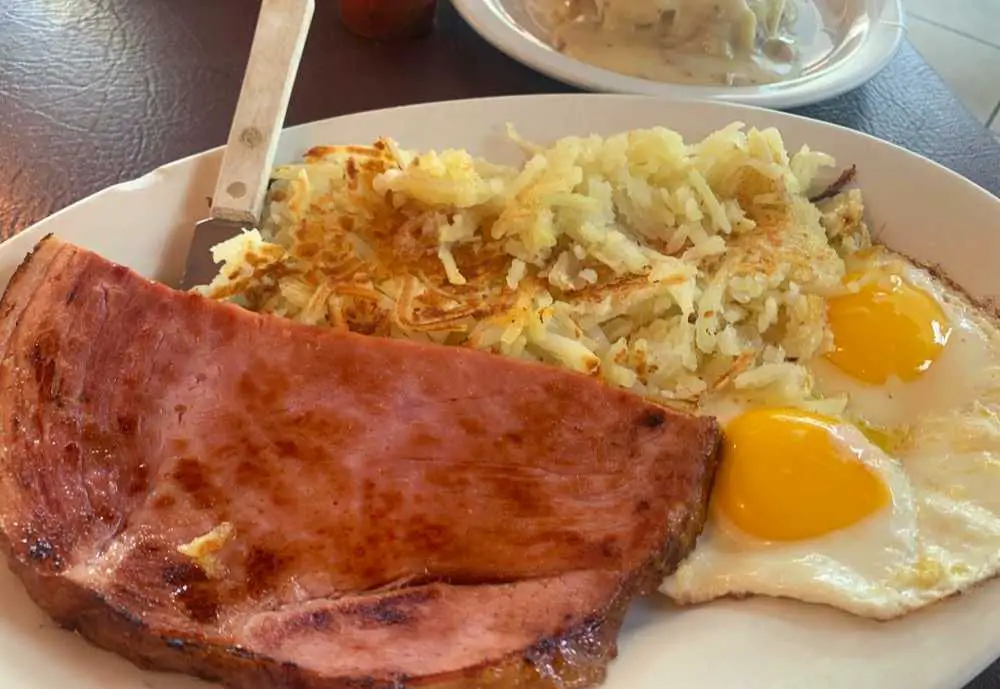 Since 2016, Jose's Country Kitchen has been a place for folks in Paso Robles, San Miguel and on the road to grab some scrumptious grub to fuel their days.
Machaca and Eggs is a classic combo of shredded beef scrambled with onions, tomatoes, serrano chilis and eggs.
Choose wisely when you order the Pancake or French Toast Combo, which comes with two eggs and your choice between two strips of bacon or a homemade sausage patty. Stop by to grab some of the best breakfast in Paso Robles!
Menu: Jose's Country Kitchen Menu
Top Review: "Well Here We Go Again, At Jose's Country Kitchen On Our Way To Drop Kryschan Off At Bakersfield College. Let's See What I'm In The Mood To Eat..?? I Guess I'm Gonna Have The Two Pork Chops Breakfast,Kryschan Is Getting The Chicken Fried Steak And My Babes Getting The BG Breakfast. Can't Really Go Wrong With Any Item On Their Menu…!!! It's Always "GOOD OL' FASHIONED HOME COOKING" At A Truck Stop None The Less…!! We Always Make It A Habit To Stop And Eat Here When We're In San Paso, CA Stop By And Get A Good Meal." – Michael H.
81 Wellsona Rd, Paso Robles, CA 93446; (805) 467-2972
---
Did we miss a spot that deserves to be mentioned? Shoot us an email at: [email protected] Thank you!
---
You might also like:
breakfast paso robles, paso robles breakfast, best breakfast paso robles, best breakfast in paso robles, breakfast paso robles ca, best breakfast in downtown paso robles, breakfast paso robles downtown, breakfast downtown paso robles, paso robles best breakfast, paso robles breakfast restaurants, breakfast restaurants in paso robles, breakfast places paso robles, breakfast near me, breakfast places near me, best breakfast in el paso, best restaurants paso robles, breakfast restaurants paso robles, best breakfast near me, jose's country kitchen menu, paso breakfast, paso robles restaurants breakfast, best food in paso robles, brunch paso robles, breakfast paso, best places to eat in paso robles, best restaurants in paso robles, cowgirl cafe paso robles, brother's cafe paso robles photos, brother's cafe paso robles reviews, brothers cafe paso robles, joe's place paso robles