Local diners and coffee shops have become popular among tourists and locals in Louisville's restaurant scene. They often offer a quick and easy breakfast option. These establishments are trendy on weekends and holidays when people want to meet for a meal before starting their day.
Many of these establishments also offer full service along with their eat-in options. This means you can order food and enjoy it while waiting for a table at one of the dining spots. Be sure to check out these breakfast restaurants when you are in Louisville. 
Big Bad Breakfast
Chef John Currence always had a love affair with breakfast. Whether it was scrambled eggs and toast before school with his family, his grandmother's box mix pancakes with Louisiana cane syrup, bacon and egg sandwiches with his dad at Allgood's diner in Uptown New Orleans or Sunday brunch at Commander's Palace in the Garden District, the first meal of the day was always a driving forcing in our founder's life.

Big Bad Breakfast
Menu: Big Bad Breakfast Menu
Top Review: "Best biscuits around, and they are huge. I got the Kentucky coffee with bourbon and it was great. The redneck Benny was a perfect breakfast, just enough to not over fill me up and tasted amazing. They make fresh biscuits all day throughout the day so you know you will get a fresh one. The wifey got the big bad breakfast plate and enjoyed it as well." – Bob M.
984 Barret Ave Louisville, KY 40204, (502) 289-1922
Wild Eggs
If you are looking for a "wild" approach to breakfast, Wild Eggs restaurant is the best option for you!
Established in 2007, this place is known to build its menu from a foundation of delicious home cooking. Their team of chefs enjoys developing unique breakfast, brunch, and lunch dishes with a crazy twist on their food and beverages. 
Wild Eggs believe in buying and sourcing their food locally so that guests are assured of fresh ingredients daily.
They pay attention to their customers offering them top-notch service. It is their goal to be able to provide consistent and excellent food and beverage options.
Some of their favorite menu options include the Potato Head Casserole, Kalamity Katie's, Border Benedict, and Breakfast Burrito. 
Menu: Wild Eggs Menu
Top Review: "Our last morning in Louisville and we ventured to Wild Egg. First if you can call and get your name on the list ( not sure if it's possible), otherwise it could update be a wait for a table. To get around the wait you can sit at the counter (first come first serve). We sat at the counter and the server Courtney was amazing! She was on point with all 12 of the patrons at the counter. She poured our coffee and gave us a few minutes to look over the menu. When she returned she was very knowledgeable about the menu and help us make great choices and even suggested a few modifications. Our breakfast order was a Farmer's Market Skillet and The Carolina, all I can say is that it look like we licked our plates clean." – Lisa S.
121 S Floyd St Louisville, KY 40202, (502) 690-5925
Biscuit Belly – Nulu
Who doesn't love the unique flavors of Southern cuisine? Biscuit Belly is known for its tasty cuisine with a touch of authentic Southern taste.
Inspired by the savory cuisine of their respective hometown, the owners enlisted the expertise of Chef Tavis Rockwell for their creative brunch menu with bold flavors. 
Biscuit Belly was created for what you can call a "labor of love." Guests can taste this carefully crafted cuisine with every bite that they take.
So, what are you waiting for? Head down to this quaint cafe and experience what Southern hospitality is.
Menu: Biscuit Belly Menu
Top Review: "This place lived up to their expectation. The Rockwell Supreme was really good.  Pancake corndogs were different since they had breakfast sausage inside and the batter was not to thick nor like a pancake. Flavors and textures were spot on. The service was prompt and the order takers were helpful since it was our first time." – Roy C.
900 E Main St Louisville, KY 40206, (502) 409-5729
Gralehaus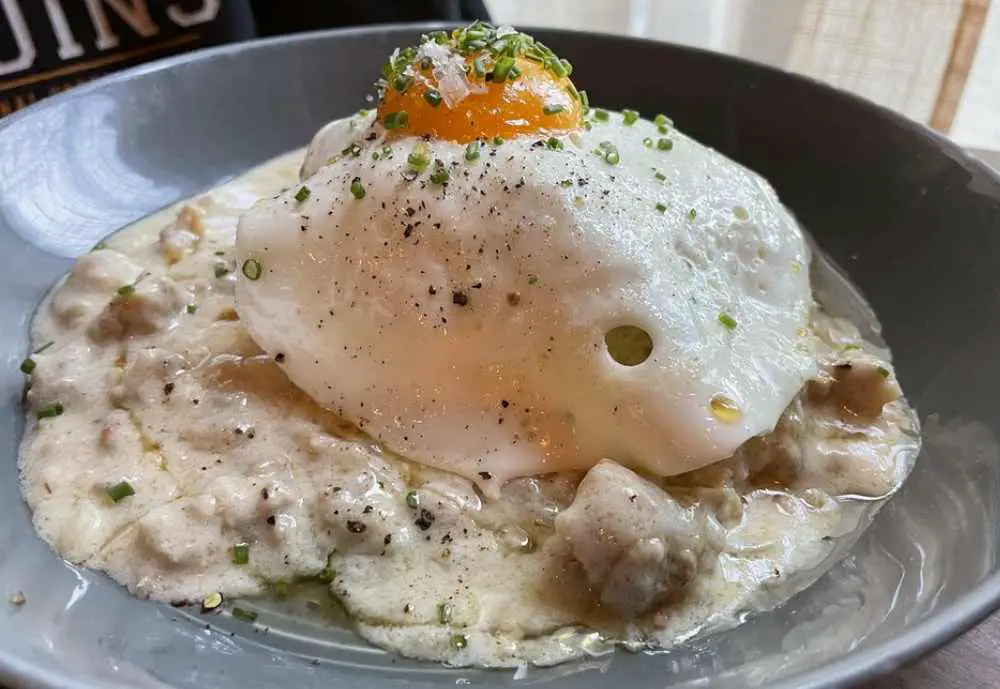 How well do you love your coffee for breakfast? If you are looking for a place to enjoy some carefully crafted coffee to start your day, Gralehaus is the perfect place to go.
Established in 2014, this quaint shop operates its cafe in an old Victorian-style home. 
Enjoy southern cuisine flavors at Gralehous with their seasonally driven food menu options.
Some of the favorites include biscuits & duck gravy, lamb & grits, speculoos crepe, and country ham crepe.
Top Review: "This place is soooo good! I was in Louisville for the weekend and we got breakfast here two days in a row. It's a small place and can take a while, but the food and coffee are delicious. Friendly service, too! This is a must-visit while in Louisville." – Bridget B.
1001 Baxter Ave Louisville, KY 40204, (502) 857-7457
Highland Morning
Highland Morning is a quaint and comfy breakfast spot in Louisville. It is a good place to eat out if you are looking for a local dining scene to spend your mornings. The restaurant is easy to find, so travelers need not worry about getting lost.
The customer service of Highland Morning is known for its hospitality. Guests are always welcomed warmly. This restaurant does not only pride themselves with their service, but the quality of meals they serve.
Enjoy classic and original breakfast options such as omelets, pancakes, eggs benedict, and waffles to your heart's content.
If you prefer something healthier, they also serve light breakfast and serve it with fruits. 
Top Review: "Rarely do my wife and I got to a breakfast joint and have a mid blowing experience, but that happened to us. This unassuming joint cranks out some extremely high quality food in a very timely manner. Well done from head to toe, you have made us addicted to those sweet stuffed French toast and to die for biscuit and gravy." – John S.
1416 Bardstown Rd Louisville, KY 40204, (502) 365-3900
Con Huevos
Mexican cuisine is one of the popular culinary cultures that was brought to America. Seek the richness of flavors of this Mexican culinary culture at Con Huevos.
Their menu options not only focus on its taste but also the freshness of its ingredients, and the quality of service that they provide.
If you are the type that is adventurous and is not hesitant to try something new, their popular dishes will certainly surprise you.
Enjoy their Huevos Rancheros, Tres Leches, and Chipotle Poached Huevos homemade buttermilk biscuits. You will certainly not regret eating their tasty and savory dishes. 
Menu: Con Huevos Menu
Top Review: "Wow… this was a very delicious and filling breakfast. This place instantly became my favorite breakfast spot that I have ever been to. The Iced coffee (that has a shot of Cuban espresso and the organic almond milk) is one of the best ice coffees that I have ever had in my life, seriously, Starbucks who? The people here are also very nice and welcoming. If unsure what to get I would get the chipotle poached huevo 10/10. You will not regret stopping here, especially if you are not from Louisville. You can't leave the city without  trying con huevos!" – Dory F.
2339 Frankfort Ave Louisville, KY 40206, (502) 702-0035
Nord's Bakery
Everybody loves donuts. Who doesn't? Donuts are the easiest meal to buy for breakfast. Pair it up with your own blend of coffee and you are off to start your day.
Nord's Bakery is a popular bakery in Louisville that cures your cravings for something sweet. Their classic glazed donuts to maple bacon, you will surely find them at this favorite pastry shop. If you come early, guests can get an order from their full selection. 
Nord's Bakery is not only known for their donuts, but they also sell cookies, wedding cakes, and other pastry delights. So, what are you waiting for?
Satisfy that sweet tooth of yours and head off to this delightful bakeshop.
Menu: Nord's Bakery
Top Review: "Love this place. No matter how busy they are, staff is incredible. The cookies are always so cute! Donuts are great! Only complaint is they are so loved they sell out, which really isn't a complaint. A true Louisville staple." – Skylar D.
2118 S Preston St Louisville, KY 40217, (502) 634-0931
Blue Dog Bakery & Cafe
If you are looking for an artisan bakery that specializes in breads and pastries European style, Blue Dog Bakery & Cafe is the perfect choice.
Established in 1998, this bakery had long since offered their service to the local community of Louisville. Their breads are perfectly handcrafted allowing its flavor to develop. 
Watch out for their seasonal favorites and specialty desserts as well. Blue Dog Bakery & Cafe does not disappoint with their traditional European patisseries such as French macarons, croissants, among others.
Menu: Blue Dog Bakery Menu
Top Review: "Blue Dog pastries live up to the hype. I got the spinach and feta croissant ($6), the ham and cheese croissant ($6) – which was truly the star – , and the date and roasted pecan scone ($4). I wanted one of their more robust breakfast options but the line was moving slowly and I was on a time crunch. If you're not going to eat at Blue Dog I'd recommend ordering ahead as the line gets long. The online menu has far fewer options than the actual bakery when you go in person for breakfast / lunch. There's both outdoor and indoor seating options." – Shelbi S.
2868 Frankfort Ave Louisville, KY 40206, (502) 899-9800
With all the best breakfast spots in Louisville, you have all the options to choose from a simple bread, donuts, and coffee or go full force with your meal. Enjoy the high level of freshness, flavors, and good service that these restaurants bring. 
---
Did we miss a spot that deserves to be mentioned? Shoot us an email at: [email protected] Thank you!
---
You might also like: