Looking for the best burgers in Pensacola? Look no further! Tucked amidst palm-fringed boulevards and sun-drenched beaches, this Gulf Coast city serves up a symphony of sizzling patties and gourmet toppings that are an ode to burger lovers. Whether you're a die-hard beef enthusiast or prefer the subtler charms of plant-based patties, prepare your taste buds, because we're about to embark on a succulent tour of Pensacola's finest burger establishments. Your culinary adventure begins now.
Sauce Boss Burger
Sauce Boss Burgers is a gourmet food truck located on the Emerald Coast of Florida that offers a unique dining experience for burger lovers. The food truck specializes in high-end Wagyu burgers and chicken sandwiches that are made to order and always fresh.
With six specialty burgers and six handcrafted sauces, Sauce Boss Burgers offers a wide range of delicious options for customers to choose from.
The patties are hand-pressed fresh every day, and the meat is locally sourced from a Pensacola butcher shop. The special sauces are made from scratch on the truck daily, ensuring that customers receive the freshest and most delicious burgers possible. Whether you're a local or a tourist, Sauce Boss Burgers is a must-try for anyone looking for a unique and tasty dining experience in Pensacola, Florida.
Menu: Sauce Boss Menu
Top Review: "I absolutely loved their BOSS burger! My husband got the Humpty Dumpy and loved it as well! You will need TONS of napkins because they're soooo deliciously juicy. The staff was super attentive and friendly, especially Tori! I highly recommend giving them a try, you won't be disappointed!" – Esmee J.
Top's Choice Hamburgers
In Pensacola, FL, an unassuming local eatery outshines even the upscale restaurants with its exceptional burgers. Its simplistic exterior belies the culinary wonders within – juicy burgers, golden fries, and even a surprisingly delightful chili dog.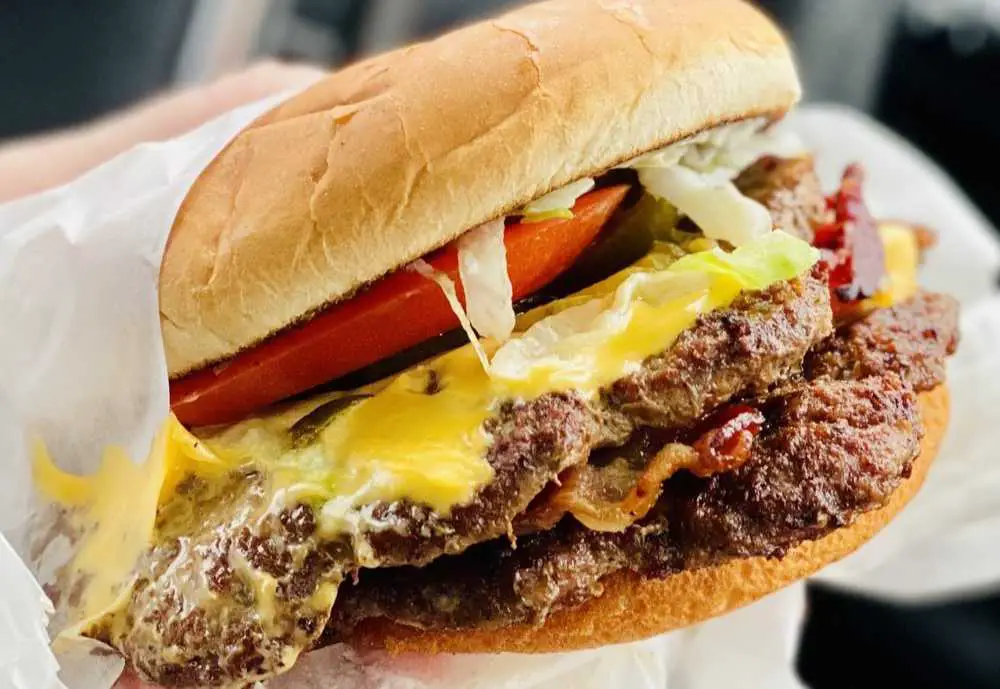 Fast, friendly service adds to the charm, making it an undeniable must-visit. The taste of supporting a local business is just the cherry on top of this remarkable gastronomic experience.
Top Review: "You know that template on Yelp that starts off with "Doesn't look like much on the outside, blah blah blah, BAM lots of flavor"? Yeah, that. This isn't Blue Dot BBQ kinda burgers but they're a close runner up. I do like that they have more fries unlike Blue Dot. You get a pretty good deal for the combo, cheeseburger, fries, and a drink. Hell yeah. This is all American burgers right here." – Zachary D.
The Dog House
An institution since 1977, The Dog House is an easy call if you are looking for some of the best burgers in Pensacola. If the fact that they smoke their beef in a Green Egg smoker doesn't convince you, I'm not sure what will!
As a multi-generational family run business, their service is impeccable and friendly as you might expect. And while you are there, you might as well try one of their amazing hot dogs. Seriously legit.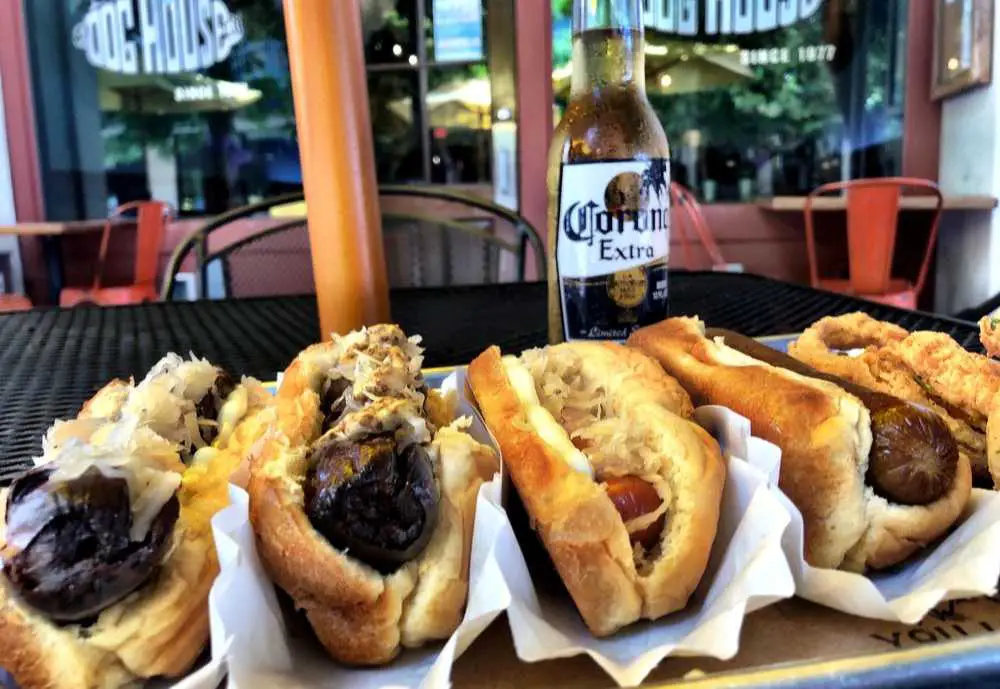 Menu: The Dog House Menu
Top Review: "The nicest staff I've ever met! We sat outside and it was perfect. Our kids loved the grilled cheese and fries. I will dream about the truffle Mac and cheese bites! Food was hot and fresh. So much fun!" – Lauren S.
Brown Bagger Food Truck
The Brown Bagger Food Truck is next on the list and a popular food truck that offers a range of mouth-watering burgers made with fresh, premium ingredients.
Their burgers are a must-try, with a focus on Wagyu beef and hand-shredded Gouda cheese, ensuring a delicious and high-quality meal every time. The food is made to order, so you can be sure that everything is fresh and cooked to perfection.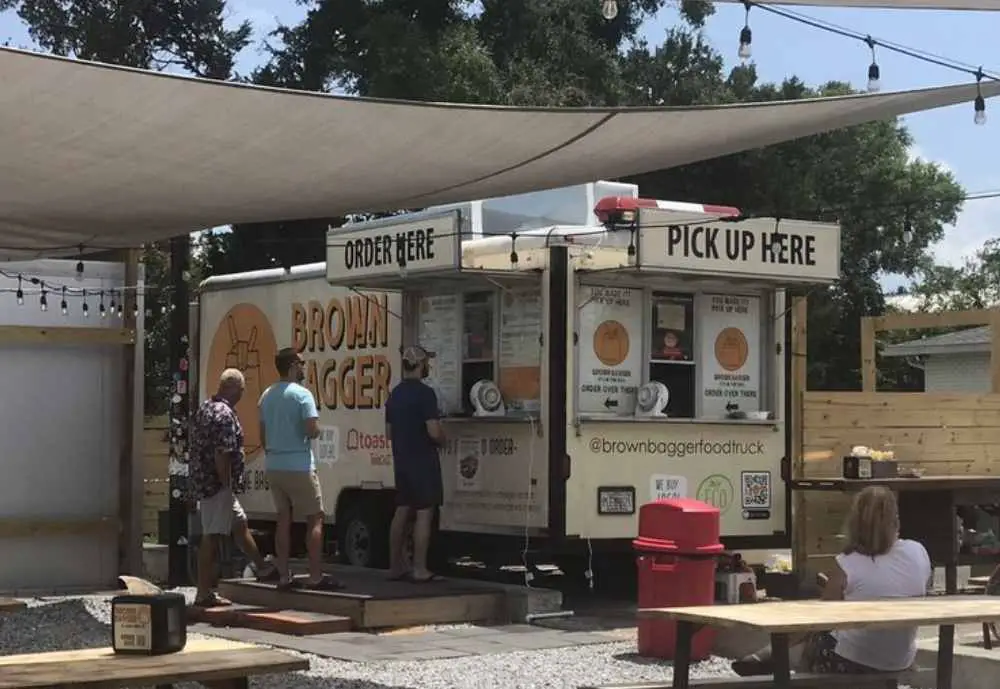 Brown Bagger prides itself on using quality ingredients, and nothing is ever frozen. In addition to burgers, they also offer hand-cut fries, tenders, and wraps that are equally delicious.
No matter if you are in the mood for a good ol' fashioned burger or something a little different, definitely give stop by for some of the best burgers you can find in Pensacola.
Menu: Brown Bagger Menu
Top Review: "Best burger in Pensacola! Always fast and friendly service. I usually order ahead and pickup. Super easy setup. It's behind a brewery so you have plenty to drink and that has indoor seating. Otherwise, outdoor seating is provided and is animal friendly. I eat here multiple times a week. Fresh ingredients make this place my all time favorite spot in Pcola for delicious but quick! 10/10" – Mercedes S.
Kingfisher
Kingfisher restaurant in Pensacola, Florida, offers a variety of burgers on their menu. Cutomers can choose from options like the Crab Cake Sandwich, Shrimp Burger (Oh mama!), Meatloaf Sandwich, and Fresh Fried Fish Sandwich.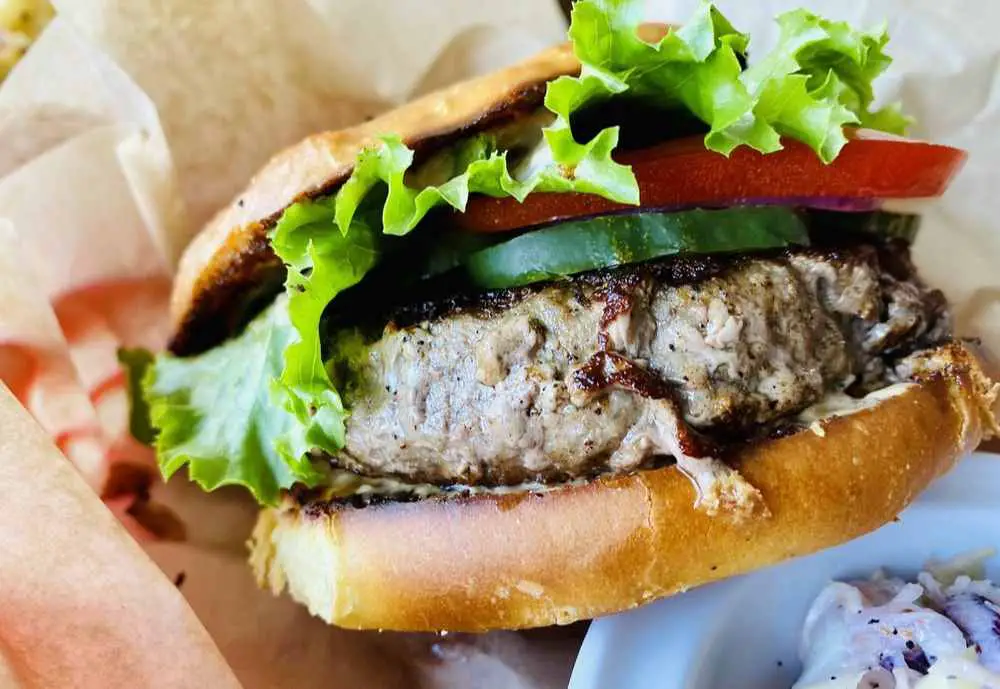 They also offer a Garden Burger made with seasonal vegetables, baby lettuce, croutons, and avocado buttermilk dressing. Reviews on both Yelp and TripAdvisor mention the lentil burger as a standout option. It seems that Kingfisher is known for their creative and flavorful sandwiches and burgers, making it a popular spot for locals and visitors.
---
Menu: Kingfisher Menu
Top Review: "Everything is made in house.  Wonderful selection on the menu.  My favorite lunch place.  And my favorite think is their shrimp burger and fried shrimp.  Oh my! It's slap everybody's momma good! The Shrimp Burger is served with all the trimmings, house made chili-mayo sauce on the most perfect bun made on site.  Go! Order! Eat! Thank me later!" – Robin E
As we conclude this epic culinary journey through Pensacola's best burger spots, it's clear that each establishment dishes out more than just food – they serve stories, flavor-filled experiences, and memories. So next time you're in the city, don't just pass through. Instead, bite into the local culture one savory, mouth-watering burger at a time. Pensacola is more than just pristine beaches and clear blue skies, it's also a paradise for burger enthusiasts everywhere. Until our next food-filled adventure, happy dining!
You might also enjoy these articles:
burgers in pensacola, best burgers in pensacola, burgers near me, burgers pensacola fl, best burgers in pensacola fl