Looking for the best burgers in College Station? Then right this way!
In the culinary orchestra of College Station, Texas, the humble burger conducts an irresistible symphony of flavors. From the soft buns cradling a melody of succulent patties to the harmonious ensemble of condiments, each note sings of authentic Texan savor.
Charliemac's Burger Kitchen
Charliemac's Burger Kitchen is a popular food truck located in College Station, Texas, that offers a variety of delicious burgers, hot dogs, and donuts. The food truck is owned by Charles Stover and has become a favorite among both locals and newcomers to the area.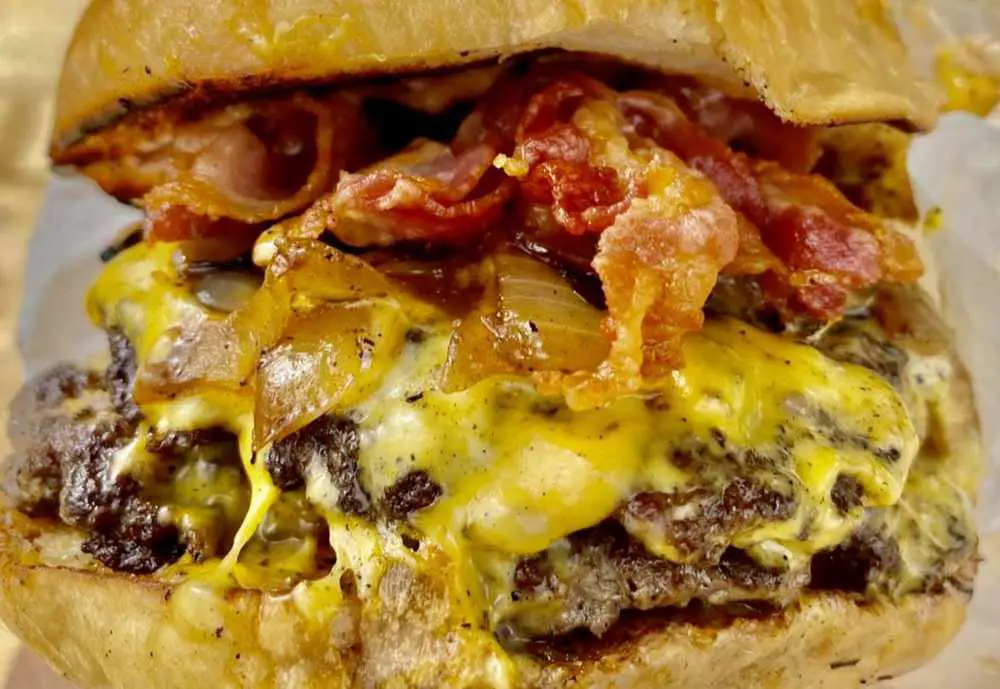 The menu features a variety of options, including classic burgers, loaded hot dogs, and decadent donuts. The food truck's permanent address is at the corner of Barron Rd and Hwy 6 South, and it is open for lunch from 11:00 AM to 1:30 PM.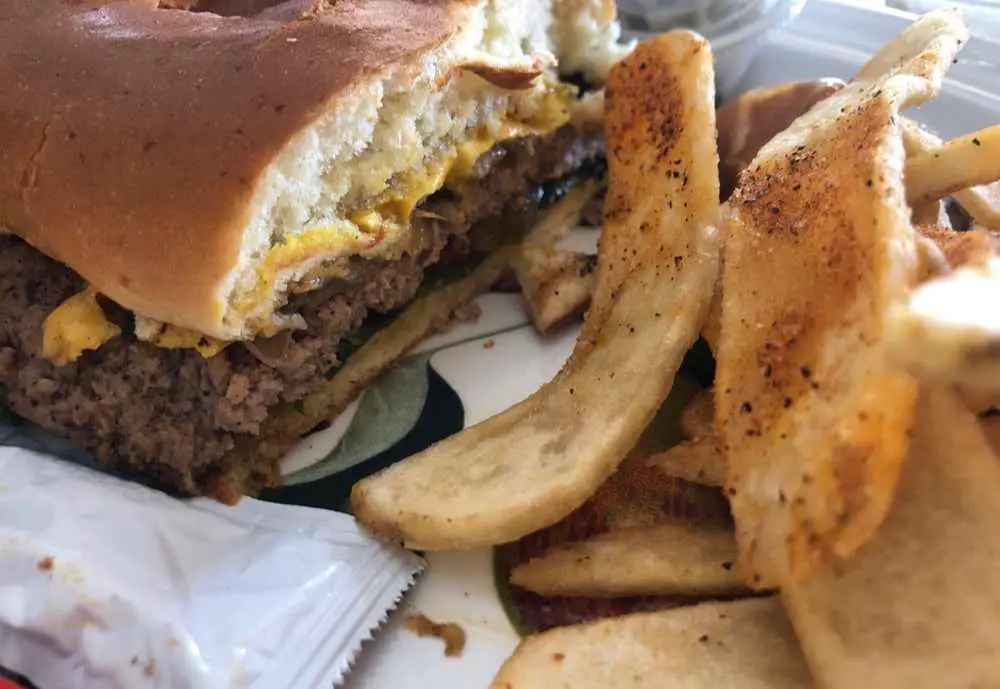 Charliemac's Burger Kitchen has received positive reviews on Yelp, with customers praising the quality of the food and the friendly service.
Menu: Charliemac's Menu
Top Review: "One the Best Burgers I've ever had! Hands dow the best customer service I've ever experienced at a food truck. You can tell they love what they do when you take your first bite. I 100% recommend for your next burger fix! They are a food truck! Go early if you can because they sell out quick (good problem to have) or call/ text your order ahead!" – Mekail F.
Burger Mojo
Another super burger spot in College Station is Burger Mojo. This local fast-food restaurant has been serving up mouth-watering burgers since 2018, and it's quickly become a favorite among locals and visitors alike.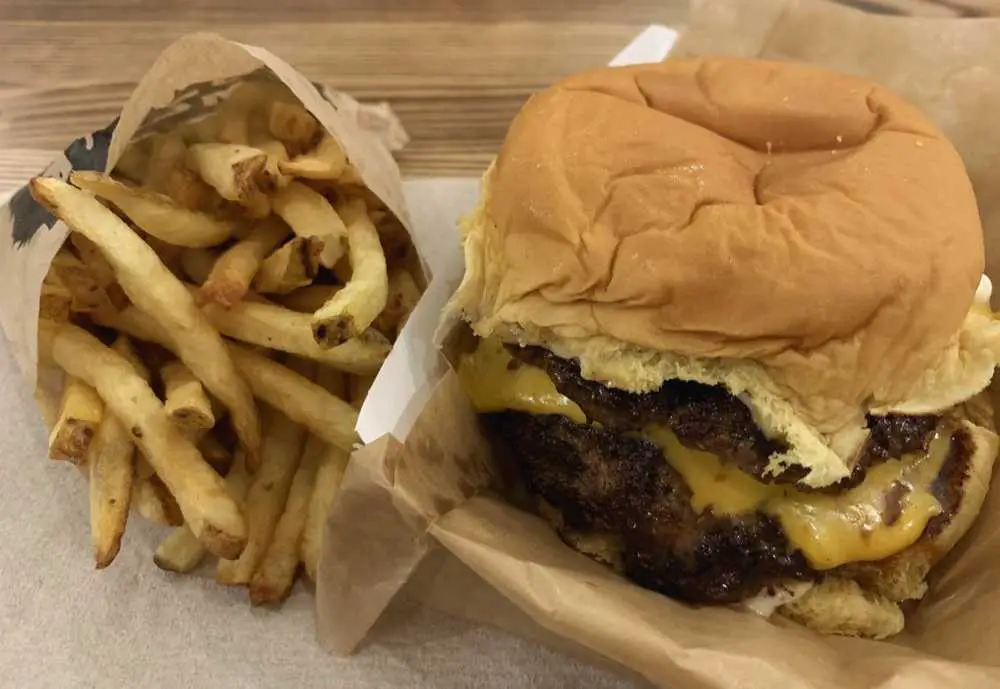 One of the things that sets Burger Mojo apart is its commitment to using only the freshest, highest-quality ingredients. From the juicy, all-beef patties to the freshly-baked buns, every element of their burgers is made with care and attention to detail.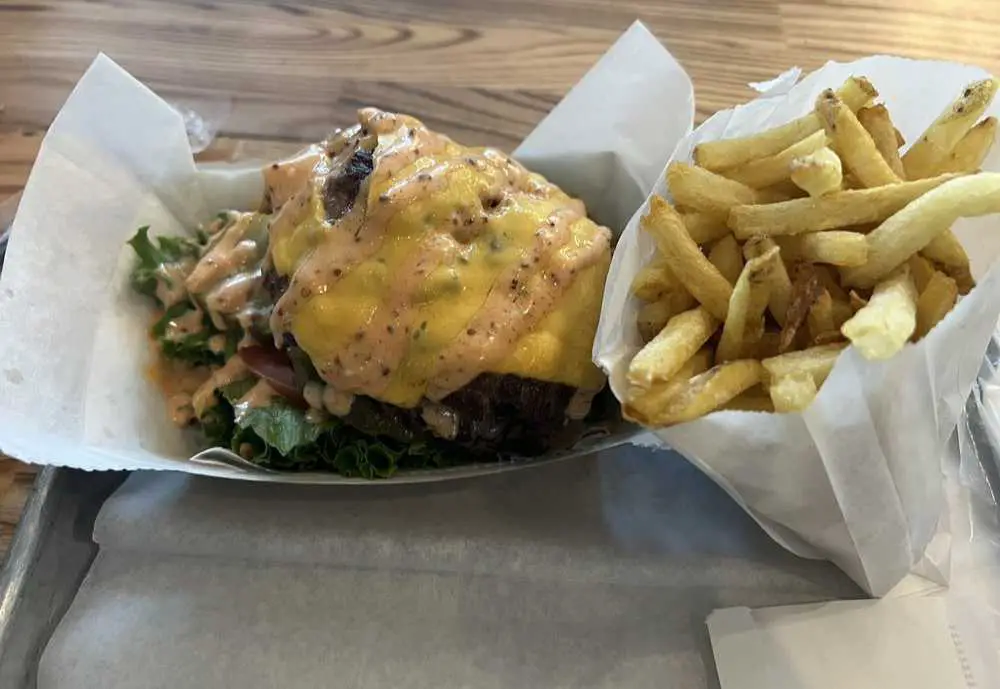 But it's not just the quality of the ingredients that makes Burger Mojo stand out. It's also the creativity and variety of their menu. Some of the best burgers in College Station for a nice price!
Menu: Burger Mojo Menu
Top Review: "This place is a gem! I was recently in town for a lacrosse tournament with my boyfriend and we needed a quick bite after a long long day. I saw this place was still open and honestly didn't think much of it, but boy was I surprised. Burgers were tasty, huge variety, quick service, and a good bang for your buck. I'd highly recommend checking out their secret menu (that's where we found the burger with pb&js as the buns)" – Ali J.
Koppe Bridge Bar & Grill
If you're looking for a classic Texas burger joint with a laid-back vibe, Koppe Bridge Bar & Grill is the place to be. With its rustic decor, outdoor seating, and pool tables, this local favorite is the perfect spot to kick back and enjoy a cold beer and a juicy burger.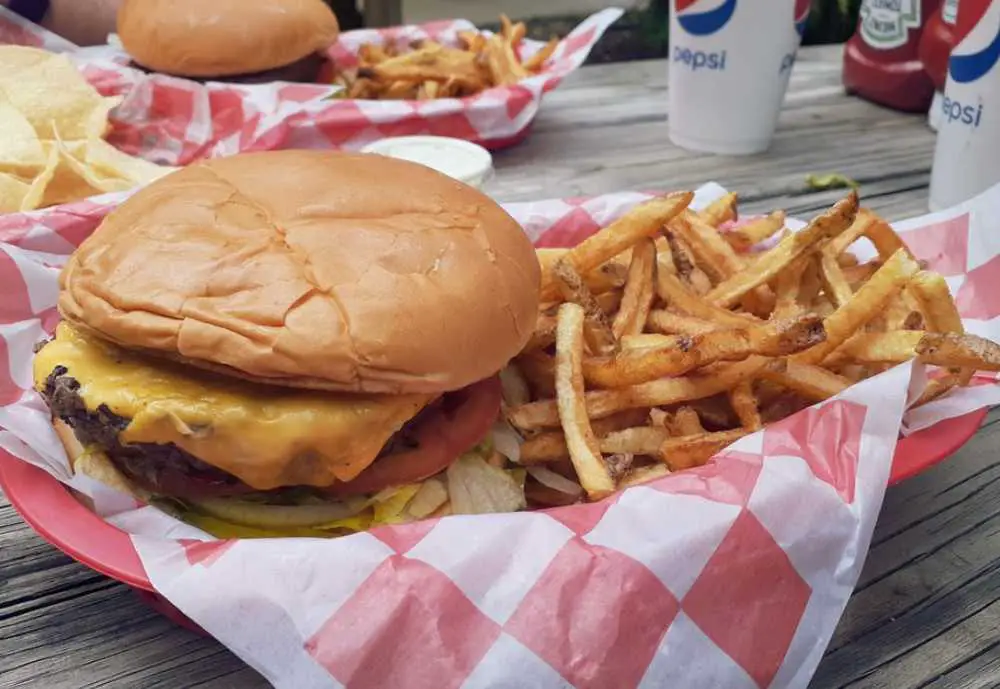 But don't let the casual atmosphere fool you – Koppe Bridge Bar & Grill takes its burgers seriously. Made with fresh, never-frozen beef and served on a homemade bun, these burgers are the real deal. And with toppings like bacon, avocado, and fried eggs, there's no shortage of ways to customize your burger to your liking. Try out one of the best burger spots in College Station for many years now!
Menu: Koppe Bridge Bar Menu
Top Review: "This was our first visit and we were very pleased! We were in town visiting our daughter and her family and decided to go there for lunch. We chose the burger basket and it was delicious! We think this might become one of our favorite places when we're in town! The food was fresh and the restaurant was clean. We enjoyed sitting on the patio! The staff was busy but friendly! Loved it all!" – Kathy S.
Top of the Hill – Greasy Burger
Top of the Hill – Greasy Burger is a must-visit spot for anyone looking for the best burgers in nearby Bryan, Texas. This burger joint has gained a reputation for its delectable and satisfying burgers, made with fresh cut vegetables and hand-pressed patties.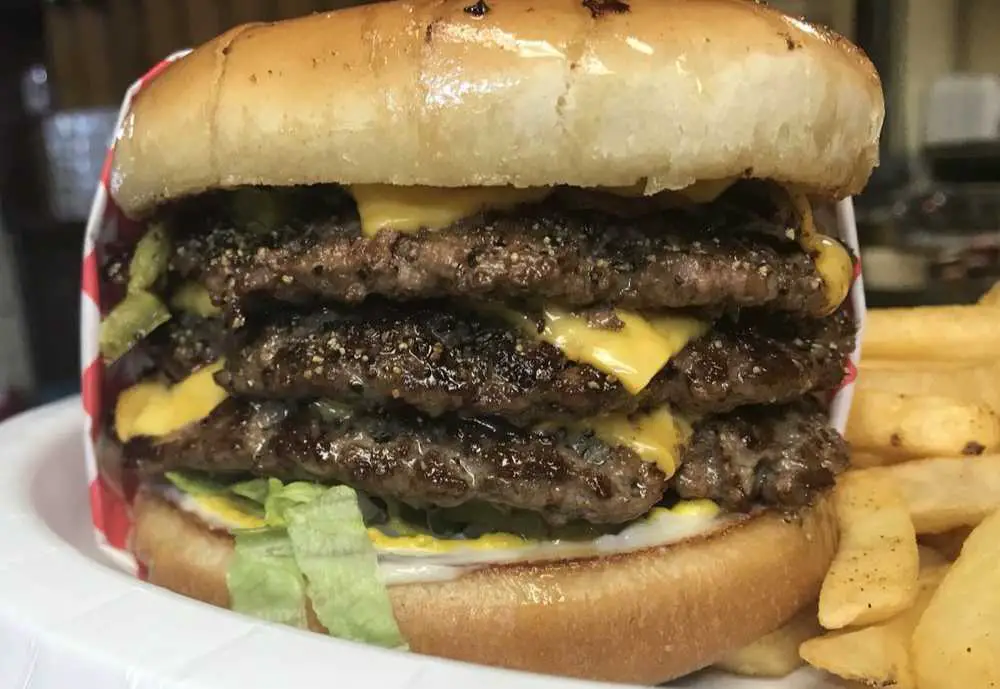 With an average rating of 4.8 out of 5 stars from 977 Google reviews, it's clear that this establishment has captured the hearts and taste buds of its customers. Don't miss out on the opportunity to try one of their classic cheeseburgers inside or in their outside dining area.
Menu: Top of The Hill Menu
Top Review: "Best burger in the area! I wish I had heard about this place sooner. Everything here is perfectly seasoned, and yes, it's greasy, but it's so good. Whether you just want a little cheesburger or a Superman burger, you will not be disappointed. Their coconut cream soda is one of my faves if you're also a coconut fan." – Veronica H.
TX Burger
TX Burger is a popular fast food restaurant in College Station that serves delicious burgers. TX Burger offers a wide variety of burgers, including classic cheeseburgers, bacon burgers, and veggie burgers.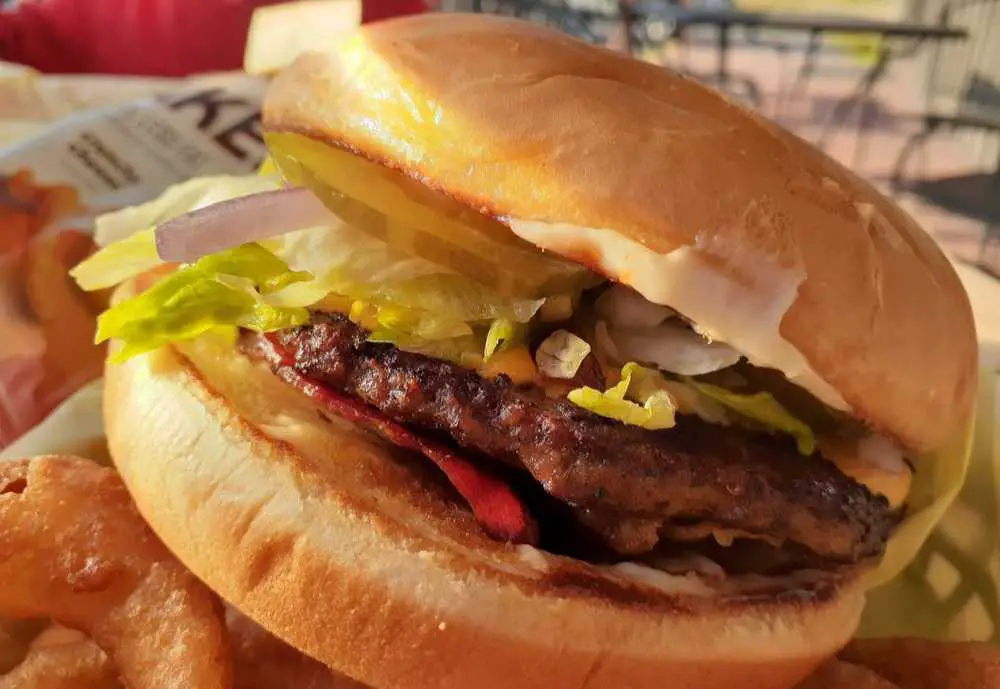 Customers rave about the quality of the food at TX Burger, with many calling it the best burger joint in College Station. The restaurant has a 4.5-star rating on Yelp, with reviewers praising the juicy burgers, crispy fries, and affordable prices.
Whether you're a student at Texas A&M or just passing through College Station, TX Burger is a must stop for
Menu: TX Burger Menu
Top Review: "Wow! I think we just found our new favorite burger joint.  The prices are very reasonable. The kids meals are $6 and come with chips, drink, and a cookie or ice cream! That is a deal! The burger I had was very delicious, loaded with a patty, jalapenos, bacon, onions, pickles, lettuce, and tomato. They have really good fries too. I got them seasoned. My wife got onion rings that were thick and tasty.. They have draft beer too which was only $4.50, I think on happy hour? The ladies working there were very nice and patient with us. We sat outside on this beautiful day and the kids got to move around a little. We will be back!" Ryan C.
You might also like these mouth watering articles:
best burgers in college station, burgers college stations, best burgers college station tx