Looking for the best burgers in Miami? Great! Miami is famous for its beautiful beaches, vibrant nightlife, and diverse food scene. And while it's known for its seafood and Latin American cuisine, Miami is also home to some of the best burger spots in the country.
From classic cheeseburgers to some actually decent impossible burgers, Miami has burger game!
Clutch Burger
Clutch Burger is one of the most popular burger joints located in Coral Gables, Miami. This family-style restaurant has gained a reputation for its gourmet burgers and extensive beer selection, with over 60 types of beer on offer.
Clutch Burger uses high-quality ingredients to create unique flavor combinations that are sure to satisfy any burger lover's cravings. In addition to their meat options, they also offer vegan and gluten-free alternatives. Whether you're in the mood for a classic cheeseburger or want to try something new, Clutch Burger is a must-visit spot for any burger enthusiast visiting Miami.
Menu: Clutch Burger Menu
Top Review: "The name says it all. The food at this place so "so clutch"!!!! And the service was so fun – yes, fun. We stopped in relatively early on St. Pattys day. Our waitress was decked out for the occasion and someone we believe to be owner or manager was a trip. We lovingly referred to him as "Lucky the Leprechaun" and he later along! They gave us great suggestions – we ordered the táquenos (yuuuum), nachos (holy truffley goodness) and the trifecta w/305 patty (what in the grilled cheese perfection was that!?)." – Tatiana P.
La Birra Bar
La Birra Bar in Miami, Florida is making waves in the burger scene with their mouth-watering and juicy burgers. With an overwhelming amount of burger options to choose from, La Birra Bar has something for everyone.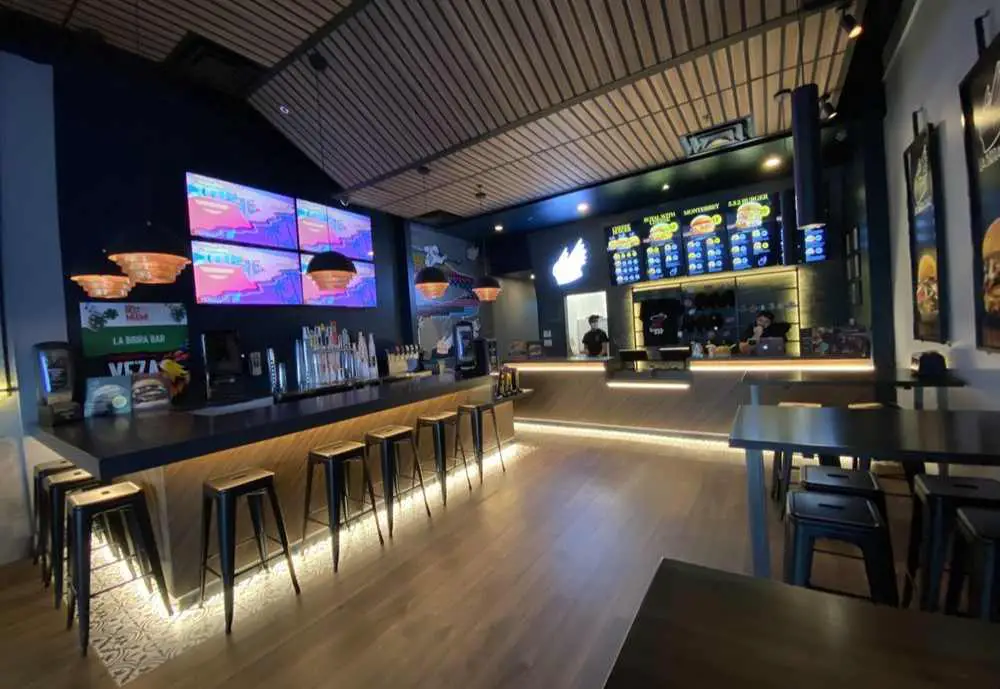 Their golden burger, featuring two patties covered in melted American cheese, finely diced onions, and a mayo-based sauce, is a must-try for those experiencing menu anxiety. And for those with a big appetite, the massive five-patty burger is sure to satisfy. With rave reviews on Yelp and other food blogs, La Birra Bar is quickly becoming a go-to spot for burger lovers in Miami.
Menu: La Birra Bar Menu
Top Review: "A must go burger place. They have over 30 burgers to choose from! I thought they would be huge, but they were a good size! I got the crispy onion and it was so good! I am 1000% coming back. The staff was super friendly and helpful in answering any questions we had. The place itself is pretty plan, they have indoor and outdoor seating! The quality of the meat is great and I love that they make there own buns in house!" – Sabrina F.
Coney Burger
A visit to Coney Burger in Miami, Florida promises a truly remarkable culinary experience. The vibrant and energetic atmosphere is often the first thing to make an impression, closely followed by the exceptional quality of their food.
The star of the show is undoubtedly their signature burger, delivering a flavor explosion sure to satiate even the most intense of cravings. Furthermore, visitors can expect to be treated by a warm and welcoming staff, a detail that enhances the overall dining experience. It comes highly recommended for anyone on a quest to find Miami's most incredible burger.
Menu: Coney Burger Menu
Top Review: "I am so excited to welcome this corner gem to the neighborhood — 100% convinced that this will be my new favorite spot! Serving a sweet menu that highights vegan options — such as their homemade veggie pattie coney burger, vegan corn dogs (yum!), sweet and salty fries (mix or sweet and regularpotatoes), and milkshakes. The service was quick and friendly — I was informed of their other vegan options (excited to try them all). It's an outdoor dining experience or carryout — they have a couple of high-top tables. Super affordable for the delicious meal — I'll soon return." – Carmen V.
Burgermeister – Brickell
Burgermeister is a must-visit destination for anyone looking to indulge in the best burgers in Miami. This vintage burger bar has quickly become a local favorite, known for its delicious and inventive burgers.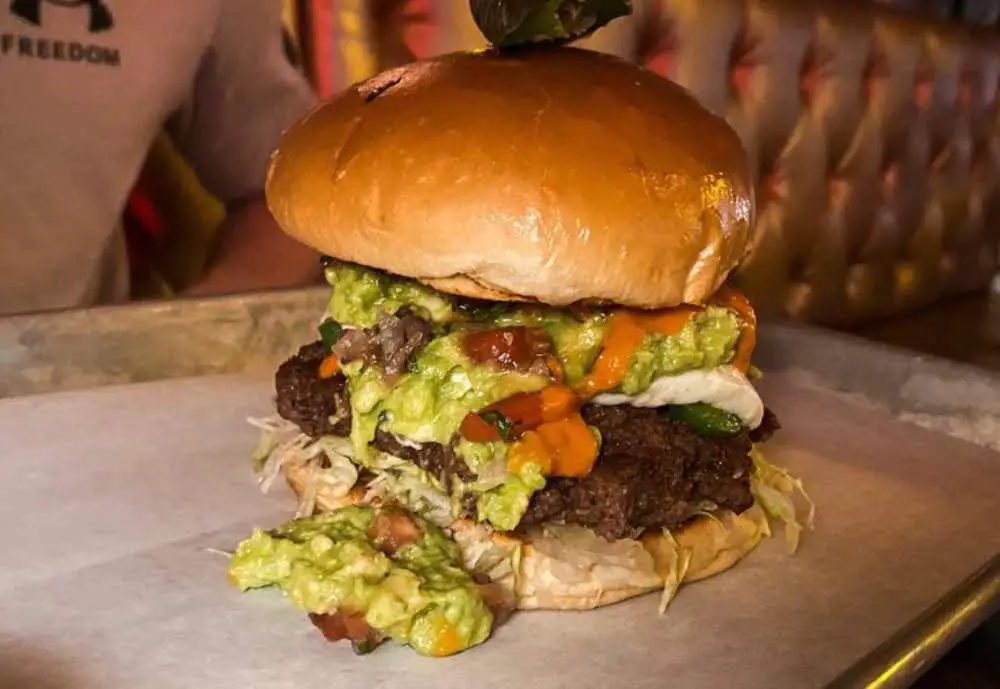 The owner and chef, Alexander, previously managed fine dining restaurants in Miami, New York, and Los Angeles, and has brought his culinary expertise to the world of burgers. Burgermeister's menu features a variety of mouth-watering options, including classic burgers, veggie burgers, and even a burger made with wagyu beef.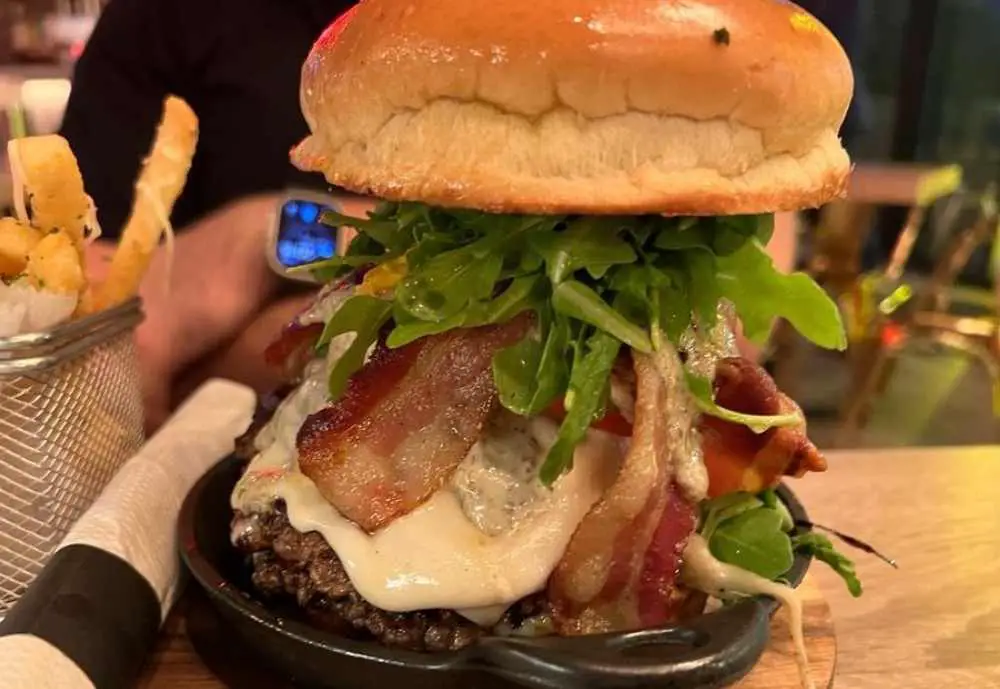 With two locations in Miami, including one in South Beach and one in Brickell, Burgermeister is the perfect spot to grab a delicious burger and enjoy a casual night out with friends.
Menu: Burgermeister Menu
Top Review: "Was looking for a place to eat while waiting out the rain and this was a nice pick. These burgers were absolutely delish and one of the best burgers I've ever had in my life. I loved the seasoning and the massive size. I didn't finish all of it. I'm glad that the fries are shareable sized because me and my bf ended up sharing them. The staff was very nice and the wait for food was reasonable for what we got quality wise. I could've split my burger with my boyfriend if we liked the the same toppings. I can't wait to check out this place again." – Chardae J.
Fat Boy Ricks Burgers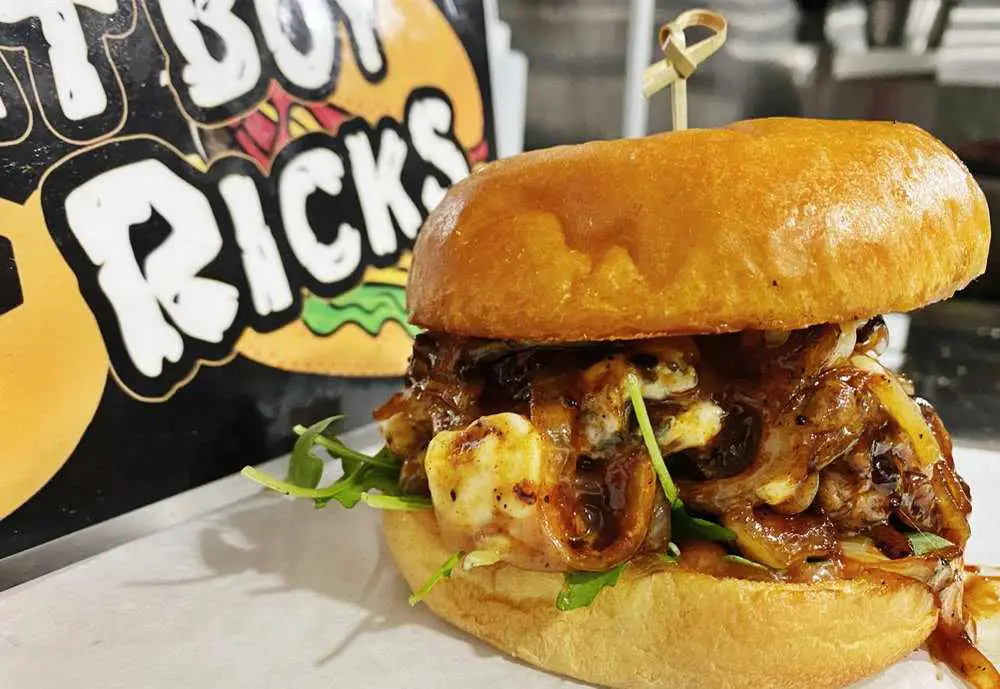 Top Review: "SAY WHAT!!!!! ABSOLUTELY BEST BURGER in Miami!! Just finished eating the Friday Burger and I had to race to write a review and share with friends!! Get there soon! This place is a hidden diamond! The burger was juicy, perfectly cooked with the right amount of bacon, jam and cheese!  I can still taste it! I'll be back very soon to try their whiskey burger and fries!!" –
You might also like these mouthwatering articles:
best burgers in miami, burgers near me, burgers in miami, burgers miami fl