Chicago's love affair with burgers runs deep and we can't wait to share it all with you. With a harmonious blend of flavorful patties, melted cheese, and an array of delectable toppings, Chicago burgers have earned a reputation as burger legends.
From humble neighborhood joints to trendy gastropubs and upscale eateries, Chicago boasts a vibrant burger scene that caters to every palate and preference.
Au Cheval
When it comes to the Chicago burger scene, one name stands out among the rest: Au Cheval. This renowned establishment, nestled in the trendy West Loop neighborhood, has gotten both praise and debate among locals and visitors alike.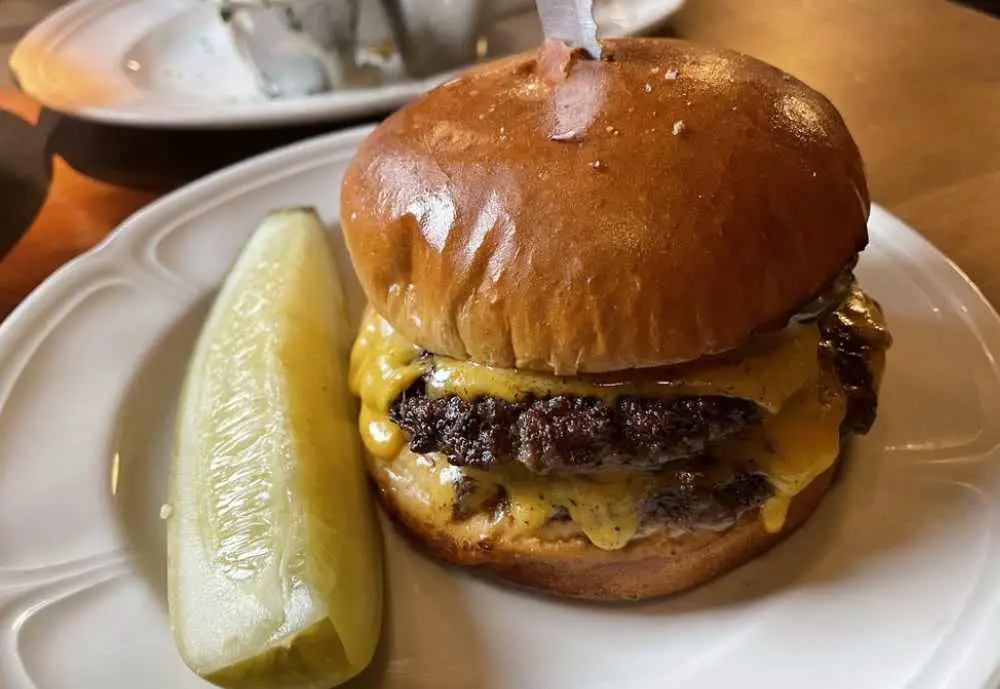 Is the famous award-winning burger spot with its long wait truly worth it? Though there have been mixed reviews, we say it's still worth a try. You'll either love it or hate it, but be sure to try it at least once while you're in the city.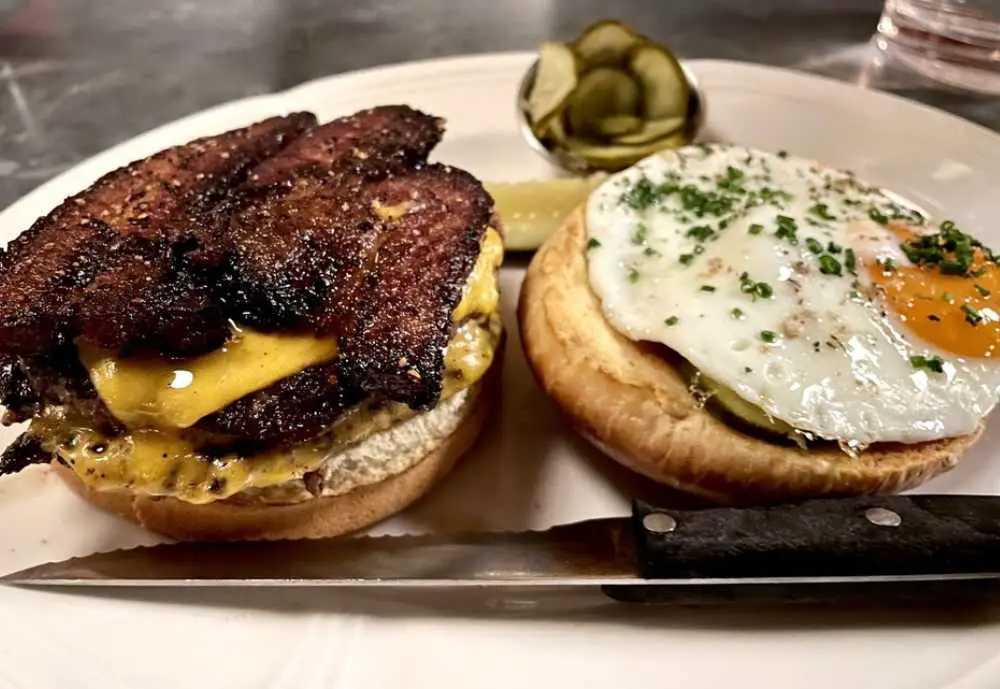 The single cheeseburger that's the topic of the debate has melted Kraft singles, Dijonnaise, pickles, and thick-cut bacon. It's definitely a drool-worthy burger. The single cheeseburger remains an undisputed icon, but their other burgers are also worthy contenders. Try the egg and bacon or double cheeseburger if you have the chance. Easily some of the best burgers in Chicago.
Menu: Au Cheval Menu
Top Review: "Simply the best. The wait is worth it. Great bar next door too with a lot of great bourbons and a bunch of great beers. Again any wait here is worth it if you have not been and are questioning "is the wait worth it?" – it is." – Colin R.
Little Bad Wolf
For those seeking an indulgent burger experience accompanied by a relaxed ambiance, Little Bad Wolf has become a beloved spot in Chicago. The spot has a lively and casual atmosphere with an outdoor patio and bar with great cocktails and drinks.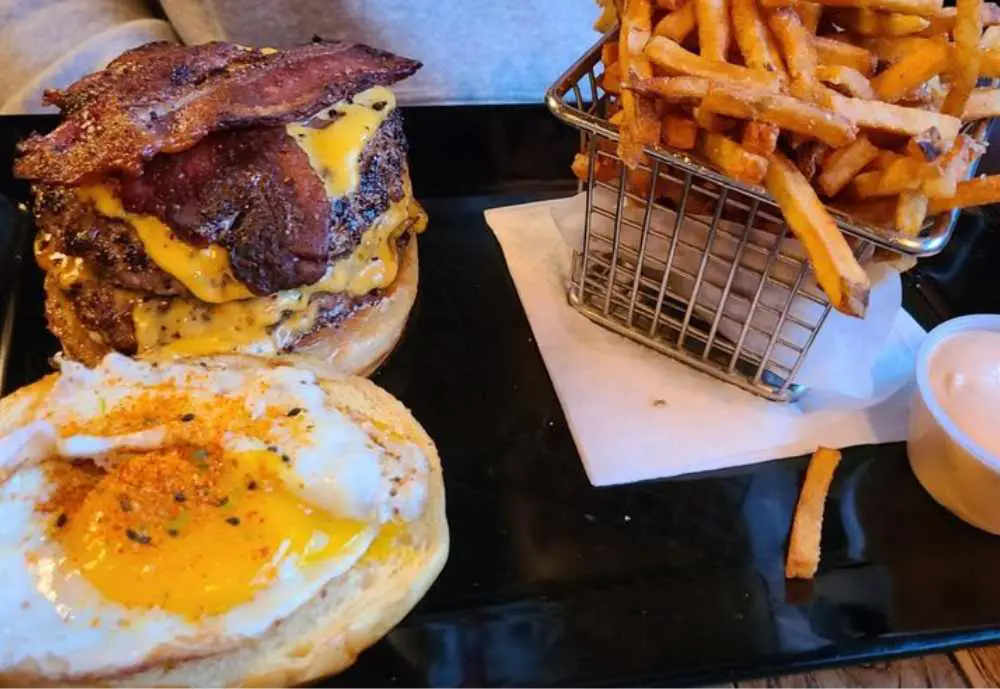 Nestled in a vibrant neighborhood, this casual eatery is best known for its tantalizing creations, including the iconic Wolf Burger and the equally satisfying Bad Burger.
The star of the show is undeniably the Wolf Burger, one of the best burgers in Chicago. This is a guilty pleasure that doubles down on every sinful thing you could ever want on a burger. Brace yourself for three mouthwatering patties, perfectly cooked bacon, melted American cheese, onion straws, pickles, mayo, and a fried egg. Don't forget to pair it with a side of their delectable mac and cheese, a perfect complement to the bold flavors of the burger.
Their Bad Burger is an alternative if you're looking for something more lowkey and simple, but still delicious!
Menu: Little Bad Wolf Menu
Top Review: "Phenomenal! The wolf burger is so tasty and juicy. The highlight was actually the mussels – the sauce it comes with is one of the tastiest sauces I've had in the city. Phenomenal table service and the overall speed to get our food was great. They do not take reservations and the place was super packed at 4 on a Saturday. Definitely stop by if you're in the area!" – Katie L.
Gretel
Gretel is an exciting addition to Chicago's culinary landscape as the sister restaurant of Little Bad Wolf. It's an up-and-coming burger shop that's slowly climbing the ranks of having the best burger in Chicago.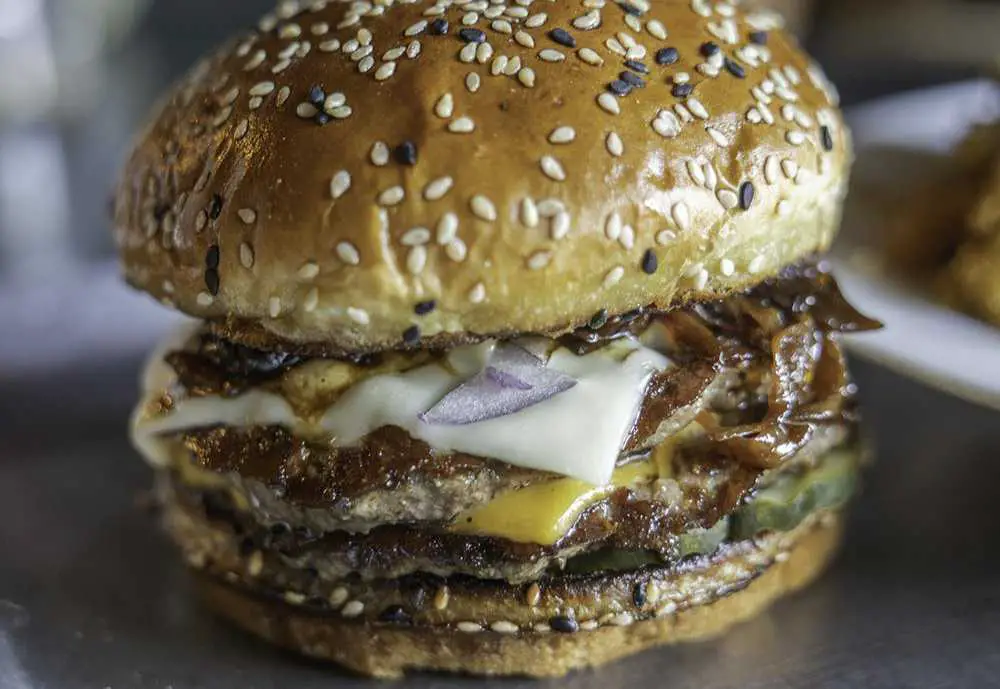 Their most recommended burger is the Gretel Griddle Burger. Featuring garlic aioli, American cheese, and the satisfying crunch of red onions, all sandwiched between a sesame seed bun, this burger is a flavor-packed experience.
The combination of their burger, cocktails, and spirits will undoubtedly make for a memorable dining experience and is perfect for casual nights out.
Menu: Gretel Menu
Top Review: "Follow the breadcrumbs to this awesomely moody pub and be wowed by their friendly staff, drink selection and one of the best burgers in Chicagoland.  The service was very attentive.  I had a unique rose petal cider which was not overly sweet and it was refreshing.  The double patty burger came with two kinds of cheese, pickles, garlic aioli and a basket of thin cut fries with a yummy dipping sauce.  For a gluten free option they will serve it wrapped in crispy iceberg lettuce.  They don't accept reservations so we arrived before 5 pm on a Sunday and were seated quickly." – Annette M.
Community Tavern
Community Tavern has an elegant ambiance and upscale bar vibe that's a little fancier than your typical burger stop. At Community Tavern, it's all about the meat. While their menu features a range of American classics with delightful Asian influences, their double cheeseburger stands out as a must-try dish.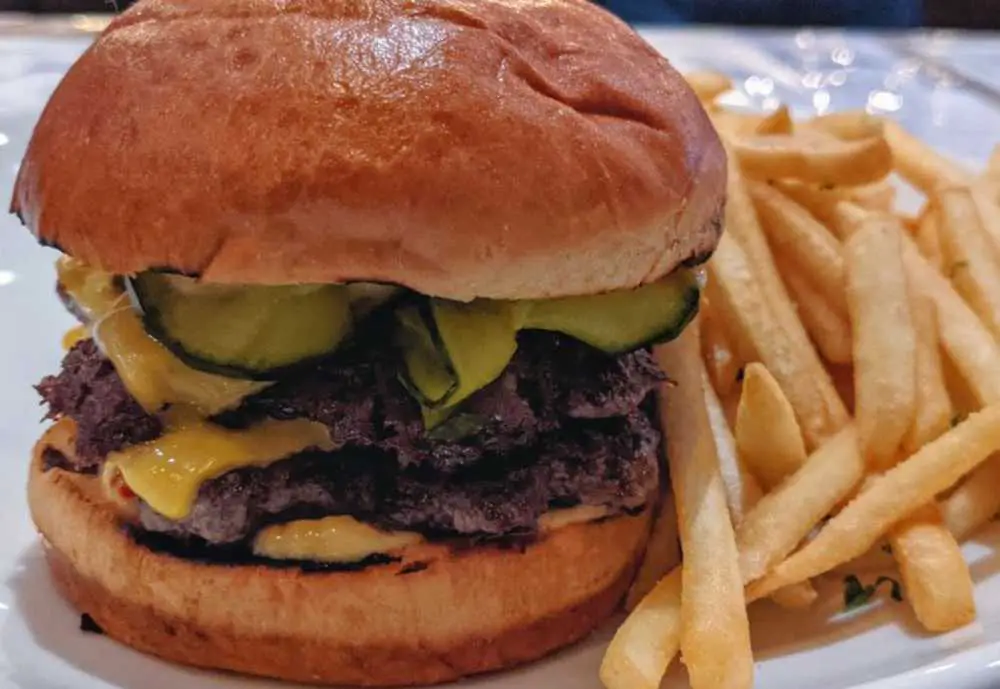 This burger is a true dream, oozing with cheese and boasting two juicy patties, all nestled between a soft bun and garnished with pickles, caramelized onions, and a tantalizingly spicy sauce.
Their menu also showcases a variety of dishes that pay homage to American classics with creative Asian twists. Explore the rich flavors of their short rib dumplings, steak frites, or dan dan noodles. Each dish highlights its dedication to quality ingredients and the fusion of culinary traditions.
Menu: Community Tavern Menu
Top Review: "My wife and I have been coming here for years and have never been disappointed!  Do not let the name fool you, this is not a place that serves bar food.  (Although they do have one of the best burgers in town according to many lists over the years)  From the grilled short rib, ocean trout, and  spicy Dan Dan noodles to the scallion pancakes and 4 layer coconut cake if you try it once you'll be hooked.  Once a month they have a wine tasting and they have a great happy hour at the bar early, but if you're coming later make a reservation it's a very popular place!" – Michael N.
The Region
When it comes to comfort food, The Region is a go-to spot in Chicago. While they offer an array of mouthwatering dishes, their single cheeseburger steals the show.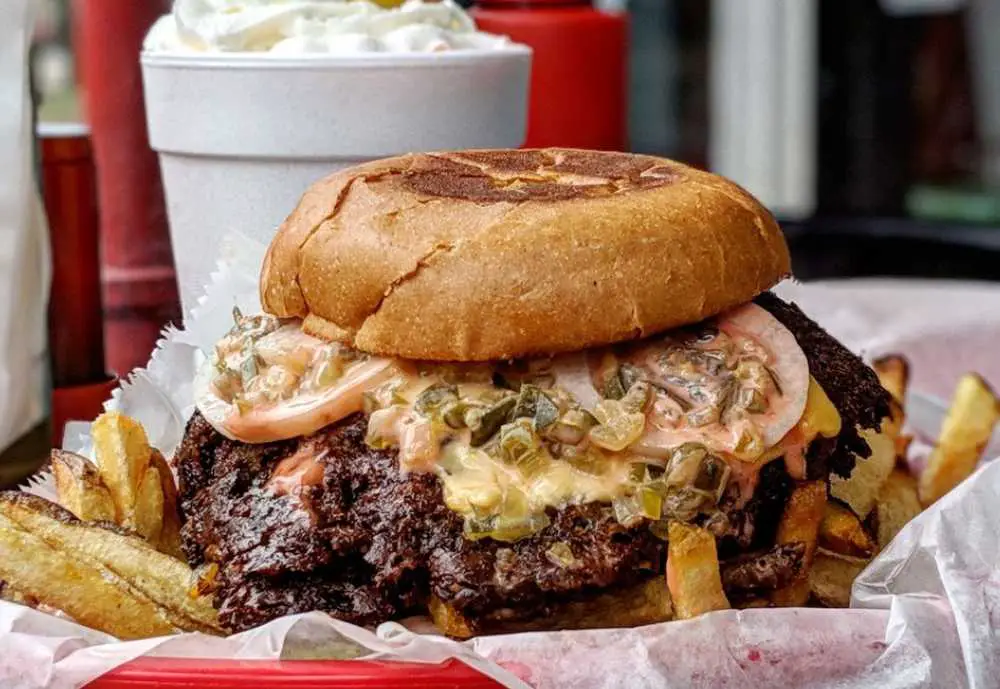 This is another single cheeseburger on the list that's more accessible and affordable than the others. Their smash burger can be interchanged with single, double, or triple patties with American cheese, a house sauce, green relish, and raw onion. It's simple and delicious.
Other burger recommendations include the Diggity Dos, Annihilation, Regionette, and Turkey burger. Also, treat yourself to their crispy onion rings and tangy fried pickles, which perfectly complement their burgers.
Menu: The Region Menu
Top Review: "The burger was on point. Edges flattened and crispy (yum). The single is probably good enough but the double was excellent. The melt on the cheese was just right and the bun was a great compliment to the burger. There was not much indoor seating at this location but there was an outdoor seating area with several available tables and seats." – Anthony R.
In the sprawling culinary landscape of Chicago, where tastes and preferences vary, one thing remains constant: the city's undying love affair with burgers.
Salt Burgers + Fries
If you're in Chicago and craving a delicious burger, Salt Burgers + Fries is a must-visit spot. With locations in both Wicker Park and River North, this burger joint offers some of the best burgers in Chicago. The burgers are made with smash patties that have a nice crisp, and their sauce is similar to In N Out's animal sauce.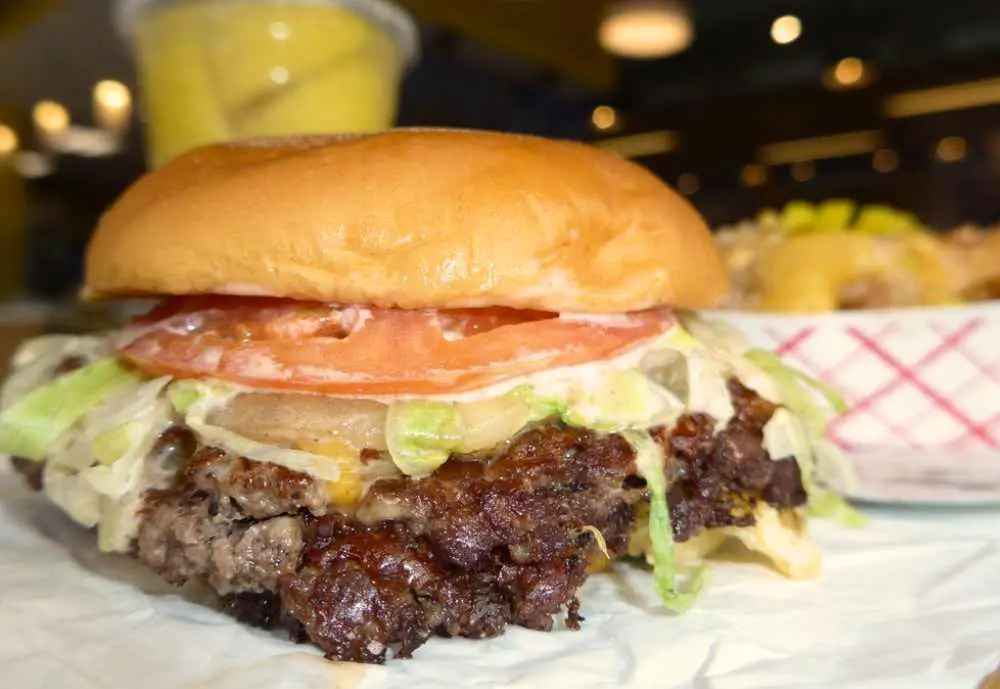 If you're a vegetarian, try the plant-based patty option that has the same delicious taste as the meat options. Don't forget to pair your burger with a side of Salt Fries or onion rings for the ultimate meal.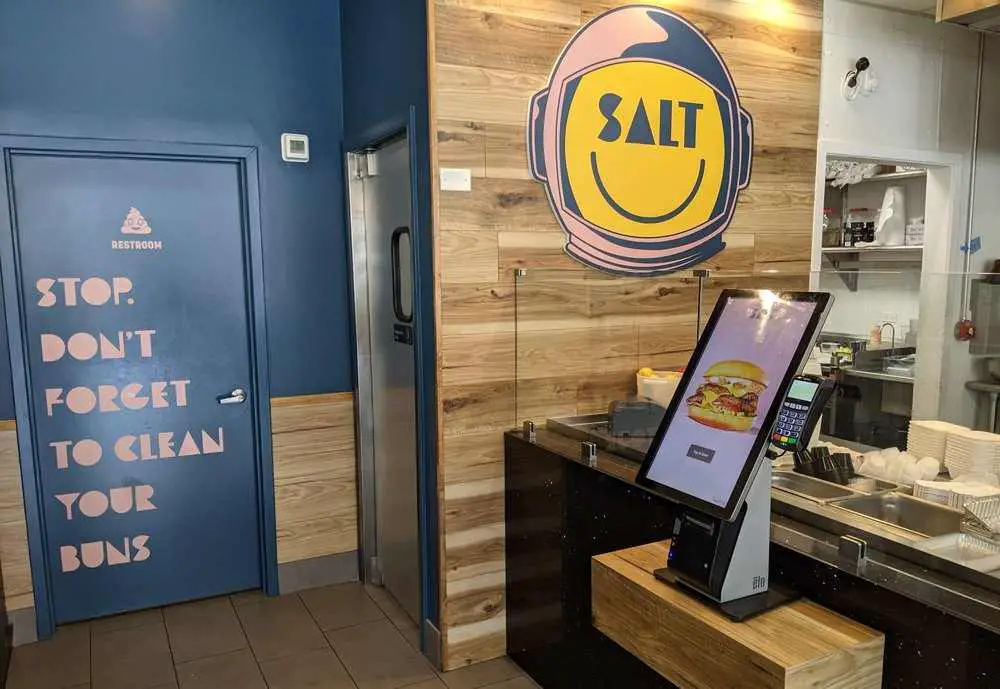 With fast food prices that won't break the bank, Salt Burgers + Fries is a great option for a quick and tasty meal in Chicago.
Menu: Salt Burgers Menu
Top Review: "Attached to bearded papa, Salt burger and fries is suppose to be the east coast's in-n-out. I believe the flavor is wayyy better than in-n-out especially the fries! The seasoning may be a little salty for some people but I like my burger with some flavor so I enjoyed it. Me and the bf were on a food adventure so we got the single patty burger with the loaded fries. Next time I'll go with the double patty burger. We also got a horchata shake which was also really good." – Huyen V.
Bianca's Burgers
Menu: Bianca's Menu
Top Review: "Bianca Burgers ROCKS! You might know them from the success they've had at Revival Food Hall. This is a brand new BYOB Humboldt Park location open from lunch until after midnight. First we tried the Bianca Burger… comes with lettuce, tomato, pickles, cheese, and a Bianca sauce. It was spectacular. Juicy, flavorful, huge… everything you'd want in a burger. Next was a chicken cheesesteak… simply OUTSTANDING. Soft Turano bread, perfectly seasoned, tender chicken, and a mix of Provolone & American cheeses giving you that "perfect combination of flavor and melty cheesiness." This is a spot we look forward to seeing again many times." – Mayo M.
---
From iconic classics to innovative creations, Chicago's burger scene is a treasure trove for food enthusiasts. Whether it's sinking your teeth into the juicy perfection of Au Cheval's legendary burger, savoring the guilty pleasures at Little Bad Wolf, or relishing the comforting flavors at Community Tavern and The Region, Chicago offers a diverse array of burger experiences that cater to every palate.
So, whether you're a local or a visitor, embark on a flavorful journey through the best burgers in Chicago and indulge in the mouthwatering creations that have solidified Chicago's reputation as a burger lover's paradise.
You might also like these articles:
burgers near me, best burgers in chicago, burgers in chicago, best burgers chicago il, burgers chicago il, best burgers in chicago 2023, best burger in chicago 2023, chicago best burgers, chicago best burger, best burger chicago, best burgers chicago 2023, good burgers in chicago, best burger place in chicago, best burger restaurants in chicago, gourmet burgers chicago