Looking for the best burgers in Chesapeake? Then get ready to embark on a mouthwatering journey through the city's culinary scene as we sink our teeth into the juiciest, most flavorful creations that will make your taste buds sing with delight. So grab your napkins, loosen your belts, here are the best burger spots in Chesapeake, Virginia!
Repeal Bourbons and Burgers
Repeal Bourbons and Burgers in Chesapeake is a must-visit destination for anyone looking for a unique dining experience. Repeal prides itself on using locally sourced ingredients, including free-range eggs, fresh herbs, and vegetables, to create the ultimate bourbon and burger experience.
With exclusive ingredients from the Mid-Atlantic and its own backyard, Repeal offers a range of delicious burgers and cocktails that are sure to satisfy any palate.
The restaurant's speakeasy atmosphere and friendly staff make it a perfect spot to unwind after a long day of exploring Chesapeake.
Menu: Repeal Burgers Menu
Top Review: "Delicious! What a juicy burger, the bun was soft yet had great texture. Fries had great flavor and were perfectly crisp. I still remember my first burger here in 2019!" – Shalesia T.
McGrath's Burger Shack
Craving a delicious burger? Look no further than McGrath's Burger Shack. This Irish-American fusion burger bar offers a mouthwatering selection of burgers that are sure to satisfy any appetite.
From classic cheeseburgers to the unique Irish Burger, which is a half pound of Guinness beef topped with Irish cheddar cheese, lettuce, tomato, ketchup and mustard. We also recommend the Luck of the Irish burger, which is a half pound of Guinness beef topped with 1/4 lb. corned beef, sauerkraut, 1000 island dressing, Swiss cheese served on rye bread. YUM.
Don't forget to pair your burger with one of their tasty sides, like onion rings, truffle chips, or the garlic chips for the garlic lovers out there. Check out McGrath's for some of the best burgers in Chesapeake, you will not regret, Oh Danny Boy!
Menu: McGrath's Menu
Top Review: "McGrath's has been on my list to check out for a bit now.  We changed our original plans because they were busy and we were craving burgers.  So I suggested McGrath's and it did not disappoint.  All of the employees worked together as a team and checked in tables as they went by.  The fried pickles were okay, the sauce was good.  The burgers were on point. I had the Irish burger and my husband had the Irish Whiskey Burger.  It's definitely a neighborhood joint.  Has a small town feel.  Will definitely go back!" – Kathleen D.
Check out the best breakfast spots in Chesapeake!
The Cutting Edge Cafe
The Cutting Edge Cafe is a must-visit lunch spot in Chesapeake, Virginia. This locally owned and operated establishment has been serving delicious food since 2009. The cafe prides itself on using locally sourced ingredients, including fresh bread and smoked meats and cheeses.
The menu offers a variety of dine-in, carry-out, and catering options. The cafe's owners, Matt and Melanie Hayes, have created a warm and welcoming atmosphere that feels like a diner, but tastes like fine dining. With its excellent food, friendly staff, and cozy ambiance, The Cutting Edge Cafe is a great spot to enjoy a tasty meal while exploring Chesapeake.
Menu: The Cutting Edge Menu
Top Review: "Cutting Edge was recommended to us by the chef and owner of LeGrand Kitchen, so I knew it would be good. Finding a good time to get myself over to Chesapeake on a Friday for their burger special was another story. We finally made the time and I am so glad we did! This is one of my new favorite burgers in the entire area. Incredibly flavorful, with each component really holding its own and combining in the most wonderful way. They were also running a salmon burger special which was equally as delicious! Sweet Potato Fries are not my typical go to, but theirs are better than any I've had anywhere else. Soft on the inside, crisp on the outside, and seasoned to perfection with almost a hint of a smokey barbecue flavor?" – Alexandra R.
Gourmet Burger Bistro
Gourmet Burger Bistro in nearby Portsmouth, Virginia is a must-visit spot for foodies and burger lovers. This cozy restaurant offers a variety of mouth-watering burgers, including their signature item, The Empire, which is a hand-pressed burger topped with chunks of steak, cheese, sautéed onions, peppers, lettuce and tomatoes, with your choice of side.
But that's not all – they also have a Sunday brunch menu that is making some noise in the area. With options like chicken wings, cheesesteaks, and various desserts, there's something for everyone. Plus, they have a full bar and outdoor seating, making it the perfect spot to enjoy a delicious meal and drinks on a sunny day. Give them a go for some of the best burgers in Chesapeake!
Menu: Gourmet Burger Menu
Top Review: "My son chose Gourmet Burger for his birthday dinner and I was happy he did! Four of us got four different burgers, Empire, P-Town, Major Way, and a Cheeseburger, three with fries and one with sweet potato fries. Everyone was happy – food was fresh and delicious! I also enjoyed my order of corn nuggets, too! Yum! Staff, on the phone and in person, were all friendly and very welcoming. Check them out!"
Local's Burgers N More
Local's Burgers N More is a restaurant located in Chesapeake, Virginia, that specializes in Mexican, breakfast, brunch, and burgers. According to reviews on MenuPix, Local's Burgers N More has a 4.8-star rating and 13 votes.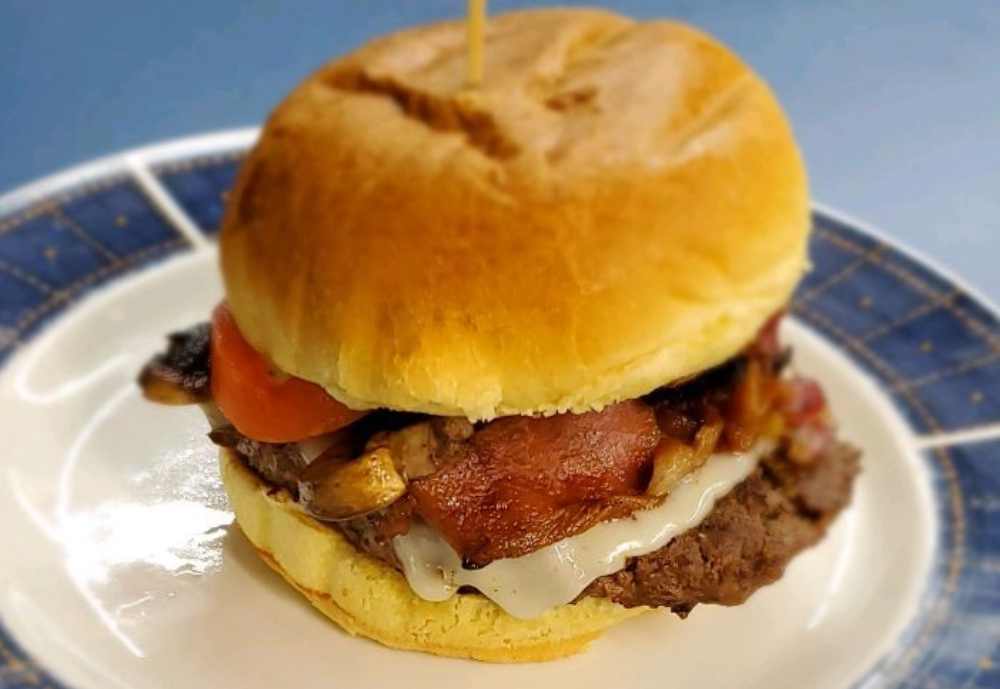 Their burgers seem to be a customer favorite, with reviewers praising the quality and taste of the burgers.
Menu: Local's Menu
Top Review: "This place is probably one of the most amazing places I've ever had a burger. She doesn't take short cuts at all. Located inside of a convenience store called Pete's market. Fresh meat fresh brioche buns, fresh tomatoes and all cooked in front of you. Thank you for the amazing food. I'll be back. What a gem." – Brigham S.
J&K Style Grill
J&K Style Grill specializes in the Waffle Burger, which consists of a freshly made Angus beef patty served on a soft, made-to-order waffle. Toppings include lettuce, tomato, grilled onion, pickle, mustard, mayo, and ketchup.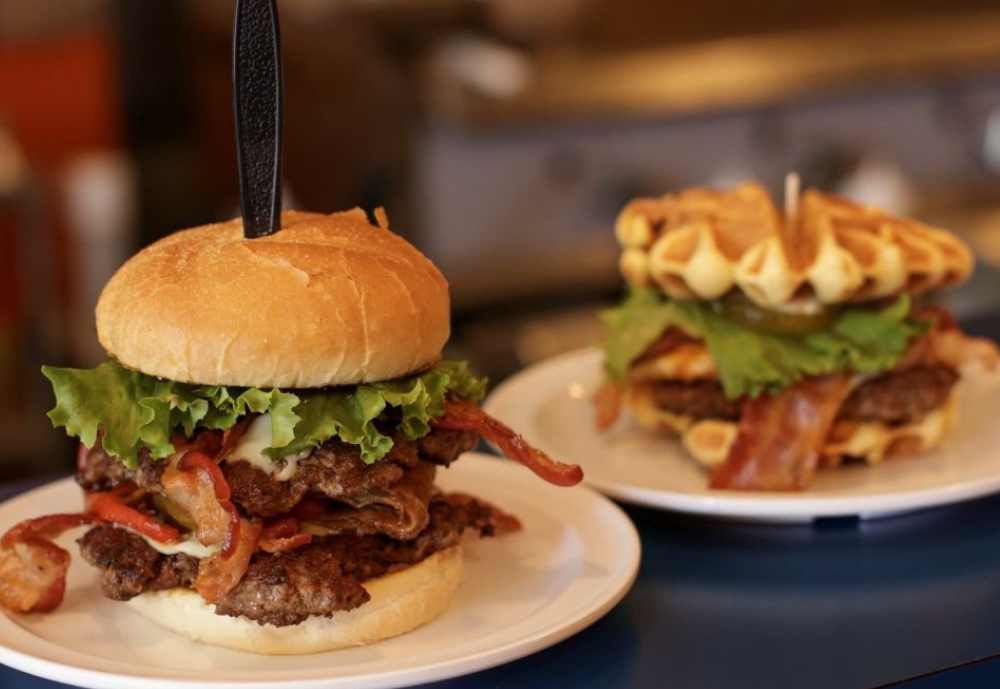 However, what sets this burger apart is the addition of hickory smoked bacon and a fried egg, which are placed on top of the American cheese slice. Customers are sure to leave feeling full and satisfied after indulging in this delicious creation.
Menu: J&K Menu
Top Review: "This is my go to! Family owned business, with great staff and AMAZING FOOD! We frequent here often and have tried many items. Never disappointed. Always fresh, flavorful and great portions. My go to is pictured in this review! Check them out, inside seating also available. Variety of deserts and fresh made drinks." – Takeyia S.
In conclusion, Chesapeake, Virginia proves itself to be a mecca for burger lovers with its diverse and tantalizing array of options. From the towering creations that challenge your grip to the succulent patties that melt in your mouth, the city's burger scene has something for everyone. Whether you're a fan of classic simplicity or crave adventurous flavors, Chesapeake delivers. So, gather your friends, loosen your belts, and embark on a culinary adventure through the best burgers in Chesapeake. From savoring each juicy bite to savoring the memories, these burgers will leave an indelible mark on your taste buds and remind you that there's truly nothing quite like the perfect burger experience.
You might also like these articles:
best burgers in chesapeake, burgers in chesapeake, chesapeake burgers, burgers near me