Are you looking for the best pizza in Albuquerque? Look no further! In this blog post, we'll take you on a tour of the top pizza spots in Albuquerque. Whether you're a fan of classic pepperoni or prefer to try something new and adventurous, we've got you covered. We scoured the city and tasted our way through countless pies to bring you the best of the best. So sit back, relax, and get ready to plan your next pizza night out in Albuquerque.
Farina Pizzeria & Wine Bar
Farina Pizzeria & Wine Bar is a must-visit spot in Albuquerque, New Mexico for pizza lovers. Located in the trendy EDo neighborhood, Farina Pizzeria serves artisanal pizzas, fresh salads, and house-made pastas in a cozy and inviting atmosphere.
The restaurant has gained recognition for its delicious pizzas, which have been named one of the Top 20 Pizzerias in the country. The eclectic beer and wine list showcases both local and international selections. Farina Pizzeria is the perfect spot for a casual night out with friends or a romantic dinner with your significant other.
Menu: Farina Pizzeria Menu
Top Review: "I loved everything about this place. If I lived in Albuquerque I would be a regular.  The pizza has the right amount of sauce and toppings.  I loved how you could half order the pizza. Everything was fresh and tasted as if they really cared about what they served.  The bartenders were fantastic and the patrons were cool as well.  I had a little taste of this mushroom pasta which was excellent. When I return to Albuquerque this will definitely be a stop." – Tae S.
510 Central Ave SE, Albuquerque, NM 87102, (505) 243-0130
Rumor Pizza
Rumor Pizza, located in Albuquerque, New Mexico, is renowned for its exceptionally high-quality pizza that has captured the hearts of both locals and visitors alike.
The friendly and welcoming staff at Rumors contribute to the warm atmosphere that keeps patrons coming back for more. While their hours may be untraditional, with the establishment being closed on Monday through Wednesday and opening at 1pm on Thursday, Friday, Saturday, and Sunday, the unique and mouthwatering taste of their pizza makes it well worth the wait.
The crispy crust, paired with top-tier pepperoni, has earned Rumors Pizza the distinction of being one of the best pizzerias in Albuquerque.
Menu: Rumor Pizza Menu
Top Review: "Best pizza in ABQ. I love the little pepperoni's that cup and get crispy around the edges. You can tell it's being cooked in a proper pizza oven. The bottom has the perfect amount of char spots. A little pricy at $5 a slice, but I'll give them a pass since there isn't much good pizza in this city." – Josh B.
724 Mountain Rd NW, Albuquerque, NM 87102
Thicc Pizza Co
Thicc Pizza Co is a unique pizza restaurant located in downtown Albuquerque, New Mexico. This locally owned and operated pizzeria specializes in Detroit-style pizza, which is made with a slow-rise dough and cooked in an authentic blue steel pan.
Thicc Pizza Co's menu features a variety of creative toppings, including ricotta, figs, and prosciutto. The restaurant is committed to using non-GMO ingredients and offers a one-size pizza that is perfect for sharing. Thicc Pizza Co's cozy and inviting atmosphere, combined with its delicious pizza, makes it a popular spot for locals and visitors alike.
Menu: Thicc Pizza Menu
Top Review: "Thicc pizza is, hands down, the best pizza! It's ruined all other pizza for me. The "some fungi" is so delicious. I've never had hot honey on pizza before but it was life changing, the more the better!!!  The service here is always top notch!" – April L.
505 Central Ave NW, Albuquerque, NM 87102, (505) 450-2487
Pizza Barn
Pizza Barn is a family-owned pizzeria located in the town of Edgewood, just outside of Albuquerque, New Mexico. This cozy and inviting restaurant is known for its delicious hand-tossed pizzas, which are made with fresh ingredients and cooked to perfection.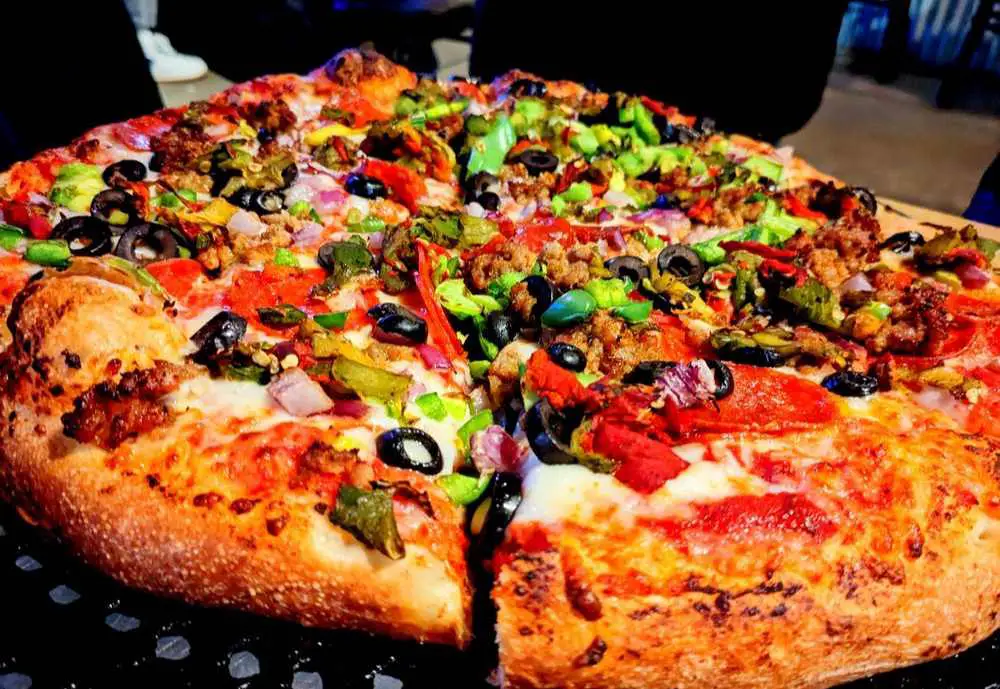 Pizza Barn offers a variety of toppings, including a New Mexico favorite with pepperoni and fire-roasted green chile. The restaurant also offers a gluten-free crust option for those with dietary restrictions. With its friendly service and warm atmosphere, Pizza Barn is a great spot for a casual family dinner or a night out with friends.
Menu: Pizza Barn Menu
Top Review: "Holy Smokes that pizza is delicious! That crust has the perfect crunch…the dough to topping ratio is perfection.   The only setback is the line out the door… but believe me it's worth it!   Also, bunch of beers on tap.  That crust, puts this pizza joint in my top 3!" – Ashleigh B.
11 Plaza Loop, Edgewood, NM 87015, (505) 286-2700
Voodoo Girl Pizza and Pints
Voodoo Girl Pizza and Pints is a popular pizza and beer bar located in the heart of downtown Albuquerque, New Mexico. This unique pizzeria offers a variety of creative pizzas, including vegan and gluten-free options, made with fresh ingredients.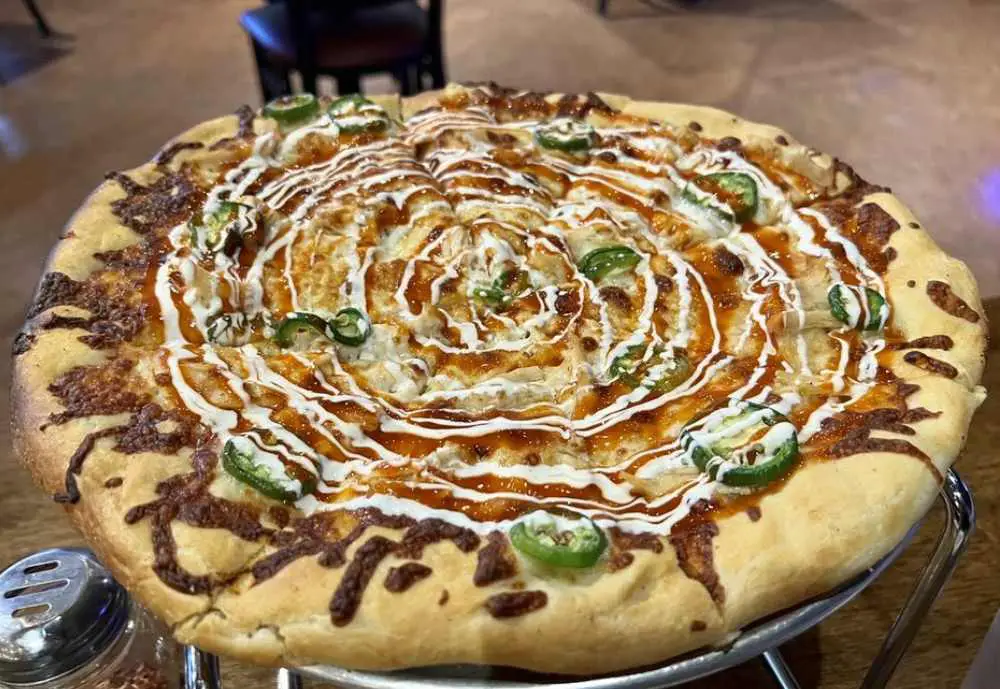 Voodoo Girl Pizza and Pints also has an extensive beer list featuring local and regional craft beers, making it a great spot for beer enthusiasts. The restaurant has a fun and eclectic vibe, with live entertainment and a patio for outdoor seating. Whether you're looking for a casual night out with friends or a family-friendly dinner spot, Voodoo Girl Pizza and Pints is definitely worth a visit.
Menu: Voodoo Girl Menu
Top Review: "Loved this place. Great brewery vibe and lots of local beers on tap. I chose the La Cumbre Elevated IPA. Nice smooth hop flavor and color. We chose a pepperoni and sausage pizza for dinner. Their brick oven pizzas were excellent. Nice crispy hand tossed crust. Lots of toppings. Perfect size for the two of us. Staff was super nice and helpful in beer selection. Great stop!" – Lisa S.
1401 2nd St NW, Albuquerque, NM 87102, (505) 243-6095
---
In conclusion, Albuquerque is home to some truly fantastic pizza spots. From classic New York-style slices to creative and unique toppings, there's something for everyone. Whether you're a lifelong Albuquerque resident or just passing through, be sure to check out some of these top pizza spots for a truly delicious experience. And who knows, you might just discover your new favorite pizza joint in the process! So grab a slice (or two) and enjoy all that Albuquerque's pizza scene has to offer.
You might also like:
pizza albuquerque, best pizza in albuquerque, albuquerque pizza, pizza albuquerque nm