Are you a BBQ fanatic on the hunt for the next great pit stop? Look no further than the charming town of New Braunfels, Texas. This little slice of heaven is home to some of the most mouthwatering BBQ around.
From succulent brisket to fall-off-the-bone ribs, these joints serve up plates of pure deliciousness. But with so many options, how do you know which spots are truly sizzling? Fear not, dear reader, for we've done the hard work for you and scoured the city to bring you the top contenders for the title of New Braunfels' BBQ king.
Coopers BBQ
Established in 2008, Cooper's BBQ has been providing its Pit Barbecue to thousands of hungry diners for over a decade, dating back to 1953. The New Braunfels location is a perfect replica of their original location in Llano, with a large main dining area and two great private rooms for events and parties.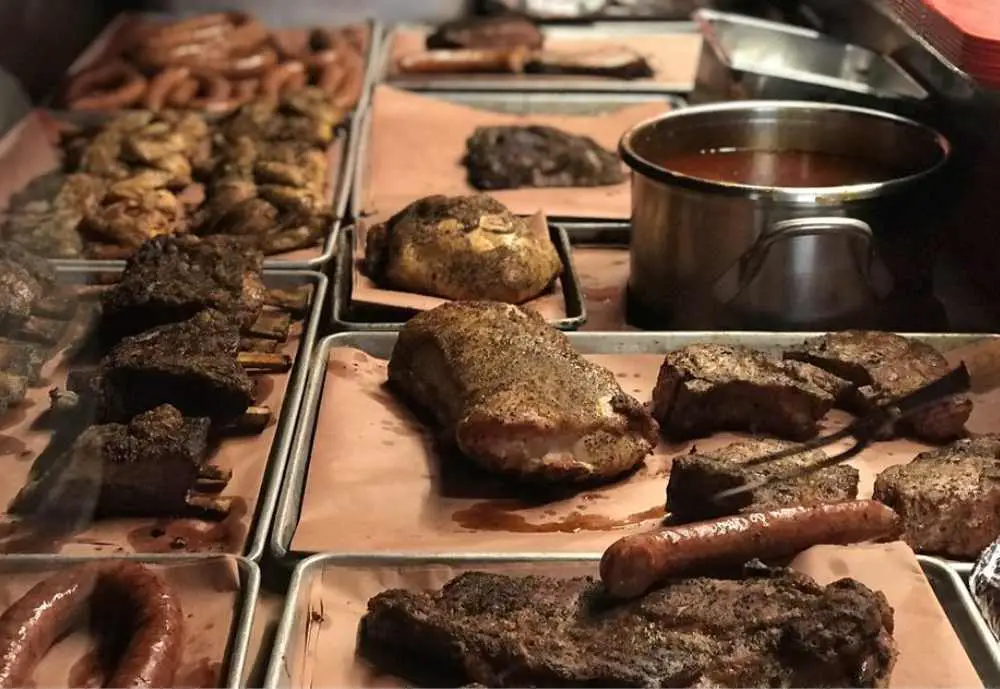 Cooper's of New Braunfels is a barbecue business that has been honored as the best of the best. They are home to the world-famous Big Chop and are sure to satisfy any BBQ craving. The restaurant is located in historic Gruene, just a mile off of I-35, making it a convenient option for both locals and travelers.
The picnic-style concept allows customers to pick from 13 different kinds of meat at the pit, and then come inside to select side dishes such as mac 'n cheese, cole slaw, potato salad, hot cobbler, and more.
The menu features options such as beef ribs, brisket, sausage, chicken, turkey, and pork loin, but the Big Chop is considered the best on the menu. The dining area is filled with large picnic tables and can seat up to 500 diners. Without question, one of the best spots for BBQ in New Braunfels.
Menu: Cooper's Menu
Top Review: "Oh New Braunfels. You delivered on the barbecue. The decor is really interesting, and this was our first time trying Texas BBQ, but it did not disappoint. Tried the green beans, pintos, Mac and cheese, potato salad, blackberry and peach cobbler for our sides, and they were all exceptional with my favorite being the green beans and the blackberry cobbler. Also tried the chicken, sausage and pulled pork and they were all amazing. The chicken was seriously good, and the sausage was also pretty memorable. A lot of different options to choose from – definitely recommend, and will certainly be back!" – Tara A.
1125 Loop 337 New Braunfels, TX 78130, (830) 627-0627
Black's Barbecue
Black's BBQ New Braunfels, which is located just a 5-minute drive from historic Gruene, offers legendary Texas barbecue that is prepared in the same tradition as its original Lockhart location. The original location has been serving the finest barbecue since 1932.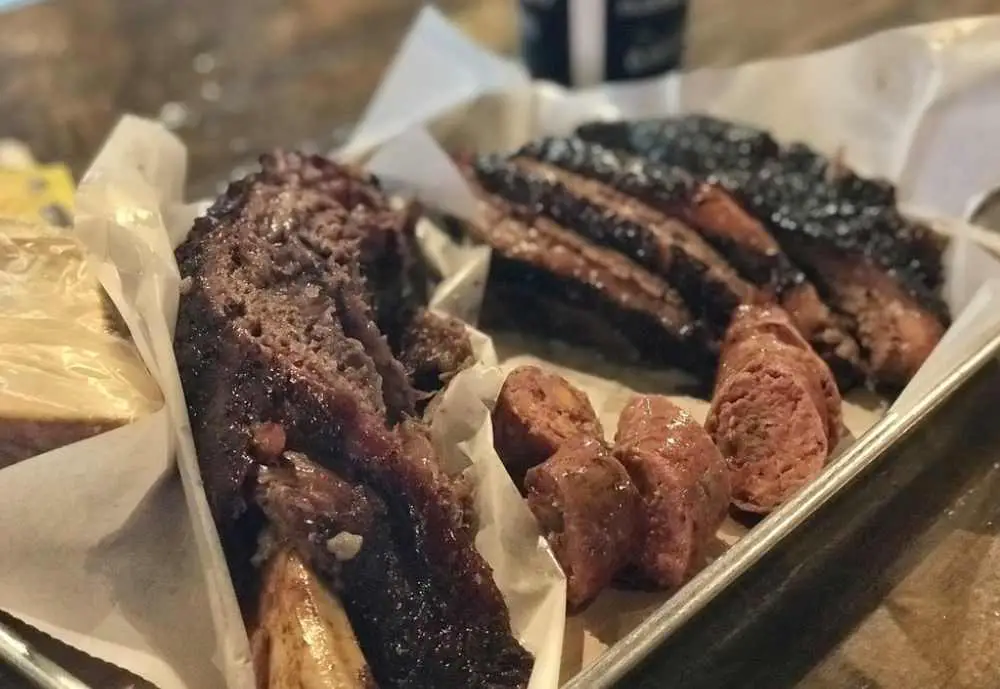 The Original Black's BBQ opened its doors in 1932 in Lockhart, TX as a meat market, but became a full-fledged restaurant under 2nd Generation Pitmaster Edgar Black Jr.
He served consistently high quality ingredients, such as meat, pickles, onions, and crackers on paper, which at the time were considered a blue-collar working man's food.
With four locations across Central Texas, customers can enjoy meals and sense the family and belonging from the past. The family business' success is based on their treatment of customers and staff, and their pride in their food.
Menu: Black's Menu
Top Review: "Dear Blacks- To start, I apologize for not being able to keep my eyes "up here" when i walked in to see the buffet line of eye candy… I mean bbq and fixin's. I was hardly able to speak English to your gracious employees or really do much more than point and gawk and say "oh my gawd look at that beef rib and brisket!" Hopefully I haven't been the only lookey-Lou to pass through. The meat really is a work of art to see there on the butcher block. I knew it was going to be right up my alley at first sight. My dreams were about to come true. When I sunk in to that first morsel of fatty beef rib my body's immediate reaction was to stomp my foot and grunt– it was too good and my senses were hilariously on overload. Thank you for creating the wonderful food that you do! I will be back!" – Sarah C.
936 TX-337 Loop New Braunfels, TX 78130, (830) 358-7006
Rudy's BBQ
Rudy's BBQ in New Braunfels, Texas is a must-visit spot for any barbecue lover. The restaurant is famous for its brisket, pork ribs, smoked turkey and sausage, all of which are slow-smoked over post oak wood for a delicious smoky flavor.
The meat is served with Rudy's famous barbecue sauce, which has just the right balance of sweetness and tanginess. The restaurant also offers a variety of side dishes, such as creamy coleslaw, loaded baked potatoes, and jalapeno cheese grits, to complement the meats.
The atmosphere is casual and family-friendly, making it a great spot for a laid-back meal with friends and family. It's one of the best spots for barbecue in New Braunfels, so don't miss it!
Menu: Rudy's Menu
Top Review: "Who doesn't love Rudy's BBQ?! This restaurant has it down. So easy to order, get your condiments, bread, drinks and you are set. Hands down, they have great BBQ, but the one thing that I always come here for is their creamed corn. I can confidently say that they have THE best creamed corn compared to any other BBQ place. They have really good brisket too. Great place to bring family and friends, they have a large dining area. They also have their own country store where you can purchase BBQ sauces, souvenirs, shirts, you name it. 10/10 experience." – Charlynne A.
844 Loop 337 New Braunfels, TX 78130, (830) 609-3337
Granzin BBQ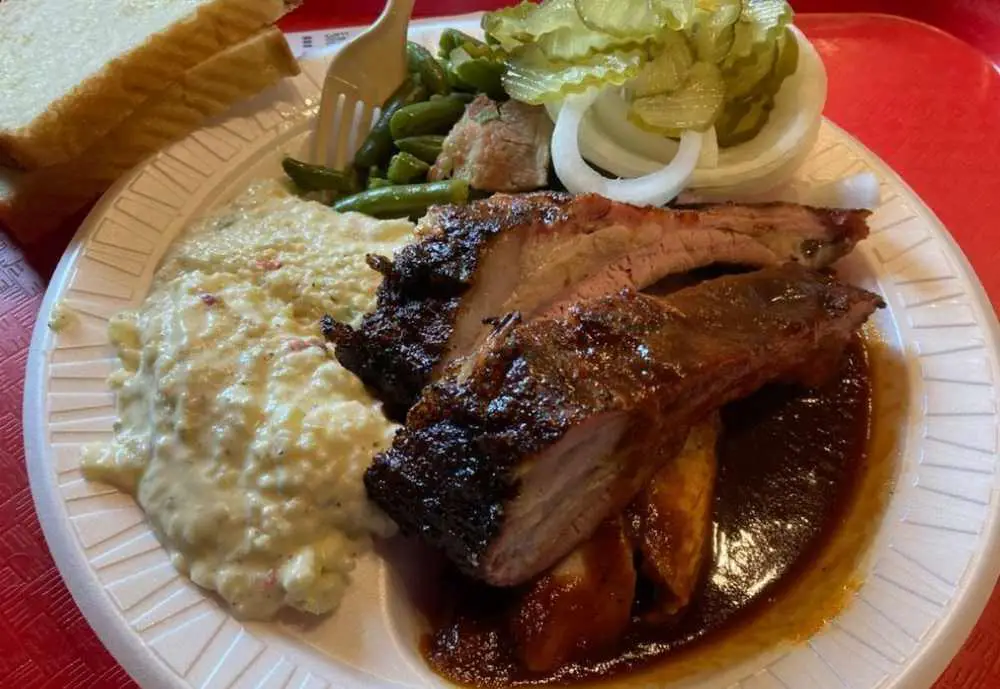 Website: Granzin BBQ
Menu: Granzin Menu
Top Review: "The texican, granzin, and Mexican bowl are my all time favorites. I can seriously come eat here everyday. Everything is always so great. I am so obsessed with their bbq spuds also. 10/10 recommend" – Kendall N.
660 W San Antonio St New Braunfels, TX 78130, (830) 629-6615
Smokey Mo's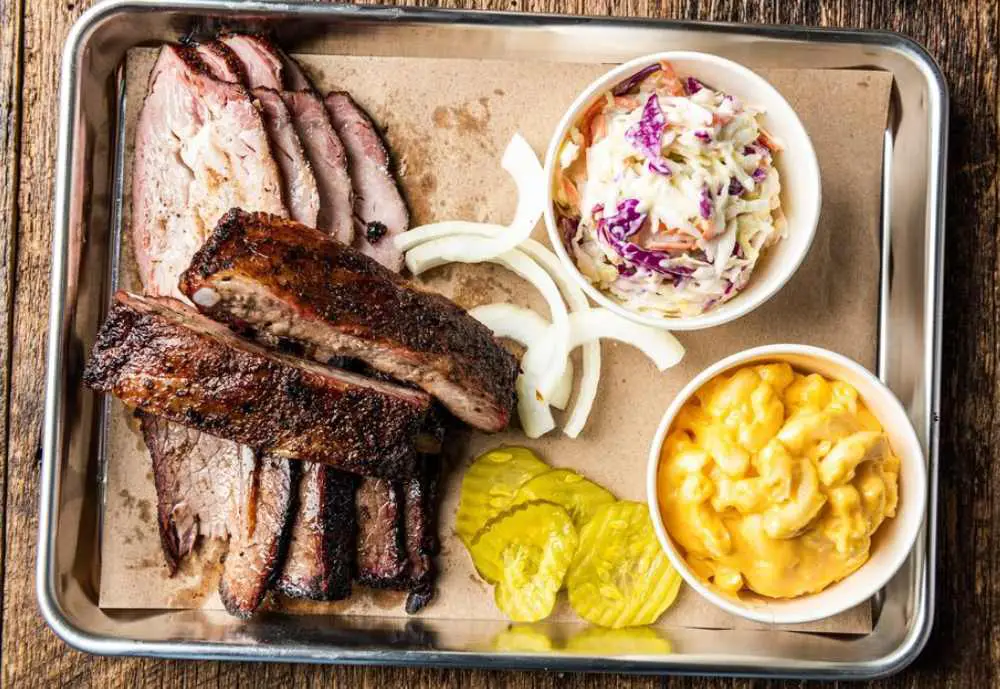 If you're in the mood for some lip-smacking, finger-licking good barbecue, look no further than Smokey Mo's!
This Texas BBQ joint serves up all the classic favorites – think melt-in-your-mouth brisket, fall-off-the-bone ribs, and succulent turkey. But don't let the traditional options fool you – Smokey Mo's also has a signature jalapeño sausage that packs a punch.
And let's not forget about the sides – Smokey Mo's homemade beans have been known to induce cravings for days on end, and for good reason – they're award-winning! Whether you're looking for a casual dinner with friends or a family feast, Smokey Mo's has the hearty, flavorful barbecue to satisfy any craving. One of the best BBQ spots in New Braunfels.
Menu: Smokey Mo's Menu
Top Review: "This is easily becoming one of my favorite spots in town. Every time I come here, the staff are very nice and the food is always great! There has not been one time where I have come and have been disappointed. Sometimes, I'll come two times a day. I'll come in the morning for their delicious breakfast tacos and then I may come again in the evening for dinner. I usually order the half pound of ribs with a loaded potato. Their ribs are always so tender and the right size. One of the issues I have been having with different barbecue places is that they have dinosaur bones and if you are paying for the meat by the pound, you are actually just paying for the bone and not the meat. Not here, the ribs are always meaty. I would most definitely recommend this restaurant to anyone looking for great barbecue. They also sell salads. They are huge and so good! I'd also like to add this place is price efficient!" – LaToya S.
1862 TX-46 Ste 500 New Braunfels, TX 78132, (830) 837-5412
The Big Bib BBQ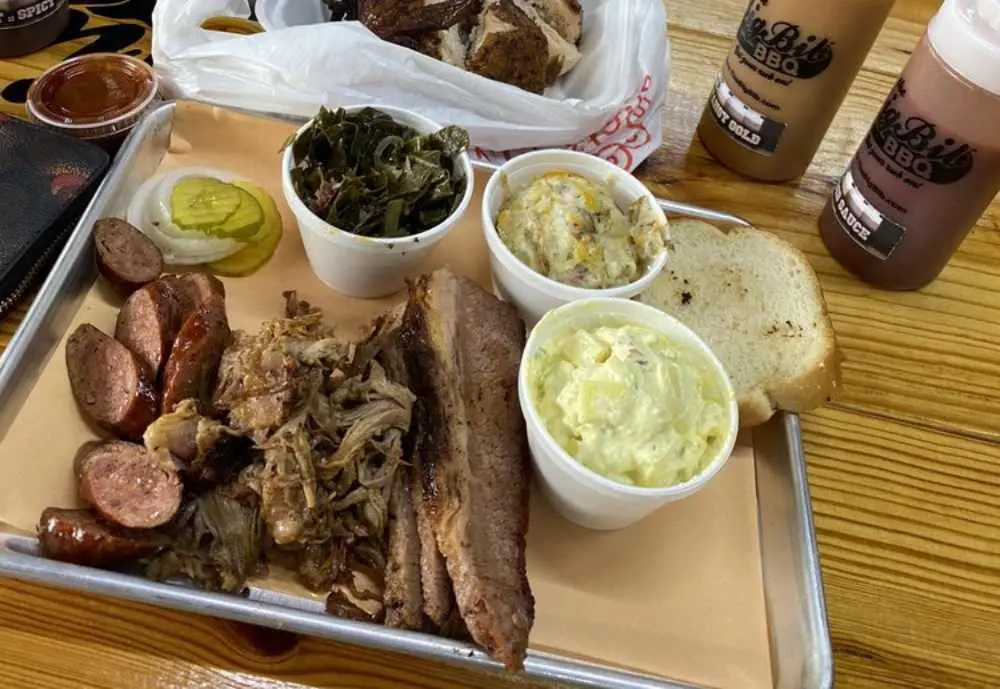 Menu: Big Bib Menu
Top Review: "We were so excited to hear that Big Bib was opening a location in New Braunfels as we have loved the one in San Antonio. The first time we visited I ordered the potato casserole but accidentally received the sweet potato casserole! What a great mistake! I order it as one of my sides every time I go there now! On our most recent visit to their location in New Braunfels I got the brisket and it was moist and delicious. They have your choice of four barbecue sauces on each table and, as I love sauce (no matter how good the meat is,) so this is a big plus for me. Check them out! If you love barbecue, you'll live this place." – Paula N.
508 Landa St New Braunfels, TX 78130, (830) 608-0422
You might also enjoy:
best barbecue new braunfels, best bbq new braunfels, bbq new braunfels, new braunfels bbq