Looking for the best breakfast in Penscola? You've come to the right spot! From steamy, aromatic cups of joe to buttery croissants that practically melt in your mouth, Pensacola's breakfast scene is as rich and vibrant as its history. So, tighten your brunch belts and prepare your taste buds, because we're embarking on a delectable journey to the best breakfast spots in Pensacola. Morning munching has never been this exciting!
Aunt Katie's – Welcome to Breakfast
Aunt Katie's in Pensacola earned a spot on the top 50 brunch places in the US. The restaurant offers dishes like a pulled pork omelet, which can be transformed into a sizable burrito filled with pork, eggs, cheese, potatoes, onions, and peppers, complemented by a housemade BBQ sauce.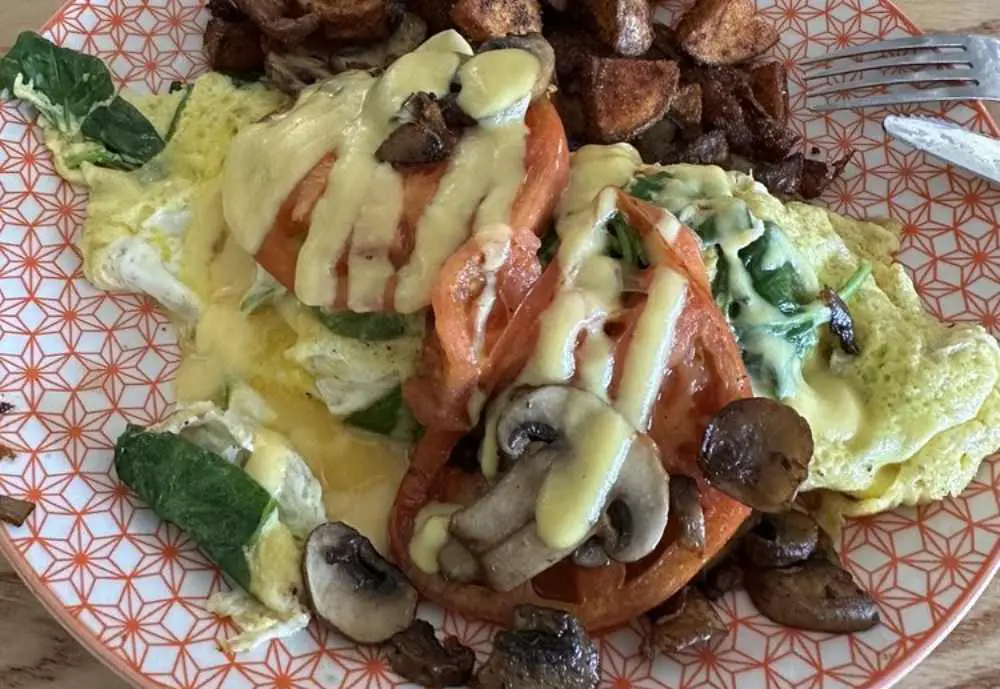 Another option includes the spinach and mushroom omelet, though the hoe cakes with crab and hollandaise sauce are also a favorite. Their smoked Gouda Grits stand out for their rich cheese flavor. With a vast menu and generous portions, Aunt Katie's is a must-visit for brunch enthusiasts.
Top Review: "We stopped here on our way to Daytona and it was the right choice!  Excellent food, innovative menu, super friendly staff.  I had an omelet with sausage gravy and potatoes–so yummy and awesome since I try and stay low gluten.  Hubs had chicken fried steak–one of the best 2-3 I've ever tasted.  Son had a chicken and waffle sandwich that was amazing.  And all 3 of us loved the potatoes.  Got here at 8:40 Sunday morning, seated within 15 min.  Food came quick." – Jill H.
Ruby Slipper Cafe
Another great spot with some of the best breakfast in Pensacola is Ruby Slipper Cafe. The cafe brings the unique flavors and hospitality of New Orleans to their all-day brunch and eye-opening cocktails.
Ruby Slipper Cafe takes pride in using fresh and local ingredients whenever possible, preparing food to order from their scratch kitchen, and giving back to the communities they serve.
Visitors to Pensacola can enjoy a taste of New Orleans at Ruby Slipper Cafe while indulging in some of the best breakfast options the city has to offer.
Menu: Ruby Slipper Menu
Top Review: "We came here as a plan B after our Sunday brunch & loved our food and mimosas & peach Bellinis (large glasses). Our waiter was excellent. I had the mix & match Bennies and shared with a friend. It's all New Orleans & Cajun food, so that has to be your thing, and it's just a breakfast, brunch, early lunch place & closes at 2pm weekdays & 3pm weekends. The only thing we didn't care for were the beignets-small size & overcooked." – Tamara G.
Maple Forest Cafe
Next up on the list is Maple Forest Cafe, a restaurant that brings a piece of Vermont to Pensacola, Florida. The owners, who were both born and raised in Vermont, wanted to showcase the beauty and products of their home state.
The Green Mountain State is known for its rolling mountains, snow skiing, and most importantly, its maple syrup. At Maple Forest Cafe, customers can enjoy maple syrup in their lattes and creemees.
The cafe also serves organic arabica espresso coffee beans that are freshly ground for each drink. The menu includes brick oven pizza, frappes, real fruit smoothies, pastries, and one-of-a-kind creemees. Maple Forest Cafe strives to offer exceptional espresso drinks and delicious food in a cozy atmosphere that captures the essence of Vermont.
Menu: Maple Forest Cafe breakfast menu
Top Review: "This cafe is my new favorite spot for coffee brunch, or pizza at lunch! I absolutely adored all the decor they had around, it was nice to see the Bible verses and flags supporting veterans. I loved that they had a drive thru! And maple syrup you can purchase. We walked in with only 10 minutes until close and the friendly staff was super patient with us and made us a delicious pizza to go. Will definitely be back with my friends!" – Brianna N.
Cafe Single Fin
Cafe Single Fin is certainly one of the best spots for breakfast in Pensacola. Established in 2015, it is the one-stop surf and skate shop that you can't miss.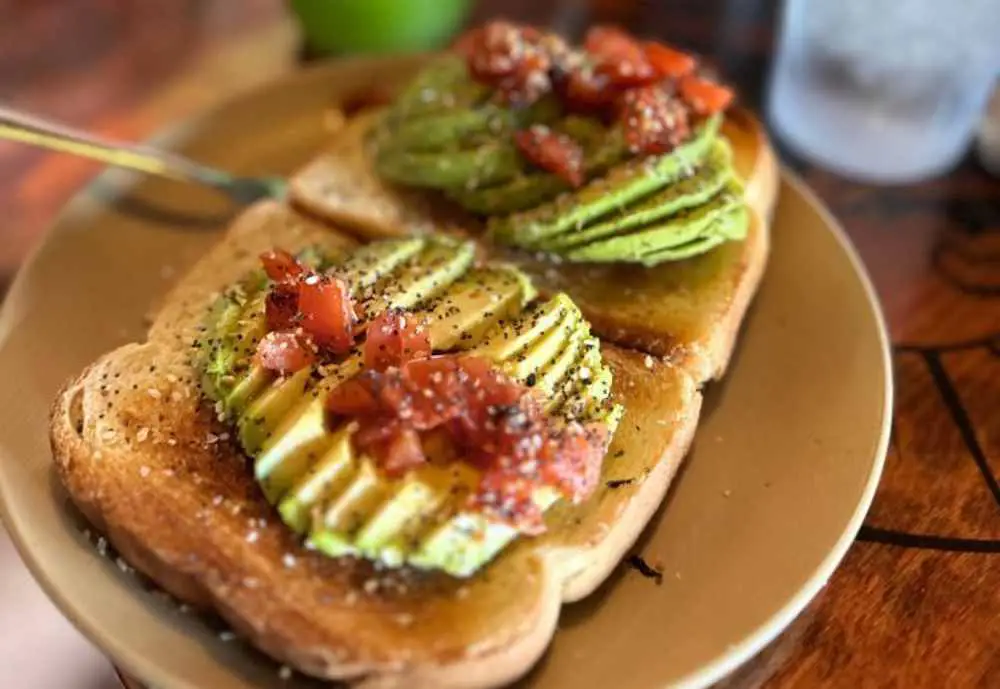 Cafe Single Fin is located inside the surf shop and offers a selection of great healthy food that the owners get to experience while traveling the world in search of perfect waves. The owners keep it simple and healthy, and they also have a fair Vegan offering.
This pet-friendly cafe loves to meet travelers passing through their little corner of the world. The cafe is the perfect place to enjoy organic French pressed coffee, breakfast all day, Acai bowls, awesome tacos, sandwiches, pizzas, and great vibes. Give these folks at Singe Fin Cafe a go, you will be glad you did.
Top Review: "The food here was delicious!!! Don't let the fact that it's in in a surf shop fool you. We ordered smoothies, a juice, coffee, açaí bowl, quesadilla and breakfast tacos (2). The breakfast tacos are pretty full so unless you are famished or sharing I'd recommend ordering 2. Quick and friendly service, cool environment and great fresh food. Highly recommend!" – Miltha G.
Aragon Cafe
Aragon Cafe in Pensacola, Florida is a popular breakfast spot that offers a range of Southern-style breakfast dishes. Their breakfast menu includes classic favorites like bacon, eggs, and grits, as well as unique dishes like meatloaf sandwiches and Belgian waffles.
Aragon Cafe also offers vegetarian-friendly options like the Veggie Omelet and the Veggie Scramble. Their breakfast dishes are made with fresh and high-quality ingredients, and the portions are generous. According to TripAdvisor, Aragon Cafe is one of the top-rated breakfast spots in Pensacola, with a rating of 4.5 out of 5.
Menu: Aragon Cafe Menu
Top Review: "Hands down the best breakfast Shrimp & Grits in Pensacola!  Wait staff super friendly, and the café's location + atmosphere is great!" – Mix C.
And there you have it, breakfast enthusiasts! From seaside cafes to hidden downtown treasures, Pensacola sure knows how to start the day right. So next time the morning sun beckons, remember: a Pensacola breakfast adventure awaits. Bon appétit and happy morning munching, Pensacola!
You might also like drooling over these pizza articles:
best breakfast in pensacola, pensacola breakfast, breakfast in pensacola, breakfast spots pensacola fl