Looking for some of the best burgers in Omaha? If you are a burger lover, you are in luck because Omaha is home to some of the best burger joints in the country. From classic cheeseburgers to gourmet creations, there is no shortage of options for burger enthusiasts. In this article, we will guide you through some of the top places to find the best burgers in Omaha, Nebraska.
Block 16
Block 16 is a modern farm-to-table eatery that specializes in gourmet burgers. Their burgers are made with locally-sourced ingredients. Located in the heart of downtown, Block 16 offers a quick casual sit-down restaurant experience with an extensive menu of unique and delicious flavors to try.
Some of the standout dishes at Block 16 are the 3 Happiness Burger, Block Burger, Poutine Burrito, Dragon Wrap, Pulled Pork Roll, and Sloppy Nick. They also offer vegetarian and vegan options. And if you're a fan of Nashville hot chicken, Block 16's version is not to be missed.
Menu: Block 16 Menu
Top Review: "Block 16 is always a good idea. If you've never been, I promise you it's worth finding parking and waiting in line to get this food. I've been a loyal customer for several years now, and that won't be ending anytime soon! My favorite thing on the menu is the crab Rangoon fries. They're perfection." – Katy E.
1611 Farnam St Omaha, NE 68106, (402) 342-1220
Louie M's Burger Lust
Louie M's Burger Lust is a quirky spot that serves up some of the biggest and juiciest burgers in Omaha. They have some of the best burgers in Omaha and one of the most popular spots in the city. The restaurant is very retro with a 50s diner theme and décor and the friendliest service to match. It's also a kid-friendly establishment and the service is attentive and warm.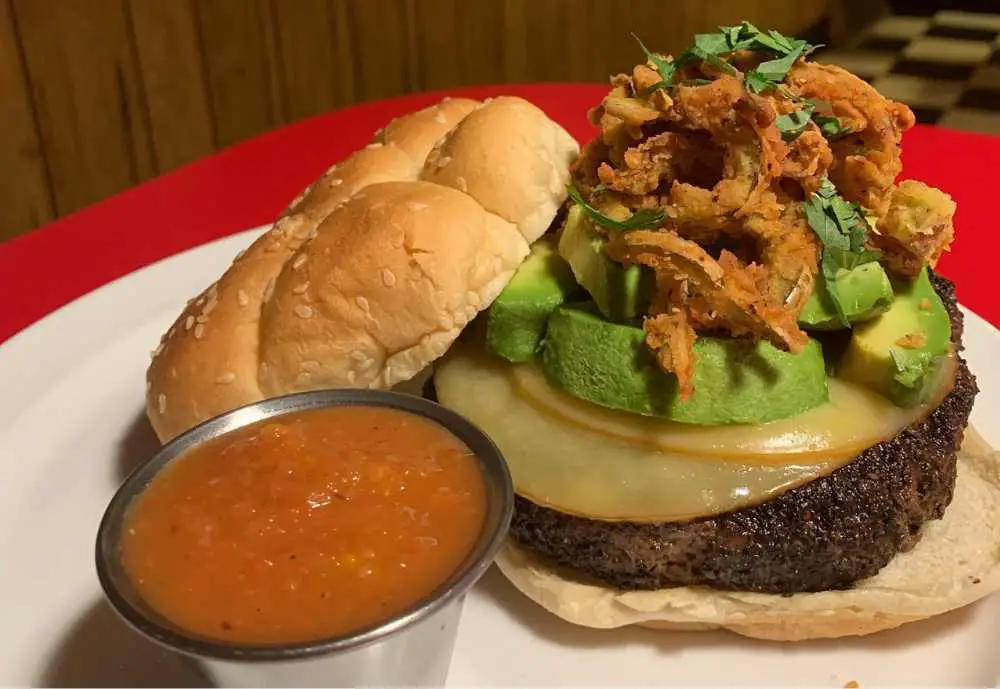 Their burgers are made with fresh beef and come in a variety of classic flavors. Some of their most recommended dishes include the Italian burger, cheeseburger, breakfast burrito, Trish burger, and bacon cheddar burger. They're not only great for burgers, but their breakfast and brunch options are also delicious.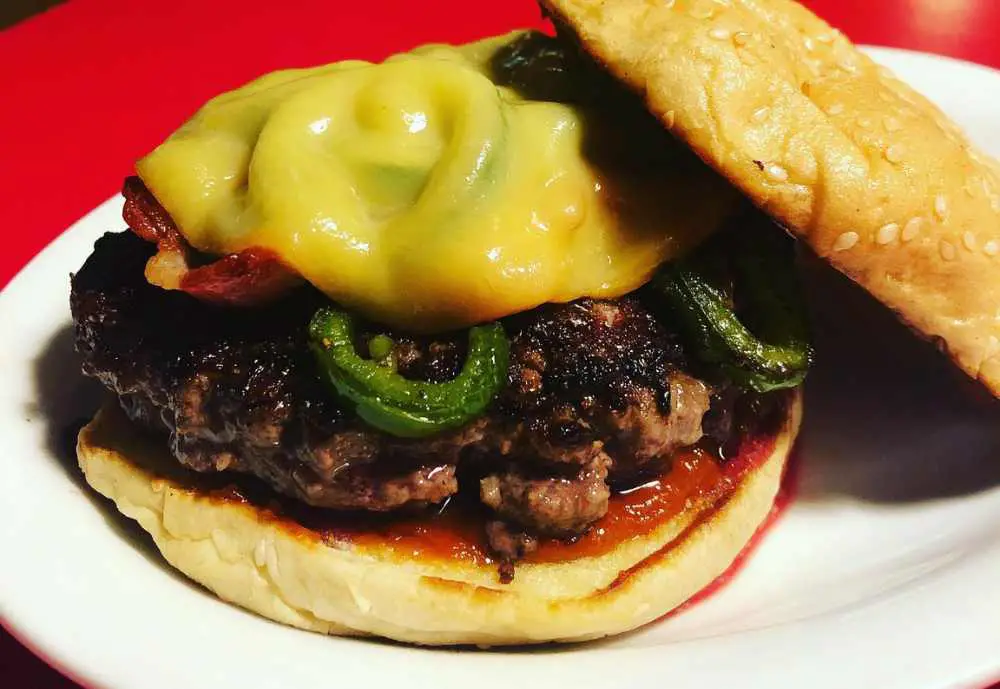 They also give you everything you might need from several hot sauces, jam, coffee cream, sugar, and more. Plus, previous visitors say the Bloody Mary is excellent.
Menu: Louie M's Menu
Top Review: "Not only is the food amazing, I gotta give it an A+ for being kid friendly. Our waitress cheering our crying 4 yr old up and even got her a chocolate shake. I've probably been to 50ish diners in the state of Nebraska, and this place ranks #1" – Janner C.
1718 Vinton St Omaha, NE 68108, (402) 449-9112
Twisted Cork
Twisted Cork Bistro is a cozy spot that serves up gourmet burgers. Although they specialize in seafood, they do have some of the best burgers in Omaha. They offer juicy burgers with fresh ingredients that elevate a simple burger in this upscale bistro.
Twisted Cork is also proud to be an advocate of all-natural and handmade food that is sourced locally from nearby regions. From the wine, seafood, and meats, everything has been prepared carefully and with thought.
The restaurant is a great fit for a date night, although it can get popular during peak hours so make sure to get a reservation. Dining in around lunch is also a good option. This cozy spot also has an outdoor shaded patio and friendly service.
Menu: Twisted Cork Menu
Top Review: "This place is always a win! The burgers, the salmon salad, the salmon sandwich! They used to have a really unique bahn mi sandwich too that was out of this world!" – Sydney E.
10730 Pacific St Omaha, NE 68114, (531) 999-3777
Dinker's Bar & Grill
Dinker's Bar is a beloved local spot that has been serving burgers since the 60s. The family-owned and operated establishment started out as a small neighborhood bar but is now one of the best burger restaurants in Omaha. Aside from burgers, they're also known for great onion rings and sandwiches. Plus, their prices are affordable, it's so worth it.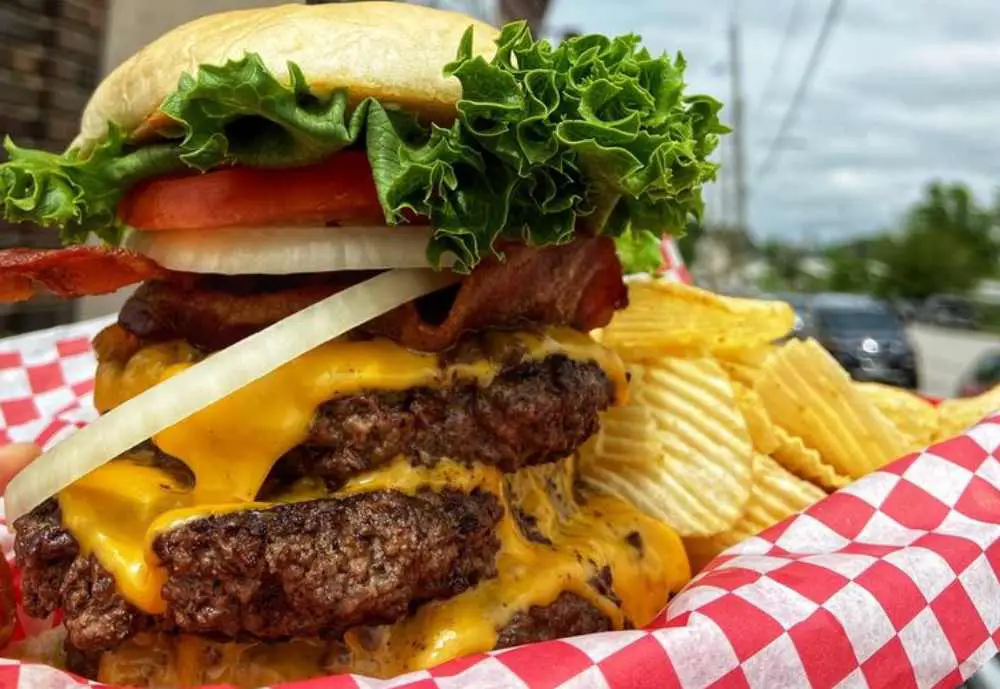 They only accept cash but do have an ATM inside for anyone who needs it. It's definitely a casual spot that locals like to frequent. You order at the counter, get your drinks at the bar, and the music isn't too loud. Another plus is they have parking here.
Try their Haystack Burger, Bacon Cheeseburger, Ultimate Triple Deck, Husker Burger, and Bluejay. Their burgers are best eaten with a side of cold beer.
Menu: Dinker's Menu
Top Review: "This cheeseburger rocked. Was it a fancy burger? No. You know what I don't like? Fancy burgers. Burgers are perfect just the way the are with the classics — yellow American cheese, pickles, onion, tomato and lettuce (maybe extra pickle for me ;).  The onion rings may have been falling apart but did they taste good? YES. I will say the fries were just fries not bad by any means but the onion rings were where it's at, dip them in their delicious homemade ranch if you're feeling really bad." – Cassidy J.
2368 S 29th St Omaha, NE 68105, (402) 342-9742
Stella's Bar & Grill
Stella's Bar & Grill is an award-winning bar and grill that has been a beloved fixture in nearby Bellevue since 1936. People recommended their cheeseburger, Stella's Staple burger, pastrami burger, and southwest burger being particular favorites among locals. In fact, Stella's has been named Omaha's Best Burger for ten consecutive years, a testament to the quality of their food.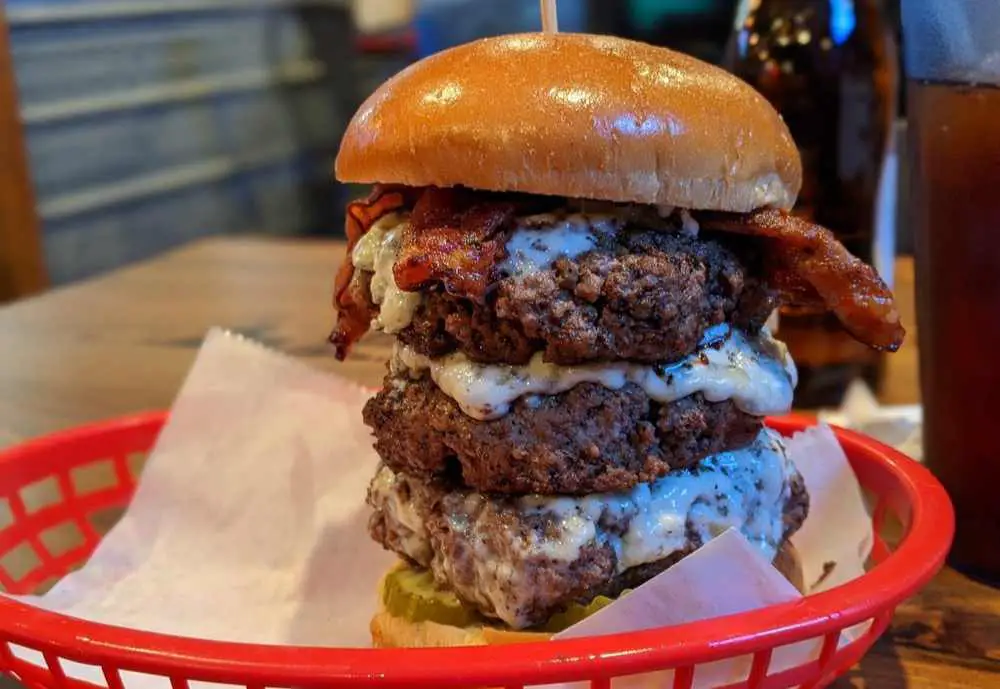 Despite its popularity, the wait times are usually short, and the service is pretty fast. Stella's is a family-owned business that has been passed down through generations, making it a part of Omaha's history and culture.
In addition to the burgers, they also offer homemade fries, all served fresh off the grill, and at an affordable price. The clean restrooms are also a plus according to some visitors. If you're looking for some of the best burgers in Omaha, Stella's Bar & Grill is a must-visit spot.
Menu: Stella's Menu
Top Review: "Fast service, great burgers! My coworkers and I showed up at lunch time and there was a 30 minute wait. To me, that's a sign that it's worth it! So we waited. They got a phone number so it was just an easy text when our table was ready. We got our orders in quickly, food came out fast, and tasted great! My coworker decided he likes it here better than Sickie's, which was his previous favorite. The double was huge so don't order it unless you haven't eaten all day!" – Barbi B.
106 Galvin Rd S Bellevue, NE 68005, (402) 291-6088
Charred Burger + Bar
Charred Burger + Bar is a casual bar and restaurant that offers a variety of mouth-watering burgers and sandwiches, along with a full-service bar and cocktails. It's casual and comfortable here, perfect for a laid-back meal or drinks with friends.
The service is friendly and quick, making for a pleasant dining experience. In addition to indoor seating, the restaurant also has a patio area where customers can enjoy their meals outside.
The restaurant is particularly known for its gourmet wagyu beef burgers, which are a must-try for anyone who loves a good burger. Their recommended dishes include the spicy chicken sandwich, classic burger, haystack fries, and Carolina BBQ burger (pictured below).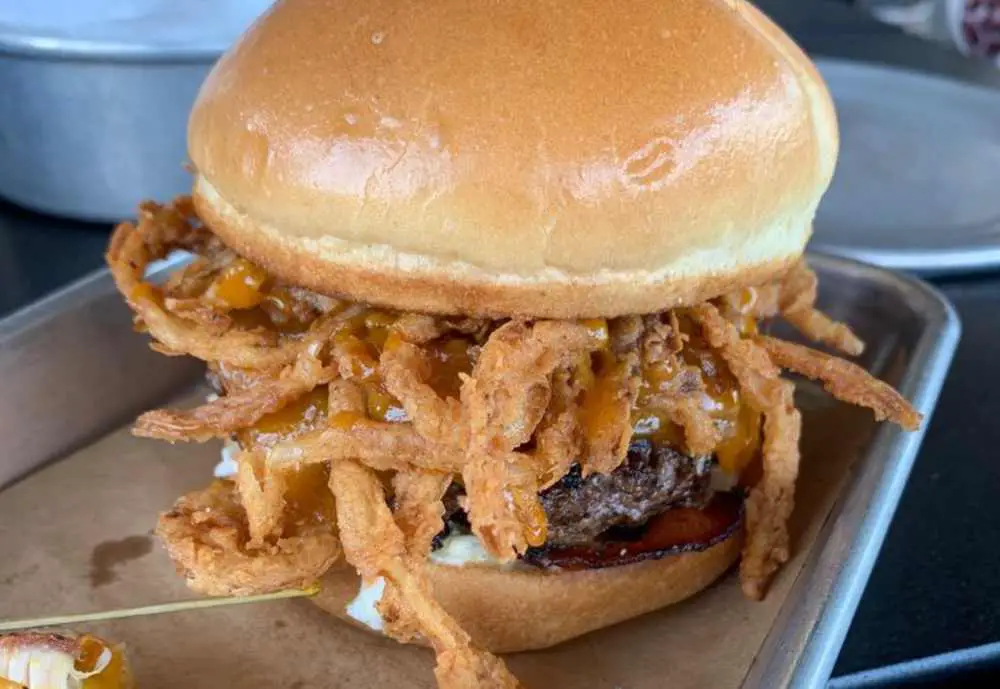 Customers have raved about the burgers, which are juicy and flavorful, and the sides are also noteworthy. The garlic aioli sauce is particularly delicious and adds a nice kick to the burgers.
Menu: Charred Burger Menu
Top Review: "I have loved this restaurant for years and I don't get here nearly enough! Every time without fail, the food is excellent, the service is attentive, and the overall vibes are comfortable and nice. I got the Charred Burger this time and it was perfection as always! I also got a Chicken Avocado Sandwich to go for my husband, and he said it was delicious!" – Katy E.
1150 Sterling Ridge Dr Ste 107 Omaha, NE 68144, (402) 779-8430
Smitty's Garage Burgers and Beer
Smitty's Garage Burgers and Beer is a local hangout spot, where you can catch the game on one of their many TVs. The vibe is laid-back and comfortable, and the inside and restrooms are clean.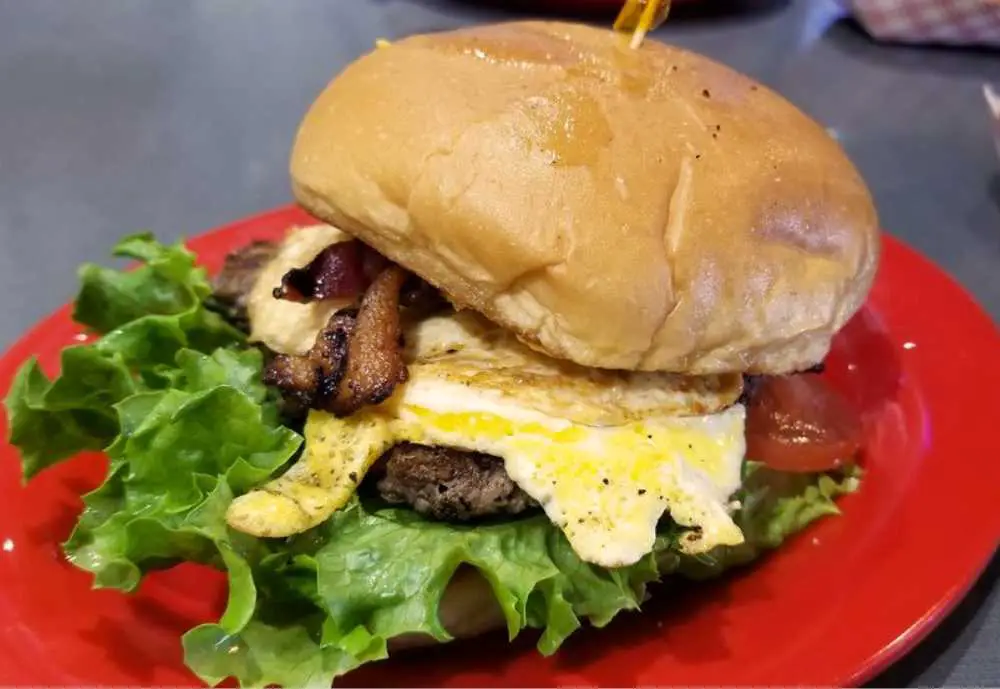 The service is friendly and quick, despite you ordering at the counter. The restaurant also offers parking, making it easy to get in and out.
The sports bar offers a variety of burgers and sides, including the cheeseburger, fried onion burger, Big G burger, and mushroom Swiss burger. Customers also love the sides like pork rinds and fries. The burgers are juicy and delicious, and the salads are fresh and tasty.
Menu: Smitty's Menu
Top Review: "This place makes a great hamburger! Nebraska beef really is a cut above the rest.  Lots of fresh tomatoes and lettuce and the meat is hand-smashed. Prices and drinks are very reasonable!  The tables have lots of room between them, so you don't feel like you're in a crowd, and the restaurant is very clean! Wish we lived here to come back more often!" – Nancy H.
7610 Dodge St Omaha, NE 68114, (402) 614-4949
Lazlo's Brewery & Grill
Lazlo's Brewery & Grill is a family-friendly restaurant and brewery that serves up delicious wood-fired grill food and excellent beers. Burgers aren't their main thing, but they sure do make hella great burgers. You've got to try their Smoking Gunn burger (below) and the Lazlo Burger.
Aside from burgers, other popular menu items include the voodoo chicken and rainbow chicken. The Burning Skye Scottish Ale is also a must-try for beer enthusiasts. The brewery adds a unique touch to the dining experience, and customers appreciate the high-quality beers on offer.
Be on the lookout for the specials like their Nacho Burger!
The service at Lazlo's is friendly and quick, and the atmosphere is casual and welcoming, making it an excellent spot for families and groups of friends. If a great meal and beer in a relaxed atmosphere are more your jam, drop by Lazlo's Brewery & Grill when you're in Omaha.
Menu: Lazlo's Menu
Top Review: "If you want an example of good customer service, look no further. After giving Lazlo's another try, I can happily say I had a great meal. My steak salad was absolutely delicious, with a healthy serving of steak and a ton of goat cheese, which is my weakness! My boyfriend had the Smoking Gunn burger, which was also a hit. We finished our meal with strawberry cheesecake; it was a huge serving and so good!" – Katie L.
2425 S 192nd Ave Omaha, NE 68130, (402) 289-5840
And Finally…
Omaha, Nebraska truly is a burger lover's paradise. They have access to some the best beef in the country. These are just a few of the top spots to find the best burgers in the city.
So, whether you are looking for yummy classic cheeseburgers or bougie gourmet creations, there is something for everyone. So grab a friend or family member and head to one of these burger joints for a delicious meal that will knock your socks off!
You might also like these articles:
burgers in omaha, best burgers in omaha, burgers omaha ne, best burgers omaha ne, burgers near me, best burger in omaha, best burger omaha, burger places near me, burger places in omaha, burger restaurants omaha, burger places omaha, burger omaha, best burgers near me, best hamburger in omaha, burger near me, best burger near me, best burgers in omaha 2023, burger restaurants near me, hamburgers near me, burger places, best hamburgers in omaha, best cheeseburger in omaha