Looking for the best burgers in Lincoln? Look no further. Sink your teeth into this blog post and let us guide you on a tantalizing gastronomic tour through the heartland of Nebraska. Lincoln, renowned for its vast cornfields and storied football heritage, is also home to a savory secret – an irresistible array of top-notch burgers. From smoky, chargrilled delights to plant-based masterpieces, Lincoln's thriving burger scene is a hidden gem worth discovering. Without further adoo, here are the best burgers in Lincoln, Nebraska!
Honest Abe's Burgers & Freedom
Honest Abe's Burgers and Freedom in Lincoln, Nebraska is a must-visit for burger lovers. The menu features cleverly named gourmet burgers, such as the "United States of America", the "Greatest Burger Ever" and the "Hammer of Thor!" burger. Honest Abe's are not lacking in confidence, that's for sure!
Just so you know, they do rotate their burgers, constantly creating new burger greatness, so you may not find the ones mentioned above, but there will surely be another, just as epic. Four locations around Lincoln.
No brainer must-try burger spot for some of the best dad gum burgers in Lincoln. Just go.
Menu: Honest Abe's Menu
Top Review: "I got the greatest burger ever with truffle fries. The burger was amazing! Super juicy and flavorful. There were tons of fries and those were great as well. Would come back to try other burgers." – Gretchen T.
Charred Burger + Bar
Charred Burger + Bar in Lincoln, Nebraska is a restaurant that takes a unique approach to burger preparation. Rather than following the typical route, they focus on making the best burger possible.
To achieve this, they use only the finest ingredients, including Wagyu beef, which is known worldwide for its intense marbling. This marbling imparts flavor, juiciness, and tenderness, making f or a truly exceptional taste experience.
Get the Charred burger with the peppered bacon, the Jalapeno popper burger, or the amazing Bacon & Bleu. Hear me now believe me later.
Menu: Charred Burger Menu
Top Review: "We had a group of 7 for a Sunday lunch after the weekend of the UNL graduation. Easy seating  and fabulous burgers and fries as well as tasty beers.  Our server Lexi took great care of our group and we'll certainly return our next time in Lincoln." – James S.
LeadBelly
Next up is the ever popular LeadBelly. LeadBelly, a Lincoln favorite located in the Haymarket, is a must-visit for anyone looking for a delicious meal and a cool ambiance. The dimly lit interior sets a relaxed and cozy atmosphere that makes you feel like you're in a secret hideaway.
The staff is incredibly friendly and fun, making the dining experience even more enjoyable. And let's not forget about the food! The smokehouse mac is a fan favorite, but some say LeadBelly has the best burgers in Nebraska! With so much to offer, it's no wonder LeadBelly is a crowd-pleaser.
Menu: LeadBelly Menu
Top Review: "Really fresh and tasty burger for an excellent price.  The meal I ordered came with regular fries, a couple of waffle fries and steamed fresh, fresh broccoli.  Portions are large. Service was great. I loved the cute part that we were seated in; it looked like the back of an air stream or other type of camper. Perfect spot for the young ins to enjoy their meal and walk around the little room whiteout disturbing other diner enjoying their meals." – Tutti S,
The Copper Kettle Mule Bar & Eatery
The Copper Kettle in Lincoln, Nebraska is a trendy and contemporary bar and restaurant that offers a variety of delicious American cuisine, including their fantastic wagyu beef burgers.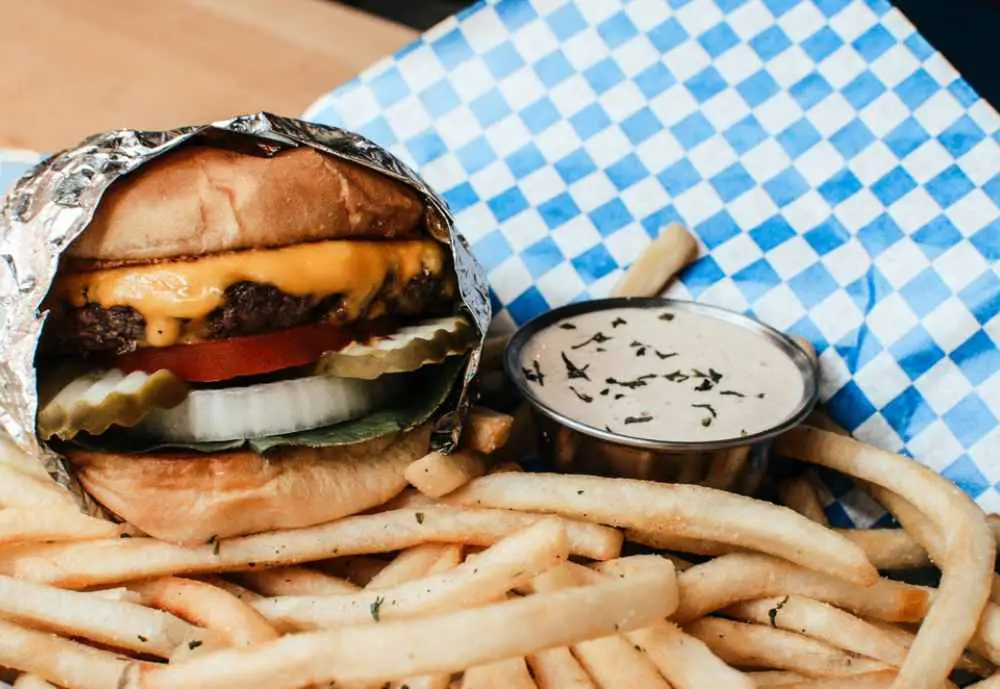 Made with high-quality beef, these burgers are a must-try for anyone visiting the restaurant. In addition to their mouth-watering burgers, the Copper Kettle is also known for their refreshing and flavor-packed mules.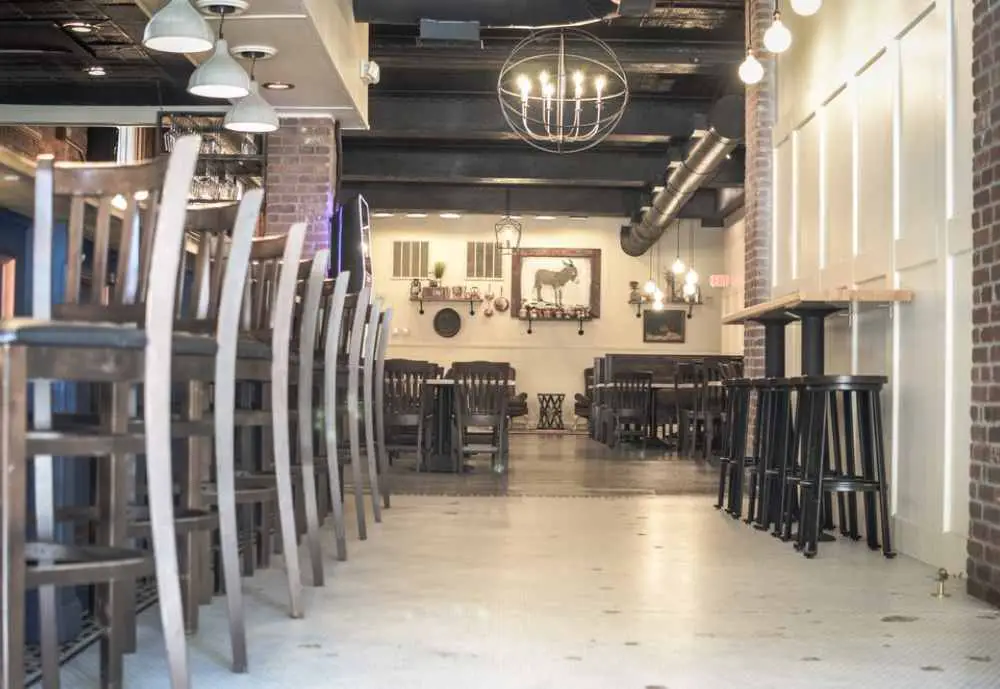 The interior the Copper Kettle is stylish and modern, making it the perfect spot for a night out with friends or a romantic dinner. Overall, the Copper Kettle is a great choice for anyone looking for a unique dining experience in Lincoln.
Menu: Copper Kettle Menu
Top Review: "This place is the best in Lincoln ! Great food; Tacos Burgers and Wings are all exceptional . Drinks are amazing and very comfortable atmosphere making it a great hang out after work during the week . Our favorite place to go" – Mi S.
Fleetwood Haymarket
Fleetwood Haymarket in Lincoln, Nebraska is known for its elevated yet approachable American food, and their burgers are no exception. Made with locally sourced ingredients, Fleetwood's burgers are a must-try for anyone looking for a delicious and unique burger experience in Lincoln.
From classic cheeseburgers to the more adventurous "Fleetwood Burger" with bacon jam and blue cheese, there is something for everyone on their menu. Plus, the restaurant's cozy atmosphere and friendly staff make it the perfect spot for a casual lunch or dinner with friends.
Menu: Fleetwood Menu
Top Review: "Fleetwood Haymarket has truly raised the bar when it comes to providing an outstanding culinary experience. From the moment we stepped foot inside, we were greeted warmly by the attentive staff and escorted to our beautifully set table. The ambiance was elegant and inviting, creating the perfect atmosphere for an unforgettable dining experience." – Adelaidas C.
So, there you have it, folks! Lincoln, Nebraska — far more than just cornfields and football, it's a veritable burger paradise. Whether it's the sizzle of locally sourced beef, the crunch of fresh vegetables, or the harmony of secret sauces, these establishments serve up an unforgettable taste of the prairie. Now that we've whetted your appetite, it's time to make your own delicious discoveries in Lincoln's vibrant burger scene. Remember, the best burger is always the next one. Happy burger hunting!
You also might enjoy these mouthwatering articles:
burgers near me, best burgers near me, burgers in lincoln, best burgers in lincoln, best burgers in lincoln ne, burgers lincoln ne