Looking for the best burgers in San Jose? Look no further! In this blog post, we'll be exploring some of the top burger spots in the city. So, without further ado, let's get started on our delicious journey through the best burger spots in San Jose, California!
Smack Burgers
Located in vibrant San Jose, Smack Burgers is the go-to destination for all burger lovers. Renowned for their smash burger style creations, you are bound to be greeted by their exceptionally enthusiastic staff, ready to offer you a burger experience unlike any other.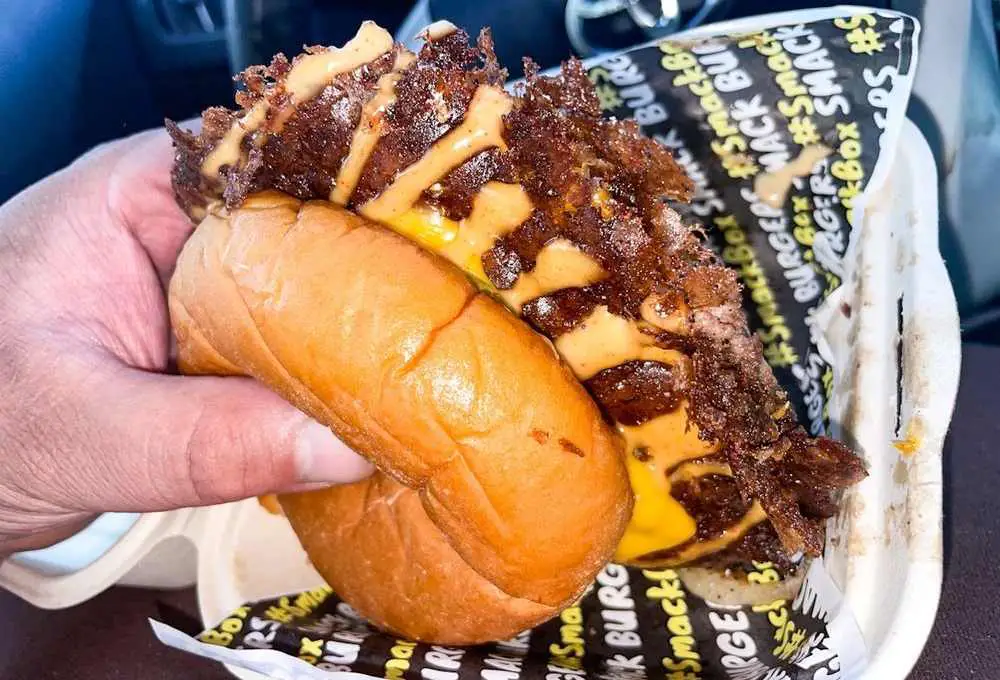 With burgers priced around $11, you get not just a meal, but a delightful experience that doesn't break the bank. While deciding between the fan favorites – the Baydestrian and the Big Smack, both boasting two patties, American cheese, and their signature Smack Sauce – feel free to grab a refreshing beer from Narrative Fermentations nearby.
It's more than a meal; it's a Smack Burgers experience, one that leaves you eagerly anticipating your next visit.
Menu: Smack Burgers Menu
Top Review: "I stopped by while I was in the Livermore area and grabbed the Baydestrian smack box and man did it smack! Really unique way that they build their burgers and you have to love the waffle fries. Will definitely be coming back at their next pop up." – Alexander H.
Kirk's Steakburgers
At Kirk's Steakburgers in San Jose, tradition meets modernity. Holding true to the legacy of its founders, Bill and Kirk, the establishment continues to prepare their celebrated steakburgers over an open charcoal flame, a tradition dating back to 1948.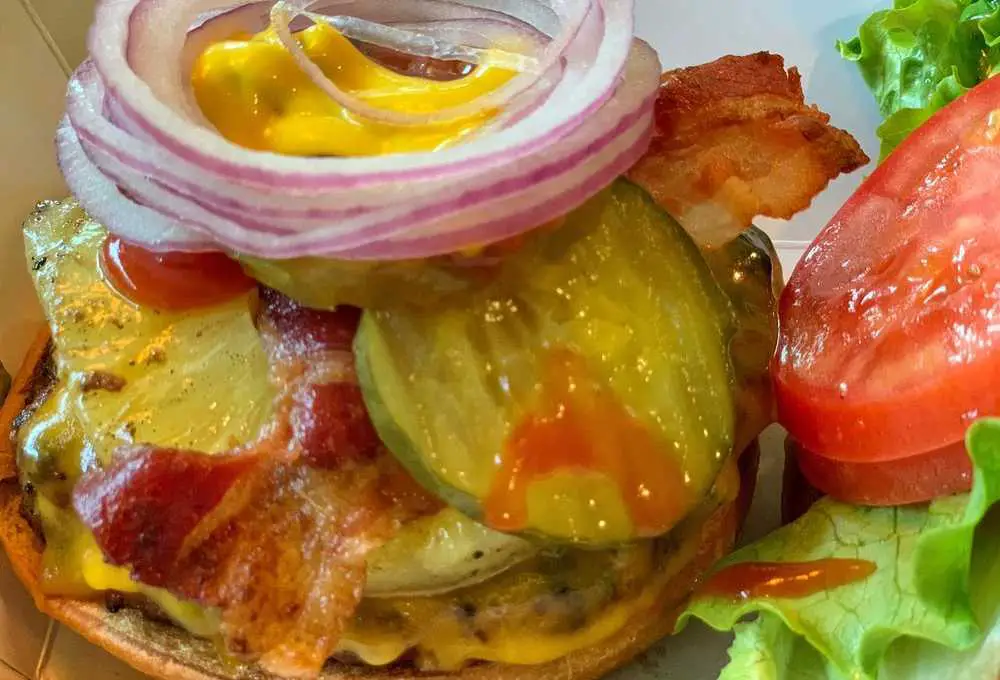 Customers have the freedom to customize their burgers with a variety of condiments, perfectly complemented by some of the finest homemade milkshakes (chocolate, vanilla, strawberry, root beer, coffee, oreo, pineapple, banana, mocha) in California.
The menu also boasts recent additions including Signature Fries and Garlic Onion Strings, all served in a space blending contemporary conveniences with classic culinary artistry. This deep-seated tradition is evident not only in their enduring relationship with the original butcher but also in their staff, which includes several second and third-generation employees. Try them out for some of the best burgers in San Jose.
Menu: Kirk's Steakburger Menu
Top Review: "My steakburger was excellent and full flavored; I enjoyed every bite. One of the best burger restaurants I have ever been to. And I hope to revisit every time I am in the mood for a steakburger." – David W.
2388 S Bascom Ave Campbell, CA 95008
Super Duper Burgers
From San Francisco origins, Super Duper Burgers now tantalizes taste buds all over the Bay Area, championing unbeatable freshness with organic, locally-sourced, and humanely raised ingredients that are always prepared from scratch. The pièce de résistance is the Super Burger: a culinary marvel featuring two 1/4 lb daily-ground, vegetarian-fed Brandt Beef patties, brought to life with a medley of fresh toppings and the iconic Super Sauce, all nestled in a freshly baked bun. A bite into tradition and quality, it is a must-try for all.
Menu: Super Duper Burgers Menu
Top Review: "I'm not someone who generally craves burgers, but Super Duper delivers when I do. I always get a mini burger, and it's plenty for me. I don't love having to pay for cheese, and prices are already higher than a typical fast food spot, but it's worth it. I also add jalapeños to my burger for a kick of heat. The burgers are greasy, but don't feel too heavy either. My partner gets a super burger that he enjoys. I love their garlic fries as well. They also have the best pickles!" – Alyssa P.
5399 Prospect Rd San Jose, CA 95129
Sliders Burgers
The burgers at this San Jose eatery are made from USDA Choice Chuck, ground fresh and crafted into patties every morning in their in-house butcher shop.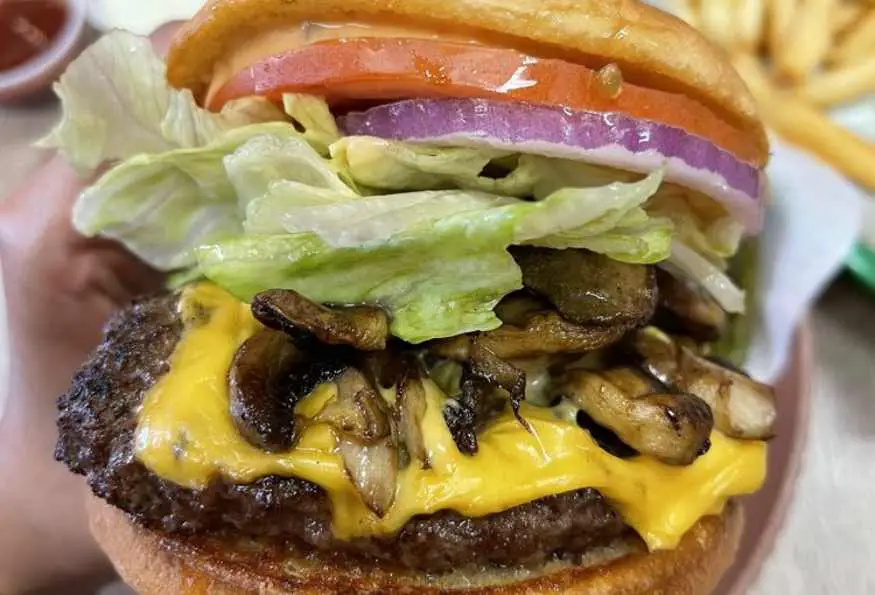 They are charbroiled to the customer's satisfaction on a revolving broiler. Customers can then build their own burger, with the option to choose from over 20 items at the exclusive condiment bar.
Menu: Slider's Burgers Menu
Top Review: "How have I not tried this spot until now?! My boyfriend and I decided to order takeout from Sliders Burgers. Sliders Burgers is located in a plaza with a spacious parking lot, but may get busy due to all the shops in the plaza.
We ordered a bison burger, 8 oz beef burger with pepper jack cheese, a side of onion rings and chili cheese fries. You order first and you will be given a pager. All of the condiments and burger toppings are self serve at no cost! Once we got our food, we asked for an extra empty box for the condiments since we didn't want to dress our burgers yet because we didn't want them to get soggy. Also, it was our first time and we wanted a bit of everything to try. The customer service was so friendly! The gentleman that took our order was very nice!
All of our food was delicious! The fry on the onion rings and chili cheese fries were perfect. They were crispy! Burger meats were delicious. We really liked how the burgers were not greasy. Everything was so good! We are excited to try the other meats. We will definitely come back!" – Kathleen L.
Kings Burger House
King's Burger House in San Jose, California is known for its burgers made from USDA Choice Chuck, ground fresh and crafted into patties every morning in their in-house butcher shop.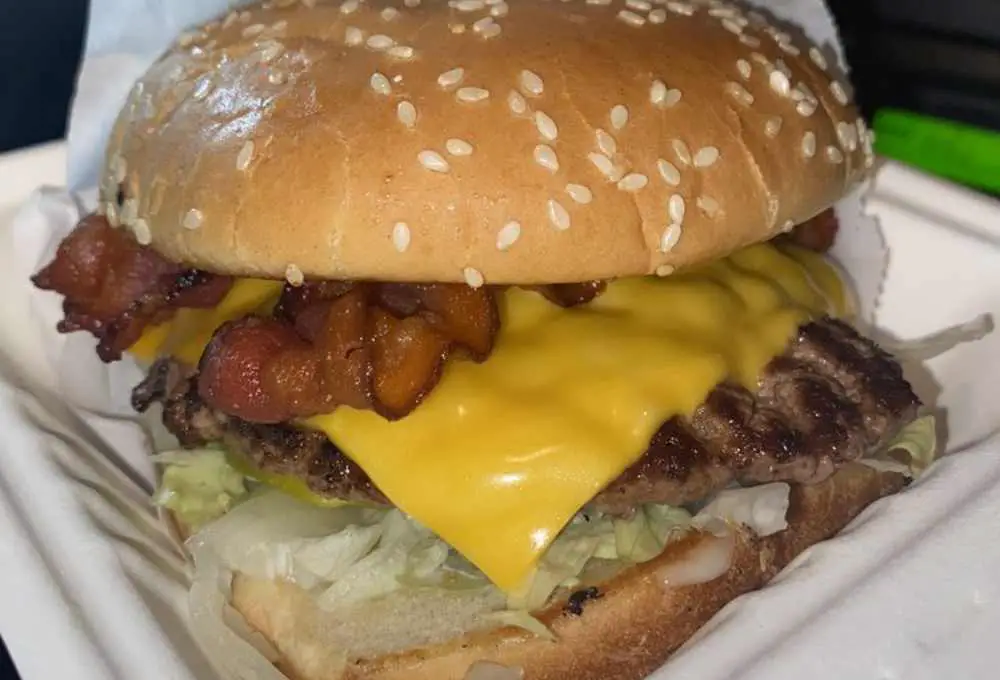 The burgers are then charbroiled on a revolving broiler. Customers have the option to build their own burger with over 20 items at the exclusive condiment bar. With a 4.2 rating on Yelp and 245 reviews, King's Burger House is a popular spot for burger lovers in San Jose.
Menu: King's House Burgers Menu
Top Review: "One of the best burger in town. A staple family owned establishment since the 1990's. Everything here is worth trying at least once. Our go to's are usually the burgers, fries, and the chicken teriyaki plate." – Mike L.
In conclusion, San Jose is home to some truly amazing burger spots. From the classic and simple to the bold and unique, there's something for everyone in this city. Whether you're a local or just passing through, be sure to check out some of the burger joints we've highlighted in this post. You won't be disappointed! So next time you're in the mood for a delicious burger, head to one of these spots and indulge in some of the best burgers San Jose has to offer.
You might also like drooling over these pizza articles:
best burgers in san jose, burgers in san jose, burgers san jose, burgers near me, best burgers near me, san jose burgers