Looking for the best burgers in Tallahassee, are you? Welcome to the world of juicy patties, melty cheese, and fresh buns – a sizzling universe tucked into the southern charm of Tallahassee, Florida. We'll take you on a savory journey through Tallahassee's top burger joints, each spot with its unique signature that tantalizes the taste buds and defines the city's vibrant food scene.
Burger Barn Grill
Nestled in the bustling Miracle Plaza on Thomasville Road, the Burger Barn Grill opened its doors on June 27. A captivating blend of fast-casual dining and modern farmhouse ambiance, the menu offers everything from seven distinctive burger combinations to build-your-own burger and cheeseburger options.
Vegetarians aren't left out with the tasty Beyond Burger. Also on offer are a chicken sandwich, wings, salads, and kids meals, accompanied by a range of sides including fries and a sumptuous mac & cheese.
The quick service had our food at the table within five minutes. The family-owned restaurant chain, with successful locations in Jacksonville, has now expanded to Tallahassee, providing a new haven for burger enthusiasts.
Menu: Burger Barn Menu
Top Review: "Burger Barn has just recently opened in Tallahassee and we knew we had to give it a try! Our party of 8 ordered and our got our food within about 10 minutes. Everything was very good! Two thumbs up for the Southwest, Hangover, Mac Daddy, and Black and Blue burgers. The fries and milkshakes were also delish. The employees were extremely friendly and we had a couple different staff come over to the table to check in and chat. One (I think the manager/owner) was super nice and brought us cookie dough samples to try after we talked about our love of dessert. The food was all at a very reasonable price point. We will be retuning!" – Taylor G.
Nelson's Burger Bar
Nelson's Burger Bar, occupying the former VooDoo Dog spot in Tallahassee, offers an unmatched burger experience. The bar's distinctive smashburgers, reminiscent of homemade burgers, and their extended menu including BLTs and chicken sandwiches make it a culinary hotspot.
The clean interior invites you into a relaxed atmosphere where top-tier customer service ensures your food always arrives hot. More than just a burger joint, Nelson's Burger Bar delivers a unique blend of exceptional food and friendly service. Give the new kids on the block a go for some of the best burgers in Tallahassee!
Menu: Nelson's Burger Bar Menu
Top Review: "Top notch burger! Had a craving for a cheeseburger and chose Nelson's after reading reviews. The burger did not disappoint. I also tried the chili cheese fries and the chili was very good. The fries are fine, just bagged crinkle cut fries, but cooked well. Service was excellent and food was fresh and delicious. I will definitely be back to try some other burgers. The place could use a little art, or even a poster or two, but good is worth the trip." – Doug G.
Midtown Caboose
Midtown Caboose in Tallahassee, Florida is known for its progressive and innovative burger menu that offers something for everyone.
From classic cheeseburgers to unique creations like the PB&J Burger, there is no shortage of delicious options to choose from. Vegetarians will also find plenty of options, with vegetarian and vegan burgers available.
The restaurant prides itself on using only the freshest and highest quality ingredients, and the burgers are cooked to perfection every time. With a cozy atmosphere and friendly staff, Midtown Caboose is the perfect spot to grab a delicious burger and enjoy a great meal with friends and family.
Menu: Midtown Caboose Menu
Top Review: "This was an interesting burger joint. They have variety of burgers on the menu, and not your typical burgers. At first, when invited I was skeptical, however it was delicious. I got one of the spiciest burgers on the menu, the mother of dragons. It had a kick, but nothing I couldn't manage – I have a high tolerance. The spicy margarita was good as well! I'd definitely recommend this restaurant, just a heads up parking is a bit limited so get there early it gets packed quick." – Mark B.
Vertigo Burgers
Vertigo Burgers in Tallahassee, Florida is a popular burger joint that offers a wide range of handcrafted burgers that are sure to satisfy any craving. From the classic Southern Spin Burger with fried green tomatoes to the unique Going Green burger made with quinoa and red beans, there is something for everyone on the menu.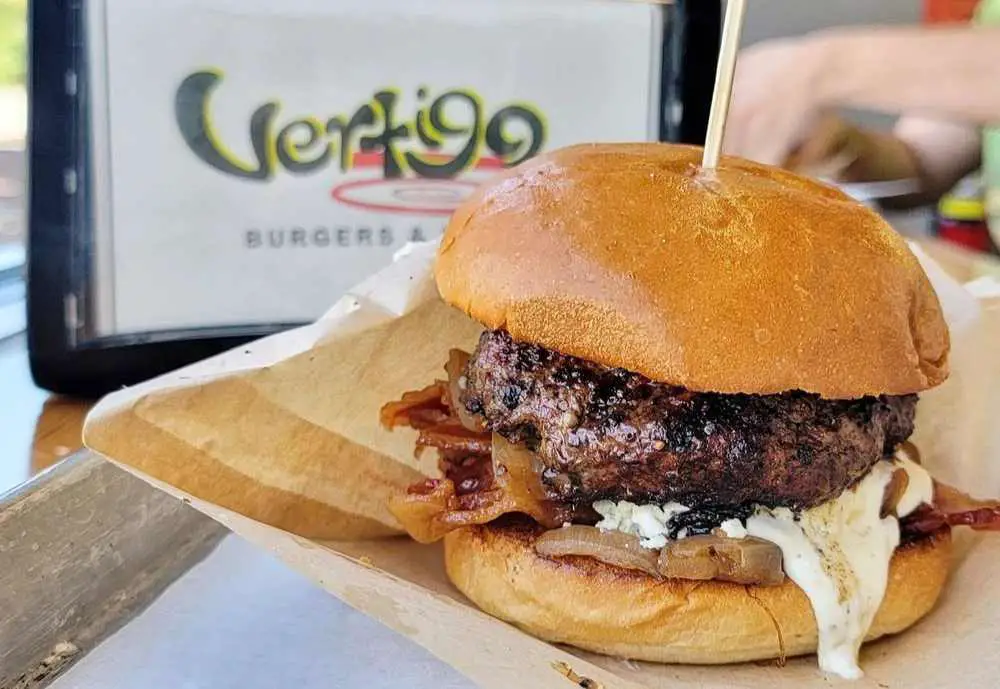 The restaurant also offers a variety of non-beef options, including lamb, duck, and shrimp burgers. Vertigo Burgers prides itself on using only the freshest and highest quality ingredients to create their delicious burgers.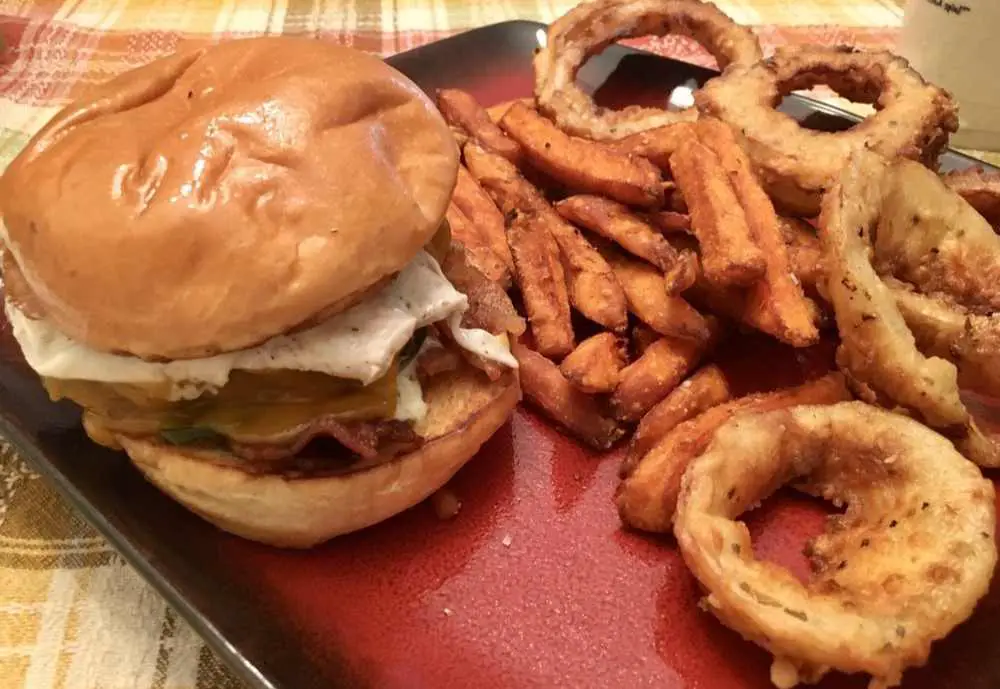 The cozy atmosphere and friendly staff make it a great spot to grab a quick lunch or enjoy a leisurely dinner with friends and family. With its innovative menu and commitment to quality, Vertigo Burgers is a must-visit if you are serious about having one of the best burgers in Tallahassee!
Menu: Vertigo Burgers Menu
Top Review: "The food and service was off the chain. My recent dining experience at Vertigo left me absolutely astounded and eager to return. From the moment I stepped into the restaurant, I was welcomed by staff and they took time to explain the menu an"d tell me about the food served.  I recommend Vertigo for a great dining experience." – Dennis S.
---
As we wind down our juicy journey, it's clear that Tallahassee, with its bevy of burger spots, is a carnivorous delight for any burger enthusiast. Each place we've explored tells a tale of flavor, creativity, and Florida's warm hospitality.
So, next time you're in the state capital and your stomach growls for a succulent burger, remember this guide to Tallahassee's finest. Because in this city, a burger isn't just a meal, it's an experience – a tasty testament to Tallahassee's rich and dynamic culinary scene. Savor the adventure!
You might also like drooling over these pizza articles:
best burgers in tallahassee, burgers in tallahassee, burgers near me, best burgers near me, burgers tallahassee fl, best burgers tallahassee florida