Miami is a city that never sleeps, and as a tourist, you are probably up for anything. It is a place that offers a variety of different cuisines and cultures. It is also the perfect place to try different types of food. 
Many restaurants in Miami offer breakfast. But it's a struggle to find a place that serves something other than eggs and toast or pancakes. This article will highlight some of the best breakfast places in Miami.
B Bistro + Bakery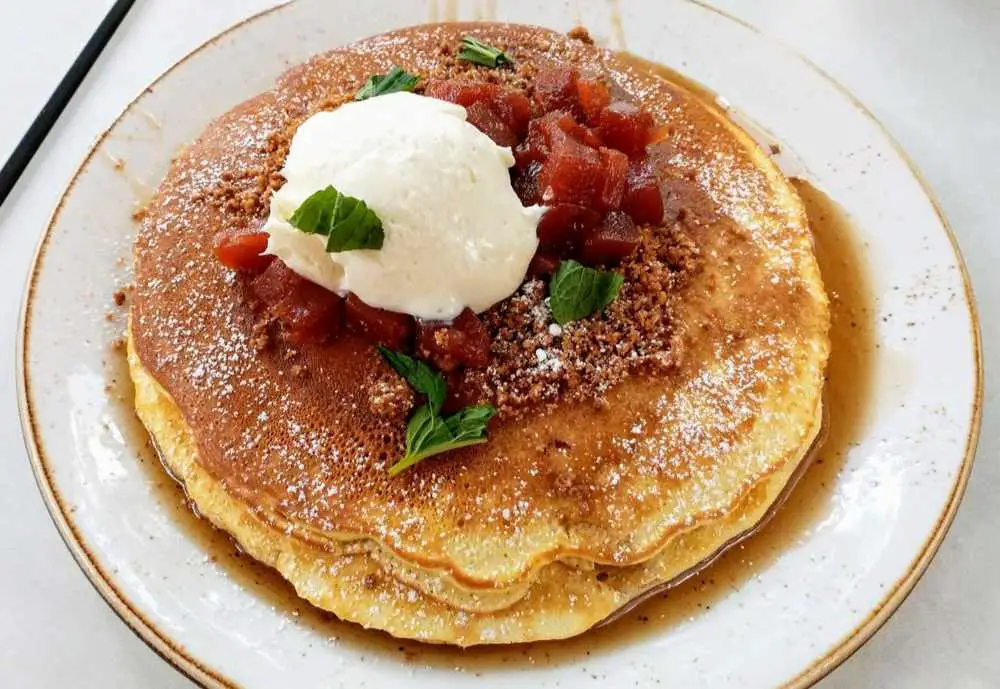 Breakfast is the most important meal of the day. B Bistro + Bakery understands this by offering a wide range of breakfast options for its guests to choose from. From traditional Crab Eggs Benedict to a stack of Pastelito Pancakes, there are plenty of options for those looking for a delicious start to their day.
B Bistro + Bakery also has more unique options such as Venezuelan Reina Pepiada, Croque Madame and Chilaquiles. Fresh baked and award-winning, make sure not to miss out on their Croissants, as well as their wide variety of coffees to choose from.
This place has a chic vibe to it which makes it perfect for grabbing coffee with friends or reading your favorite book while enjoying some delicious food.
Menu: B Bistro + Bakery Menu
Top Review: "The best brunch I have had in 2022. Still thinking about it. Visited Miami for a wedding and decided to got to B Bistro before getting the day started. Walked in and we sat right away. The service was phenomenal but the FOOD wow. We almost ordered the whole menu. My favorite was the kale salad, and side of short rib–those alone deserve 5 stars. The avocado toast was yummy but pretty standard the the pancakes were insane. Definitely for those that have a sweet tooth. I will be returning to try the burger which looked incredible." – Brieana C.
600 Brickell Ave #175, Miami, FL 33131; (305) 778-4585
Honey Uninhibited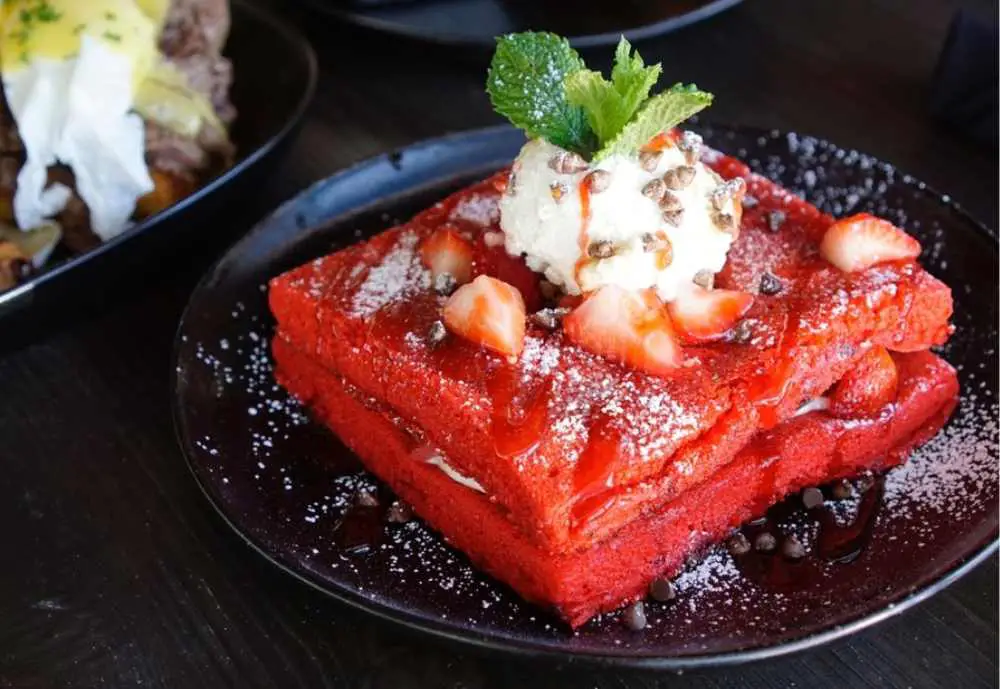 Honey Uninhibited is a popular café for its breakfast, brunch, and lunch. They have an extensive menu with many items that are vegan or vegetarian-friendly such as their Vegan Banana Toast.
It also includes a variety of dishes such as Red Velvet Pancakes and Creme De La Creme or, on the more savory side, the Sweet Chick Benny, Gullah Shrimp-N-Grits and Lobster Truffle Mac. The restaurant also serves dinner items like chicken fried steak, burgers, and sandwiches.
The building that Honey Uninhibited is located in was previously a warehouse for honey production.
The owners have transformed the space into something unique and beautiful. The interior is decorated with honeycomb-shaped light fixtures and bright yellow walls that make it feel like you are inside a beehive.
Menu: Honey Uninhibited Menu
Top Review: "Came here to grab brunch with my friend after her appointment and the food was everything. The food was on time. Customer service was on point as well. The bartender that took our order at the bar was very nice and we had a conversation with her we did not get her name but she is a beautiful redhead, the ambience of the restaurant is laid-back it is a southern comfort brunch spot so if you're ready to have some chicken and waffles and some shrimp and grits repair your stomach because the food is delicious and you might order second I'm from Tampa Florida and I will definitely be coming back ! And of course I had some drinks I had taste of honey and it was really good and I also had a St. Germain Mamosa delicious!" – Danica D.
1777 SW 3rd Ave, Miami, FL 33129; (786) 391-1090
Bacon Bitch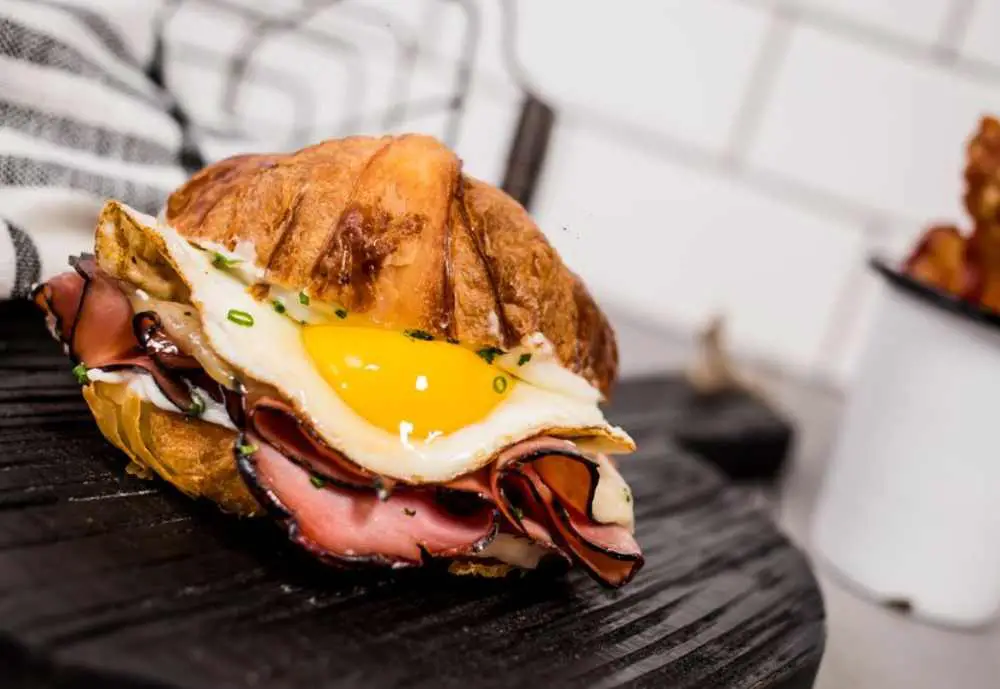 Bacon Bitch is a restaurant that specializes in breakfast. This bacon-themed restaurant has been voted the best breakfast spot in Miami by Miami New Times for three consecutive years. 
Their menu features a scrumptious variety of croissant sandwiches such as the Queens Bitch, the Brooklyn Bitch and the Boujee Bitch. They also serve hearty breakfast plates like American Bitch, the Skinny Bitch and the Beef & Eggs Bitch.
Menu: Bacon Bitch Menu
Top Review: "Loved coming to bacon bitch this is my 2nd time here & I will keep coming back every trip. The food is amazing. Basically elevated simple breakfast food but very flavorful. I love love love the free shots that are given out at shot o'clock. The servers are fun they love to get people going and to have a good time. Great atmosphere very party forward. I wouldn't say it's a place to bring a family but if you're in Miami w a significant other or a group of friends definitely check this place out. It could get ratchet but really good people watching  follow me on my ig @foodtourwithlaur for more" – Lauren V.
1001 Collins Ave, Miami Beach, FL 33139
Greenstreet Cafe
Greenstreet Cafe is a family-owned restaurant in the heart of Miami.
They offer sweet and delicious breakfast dishes such as Cinnamon Roll Pancakes and Nutella French Toast as well as a wide selection of coffees, juices and cocktails.
On the more savory side, there are plenty of options to choose from like the Spinach & Feta Omelet or the Eggs Benedict.This American diner-style restaurant has served the neighborhood since 1995.
Menu: Greenstreet Cafe Menu
Top Review: "Always a perfect spot for breakfast! I've been coming here for a long time and they never disappoint. It's sure to be hustling and bustling with locals and tourists and some lucky pet companions. On the corner of Main Hwy. and Commodore, an outdoor table under a shady umbrella provides a perfect spot for people watching.  This last visit though, I  sat inside. It's lovely. It has the feel of a NYC eatery. The staff as usual is attentive, friendly, and efficient. Thanks to our server, we tried a new drink – an espresso martini. Wow! Hope y'all make it soon!" – Sandra B.
3468 Main Hwy, Miami, FL 33133; (305) 444-0244
Crackers Southern Dining
Crackers Southern Dining has the perfect mix of southern charm and a laid-back vibe. It is located in the heart of South Beach and serves up some of the best breakfast dishes you can find in Miami.
Crackers Southern Dining restaurant is a place that will make you feel like you are in the deep south, complete with a garden dining area. he staff is friendly, and the food is delicious.
They have an extensive menu with everything from The Whole Hog plate, the Fried Green Tomato Benedict, a juicy Breakfast Burger, slices of Cap'n Crunch French Toast, and even Candied Bacon. This restaurant provides a great atmosphere for family dining or date night.
Menu: Crackers Southern Dining
Top Review: "Can we talk about their brunch ?!?! Amazing !!! We are in Miami for a few days. I got on yelp to see where we should eat, and ubered right over. My husband and I were so happy with our menu selections. I had the Fried chicken eggs Benedict, it was as good as it sounds. My husband had the chicken and waffles. He said it was one of the best. Our server was so great, super helpful. The mimosas with pineapple juice were exactly what we needed." – Sarah S.
78 SW Canal St, Miami Springs, FL 33166; (786) 536-9954
Little Hen
Little Hen is a restaurant in Miami that serves breakfast, brunch, and lunch. It has a cozy atmosphere with an open kitchen for you to watch the chef prepare your dish.
This restaurant is all about farm-to-table cooking, so they use locally sourced ingredients as much as possible. Start off with something refreshing and sweet like Torched Grapefruit topped with cane sugar or an Acai Bowl the Original.
Their menu also features flavorful dishes such as the Carbonara Omelette and the Egg White Frittata. Indulge in a truly elegant breakfast when you order a stack of Rose Petal Pancakes, which is served with rose water infused maple syrup.
The menu changes with the seasons to make sure you are getting the freshest ingredients possible. They have everything from healthy options to comfort food.
If you want to start your day off right this is the place to go!
Menu: Little Hen Menu
Top Review: "I love this place. This is my favorite brunch spot in the city. Every corner is instagrammable & so beautifully curated m. Their reservations fill out FAST, especially for weekend brunch, but I cannot recommend this place enough. I recommend making reservations at least a week in advance. Food recommendation; stuffed hashbrown, steak & eggs, their carbonara omelette, and french toast.. We came on a rainy day & were worried because it was raining heavy, but their outdoor seating stayed pretty dry, to our surprise. Their staff is always super attentive, pleasant, & helpful. It is Friend, Lover, & Family friendly." – Jennifer G.
3451 NE 1st Ave Suite 100/102, Miami, FL 33137; (305) 677-0584
Another Broken Egg Cafe
Another Broken Egg Cafe is a popular breakfast spot in Miami. This cafe has been around for a while and it has been rated as one of the best breakfast places in Miami. The restaurant has been featured on the Food Network's "The Best Thing I Ever Ate" and on "Diners, Drive-Ins, and Dives."
This restaurant offers delicious food and some unique options such as its Lobster & Brie Omelette, Hash Brown Benedict or a classic Biscuit & Gravy. They also have a wide variety of coffee drinks and sweet tooth antidotes like a stack of Bourbon Street Pancakes.
Menu: Another Broken Egg Cafe Menu
Top Review: "I guess this place is pretty popular for breakfast and now I see why. We tried it out on a miday during the week. It was about a fifteen minute wait. Once we were seated we got liz a super friendly waitress, she took our order for flavored mimosas. I had the strawberry nectar & hubby had  the bluberry, both good. We ordered bananas rum pancakes, super yummy. Hubby got the blueberry pancakes and side of eggs. Everything was delicious, service was on time. Liz made sure to bring me some Beignets on the house since it was my birthday super sweet gesture. Overall a good atmosphere and great breakfast. Will be back for sure." – Marie D.
175 N Hiatus Rd, Pembroke Pines, FL 33026; (954) 438-7256
There are many different opinions on which restaurant offers the best breakfast options in Miami. The choices mentioned above are some of the popular places that guests have rated to offer delicious food.
So try it out and see for yourself if they are up to your expectations!
---
Did we miss a spot that deserves to be mentioned? Shoot us an email at: [email protected] Thank you!
---
You might also like: