Looking for the best burgers in Fort Collins, Colorado? Then right this way! Just like a mouthwatering symphony of flavors, this burger bonanza promises to tickle your taste buds and lead you on a culinary adventure like no other. From sizzling grills that paint patties like Picasso to secret sauce wizardry that'll make you wonder if there's actual magic involved – get ready to sink your teeth into the city's best burger spots that are sure to turn your taste buds into a happy dance!
Bad Daddy's Burger Bar
Bad Daddy's Burger Bar in Fort Collins, Colorado is a must-visit destination for burger enthusiasts. The restaurant offers a wide range of chef-inspired burgers, including vegetarian and gluten-free options.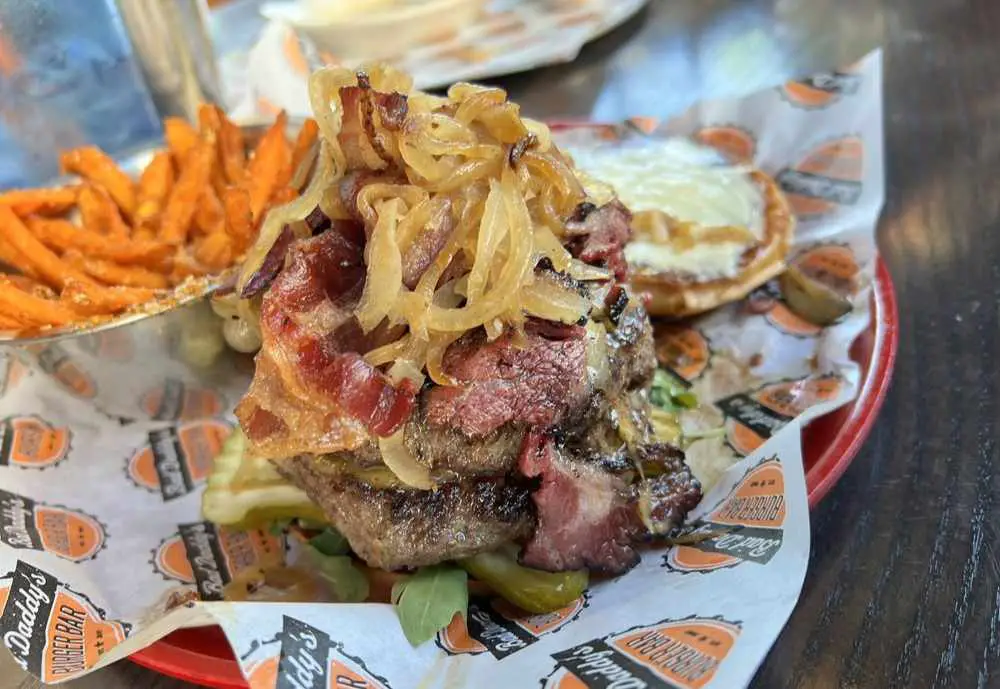 The burgers are made with high-quality ingredients and are cooked to perfection. The menu also features giant chopped salads, local craft beers, and their famous Bad Ass Margarita. The restaurant has a casual and welcoming atmosphere, making it a great spot for families and friends to gather. With its delicious food and friendly service, Bad Daddy's Burger Bar is one of the best burger spots in Fort Collins. (source: yelp.com)
Menu: Bad Daddy's Menu
Top Review: "I've got to say, I love this place! I absolutely love the fact that I can customize a burger or in my case, salad. The ingredients are always fresh and I have yet to be disappointed." – Abiah S.
Stuft – A Burger Bar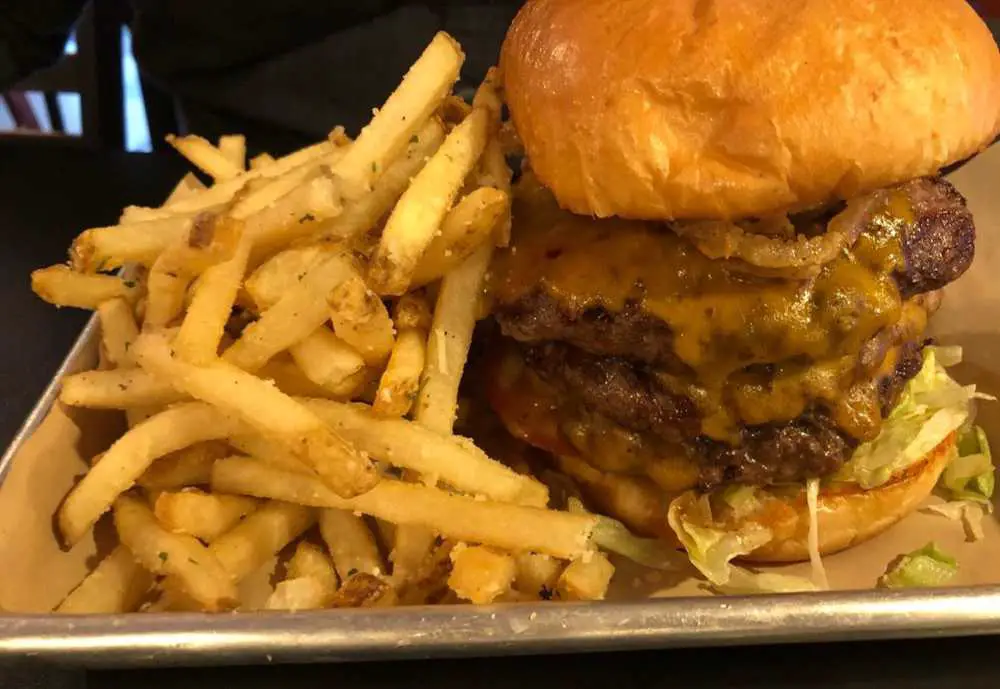 Stuft A Burger Bar in Fort Collins, Colorado is a top destination for burger lovers. Here are three reasons why you should visit:
Customization: Stuft A Burger Bar allows you to customize your burger to your liking. You can choose from a variety of meats, including beef, bison, chicken, and even a vegan option. Then, top it off with your favorite toppings and sauces for a truly personalized burger experience.
Milkshakes: In addition to their delicious burgers, Stuft A Burger Bar is also known for their hand-spun milkshakes. These sweet treats come in a variety of flavors, including classic chocolate and vanilla, as well as amazing add-ins like Nutella, Oreo's, and maple syrup. They can also add alcohol – Malibu, Jaegermeiter, Rumpelminze, Kahlua, and Captain Morgan. Score!
Local ingredients: Stuft A Burger Bar prides itself on using locally sourced ingredients whenever possible. This means that not only are you getting a delicious burger, but you're also supporting local farmers and producers.
Menu: STUFT Menu
Top Review: "This is one of the best burger restaurants I've ever been to in my whole life. Some of the most delicious delicious burgers and fries I've eaten. I like their menu a lot. The space is a little small though, so you may have to wait." – Chris P.
The Colorado Room
The Colorado Room in Fort Collins, Colorado is another great spot for burger lovers. The restaurant specializes in slow-cooked meat sandwiches and offers a variety of unique burger options.
Customers can choose from classic beef burgers, bison burgers, and even vegetarian burgers made with quinoa and black beans. The menu also features a selection of craft beers and artisan goods.
Menu: Colorado Room Menu
Top Review: "The staff is incredible, always so friendly and helpful. The vibes are always on point! They have board games you can play while waiting for your food or even if you wanna hang out and drink! The food is the best part, obvi!!! It's all so simple but still so amazing. The beef steakhouse was my favorite. Make sure to get the island fries too, they're like a much better version of in-n-outs animal style fries!" – Ashley M.
Big Al's Burgers and Dogs
Big Al's Burgers and Dogs in Fort Collins, Colorado is a must-visit spot for burger lovers. Here are two reasons why you should check it out:
60/40 burger: Big Al's is known for their unique 60/40 burger, made with 60% beef and 40% bacon. This juicy and flavorful burger is a customer favorite and a must-try for any burger enthusiast.
Local sourcing: Big Al's sources their hot dogs from Denver and uses salvaged materials from local Colorado structures to create their unique decor. This commitment to local sourcing and sustainability makes for a truly authentic and community-focused dining experience.
Menu: Big Al's Menu
Top Review: "Big Al is the classic burger.  An efficient menu with solid focus.  They do some creative things with the mix and the toppings, but the classic lettuce, tomato, onions and sweet pickle slices wax nostalgia.  1/4 burger or 1/4 dog with fries are definitely filling.  The chocolate shake was good as well.  I think they miss out not having beer and only fountain drinks.  Sometimes a great burger needs a great beer.  So no beer is the major consideration here for the overall experience.  The Cajun fries were dusted and seasoned well but I would probably go classic with the Big Al seasoning." – Austin F.
The Still Whiskey Steaks
The Still Whiskey Steaks in Fort Collins, Colorado may be known for their steaks and whiskey, but here are three reasons why burger lovers should also pay them a visit:
Whiskey-marinated beef: The Still uses a proprietary whiskey marinade from Fort Collins' own Elevation 5003 Distillery to lightly marinate their regionally sourced beef from Gold Canyon Ranch. This unique twist on a classic burger patty adds a delicious depth of flavor.
Specialty burgers: In addition to their classic burger, The Still offers a variety of specialty burgers, including the Meat Pile, topped with chimichurri and garlic butter, and the Meat Tornado, featuring bone marrow topped with steak tartare. These creative and indulgent options are sure to satisfy any burger craving.
Upscale atmosphere: The Still's log cabin-inspired decor and elegant atmosphere make it a great spot for a special occasion or a fancy night out. Enjoy a delicious burger paired with a whiskey flight or a craft cocktail for a truly elevated dining experience.
Menu: The Still Whiskey Menu
Top Review: "Shockingly good! Couldn't complain about a thing, honestly. Great food. Really nice atmosphere, and we had a great server. If you want a burger, this might be the place in town. It sounds ridiculous (and it is), but try the beef tallow candle with the dinner rolls!" – Colin H.
You might also enjoy these articles:
As our burger-filled expedition comes to a close, let your taste buds bask in the afterglow of meaty marvels and bun-tastic delights. Fort Collins has proven itself a true burger wonderland, where every bite is an ode to culinary ingenuity. So, the next time you find yourself in this foodie haven, follow your cravings and embark on a gastronomic adventure through the city's finest burger spots. From savoring sizzling patties to sipping secret sauce enchantments, may your burger escapades be ever delightful! 🍔✨
best burgers in fort collins, burgers fort collins, burgers near me, best burgers near me, best burger in fort collins