Looking for the best burgers in Lafayette? Welcome to Lafayette, Louisiana – a hidden culinary gem tucked away in the heart of Cajun Country. Here, local flavors intertwine with a time-honored tradition of crafting the perfect burger, turning every bite into a sensory explosion.
Join us on a juicy adventure as we explore Lafayette's mouthwatering burger scene, where each sizzling patty is more tantalizing than the last. Buckle up, it's going to be a delicious ride!
Broaddus Burgers
First up is Broadus Burgers. Broaddus Burgers is a mega popular burger spot located in Lafayette, Louisiana. The restaurant serves cook-to-order homemade burgers with a variety of toppings, including homemade chili, mac n cheese, fried jalapeños, and even grilled pineapple.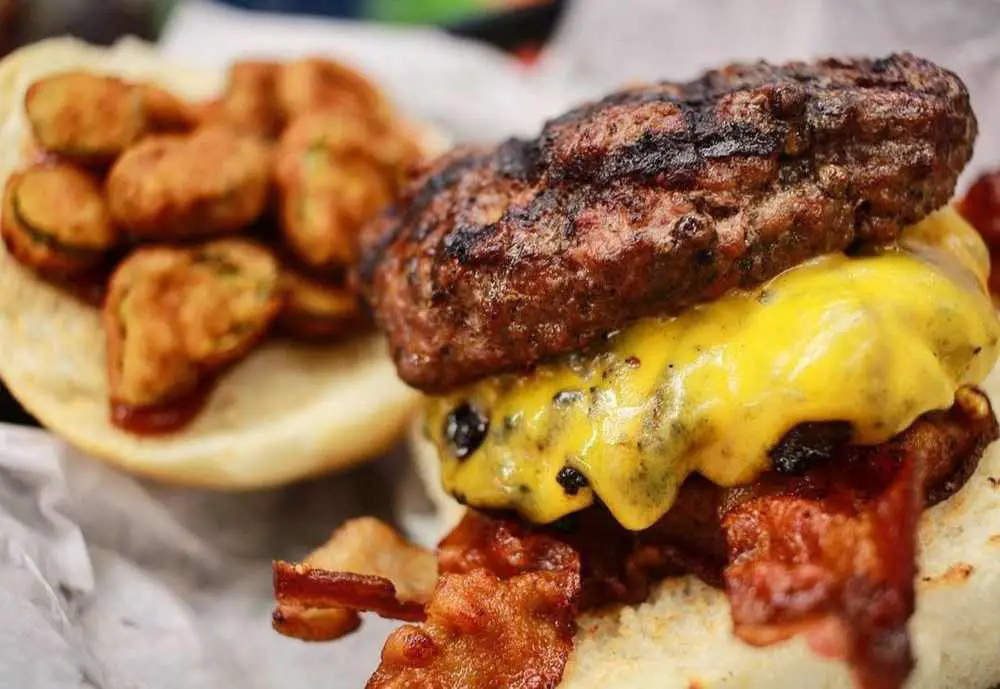 They also offer different burger options such as a spicy burger, turkey burger, black bean burger, and the impossible burger. Other options include homemade fried cheese sticks, onion rings, and sweet potato fries.
Broaddus Burgers has been serving burgers since March of 2014 and has gained a loyal following in Lafayette. The restaurant is known for its friendly service and delicious burgers, which are made with fresh ingredients.
The restaurant has received positive reviews on Yelp and TripAdvisor, with customers praising the food and service. They also offer delivery through their website. The restaurant is open seven days a week and has convenient hours for lunch and dinner. You definitely have to try them out for some of the best burgers in Lafayette!
Top Review: "Really cool and different. Nice place with a ton of stuff to choose from. I went with the PBB peanut butter burger with sweet potato fries. They come with honey and cinnamon. The burger was really good but a little well-done for my taste. That was my fault though, I should've told him to keep it somewhere around medium. There was lots of peanut butter on the really tasty hamburger patty, and the bun was nice and fresh. The fries were cooked perfectly. I also had to try the spinach and feta grilled cheese because it sounded really cool. It was really good. I couldn't eat it all, but the few bites that I was able to take were totally worth the purchase. I recommend this place, and I will be back soon." – Nick M.
Adopted Dog Brewing
Next on our list is Adopted Dog Brewing. Adopted Dog Brewing is a craft brewery located in Lafayette, Louisiana. The brewery offers in-house brewed craft beer and American fare. The brewery's name is a nod to the owners' adopted dog, named after Tchoupitoulas Street in New Orleans.
Adopted Doy opened in February 2023, and is already making waves with its mouth-watering burgers. The burgers at Adopted Dog Brewery are made with high-quality ingredients and cooked to perfection, ensuring that every burger is a masterpiece. So come on down to Adopted Dog Brewery, grab a cold beer and a burger, and experience the ultimate in craft beer and American cuisine. You won't be disappointed!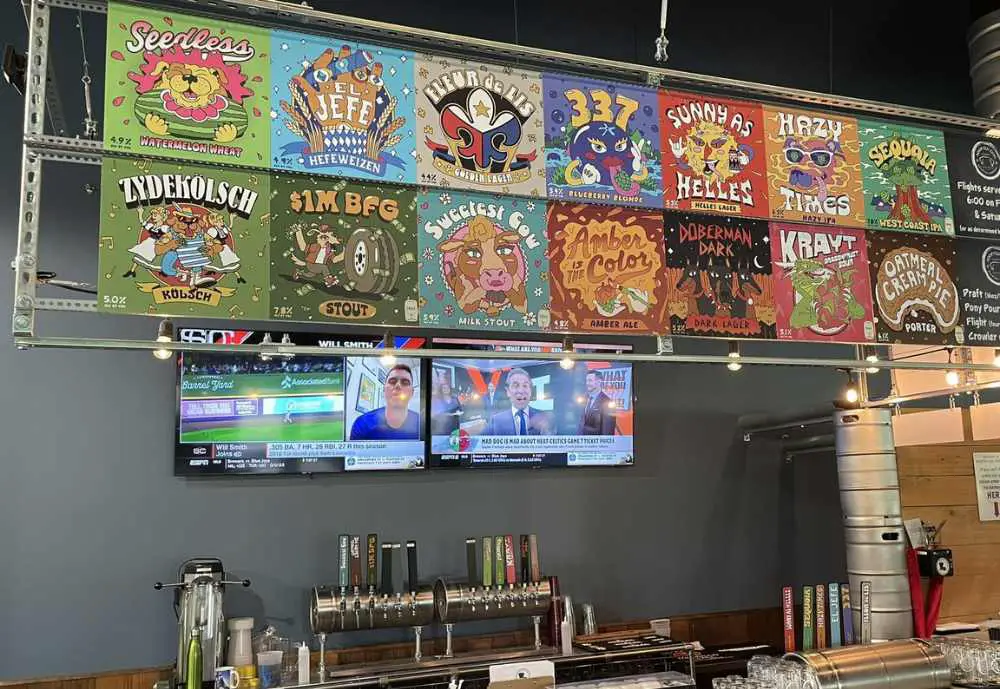 Top Review: "For our entrees we had the flavor packed Italian pressed sandwich with homemade chips an the best hamburger on a pretzel bun I've had in a long time. The sear on my juicy burger was excellent. The place is fresh and clean. Bathrooms where clean and nicely decorated. All in all a great experience. We will definitely be back and brining the friends. – Vicey R.
Fat Pat's Bar & Grill
Fat Pat's Bar & Grill is a popular spot for burgers in Lafayette, Louisiana. They offer a casual dining environment with sports available on TVs. Customers can enjoy ice-cold draft beer served 2-4-1 all day, every day.
Their menu includes a variety of burgers, such as the Mile High Burger, BAE Burger, and very tasty and unique Tartar Burger that comes with jalapeno, pepper jack cheese, lettuce, tomato and a house made tartar sauce. Try one!
Five Mile
Five Mile is a new burger joint located in Lafayette, Louisiana. They opened their doors just six weeks ago and have already gained a lot of attention for their delicious burgers.
Their menu is small, but they offer a variety of options, including their co-op burger with angus patty, a burger salad with angus and mixed greens and some delicious breakfast options.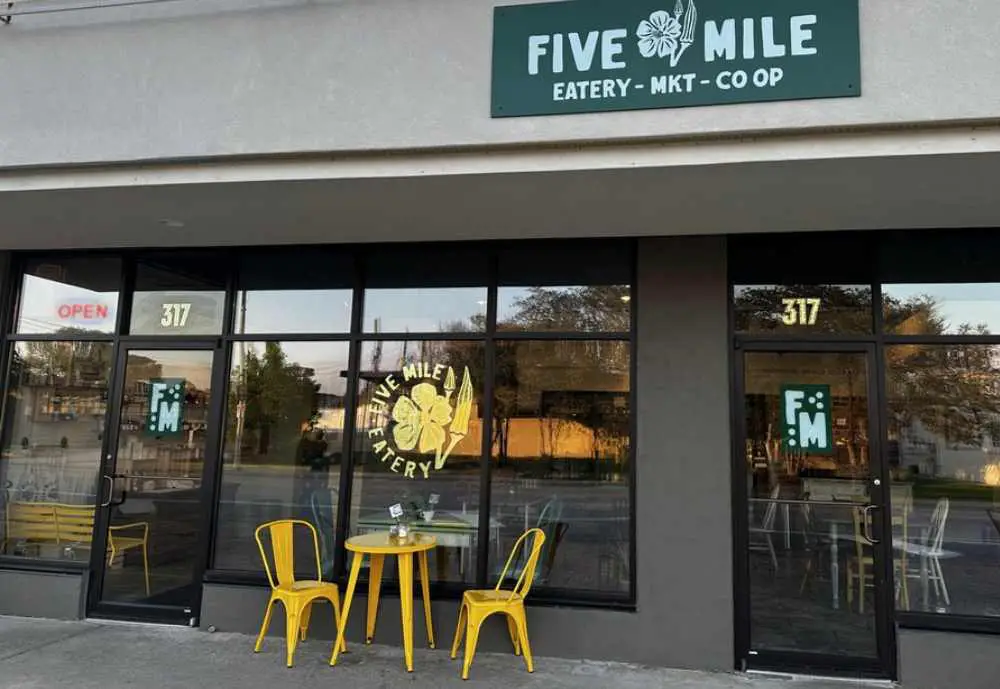 You will also appreciate the cute outdoor seating area, which is perfect for enjoying a burger on a sunny day. Five Mile is a great spot for a quick and satisfying burger fix.
You might also enjoy these articles:
best burgers near me, burgers near me, best burgers in lafayette la, burgers in lafayette