Looking for the best burgers in Flagstaff? Embarking on this mouthwatering mission is like being a juicy-patty prospector, panning the streams of this mountain town for the golden bun-and-beef combinations. With the promise of a rewarding 'Eureka!' moment, we've chewed our way across Flagstaff's finest. From the culinary side streets to the meaty main drags, we've uncovered the top spots where the burgers are so succulent, they'll make a vegan's lettuce wilt in envy.
Diablo Burger
First up is the mighty Diablo Burger. DB stands as a beacon of local gastronomy, delivering burgers made from 100% local, grass-fed, open-range, antibiotic and growth-hormone-free beef sourced from the award-winning ranches of Diablo Trust.
The restaurant champions "landscape-scale conservation you can taste," evidencing the impact of dedicated land stewardship.
Diablo Burger's commitment extends beyond just their burgers, partnering with local farmers, ranchers, bakers, cheese-makers, brewers, vintners and more within a 250-mile radius.
We highly recommend trying them out if you are serious about having one of the best burgers in Flagstaff!
Menu: Diablo Burgers Menu
Top Review: "We drove to Flagstaff from Roseville, CA today.  After the 11 hour drive a burger is just what I needed.  I gotta say – excellent burgers!  My wife had the Spring Picnic Burger with grilled peaches, cream cheese, honey, & a patty.  She loved it!  I had the Marilyn & my sister had the Blake.  The fries are seasoned with rosemary and are amazing too!  Cute little place in downtown.  Best seating is outdoors on the patio and seating inside is limited.  Service was super friendly & helpful.  This place rocks the burgers & check out their specialty sauces as well.  Nice little gem in Flagstaff!" – Todd G.
Lumberyard Tap Room & Grille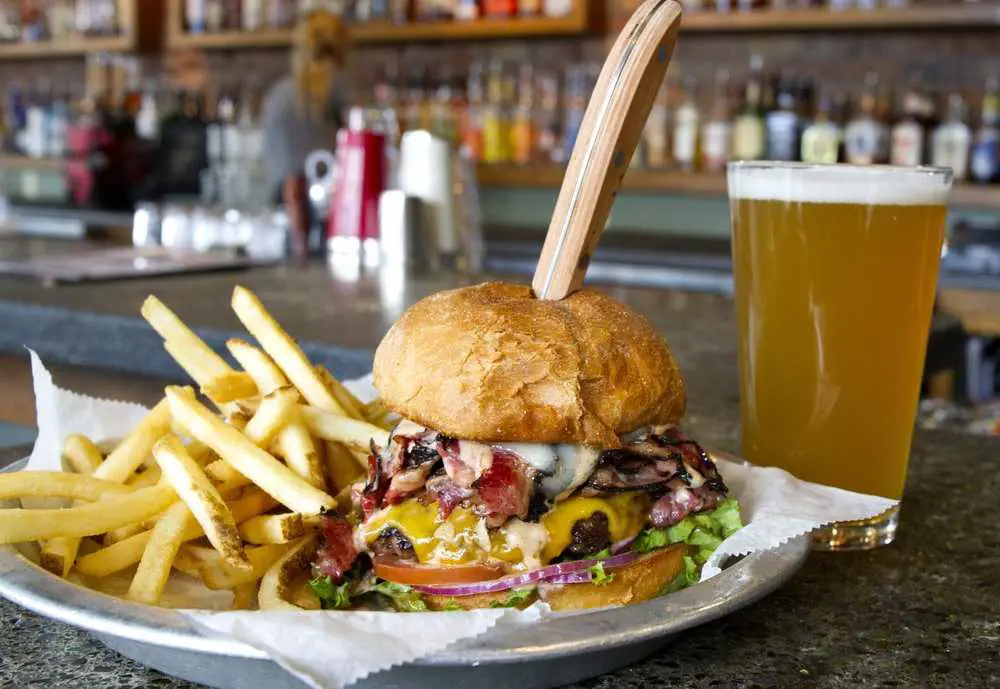 Lumberyard Tap Room & Grill is a popular brewpub located in the heart of downtown Flagstaff, Arizona. The restaurant offers a variety of American-style food, including burgers and bar food, and serves award-winning beers brewed on-site by Lumberyard Brewing Company.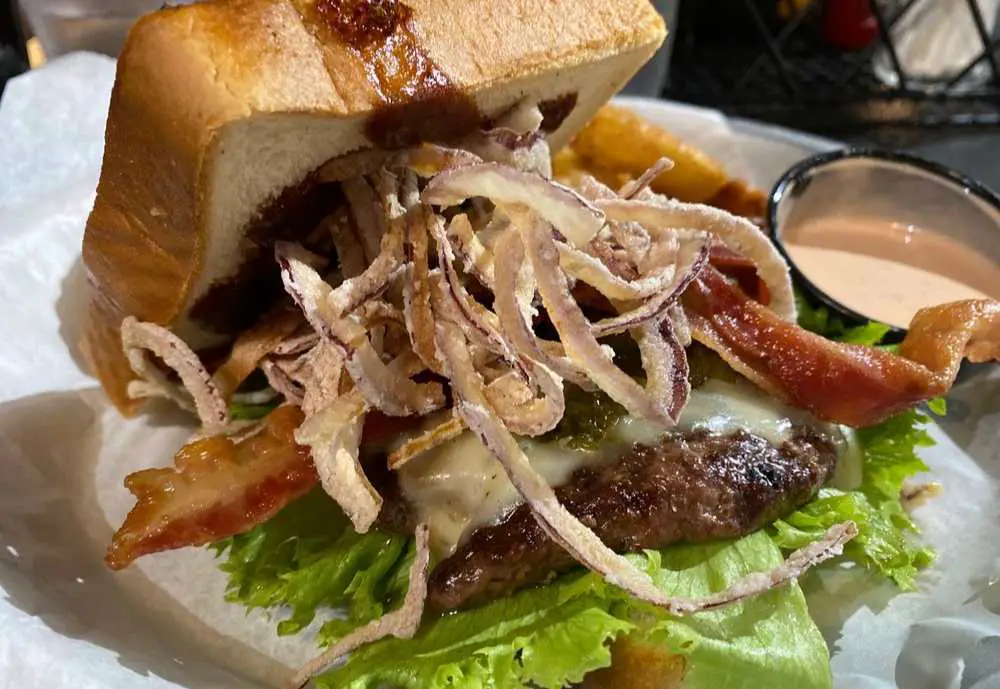 A few must try burgers are the Vietnamese Burger, the Texas Burger (above), Mile High Burger, and the Shroom Burger.
Menu: Lumberyard Menu
Top Review: "Was excited to try Lumberyard before coming to down as I heard it was a must try from a friend. The place was packed on a Saturday night around dinner time but definitely worth the wait. The Mile Hile burger was one of the best burgers I have had in awhile. It was perfectly cooked and all of the flavors went together great." – Connor H.
Brown Bag Burger + Bar Flagstaff
In the midst of 2020's pandemic, culinary enthusiast Ian Burns breathed life into the struggling Brown Bag Burger in Prescott, Arizona. He revitalized the menu with high-quality ingredients and homemade sauces, leading to a surge in community praise and sales.
This rapid success allowed him to expand the brand to Flagstaff and evolve the modest Prescott location into a thriving downtown hub and brewery. The secret ingredients to their success? You'll definitely want to give them a go if you are serious about finding the best burgers in Flagstaff.
Menu: Brown Bag Burgers Menu
Top Review: "This is an excellent burger place! Wow! Highly impressed at the freshness and high quality taste of the food. They have a separate fryer for the fries that are gluten free for those of us with allergies. They have dairy free cheese options and gluten free buns! LOVE this place so much. The owner Ian is super awesome too. Made sure our food was tasting good during our visit. The inside looks great, very modern industrial look. Very clean and spacious. We highly recommend this spot, and we will be back a lot more now!" – Christina C.
The Northern Pines Restaurant
The Northern Pines Restaurant in Flagstaff, Arizona is a must-visit spot for burger lovers.
The menu at Northern Pines offers a variety of burger options, including the Five Alarm Cheeseburger, which is topped with housemade, crispy fried Serrano pepper, crispy fried onions, and melted five alarm cheese, and drizzled with housemade Habanero aioli (source: Yelp). The Hatch Green Chili Burger is another popular option, according to the same Yelp menu.
Overall, if you're looking for a delicious burger in Flagstaff, Arizona, the Northern Pines Restaurant is definitely worth checking out.
Menu: Northern Pines Menu
Top Review: "Absolutely the best burger! They were very accommodating to our large party of 61 people! Awesome device and very nice wait staff! Highly recommend!" – Georgina C.
Hankerin
Hankerin in Flagstaff is a Southwest diner that serves American, Native American, and Tex-Mex food. Their menu includes burgers, tacos, nachos, and fry bread, all with a focus on green chilis.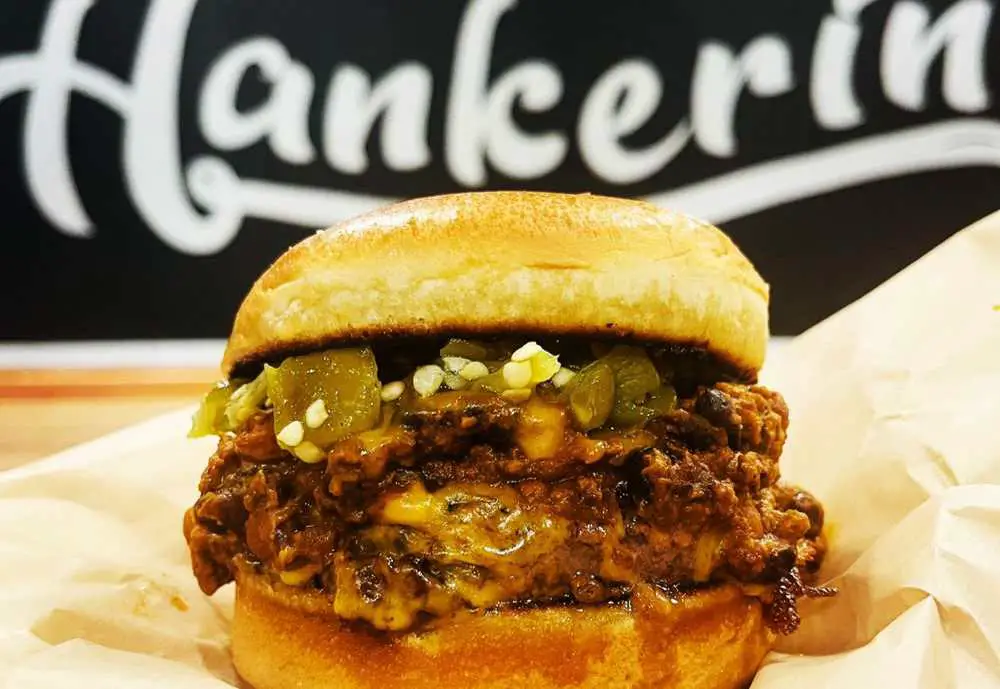 If you want something different to go along with a burger, their signature dish is the "chichar-nachos," which uses pork rinds instead of chips and is topped with lettuce, hot sauce, carne asada, and sour cream.
Try the burgers though, most definitely some of the best in Flagstaff.
Menu: Hankerin Menu
Top Review: "Back in Flag for a long weekend and 1st stop is Hankerin, even before we check into our hotel or see our son. This visit was chili cheese fries, side of chicharron and an Orange Crush. Thanks to Chaz and the staff for great food and as always great service! Also love to see how involved he is with helping the Greek Life fundraisers" – Tommy H.
---
Feasting through Flagstaff's burger scene has been a culinary adventure akin to a rodeo ride on a bucking bull – thrilling, surprising, and absolutely delicious. Whether you're drawn to towering skyscrapers of beef and cheese or the sophisticated simplicity of the classic cheeseburger, this mountain town's got you covered. So next time hunger strikes, don't settle for the ordinary – reach for the extraordinary, and remember: in Flagstaff, every day can be a 'bun-derful' day!
You also might enjoy these mouthwatering articles:
best burgers in flagstaff, burgers in flagstaff, burgers near me, best burgers near me, best burgers flagstaff az